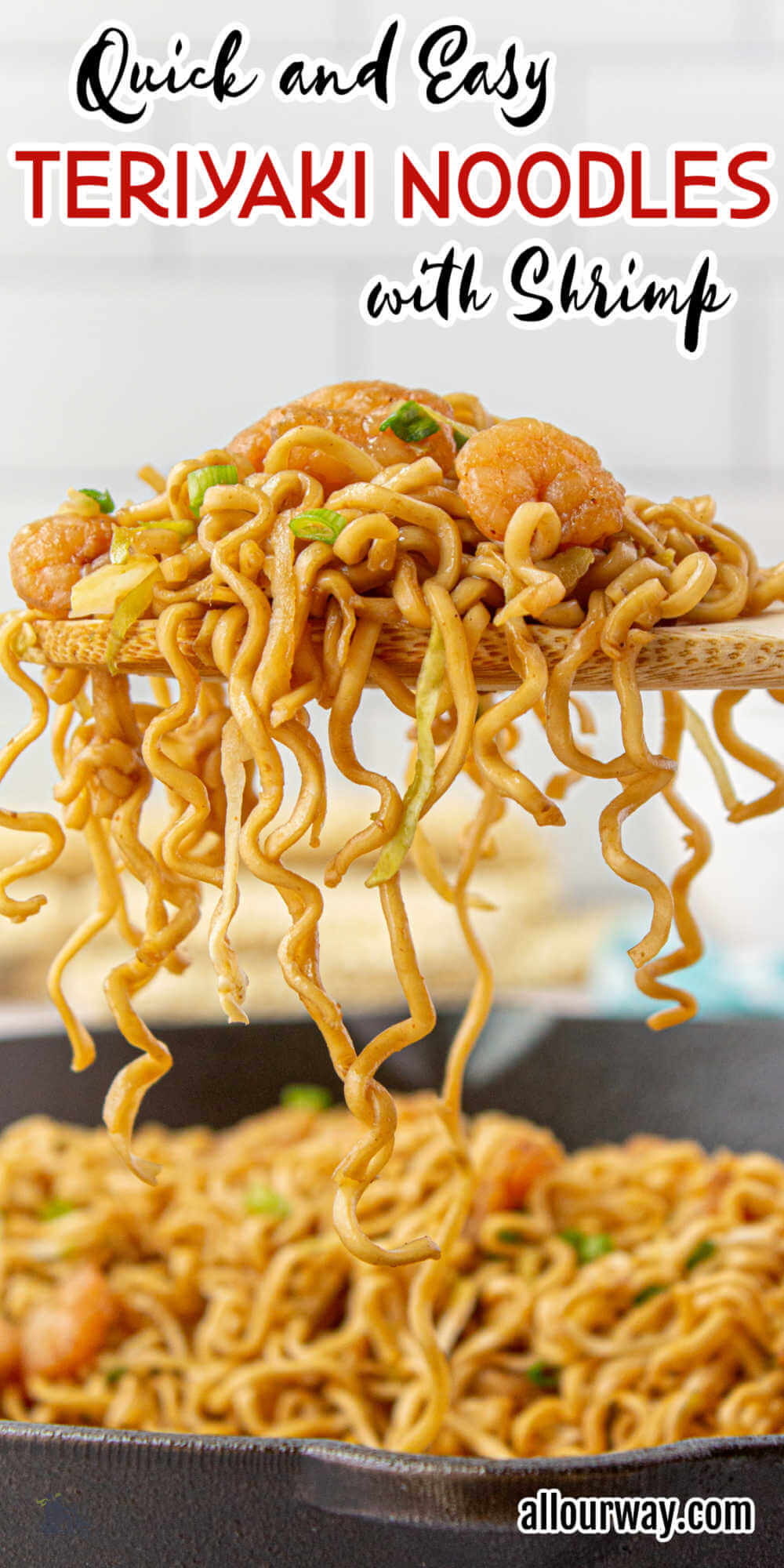 Teriyaki Noodles with Shrimp Recipe is a delicious and satisfying dish that combines the sweet and savory flavor of teriyaki sauce with tender and juicy shrimp, soft noodles, and crunchy coleslaw mix.
The dish is simple to prepare and can be customized with your favorite ingredients. Make it a great option for busy weeknights or entertaining guests. Whether you're a fan of Asian cuisine or simply looking for a tasty and nutritious meal, teriyaki noodles with shrimp is a dish that you're sure to love.
Jump to:
❤️ Why I love this recipe
This dish is simple to prepare and can be cooked quickly, making it a great option for busy weeknights.
Easily customizable by adding vegetables like broccoli, carrots, and mushrooms to make the dish more filling and nutritious.
Shrimp is a healthy protein source, and the noodles provide carbohydrates for energy.
The aroma of the teriyaki sauce and the shrimp cooking is tantalizing and will have your mouth watering in anticipation!
🛒 Ingredients
As an Amazon Associate I earn from qualifying purchases.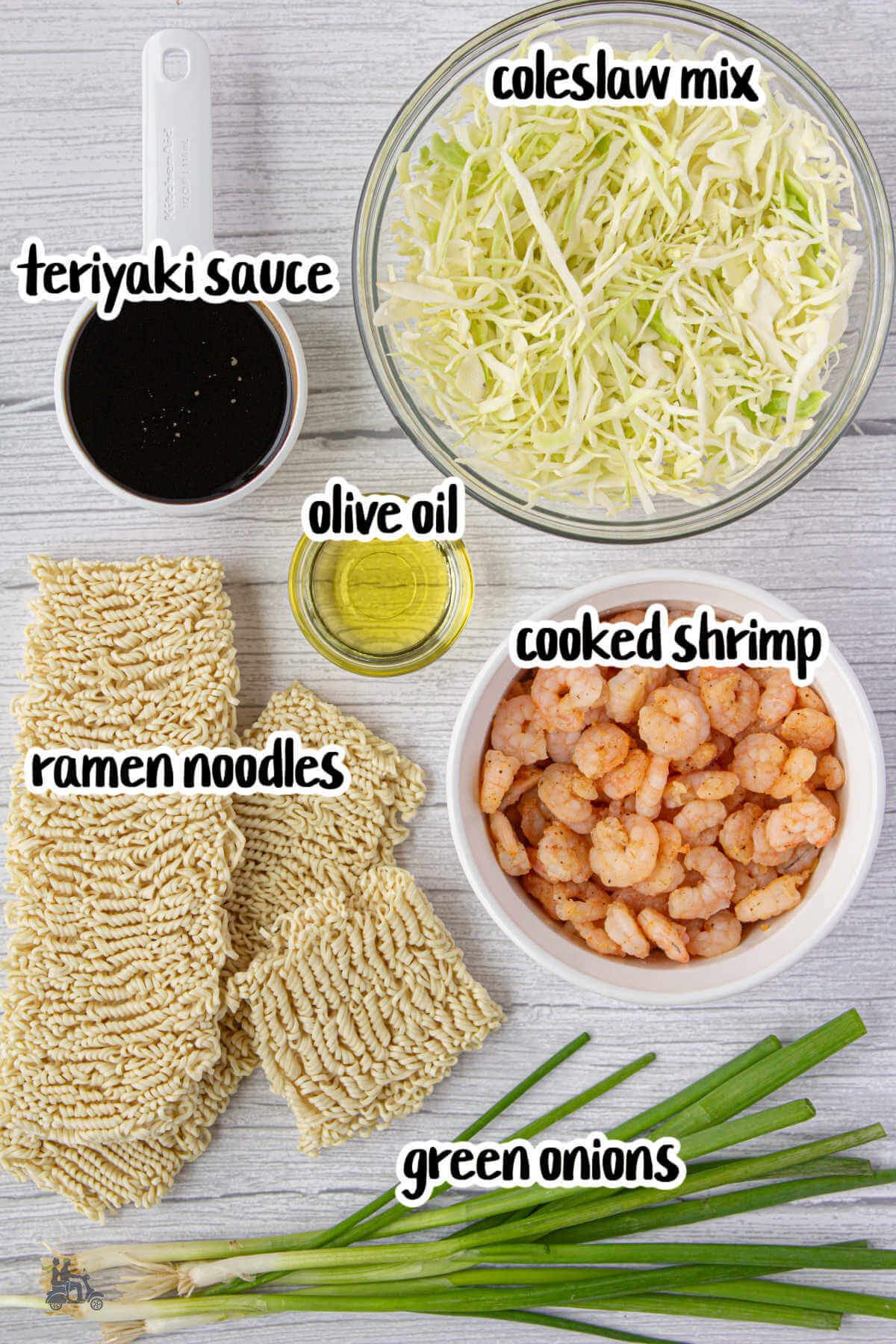 Note: The full list of this recipe ingredients with their amounts and options are listed in the recipe card below.
🗒 Instructions
Note: This is an overview of the instructions. The full instructions are in the recipe card below.
Heat a pan with oil.
Add the coleslaw mix.
Cook the coleslaw mix for about 3 minutes until it's tender.
Add the cooked shrimp and ramen noodles to the cooked coleslaw mix.
Measure out your store-bought teriyaki sauce.
Add the teriyaki sauce to the ingredients in the pan.
Mix the ingredients well and allow the mixture to simmer for about 2 minutes, adding reserved pasta water if needed.
Garnish with chopped green onions, and serve!
🔪 Equipment
The following are affiliate links. We are a participant in the Amazon Services LLC Associates Program, an affiliate advertising program designed to provide a means for us to earn fees by linking to Amazon.com and affiliated sites.
You'll need the following items to make this recipe successfully.
large sauce pan
heavy skillet
liquid measuring cup
🤔 FAQs
These are the questions we are most frequently asked about making this Easy Teriyaki Noodles with Shrimp.
What is teriyaki sauce made of?
Traditional Japanese teriyaki sauce is made from a blend of soy sauce, mirin, sugar, and sake which results in its characteristic tangy flavor. Westernized versions include honey, garlic, and ginger, and cornstarch is frequently added to thicken the sauce.
What goes well with teriyaki noodles?
Teriyaki noodles are a complete meal as is, but you can pair them with beef and broccoli, spring rolls, and black pepper tofu. You could also opt for a traditional dish like curried cauliflower or fried rice.
What is the flavor of teriyaki?
The flavor of Teriyaki Sauce is a harmonious blend of savory, sweet, and salty, making it a great marinade for meat and fish. Some say that it tastes like a mixture of soy sauce and honey, which is a reasonably accurate characterization of its taste.
Is teriyaki food healthy?
Teriyaki food that includes grilled or stir-fried meats, vegetables, whole grain noodles, or rice can be part of a healthy diet. However, the added sugar in teriyaki sauce and the oil used for cooking can increase the calorie and fat content of the dish.
👩🏻‍🍳 Tips
To enhance the flavor of the shrimp, consider marinating them in a mixture of teriyaki sauce, garlic, ginger, and green onions for at least 30 minutes before cooking.
To ensure that the shrimp are juicy and tender, cook them quickly over high heat in a little oil until they turn pink and opaque.
To ensure that the noodles have the perfect texture, cook them until they are al dente, which means they should be firm to the bite but not mushy.
Use a high-quality teriyaki sauce for bold flavors in the noodles and the shrimp. You can also make your own teriyaki sauce by combining soy sauce, mirin, sake, and sugar.
To make the dish sweeter or saltier, adjust the teriyaki sauce accordingly. You can also add a little cornstarch to the sauce to thicken it if desired.
Add a fresh flavor and color to this dish by topping it with chopped green onions and cilantro or basil before serving.
📚 Variations
Vegetables: Add more vegetables to the dish, such as sliced bell peppers, snap peas, mushrooms, or bok choy, for a healthier and more flavorful meal.
Spices: Experiment with different spices and seasonings, such as red pepper flakes, garlic, or ginger, to add extra flavor and heat to the dish.
Sauces: Try using different sauces, such as hoisin sauce, or oyster sauce.
Protein: Replace the shrimp with cooked chicken, beef, or tofu, to create new and interesting variations of the dish.
Noodles: Use different noodles, such as udon, soba, or vermicelli, for a unique texture and flavor.
Garnish: Top the dish with fresh herbs, such as cilantro or basil, or toasted sesame seeds.
🥫 Storage
Leftover teriyaki noodles and shrimp can be stored in an airtight container in the fridge for up to 4 days. Reheat it in the microwave or on the stovetop until it's hot.
📗 Related Recipes
If you love Asian-inspired cuisine, be sure to check out some of my favorites:
Spicy Teriyaki Chicken Wings - These chicken wings are coated in a spicy, sweet, and salty sauce that's irresistible!
Shrimp Stir Fry - This shrimp stir fry has an Italian twist with flavors of garlic, lemon, oregano, hot pepper flakes.
Ramen Broccoli Slaw - An Asian-inspired coleslaw gets a delicious crunchy texture from ramen noodles, sunflower seeds, and almonds.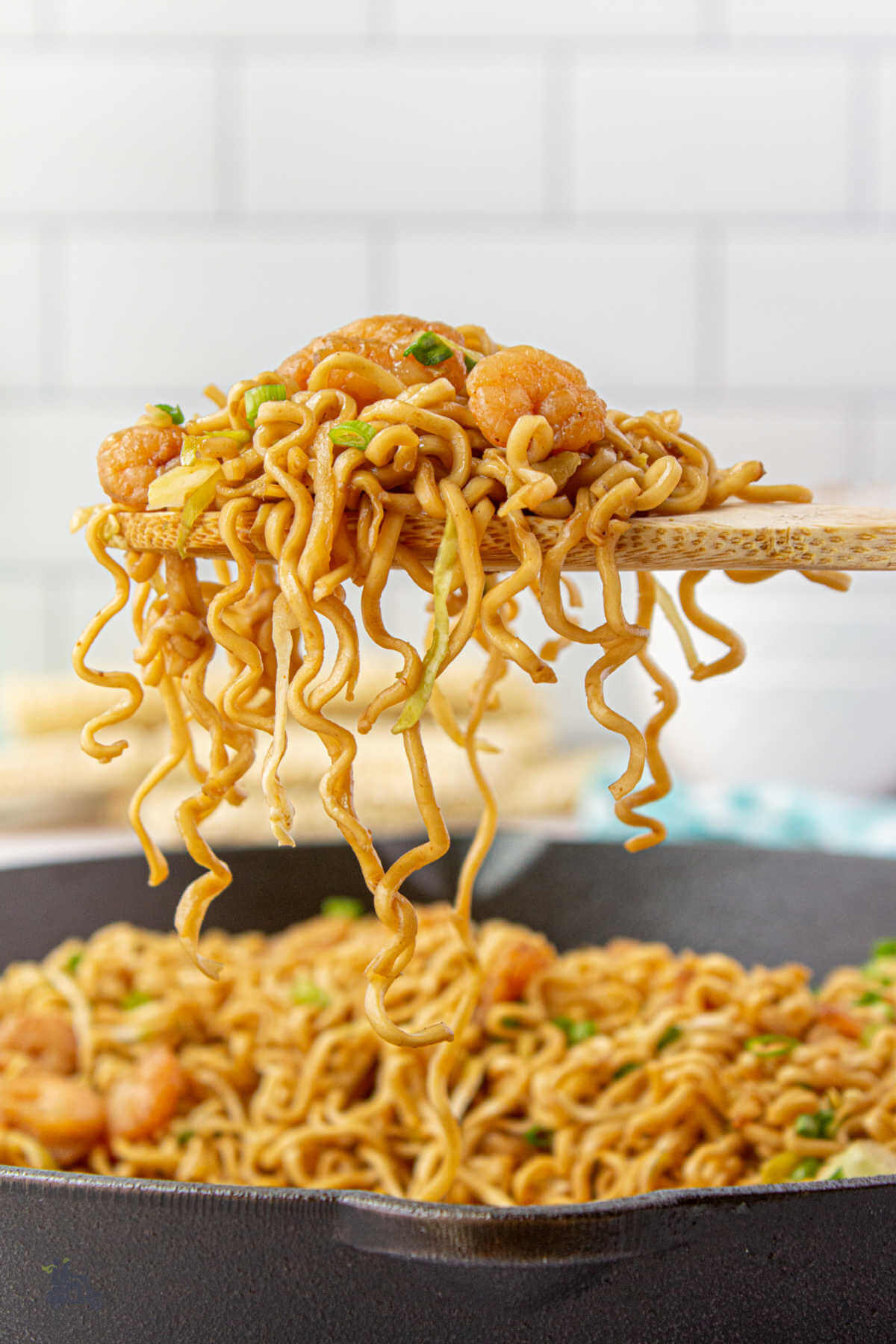 🍽 Serve with
Teriyaki noodles with shrimp can be paired with stir-fried or grilled vegetables, cucumber salad, crusty bread, or rice.
📞 Chiacchierata (chat)
I'm all about that sweet, savory, and salty flavor in food. This is why I'm naturally drawn to Asian-inspired dishes like this Teriyaki Noodles with Shrimp recipe! It's a balanced meal with juicy shrimp, al dente noodles, and a slightly crunchy coleslaw mix. The stir fry is all coated in rich Teriyaki sauce. What more could you want for a quick and easy meal?!
And if you're still wanting to include more Asian inspired dishes, try our recipe for Asian Ramen Noodle Salad. Make it into an easy summer dinner by adding a protein.
One of our favorite Asian style dinner recipe I got from my Mother-in-Law. She had seven children so she was VERY busy. Her solution was a Making Chop Suey with extra noodles.
Tutti a tavolo, è pronto!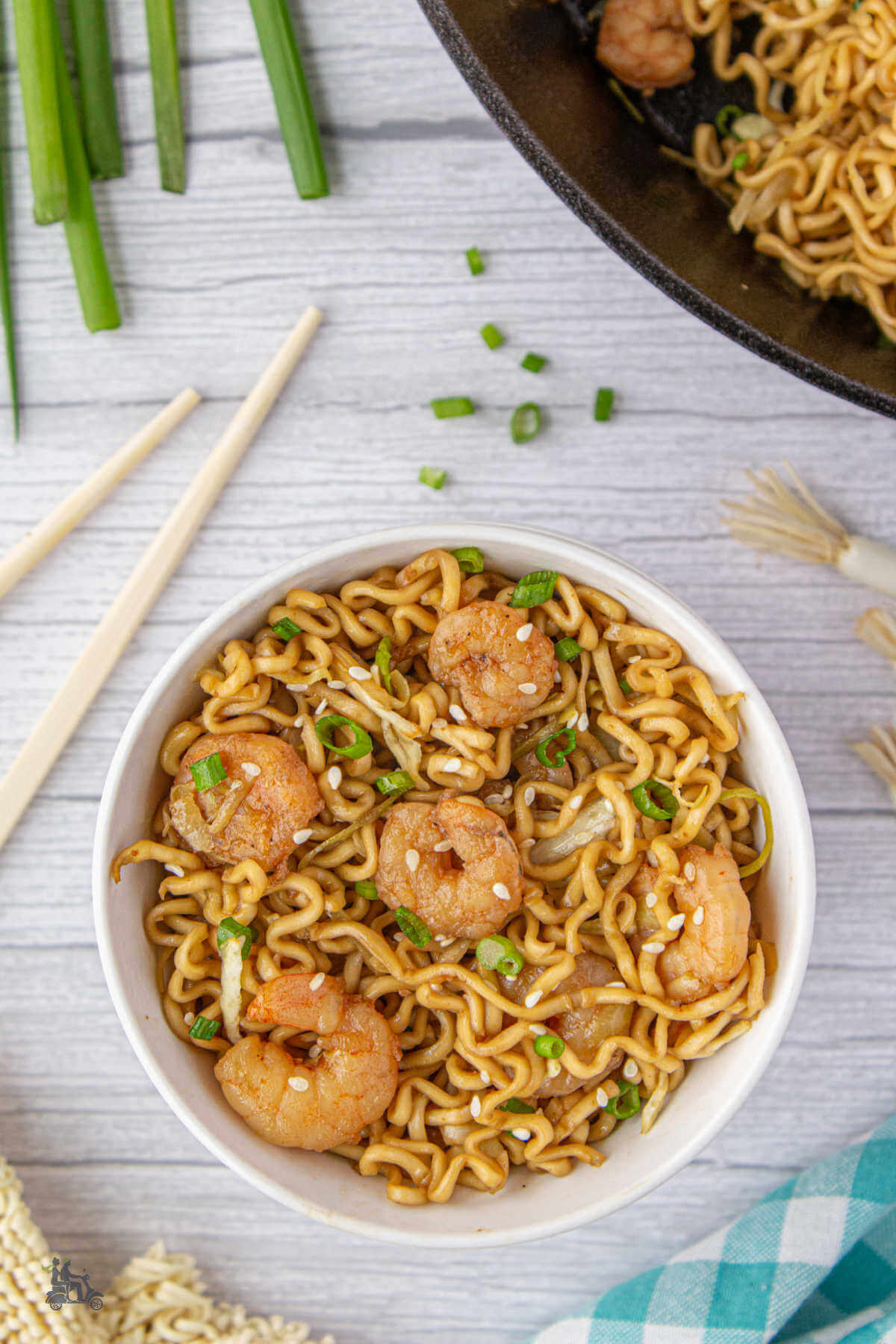 What's new? Check out my All Our Way Store on Amazon. We'll be adding more items we love and use or wish we had to make cooking fun and easy.
📝 Recipe Card
Make an irresistible Asian-inspired meal with Teriyaki Noodles with Shrimp! This easy dish combines juicy shrimp, soft ramen noodles, crunchy coleslaw mix, and rich teriyaki sauce. It's so good as a main meal or side dish.
If you have family and friends who love everything teriyaki, you've got to make them Spicy Teriyaki Chicken Wings. They are finger licking good!
Another simple pasta dish we're sure you'll enjoy, is this viral TikTok One-Pot French Onion Pasta recipe.
If you love this recipe please give it 5 stars ⭐️⭐️⭐️⭐️⭐️.
📖 Recipe
Quick and Easy Teriyaki Noodles With Shrimp
Teriyaki Noodles with Shrimp is a delicious and satisfying dish that combines the sweet and savory flavor of teriyaki sauce with tender and juicy shrimp, soft noodles, and crunchy coleslaw mix.
Print
Pin
Rate
As An Amazon Associate I earn from qualifying purchases.
Ingredients
2

packages ramen noodles

remove seasoning packet and discard

2

cups

coleslaw mix

or shredded cabbage

2

teaspoons

olive oil

may use vegetable oil

1

cup

cooked shrimp

or shredded chicken

⅓

cup

teriyaki sauce

2

green onions

medium-thin sliced
Instructions
Bring 4 cups water to a boil.

Add ramen and cook 3 minutes.

Set aside 1 cup pasta water and drain the noodles.

Meanwhile, cook coleslaw mix in oil until tender, about 3 minutes.

Add cooked noodles, chicken or shrimp and teriyaki sauce.

Bring to a simmer, adding pasta water if needed.

Simmer 2 minutes or until heated through.

Garnish with green onions.
Notes
Refrigerate leftovers in a covered container for up to 4 days. This recipe is not recommended for freezing as the noodles do not thaw well.
Reheat in the microwave or on the stovetop.
Nutrition
Calories:
94
kcal
|
Carbohydrates:
7
g
|
Protein:
10
g
|
Fat:
3
g
|
Saturated Fat:
0.4
g
|
Polyunsaturated Fat:
0.3
g
|
Monounsaturated Fat:
2
g
|
Trans Fat:
0.01
g
|
Cholesterol:
75
mg
|
Sodium:
1271
mg
|
Potassium:
198
mg
|
Fiber:
1
g
|
Sugar:
5
g
|
Vitamin A:
201
IU
|
Vitamin C:
14
mg
|
Calcium:
56
mg
|
Iron:
1
mg
Sign up for the emails and never miss another recipe!!
We'll never share your email or send you spam. Promise