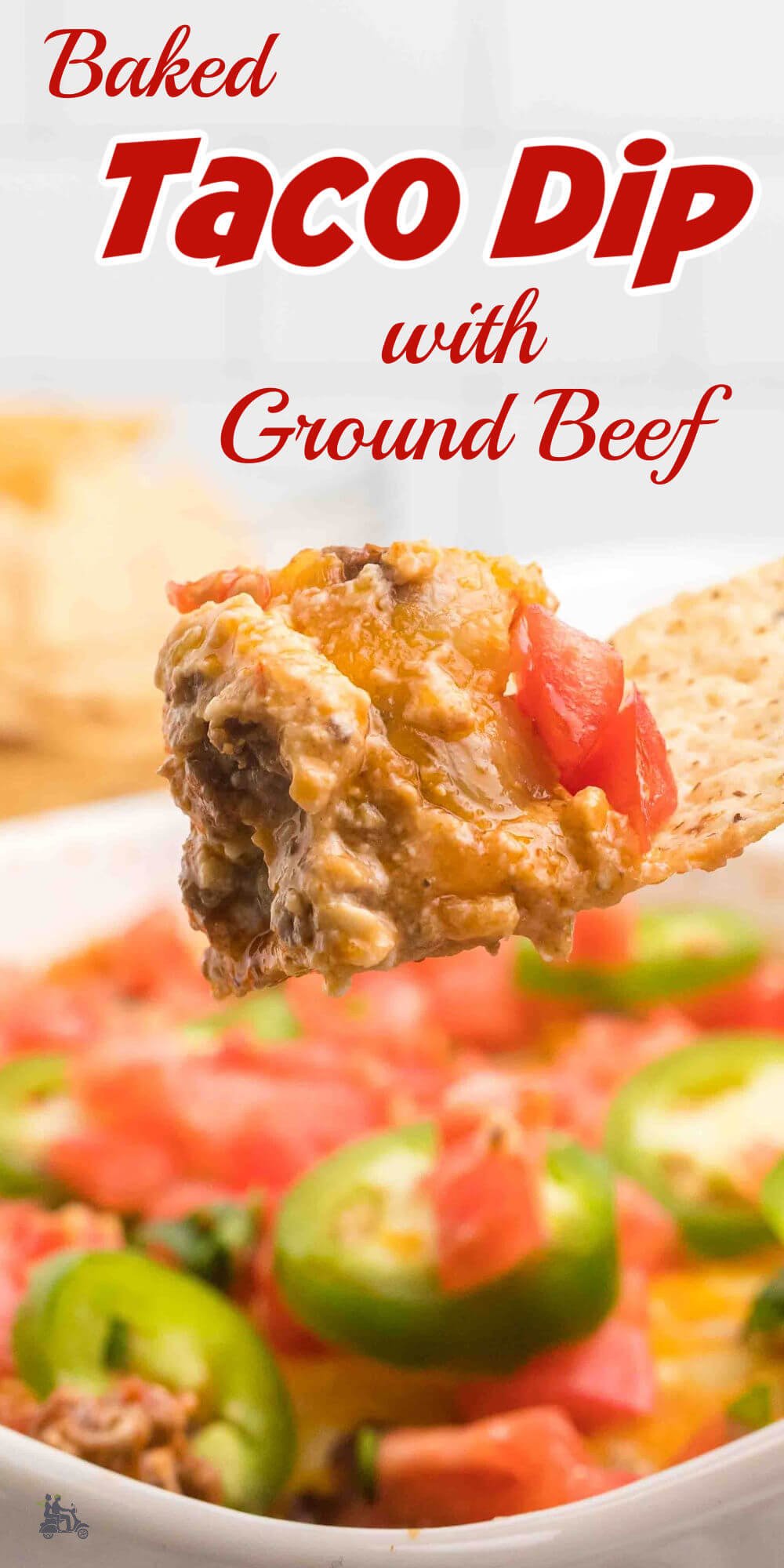 This baked taco dip is so easy to make with taco-inspired layers starting with cream cheese and sour cream base, browned ground beef, salsa, shredded cheese, freshly diced tomatoes, and jalapenos! Perfect for your next summer cookout!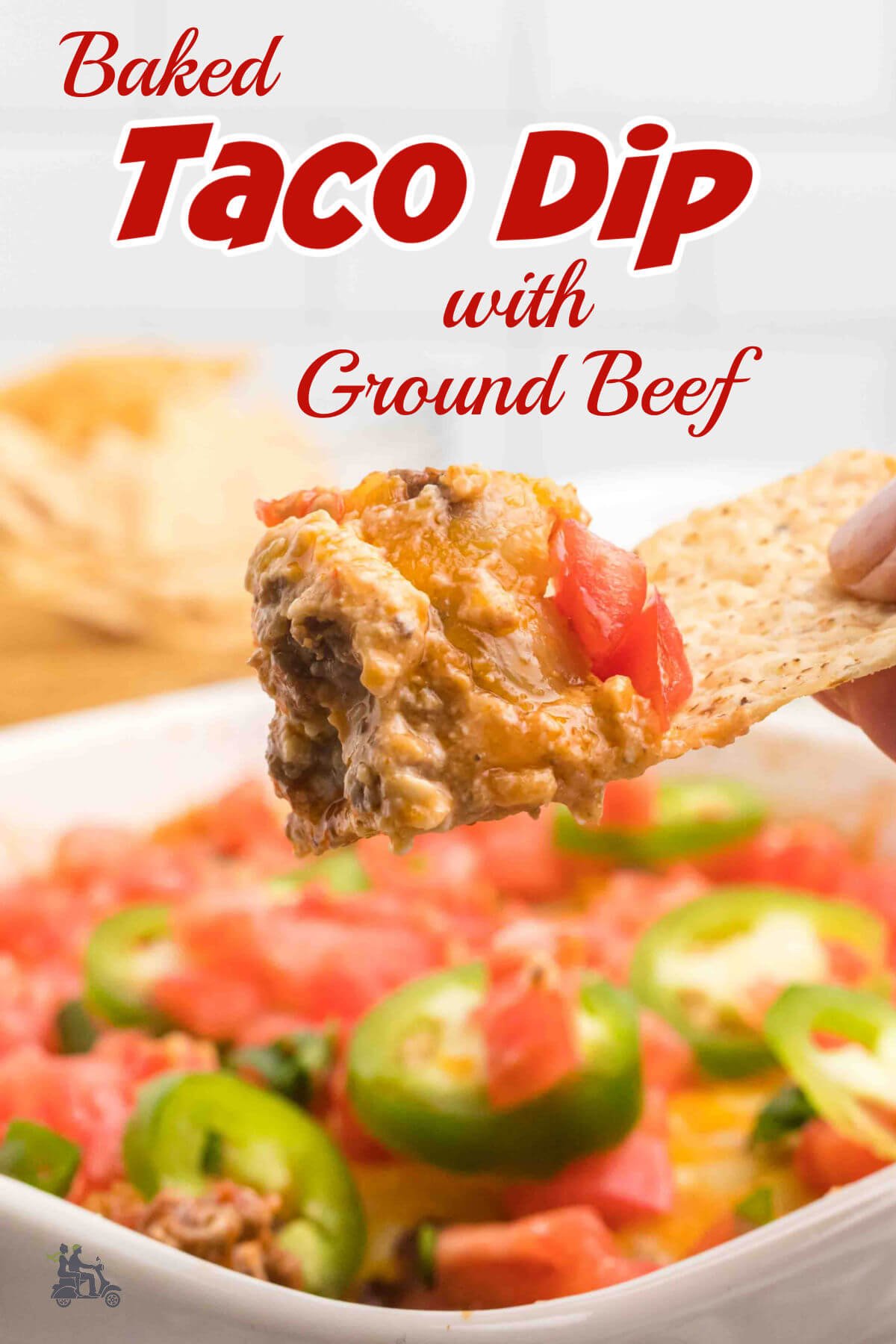 Jump to:
❤️ Why you'll love this recipe
This baked taco dip only requires 7 main ingredients with optional toppings that are so easy to vary to suit preferences.
It's a meaty and cheesy dip loaded with your favorite taco flavors that's perfect for game day or your next party.
It's so easy to make! Simply layer the ingredients, bake, and serve!
It's easy to understand why everyone loves this baked taco dip with meat. Starting with cream cheese and sour cream base, this dip is then built layer to layer with typical taco ingredients and your choice of favorite toppings!
🛒 Ingredients
As an Amazon Associate I earn from qualifying purchases.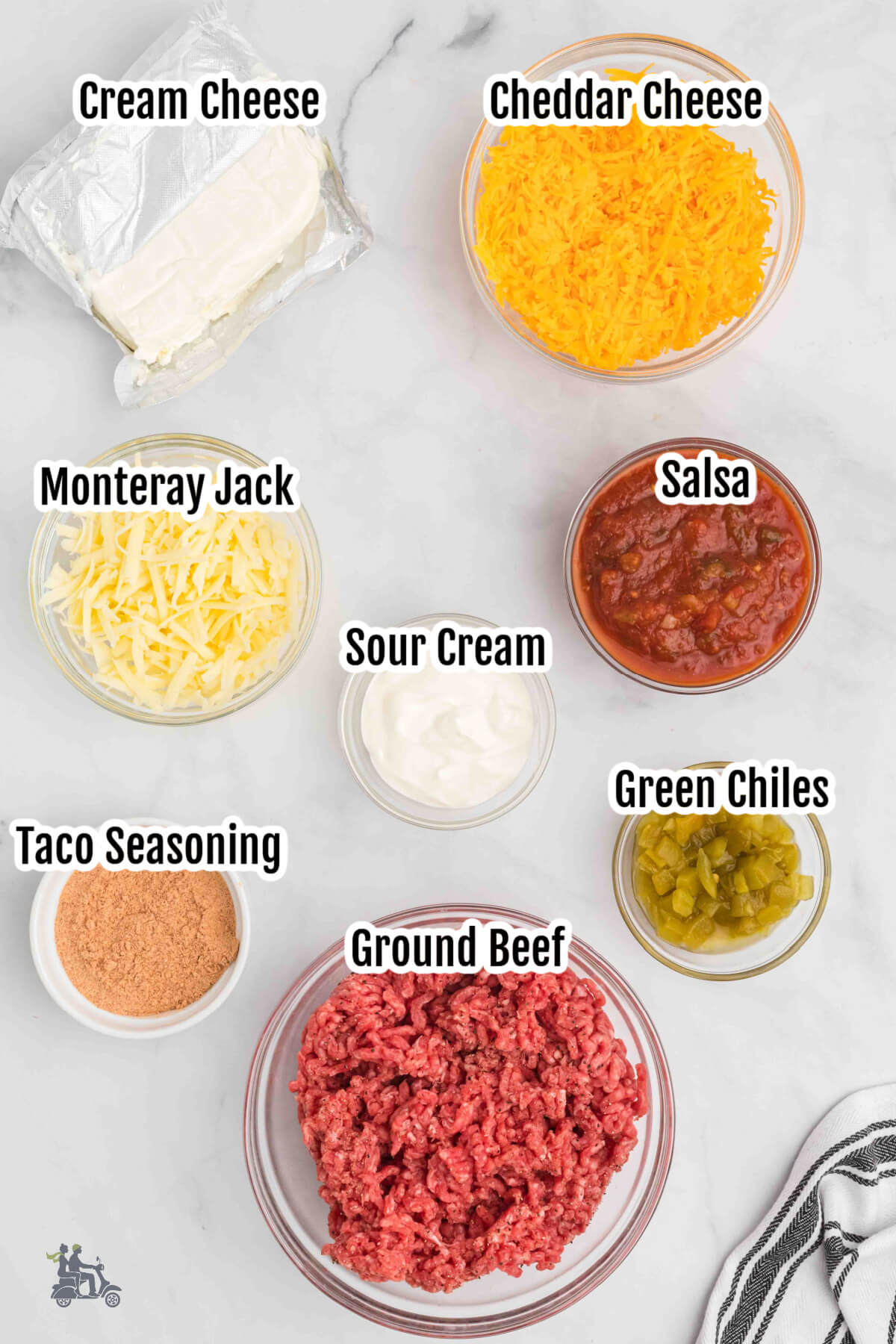 Note: The full list of this recipe ingredients with their amounts and options are listed in the recipe card below.
Salsa - your heat preference.
Optional toppings: lettuce, tomatoes, olives, cilantro, jalapeños, green onions.
🗒 Instructions
Note: This is an overview of the instructions. The full instructions are in the recipe card below.
Brown the ground beef in a large pan. Drain the excess fat and return it to the pan. Add the taco seasoning and water and continue to cook the beef.
Add grated cheese to a large mixing bowl, chop the chilis and let the cream cheese sit at room temperature.
Mix the cream cheese, sour cream, grated cheese, and chilis in the mixing bowl.
Spread the creamy mixture into the bottom of a baking dish.
Top the creamy base with the cooked beef.
Add a layer of salsa.
Sprinkle the remaining grated cheese on top.
Bake the dip for 25 minutes until bubbly and browned.
Start to top the dip with chopped tomato.
Next, add chopped green onions.
Finish off the dip with sliced jalapenos.
Serve the dip warm with tortilla chips or whatever else you prefer.
🔪 Equipment
The following are affiliate links. We are a participant in the Amazon Services LLC Associates Program, an affiliate advertising program designed to provide a means for us to earn fees by linking to Amazon.com and affiliated sites.
You'll need the following items to make this recipe successfully.
🤔 FAQs
These are the questions we are most frequently asked about making Ground Beef Baked Taco Dip Recipe.
What is taco dip made of?
This taco dip is made of typical taco ingredients such as browned ground meat, fresh toppings, salsa, jalapeno peppers, and other delicious options typically enjoyed with tacos. The dip starts with a base of cream cheese, sour cream, and chopped chilis and then gets layered with beef, salsa, greeted cheese, and toppings (once baked).
Can you warm up taco dip?
Absolutely! It's best though to remove any fresh toppings such as diced tomato and lettuce before warming this dip up as those toppings won't hold up well.
How do you make taco dip thicker?
You could make this dip a thicker consistency by increasing the cream cheese or even add in something like cornstarch which provides a creamy texture and is often used in cheesecake fillings to thicken.
Why does my taco dip get watery?
If your dip has become watery, it's usually an indication that it's been sitting in the refrigerator for too long or the watering toppings such as lettuce and diced tomatoes have now released excess water, affecting the dip.
👩🏻‍🍳 Tips
It's best to first allow the cream cheese to soften at room temperature before combining it with the other ingredients. This will help it mix better for a smoother taco dip. If you are rushed for time, pop the block of cream cheese (removed from the foil packaging) into the microwave for about 45 seconds on low.
You can mix the cream cheese mixture with a spoon but a hand mixer makes it much easier.
This taco dip can be assembled and stored in the refrigerator 2 days ahead of serving. Just prior to serving, bake the dip and only then top it with the fresh topping options.
I've listed an array of toppings that you could use to top this taco dip. Feel free to mix and match or use other toppings that you know will be loved by the family and friends.
Since this dip contains dairy-based ingredients, make sure that it is stored back in the refrigerator when no longer in use. This dip shouldn't be left out for extended periods of time.
I always grate my cheese for recipes for the best taste. Packaged shredded cheese usually contains a coating to preserve it which detracts from the taste and its ability to combine with other recipe ingredients.
Always use cream cheese in a block, not the variety that is packaged in a tub.
📚 Variations
I love using full-fat ingredients for maximum flavor but you could use low-fat ingredients instead and this tip will still be super delicious!
Go ahead and make use of other ground meat such as ground chicken, turkey, or pork.
For added heat to this taco dip, use a hotter salsa, add in some cayenne pepper or use a cheese such as Pepper Jack.
Bulk up this dip by tossing in some refried beans. You could also thicken the consistency of the dip by adding some cornstarch.
I've used salsa as one of the dip layers but you could opt for a taco sauce instead.
Make this dip vegetarian by removing the ground beef and either adding a layer of beans or a vegan ground meat alternative.
Mix up the toppings to suit your personal preferences.
Italian seasoning can replace taco seasoning. You could also use crumbled feta instead of shredded cheddar cheese, yogurt instead of sour cream, and red pickled onions are great alternatives to the jalapenos.
🥫 Storage
This dip can be stored in an airtight container or in the baking dish, covered tightly with plastic wrap, for 3-5 days.
You also have the option of freezing this dip for 1-3 months although the quality of the texture and taste will not be the same as when freshly made.
Make sure to remove any fresh taco dip toppings before storing the dip in the refrigerator or freezer as these toppings will become soggy and affect the dip.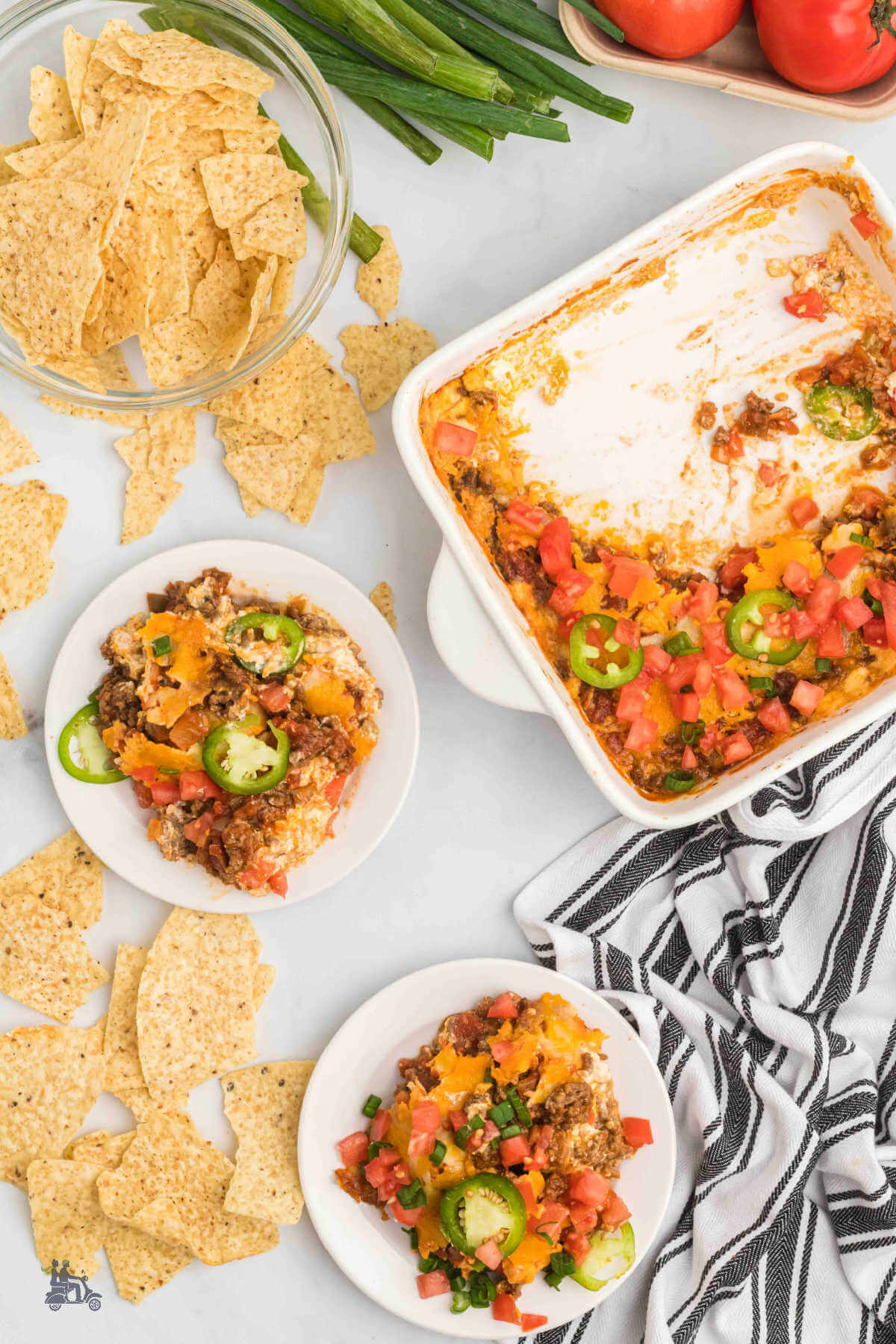 📗 Related Recipes
Offer your guests more mouth-watering party dips to accompany finger foods and snacks. If you need some inspiration, head on over to these scrumptious dips:
🍽 Serve with
This taco dip can be enjoyed with tortilla chips, freshly sliced veggies, chips, crackers, pretzels, and slices of artisan bread. Leftover dip can also be enjoyed by the spoonful!
If you are following a low-carb diet, make sure to select snack offerings that are low-carb.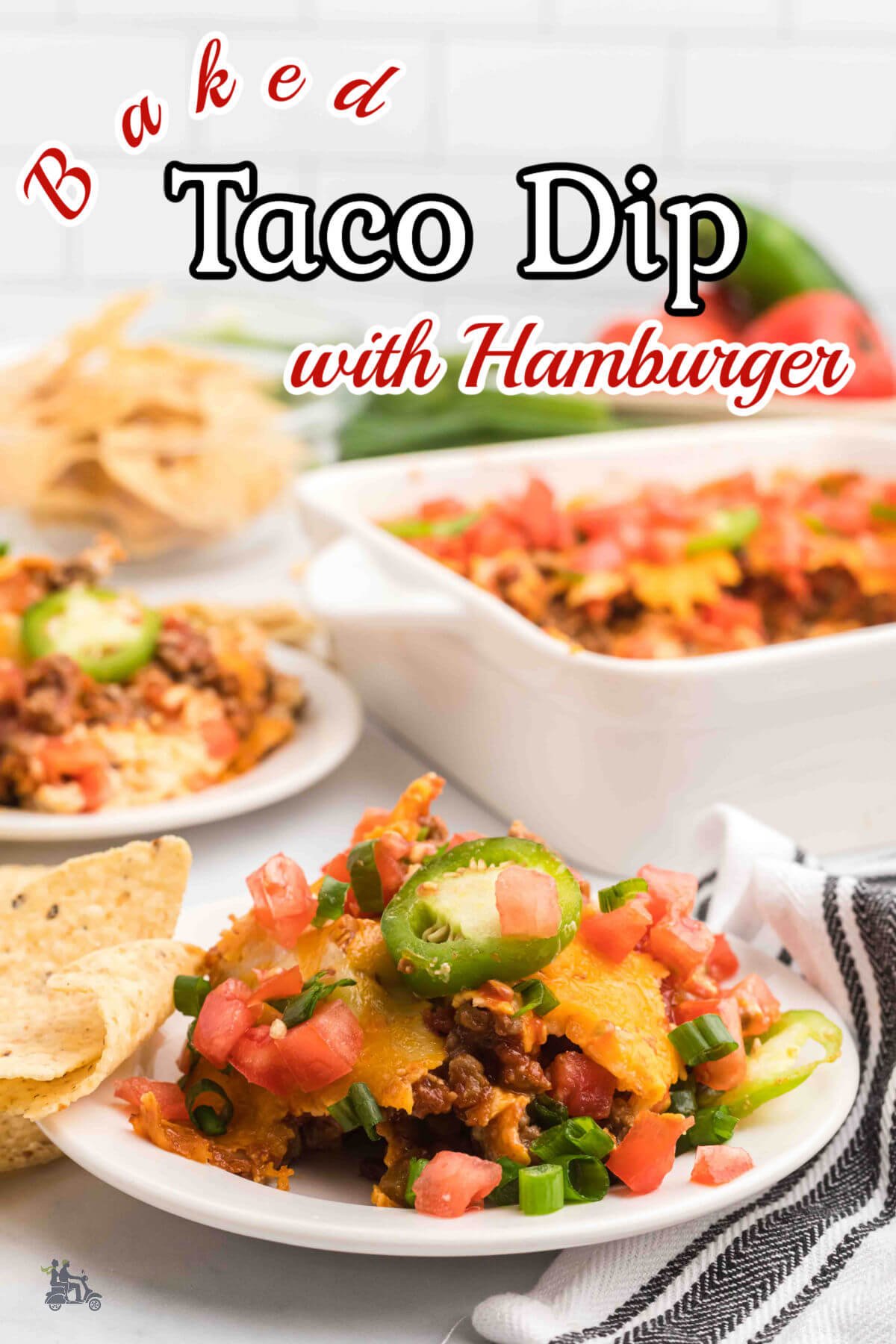 📞 Chiacchierata (chat)
A tasty homemade dip can seriously elevate your party snack spread and keep those hungry guests or family members satisfied while you get on in the kitchen with your main meal preparations.
Having tested quite a few dips over the years of entertaining, nothing gets people more excited than a dip with a twist. This taco dip provides all the delicious textures and flavors of a classic taco that's loved by all who try it!
If you can't get enough of tacos, you must try our Smoked Pork Tacos that are so juicy and full of Southwestern flavor!
What's new? Check out my All Our Way Store on Amazon. We'll be adding more items we love and use or wish we had to make cooking fun and easy.
📝 Recipe Card
This baked taco dip is insanely easy to whip up with various taco-inspired layers starting with cream cheese and sour cream base, seasoned and browned ground beef, salsa, shredded cheese, freshly diced tomatoes, and jalapenos…and anything else your heart desires!
We love our hot baked dips, next time you want something creamy with your favorite dippers, check out our Hot Spinach and Artichoke Dip. Everyone goes crazy over how absolutely delicious it is!
If you'd like to try a Mediterranean dip, this Baked Goat Cheese Marinara Dip is superb. Have plenty of scoopers to dip with - this creamy appetizer is fabulous.
If you love this recipe please give it 5 stars ⭐️⭐️⭐️⭐️⭐️.
📖 Recipe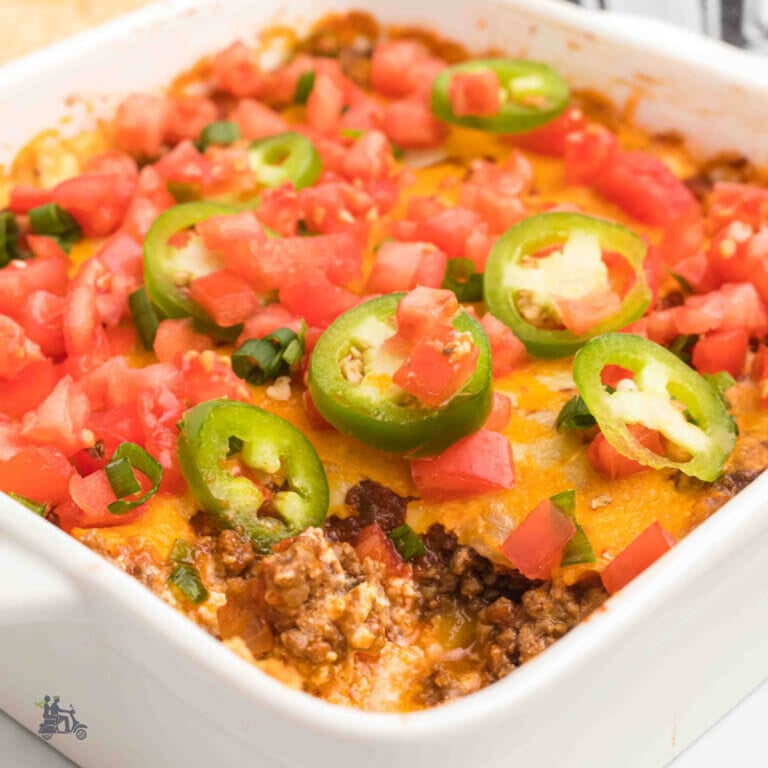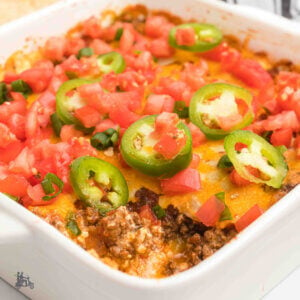 Baked Taco Dip With Ground Beef
This Hot Taco Dip with Meat will soon become your favorite Tex-Mex party dip! Loaded with all the loved ingredients of a classic taco and easily adapted to suit your taco-topping preferences!
Print
Pin
Rate
As An Amazon Associate I earn from qualifying purchases.
Ingredients
1

pound

Ground Beef

may use ground chicken, sausage or turkey

1

package

Taco seasoning

8

ounces

Cream cheese

softened

¼

cup

Sour cream

2

cups

Cheddar Cheese

shredded, divided

2

ounces

Green chilis

chopped

1

cup

Salsa

use which heat you like
Optional Toppings
Lettuce

Shredded

Tomatoes

Dices

Olives

Sliced

Cilantro

Chopped

Green Onions

Sliced
Instructions
Preheat oven to 375℉. Spray a baking dish with vegetable spray.

Brown beef in a large pan over medium heat, drain fat and return to the pan.

Stir in taco seasoning and water according to package directions.

While beef is cooking mix cream cheese, sour cream, ½ of the cheese, and chilis in a laarge bowl. Mix until fully combined and spread into the bottom of a prepared baking dish.

Layer the meat mixture on top, then layer the salsa and finish with the remainin cheese.

Bake 25 minutes or until bubbly and browned. Top with desied toppings and serve war with tortilla chips.
Notes
It's important to soften the cream cheese first. This will make it easier to mix with the other ingredients. You can let it soften on the counter, or do it in the microwave on low power for about 45 seconds. Be sure to remove the metallic cover on the cheese before putting it in the microwave.
Use a hand mixer to combine the cream cheese mixture, this makes the dip easier to mix up and scoop.
You can make this up to 2 days ahead and bake just before the guests arrive. Do NOT put the vegetables on top. Wait until it's baked.
Top with your favorite toppings. Some ideas are: sour cream, diced tomatoes, chopped green onions, shredded lettuce, sliced black olives, chopped cilantro.
Nutrition
Calories:
523
kcal
|
Carbohydrates:
10
g
|
Protein:
25
g
|
Fat:
43
g
|
Saturated Fat:
22
g
|
Polyunsaturated Fat:
2
g
|
Monounsaturated Fat:
13
g
|
Trans Fat:
1
g
|
Cholesterol:
135
mg
|
Sodium:
1205
mg
|
Potassium:
407
mg
|
Fiber:
2
g
|
Sugar:
5
g
|
Vitamin A:
1700
IU
|
Vitamin C:
5
mg
|
Calcium:
338
mg
|
Iron:
2
mg
Sign up for the emails and never miss another recipe!!
We'll never share your email or send you spam. Promise