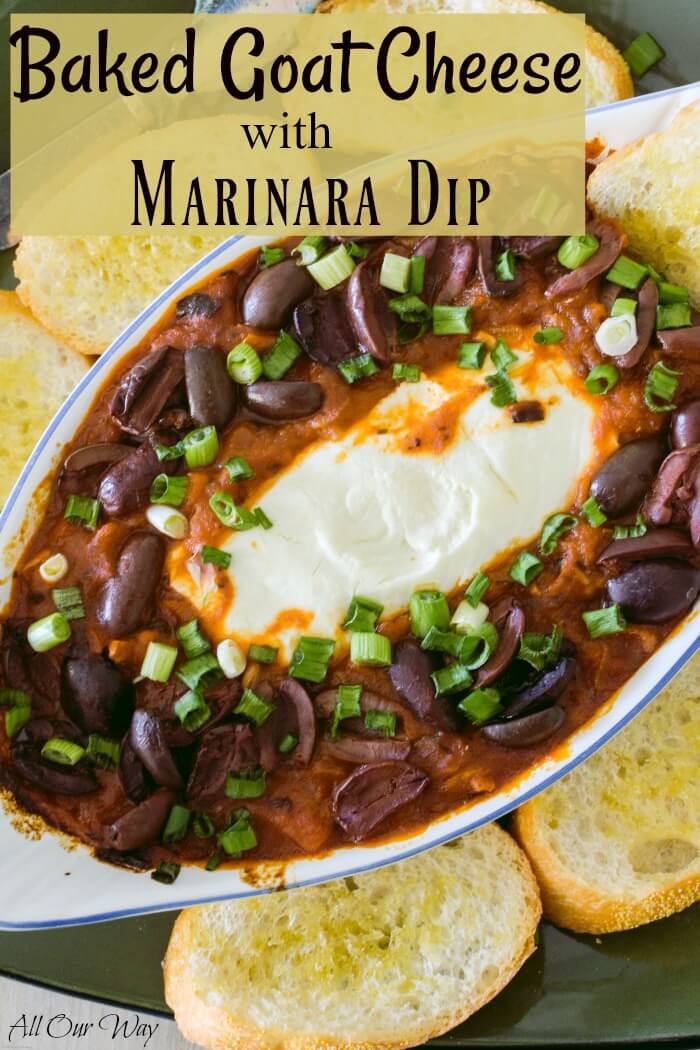 Baked Goat Cheese Marinara Dip is a deliciously gooey zippy appetizer that takes almost no time at all to make. Think of warm earthy goat cheese surrounded by a robust, spicy marinara sauce. This Italian sauce has chunky vegetables, roasted garlic, and lots of herbs. To further enhance the taste, we added kalamata olives and caramelized onion. The beauty of this goat cheese recipe is that you can use your marinara sauce or your favorite jarred variety. This hot goat cheese appetizer is one your friends and family will insist you make frequently. And of course, you'll be happy to comply because it's super easy. Crostini or breadsticks make ideal scoops for the dip.
For this recipe, you will need goat cheese, marinara sauce, kalamata olives, garlic, large onion, fresh basil.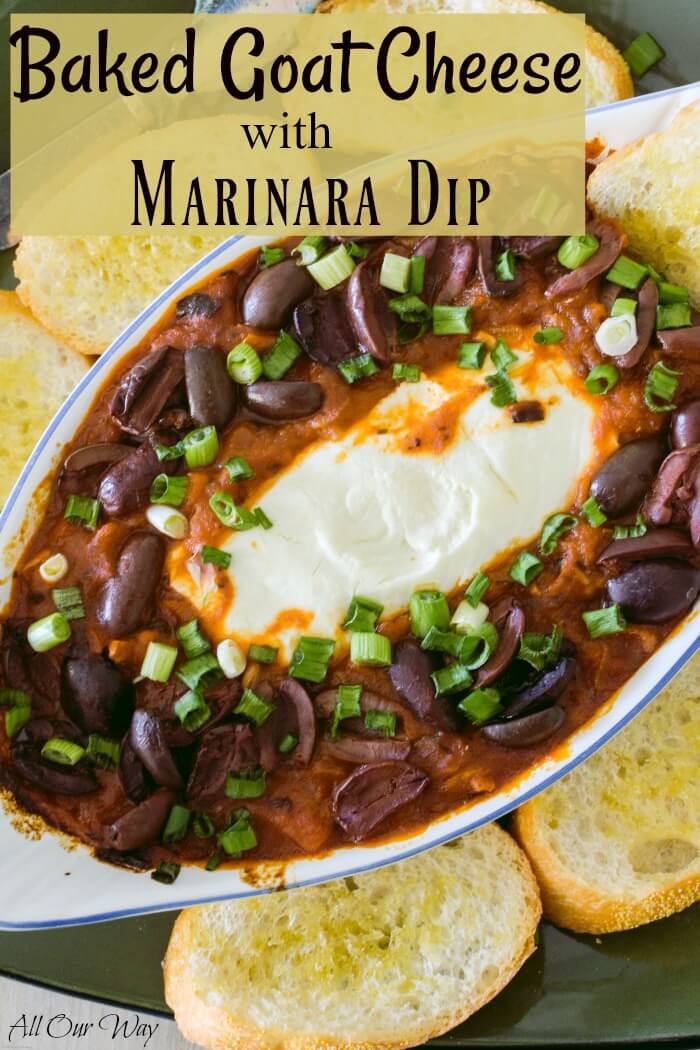 Jump to:
What type of goat cheese?
Chevre means goat but we regularly use the term to mean goat cheese, especially the softer variety. There are two classifications of goat cheese.
Unripened which is fresh, soft, and creamy. It represents most of the domestic cheese production. This cheese is ready to eat in just a few days. It has a tang and is very moist; it's similar to ricotta cheese.
Ripened cheese ages for about three to four months.
The texture indicates the moisture content of the cheese and further classifies them as soft, semisoft, firm or hard.
For our baked goat cheese marinara dip, you will need soft, unripened variety.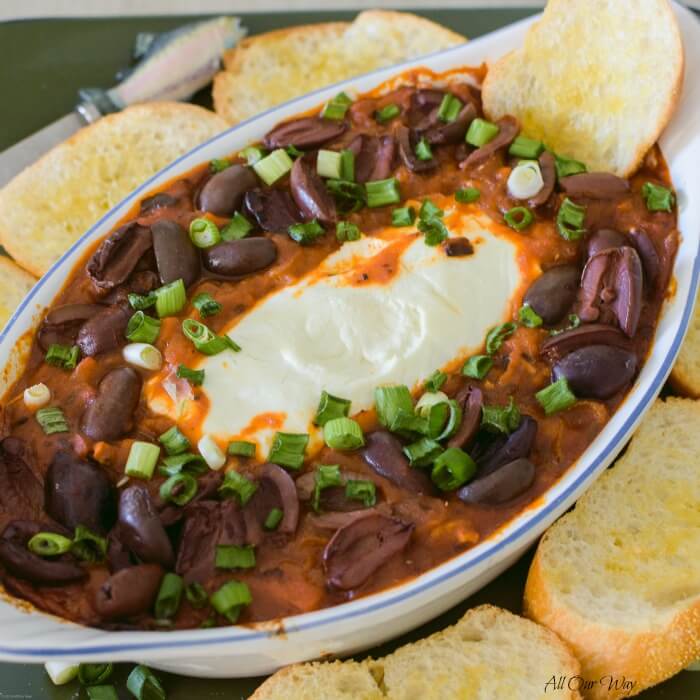 Baked Goat Cheese Recipes
We got our goat cheese in a double pack at a big box store. It was very economical, and I was curious to find all the recipes that feature soft goat cheese. I was amazed at the number of dishes and believe me; my mouth was watering by the time I finished reading.
Here are some of the recipes I saved:
Scrambled Eggs with Caramelized Onions and Chèvre.
Goat Cheese Cake with Mixed Berries
Leek and Potato Galette with Pistachio Crust
Green Goddess, Pistachio, and Goat Cheese Ball
Root Vegetable Tarte Tatin
Caprese Salad with Goat Cheese
Warm Herb and Cherry Jam Spread
Do any of those recipes tempt you? They sure do me! Roasted Beet and Goat Cheese salad is a staple in many restaurants. As you can see above, goat cheese can also be an ingredient in desserts. Instead of cream cheese in frostings, how about using goat cheese? Not only does goat cheese taste delicious but it's also good for you.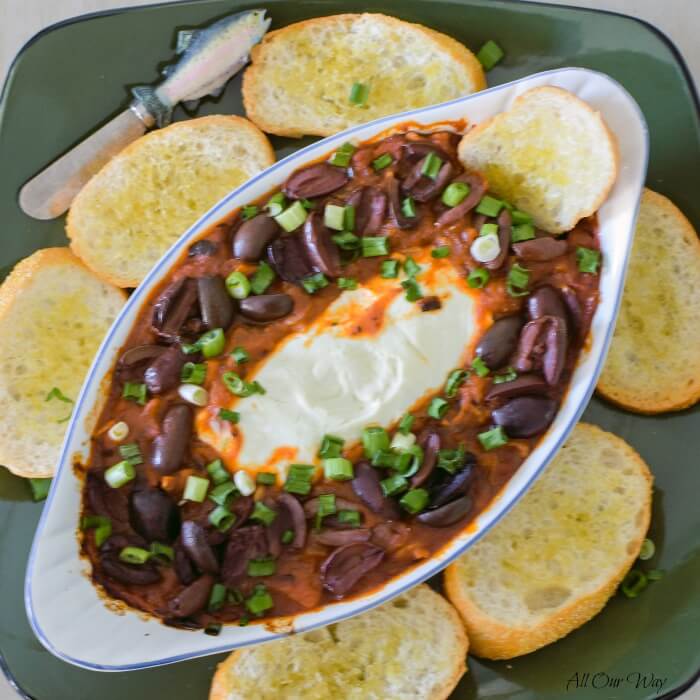 Health Benefits of Goat Cheese
Is Goat Cheese Lactose-Free? No, it's not. But the good news is that goat's milk may be more digestible than cow's milk because the fat molecules are shorter than those in cow's milk.
Cheese is sometimes easier to digest than milk because the aging process reduces lactose. The longer a cheese ages, the more lactose turns to lactic acid.
Does Goat Cheese Have Casein? Sometimes a milk allergy has nothing to do with lactose; the culprit could be casein. Goat's milk does have this protein but less than cow's milk. Some people with milk allergies may be able to tolerate goat cheese.
So for people who thought they couldn't have cheese because they suffer from milk allergies, eating longer-aged cheese might be the solution.
Additional Reasons to Eat Goat Cheese. I have a weakness when it comes to cheese, but with goat cheese, I tell myself that ...
is lower in fat than cow cheese.
has fewer calories than cow cheese.
is lower in sodium than cow cheese.
is high in protein.
is rich in vitamins, calcium, and minerals.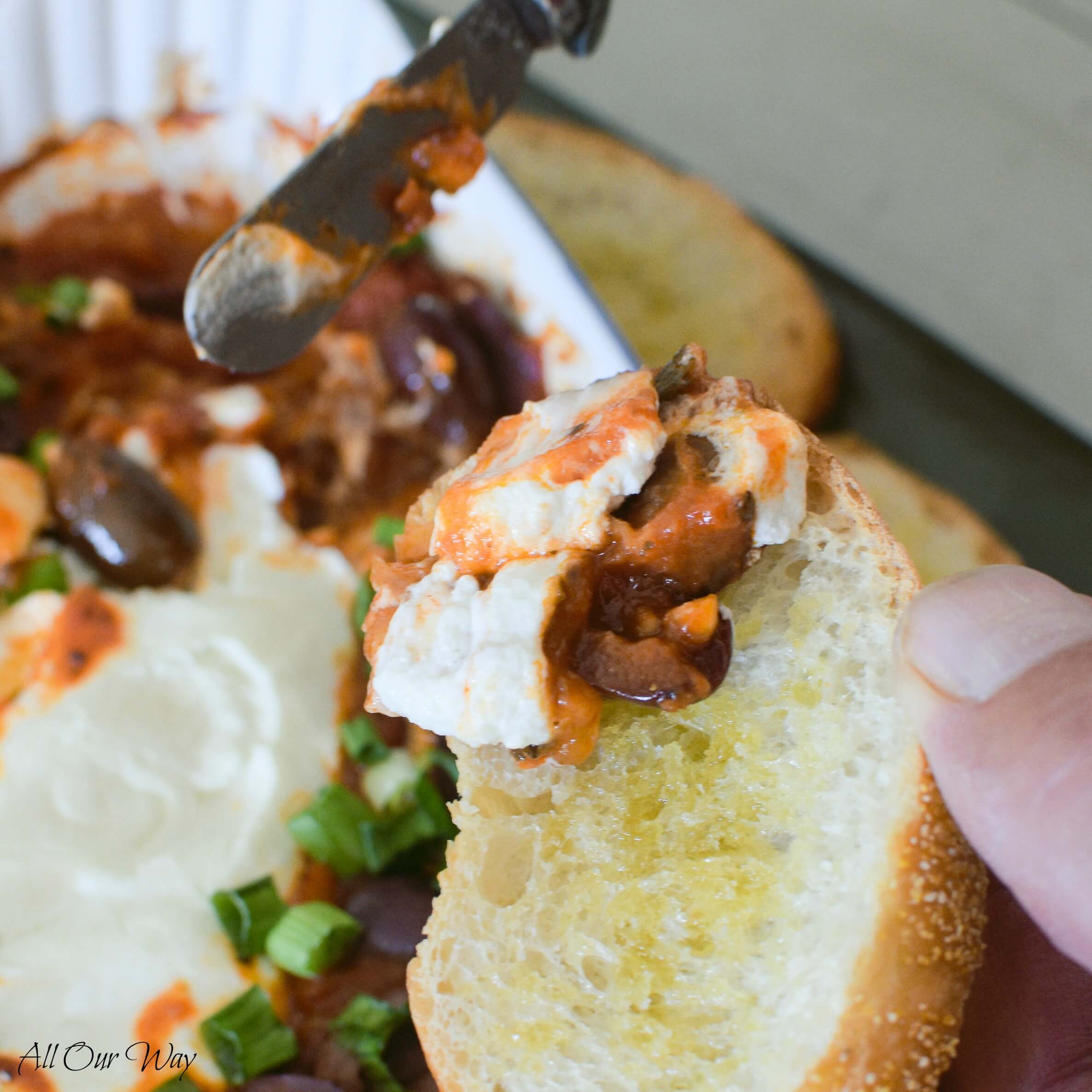 Goat Cheese Pairings
Goat cheese is very prevalent in the Mediterranean region where cows are less common there. The soft unripened cheese makes a wonderful spread to slather on crostini or bruschetta.
It pairs well with products found in the Mediterranean area. Delicious ingredients such as olives, rich olive oils, tomatoes, herby pesto, mushrooms, and garlic.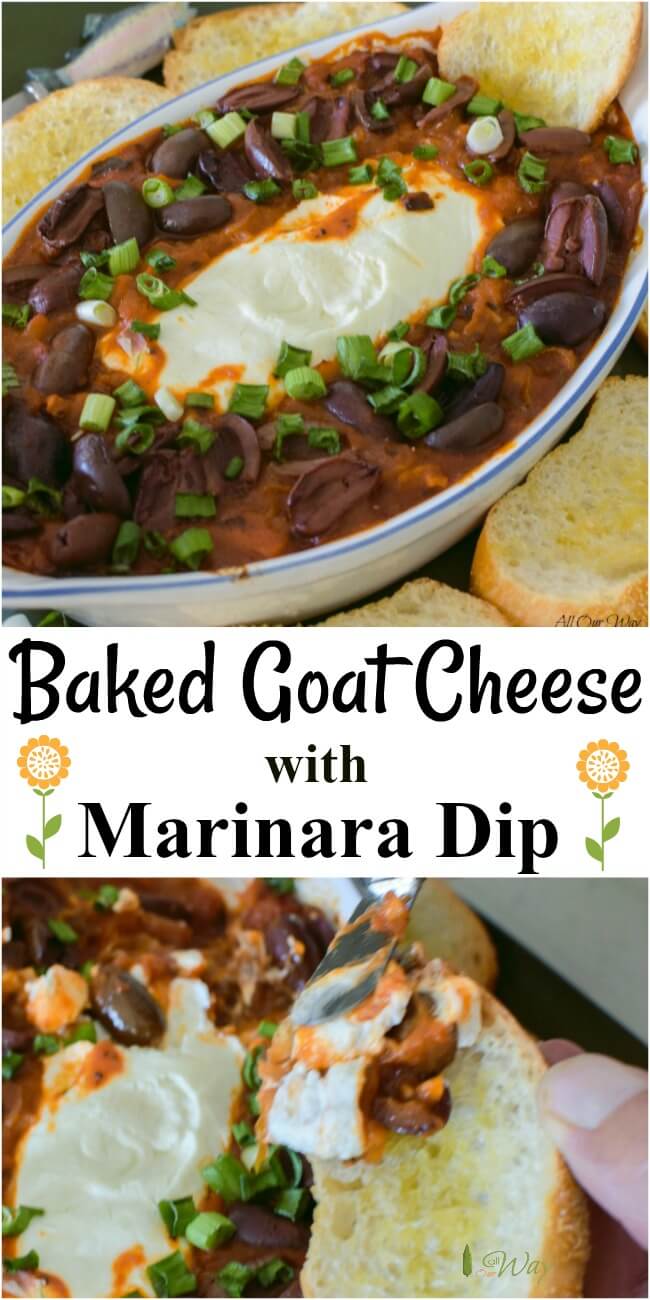 There're so many types of goat cheese that it's difficult to specify a wine to go with it. A wine that we enjoy is sauvignon blanc and it's excellent with our soft goat cheese. You may want something with a bit more body like a pinot noir with the baked goat cheese appetizer.
We're sure you will love this dip with caramelized onions.
Tutti a tavola è pronto!
Un caro saluto e alla prossima.
YOU MAY NEED...
The following are affiliate links. As An Amazon Associate I earn from qualifying purchases.

Baked Goat Cheese Marinara Dip With Caramelized Onions
This is a smooth, creamy, and herbal soft cheese that you'll want to slather on all your favorite toasted bread, crackers, or even breadsticks. The appetizer looks fussy but it is so easy you'll want to keep the three main ingredients on hand all the time to throw together when the mood hits. We did add caramelized onion to it and you can also opt to put in a roasted head of garlic. Our marinara sauce had plenty of garlic so we just added the onion.
If you love creamy smooth dipping sauces then give our Cilantro Lime Sauce. You'll want to put it on everything.
If you like this recipe, please consider giving it a five-star rating.
Popular Munchy Snacks
📖 Recipe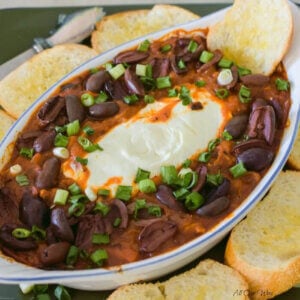 BAKED GOAT CHEESE MARINARA DIP WITH CARAMELIZED ONION
This is a smooth creamy, herbal soft cheese that is surrounded with spicy marinara sauce. The soft gooey cheese is delicious slathered on toasted bread, breadsticks, or crackers. This is a quick and easy recipe that you'll want to make again and again.
Print
Pin
Rate
As An Amazon Associate I earn from qualifying purchases.
Ingredients
8

oz.

goat cheese

1 ½

cup

marinara sauce

homemade or good brand store bought

⅓

cup

kalamata olives

halved

1

large

onion-- thinly sliced

caramelized (opt)

1

Tbs

olive oil

(opt)

1

Tbs

butter

(opt)

1

garlic bulb

(opt roasted head)

2

Tbs

basil ribbons

(opt)
Instructions
In a large skillet melt the butter and olive oil. Add the thinly sliced onion and slowly caramelize them. They will turn a rich golden brown -- be careful not to burn. Set aside.

Preheat oven to 400 F. Peel and discard the papery outer layers of the whole garlic bulb. Cut off ¼ to ½ inch from the top of the garlic exposing the individual cloves of garlic. Make sure the individual cloves of garlic are exposed. Place the garlic heads cut side up on a piece of foil. Drizzle olive oil over the garlic then crimp the foil edges to seal. Bake for 30-35 minutes, or until the cloves feel soft when pressed.

In a gratin dish or any oven-proof serving dish, place the cheese in the center and press down, leaving edges around the cheese.

Add the caramelized onion and squeeze the roasted garlic into the marinara sauce. Mix well.

Pour the marinara sauce around the goat cheese.

Sprinkle the kalamata olives on the sauce.

Bake for 30-35 minutes. Sprinkle the dip with basil ribbons.

Serve warm with toasted crostini, breadsticks, or crackers.
Nutrition
Calories:
130
kcal
|
Carbohydrates:
4
g
|
Protein:
6
g
|
Fat:
10
g
|
Saturated Fat:
5
g
|
Cholesterol:
16
mg
|
Sodium:
446
mg
|
Potassium:
186
mg
|
Fiber:
1
g
|
Sugar:
3
g
|
Vitamin A:
595
IU
|
Vitamin C:
4.9
mg
|
Calcium:
53
mg
|
Iron:
1.1
mg
Sign up for the emails and never miss another recipe!!
We'll never share your email or send you spam. Promise
IF YOU LIKED THIS BAKED GOAT CHEESE MARINARA DIP YOU MAY ALSO LIKE...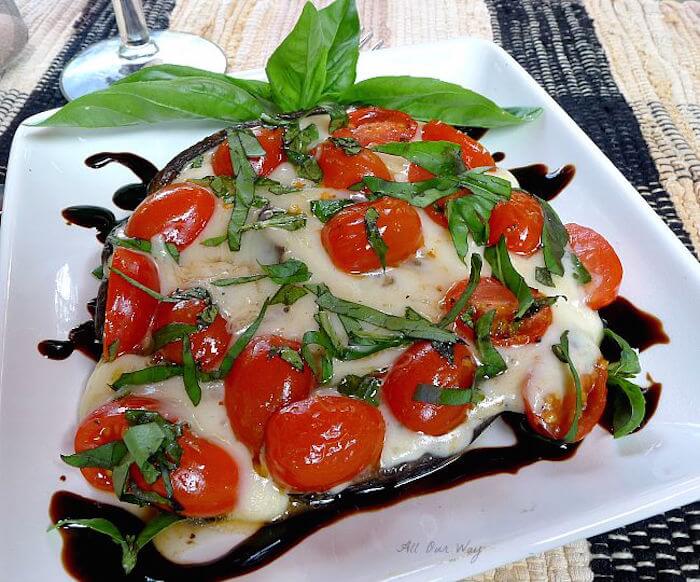 Other recipes you may like ...
Baked Brie Cheese Appetizer with Apples and Bacon Restless Chipotle
Lemon Baked Ricotta Recipe Tin Eats
Note: Recipes and content from © 2014 - 2018 are copyright protected. Please do not use content or recipe without prior written permission. If you want to share the information, please link to this post. Grazie.