Stracciatella alla Romana is a light brothy soup that is sometimes referred to as Italian egg drop soup. It's easy to make with ingredients you usually have on hand -- eggs, chicken stock, Parmesan cheese, and semolina. Stracciatella is also known as rag soup because straccetti means little rags and the egg mixture gives the appearance of little torn or shredded rags. It's the type of soup like Gnocchi in Brodo that will satisfy you and your family every single time.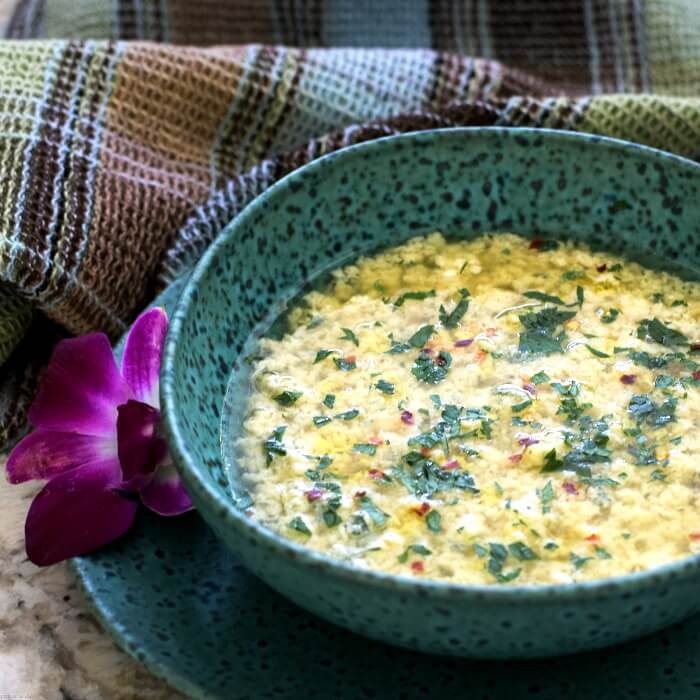 For this recipe, you will need: chicken stock, eggs, Parmesan cheese, pecorino cheese, nutmeg, semolina flour, fresh parsley, cayenne pepper, nutmeg, red pepper flakes, extra-virgin olive oil.
Jump to:
What is stracciatella soup?
Stracciatella alla Romana is a peasant dish. You can find the ingredients in the poorest of homes.
It's a simple dish. Tired and hungry you can make the rag soup in less than 10 minutes.
It's a fortifying soup. One that satisfies and warms you from the inside out.
You'll find many stracciatella recipes throughout the different regions in Italy but what's basic is the broth, eggs, and cheese.
Many cultures have a version of egg drop soup. They use the soup to fortify tired bodies and souls and even as a natural cure-all. The Farmer's Almanac even has a recipe called Cure-All Chicken Soup.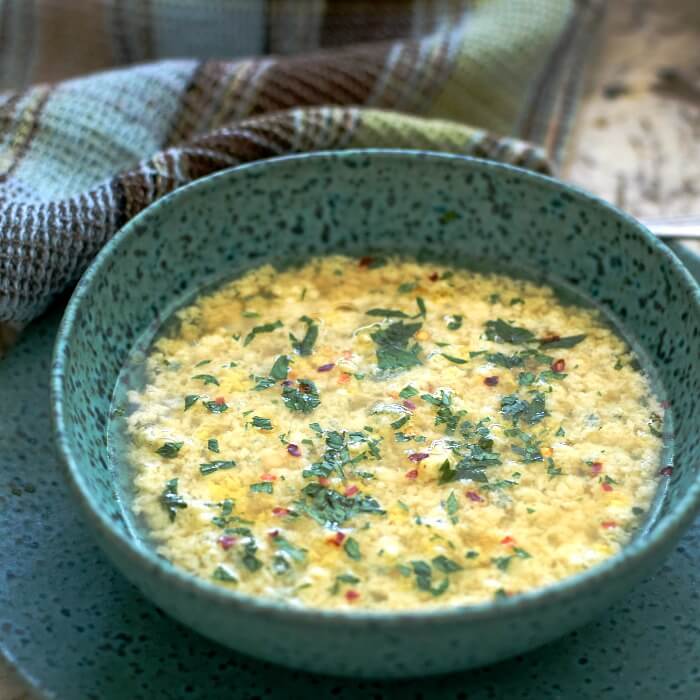 Mamma's Miracle Rag Soup
My papà had an ulcer and in those days science hadn't discovered that a virus was what caused it. Whenever his ulcer acted up, mamma would make stracciatella or pappa in brodo. The recipe for pappa in brodo was homemade bread cubes in homemade chicken broth.
And magically, whether it was a cold, flu or upset stomach, the eggy broth made us feel better.
This picture was taken soon after they were married. They were a perfect match!!
March the 8th is the International Day of Women and I can't let the day pass without honoring her strength, her love, her passion for her family. She was wonderful and how she accomplished what she did never cease to amaze me.
Whenever I'm in the kitchen I think of all the happy hours I spent there with her and my papà. Mamma and I would be cooking and my papà would be sitting at the kitchen table reading his Italo-Americano -- a newspaper published in the States written in Italian. He'd read it from the first page to the last. Every. Single. Word.
In fact, I sometimes feel like they're still with me in the kitchen making sure I'm doing it right. ????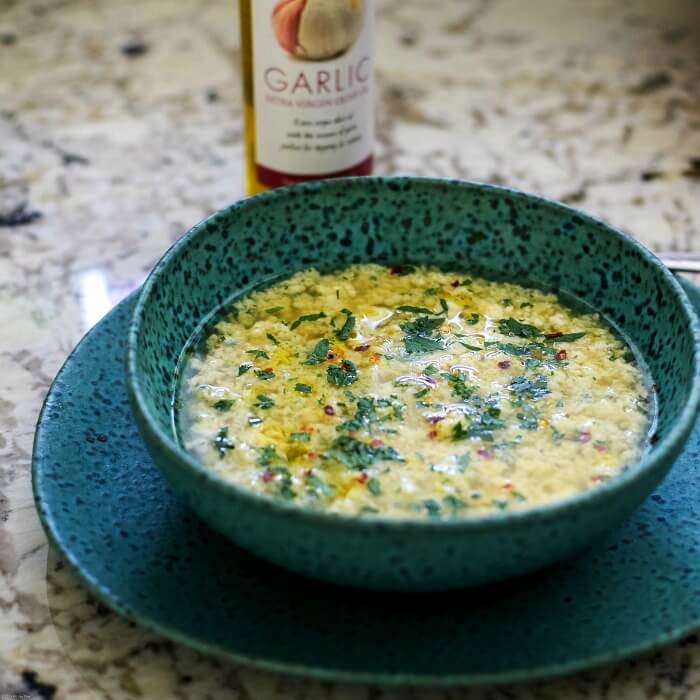 Stracciatella Soup basics and variations
Although there are quite a few variations to an Italian egg drop soup, the ingredients for the stracciatella remains the same.
The basics for the Stracciatella soup recipe is:
Chicken broth or stock
Eggs -- 1 egg for every 2 cups of broth
Parmesan cheese
Pepper
Italian Egg Drop Soup additions:
Semolina -- thickens the egg
Parsley
Spinach
Nutmeg
Cayenne
Small pasta like ditalini or anellini
Lemon
Extra-virgin olive oil
Make this "your way" and to your taste. I promise you'll love this stracciatella recipe!!
When we are looking for a soup with a bit more substance, we grab our recipe for Lemon Chicken Orzo Soup. The broth is rich in flavor and the lemon gives it a bright citrus touch.
Tutti a tavola è pronto!
Un caro saluto e alla prossima!
YOU MAY NEED...
The following are affiliate links. we are a participant in the Amazon Services LLC Associates Program, an affiliate advertising program designed to provides a means for us to earn fees by linking to Amazon.com and affiliate sites.
Grazie for being a part of All Our Way!
What's new? check out my All Our Way Store on Amazon. We'll be adding more items we love and use or wish we had to make cooking fun and easy.
Stracciatella alla Romana A Classic Italian Egg Drop Soup
This lovely light egg drop soup is named after the egg mixture that forms little curds that look like torn rags - stracetti. It is the perfect soup when you're too tired to cook or when you don't want a hearty meal. The ingredients are inexpensive and ones you usually have on hand. The taste of stracciatella soup is anything but bland or unimpressive! Try it and you'll love it as much as we do.
If you like this recipe, please consider giving it a five-star rating.
📖 Recipe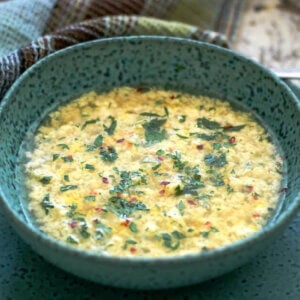 Stracciatella Alla Romana Italian Egg Drop Soup
There is nothing fussy about this soup which is exactly what is needed when you're tired and hungry or just not in the mood to cook. It takes only 15 minutes from start to finish. This is a light but very satisfying soup. I know you'll love it as much as we do.
Print
Pin
Rate
As An Amazon Associate I earn from qualifying purchases.
Ingredients
6

cups

chicken broth or stock

2

tablespoon

semolina

3

large

eggs

3

tablespoon

fresh parsley

chopped

2 ¼

tablespoon

Parmigiano-Reggiano Cheese

2 ¼

tablespoon

Pecorino Romano Cheese

⅛

teaspoon

cayenne pepper

⅛

teaspoon

nutmeg

grated

1

tablespoon

olive oil

extra-virgin

⅛

teaspoon

red pepper flakes

salt and freshly ground pepper to taste
Instructions
In a medium pot over medium-high heat, bring the chicken stock to a gentle boil. If the stock is unsalted, add ½ tsp. salt. Taste the broth and adjust salt and pepper. q.b. quanto basta (to taste) Do not boil the broth -- just simmer.

Whisk eggs, 2 tablespoon parsley, semolina flour, grated parmesan, pecorino, cayenne pepper, and nutmeg together in a bowl until well blended.

While stirring the simmering broth, slowly pour egg mixture into the broth. Bring the broth back up to a simmer. The soup will be cloudy at first but it will clear as the broth heats.

Ladle into bowls and top with a drizzle of olive oil and a sprinkle of hot pepper flakes and the rest of the chopped parsley.
Notes
NOTE: Make this Italian soup with egg into Pastina Stracciatella by adding the little pastina pasta to the broth. Delicious!
Nutrition
Calories:
134
kcal
|
Carbohydrates:
6
g
|
Protein:
7
g
|
Fat:
8
g
|
Saturated Fat:
2
g
|
Cholesterol:
144
mg
|
Sodium:
134
mg
|
Potassium:
81
mg
|
Vitamin A:
505
IU
|
Vitamin C:
3.8
mg
|
Calcium:
88
mg
|
Iron:
1.2
mg
Sign up for the emails and never miss another recipe!!
We'll never share your email or send you spam. Promise
IF YOU LIKED THIS STRACCIATELLA ALLA ROMANA RECIPE YOU MAY ALSO LIKE...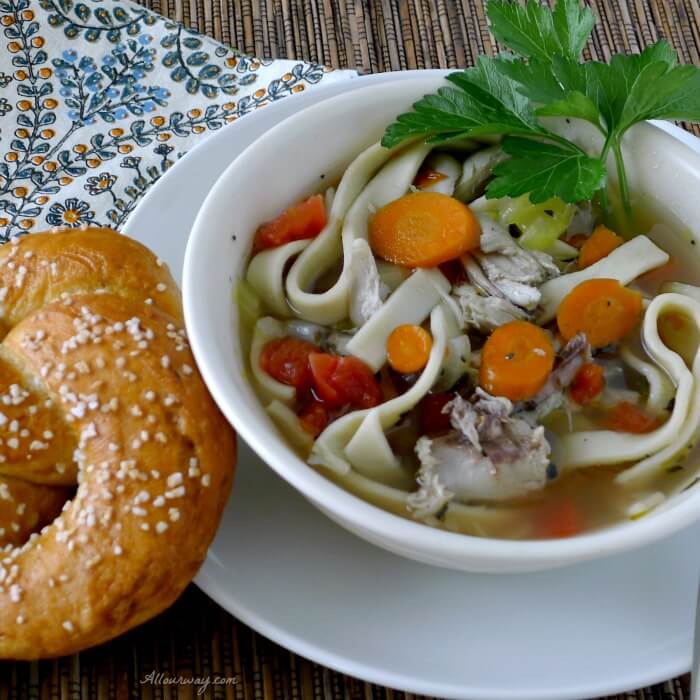 Other recipes you may like ...
Slow Cooker Chicken Fajita Soup Restless Chipotle
Old Fashioned Chicken Noodle Soup Recipe Wanna Bite
Note: Recipes and content from © 2014 - 2018 All Our Way are copyright protected. Please do not use content or recipe without prior written permission. If you want to share the information, please link to this post. Grazie!!
SaveSave
SaveSave
SaveSave
SaveSave
SaveSave
SaveSave
SaveSave
SaveSave
SaveSave
SaveSave
SaveSave
SaveSave
SaveSave
SaveSave
SaveSave
SaveSave
SaveSave
SaveSave
SaveSave