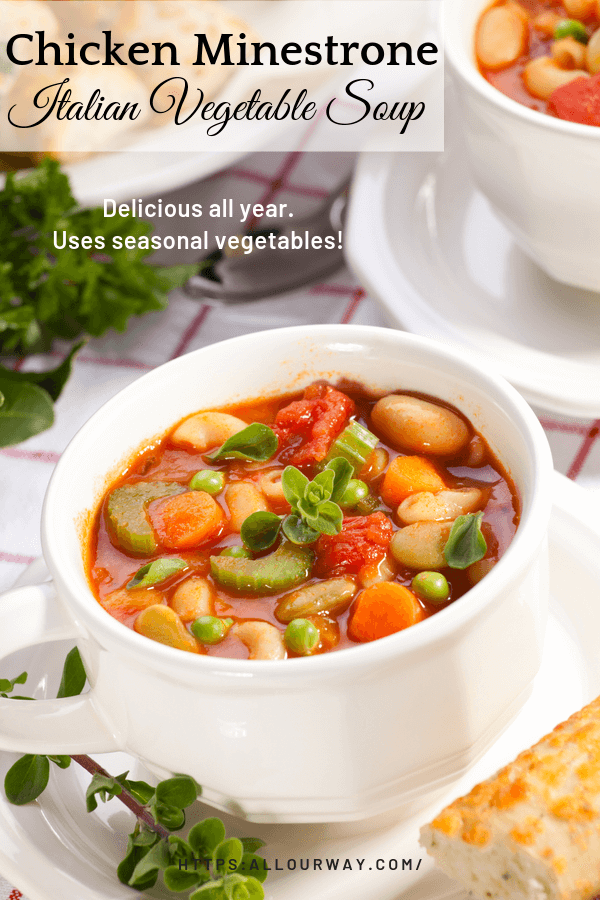 With this cooler weather making its presence known, I'm sorry I didn't get this post, Chicken Minestrone alla All Our Way, out to you sooner. All the way home from our latest fishing trip, I thought and planned about making this soup with our area's seasonal vegetables. I wanted to share my mamma's method of making minestrone with you. You see, there are about as many variations of this minestra (soup) as there are cooks in Italy. Minestrone just means thick soup. Since it was a thirteen-hour trip home, I came up with a lot of ideas on how to present this to you. Once you understand the basic formula and adapt it to incorporate the seasonal vegetables, you'll have countless variations of chicken vegetable soups you can create.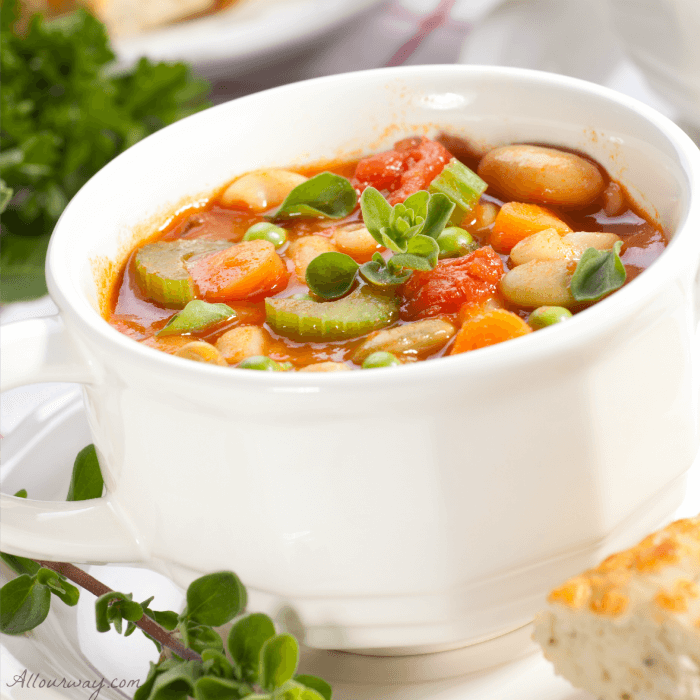 Jump to:
Yard work before Italian Minestrone Soup
Unfortunately, once we drove up to our house, I realized that making our chicken vegetable soup had to wait. Our yard was blanketed in leaves -- lots and lots of leaves. Our community isn't nicknamed tree town for nothing. Frankly, I believe our trees were some of the first planted here. They are humongous, and they love to make their presence know by dropping twigs, limbs, leaves and anything else they decide to discard.
It's a never ending job keeping up with the debris. But don't think I'm whining about the leaves and debris, oh no, heaven forbid, after all, my Honey did tell me what to expect when we decided to purchase this house. I'd never want to admit this out loud, but he was right!
Making this rustic minestrone soup is not as quick as our Roasted Chicken Vegetable Soup but the flavor is certainly worth the time.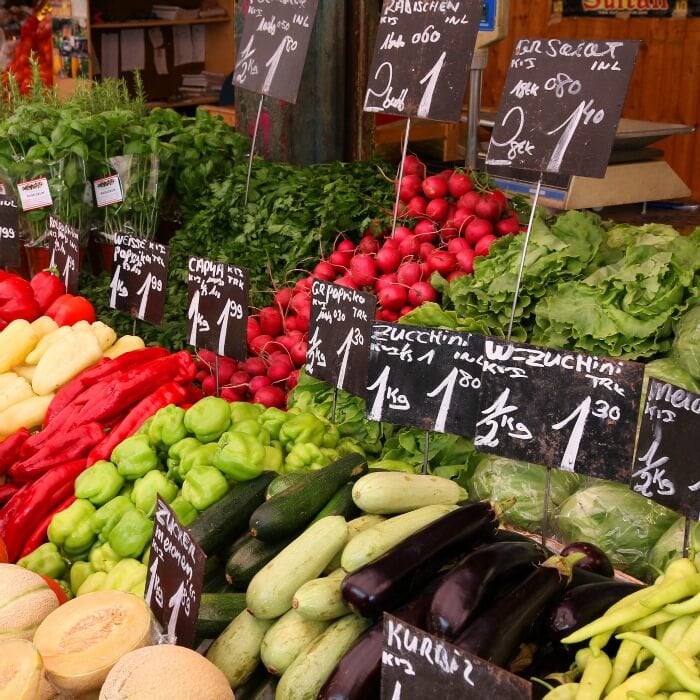 Fresh ingredients for Chicken Minestrone
The next day we got an early start. The pantry and fridge were bare-boned, so grocery shopping was first on the list. We had plenty of frozen vegetables in our freezer but we wanted fresh. The Farmer's Market had all the fresh vegetables we'd need for the soup.
We returned from the store, tackled the yard and finished in record time.
Even though it was mid afternoon, the recipe for the vegetable soup would not take that all.
Formula for Minestrone
Once I had the ingredients all around me, I recalled how mamma made her minestrone; it was almost as if she had a formula in her mind.
She would always add some form of beans
One or more sort of greens such as savoy cabbage, spinach, Swiss chard
Always some pasta.
Then she would add whatever else was in season plus her basics -- carrots, onions, and celery.
She always started by finely chopping together garlic, Italian parsley and sometimes rosemary, in a little bit of bacon fat.
Mamma would chop, chop, chop until it became a paste or trito. (Mamma always called it a pesto, it was after I'd started reading up on recipes indigenous to Isola D'Istria that I found Lidia's Bastianich's reference to it as trito).
Mamma would take a large soup pot, and she would brown the diced onions first in some olive oil and only then would she add the trito because onions took longer to sauté than garlic. ( I asked why and that is what she said)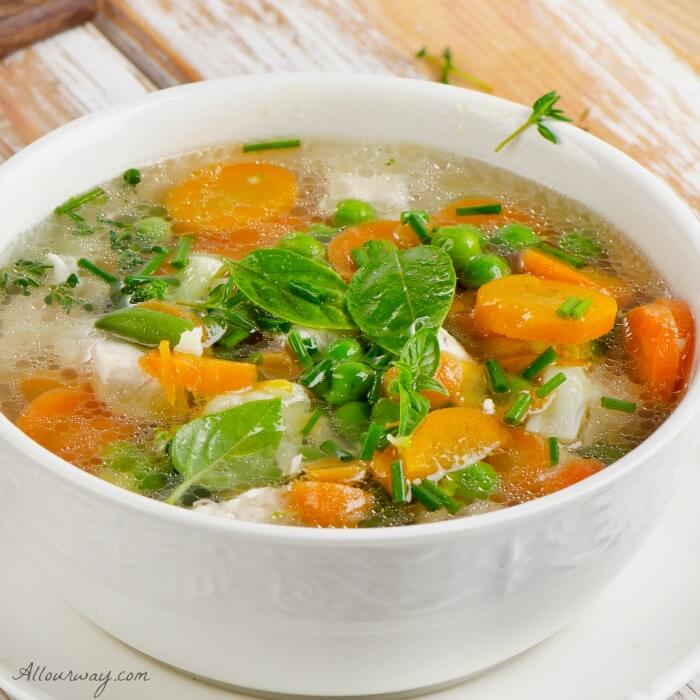 Chicken Minestrone Soup light and delicious
The color and texture of her minestrone changed with the seasons. Sometimes the minestra was darker in color, heavy with winter vegetables or light and clear with gently flavored springtime vegetables.
Other Italian Soups
Minestre play important roles in our kitchen and in Italian cuisine. The soups are versatile, and mamma changed the ingredients with the seasons. Homemade minestre never taste the same; they always taste delicious.
Another soup that plays a huge part in Italian cuisine is the Pasta e Fagioli Soup. Hearty with pasta and beans plus we added chicken to it for additional taste and nutrition.
If you're a meatball lover then you'll go nuts over our Italian Wedding Soup or Minestra Maritata as they call it in Italy.
And you must try our Italian Meatball Vegetable Soup. It's hearty and delicious. A very satisfying soup to enjoy on cold wintry days.
Here is another vegetable meat soup that tastes rich and hearty without a lot of fuss. It's our Hamburger Vegetable Soup recipe! This is a soup that will warm you up on the coldest of day.
I believe mamma and papà would heartily approved of this Chicken Minestrone Soup.
Do you have a soup that reminds you of your childhood? We'd love to have you share what it was!
Tutti a tavola è pronto!
Un caro saluto e alla prossima.
More Italian Soups You Might Enjoy
YOU MAY NEED . . .
The following are affiliate links. As An Amazon Associate I earn from qualifying purchases.
We love enjoying our soup in >oversized mugs and if you're a latte lover they also make a great coffee cup.

Chicken Minestrone A Rustic Italian Vegetable Soup
You don't have to wait for any particular time of year to enjoy this soup. The vegetables you use are seasonal and fresh. Put in the veggies you like, the beans you favor, and the pasta you prefer. Make this your own recipe. Just follow the basics and you'll see how much you enjoy making this hearty Italian vegetable soup.
If you're looking for a vegetarian vegetable soup that is bursting with flavor, try our Ultimate Cabbage Soup recipe. This is a long time family favorite soup we love to make especially after the heavy holiday foods.
📖 Recipe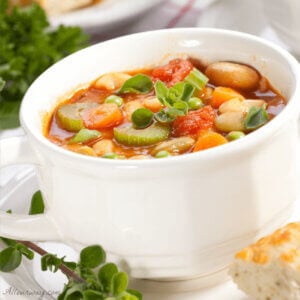 Chicken Minestrone alla All Our Way
A hearty vegetable soup with chicken, beans and pasta. Uses seasonal vegetables that you can switch as you like. It is all cooked in a flavorful broth.
Print
Pin
Rate
As An Amazon Associate I earn from qualifying purchases.
Ingredients
2

Chicken breasts with skin and bones

2-3

Tablespoons

olive oil

3

slices

bacon or pancetta

3

garlic cloves

peeled

3

Tablespoons

butter

3

peeled carrots sliced

2-3

stalks celery

sliced

1

large onion

chopped

2

small zucchinis

washed, ends trimmed, sliced

3

cups

fresh green beans cleaned and diced -- you my add frozen

3

cups

Savoy cabbage

shredded

1 ½

cups

baby kale

1

cup

frozen peas

1 14

oz.

can Cannellini or Great Northern beans

Lima any kind you like drained or 1 ¾ cup frozen beans or even your choice of dried beans that have been cooked according to directions.

1 14

oz.

can diced tomatoes with juice

¼

cup

Italian parsley

2

Tablespoons

fresh thyme leaves

2

Tablespoons

fresh oregano leaves

8

cups

Homemade Chicken Broth or low-sodium canned broth warmed

Salt and Pepper qb

quanto basta -- to taste

⅓

cup

freshly grated Parmesan cheese

if you have a piece of crust from a hunk of parmigiano-reggianno cheese you can add it to the soup. Be sure the crust is scraped clean

Small pasta cooked al dente no more! -- It is served in a bowl with minestrone

Optional: 2 TBLS tomato paste -- deeper tomato flavor
Instructions
Preheat oven to 400 F. Remove the bone from the breast leaving the skin on the breast. Rub the chicken bones with olive oil, salt and pepper. Place the bones in a foiled lined pan with ½ cup of water. Roast the bones for 30 to 45 minutes until they start to brown.

Make a pesto (trito) out of the Italian parsley, garlic and bacon or pancetta by chopping together until you get a paste. Set aside

Choose a heavy stockpot or Dutch oven that will accommodate all the ingredients. Put 2 Tablespoons of olive oil in the pot and turn on the heat to medium high. Brown the chicken breasts by first placing the breasts skin side down. Cook about 4 minutes on one side and then 4 minutes on the other side. Pour the warmed chicken broth over the breasts and bring to a gentle simmer. Add the roasted chicken breastbones plus any renderings to the pan and slowly simmer for 40 minutes. Remove the chicken and bones from the broth. Pass the broth through a fine sieve and into another heat-proof container. Throw away the bones and let the chicken breast cool then shred or dice into bite-size pieces.

Put in the butter, oil and diced onion into the stockpot or Dutch oven and turn the heat to medium low. Cook the onion in the uncovered pot until it it wilts and becomes a pale gold color about 6 minutes. Don't let them burn or turn dark.

Stir in the trito and continue cooking until it melts and is lightly browned and very fragrant, about 2 minutes.

Add the green beans and sliced carrots. Cook for about 2 to 3 minutes, stirring once or twice. These vegetables will take longer to cook so you want to layer as you cook.

Add the sliced celery, and cook, stirring occasionally, for 3 - 4 minutes. Add the zucchini and continue stirring the ingredients. Add the shredded cabbage and continue cooking for another 5 or 6 minutes. Add the thyme and oregano. Stir to combine.

Add the broth and the tomatoes with their juice plus a light sprinkling of salt and pepper. You can adjust the salt and pepper later on. Add the optional cheese crust now if you have it.

Cover the pot and lower the heat so that the soup cooks steadily and slowly at a gentle simmer.

When the soup has cooked for 2 hours, add the chicken, kale, peas and the beans. Stir well, cook for an additional 30 minutes.

When soup is done remove the cheese crust ,if you used it, and taste for the correct amount of salt and pepper.

To serve add pasta and ladle the chicken minestrone on top. Sprinkle the grated cheese on top. This is delicious served with Italian bread.
Notes
Minestrone is delicious served right away but it is even better reheated. Store in the refrigerator.
Nutrition
Calories:
266
kcal
|
Carbohydrates:
21
g
|
Protein:
17
g
|
Fat:
14
g
|
Saturated Fat:
5
g
|
Cholesterol:
39
mg
|
Sodium:
965
mg
|
Potassium:
838
mg
|
Fiber:
6
g
|
Sugar:
4
g
|
Vitamin A:
5260
IU
|
Vitamin C:
65.5
mg
|
Calcium:
176
mg
|
Iron:
3.9
mg
Sign up for the emails and never miss another recipe!!
We'll never share your email or send you spam. Promise
Note: Recipes and content from © 2014-2019 All Our Way are copyright protected. Please do not use content or recipe without prior written permission. If you want to share the information, please link to this post. Grazie.
This recipe has been updated from the original November 2015 in order to provide a better experience for our readers. Last update January 2019.
SaveSave