When you crave something deliciously warm and spicy you'll want to make Chicken Spinach Tortellini Soup. This is a zesty Southwest chicken soup will warm your tummy as well as your entire body. Fresh cheesy tortellini cooks in no time and hot chunky salsa spikes the rich broth. The recipe is so versatile you can make countless variations to satisfy you and your whole family.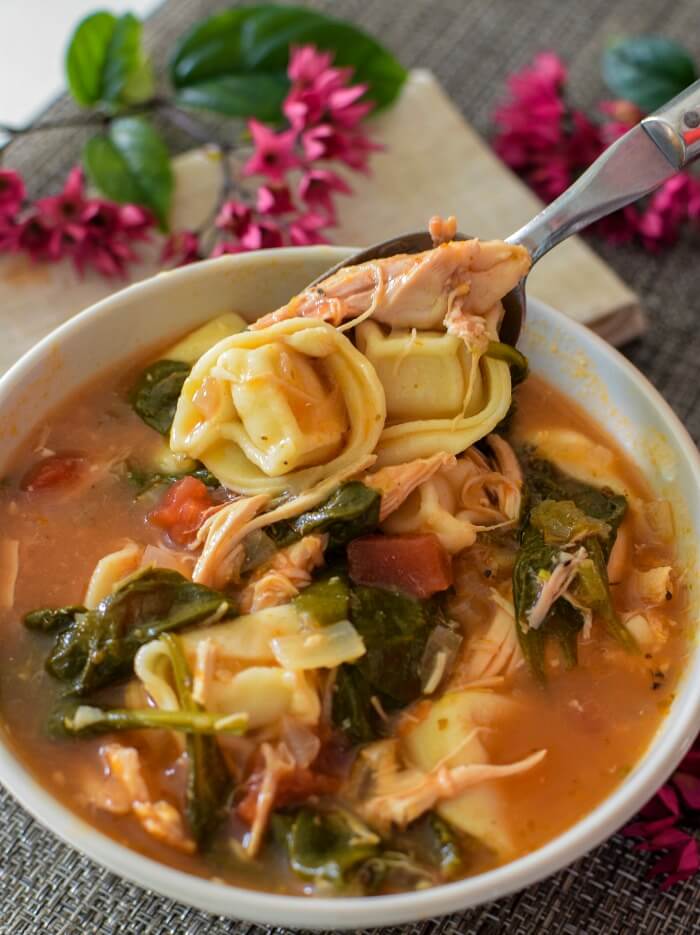 Jump to:
❤️Why you'll love this recipe
When cold weather arrives this cheesy tortellini soup s the perfect tummy warmer.
Easy preparation by using store-bought chicken or vegetable broth.
Comes together quickly by using rotisserie chicken.
Uses jarred salsa and canned tomatoes with peppers for flavor.
The zesty Mexican chicken soup is loaded with flavor and vegetables. This is not your traditional chicken noodle soup recipe. It's so much more. More flavor, more pasta, and more vegetables.
🛒Ingredients
The ingredients for this Tortellini Soup with Spinach are easy to find. One stop at the grocery store is all that's necessary.
Rotisserie chicken or you may use chicken tenders, or boneless skinless chicken breasts.
Baby spinach - the vegetable component.
Fresh cheese tortellini - you can find these in the refrigerator section of your grocery store. The fresh work better than the dry. They cook evenly and in less time.
Chicken stock or vegetable stock makes up the quick base of the soup. You may also use homemade stock if you have it.
Garlic - seasoning
Onion - seasoning
Olive oil - for sautéing the onion and garlic
Oregano - seasoning
Can of petite cut tomatoes with green chiles
Chunky salsa - we like to use the Pace brand hot variety. Your heat tolerance will dictate what kind to buy.
You won't need too much salt - all of the bought items already have salt in them. I would advise to taste when you're done.
Black pepper or if you like add some hot pepper flakes.
🔪Equipment
The following are affiliate links. We are a participant in the Amazon Services LLC Associates Program, an affiliate advertising program designed to provide a means for us to earn fees by linking to Amazon.com and affiliated sites.
Large soup pot - large enough to hold all of the ingredients.
Santoku knife - for chopping the onion and mincing garlic.
Cutting Board
Long handled wooden spoon for stirring.
Ladle for serving the soup
Soup bowls for enjoying the soup
I enjoy have oversized soup bowl/cups that I can put my hands around. Makes you feel warm all over.
🗒 Instructions
The soup begins with the onions and garlic sautéing in a large Dutch oven or pot. See that steam coming off of the onions and garlic? It's already starting to warm and perfume the house.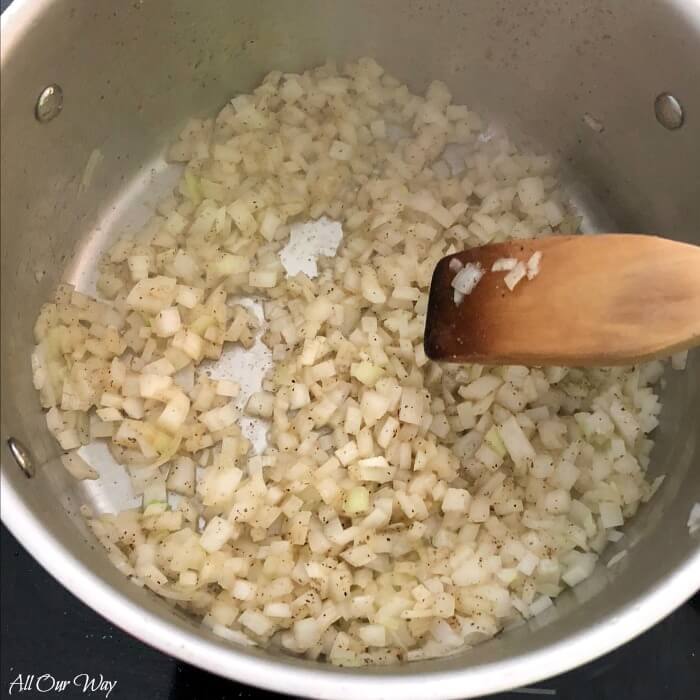 2. Next comes the chicken, if you're using chicken tenders or the boneless skinless chicken breasts. Cube the meat and lightly salt and black pepper it. You'll sauté the chicken until it starts to caramelize about 5 minutes. If you're using rotisserie chicken see step 4.
3. The broth goes in next along with the oregano, petite tomatoes, salsa and we let it come to a simmer.
4. This time we're using the dark meat off the rotisserie chicken and saving the breast meat to use for another time. Once the meat is in the chicken tortellini soup we let it come to a simmer again and then add the fresh cheese tortellini.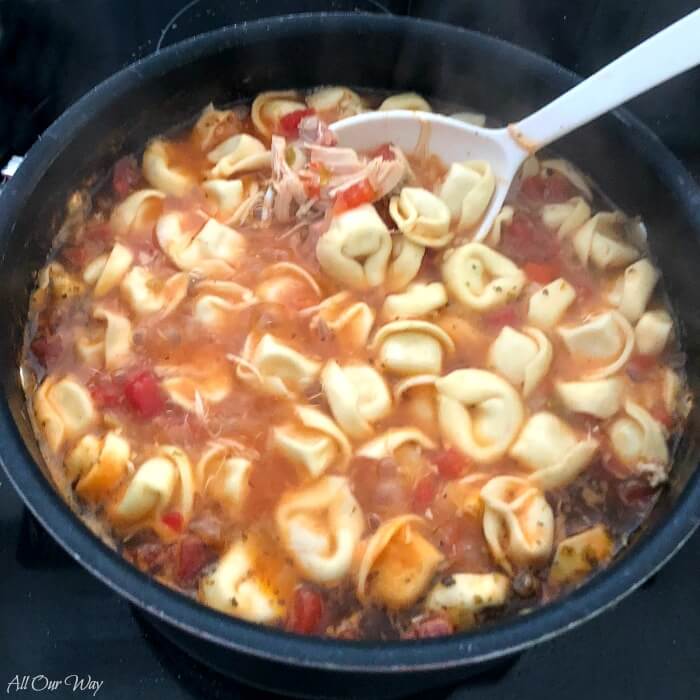 5. We added the baby spinach leaves and they wilt immediately. The soup is ready to serve. Wasn't that easy? And you know what? This zesty soup can be the basis of many other delicious soups.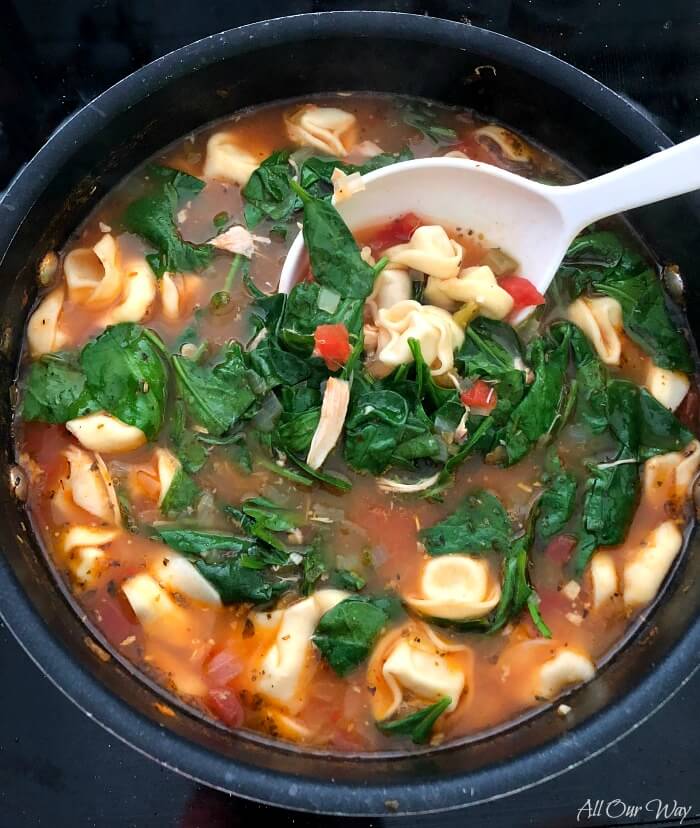 🥫 Storage
Leftover chicken tortellini soup keeps well in an airtight container in the refrigerator. We've had the soup for a week and it was still delicious.
Warm the soup slowly on medium heat in a pan on the stove or in a microwave safe cup or bowl.
You can freeze the soup but the cooked ravioli can get a bit mushy but they'll still taste good. It's up to you.
👩🏻‍🍳Tips
Start off with a large enough pot. You'll notice we started off with a silver pot and ended up with a black one. Yep!! By the time we added the rest of the ingredients it was getting a bit too full.
A rotisserie chicken is one of the best kitchen time savers. The bird is already seasoned and cooked so all you need to do is use the meat from the pieces you want.
Buy large packages of tortellini and freeze the rest for additional recipes. Our package was large enough that we were able to make three different recipes.
🤔 FAQs
Can I make this in my slow cooker?
Yes. Just add all of the ingredients to the slow cooker except for the tortellini and spinach. Cook on low for 6 hours and add the tortellini in the last 15 minutes of cooking. Add the spinach just until it wilts.
What makes this Southwest?
The recipe uses spicy salsa as part of the ingredients. This is the same salsa you eat with tortilla chips and nachos.
Do I have to make it spicy?
No. You can make it as hot as you like. Most variety of salsas come in mild and medium heat.
Can I make a Creamy Chicken Tortellini soup with this recipe?
Yes. Simply add 1 cup of heavy cream right at the end after the spinach.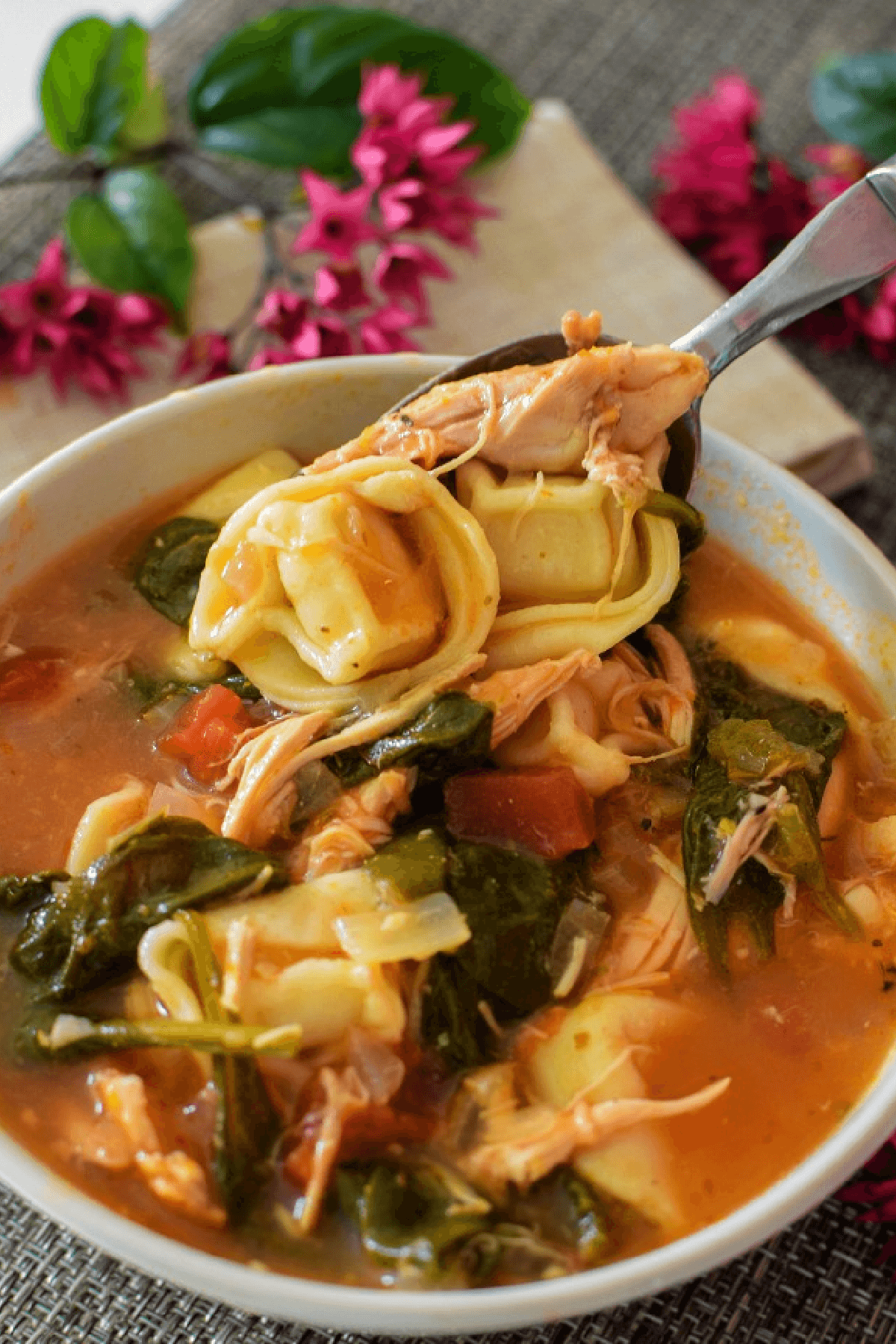 📞Chiacchierata
This tortellini soup recipe is so easy Honey and I have it memorized. It was a good thing too. because when we headed South looking for warm weather the temperature we found cold.
This was not what we were looking for -- we wanted sunshine and warmth.
Our favorite way to warm up even we can't get heat and sunshine is soup. So the first thing we did when we got to our destination was not go to the beach. Oh, no. We went to the grocery store to buy the ingredients for our tortellini soup with spinach.
📚 Variations
Tex-Mex Soup -- instead of tortellini add beans, corn, cumin, and top with crushed tortilla chips.
Italian Soup -- instead of tortellini add cannellini beans, switch the petite tomatoes with green chiles for Italian seasoned petite tomatoes and keep the salsa, it's good! You could add zucchini to it and orecchiette.
Vegetarian Soup -- omit the chicken and tortellini and add beans, tofu, vegetables you like.
Chinese Soup -- Omit the tortellini add a bit of ginger to the broth and soy sauce along with the chicken. Instead of the olive oil to saute the garlic use a bit of sesame oil. Ditch the canned tomatoes but keep the salsa. That will keep the zest instead of the oriental hot sauces like Sambal Oelek. Use bok choy for the green or whichever greens you like. Use Chinese noodles for the pasta, any kind you like.
Tortellini and spinach make a great combination. We use them together often as we did in this Recipe.
And here is a Tortellini Soup Recipe that features kale and sausage with plenty of other veggies to make it an ideal complete quick weeknight meal.
You may need . . .
As an Amazon associate I earn from qualifying purchases.
We eat so much soup in the cooler weather we decided to get special bowls like in restaurants. They are the perfect size for a dinner or luncheon serving. The nice part is that you can stick them in the oven if you want to melt the cheese in Onion soup.
Grazie for being a part of All Our Way.
If you like this recipe, please consider giving it a five star rating.
📝 Chicken Tortellini Soup Recipe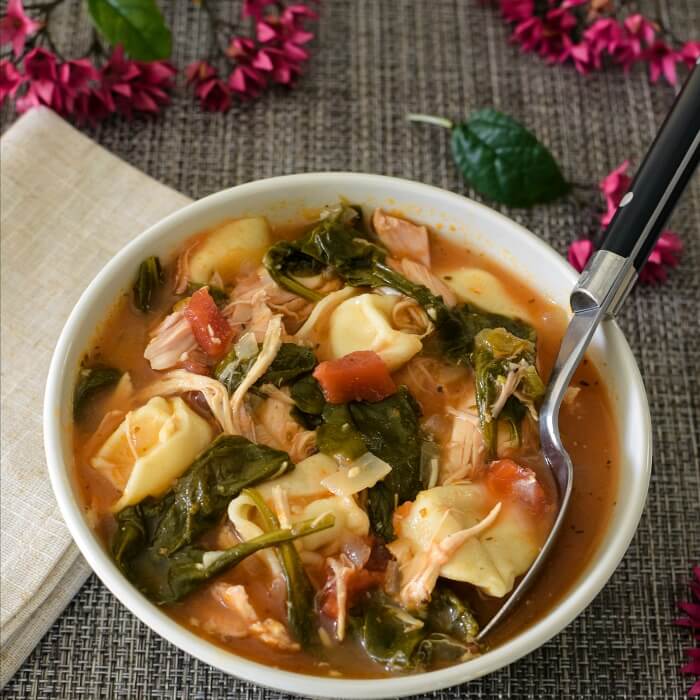 This zesty vegetable tortellini soup comes together quickly whether you use rotisserie chicken or chicken tenders. Once the broth, canned diced tomatoes, salsa are simmering it's only a matter of putting in the shredded or diced chicken, fresh tortellini, and spinach then you're spicy Southwest chicken soup with spinach is ready to eat.
If your family can't get enough of Southwestern flavors, you're going to simply love our loaded Southwestern Chicken Soup. How is it loaded? We love adding all of the Mexican toppings to it! So good!
And if you're short on time and what a quick and easy dinner the family will enjoy, serve our one-skillet Three Cheese Tortellini With Caramelized Onion and Spinach. So simple yet so full of flavor!
📖 Recipe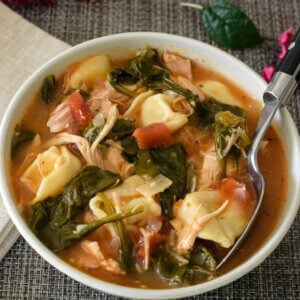 Southwestern Chicken Tortellini Soup with Spinach
Spicy chicken soup with fresh tortellini pasta and baby spinach. The zest comes from the green chiles in the petite tomatoes plus the chunky salsa. Tasty and quick to make.
Print
Pin
Rate
As An Amazon Associate I earn from qualifying purchases.
Ingredients
1

pound

chicken

tenders in bite size pieces or rotisserie shredded. Also you may use leftover turkey.

6

oz

baby spinach

10

oz

fresh cheese tortellini

2

quarts

low-sodium chicken broth or vegetable stock

3

cloves

garlic

minced

1

onion

chopped

3

tablespoon

olive oil

1 ½

teaspoon

dried oregano

1

14 oz.

petite cut tomatoes with green chiles

1

cup

chunky salsa

hot, medium, or mild

salt

to taste

black pepper

to taste
Instructions
In a large Dutch Oven or pot, heat oil over medium heat. Add garlic and onion and cook until the onion sweats. Lightly salt and pepper.

Add the chicken bites and continue to cook until the chicken bites lightly brown. Lightly salt and pepper. (If using the rotissiere chicken skip this step)

Add the broth, oregano, petite cut tomatoes, and salsa. Bring to a gentle simmer. Now add the shredded rotisserie chicken and again bring to a simmer.

Add the tortellini; bring to a gentle simmer and cook uncovered until the tortellini are tender -- about 7 to 8 minutes.

Stir in spinach. It will wilt right away. Serve hot. If you like, sprinkle some parmesan cheese on top of this hearty soup. Your cook time is less than 30 minutes.
Notes
This is the best soup to use your leftover turkey. The meat is super moist and delicious. Taste how great turkey tastes in this spicy soup.
Try out different types of tortellini in the soup - makes a delicious change.
Make a ham tortellini soup with your holiday meat leftovers. So good and a recipe the whole family will enjoy.
Nutrition
Calories:
385
kcal
|
Carbohydrates:
28
g
|
Protein:
23
g
|
Fat:
19
g
|
Saturated Fat:
4
g
|
Cholesterol:
63
mg
|
Sodium:
778
mg
|
Potassium:
591
mg
|
Fiber:
2
g
|
Sugar:
6
g
|
Vitamin A:
2235
IU
|
Vitamin C:
9.3
mg
|
Calcium:
102
mg
|
Iron:
2.7
mg
Sign up for the emails and never miss another recipe!!
We'll never share your email or send you spam. Promise
First published on August 24, 2019 and updated to improve reader experience on July 17, 2021.