What makes this ramen broccoli slaw recipe unique is the crunchy ramen noodles, toasted sliced almonds, sunflower seeds, and a light sweet-sour dressing. We've made this coleslaw salad recipe before with cabbage but this time we wanted to try it out with broccoli. We were smitten!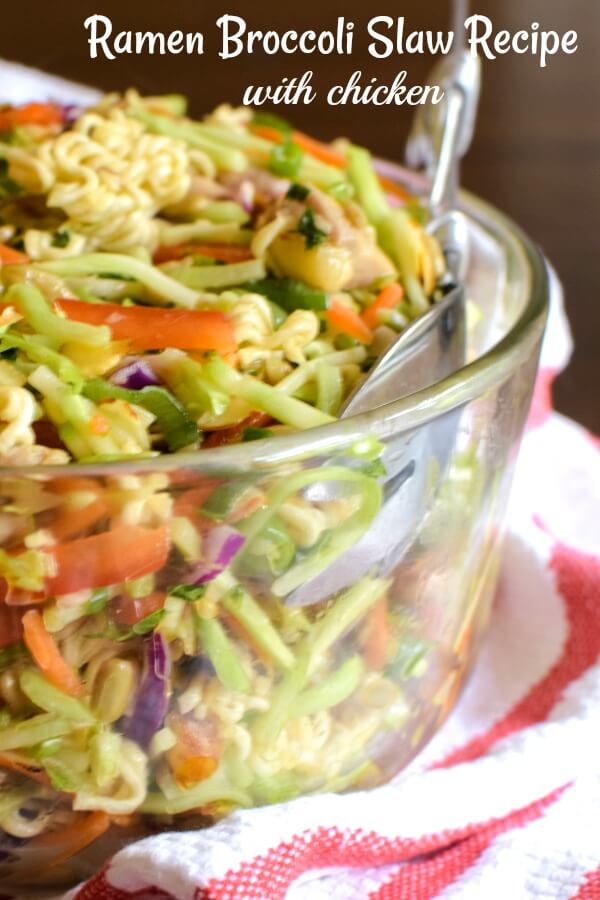 Jump to:
Ingredients
The ingredients combined beautifully to yield a tasty Asian ramen noodle salad. You can make it ahead of time and add the noodles just before serving. This salad would be a huge hit at a Tailgating party, picnic, potluck, or BBQ. Add some sautéed chicken pieces to it, and you have a complete meal.
For this recipe, you will need:
bag of broccoli slaw
two ramen noodled packages - without the seasoning
green onion
sliced almonds
sunflower seeds
red pepper
fresh parsley
extra virgin live oil
white balsamic vinegar
honey
salt
black pepper
What is coleslaw and is it the same as slaw?
The term coleslaw, cole slaw, and slaw can mean the same thing. The word coleslaw is the anglicization of the Dutch term "koolslaw" meaning cabbage salad. This salad was very popular in the New York Hudson Valley.
Then in the 18 century, the American version of coleslaw arrived with the creation of mayonnaise. There are many international coleslaws the don't contain mayonnaise or cabbage, just like this broccoli slaw recipe.
Today, coleslaws can be any lightly crunchy blend of julienne or grated vegetables tossed in a vinaigrette, mayonnaise-based dressing, or even yogurt. Our Southwestern Coleslaw uses Ranch Dressing with Adobo Spice for the base flavor.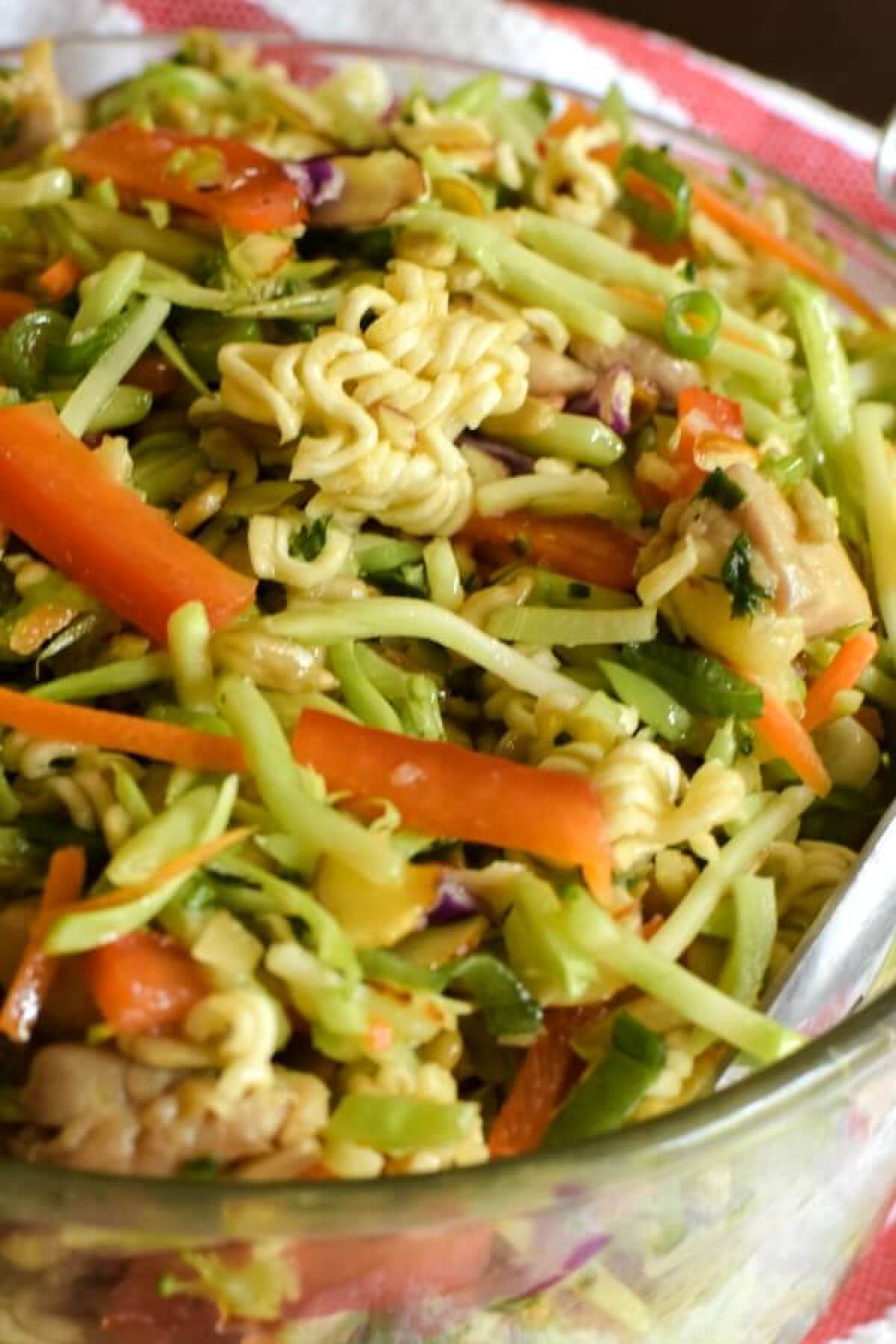 Other than cabbage and broccoli slaw, what other kinds can you make?
The sky is the limit when you speak of slaw recipes. Here are some examples:
Carrot Slaw
Turnip Slaw
Kale Apple Slaw
Fennel Apple Slaw
Beet Slaw
Kohlrabi Slaw
Parsnip Slaw
Celery Root Slaw
You can use these singly or in combination. I came across a Winter Root Vegetable Slaw that sounds like a great accompaniment to heavier winter dishes.
A lot of the coleslaw salads use fruit in them such as apples and pears. We used citrus fruit in our Fennel Orange Salad.

How to make the broccoli slaw salad?
The first thing you'll need, of course, is broccoli. We're all for saving time, aren't you? So, instead of making those little matchstick pieces of broccoli, opt to purchase a bag of pre-made broccoli slaw. It's not expensive.
The second ingredient you'll need is ramen noodles. After all, that's what makes the broccoli slaw crunchy!
After the first two items, you can pick and choose what you like. Here are some of the ingredients you can add:
red bell pepper
mandarin orange slices
craisins or raisins
almonds
sunflower seeds
green onions
fresh flat-leaf parsley
matchstick carrots
radishes
cucumbers
You can go to the sweet tasting broccoli slaw or to the savory ramen noodles salad.
What type of dressing goes on the broccoli slaw recipe?
We believe the best type of dressing for this broccoli slaw recipe is a sweet-citrusy one. You can make the coleslaw dressing ahead of time and then right before serving gently toss the salad dressing with the ramen noodles salad.
We've found that there are different degrees of acidity in white wine vinegar. Our preferred white wine vinegar is the one we've found at Trader Joe. It is inexpensive, and we like the taste.
To give the broccoli slaw a bit more of an Asian flavor, add a bit of sesame oil to the olive oil. It's amazing how that little bit adds to the taste.
Will the ramen noodles salad keep?
This is the type of salad that you can make ahead, and it keeps nicely. If you aren't going to eat the salad right away, you can mix the vegetables, nuts, and your preferred ingredients.
Put the crunched up ramen noodles on the broccoli coleslaw right before you add the coleslaw dressing. This keeps the noodles crunchy and the salad fresh-tasting.
We've kept the salad, completely mixed up, in the fridge for several days and the broccoli coleslaw still tastes delicious. We hope you try the recipe -- we know you won't be disappointed.
Tutti a tavola è pronto!
Un caro saluto e alla prossima.

YOU MAY NEED...
The following are affiliate links. As An Amazon Associate I earn from qualifying purchases.
Ramen Broccoli Slaw Recipe A Crunchy Asian Coleslaw Salad
This crunchy Asian broccoli coleslaw recipe is a favorite at tailgating parties, family gatherings, and potluck suppers. The broccoli slaw travels and keeps beautifully. You can make it spicy, sweet, or tart -- whatever you like. So if you need a salad for a crowd, we can guarantee this broccoli slaw salad recipe will be a huge hit.
Next time try our Ramen Noodle Salad Recipe with a cole slaw mix. And if you want to continue the Asian touch to your meal, you must try our Grilled Asian Chicken Thighs.
If you like this recipe, please consider giving it a five-star rating, it helps others decide whether to try out the recipe.
📖 Recipe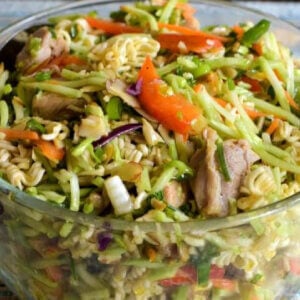 Ramen Broccoli Slaw Recipe A Crunchy Asian Coleslaw Salad
This is an Asian inspired coleslaw recipe that gets a wonderful crunch from the ramen noodles. sunflower seeds, and almonds. The coleslaw mixture is comprised of crunchy broccoli, green onions, and red bell pepper. A versatile recipe you can make to your liking.
Print
Pin
Rate
As An Amazon Associate I earn from qualifying purchases.
Ingredients
Salad
1

12 oz.

broccoli slaw

2

3 oz

ramen noodle

discard the seasoning and crunch up the ramen noodles

¾

cup

sliced almonds

¾

cup

sunflower seeds

1

cup

red bell pepper

seeds removed and sliced into matchsticks

¼

cup

flat-leaf parsley

chopped
Dressing
¾

cup

olive oil

1

tablespoon

sesame oil

3

tablespoon

honey

¼

cup

white wine vinegar

Trader Joe brand

Pinch of salt and pepper
Instructions
Salad
In a large mixing bowl, combine the broccoli slaw, ramen noodles, sliced almonds, sunflower seeds, red pepper sticks, green onions, fresh parsley, and toss to combine.
Dressing
In a small container combine the oils, white wine vinegar, honey, and the salt and pepper. Whisk to blend.

Pour the dressing over the ramen salad and toss to combine.
To Make A Complete Meal
We used the ¾ pound cubed chicken breast salt and peppered then sautèed in 1 Tbl. olive oil for about 5 minutes. We added this to the slaw and served it warm. It was delicious!!
Nutrition
Calories:
407
kcal
|
Carbohydrates:
12
g
|
Protein:
14
g
|
Fat:
34
g
|
Saturated Fat:
4
g
|
Cholesterol:
27
mg
|
Sodium:
58
mg
|
Potassium:
359
mg
|
Fiber:
2
g
|
Sugar:
7
g
|
Vitamin A:
755
IU
|
Vitamin C:
27.1
mg
|
Calcium:
43
mg
|
Iron:
1.6
mg
Sign up for the emails and never miss another recipe!!
We'll never share your email or send you spam. Promise