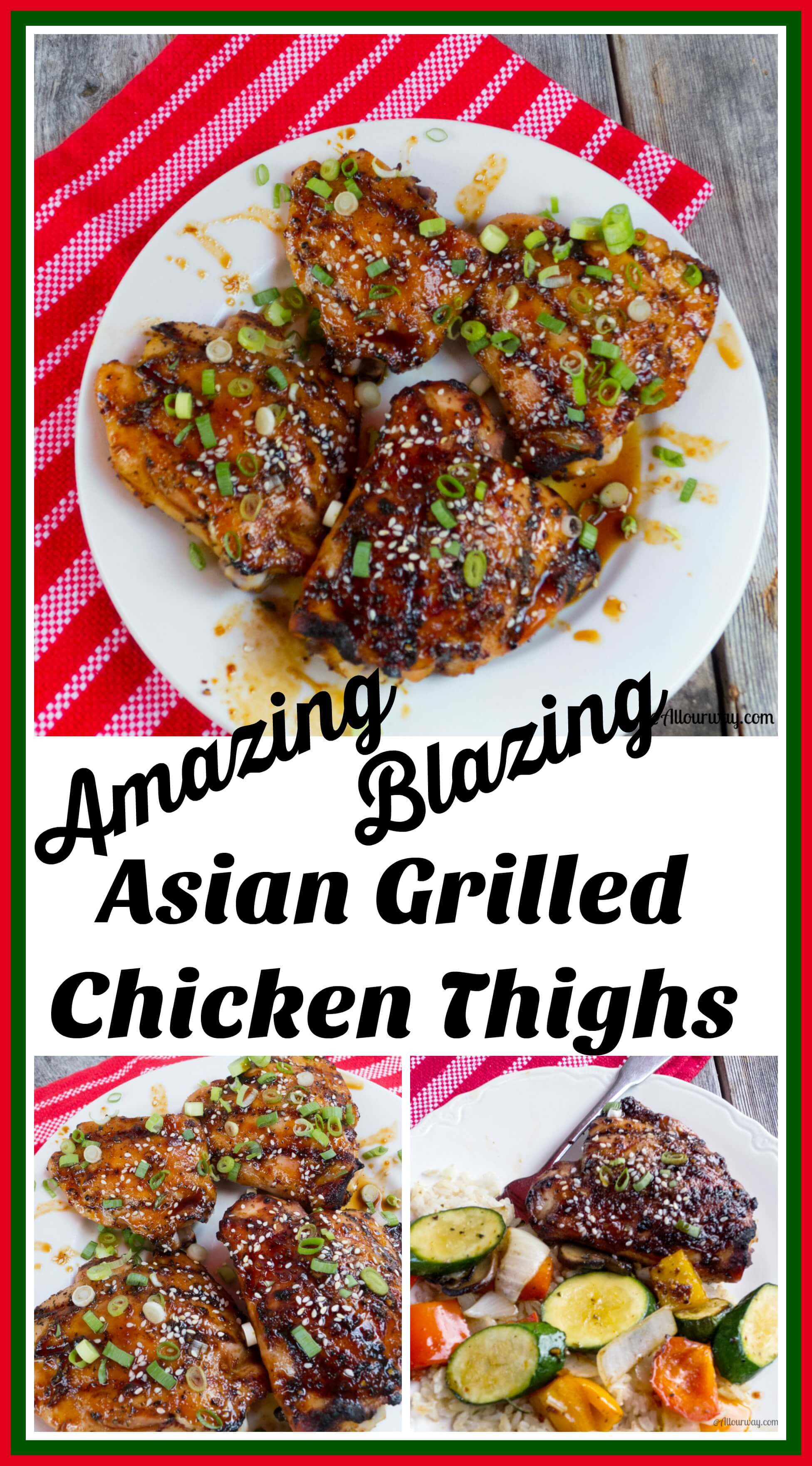 A finger-licking good blazing spicy Asian sauce coats golden grilled chicken thighs and more of the amazing sauce is served for dipping. Wings can also be used.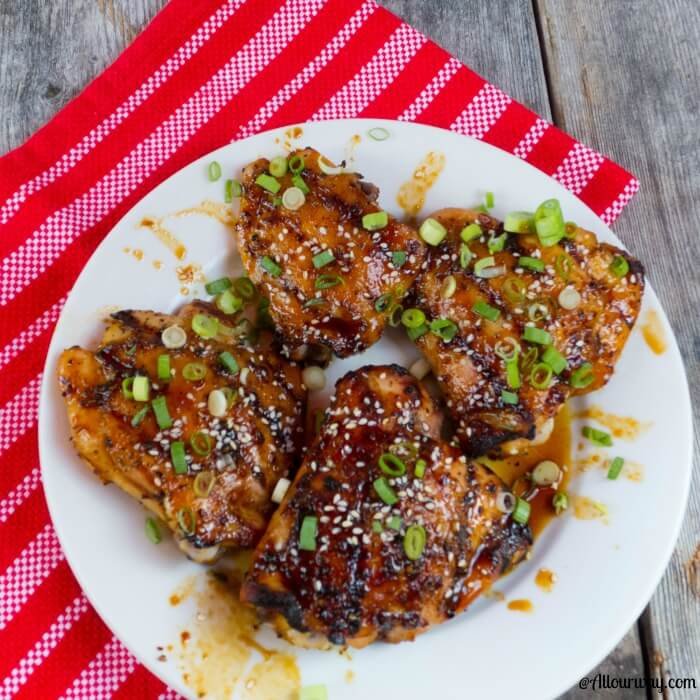 Jump to:
Why we love this recipe
"How's grilled chicken thighs sound for dinner?" Honey asks as he's trimming the fat off of the thighs.
"Sounds good," I reply, still tapping away at the computer keys editing the page I'm on.
"I thought I'd try making them like Reid's grilled chicken wings." Reid is our youngest son. He and his older brother, Jason, are fantastic at grilling meat, just like their dad. 🙂 Shelley, our daughter, is outstanding at cooking, baking, and frankly, anything she does, just like her mom 😉
I stop my typing and look up. "You mean those amazing wings we couldn't stop eating?"
"The very ones," he replies. "Reid gave me the recipe. He said it's based on one by Guy Fieiri recipe."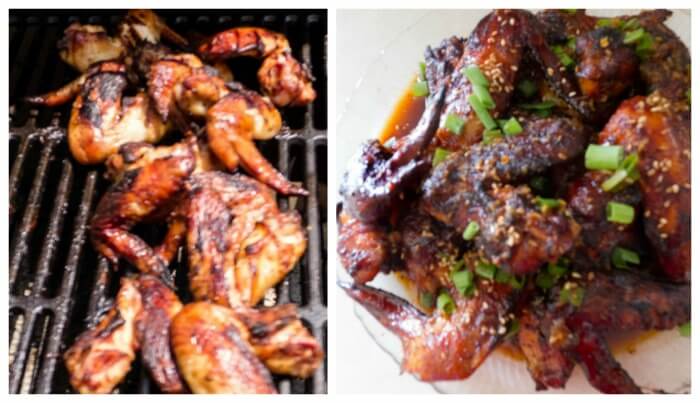 "Oh, yum! That spicy sauce is fantastic. It has just the right amount of heat to blaze my taste buds. And the taste, oh my gosh, my mouth is watering just thinking about it. Wait! If we're going to make the chicken thighs with that sauce I've got just the name for it -- Amazing Blazing Grilled Chicken Thighs! What do you think?"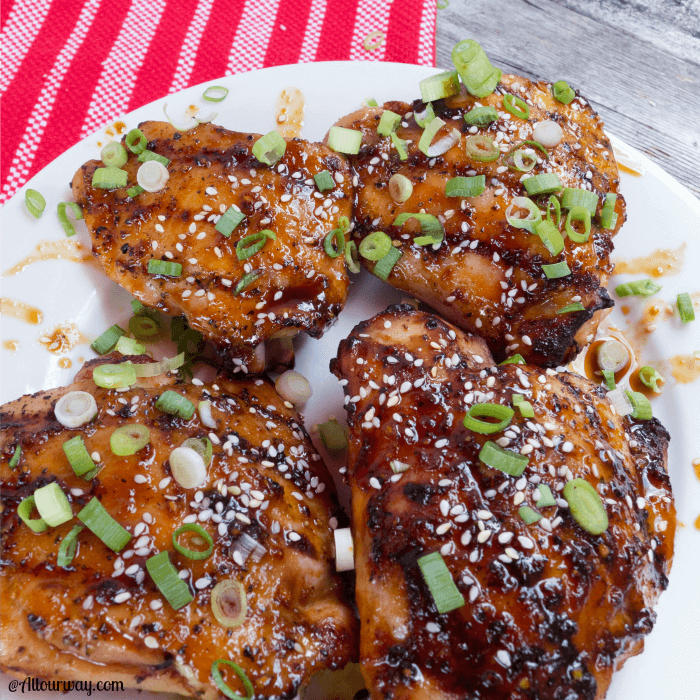 Asian Flavored Ingredients
"That's pretty good! I think we have all the ingredients: ginger, soy sauce, chili-garlic sauce, sriracha, honey, sesame seeds," he says looking over the printed recipe. "Oh, wait! Here's one we don't have, sweet soy sauce. Have you ever seen sweet soy sauce at the store?"
"Not that I can recall. But I don't remember having a recipe that called for it either. Sounds like the sauce is Asian inspired."
"It is. We better hurry to the store so we can get back and start. The chicken needs to go in a brine." At the car, Honey suddenly stops and says, " I got a better name for the dish . . . are you ready?
Amazing Blazing Asian Grilled Chicken Thighs!"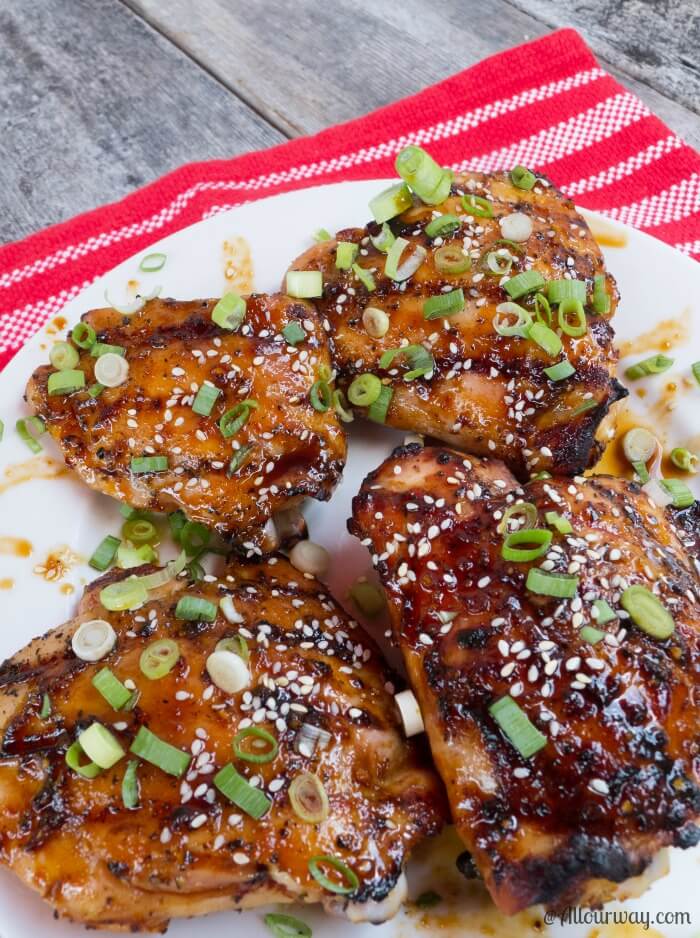 I chuckle and say, "Okay, we'll keep your title, now let's get going."
Honey grins at me. "You just want to get to that sauce. I saw how you were licking your saucy fingers when you were eating the wings. "
"Hey!! You weren't supposed to notice."
"Babe, where you're concerned . . . I notice everything!" 😉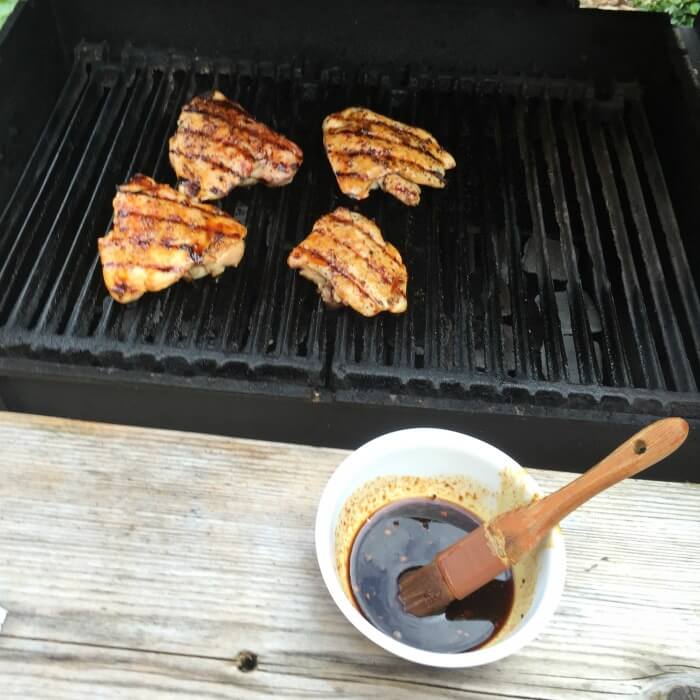 Brine, Marinade, Sauce
Once we're back I get a large glass bowl out of the cabinet, pour in the water and mix in salt, chili garlic sauce, and honey. "It says here it has to chill out in the brine for 30 minutes or up to 4 hours. It's 3 pm, I don't think I want to wait 4 hours for our grilled chicken thighs."
" Patience is a virtue, my love." Honey is mixing up the basting and dipping sauce in a small bowl. He puts half of the sauce in another small bowl.
"Why did you do that?" I ask because I'm thinking of the extra bowl to wash.
" We use part of the sauce for basting," he said.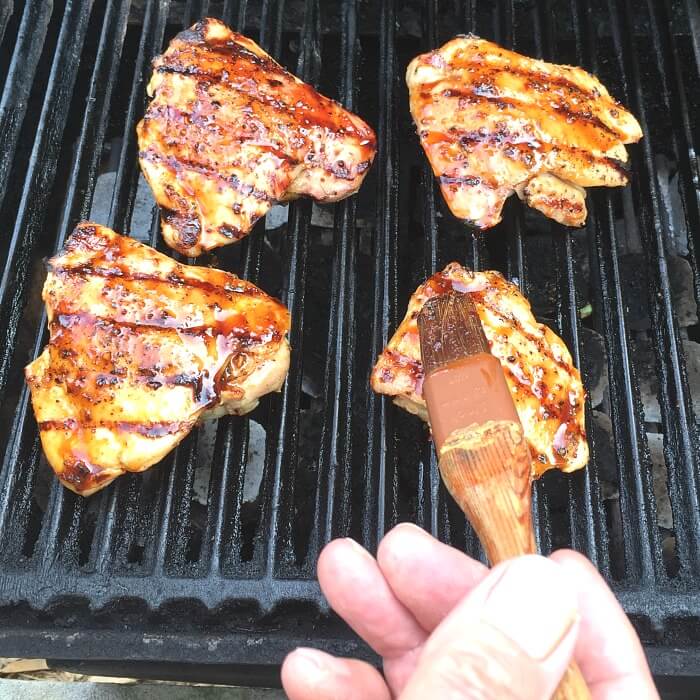 "Oh, I get it. Cross contamination. I read some of the sauce is for dipping once the chicken thighs are grilled, right?"
"Right," said Honey.
Grilled Chicken Thighs with Amazing Blazing Asian Sauce
Our grill is ready for the chicken thighs at medium high. Honey drains the brine from the thighs, seasons them with salt and pepper, then places them on the grill. He grills the thighs until golden, about 15-20 minutes. He only flips them over once or twice. Flip them too many times and you end up with jerky.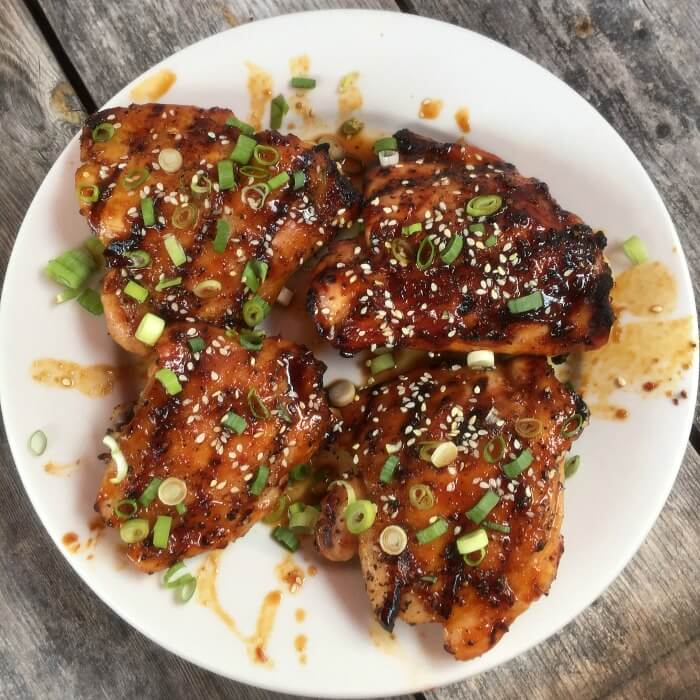 When the chicken thighs are close to done, around 155 F., he bastes them with the sauce, turns them, and bastes the other side. He continues to baste them and lets them cook a little while longer, about 2 or 3 minutes. The internal temperature is 165 F when he takes them off.
Right before we're ready to eat, he garnishes the grilled chicken thighs with sesame seeds and minced green onions. Of course along with our delicious grilled chicken thighs we serve the amazing blazing Asian sauce.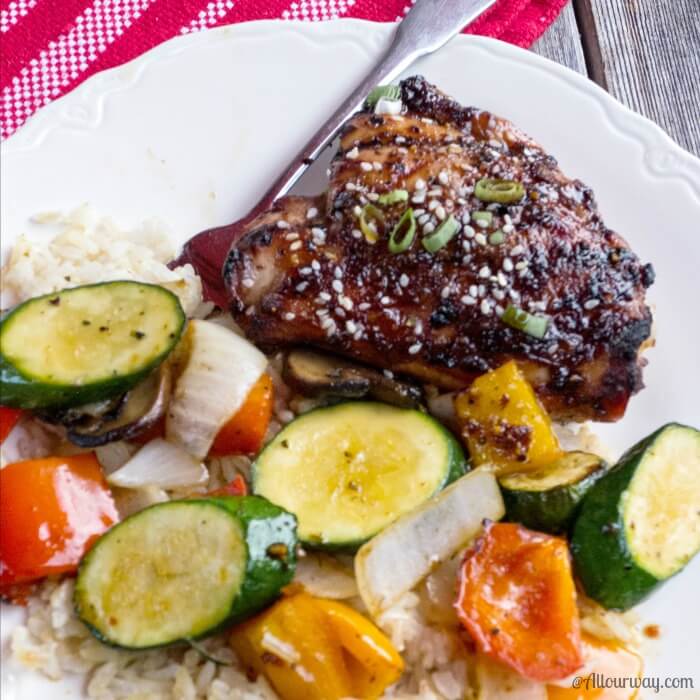 We served our grilled chicken thighs with Grilled Peppers and Onions and added zucchini. And yes, the sauce was mouth-watering and the thighs were finger licking good! Try them out and see for yourself.
To continue with the Asian theme, try our crunchy Ramen Noodle Salad Recipe. It's always a huge hit at potlucks and barbecues!
And if you're in the mood for a quick delicious Asian dish, make our Classic Chop Suey. The recipe is from my Mother-in-Law's quick recipe collection.
Tutti a tavola e pronto!
Un caro saluto e alla prossima.
📖 Recipe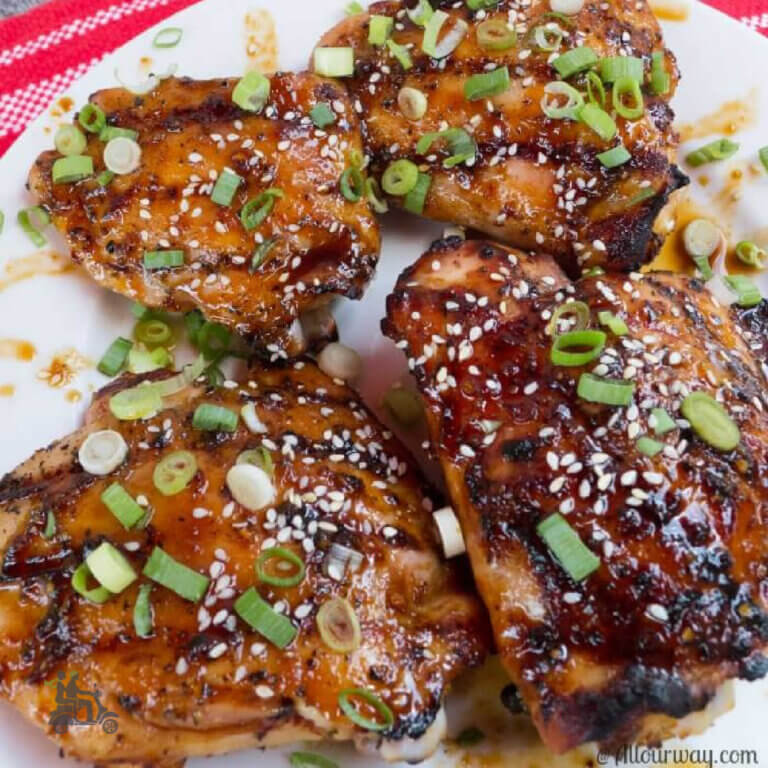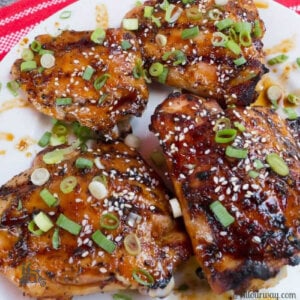 Amazing Blazing Asian Grilled Chicken Thighs
A finger-licking good blazing spicy Asian sauce coats golden grilled chicken thighs and more of the amazing sauce is served for dipping. Wings can also be used.
Print
Pin
Rate
As An Amazon Associate I earn from qualifying purchases.
Ingredients
6- 8

chicken thighs

trimmed

6

cups

water

¼

cup

kosher salt

½

cup

chili-garlic sauce

1

cup

honey

2

Tablespoons

soy sauce

½

cup

sweet soy sauce

3

Tablespoons

sriracha sauce

¼

cup

apple cider vinegar

¼

cup

minced ginger

1

teaspoon

sea salt

1

tablespoon

freshly cracked black pepper

1

teaspoon

toasted sesame seeds

put in dry skillet and watch like a hawk so they don't burn

1

Tablespoon

minced green onion
Instructions
Trim the excess fat from the chicken thighs. You may leave skin on but we removed it.

In a large glass bowl, combine water, salt, ¼ cup of the chili garlic sauce and ¼ cup of the honey. Stir until the salt is dissolved. Add the chicken and chill for 30 minutes or up to 4 hours.

To make the basting and dipping sauce, in a small bowl, combine the remaining chili garlic sauce, soy sauce, sweet soy sauce, sriracha, remaining honey, vinegar, and ginger and mix well. Set aside half of the sauce for serving in order to avoid contamination.

Heat the grill to medium high. Drain the thighs or wings and season them with sea salt and pepper. Grill the thighs or wings until golden, 15-25 minutes, turning as needed. DON'T turn too much. When the thighs or wings reach a golden color, around 155 F, baste them with sauce, turning as needed until the wings are glossy, well coated and reach 165 F.

Remove to a serving platter and garnish the wings with the sesame seeds and green onions. Serve with the reserved dipping sauce. If you want to lick your fingers you have our permission - it is acceptable and highly recommended.
Nutrition
Serving:
4
g
|
Calories:
924
kcal
|
Carbohydrates:
107
g
|
Protein:
38
g
|
Fat:
37
g
|
Saturated Fat:
10
g
|
Cholesterol:
221
mg
|
Sodium:
10588
mg
|
Potassium:
596
mg
|
Fiber:
1
g
|
Sugar:
96
g
|
Vitamin A:
205
IU
|
Vitamin C:
8.3
mg
|
Calcium:
50
mg
|
Iron:
2.4
mg
Sign up for the emails and never miss another recipe!!
We'll never share your email or send you spam. Promise
SaveSave