Honey Garlic Chicken Thighs is the type of dish that seems too quick and easy to have that much flavor. But believe me, once you taste the salty, sweet, spicy glazed chicken you'll be a fan.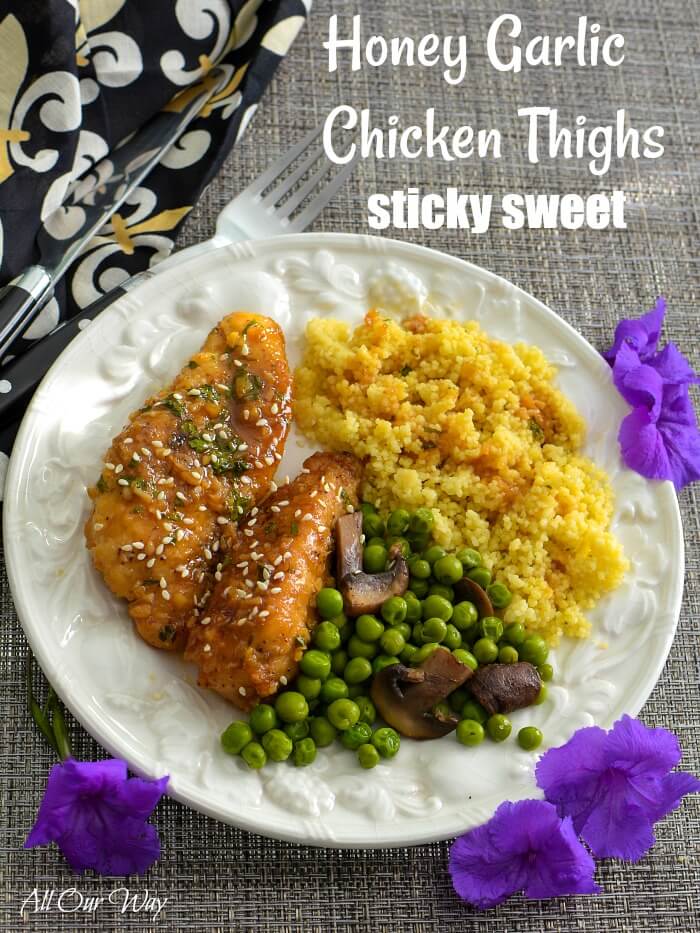 Jump to:
Why you'll love this recipe...
This chicken thigh recipe comes together in a blink of an eye. In less than 20 minutes you have a tasty skillet chicken dish on the table.
The instructions are minimal.
First, you lightly coat the meat with flour. The flour ensures that the honey garlic glaze sticks to every inch of meat surface.
Then you sear the chicken.
Finally, the chicken simmers in an incredible tangy soy sauce with just the right note of garlic.
The result is a spicy-sweet-sour chicken that is so good you'll catch your family licking their fingers. Promise!
Few ingredients for honey garlic chicken thighs
For this recipe, you will need:
chicken thighs
flour
unsalted butter
galic
cider vinegar
soy sauce
honey
red pepper flakes
fresh Italian parsley
white sesame seeds salt
pepper
Preparing honey soy chicken is fast and simple, about 5 minutes. The Asian chicken recipe takes few ingredients, and you'll want to have them ready before you start. The first thing you'll want to do is get the chicken thighs ready.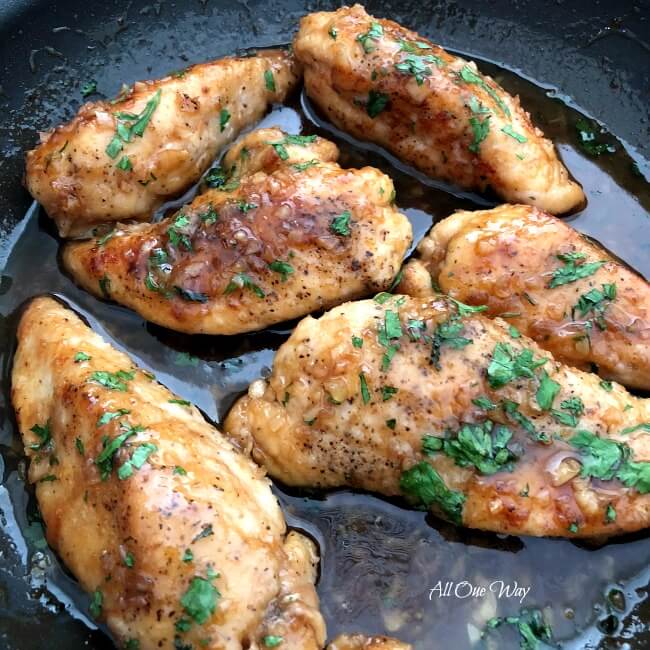 Instructions
Don't have chicken thighs? No problem! The beauty of this Honey Garlic Chicken recipe is that you can substitute chicken breast or chicken tenders for the thighs. We've done both. The most important part here is that all pieces of meat should be the same thickness.
If the chicken breasts are too thick, just cut them in half horizontally. In the video we made for Facebook we used chicken tenders, but we prefer chicken thighs.
Now, the chicken just needs a bit of salt and pepper -- both sides. Remember how Emeril Lagasse stressed seasoning both sides of the meat? He sure is a great chef and entertainer!!
Next, the chicken will need a light dusting of flour. The flour helps the thighs brown and get a light crust. But the bonus is that the flour creates a coating for the sauce to adhere.
Measure out the honey soy sauce ingredients
We don't know about you, but we love that sticky sweet honey soy flavor. The sauce is so doggone good you'll want to pour it over everything. The spicy-sweet taste reminds me of the grilled chicken wings we made last year.
In fact looking back, we must love the Asian marinades and sauces because we have several more dishes on our list. Do you remember our hot and spicy Asian grilled thighs? My mouth is water just thinking about them.
The recipe for the sauce on chicken came from our youngest son. All our kids inherited our love of cooking and grilling. Whenever we get together, we all love to try something new and different. Is your that way?
I have a confession to make. We like spicy, savory, salty with our meats. Sweet is not something we usually enjoy. But, when it comes to Asian chicken, it seems to be a perfect fit! Oops! Thought of something else we like that would be considered sweet -- barbecue sauce. But it can't be too sweet! Oh, no!! It has to have that kick of spice to it also.
How about you, do you like eating sweet main dishes? If you do, we'd love to know what they are.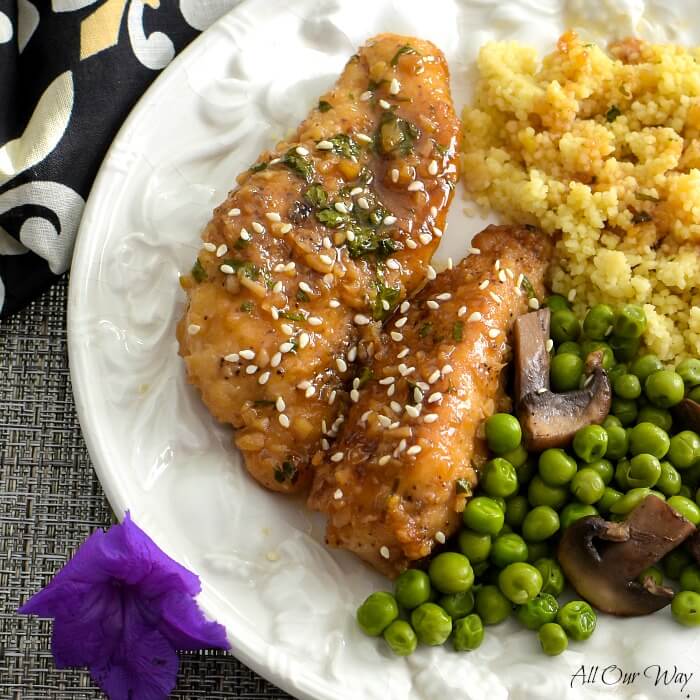 Putting together the honey soy chicken
Now's the time when the garlic honey sauce magically turns plain chicken into sticky sweet amazing thighs. It's as easy as A, B, C.
Lightly flour the thighs or chicken pieces.
Saute the floured chicken in a skillet.
Add garlic to the skillet then the rest of the sauce ingredients and simmer.
When they're finished, you sprinkle sesame seeds over the finished chicken thighs. Abracadabra! ???? You have a fantastic dish in less than 30 minutes that your family will love.
All you need to complete the meal is a salad or vegetable and a side. Isn't that easy?
I hope you try this Honey Garlic Chicken Thighs recipe -- you'll be glad you did. And so will your family.
Tutti a tavola è pronto!
Un caro saluto e alla prossima.
YOU MAY NEED:
The following are affiliate links. As An Amazon Associate I earn from qualifying purchases.
If you like this recipe please consider giving it a five-star rating.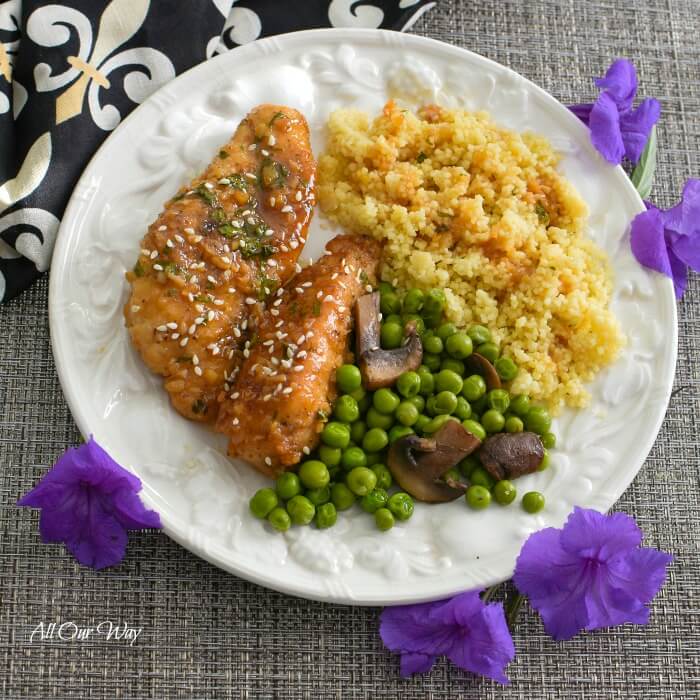 Honey Garlic Chicken Thighs Sticky Sweet One-Pan Meal
Easy honey garlic chicken with soy uses just a few ingredients but makes an incredible sweet tangy glaze that is so good you want to pour it on everything. I wasn't kidding when I said that the chicken thighs are finger licking good. We won't judge you!! When chicken is this good you are perfectly justified to eat every last drop.
📖 Recipe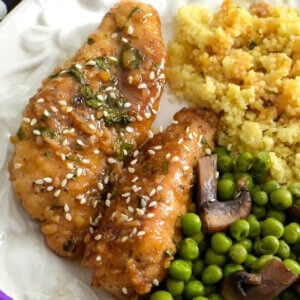 HONEY GARLIC CHICKEN THIGHS STICKY SWEET ONE-PAN MEAL
An easy honey garlic chicken recipe that uses few ingredients but makes a delicious sauce that covers every inch of the meat. You can use this recipe for any cut of chicken. We used chicken tenders for the photo.
Print
Pin
Rate
As An Amazon Associate I earn from qualifying purchases.
Ingredients
1

lb

chicken thighs

boneless, skinless

¼

cup

flour

all-purpose

2

garlic cloves

minced

1 ½

tablespoon

cider vinegar

1

tablespoon

soy sauce

regular or light

⅓

cup

honey

¼

teaspoon

hot pepper flakes

salt and pepper to taste

3 ½

tablespoon

unsalted butter

separated

¼

cup

chicken broth

2

tablespoon

sesame seeds

2

tablespoon

Italian parsley

chopped
Instructions
Salt and pepper the chicken thighs.

Put the flour in a plastic bag. Drop the chicken pieces into the bag and shake until the thighs are coated. Shake off excess.

Set 1 tsp. of butter aside and melt the rest of it in a large skillet over high heat.

Place the chicken in a skillet and cook for 2 - 3 minutes until golden. Turn and cook the other side for 1 minute more.

Turn heat down to medium-high. Scoot the chicken thighs to one side and add the garlic with the remaining butter. Stir the garlic until butter melts.

Add the soy sauce, vinegar, honey, and pepper flakes. Stir gently to combine. Sprinkle the chopped parsley over the chicken. Bring the sauce to a simmer and cook for 1 minute or until slightly thickened.

Turn the chicken to coat in sauce. Add 2 Tablespoons of the broth to the sauce so it doesn't get too thick. Stir. If it's still too thick add the rest of the broth.

Remove from the burner. Plate the chicken and drizzle the sauce over the thighs. Sprinkle with sesame seeds.
Notes
Inspired by: Honey Garlic Chicken Breast -- Recipe Tin Eats
Nutrition
Calories:
485
kcal
|
Carbohydrates:
31
g
|
Protein:
20
g
|
Fat:
31
g
|
Saturated Fat:
11
g
|
Cholesterol:
137
mg
|
Sodium:
396
mg
|
Potassium:
289
mg
|
Sugar:
23
g
|
Vitamin A:
480
IU
|
Vitamin C:
1.5
mg
|
Calcium:
59
mg
|
Iron:
2
mg
Sign up for the emails and never miss another recipe!!
We'll never share your email or send you spam. Promise
IF YOU LIKED THIS HONEY GARLIC CHICKEN THIGH RECIPE YOU MAY ALSO LIKE . . .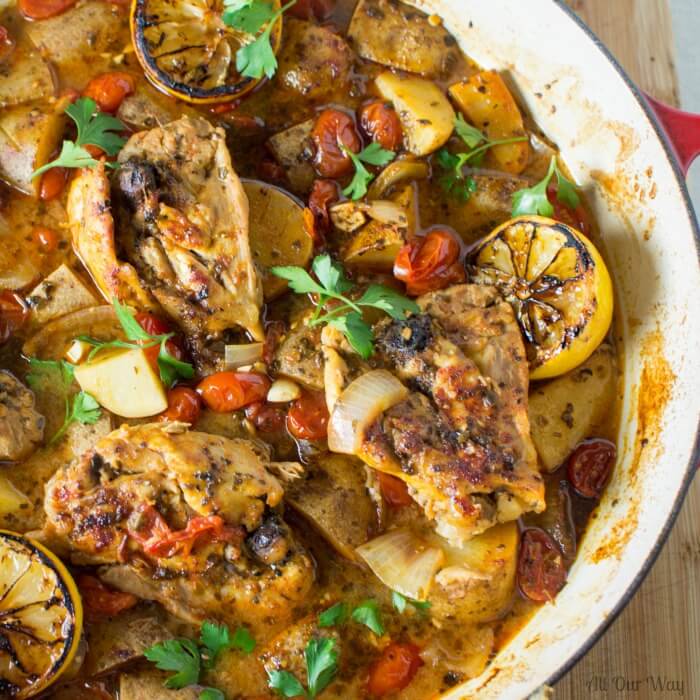 Other recipes you may like . . .
Butter Chicken Genius Kitchen
Irish Chicken Recipes, Food & Cooking