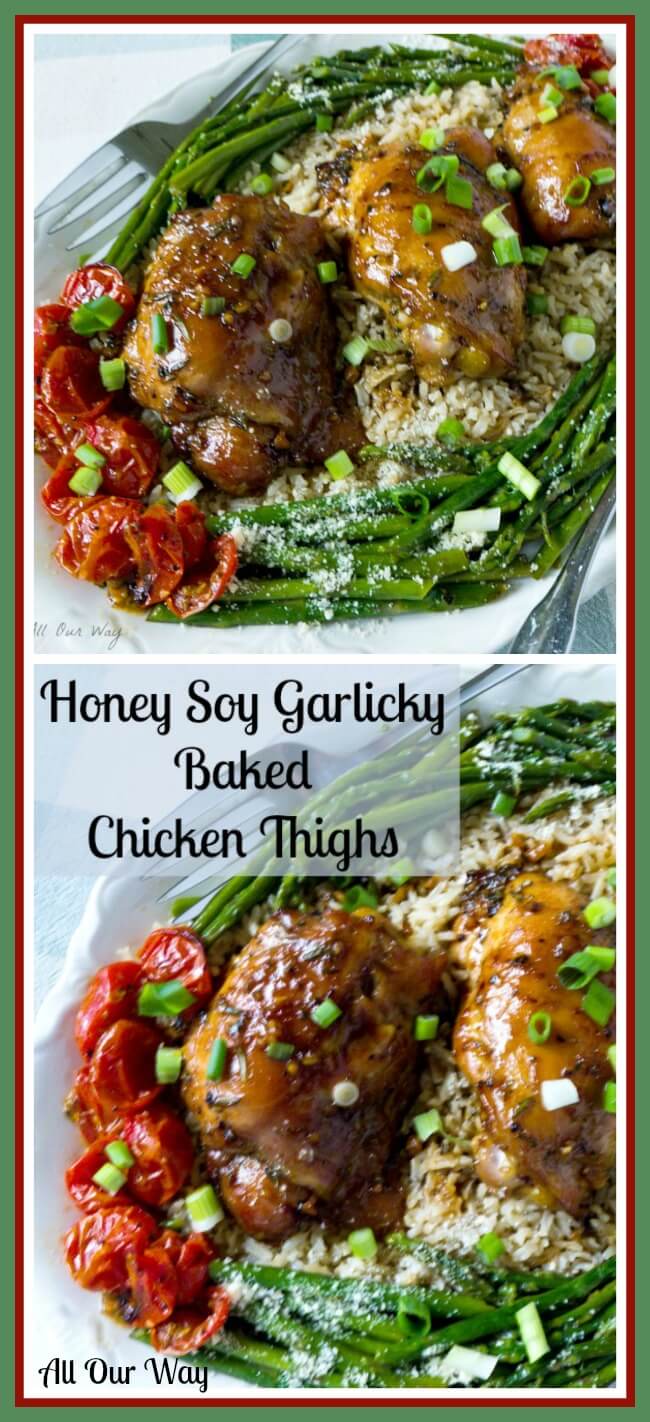 Our Honey Soy Garlicky Baked Chicken Thighs should have been Honey Soy and Garlic Grilled Chicken Thighs. It was one of those days where it wasn't supposed to rain, but it did. So, we had to go to plan B -- oven baked chicken thighs since they were already marinating in a delicious marinade of soy, honey, garlic, ginger, rosemary, olive oil, salt, and pepper.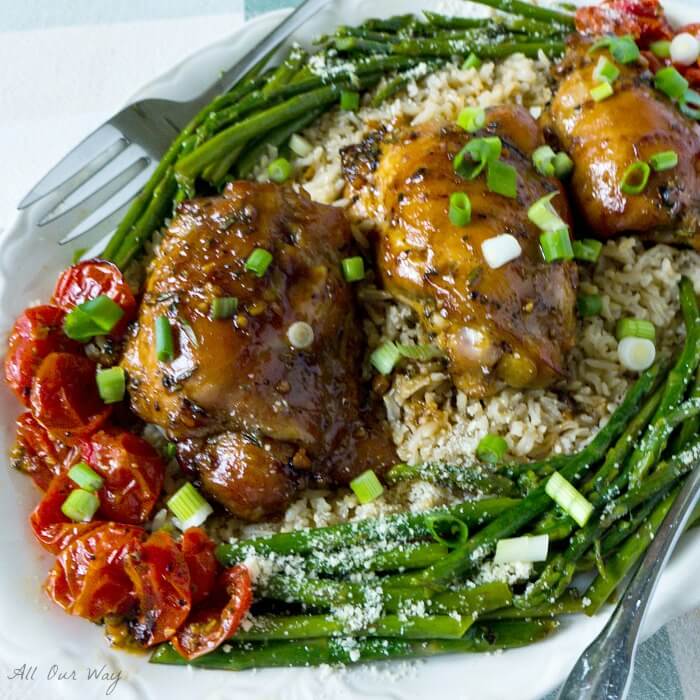 Jump to:
Good recipe for a busy day
This recipe is nothing fancy, just ingredients most people have in their kitchens. But, boy oh boy, that marinade made those baked chicken thighs.
The day started out bright and glowing with sunshine, a perfect day for working in the yard. We were anxious to get outside to finish spreading the remainder of the 90 bags of cypress mulch that we'd ordered from Lowes. Yes, I know! That's a lot of mulch, isn't it? But, the flower beds needed it badly!
This year we ordered bagged mulch. Typically we order 10 yards of mulch, and a huge truck brings loose processed mulch and dumps it in our drive. What a mess! If it rains, we have one big pile of wet stinky mulch. Bags are so much easier! Besides being easier, cypress mulch smells a heck of a lot better than the loose stuff we usually put down.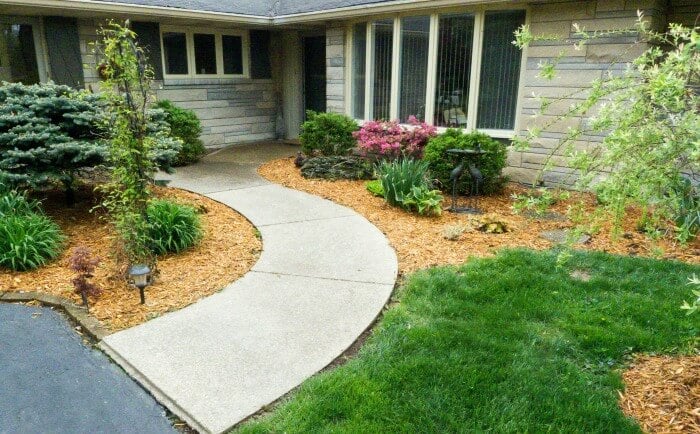 Prepare marinade for baked chicken thighs
Before we went outside to spread the mulch, we wanted to get a start on our dinner preparation, so we got the honey soy marinade ready for, what ended up, our baked chicken thighs. We didn't know how long it was going to take us to finish the mulch, but this way dinner was ready to go. I even had the salad and asparagus ready.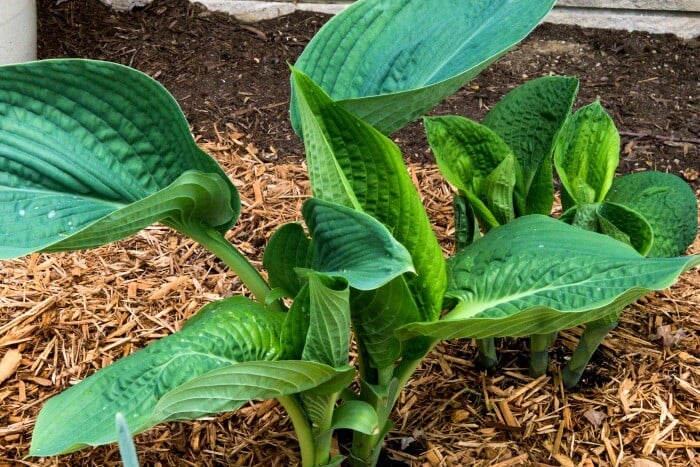 Our hostas were already poking their heads out of the soil, so the cypress had to be spread ASAP. Why the hurry? Well, you see, the minute those succulent hosta leaves poke their heads out of the ground, the deer and rabbits are eagerly waiting to spring on them and feast away.
Once the mulch is down, I hurry and blend 10 gallons of a natural deterrent to spray on the hostas, flowers, shrubs and trees, anything the critters may find the least bit appetizing. I thoroughly spray all of them with our Natural Deer Deterrent.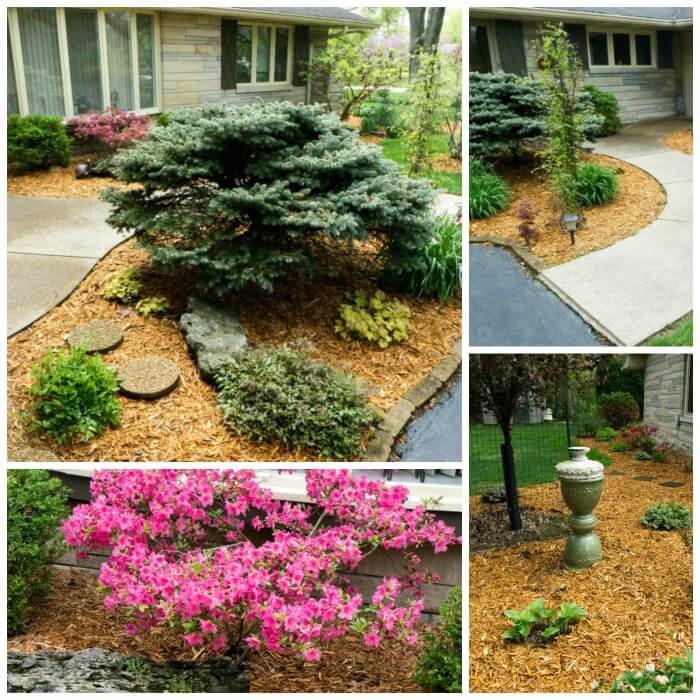 Speaking of critters, would you believe that in six days my Honey rid (eliminated) our yard of six moles? ( I would take a photo, but they're pretty disgusting looking) Now six is a darn good record because they're very elusive. I think Honey figured them out, though. He didn't even need to use our mole trap --the one I mentioned in the first post about our pesky critters.
Baked Chicken Thigh Recipe Adaptable
We did put down all of the cypress mulch spread just in time. The rain started to pour down, but luckily this recipe was very adaptable. The oven finished our Honey Soy Garlicky Baked Chicken Thighs while we relaxed, sipped our glass of wine and admired how well the cypress mulch looked in the flower beds.
May your yard be moleless and deerless as well. 🙂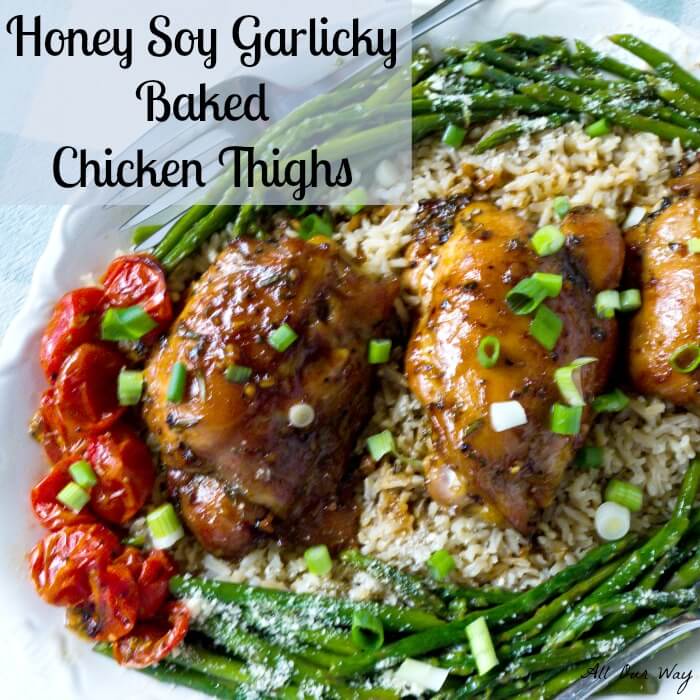 Tutti a tavola è pronto!
Un caro saluto e alla prossima.
📖 Recipe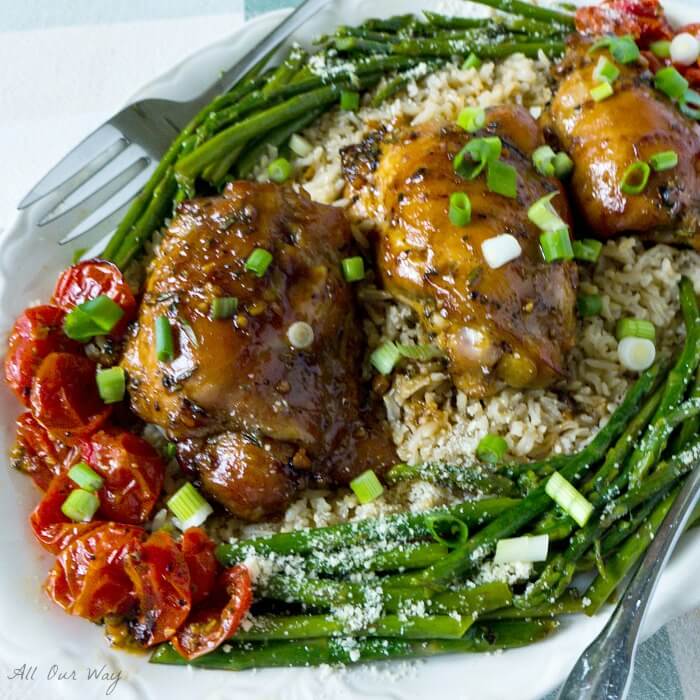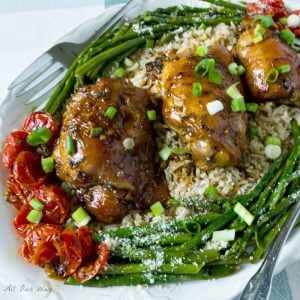 Honey Soy Garlicky Baked Chicken Thighs
Chicken thighs are first marinated in a delicious honey, soy, garlic and ginger sauce and then they are finished in the oven resulting in meat that is moist and full of flavor.
Print
Pin
Rate
As An Amazon Associate I earn from qualifying purchases.
Ingredients
Marinade
3

Tablespoons

olive oil

3

Tablespoons

soy sauce

3

Tablespoons

honey

4

cloves

of garlic

minced

1

teaspoon

fresh minced ginger

½

teaspoon

fresh ground pepper

salt and pepper to taste

6 to 8

chicken thighs with skin
Instructions
Mix the marinade ingredients together and then put in a zip-lock bag. Add the chicken and make sure that all the pieces are coated with the marinade.

Place the chicken with the sauce in the refrigerator to marinate for at least 1 hour.

Preheat oven to 425 F.

When ready to cook, put the chicken in an oven proof baking dish or pan, in the preheated oven skin side up.

Bake for 25 minutes, turn the chicken to cook skin side down for another 10 minutes. Again turn the chicken skin side up and finish for an additional 10 minutes. Cooking time will be approximately 45 minutes -- the internal temperature of the chicken should read 165 F.
Notes
The chicken can also be grilled.
Adapted from recipe by Amy Johnson at: http://shewearsmanyhats.com/on-the-dark-side/
Nutrition
Calories:
787
kcal
|
Carbohydrates:
15
g
|
Protein:
48
g
|
Fat:
58
g
|
Saturated Fat:
14
g
|
Cholesterol:
283
mg
|
Sodium:
978
mg
|
Potassium:
633
mg
|
Sugar:
13
g
|
Vitamin A:
225
IU
|
Vitamin C:
0.9
mg
|
Calcium:
31
mg
|
Iron:
2.4
mg
Sign up for the emails and never miss another recipe!!
We'll never share your email or send you spam. Promise