Chop Suey is a delicious stew composed of bean sprouts, water chestnuts, bamboo shoots, onions, celery, and bits of pork, chicken, shrimp, or beef served with noodles. Popular in the 1950s, each mom had her own version of American shop suey that was a cheap, familiar comfort food
Next time try this Italian Thai dish that combines the two cultures in one delicious dinner.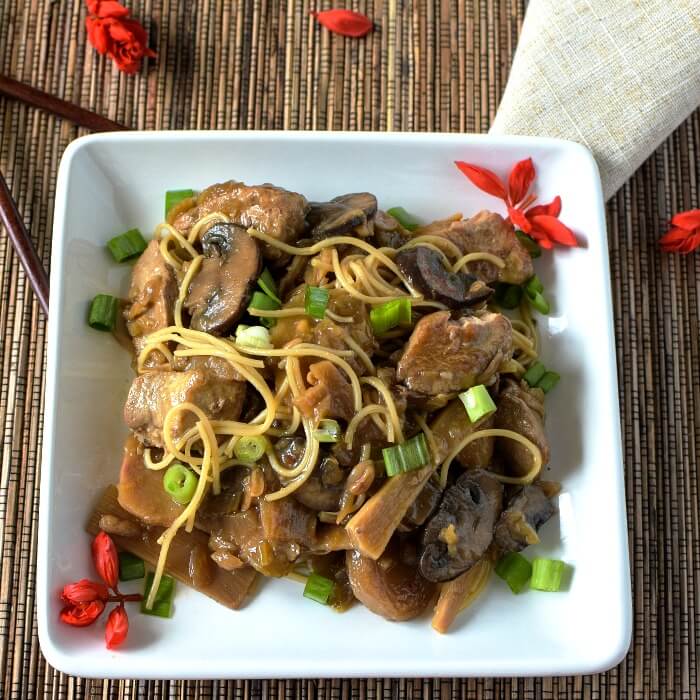 The True Chop Suey History
Exactly what does chop suey mean? In Chinese, the two characters for chop suey are "shap sui," which means "mixed small bits or odds and ends."
Although nobody knows for sure, San Francisco seems to be the city that gave birth to this mixed stew.
It was there that Chinese laborers flooded the city to take advantage of the booming economy brought on by the Gold Rush.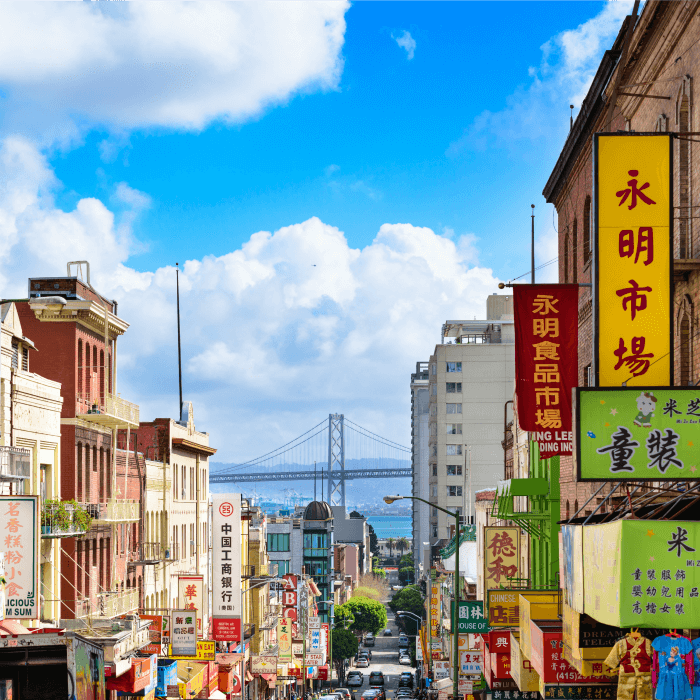 Chinese restaurants popped up everywhere.
The legend goes that one night a group of drunken miners stumbled into a Chinese restaurant and demanded food. The tired owner trudged back into the kitchen, scraped leftover food off of the precious customers' plates, then put the scraps onto new ones.
He doused the jumble of meat and vegetables in soy sauce and then presented the food to the inebriated clients.
The miners loved the dish! The following night they returned and demanded more chop suey.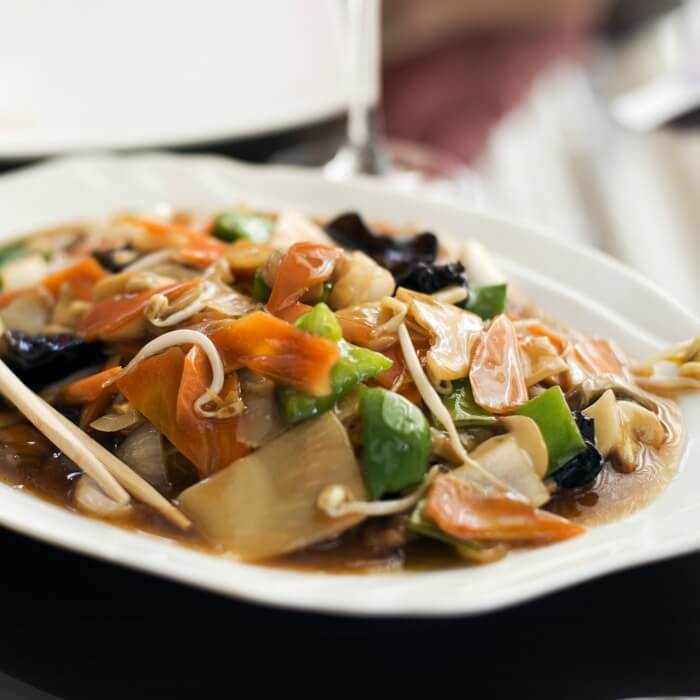 Chop Suey Spreads Across the Country
By the 1920s, the Chinese-American stew was as popular as hot dogs. The Chinese restaurants opened eateries throughout the country and adapted the stew to the tastes of non-Chinese customers.
The dish was cheap and easy to make. In the 1950s, mothers were making this Chinese stew for their families. A big pot fed an entire family.
Chop suey was now a hallmark of adventurous ethnic eating. Canned chop suey and packaged varieties appeared on the scene.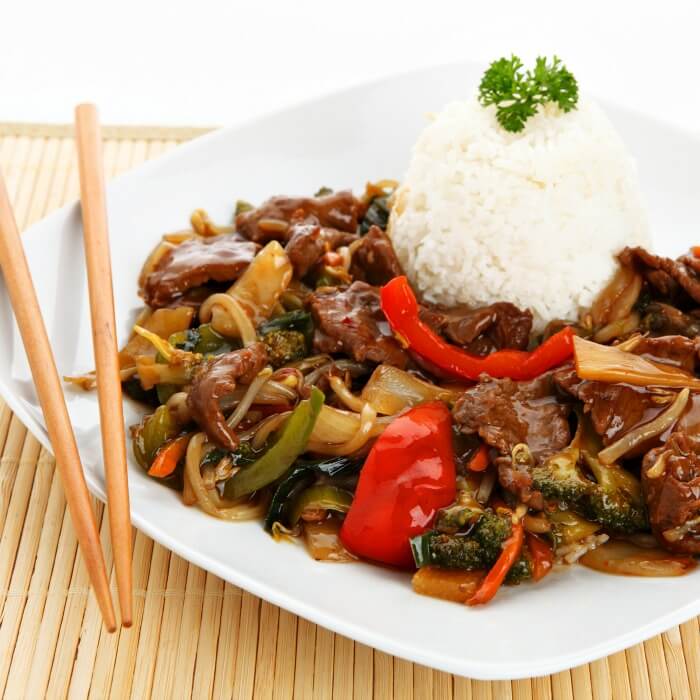 With the appearance of influential figures like Julia Child, James Beard, and Craig Claiborne, customers began to search for authenticity in food. They wanted dishes like Gnocchi in Brodo and Pugliese Bread.
So in the 1960s, the so-called Chinese dish lost favor for unique dishes such as Peking duck and potstickers.
Today if you go into a Chinese restaurant you'll see dishes such as Kung Pao shrimp or chicken with broccoli, hot and sour soup. You won't find "shap sui" on the Chinese restaurant menus.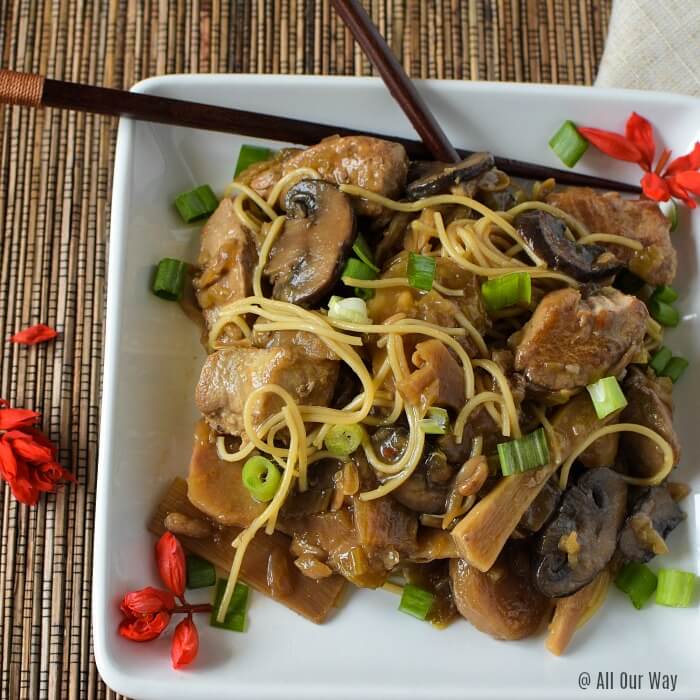 Chop Suey Revisited
One of the problems of the old Chinese-American stew was that everything was overcooked.
The different vegetables in the dish were mushy and the liquid sometimes gelatinous. But that does not have to be the case.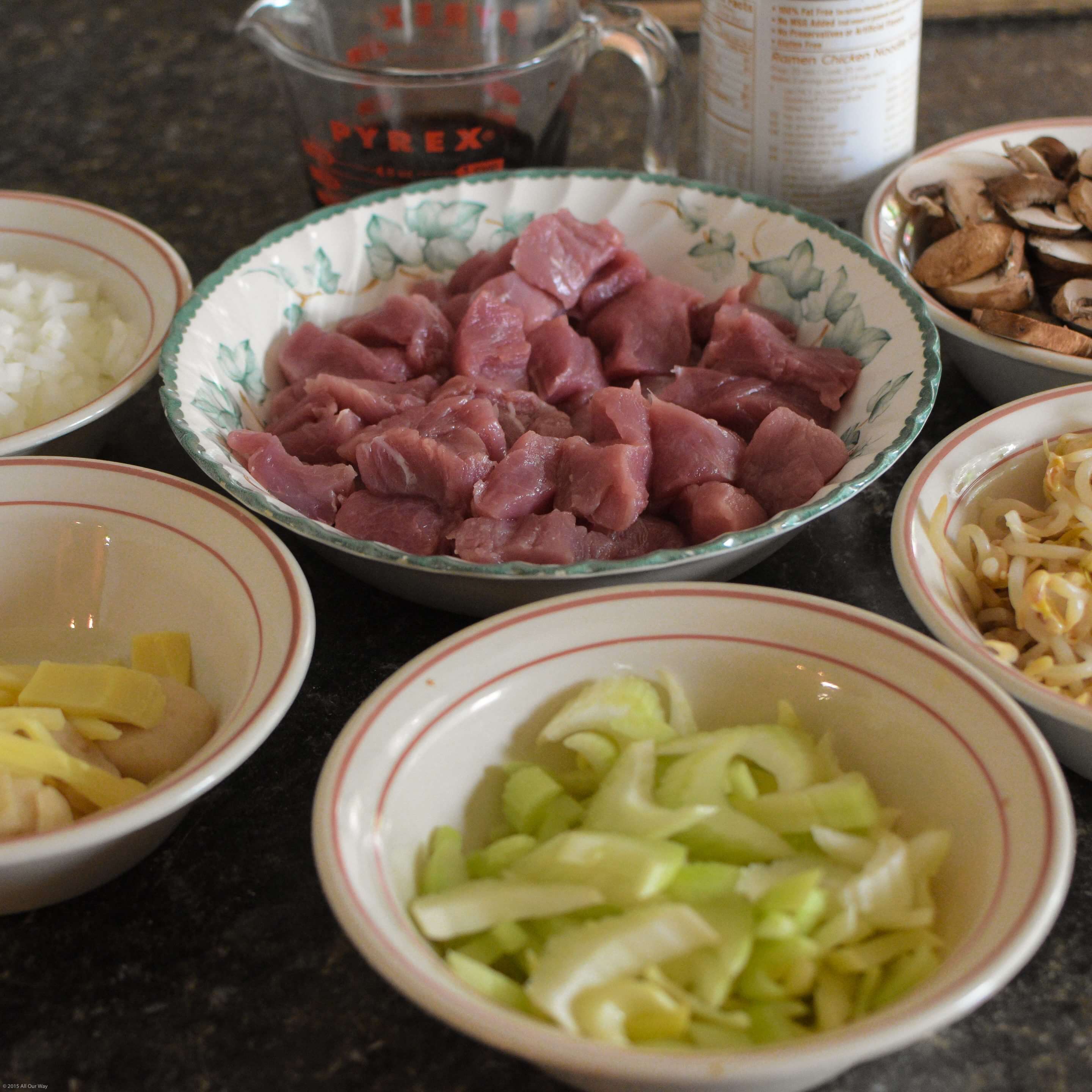 I remember the first time I had chop suey.
Helen, my mother-in-law, had to cook dinner early because it was her turn to host Bunko and a group of ladies was descending on the house.
Everyone had to eat early and leave the ladies to their game. This was her favorite dish to make in a pinch.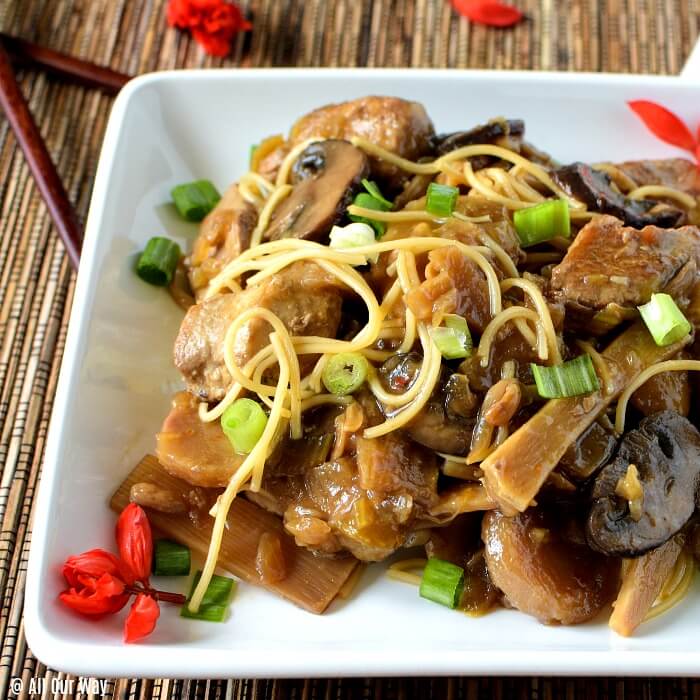 Variations
This chop suey recipe is very tasty. Today, instead of using leftovers, like they did years ago, we use fresh ingredients and use the meat we have on hand.
Along with our usual ingredient list we like to mix and match with:
snow peas
red bell pepper
snap peas
green bell peppers
green beans
Chinese cabbage
baby corn
chicken breast
beef steak
shrimp
sesame oil
oyster sauce
white rice
Make sure you have a large wok or saucepan to work with. The easiest way to make Chinese recipes is to have all your ingredients ready to go.
Add the type of veggies you love. You can't go wrong. Give it a try, we're sure you won't be disappointed!
And next time if you'd like to try a seafood version, be sure to check out our Traditional Chinese Shrimp Chop Suey. It's delicious and the veggies are crunchy tender and covered in just the right amount of chop suey sauce.
Tutti a tavola è pronto!
Un caro saluto e alla prossima.
📖 Recipe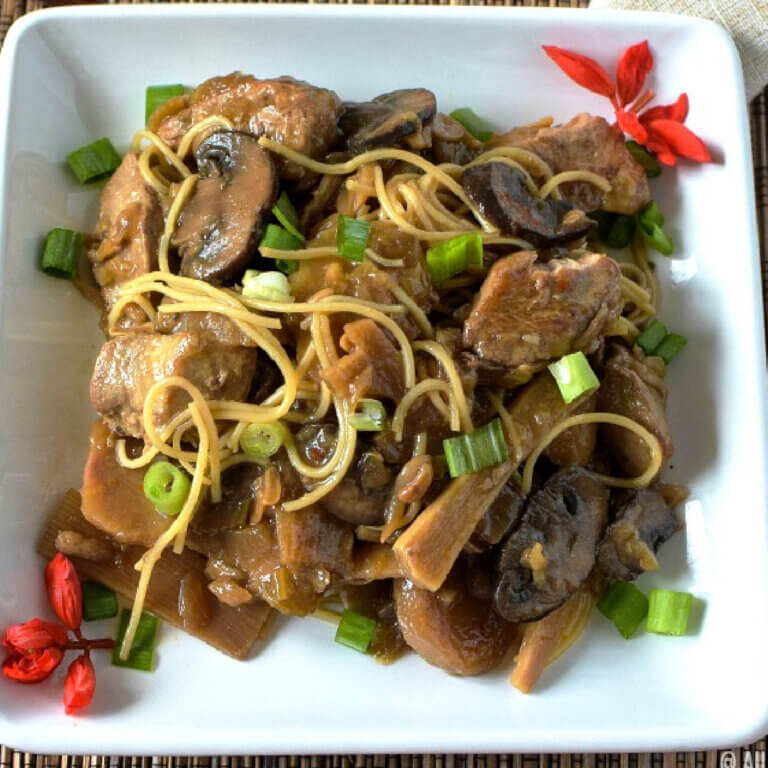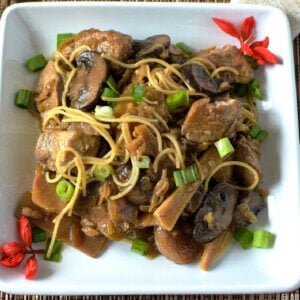 Chop Suey | Traditional Chinese-American Recipe Like Mom Made
Delicious Chinese-American cuisine that utilizes pork, beef or chicken along with bean sprouts, bamboo shoots, water chestnuts, onions, and celery. This delicious chop suey is better than take out. Be creative and add more fresh veggies to this stir-fried vegetable dish if you wish.
Print
Pin
Rate
As An Amazon Associate I earn from qualifying purchases.
Ingredients
19

oz.

cubed pork tenderloin

3

Tablespoons

olive oil or vegetable oil

divided

1

large onion

chopped

1

cup

celery

sliced in ¼-inch diagonal

1

can

16 oz. bean sprouts, drained

1

can

8 oz. sliced water chestnuts, drained

1

can

8 oz. bamboo shoots, drained

8

oz.

fresh baby Bella mushrooms

sliced or use shiitake mushrooms

½

teaspoon

red pepper flakes

use more or less according to your taste

½

cup

chicken broth or chicken stock

½

cup

soy sauce

2

Tablespoons

cornstarch

4

Tablespoons

water

4

oz.

Canton noodles cooked according to directions. Set aside.

sesame seeds

Optional for sprinkling on top
Instructions
Heat 2 tablespoons of olive oil in large skillet over medium heat and add the pork cubes. Cook, stirring, until the pork begins to brown, 10 minutes. Remove the meat from the skillet and set aside.

Heat the remaining oil in the skillet or large wok and add the onion, celery, and red pepper flakes. Sauté for about 2 to 3 minutes. Add the mushrooms and continue to sauté until the mushrooms release some of their liquid about another 3 minutes.

Stir in the bean sprouts, bamboo shoots, water chestnuts, and chicken broth. Let it come to a simmer. Add the meat back in with the soy sauce and cover the skillet. Let it simmer for about 5 minutes.

In a small bowl or measuring cup combine the cold water with the cornstarch. Stir the slurry into the skillet to thicken the flavorful sauce. Cook for about 5 minutes or until the sauce ingredients thicken.

Add the canton noodles to the shop suey and stir until thoroughly combined.

Serve the chop suey with chopped cilantro, green onions, or sesame seeds
Notes
Variations of Chop Suey:
This is virtually a basic recipe you can add as many vegetables as you want. The meat is up to you. Pork chop suey, beef chop suey, chicken chop suey, or shrimp chop suey are all delicious.
Add some baby bok choy with your veggies to give it more of an Chinese touch.
You may also use duck for your Chinese chop suey.
Make it vegetarian by using firm tofu. The tofu will absorb the flavors of the sauce.
For additional crunch, sprinkle chow mein noodles on top of each serving.
Check out the origin of Chop Suey in the post with this Chinese-American dish
Nutrition
Calories:
284
kcal
|
Carbohydrates:
23
g
|
Protein:
22
g
|
Fat:
10
g
|
Saturated Fat:
2
g
|
Cholesterol:
58
mg
|
Sodium:
1252
mg
|
Potassium:
649
mg
|
Fiber:
1
g
|
Sugar:
2
g
|
Vitamin A:
125
IU
|
Vitamin C:
3.2
mg
|
Calcium:
30
mg
|
Iron:
1.8
mg
Sign up for the emails and never miss another recipe!!
We'll never share your email or send you spam. Promise
Note: Recipes and content from © 2017 All Our Way are copyright protected. Please do not use content or recipe without prior written permission. If you want to share the information, please link to this post. Grazie!
Let's stay connected. Sign up for our weekly newsletter so we can share what's happening with us and we'd love to know what's going on with you.
SaveSave
SaveSave
SaveSave