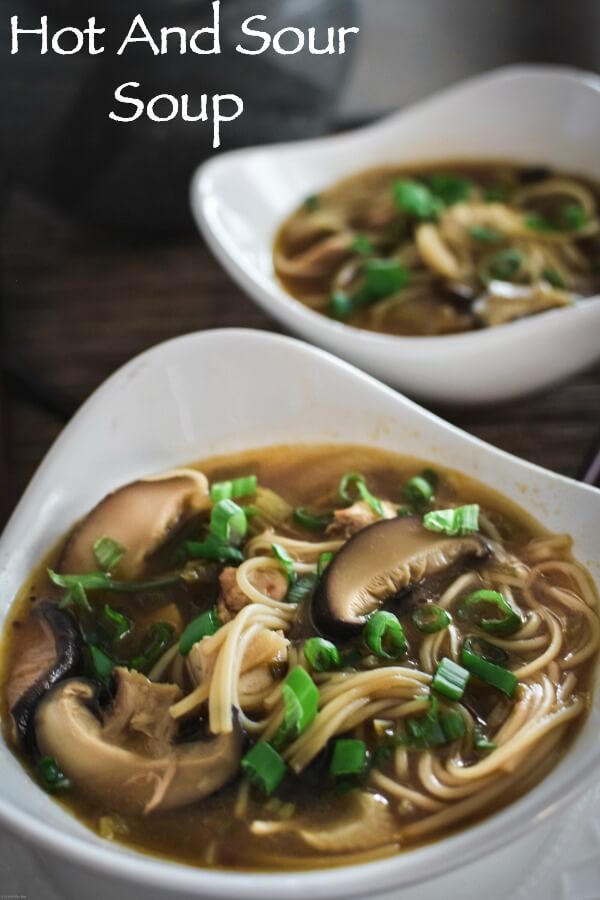 Although Hot and Sour Soup is not an Italian recipe -- it's a great soup to make during this cold weather. Not only is it good for when we feel under the weather, but it's also a bowl of cheer any time of year. Its warmth comforts while the broth's peppery spice heats you from the inside out. Hot and sour soup is on practically every Chinese takeout menu and buffet. But this recipe is a million times better than what you get from a restaurant. Take a sip, instant gratification.
This recipe has been updated from the original February 2015 version in order to provide a better experience for our readers. Last update March 2019.
For this recipe you'll need: chicken breasts, chicken stock, celery, green onions, Chinese chili sauce, sesame oil, soy sauce, sugar, white pepper, dried black mushrooms, rice vinegar, bamboo shoots, water chestnuts, Chinese egg noodles, cornstarch, eggs (optional).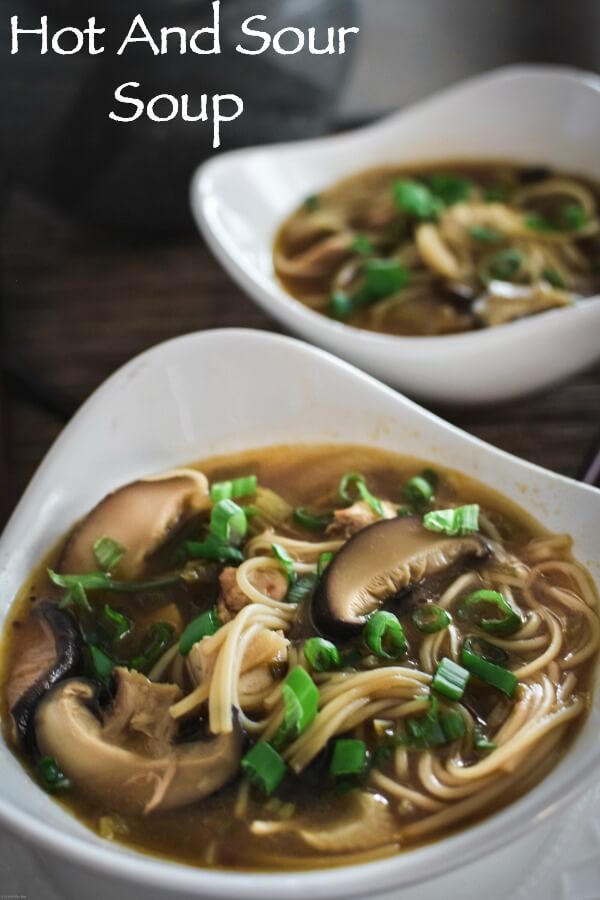 Jump to:
Hot and Sour Soup is light in taste
The chicken broth makes our Hot and Sour Soup a very light soup, and it's the Asian chili sauce (sambal oelek) that gives it a spicy punch.
We enjoy this soup often throughout the year. We certainly don't wait for just cold weather.
Minestra - soup was a staple in our household, and today both my Honey and I still derive a great deal of satisfaction from making and eating soup.
Whoever makes soup knows that it is practically impossible to make a small batch. By the time you put a little of this and a little of that into it, you've got a pot-full.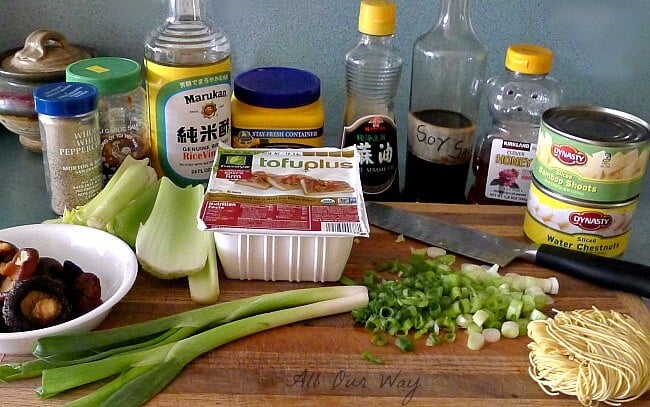 Inexpensive ingredients make up the soup
You don't need a lot of fancy expensive ingredients for this soup. Most of the items you can purchase in the grocery store.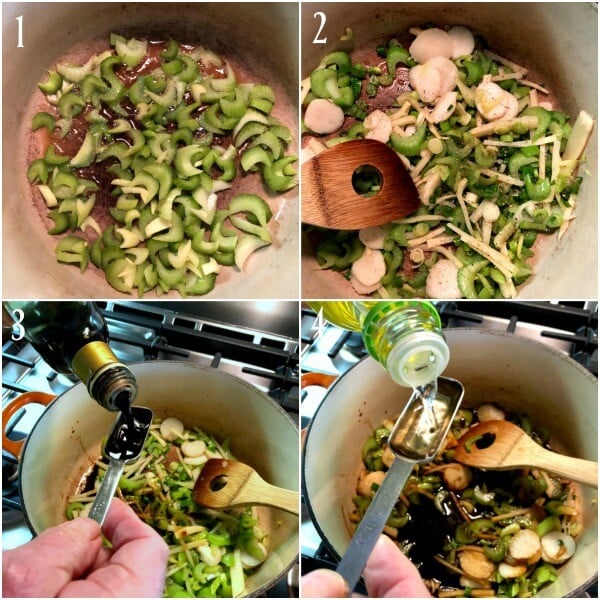 If you have an Asian market nearby, you can find the ingredients even cheaper there.
As you can see we prepare the ingredients ahead of time -- it's so much easier because you don't have to measure, dice or search for an ingredient.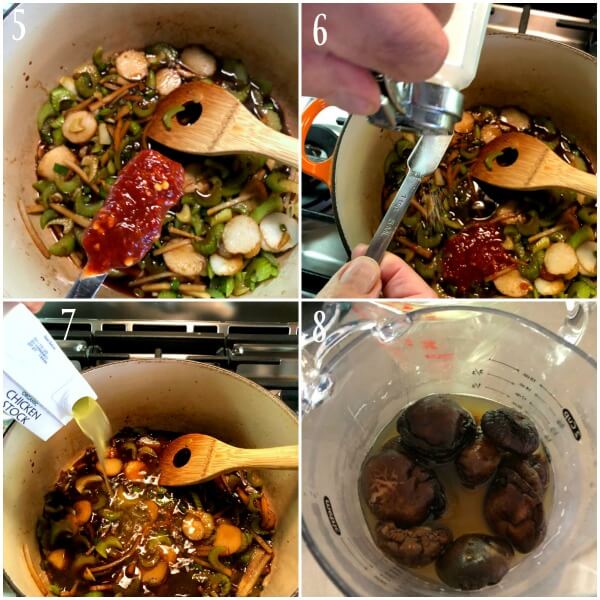 Hot and Sour Soup is a spicy comfort food
We've mentioned this a time or twenty -- we like spicy and hot!!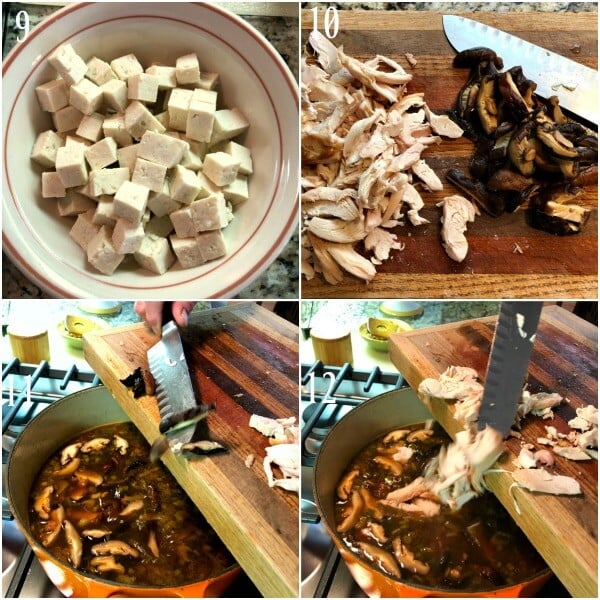 This soup is a little deceptive when you take your first sip. The kick of the heat hits after you swallow. You may have to mop your brow a bit, but it is oh so good you won't want to stop eating.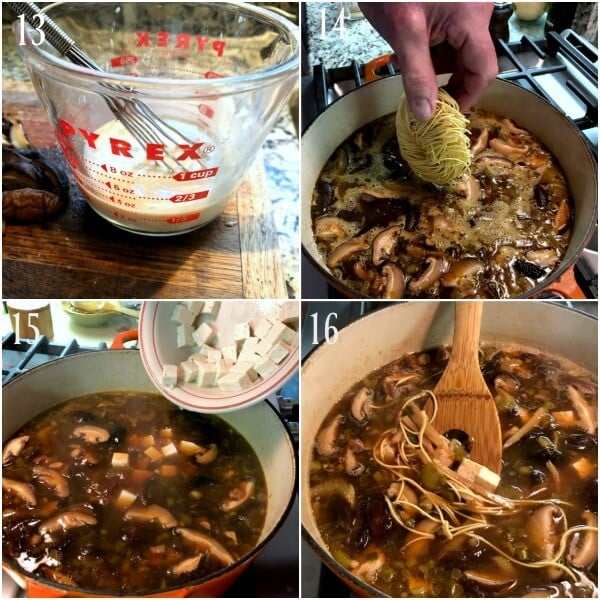 You can add less of the Asian chili sauce. It all depends on your heat tolerance. 🙂 This is a great recipe to make your way. We love trying new and different dishes -- do you??
And next time you want a quick Asian dish, check out our Classic Chinese Chop Suey. It's a family recipe that is decades old. And here are two more variations: Chicken Chop Suey and for the seafood lover, Shrimp Chop Suey.
Mangiare è un'avventura -- Eating is an adventure.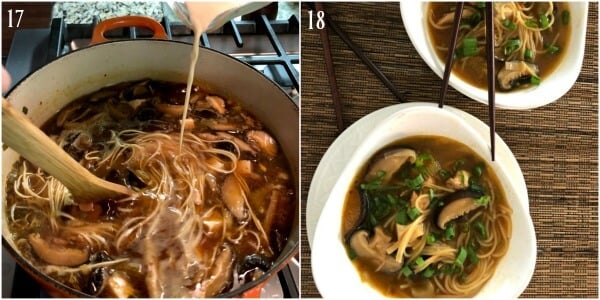 Tutti a tavola è pronto!
Un caro saluto e alla prossima.
YOU MAY NEED...
The following are affiliate links. As An Amazon Associate I earn from qualifying purchases.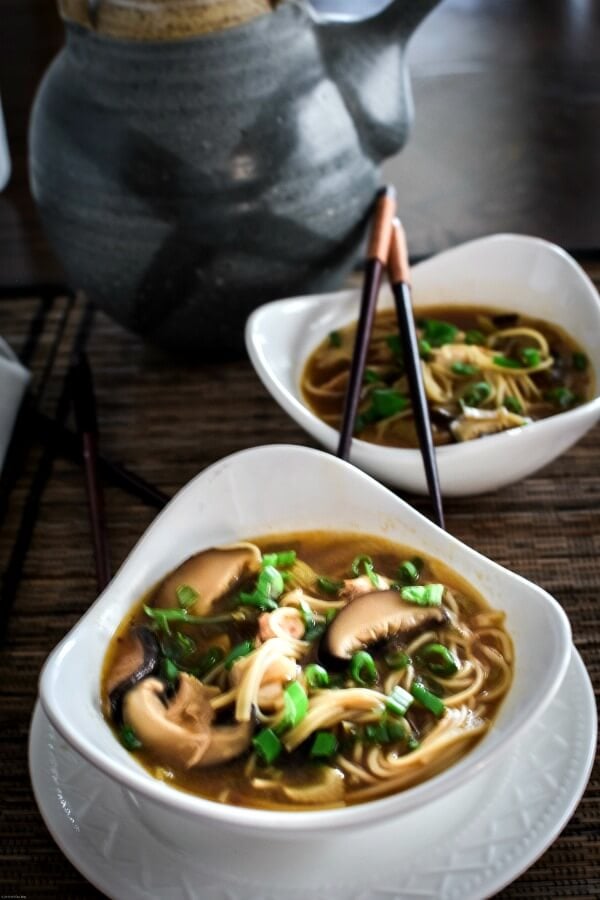 Hot And Sour Soup: Spicy Bowl Of Comfort
Just take one whiff of this soup and it will immediately make you feel warm and happy. It has a light chicken broth as its base and it's so easy to make. You may adapt this recipe to your liking and you may just want to make a double batch to have on hand. You can freeze it, just follow the recipe notes. There may be no miracle cures for what ails us but this soup sure comes close.
And if you love trying new Asian dishes, you've got to sample our amazing Chinese Shrimp Chop Suey. It takes less than 30 minutes to make and it tastes better than what you order in restaurants.
📖 Recipe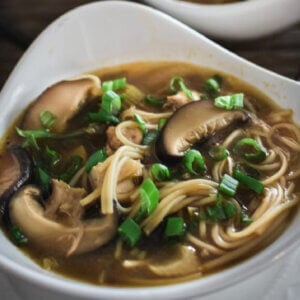 Hot and Sour Soup - All Our Way
This soup is a spicy comfort food that you can adapt to your taste. The Asian flavor comes from the dark sesame oil and rice vinegar while the heat comes from the Asian chili sauce (sambal oelek)
Print
Pin
Rate
As An Amazon Associate I earn from qualifying purchases.
Ingredients
2

boneless chicken breasts

or use rotisserie chicken breasts shredded

2

quarts

+ 3 cups chicken stock

3

stalks celery

diced

5

green onions sliced including the green

diced

2

teaspoons

Asian chili sauce like sambal oelek

2

Tablespoons

dark sesame oil

6

Tablespoons

soy sauce

divided

4

pinches

white pepper

¾

Tablespoon

sugar

may use honey

8

dried black mushrooms -- more if you like. Slice once they have been softened.

4

Tablespoons

rice vinegar

½

cup

bamboo shoots

½

cup

sliced water chestnuts

1

nest Asian egg noodles

2

Tablespoons

cornstarch

8

oz.

Tofu

cubed extra firm

2

eggs

optional
Instructions
Cook the 2 chicken breasts in 2 cups of chicken broth letting the breasts gently simmer for 15 to 20 minutes until cooked through. Let cool then shred with fork. Save the chicken broth to add to the soup. If you use rotisserie chicken breasts, shred them and add the 2 cups of broth to the overall liquid.

Mix cornstarch with 2 tablespoons of soy sauce, set aside.

Soak black mushrooms for 20 minutes in 1 cup of chicken stock. I use a French press to keep the mushroom submerged in the liquid.

In a Dutch oven or deep pot sauté the diced celery in the 1 ½ tablespoons sesame oil until soft. Add the green onions and sauté for 15 seconds. Add the bamboo shoots and water chestnuts.

Add 4 Tablespoons soy sauce, vinegar, pepper, chili paste, and sugar. Stir together. Now pour in the chicken stock and reserved liquids into the pot and bring to a simmer. Cook for about 10 minutes.

Add the sliced black mushrooms, shredded chicken and let the soup come to a simmer again. Simmer about 5 minutes. Add the tofu. Stir in the cornstarch soy sauce mixture along with the Asian egg noodles nest. Simmer for 2 minutes.

If you want eggs beat them with 1 ½ teaspoon sesame oil. Whisking with fork, pour into the simmering soup in a fine stream.

Garnish with a little green onion when serving.
Notes
We like our soup spicy but you can increase or decrease the seasonings to your taste.
Nutrition
Calories:
164
kcal
|
Carbohydrates:
11
g
|
Protein:
12
g
|
Fat:
7
g
|
Saturated Fat:
1
g
|
Cholesterol:
44
mg
|
Sodium:
773
mg
|
Potassium:
323
mg
|
Fiber:
1
g
|
Sugar:
4
g
|
Vitamin A:
160
IU
|
Vitamin C:
2
mg
|
Calcium:
45
mg
|
Iron:
1.3
mg
Sign up for the emails and never miss another recipe!!
We'll never share your email or send you spam. Promise
Note: Recipes and content from ©All Our Way are copyright protected. Please do not use content or recipe without prior written permission. If you want to share the information please link to this post. Thank you.
SaveSave