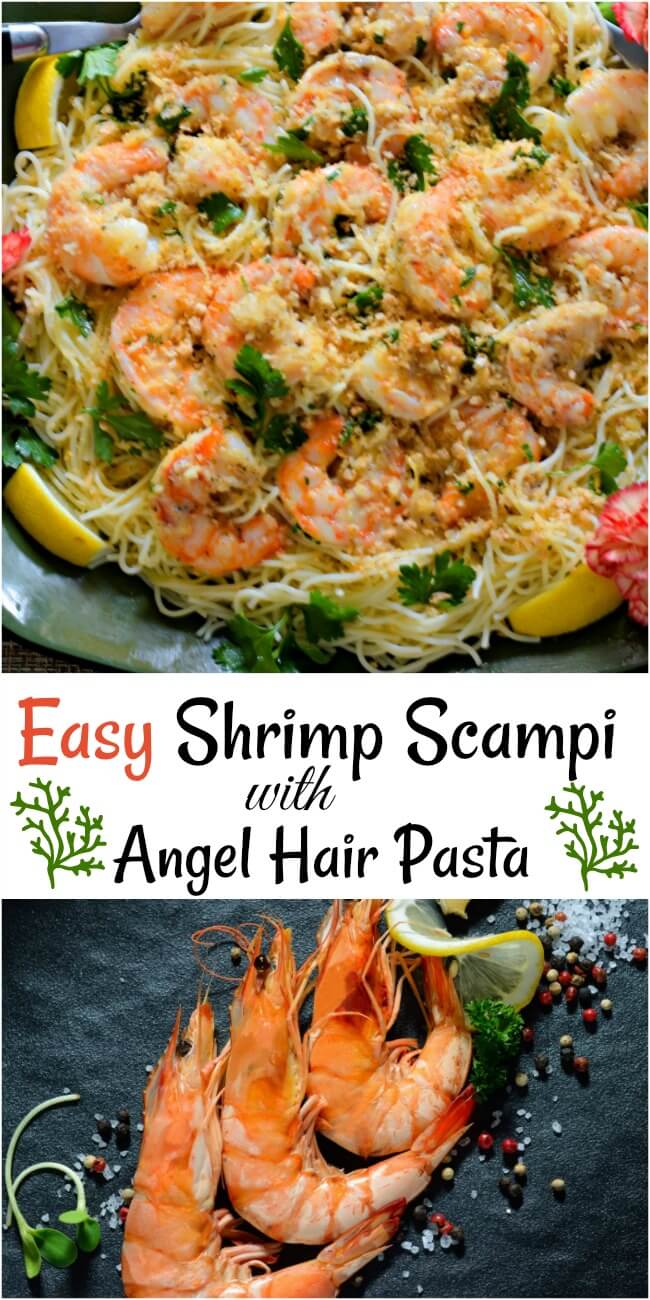 Easy Shrimp Scampi is the type of dish that looks like you fussed, but it's super simple to throw together. Lemon, garlic, and herbs enhance the shrimp, and buttered crumbs give this classic scampi shrimp recipe a delightful crunch. There are a few tricks we use to keep the shrimp juicy and flavorful and served over capellini, an angel hair pasta, this main dish is beautiful enough for company. Follow our tips, and you'll make perfect tender, juicy shrimp scampi style.
For this dish, you will need shrimp, garlic, butter, olive oil, fresh lemon juice, pepper, oregano, red pepper flakes, Parmesan cheese, Panko crumbs, flat leaf parsley, hot cooked angel hair pasta.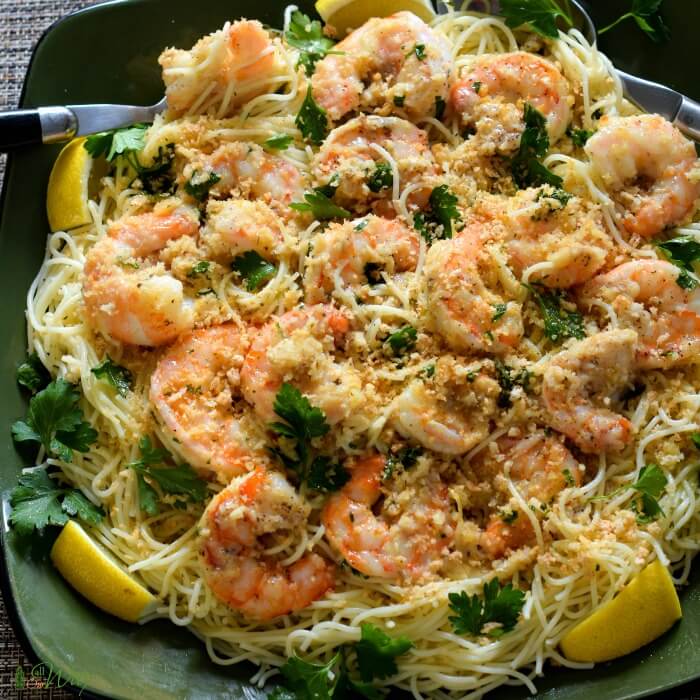 Jump to:
What are scampi and gamberi?
That's a good question. What they are not, are shrimp.One day a gentleman came into the grocery store where my papà worked. The man wanted some scampi.
My papà was a bit confused because he hadn't seen any small lobsters in the seafood case. You see, true scampi look like small lobsters, and they also go by the name of Norway lobsters, Dublin Bay prawns or langoustines. Papà told him that they didn't sell scampi.
The customer motioned for dad to follow him to the seafood department. He pointed to the jumbo shrimp in the case and said, "Scampi!"
Papà shook his head and said, "Gamberi!" Shrimp in Italy are called gamberi or gambaretti.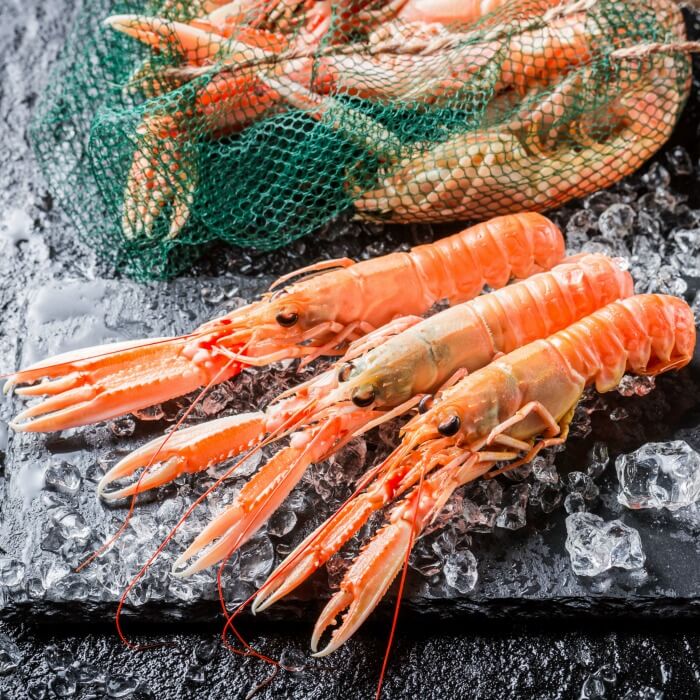 When did shrimp scampi become popular?
Scampi is a Venetian term, dating in English print to 1920. There they refer to shrimp cooked in garlic, butter, lemon juice, and white wine as scampi.
Shrimp scampi became popular after World War II. Italian-American restaurants would make an easy shrimp scampi recipe with olive oil, garlic, parsley, and wine.
Sometimes it's served with bread, over pasta or rice. The most popular way to serve it is over pasta.
Now, you can find the term scampi used even with other proteins such as chicken scampi. A popular chain restaurant features that variation.
The recipe is uncomplicated and endures popularity because it tastes so darn good. ????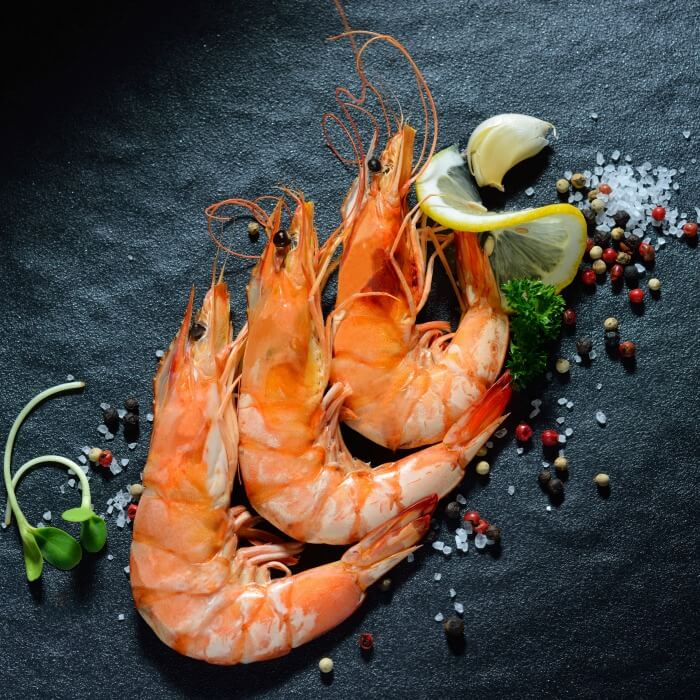 Tips on cooking shrimp
They are easy to cook, but you do need to take care:
Start with high-quality shrimp which means buy wild-caught as we explain in our Shrimp Stir-fry. Buy either fresh or frozen.
Get the appropriate size for the recipe. The smaller the number, the larger the shrimp. If you see 20/25 on the bag, you can expect to get between 20 to 25 shrimp in a one pound bag.
If frozen, the best way to thaw the shrimp are in the refrigerator or quickly in a colander under cold running water. Never thaw at room temperature or warm water.
Remove the vein (digestive tract) along the upper curve of the backs. I use a small sharp serrated knife and pull out the dark vein. See video below.
Don't overcook. Shrimp cook quickly so don't plan on multi-tasking. ????
How to clean shrimp: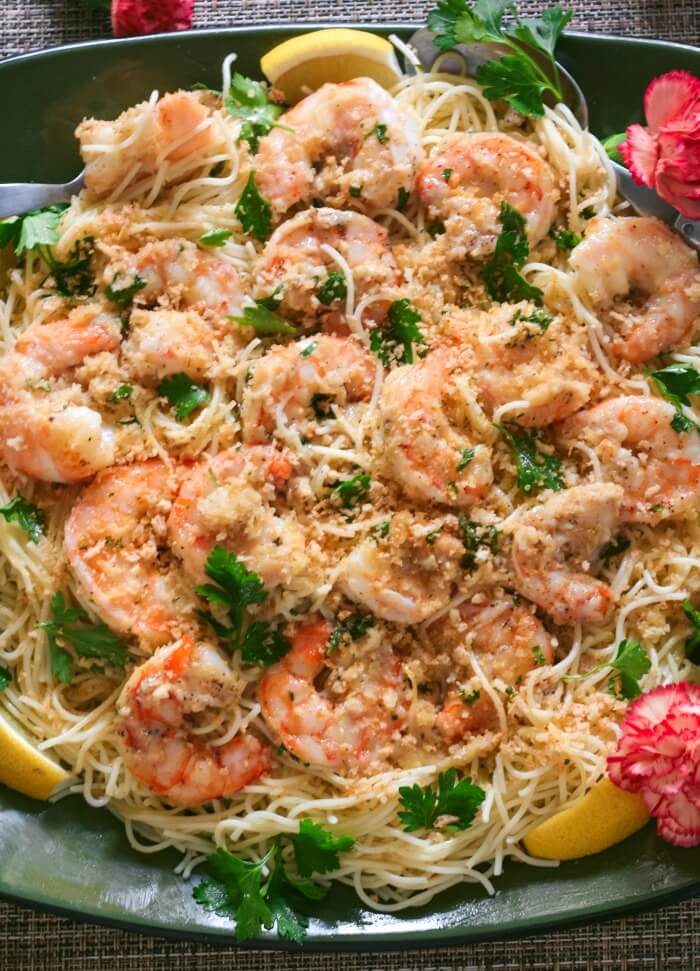 Easy Shrimp Scampi recipe tender and juicy
Our easy recipe ensures that the shrimp stay flavorful and moist.
Brine the shrimp in a sugar/salt cold water solution in the refrigerator for 15 minutes.
Poach the shrimp in wine and seasonings instead of sauteeing in butter and olive oil.
For optimum garlic flavor, slice the garlic instead of mincing.
Use stock made from the shrimp shells or use chicken stock to extend sauce.
This recipe is better than the shrimp scampi that you get in restaurants. Not only will you know the quality (wild-caught) of your shrimp but you'll also know that the ingredients you used were all natural and fresh.
What to serve with shrimp scampi
Now, along with our shrimp scampi over capellini, we would serve a fresh tossed salad, crusty baguette slices, and a nice light white wine.
That evening we enjoyed our favorite Sauvignon Blanc.
And if you're convinced as we are that cooking with wine enhances the flavor of a dish, next time try our Classic Chicken Marsala recipe. The taste is out of this world!
YOU MAY NEED . . .
The following are affiliate links. We are a participant in the Amazon Services LLC Associates Program, an affiliate advertising program designed to provide a means for us to earn fees by linking to Amazon.com and affiliated sites.

Easy Shrimp Scampi | Classic Italian-American Recipe
Our shrimp scampi recipe uses a few kitchen tricks to ensure that the shrimp is juicy and tender with enough sauce to flavor the angel hair pasta. The shrimp is brined and then poached in the wine stock sauce. Slice the garlic, so the sauce is not bitter or grainy. A satisfying seafood pasta dish that is easy enough for a weeknight but tastes special enough for company. I guarantee!!
If you think the Olive Garden shrimp scampi are good, you will go nuts over this recipe. It's simple and quick. No need to drive anywhere to get a delicious dinner.
And if you like the combination of the noodles and scampi, you'll love our 30 minute Lemon Shrimp Pasta dinner.
Next time try this citrus flavored shrimp over pasta. Or try our Tagliatelle Al Salmone Affumicato which features pasta with a smoked salmon cream sauce. The recipe is simple enough for a weeknight and the amazing taste is special enough for a company dinner.
If you like this recipe, please consider giving it a 5-star rating.
📖 Recipe
EASY SHRIMP SCAMPI | CLASSIC ITALIAN-AMERICAN RECIPE
A delicious easy shrimp scampi recipe with angel hair pasta that is so quick to make and pretty enough for company. The instructions ensure the shrimp stay juicy and tender with a garlicky lemon taste.
Print
Pin
Rate
As An Amazon Associate I earn from qualifying purchases.
Ingredients
5

cloves

garlic

thinly sliced

¼

cup

butter

divided

¼

cup

olive oil

extra-virgin

1

pound

shrimp (uncooked)

20/25 size

¼

cup

lemon juice

fresh

½

teaspoon

black pepper

¼

teaspoon

oregano

dried

½

cup

Parmesan cheese

grated

¼

cup

dry breadcrumbs

Panko

¼

cup

fresh parsley

minced

3

tablespoon

salt

2

tablespoon

sugar

½

cup

dry vermouth

or dry white wine

¾

cup

seafood stock

may sub chicken stock

16

oz.

angel hair pasta

⅛

teaspoon

red pepper flakes
Instructions
Peel and devein shrimp. Make angel hair pasta 1 or 2 minutes less than directions. Do not overcook. Place in ovenproof dish and keep warm. Use 1 tablespoon butter and saute the breadcrumbs until light brown. Put aside.

Dissolve salt and sugar in 1-quart water in large container. Submerge shrimp in brine, cover, and refrigerate for 15 minutes in the refrigerator. Remove shrimp from brine and pat dry with paper towels.

In a 12-inch skillet, saute garlic in butter and oil until tender. Add the pepper flakes, oregano, black pepper, lemon juice, wine, and stock. Bring to a simmer. Add the shrimp and stir for 2-3 minutes until the shrimp turn pink. It may take a little longer -- but DON'T overcook. When they are pink they are done.

Pour the shrimp with juices over the capellini (angel hair). Make sure the juices mix with the pasta. Sprinkle with Parmesan cheese, breadcrumbs, and parsley. Broil 6 inches from heat for 2-3 minutes or until topping is nice and golden.
Notes
Adapted from America's Test Kitchen's Shrimp Scampi
Nutrition
Calories:
686
kcal
|
Carbohydrates:
57
g
|
Protein:
37
g
|
Fat:
31
g
|
Saturated Fat:
11
g
|
Cholesterol:
324
mg
|
Sodium:
6617
mg
|
Potassium:
332
mg
|
Fiber:
2
g
|
Sugar:
8
g
|
Vitamin A:
785
IU
|
Vitamin C:
16.7
mg
|
Calcium:
369
mg
|
Iron:
4.1
mg
Sign up for the emails and never miss another recipe!!
We'll never share your email or send you spam. Promise
This recipe has been updated from the original February 2018 version in order to provide a better experience for our readers. Last update January 2019.
IF YOU LIKED THIS SHRIMP SCAMPI RECIPE, YOU MAY ALSO LIKE ...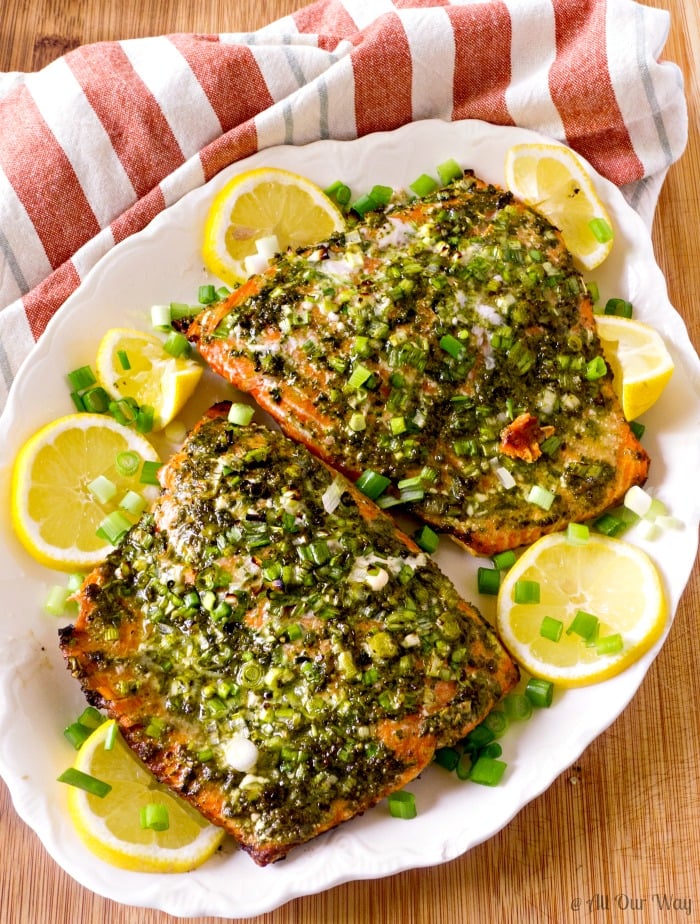 Other recipes you may like . . .
Grilled Fish Tacos with Strawberry-Pineapple Salsa by Sabrina Modelle
Green Curry Scallops with Mango Cilantro Salsa by Pinch of Yum