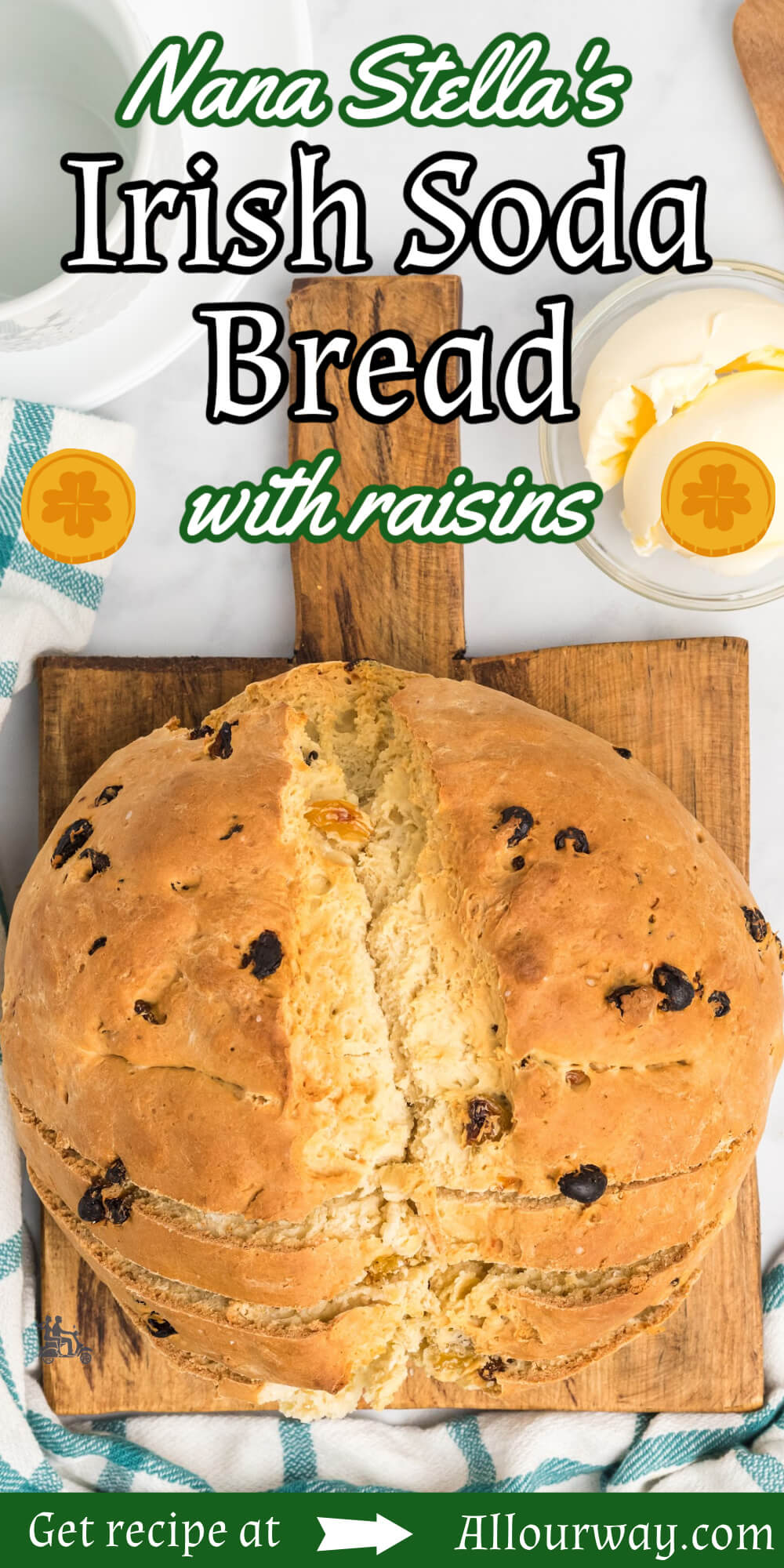 This Irish Soda Bread with Raisins is a quick bread that doesn't need any yeast. Our Nana's traditional bread's leavening comes from the combination of baking soda and buttermilk. The texture is dense, yet soft and not dry, with a fantastic crusty exterior.
The optimum way to eat this bread is sliced open and slathered with creamy Irish butter.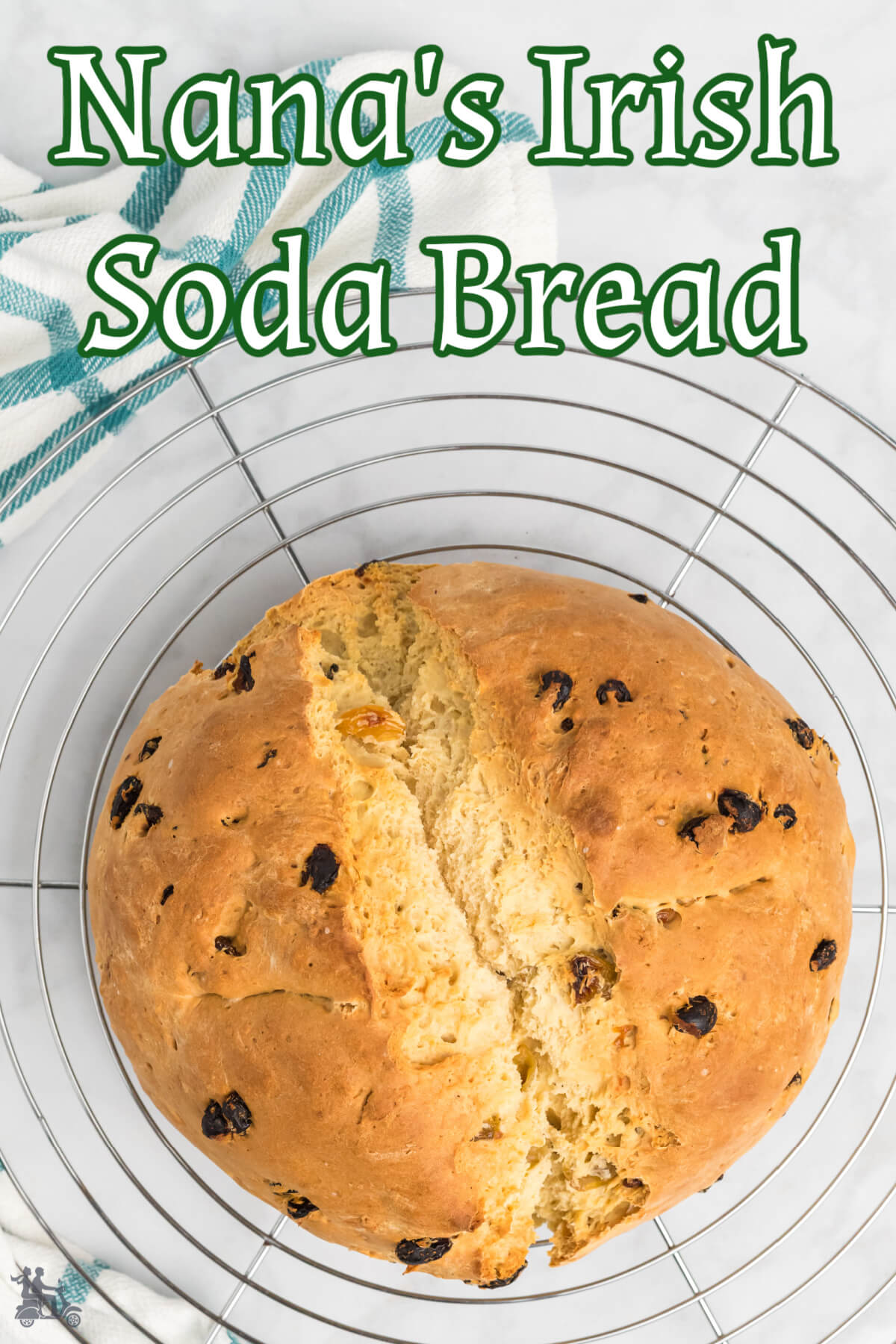 Jump to:
❤️ Why you'll love this recipe
This classic, crusty Irish bread is quick and easy to make with only four basic ingredients. Ingredients you're sure to have in your pantry and refrigerator.
If you want to make its sister bread, Irish Brown bread, you simply need rolled oats, steel cut oats and wholemeal flour.
Another plus to making this delicious bread is that there is no waiting. Since there isn't any yeast you don't have a rising time nor a long baking time.
You can make this bread savory to eat with a hearty dinner stew or sweet to go along with a cup of coffee or tea.
A nice traditional addition for your St. Patrick's Day feast. And what would also be nice is to bake and gift this simple and tasty bread to an Irish friend.
🛒 Ingredients
As an Amazon Associate, I earn from qualifying purchases.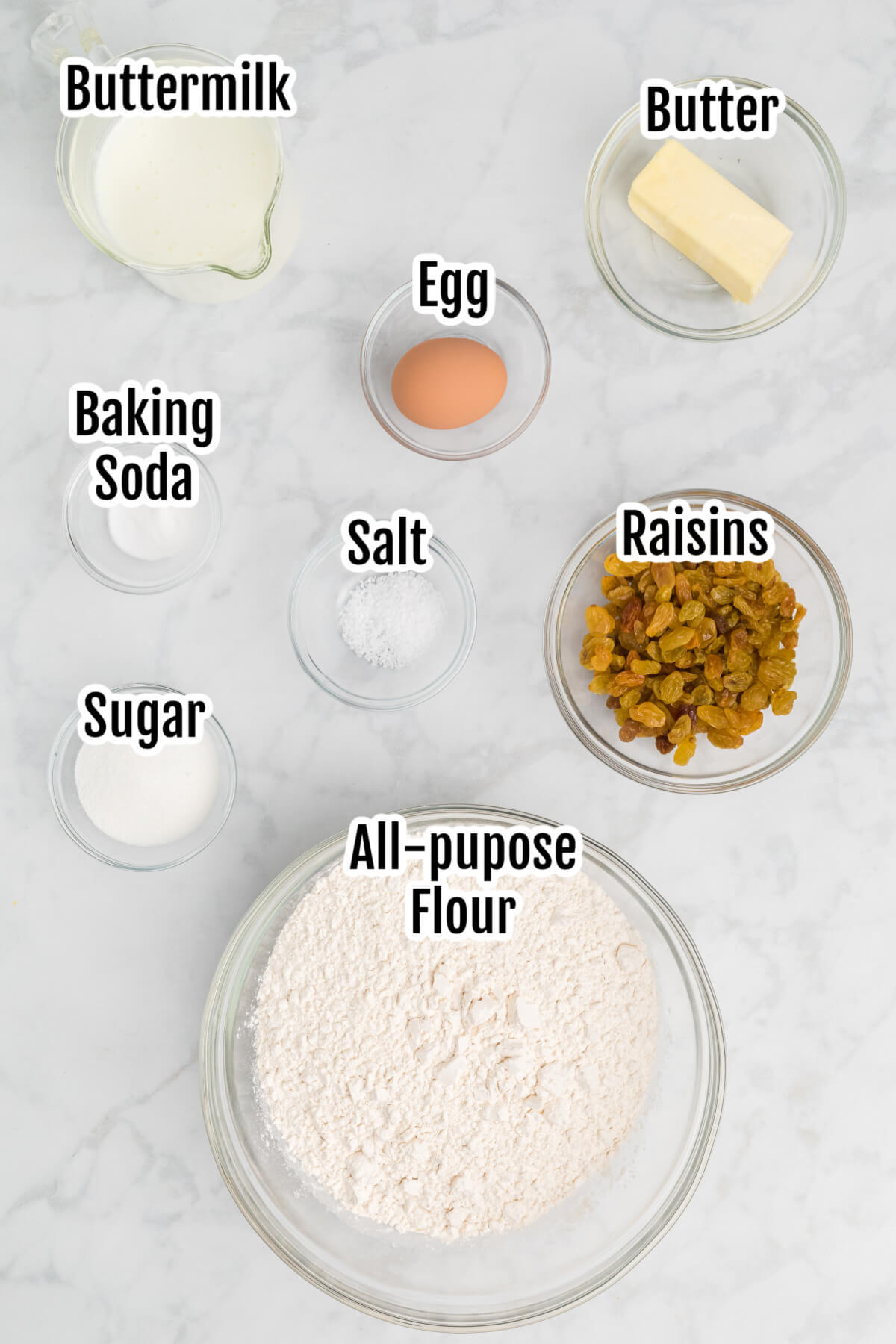 Note: The full list of Nana's Irish Soda Bread recipe's ingredients with their amounts and options are listed in the recipe card below.
🗒 Instructions
Note: This is an overview of the instructions. The full instructions are in the recipe card below.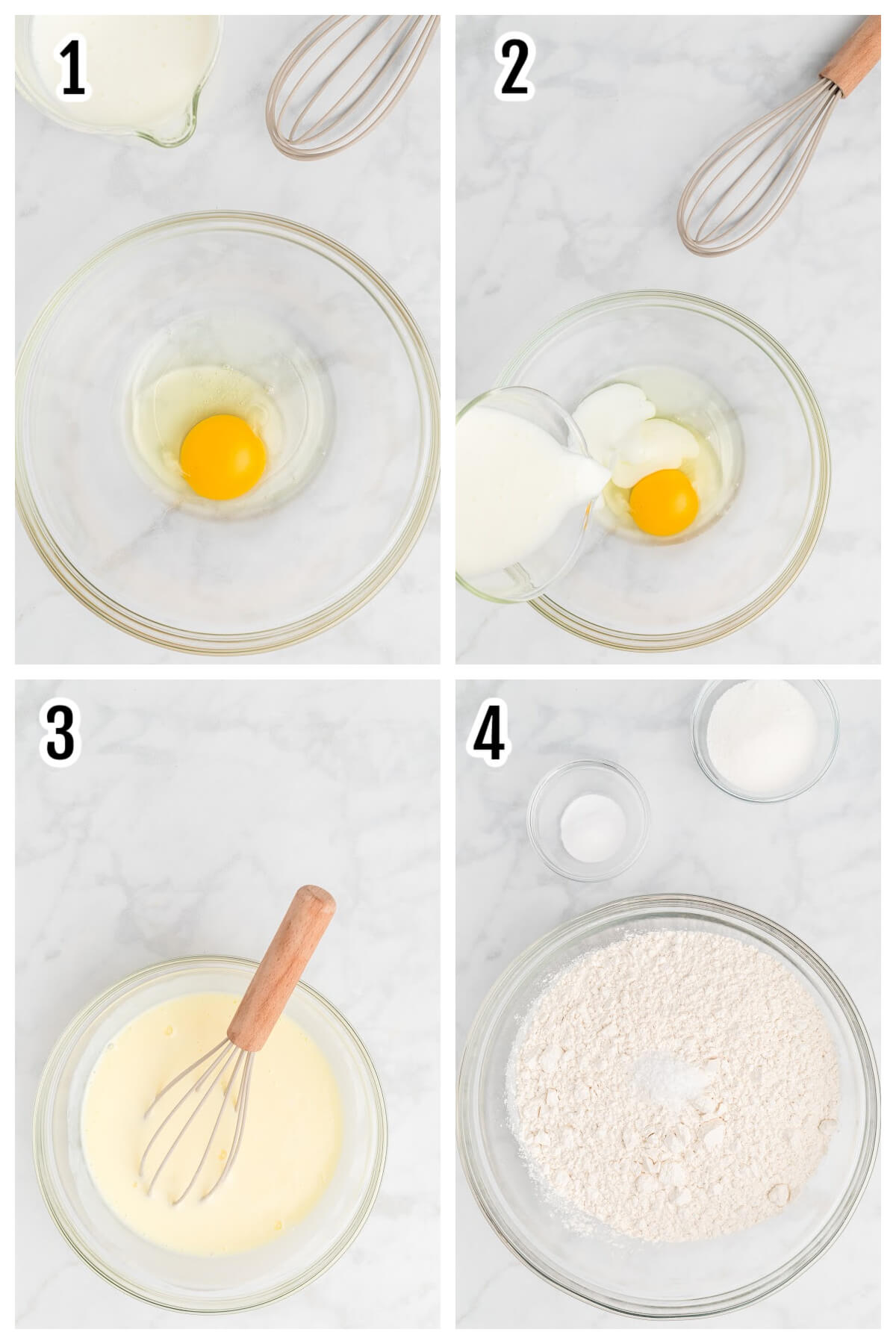 Break a whole egg into a glass mixing bowl
Add the buttermilk to the egg.
Whisk the buttermilk and egg together and set aside.
Measure the flour and salt into another mixing bowl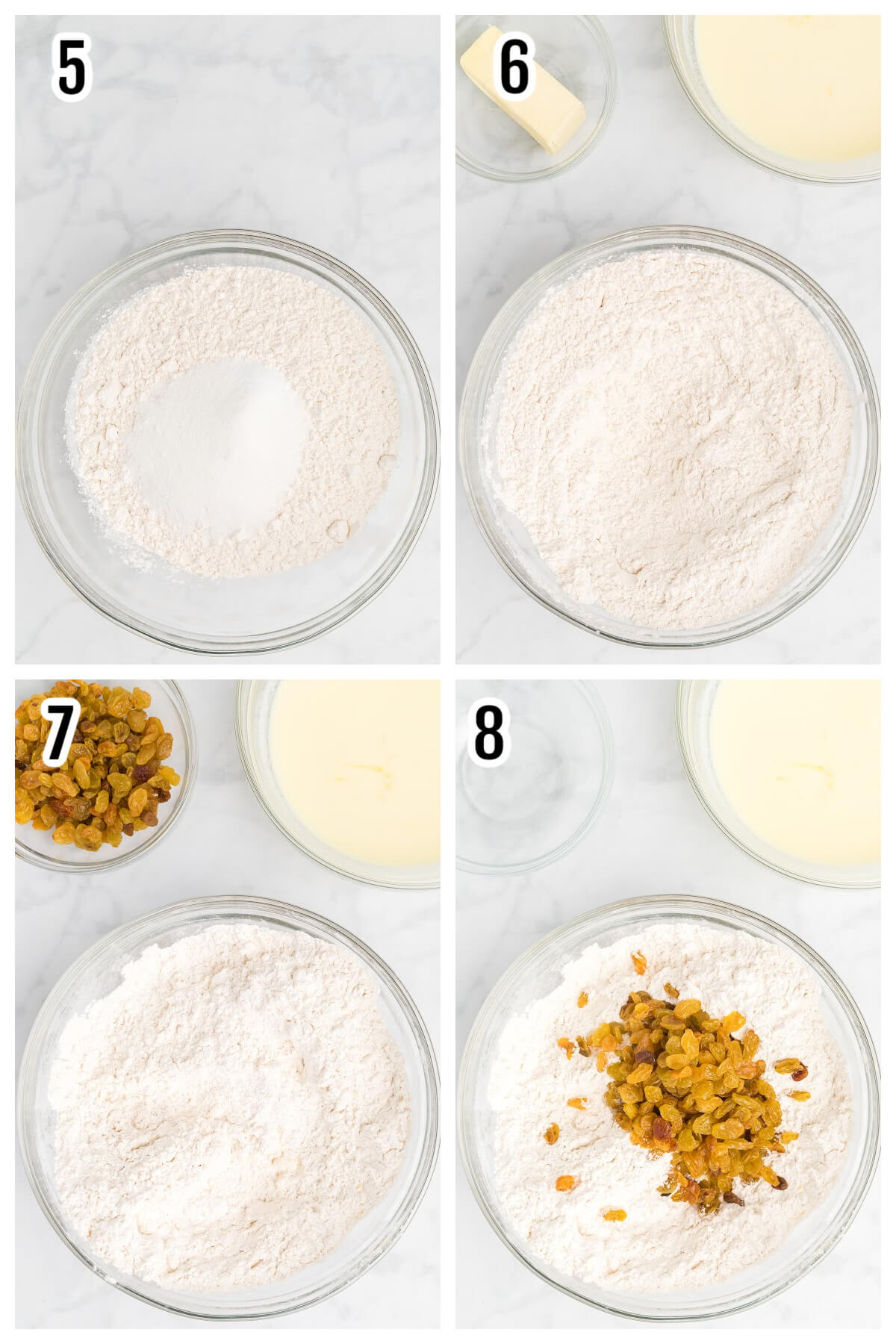 Whisk in the sugar and baking soda to the flour mixture.
Combine the butter and flour mixture together by cutting in the butter using a pastry cutter. You may also use a fork or your fingers.
The butter will form into pea-sized crumbs.
Stir in the raisins.
Pour in the buttermilk/egg mixture and gently fold the dough together until the dough is too stiff to stir.
Transfer the dough to a lightly floured work surface. Work the dough unto a ball and knead for about 30 seconds. Do NOT overwork the dough. If the dough is too stick, add just a teaspoon or two of additional flour.
Place the Irish soda bread dough in a greased cast iron skillet.
Score an X into the top of the dough. This is easily done with a very sharp knife.
Bake the bread in a preheated 400℉ oven for about 45 minutes. If you see that the bread is browning too quickly, loosely cover the bread with aluminum foil. Remove the bread from the oven and let it cool for 10 minutes in the skillet.
Transfer to a wire rack to finish cooling. Serve Irish Soda Bread with Raisins warm or at room temperature.
🔪 Equipment
The following are affiliate links. We are a participant in the Amazon Services LLC Associates Program, an affiliate advertising program designed to provide a means for us to earn fees by linking to Amazon.com and affiliated sites.
You'll need the following items to make this Traditional Irish Soda Bread with Raisins recipe successfully.
🤔 FAQs
These are the questions we are most frequently asked about making Nana's Irish Soda Bread.
What makes Irish Soda Bread different?
This bread has a hard crust, dense texture, and slightly sour tang. The unique texture of soda bread is a result of the reaction between the acidic buttermilk and baking soda, which forms small bubbles of carbon dioxide in the dough.
Does Irish Soda Bread contain raisins?
Some Irish Soda Bread's do contain raisins but it's optional. The Raisins add a touch of sweetness to it.
Why does soda bread have raisins?
The raisins or sultanas in the bread were added as a treat. It's NOT necessary to have raisins in the dough. In fact, some people add dried cranberries to the dough.
What does Irish soda bread taste like?
The taste of this bread is very mild and similar in flavor to a biscuit. This bread was meant to be eaten with a meal or covered in smooth creamy butter.
👩🏻‍🍳 Tips
Baking pan options:
lined large baking sheet with or without rim. Line it with parchment paper or silpat.
a lightly greased 10-12 inch cast iron skillet. We like using our cast iron skillet because it renders a very crispy crust.
greased or lined 9-10 inch cake pan.
Buttermilk options:
add 1 Tablespoon of lemon juice or white vinegar to a measuring cup and add enough milk to make 1-¾ cups. Whisk together and then let it sit for 5 minutes before using in the recipe. The best milk to use is either whole milk or 2%milk.
substitute the exact amount of plain kefir for the buttermilk.
For more substitutions, this article gives you lots of hints.
Baking
You can make the bread without the egg. Nothing more has to be done - just leave it out. It will make a slightly lighter loaf.
Don't overwork the dough. It will toughen the inside of the bread. The dough itself should look a bit shaggy.
Score the top of the dough with an "X" or Cross before baking. The tale goes that this is traditional because you have to let the fairies out to ward off evil ad protect the household. The actual reason is that it allows the dense center to bake.
Bake until it's golden brown. If it starts browning too soon, cover the top with aluminum foil.
📚 Variations
The basic ingredients of Irish Soda Bread have remained the same, families and bakeries have added their own special touch such as:
raisins
caraway seeds
honey
orange zest
lemon zest
oats
herbs
cheese
walnuts
treacle or blackstrap molasses
Guiness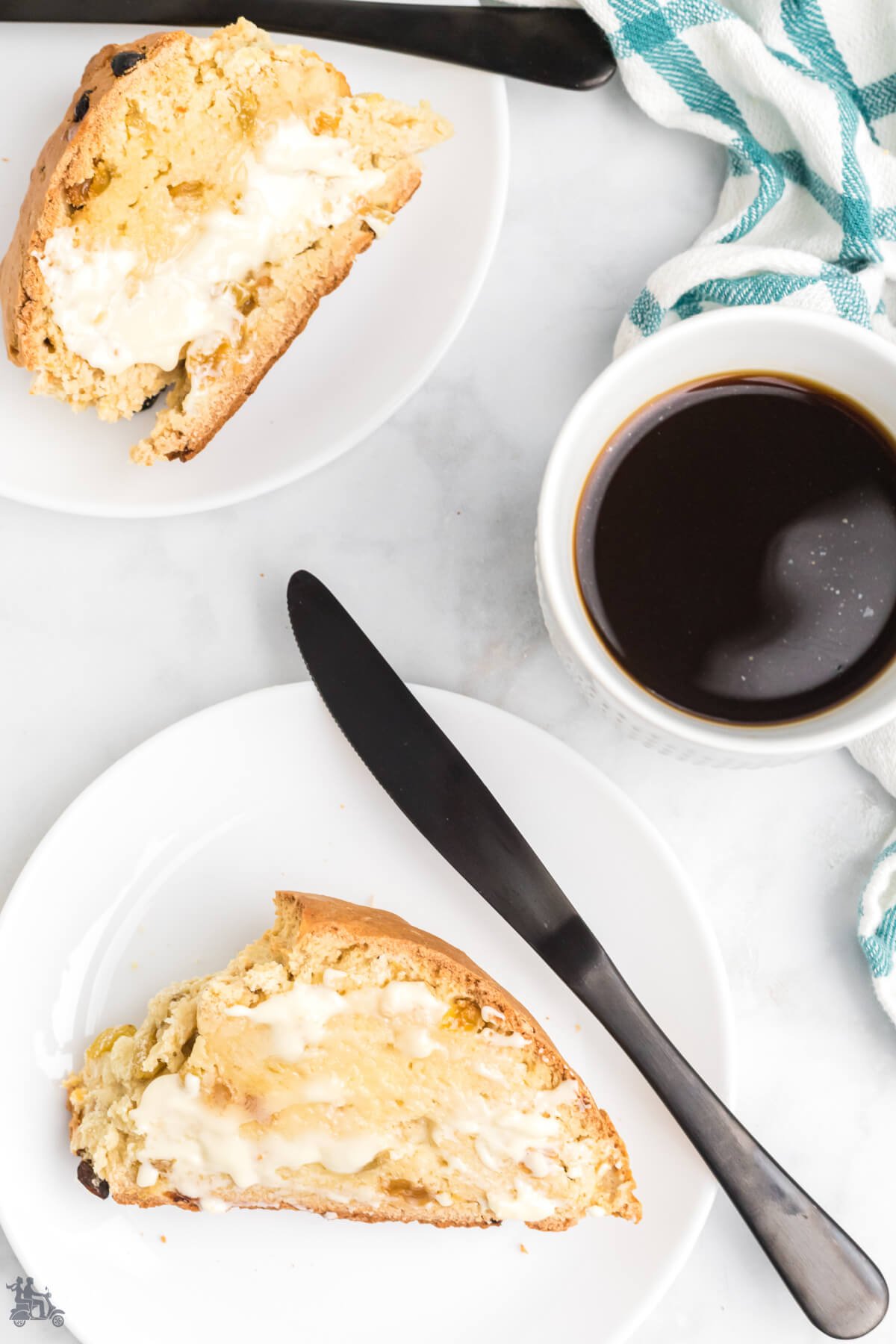 🥫 Storage
Wrap the bread tightly in aluminum foil and store the bread at room temperature for up to two days or in the refrigerator for up to one week.
Baked and cooled bread will freeze well for up to 3 months. You may freeze the entire loaf or in slices. Thaw the bread in the refrigerator or at room temperature then reheat.
This is the type of bread that is meant to be made often and eaten warm.
📗 Related Recipes
You don't have to be Irish or celebrating St. Patrick's Day to enjoy some recipes inspired by the Emerald Isle.
🍽 Serve with
Easter is right around the corner and the Irish Soda bread would taste delightful with a Boneless Leg of Lamb.
If you're wanting a special dinner for two, these Balsamic Glazed Lamb Chops are delicious, easy to make, and taste like you're being served in a special restaurant.
I believe this delicious bread would be ideal served with our Grilled Lemon Chicken. That touch of sweetness in the bread would certainly compliment the lemon flavor in the meat.
The best way to eat the bread is to grab a chunk and slather it with butter. Yummy!
📞 Chiacchierata (chat)
Nana Stella was our next door neighbor. She was our children's honorary grandmother and that dear lady was the first one to introduce us to Irish Soda Bread with Raisins.
I still have the original recipe card she wrote out for me. Every year on the feast of St. Patrick I drag out that card and make her recipe.
This year I'm going to do one better, I'll make her recipe several times a month. It's so easy and so delicious. It certainly deserves to be enjoyed more often.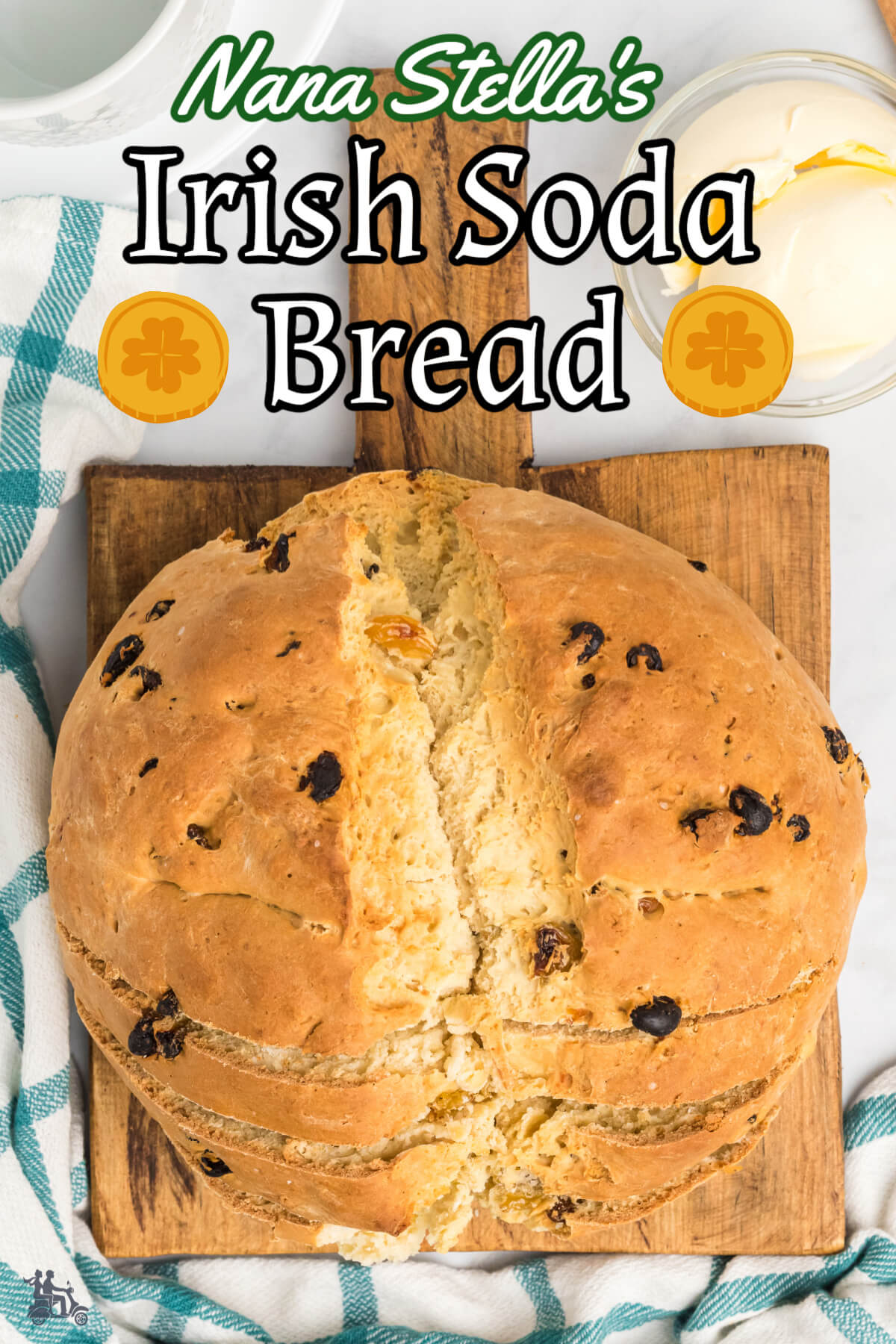 What's new? Check out my All Our Way Store on Amazon. We'll be adding more items we love and use or wish we had to make cooking fun and easy.
📝 Recipe Card
This simple classic bread is a staple in many Irish households, used to sop up hearty soups and wash down countless pots of teas. But it's also a symbol of celebration and you'll find countless loaves being baked for St. Patrick's Day. And this year, I'm going to be including this delightful bread at our family gatherings.
If you love this recipe please give it 5 stars ⭐️⭐️⭐️⭐️⭐️.
📖 Recipe
Nana's Traditional Irish Soda Bread
This Irish quick bread with raisins is very easy and delicious. It has a cake-like texture that doesn't need anything on it to taste amazing. Simple ingredients yield an amazing bread loaf the entire family will love.
Print
Pin
Rate
As An Amazon Associate I earn from qualifying purchases.
Ingredients
14

ounces

Buttermilk

(1-¾ cups)

1

Egg

large

4 ½

cups

All-Purpose flour

divided (562 ½ grams)

3

Tablespoons

Granulated Sugar

(38 grams)

1

teaspoon

Baking soda

1

teaspoon

Kosher salt

5

Tablespoons

Unsalted butter

Cold and cut into small pats (70 grams)

1

cup

Raisins

I used white. (150 grams)
Instructions
Preheat oven to 400℉(204℃). ** Baking options for the baking pan are in the tips above. We used a seasoned cast iron skillet.

Whisk the egg and buttermilk together then set aside.

Whisk together 4-¼ cups (531-¼ grams) flour (the remaining ¼ cup flour will be for your hands and counter), granulated sugar, baking soda, and salt together in a large bowl

Using the pastry cutter, cut in the butter pieces into the flour mixture. You may also use a fork or your fingers.

The mixture is very floury so do it may take a bit to get the butter mixed into the flour so that it turns into peas-sized crumbs.

Pour in the egg/buttermilk mixture. Gently fold the dough together until the dough is too stiff to stir.

Transfer the dough onto a lightly floured surface. Flour your hands and work the dough into a ball.

Knead the dough for about 30 seconds, until the flour is moistened. If you find the dough is too stick, add a bit more flour. It should pick up some of the flour from your work surface.

Transfer the dough to the cast iron skillet or whatever prepared pan you plan to use.

With a sharp knife or lame, slash an X onto the top of the soda bread.

Bake until the bread is a golden brown and the cut center appears cooked through, about 45 minutes. If you find the the bread is browning too quickly, loosely cover the bread with aluminum foil.

Remove the bread from the oven and allow the bread to cool for 10 minutes in the skillet.

Remove the bread from the skillet and transfer it to a wire rack to finish cooling.

Serve warm or at room temperature.
Nutrition
Calories:
343
kcal
|
Carbohydrates:
60
g
|
Protein:
8
g
|
Fat:
8
g
|
Saturated Fat:
5
g
|
Polyunsaturated Fat:
1
g
|
Monounsaturated Fat:
2
g
|
Trans Fat:
1
g
|
Cholesterol:
36
mg
|
Sodium:
396
mg
|
Potassium:
241
mg
|
Fiber:
3
g
|
Sugar:
6
g
|
Vitamin A:
264
IU
|
Vitamin C:
1
mg
|
Calcium:
62
mg
|
Iron:
3
mg
Sign up for the emails and never miss another recipe!!
We'll never share your email or send you spam. Promise