Parmesan Herb Pizza Bread is a quick no knead recipe that fills the home with the rich fragrance of Italian herbs, cheese, and salami. There is nothing like the aroma of hot homemade herb loaves baking in the oven. The herbs and cheese bring a bold flavor and scent to the bread reminding you of your favorite pizza restaurant. It's an easy yeast bread that takes little preparation and effort. Most of the prep time is spent in letting it rise and bake. You'll find this no-knead recipe so easy, you'll want to bake it often. Promise! This recipe has been updated from the original April 2014 version in order to provide a better experience for our readers. Last update January 2019.
For this recipe you will need all-purpose flour, instant yeast, sea salt, butter, warm water, Parmesan Cheese, Italian seasoning, sugar.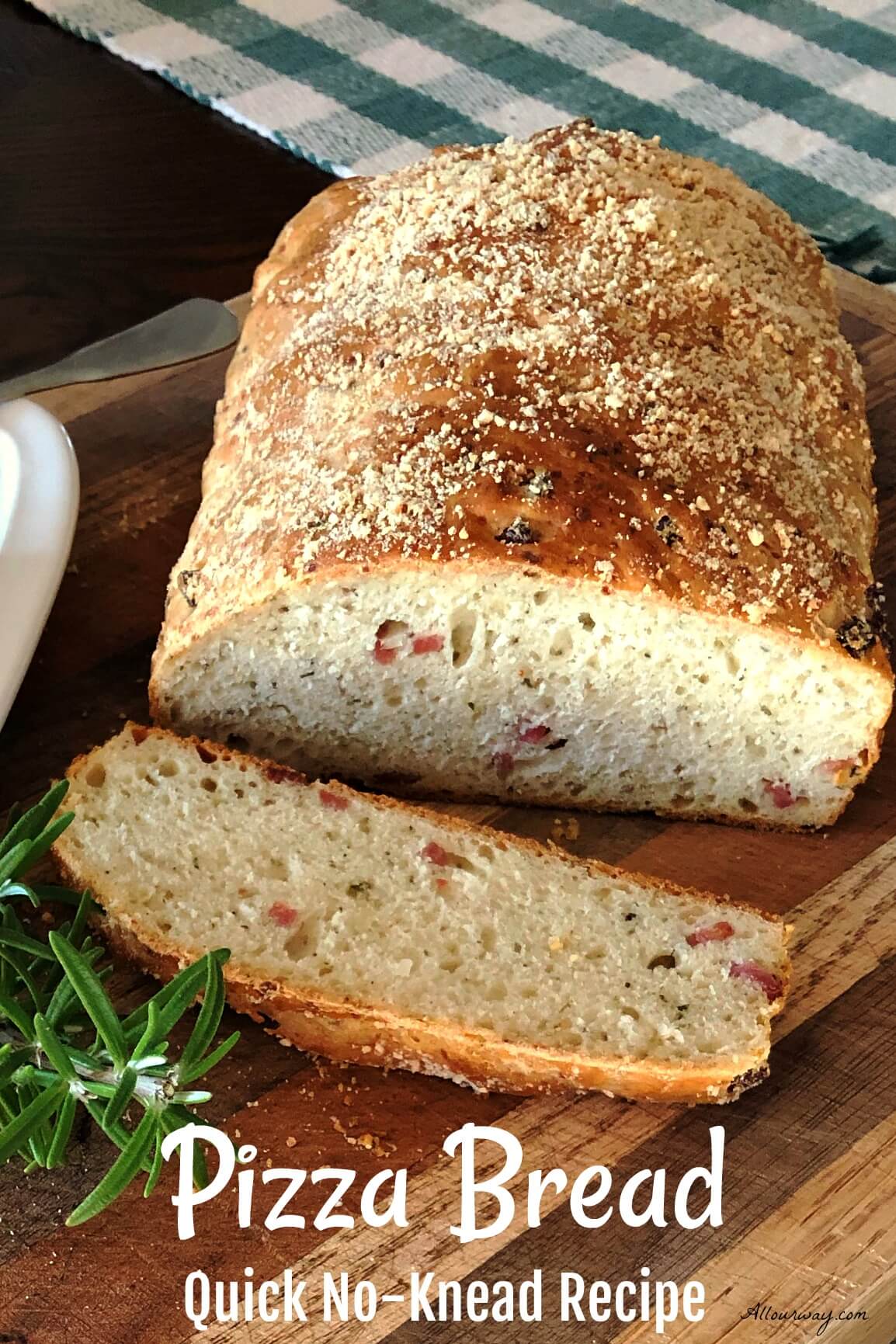 Pizza Bread discovering no knead bread
Do you remember the lean years? The years where every penny counted and you had to be very creative in everything you did? Those were the years where there was nothing left in the budget for gifts or presents.
It was because of necessity that we had to get creative with a birthday gift for my father-in-law. The solution came to us out of the blue and it seemed obvious. I loved to bake; Hank, my father-in-law, loved to eat bread.
Bread was the answer!
But, one loaf of bread seemed a little miserly. So, we bought him a very nice birthday card and in the card I wrote and promised I would bake him a loaf of bread every week for a year. You'd have thought we'd given him the world.
The bread I made for his birthday was the Herb Parmesan bread that we nicknamed "Pizza Bread."
How to make Herb Parmesan Bread at home
This is a very easy yeast bread recipe to make at home and the reasons I picked it as the first one to to give as a gift was . . .
No need for fancy equipment.
A batter bread which meant no knead.
A quick yeast bread that didn't take a lot of preparation.
Herbs and cheese would give the bread lots of flavor.
Everything goes into a mixing bowl. How easy is that?
Making the pizza bread dough
Gather the ingredients.
Mix all the dry ingredients in a bowl.
Pour warm water in a mixing bowl.
Sprinkle the yeast over the warm water.
Add the dry ingredients to the yeast water.
Mix until smooth.
Put dough in greased bowl and leave until doubled. TIP: I use a shower cap to cover my dough container. We get them when we travel. They're cheap and reusable.
Preparing and baking the herb parmesan bread
Stir down batter with wooden spoon.
Place dough in your baking container (either a 2 quart casserole or 2 loaf pans).
Sprinkle the top with parmesan cheese.
Immediately pop into 375° F. oven.
Bake for 55 minutes until nicely browned.
Turn out on wire rack. Cool. Enjoy!!
What herbs are good in breads
The beauty of herbs is that you can adapt almost any bread recipe into a super delicious custom bread just by adding some of your favorite herbs. Not only do herbs taste good, they are good for you. Choose just one herb or a blend of complementary herbs.
Add cheese to the bread to further the flavor of your bread.
Regional Herb Blends that are fantastic in breads
Tuscan Herbs - Rosemary, Basil, Thyme, Oregano - Pair with garlic and parmesan.
Provincial Herbs - Tarragon, Savory, Fennel, Basil, Thyme, Rosemary - Pair with gruyere or for a big flavor punch blue cheese.
Mediterranean Herbs - Oregano, Marjoram, Dill, Mint - - Pair with lemon, peppers, feta.
Fines Herbs - Chervil, Parsley, Chives, Tarragon -- Pair with gruyere and black pepper.
Other bread flavor boosters
Condiments/Spices - Sun-dried tomatoes, dried onion flakes, lemon zest, olives, pepper flakes, roasted garlic.
Seeds and grains - Sunflower seeds, pumpkin seeds, walnuts or your favorite, oats, flax, wheat germs, chia seeds, poppy seeds.
Meat - bacon, salami, pepperoni, prosciutto.
This bread was so popular with my Father-in-Law that every year he insisted on the same birthday gift, a bread a week, with Herb Parmesan Pizza Bread being a monthly regular.
We hope you'll try out this recipe -- you don't need a huge mixer. When I first made this bread I just had a hand mixer. For the final addition of flour, I just mixed it with a wooden spoon.
We guarantee your family will love the Pizza Bread and it was Honey who suggested adding the salami to the dough. He was right!! It tastes fantastic.
Tutti a tavola è pronto!
Un caro saluto e alla prossima.
More Easy Breads You May Enjoy
Flatbread | Mediterranean All Purpose Bread

Pita Bread | Perfect Pocket Bread
These breads are easy to make and freeze beautifully.
YOU MAY NEED ...
The following are affiliate links. As An Amazon Associate I earn from qualifying purchases.
We like using instant yeast because we don't have to let it proof like active dry yeast. We've found that we can always rely on the Saf-Instant brand.
Parmesan Herb Pizza Bread No Knead Recipe
This is an easy bread to work with, the dough is more the consistency of a batter bread. Most of the prep time is spent letting the herb bread rise and bake. The original recipe did not have any meat in it but Hubby got the brilliant idea to add salami to it. I didn't think you could improve on the original recipe but it took the recipe up another notch. The Pizza Bread would be wonderful served with an Italian meal, sliced for sandwiches, or just slathered with butter.
If you like this recipe please consider giving it a 5-star rating.
Parmesan Herb Pizza Bread No Knead Recipe
A quick and easy bread with the taste of Italy. The herbs and Parmesan cheese fills the house with an aroma of pizza baking.
Print
Pin
Rate
As An Amazon Associate I earn from qualifying purchases.
Ingredients
2

cups

warm water

2

pkg. active dry yeast or 3 ½ tsp. instant yeast

2

teaspoons

sea salt

2

tablespoons

soft butter

½

cup

plus 1 tablespoon grated Parmesan Cheese

1 ½

tablespoons

dried oregano leaves or Italian Seasoning

I used Tuscan Sunset which is an Italian seasoning sold by Penzey's Spices

2

tablespoons

sugar

4 ½

cups

sifted all-purpose flour

separated into 3 cups and 1 ½ cups

2.5

oz

salami

optional
Instructions
Sprinkle yeast over warm water in large mixing bowl. Let stand a few minutes: stir to dissolve. If you are using instant yeast skip this step and just put the warm water in the mixing bowl.

Add sugar, salt, butter, ½ cup cheese, your choice of seasoning, 3 cups flour ( and instant yeast if you didn't use active dry). Beat, at low speed, until blended. At medium speed, beat until smooth -- 2 minutes. Gradually add in the rest of the flour. Scrape down bowl and beaters.

Put dough into greased bowl. Cover with plastic wrap.

Let rise in warm place (85F), free from drafts, about 45 minutes, or until quite light and bubbly and more than double in bulk.

Preheat the oven to 375F. Lightly spray a 2-quart casserole with nonstick oil; set aside.

With wooden spoon, stir down batter. Beat vigorously ½ minute, or about 25 strokes. Turn into casserole. Sprinkle top of batter evenly with 1 tablespoon grated Parmesan cheese.

Bake 55 minutes, or until nicely browned. Turn out onto wire rack. Let cool, or serve slightly warm, in wedges.
Notes
I package active dry yeast is equal to 2 ¼ teaspoons.
You may need to tent the bread with aluminum foil if the top is browning too quickly.
Nutrition
Calories:
258
kcal
|
Carbohydrates:
46
g
|
Protein:
7
g
|
Fat:
4
g
|
Saturated Fat:
2
g
|
Cholesterol:
10
mg
|
Sodium:
565
mg
|
Potassium:
75
mg
|
Fiber:
1
g
|
Sugar:
2
g
|
Vitamin A:
125
IU
|
Calcium:
77
mg
|
Iron:
2.9
mg
Sign up for the emails and never miss another recipe!!
We'll never share your email or send you spam. Promise
Note: Recipes and content from © 2014-2019 All Our Way are copyright protected. Please do not use content or recipe without prior written permission. If you want to share the information please link to this post. Grazie.
Reader Interactions