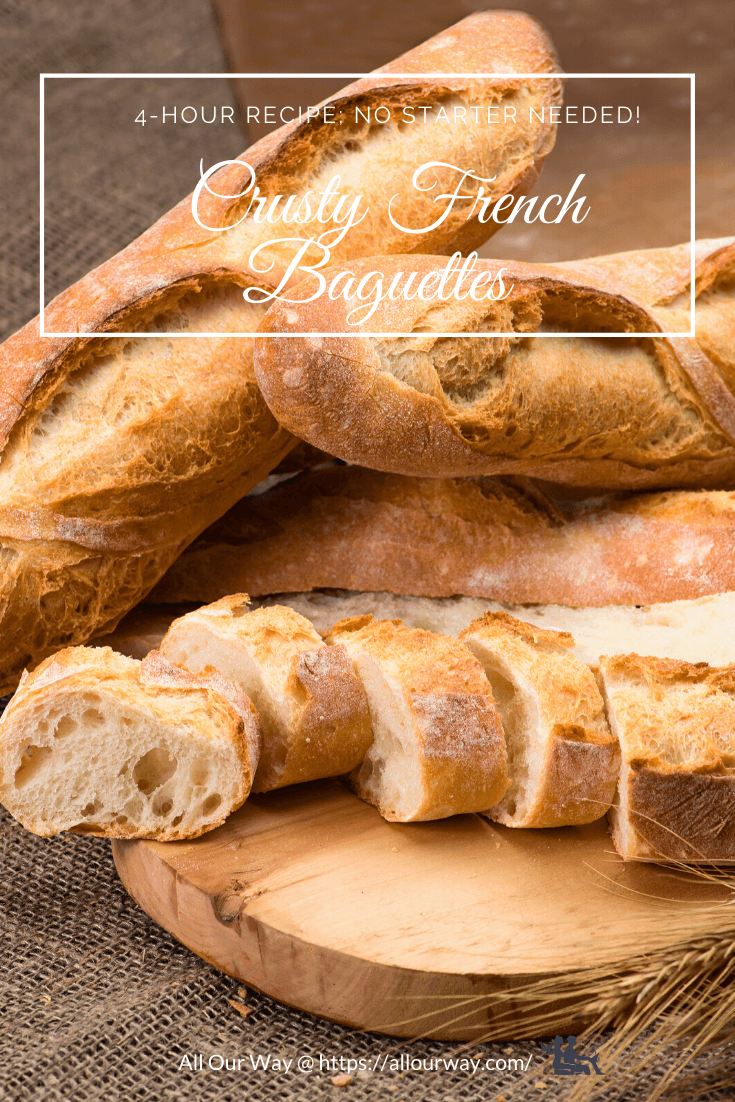 Crusty French Baguettes in 4 hours is a recipe all bread lovers should have in their file. No starter is necessary! You can make your bread and eat it all in the same day. The loaf's aroma is heavenly and the crusty baguette's taste and crumb are equal to the baguette with the two-day process.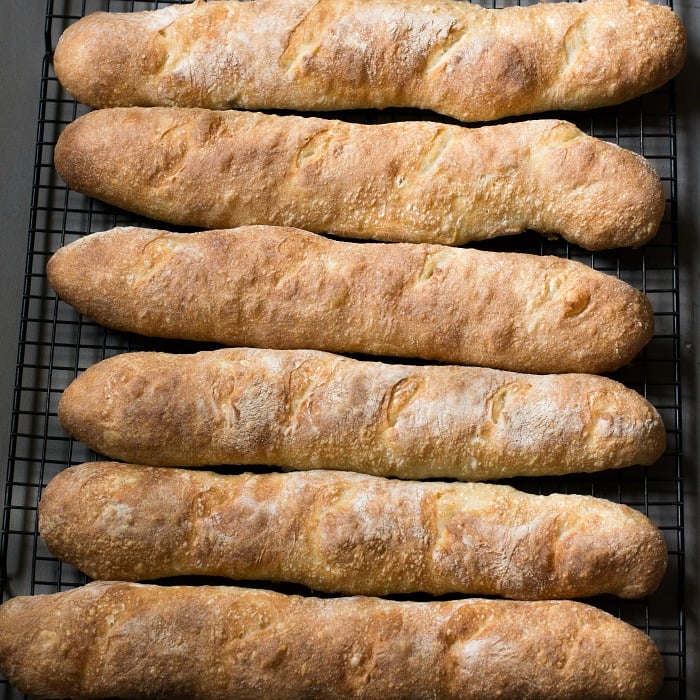 Jump to:
Crusty French Baguettes a quick start
We make lots of bread. We whip up easy recipes like the 3-Hour Roll and sometimes more complicated recipes like Cheese studded muffin loaf.
The minute I saw the recipe for a 4-hour baguette I said, "We're making French baguettes."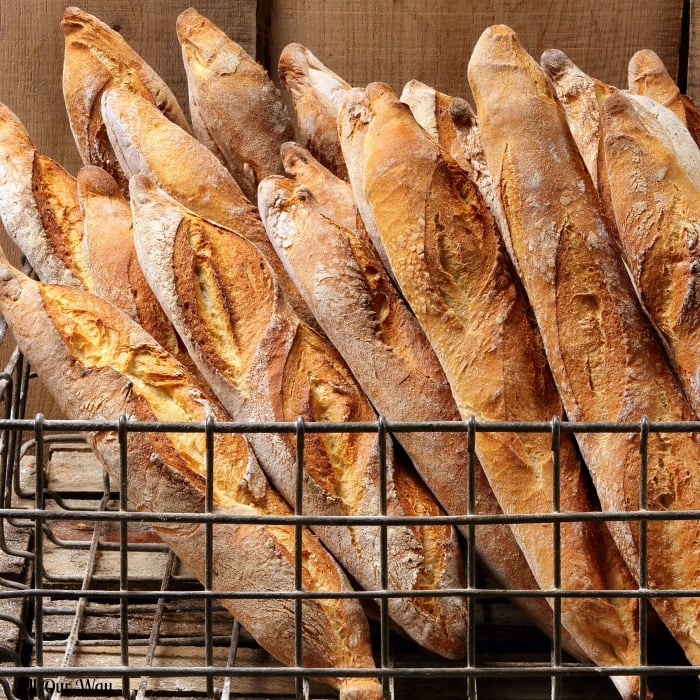 "We don't have time to make a starter and bake bread," said Honey. "We're going to be out of town tomorrow, or have you forgotten?"
"No, I haven't forgotten and we do have the time. This Crusty French Baguettes recipe doesn't require a starter We can get it done today," I said. I got up and went to the cabinet to grab the all-purpose flour.
Honey followed me and said, "If that's the case, the bread dough will need all day to rise."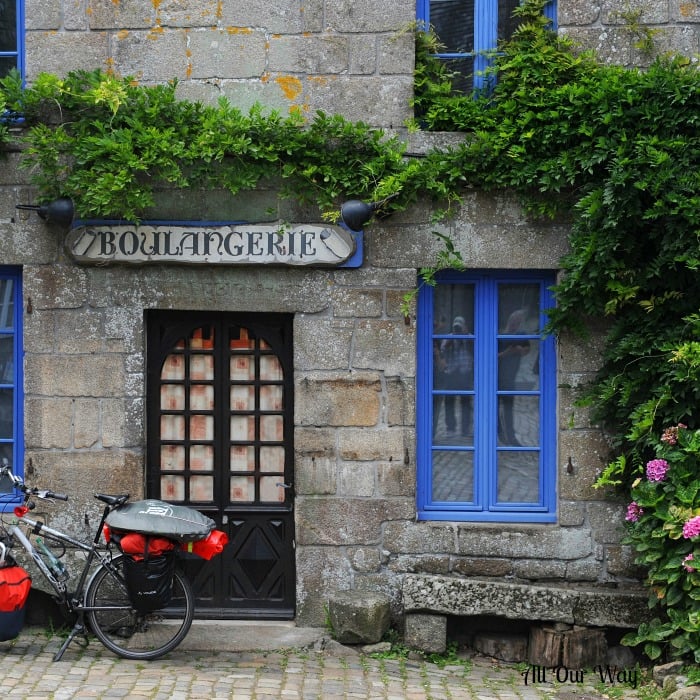 Crusty French Baguettes - 4-hour intermittent attention
"Nope," I said. "The total amount of time to make the loaves is four hours. It says here that Dan Leader, the chef who developed the recipe, wanted home cooks to have the time and equipment to make a baguette like the professional bakeries."
Honey reached into the cabinet above the refrigerator and pulled out the digital scale. "Okay, let's time this and see how long it takes. How much flour do we need?"
"We need 16 ¾ ounces of flour. But the recipe starts off with measuring 12 ounces of warm water and whisking in 1 teaspoon of active dry yeast. We let that sit until foamy. He says about 10 minutes."
Dan Leader was right. The recipe flowed together smoothly and most of the time we spent waiting for the dough to rise.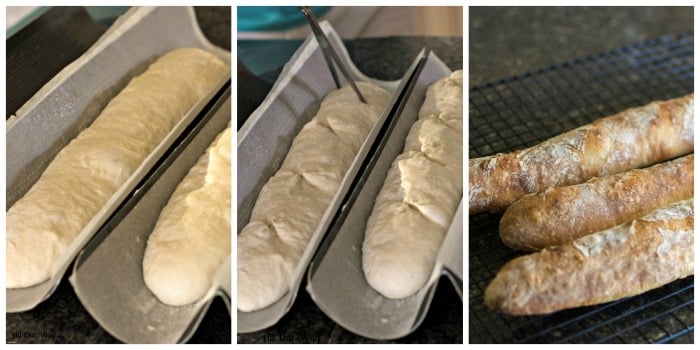 Crusty French Baguettes forming and baking
Soon it was time to form the bread and heat the oven. The directions were very similar to most of the artisan bread recipes we'd made:
Place a cast-iron skillet or heavy pan on the bottom rack of the oven.
Place a rack above the lower one and place a baking stone or rimless pan on it.
Heat oven to 475°F.
Cut dough into 3-equal pieces and shape the dough.
Place dough on parchment paper, lifting paper in-between the loaves to keep them from sticking.
Cover loosely with plastic wrap and let double in size.
Slash the top of the loaves with lame, scissors, or razor.
Slide loaves onto baking stone or pan.
Place ice cubes in skillet or pan.
Bake the loaves until darkly browned and crisp, 20 to 30 minutes.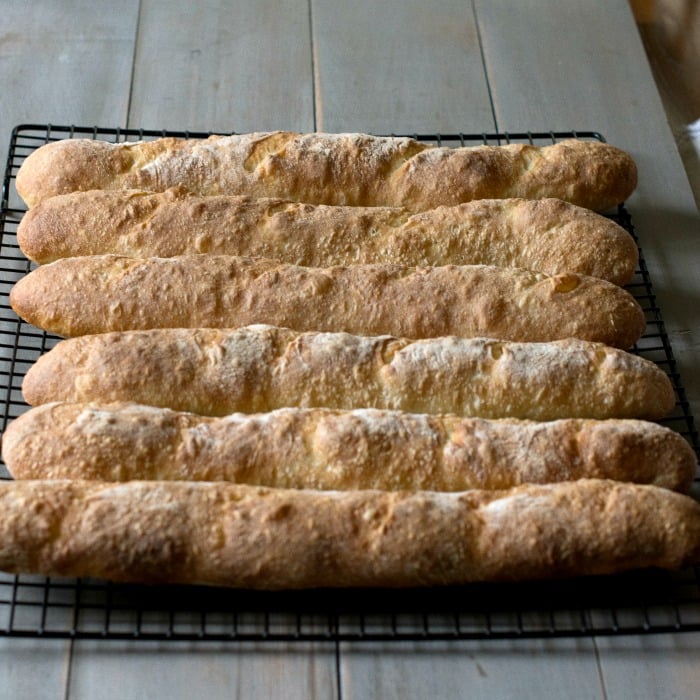 Crusty French Baguettes a keeper recipe
The aroma was heavenly. We took the loaves out of the oven and they looked just like the loaves you'd find in a French bakery. The crust was toffee-colored and when we finally cut into a loaf the inside was honeycombed.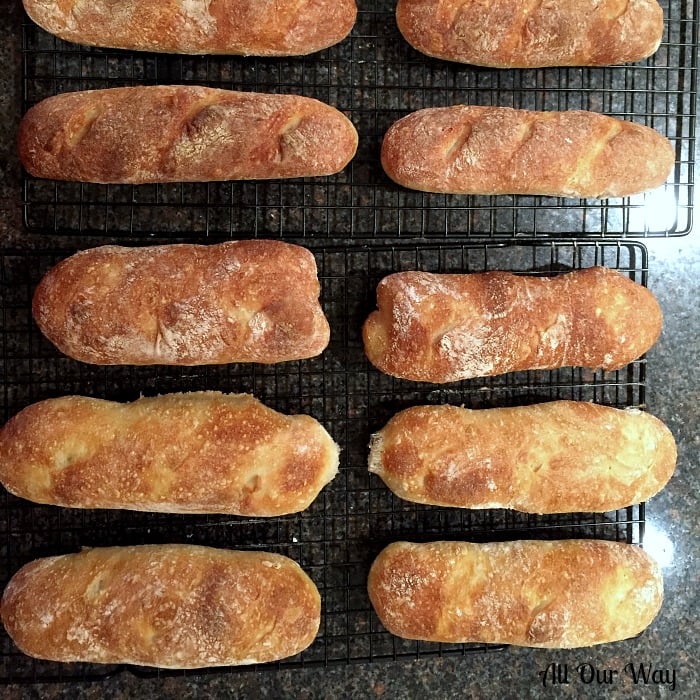 The best part? The taste!!!!!!! It was wonderful. This recipe is one that we now make on a regular basis. Whenever the desire for a delicious baguette overcomes us, we have a recipe that we can make in no time at all. We also made sandwich rolls out of this recipe.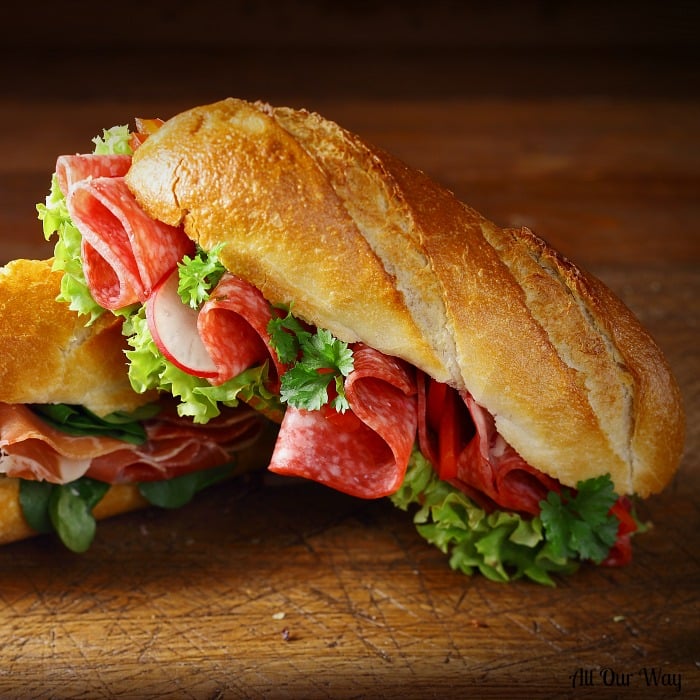 Give the Crusty French Baguettes recipe a try -- it's not difficult and it's so rewarding to treat yourself to homemade baguettes.
We have more soup recipes coming up and homemade baguettes would be perfect with those bowls of comfort.
Next time, try our Ciabatta bread recipe or our delicious Italian Pugliese Loaf.
Tutti a tavola è pronto!
Un caro saluto e alla prossima.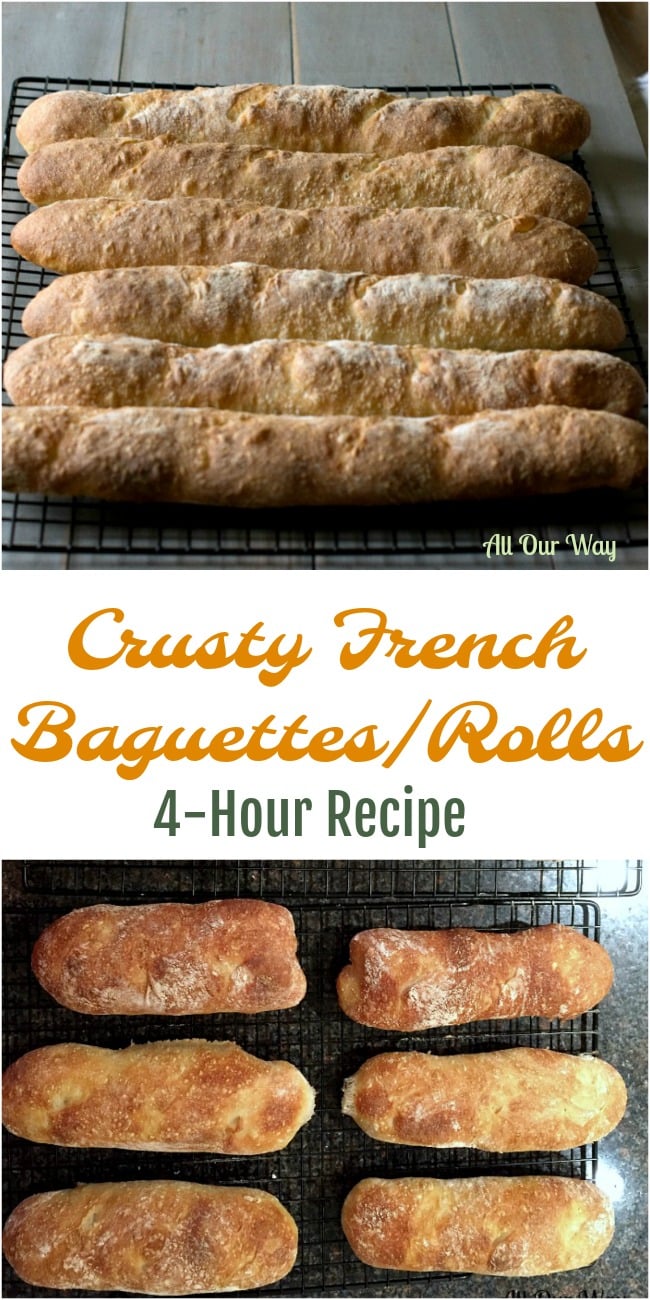 📖 Recipe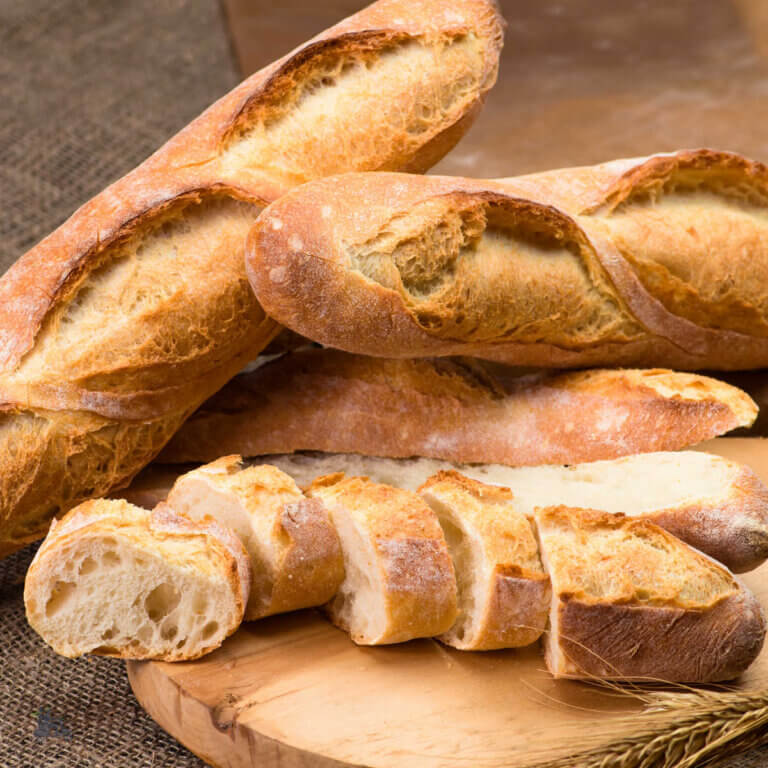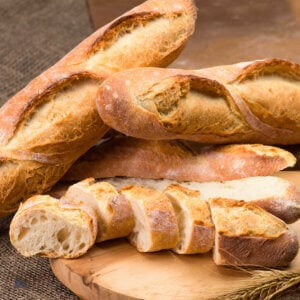 Crusty French Baguettes 4 Hour Recipe – No Starter Necessary
This recipe produces baguettes or rolls such as you'd find in a French Bakery. The bread doesn't need a starter and it can be ready in 4 hours. Now you can have bakery bread in your own home in no time at all.
Print
Pin
Rate
Servings:
3
loaves (we doubled the recipe)
As An Amazon Associate I earn from qualifying purchases.
Ingredients
1 ½

cups

or 12 oz. spring water or distilled water, heated to 115 F.

1

teaspoon

⅛ oz. active dry yeast (we use instant yeast but follow the same procedure)

3 ¼

cups

14-⅔oz. all-purpose flour

You may need to add extra.

1 ½

teaspoon

⅜ oz. kosher salt

Vegetable spray for greasing bowl

½

cup

ice cubes

****Check the notes
Instructions
Whisk together water and yeast in the bowl of a stand up mixer; let sit until yeast is foamy, about 10 minutes. Add flour, salt, and stir with a fork until dough forms and all flour is absorbed; let dough sit to allow flour to hydrate, about 20 minutes. Attach the dough hook to your mixer begin to mix the dough. Continue to knead until smooth and elastic, about 10 minutes.

Spray a large bowl with the vegetable spray and transfer the dough ball to it. Cover the bowl with plastic wrap (we use a shower cap -- the kind you get in the hotels, they work perfectly) and place bowl in a cold oven.

Let dough rest until doubled in size, about 45 minutes.

Transer dough to a lightly floured work surface, and shape into an 8" x 6" rectangle. Fold the 8" sides toward the middle, then fold the shorter sides toward the center, like a T-shirt. Return the dough, seam side down, to the greased bowl. Cover with plastic again, and return to oven. Let sit until doubled in size, about 1 hour.

Remove the bowl with dough from oven, and place a cast-iron skillet or heavy pan on the bottom rack of your oven; position another rack above the skillet/pan, and place a baking stone or upside down rimless sheet pan on it.

Heat oven to 475 F. Transfer dough to a lightly floured work surface, and cut into three equal pieces; shape each piece into a 14-inch-rope. Flour a sheet of parchment paper on a rimless baking sheet; place ropes, evenly spaced, on paper. Lift paper between ropes to form pleats; place two tightly rolled kitchen towels under long edges of paper, creating supports for the loaves. Cover loosely with plastic wrap; let sit until they double in size, about 50 minutes.

Uncover; remove towels, and flatten paper to space out loaves. Using a sharp razor, knife, bread lame, or scissors, slash the top of each baguette at a 30-degree angle in four spots; each slash should be about 4 inches long. Pull out the oven rack with the stone or baking sheet on it and, using the corner of the parchment paper as a guide, slide the loaves, still on the parchment paper, onto the baking stone or pan.

Place ice cubes in the skillet or pan (this produces steam that lets the loaves rise fully before a crust forms.)

Bake the baguettes until darkly browned and crisp, 20 to 30 minutes; cool before serving.
Notes
**** We doubled the recipe when we made this.
**** We have bread forms that we use when we let the dough rise but we've also made it with the pleated parchment paper and towel rolls.
**** Save the shower caps you get in the hotels for bowl covers. They work great as bowl covers and you can save on plastic wrap.
Nutrition
Serving:
2
slice
|
Calories:
505
kcal
|
Carbohydrates:
104
g
|
Protein:
15
g
|
Fat:
1
g
|
Sodium:
1173
mg
|
Potassium:
183
mg
|
Fiber:
4
g
|
Calcium:
24
mg
|
Iron:
6.4
mg
Sign up for the emails and never miss another recipe!!
We'll never share your email or send you spam. Promise
Note: Recipes and content from © 2017 All Our Way are copyright protected. Please do not use content or recipe without prior written permission. If you want to share the information please link to this post. Grazie.
SaveSave