These Quick Dinner Rolls are light as a feather, soft as a cloud and fragrant. The yeast buns don't require pre-ferment which is quite a time saver. In three hours you can drive your entire family crazy with the heady bread aroma coming from the oven. Watch them run to the kitchen to sample the soft delicious bread waiting for them.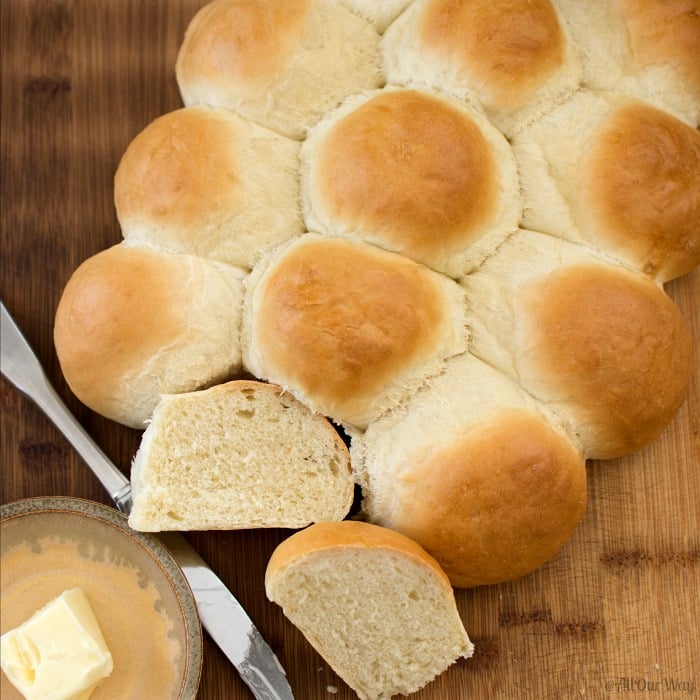 Jump to:
Background Story
"I forgot the dinner rolls!" says my friend Laura before I even have a chance to say hello on my end of the phone.
"How could I overlook bread? I thought of everything else and it's ready to go: the pork loin, the Brussel sprouts, the tossed salad, the tart for dessert. I wanted this dinner to be special for Tony's new partner and wife."
"Weren't you supposed to go out to eat with them?" I ask the minute Laura takes a breath.
"We were," says Laura. "But Tony felt sorry for them, they've been here two weeks, stuck in a hotel, and they've been eating out every meal. Tony thought they might enjoy a home meal."
"It's not a problem," I say. "I'll just bring over some of the Italian dinner rolls we have in the freezer. You can thaw them out and pop them in the oven right before dinner. Problem solved."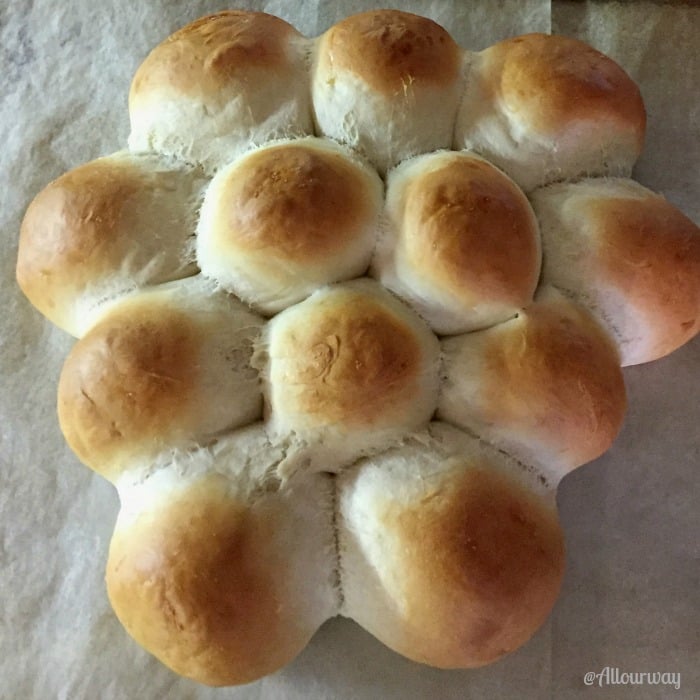 Find a quick yeast bread recipe
"I appreciate the offer, truly I do," says Laura. "But I can't take your dinner rolls. Tony bragged to his new partner that I'm a good cook. You know Tony, he eats everything. It doesn't take anything fancy to make him happy. He promised his partner that he and his wife would get a delicious homemade meal made entirely by me. It's noon. I don't have time to make your Italian hard rolls."
"Yes, you do," I say. "Not the hard buns but a quick Italian dinner rolls recipe that takes only a few hours to make. When are they due over?"
"Around 6:30."
"Then you have plenty of time to make these dinner rolls."
Easy instructions for yeast dinner rolls
"E-mail me the recipe, I hope there aren't a lot of steps.," says Laura, sounding just a bit unsure. "I'm confident with cakes and cookies; it's the live yeast that intimidates me."
"Don't worry. It's mostly a waiting game," I say. "You mix the yeast dough together and watch for it to double. You form the dough into little balls, wait for them to rise, and then you bake."
"That's it for the dinner rolls?" asks Laura.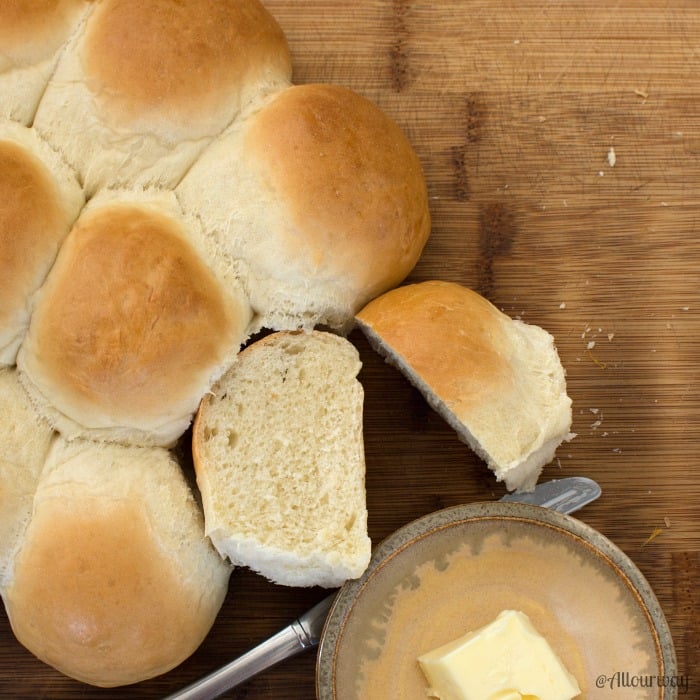 3-Hour Italian dinner rolls start to finish
"Yes! Well, you do have to make an egg white wash and brush it on top of the dinner rolls before baking."
"Okay," says Laura. "I think I can handle that. This dinner is putting me under a lot of pressure. I don't mind cooking for people I know, but these strangers are expecting a lot. I'm a nervous wreck."
"You'll do great! If you have a question I'm just a phone call away," I say. "Do you want me to come over and help?"
"No. That's okay. You've got lots to do before this weekend. Just send me the dinner rolls recipe, and I'll get started. I'll call you tomorrow and fill you in on how the dinner went."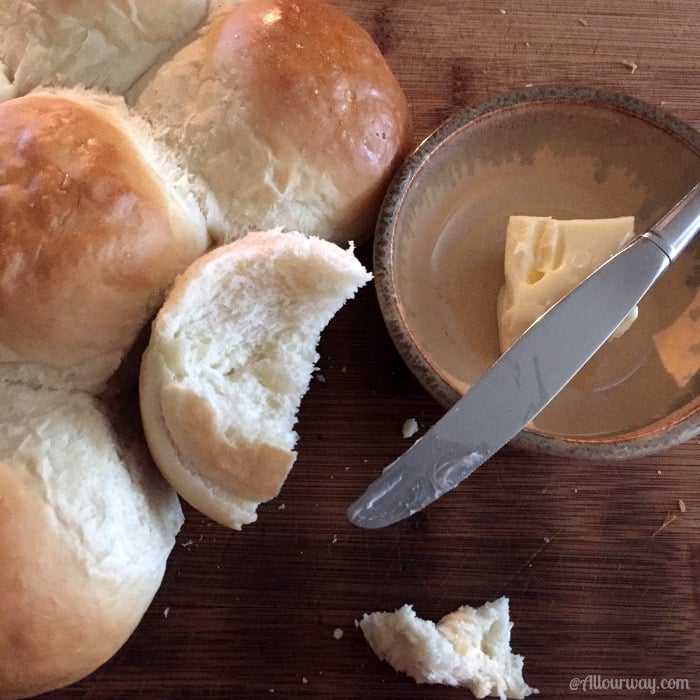 Easy yeast buns fragrant and soft
The phone rings. I pick it up it but before I can say hello, Laura is talking a mile a minute. "The dinner rolls were a huge success! I couldn't believe how easy they were to put together and how fast they rose. Everything turned out perfectly!"
"I'm glad," I say. "See, I told you; you had absolutely nothing to worry about."
"That recipe is a keeper! Tony wants me to make some more dinner rolls tonight. We're having his favorite for dinner, pasta with Bolognese Sauce Antica. It looks like I better stock up on yeast; he's going to want those rolls on a regular basis."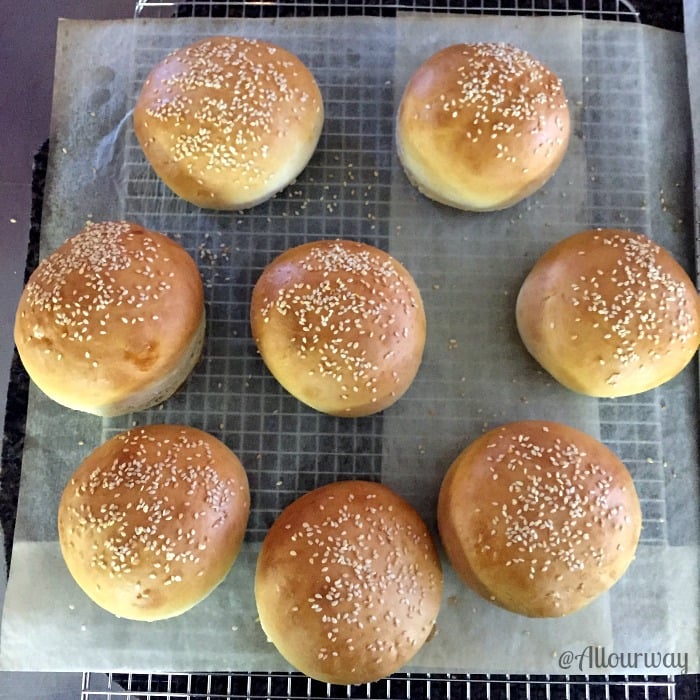 A Versatile bread recipe
This recipe makes 12 rolls or 8 sandwich buns. The rolls make delicious slider buns for pulled pork or Italian beef. The sandwich size rolls make a perfect bun for hamburgers or spicy tuna salad.
This recipe would also be ideal for sliders. Think of Game days or picnics. Use the yeast buns recipe year round.
It's fun making challenging bread such as Pugliese Bread or Ciabatta, but sometimes a quick and easy yeast rolls recipe is exactly what you need.
Tutti a tavola è pronto!
Un caro saluto e alla prossima.
You May Need...
Everyone who bakes needs a heavy duty baking tray like this one. This one also includes a rack. We have several and they bake evenly and don't warp.
What's new? check out my All Our Way Store on Amazon. We'll be adding more items we love and use or wish we had to make cooking fun and easy.
Thank you for being part of All Our Way!
Easy Three Hour Quick Dinner Rolls Recipe
These quick dinner rolls are soft and fluffy and definitely not sweet. We enjoy them with our holiday meals but also make them as sandwich buns or use them as slider rolls. Brush the top with butter or egg wash and add your favorite toppings such as sesame or poppy seeds. Your family will love them - guaranteed.
If you like this recipe please give it a 5-star rating.
📖 Recipe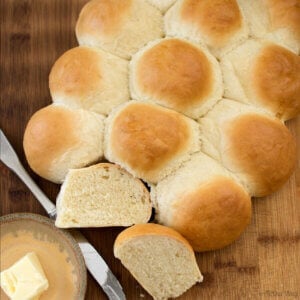 Easy 3 Hour Quick Dinner Rolls
Yeast dinner rolls that are easy and quick to make. The finished rolls are feathery light with a delicious taste and fluffy texture.
Print
Pin
Rate
Servings:
12
dinner rolls; 8 sandwich buns
As An Amazon Associate I earn from qualifying purchases.
Ingredients
1 ½

cups

distilled water

divided at room temperature

1

teaspoon

sugar

3

teaspoons

instant yeast

3 ½

cups

unbleached all-purpose flour

will need more for dough board

1 ¼

teaspoon

salt

1

Tablespoon

sugar

2

Tablespoons

unsalted butter

melted

1

Tablespoon

extra virgin olive oil

1

egg white beaten with 1 Tablespoon water
Instructions
Put the kneader attachment onto the stand mixer.

In the stainless steel bowl of a stand mixer, dissolve the yeast with 1 teaspoon sugar and ¾ cup distilled water, at room temperature.

In another bowl whisk together the 3 ½ cups flour, salt, 1 Tablespoon sugar.

Add the dry ingredients on top of the yeast mixture.

Start the mixer on low speed and start to pour about ½ up of the remaining distilled water into the bowl as it is kneading. Save the remaining ¼ cup water in case the dough is too dry.

Add the butter and the olive oil to the dough as the mixer is kneading.

If dough seems too dry, add water 1 Tablespoon at a time.

Total kneading time should take about 8 minutes. when finished kneading the dough, it should feel soft but semi-sticky and smooth. It should only slightly stick to you hands when removing from the bowl.

Do not add too much flour or the buns will be heavy.

Remove the dough to a very lightly floured surface; cover with a clean tea towel (not terrycloth) and let rest 5 minutes.

Shape into a ball (the dough will come together nicely after resting).

Place into a large greased deep container.

Cover and let rise in a warm place for about 60-90 minutes.

To check if the dough is ready to be punched down, very gently stick two fingers about ½-inch into the dough, the dough is ready when the finger marks remain.

Punch down dough and slice in half.

Slice each half into 6 even pieces. (12 total)

Shape each piece into a round ball.

Place balls spacing well apart onto a large oiled parchment lined baking sheet.

Cover and let rise 30-40 minutes.

Right before placing in oven, lightly brush with beaten egg white.

Bake at 375 F. for about 22 minutes or until light golden brown.
Notes
The time will vary sightly depending on the warmth of your kitchen. Make sure to let the dough rise in a warm place.
We like to use distilled water or spring water in our yeast breads. You can use regular water if you like.
Inspired by a recipe on Food.com - Italian-Style Rolls
Nutrition
Calories:
175
kcal
|
Carbohydrates:
30
g
|
Protein:
5
g
|
Fat:
3
g
|
Saturated Fat:
1
g
|
Cholesterol:
5
mg
|
Sodium:
250
mg
|
Potassium:
71
mg
|
Fiber:
1
g
|
Sugar:
1
g
|
Vitamin A:
60
IU
|
Calcium:
7
mg
|
Iron:
1.8
mg
Sign up for the emails and never miss another recipe!!
We'll never share your email or send you spam. Promise
Last Updated: 20 Dec 2019
Note: Recipes and content from ©2014- 2019 All Our Way are copyright protected. Please do not use content or recipe without prior written permission. If you want to share the information, please link to this post. Grazie.