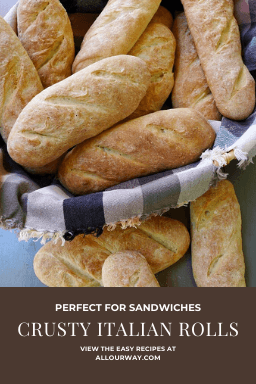 If you're like us, going to the time and effort to make a delicious sandwich, then you don't want to compromise your bread, you'll want something like Crusty Italian Sandwich Rolls to hold your tasty filling. This bread has a crispy crust but with a soft interior that doesn't crumble. And it certainly won't injure the roof of your mouth with too crisp of a crust nor will it take ages to chew and swallow.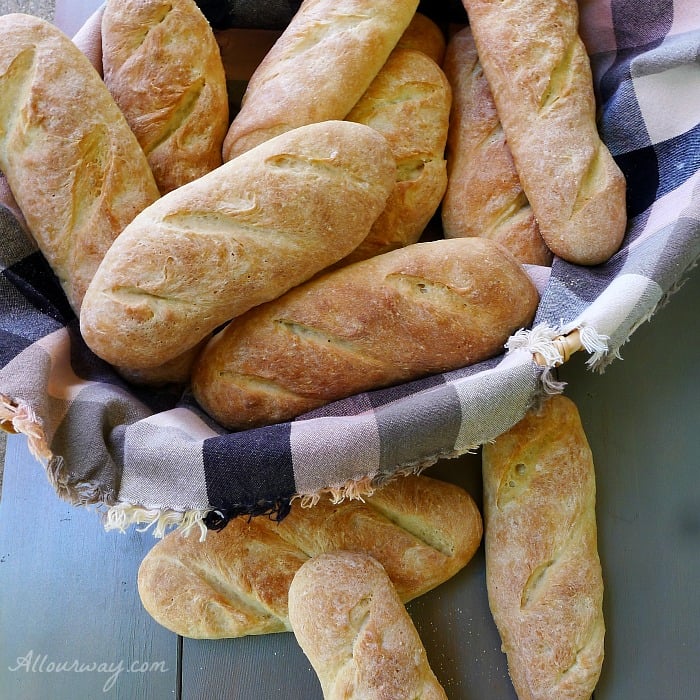 These Italian sandwich rolls are a type of sub or hoagie rolls that are made in the style of a classic Italian bread. This isn't the typical bread they call Italian bread in the US -- it's more like the Italian bread made in the rustic tradition.
We went on a quest to find the perfect bread for our Picante Italian Beef - Chicago Style. When I'm looking for bread recipes I go to is Peter Reinhart's The Bread Baker's Apprentice. When I started seriously baking bread this is the first book I bought and, believe me, it has been well used. He is an absolute genius with bread and I trust his recipes and directions -- they are thorough and easy to follow.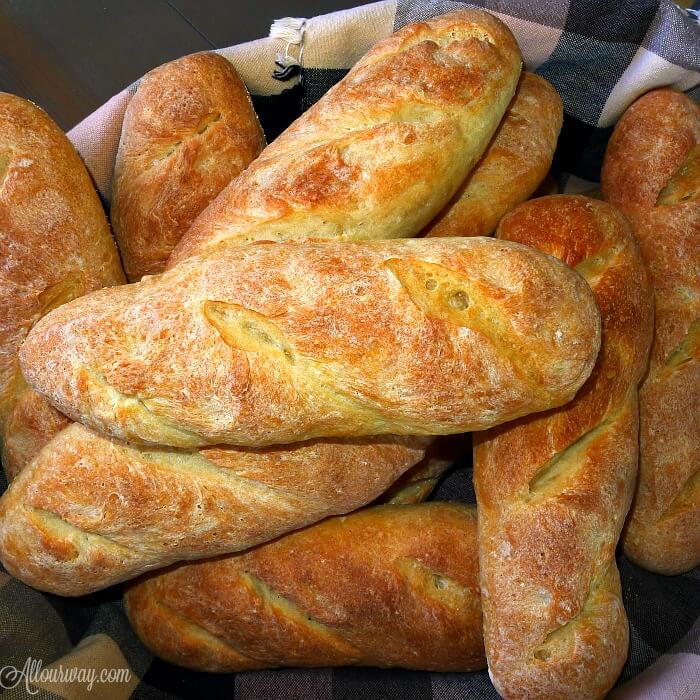 Growing up, homemade bread was very important in our household. Several times a week I can remember our house filled with the aroma of bread baking. I'll never forget our first reaction to commercial bread. You know the kind I'm talking about -- it has the colored balloons on the outside and inside you find perfectly uniform slices. That day Mamma reached inside the loaf and took out a slice for each of us. It was as light as a feather and looked like a cloud surrounded by a brown ridge. We took a bite and chewed. We looked at each other and then took another bite and slowly chewed. No-one spoke.
Finally, my papà broke the silence, "Ma che cos'è?" (But what is it?)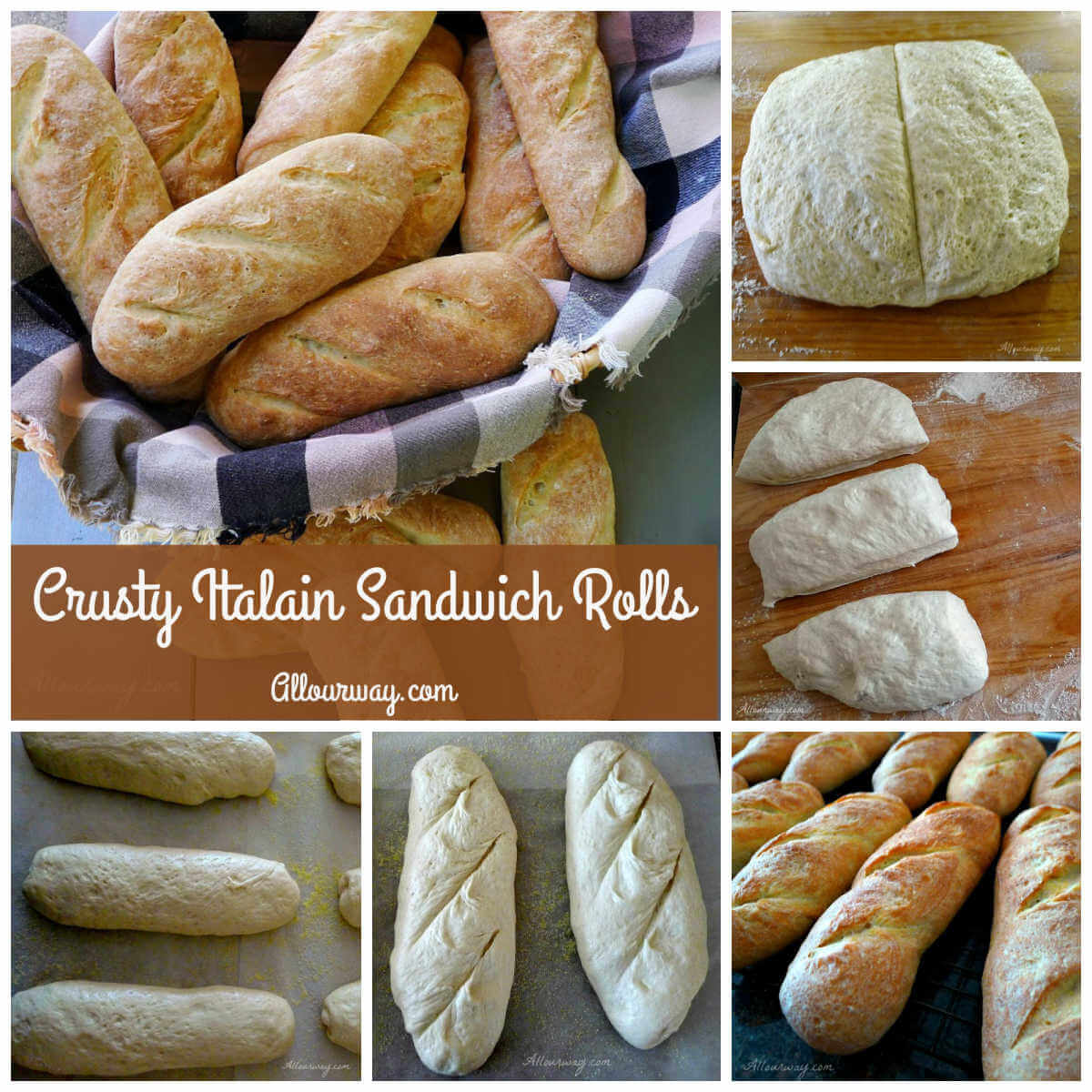 The bread was spongy, snow white and quite tasteless. It certainly wasn't the hearty bread we were used to! Needless to say, mamma and papà didn't buy any more commercial bread. Instead, mamma made all the bread that we ate at home. When I was at school I ate what was offered, although it wasn't always easy. The taste and texture of many of the foods were totally foreign. The first time I had beef stew I gagged -- I couldn't eat it. I think it was something about the taste of the carrots. 🙁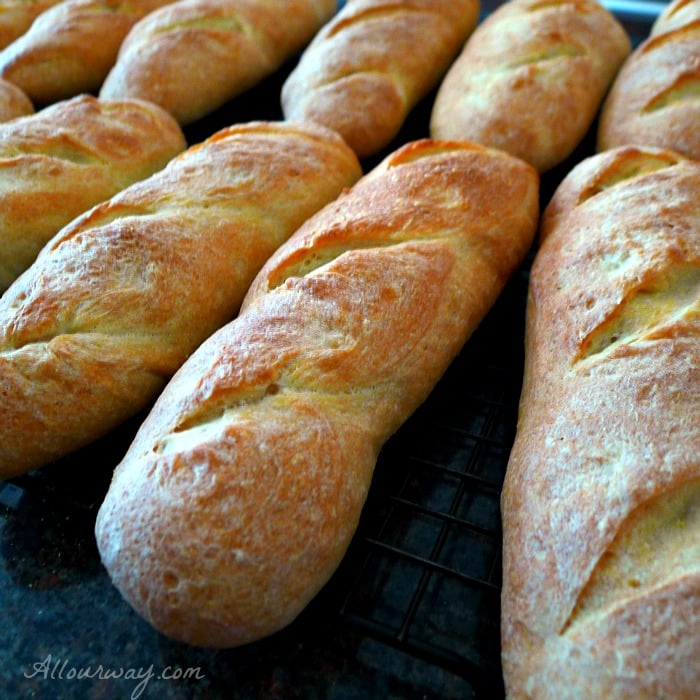 The Crusty Italian Sandwich Rolls recipe is a two-day recipe, this is optimal for the best taste. You can fudge a little and do it in one day -- but letting the flavors develop overnight will give you the greatest flavor. To begin with, you make a starter or a biga. The following day you make the dough, form the rolls and then bake. Treat yourself and your family to some homemade Crusty Italian Sandwich Rolls.
Tutti a tavola è pronto!
Un caro saluto e alla prossima.
YOU MAY NEED...
The following are affiliate links. We are a participant in the Amazon Services LLC Associates Program, an affiliate advertising program designed to provide a means for us to earn fees by linking to Amazon.com and affiliated sites.
For making bread we just couldn't do with our never fail SAF-Instant yeast and our Kitchen Aid heavy duty mixer. The quality of our bread is directly linked to the superior products we use. We always use King Arthur all-purpose flour, and King Arthur bread flour.
Want to see what's new? Check out my All Our Way Store on Amazon. We'll be adding more items we love and use or wish we had to make cooking fun and easy.
Thanks for being a part of All Our Way.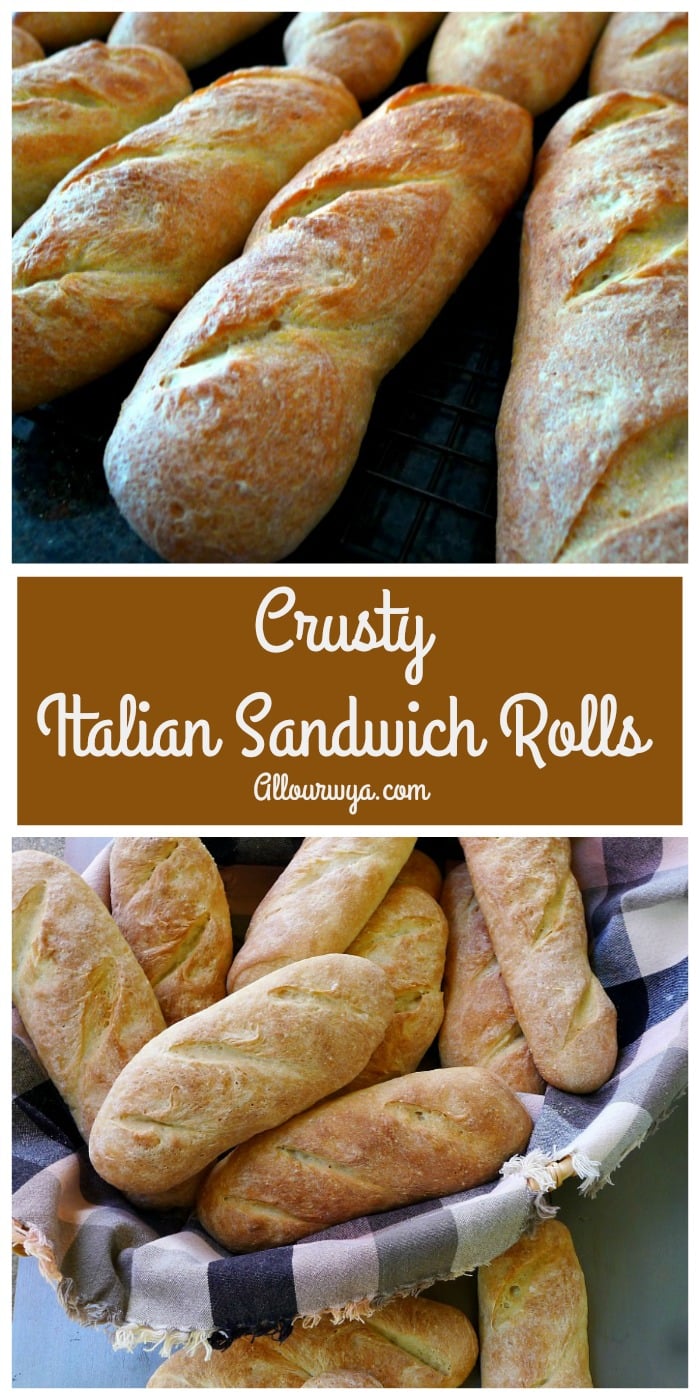 Crusty Italian Sandwich Roll Recipe
📖 Recipe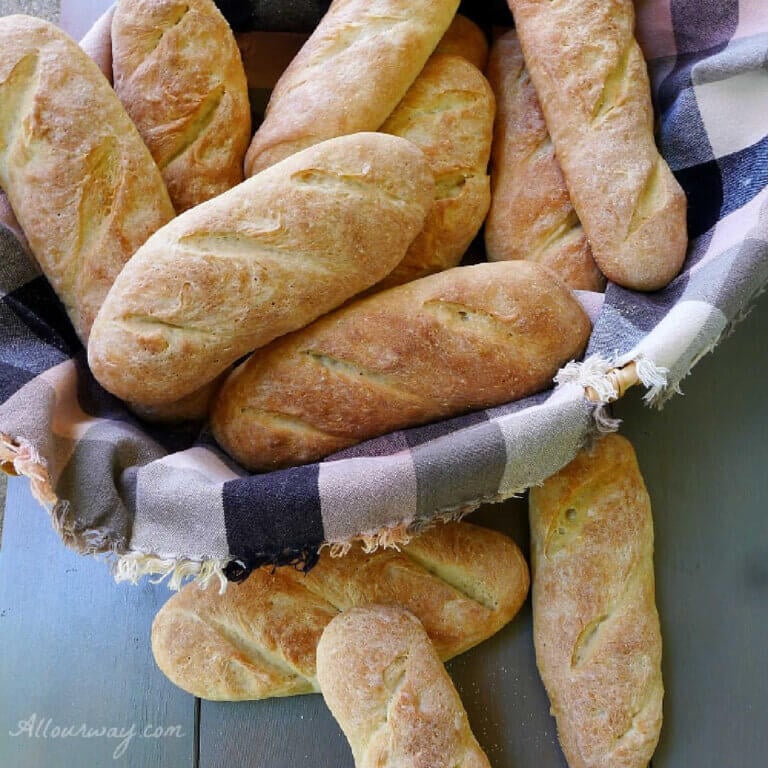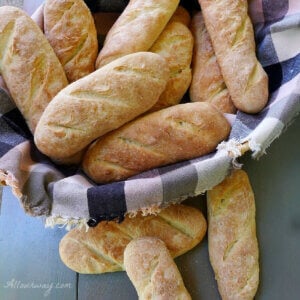 Crusty Italian Sandwich Rolls
Sandwich rolls with a crusty exterior and a soft interior that doesn't crumble. These sub rolls will hold up well to hot or cold fillings without falling apart. Use them into a hoagie bun, hero sandwich, a grinder, or a delicious meatball sub.
Print
Pin
Rate
As An Amazon Associate I earn from qualifying purchases.
Ingredients
For the starter or biga
2 ½

cups

320 grams unbleached all-purpose flour

½

teaspoon

instant yeast

¾ to 1

cup

warm water

about 100-105 F
For the Dough
2 ½

cups

320 grams unbleached all-purpose flour

2

teaspoon

kosher salt or sea salt

1

Tablespoon

sugar

1

teaspoon

instant yeast

1

Tablespoon

olive oil

¾ to 1

cup

warm water

100-105 F

Semolina flour or cornmeal for dusting

1

egg beaten with 1 Tablespoon water for egg wash

1

cup

hot water for steam pan
Instructions
To make the starter or biga, combine the flour and yeast in a medium bowl, slowly add the ¾ cup water. Mix until a rough dough forms. If needed, add up to 1 cup of water. Transfer the dough to a lightly-floured surface and knead for a few minutes until it becomes smooth. Place the dough in a lightly oiled bowl, turn to coat, then cover and let stand at room temperature for about 3 hours.

Transfer to the refrigerator and let it chill overnight. In the morning, remove the biga from the refrigerator and let it stand at room temperature at least 1 hour before proceeding.

Mix the flour, salt, sugar and yeast thoroughly in a large mixing bowl.

Cut the biga into small pieces (10-12) and add them in, then, finally the ¾ cup of the water with the 1 Tablespoon olive oil. Stir together until a dough starts to form. Knead on low with your stand mixer dough hook. Continue to knead the dough for about 5 to 7 minutes -- until a soft dough forms. If needed, add in some of the remaining water a little at a time. The dough should be smooth and elastic -- just barely sticky.

Place the dough in a lightly oiled bowl, turning once to coat, and cover. Let rise until doubled, about 2 hours.

Remove the dough to a lightly-floured surface. Cut it in 2 being careful not to deflate too much. Cut each piece into 3 equal parts. Shape each piece into a torpedo.

Place the shaped dough on a parchment covered making sheet that was sprinkled with cornmeal or semolina. Spray the shaped rolls lightly with oil, then tent lightly with plastic wrap to rise until they are puffy and almost doubled, about 1 hour.

Lightly brush each roll with egg wash then score the rolls with a sharp knife or lamé either on the diagonal or down the middle.

Place a metal baking pan on the lower rack of the oven for use as a steam pan and preheat the oven to 450 F/220 C. When the oven is preheated pour hot water into the metal baking pan and transfer the roll pan to the oven. Bake about 17-20 minutes, until the tops are a golden brown and the internal temperature measures 190 F.

Transfer to a wire rack to cool.

Alternate version: Italian Dinner Rolls

When you are ready to shape the dough measure out 2 oz. pieces and shape them into balls. We got 17 of them. Then follow the directions above until you are ready to bake. Brush an egg wash--1 egg white mixed with ½ cup cool tap water -- on the rolls. Score the top by snipping with scissors then proceed as the rolls above. Bake for 20 minutes or until nicely brown.
Notes
Adapted from Peter Reinhart's recipe in The Bread Baker's Apprentice
Nutrition
Serving:
1
bun
|
Calories:
243
kcal
|
Carbohydrates:
504
g
|
Protein:
75
g
|
Fat:
25
g
|
Saturated Fat:
4
g
|
Polyunsaturated Fat:
18
g
|
Cholesterol:
186
mg
|
Sodium:
4829
mg
|
Sugar:
14
g
Sign up for the emails and never miss another recipe!!
We'll never share your email or send you spam. Promise
Note: Recipes and content from ©All Our Way is copyright protected. Please do not use content or recipe without prior written permission. If you was to share the information please link to this post. Grazie.
SaveSave
SaveSave
SaveSave