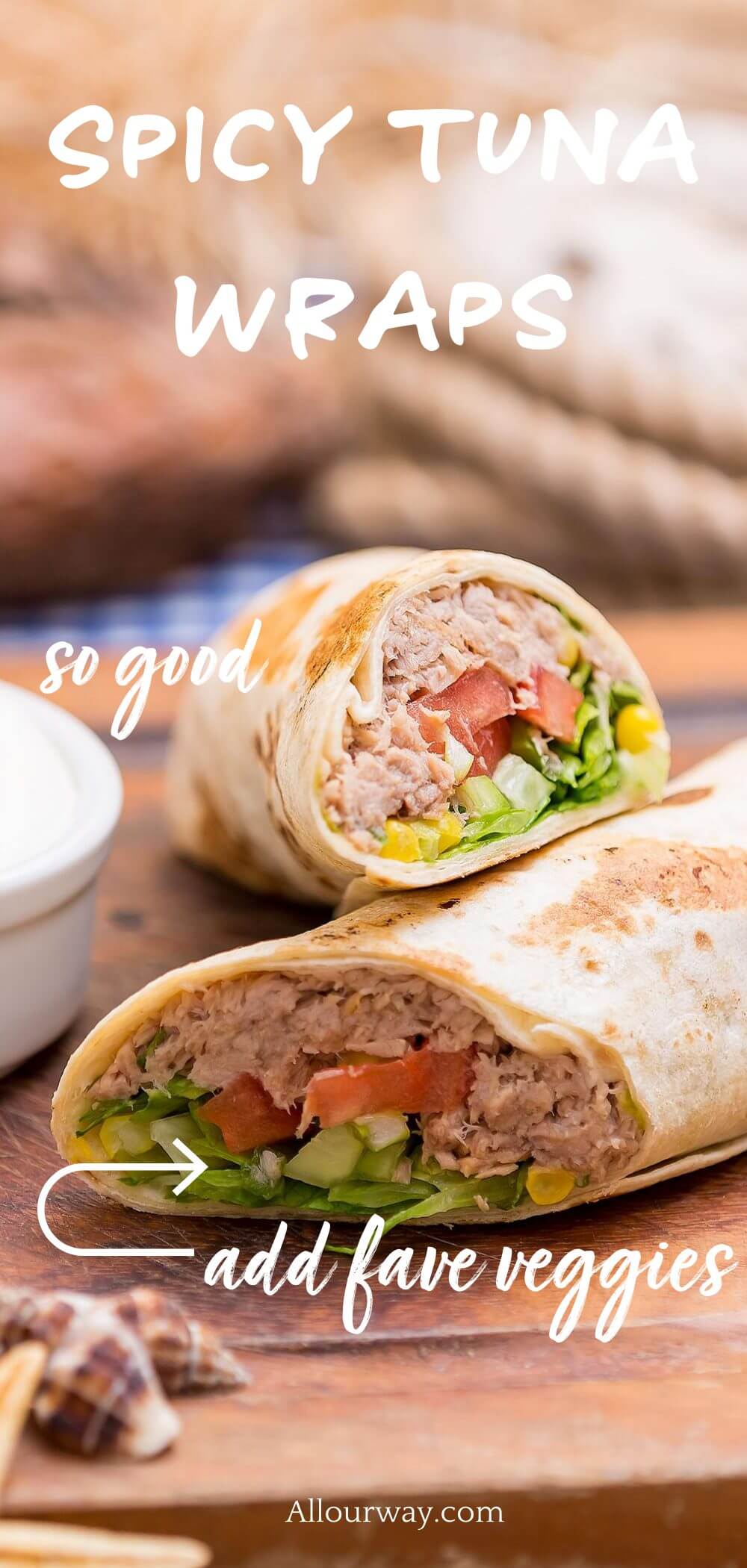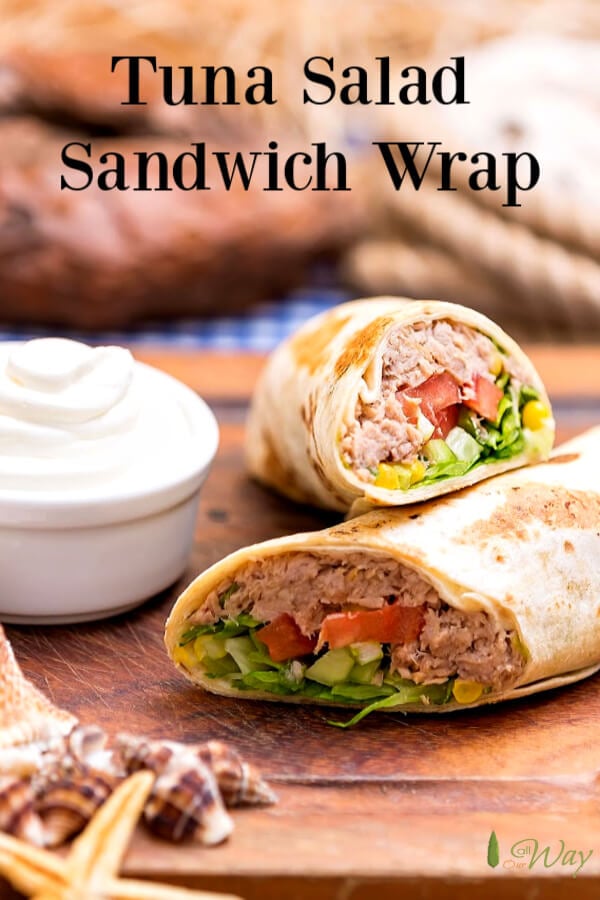 This is no plain old tuna sandwich wrap recipe. The spicy tuna wraps filling is fresh and light plus it has a spicy kick. It's so versatile. Put it in a sandwich, medium tortilla, salad or eat it by itself. Tuna sandwich wraps make great portable lunches. The tortilla wraps are our go-to sandwiches when we travel. This basic tuna salad recipe can even be dolled up to gourmet level. We never get tired of a great tuna filling. Try this recipe hot or cold, both ways are tasty.
For this recipe you will need: White Albacore Tuna in water(or your canned tuna of choice), onion, celery, Grey Poupon Mustard, pickled jalapeños or dill relish, mayonnaise, flour tortillas.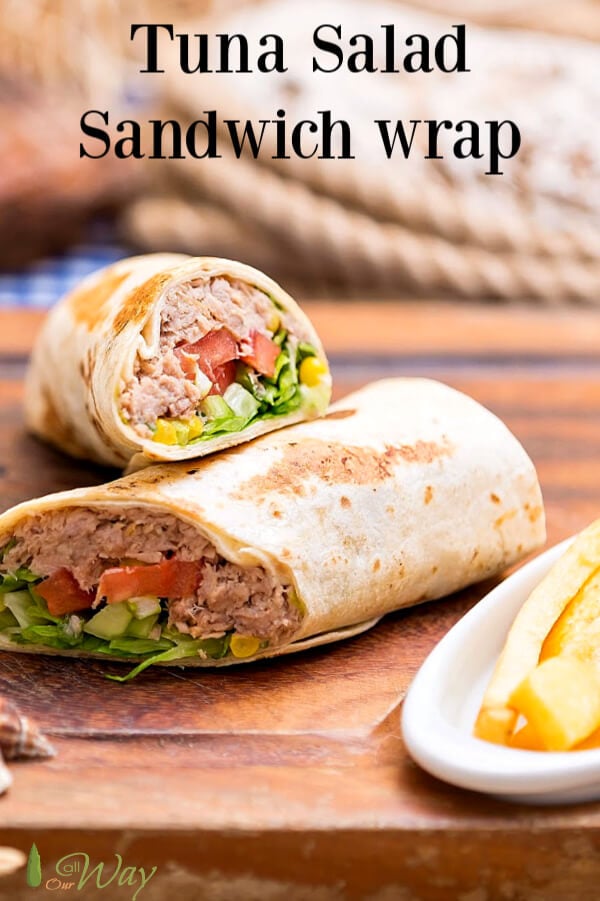 Jump to:
We love fresh tuna and really enjoy dining on dishes such as our Southern Italian Grilled Tuna.
But for sandwiches and wraps, we prefer using a good grade of canned tuna. If you want a sandwich or wrap that travels well, tuna salad is your best bet.
What kind of tuna do I need for a tuna salad sandwich?
The solid-packed albacore tuna in water and the chunk light tuna is ideal. We do make sure that it does have the dolphin-safe label.
We also use tuna in olive oil, but since we're adding mayonnaise to the tuna salad, we don't want to add any additional fat.
Now, If you're wondering if tuna is good for you? It is! Here is a really great list of good fish! You may want to download this list.
What do I do if I have oil-packed tuna and don't want the oil?
All you need to do is put the tuna in a fine-mesh sieve and rinse thoroughly with cold water. Press the tuna with a rubber spatula to remove all of the water from the tuna.
What if I don't like spicy tuna salads?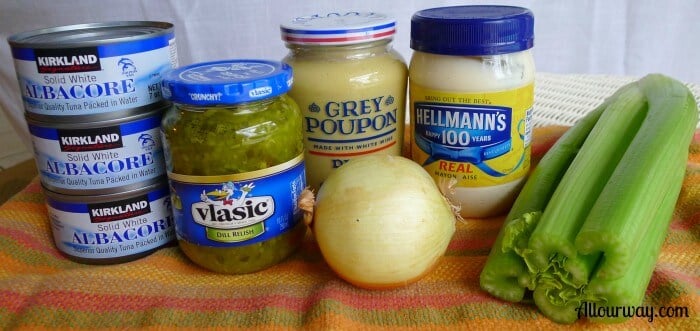 Ingredients for Classic Tuna Salad Sandwich Wrap
You can easily substitute the diced jalapeños with dill pickle relish or sweet pickle relish. And you can substitute regular mustard for the Grey Poupon.
More tuna salad sandwich ideas and best tips
Tex-Mex Tuna Sandwich -- lime, cilantro, and jalapeño puréed and corn, avocados tomatoes with rolled in a flour tortilla.
Mediterranean Tuna Sandwich -- corniches, walnuts, olive oil, butter lettuce on hearty multigrain toast.
Lemon Pepper Tuna Sandwich -- peppery arugula, zesty red onion, coarse black pepper, lemon zest and juice on rye bread.
Tuscan Tuna Sandwich -- capers, sun-dried tomatoes, on ciabatta with mozzarella and basil.
Provençal Tuna Sandwich -- marinated artichokes, niçoise olives, hard-cooked eggs, roasted peppers on Kaiser bun.
Curried Tuna Sandwich -- currants, chopped dried apricots, curry spice, served in a pita or naan.
Asian Tuna Sandwich - shelled endamame beans, miso, green onions, sesame chile oil on toasted country bread.
Fennel-Orange Tuna Sandwich -- a high-brow makeover with crème fraîche, fennel, orange zest and juice on a baguette.
Asian Tuna Sandwich -- Sriracha, rice wine vinegar, sesame seeds, cucumber, on potato rolls.
Tuna Salad Lettuce Wrap -- any tuna salad you like wrapped up in Bibb lettuce or some similar lettuce leaves and add a bit of red bell pepper for a nice crunch.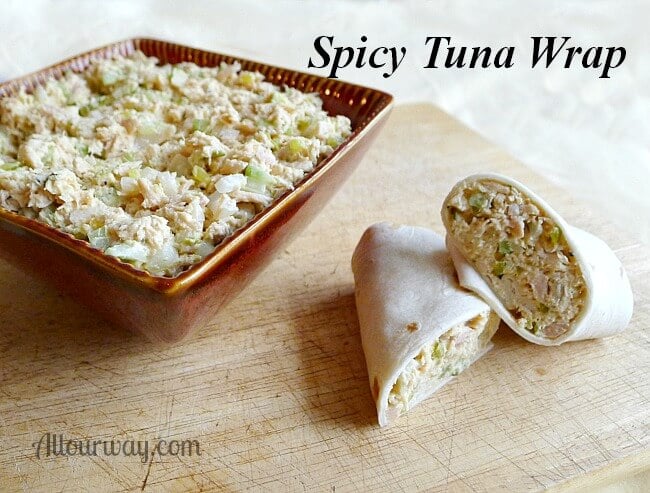 Spicy Classic Tuna Salad Sandwich Wrap
How to make a basic tuna wrap recipe
First, you lay out your flour tortilla and you put about two heaping tablespoons of filling down the center: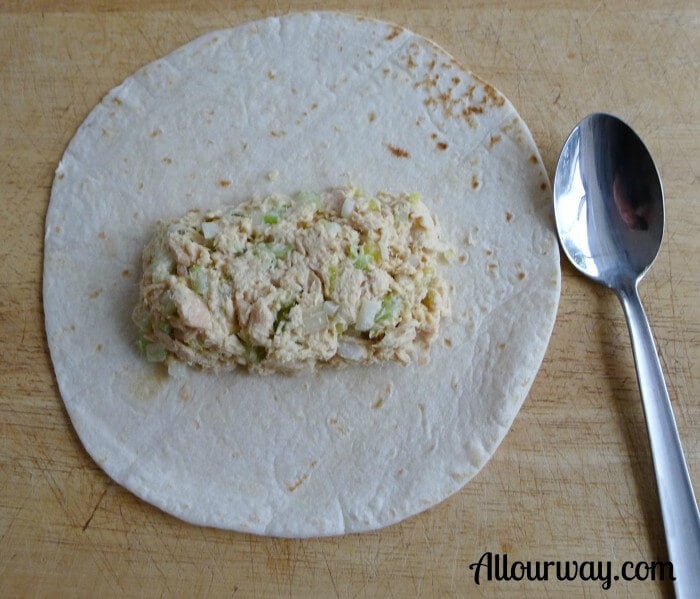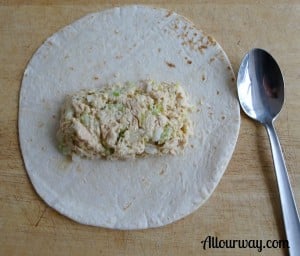 Tuna mixture on soft flour tortilla 1st step.
Second you bring the bottom portion halfway up.
Second step for wrapping the spicy tuna filling
Third you bring both the left and right ends in together and hold.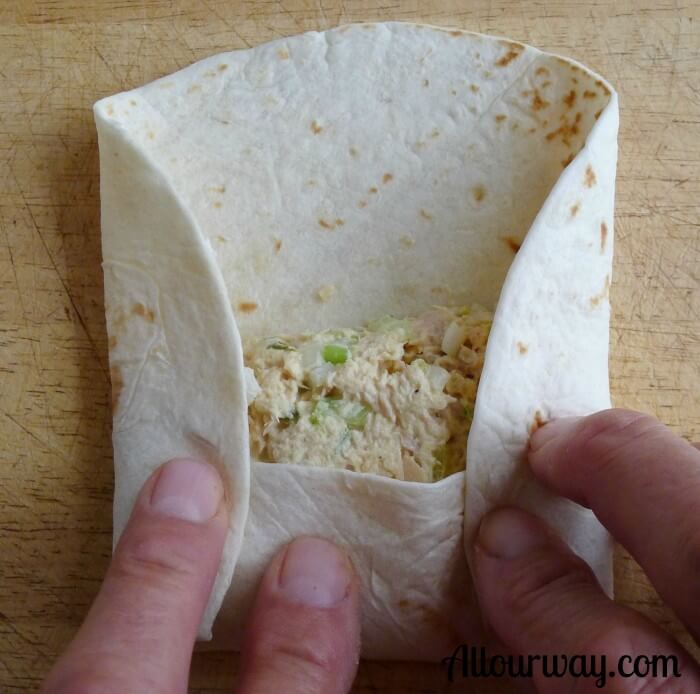 Step three to wrapping the spicy tuna in the flour tortilla
Fourth, start rolling from the bottom up until the wrap is in a bundle.
Ecco! You have just made the perfect tuna salad sandwich wrap.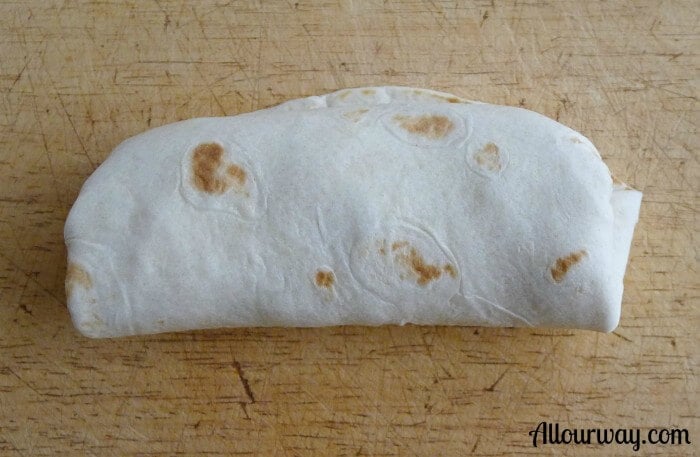 Tuna tortilla bundle rolled up into a compact wrap.
If you're planning on eating it right away, slice it on the diagonal and serve it with your favorite crudités.
But, if you're packing the sandwich for lunch or a picnic, roll the plastic wrap around the bundle or bundles in the same way you made the wrap.
The tuna wrap is certainly a healthy alternative to eating lots of cheese (which I love) and heavily processed meats.
SaveSave
You don't have to settle for a bland sandwich or wrap. Take the classic recipe and make it a springboard for your own favorite must-haves.
Seafood recipes that inspire
Tutti a tavola è pronto
Un caro saluto e alla prossima.
YOU MAY NEED...
The following are affiliate links. We are a participant in the Amazon Services LLC Associates Services LLC Associates Program, an affiliate advertising program designed to provide a means for us to earn fees by linking to Amazon.com and affiliated sites.
Thank you for being a part of All Our Way!
Every kitchen needs a good sharp knife and I couldn't do without my Kyocera Santoku Knife. It's as sharp as a razor so you really do have to be careful when you use it. We depend on it so much we even take it with us when we travel. This knife will get you getting right through your veggies.

Classic Spicy Tuna Salad Sandwich Wraps
We never get tired of this outstanding classic tuna tortilla recipe. The healthy tuna salad recipe is so versatile we're able to modify it so it's never the same. We've made it with an Italian flair, crunchy Asian, and spicy Tex-Mex. It travels well and it lasts several days in the fridge. Give it a rustic touch or make it sophisticated, whichever way you make this recipe I know you'll family will love it.
Next time you want a hot tuna dinner, make our quick and easy Fresh Tuna with Caramelized Onion. This is a convenient one-skillet meal.
And if you love seafood salads and fillings then you'll go nuts over our Shrimp Salad. This is a summer recipe we can't get enough of!
If you like this recipe, please consider giving it a 5-star rating.
📖 Recipe
Classic Tuna Salad Sandwich Wraps With A Kick
A spicy and tasty filling that you can put on a sandwich or stuff a wrap. Is to make up ahead for a box lunch or picnic. The crunchy tuna wraps meat healthy eating without sacrificing taste.
Print
Pin
Rate
As An Amazon Associate I earn from qualifying purchases.
Ingredients
21

oz.

White Albacore Tuna in water - or your canned tuna of choice

3- 7oz. cans

1

medium onion chopped

or green onions

2

large celery ribs diced

3

heaping Tablespoons Grey Poupon Dijon Mustard

3

heaping Tablespoons diced pickled jalapenos or more - dill pickles for those faint of heart

3

Tablespoons

Mayonnaise

full fat mayonnaise for a richer taste

hot sauce

optional

8

soft flour tortillas

8- inch or whole wheat wraps
Instructions
Combine the tablespoons mayonnaise and the rest of the ingredients in a medium bowl.

Mix well and be sure to taste, you can always add more of what you like

Make up the wraps following the directions in post. or you can put the filling on toasted whole wheat bread.

You can also use the filling in a salad, hearty country bread, ciabatta, or hard rolls.
Notes
*** You may add whatever your favorite ingredients you like to the tuna salad as you mix it. Or you may add it on top of the salad before rolling up.
Make it into a tuna melt by using your hearty sandwich bread then pile on the spicy tuna salad. Add your favorite cheese and put the open sandwich under the broiler to melt. So good. Salad recipes make for an easy lunch.
Use canned salmon for a change of pace.
Put this lighter version in your low calorie recipes:
Greek yogurt for the Mayonnaise
A touch of lemon juice for moisture
Use leafy greens as the entire wrap
Nutrition
Calories:
197
kcal
|
Carbohydrates:
17
g
|
Protein:
17
g
|
Fat:
6
g
|
Saturated Fat:
1
g
|
Cholesterol:
28
mg
|
Sodium:
458
mg
|
Potassium:
225
mg
|
Fiber:
1
g
|
Sugar:
2
g
|
Vitamin A:
85
IU
|
Vitamin C:
1.3
mg
|
Calcium:
52
mg
|
Iron:
2.2
mg
Sign up for the emails and never miss another recipe!!
We'll never share your email or send you spam. Promise
First Published: January 31,2014... Last Updated: August 31, 2021