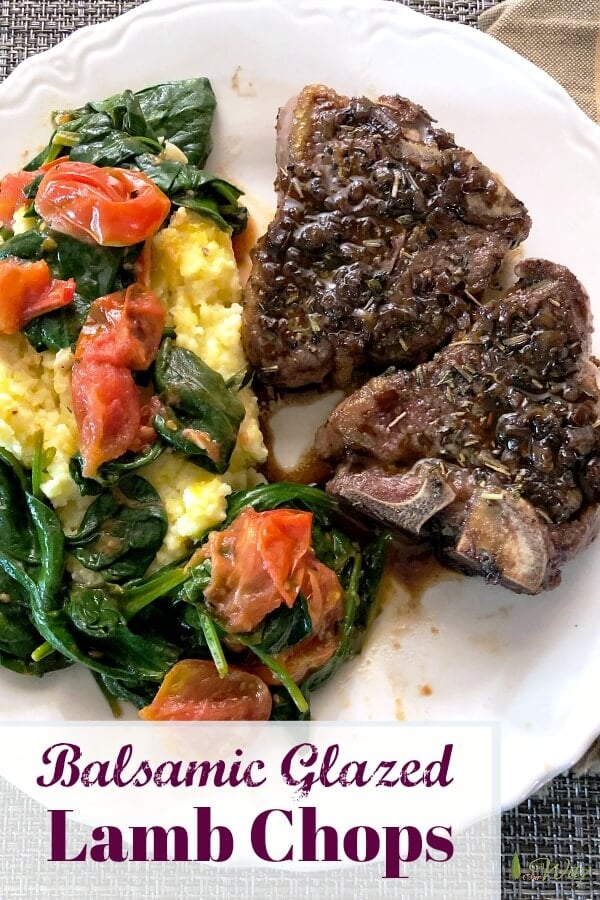 This pan fried lamb chops recipe is an easy and elegant dish when you make it with a balsamic glaze and serve it with a rich creamy polenta. Rosemary, basil, and thyme gives the lamb meat great flavor. And all it takes is a drizzle of olive oil, a sprinkle of sea salt, and freshly ground black pepper to season the lamb chops perfectly. Sear and cook the lamb on both sides then keep the chops warm. You make the magical balsamic sauce in the same cast iron skillet as the lamb. The glaze is so delicious you'll want to double the recipe. The balsamic glaze bathes the succulent meat with a sweet tangy sauce. The lamb chops recipe is ideal for a special occasion but it's easy and quick enough for a weeknight dinner. We served the meat with a silky smooth polenta.
For this recipe you'll need: lamb chops, olive oil, shallots, aged balsamic vinegar, chicken broth, butter, rosemary, basil, thyme, sea salt, pepper.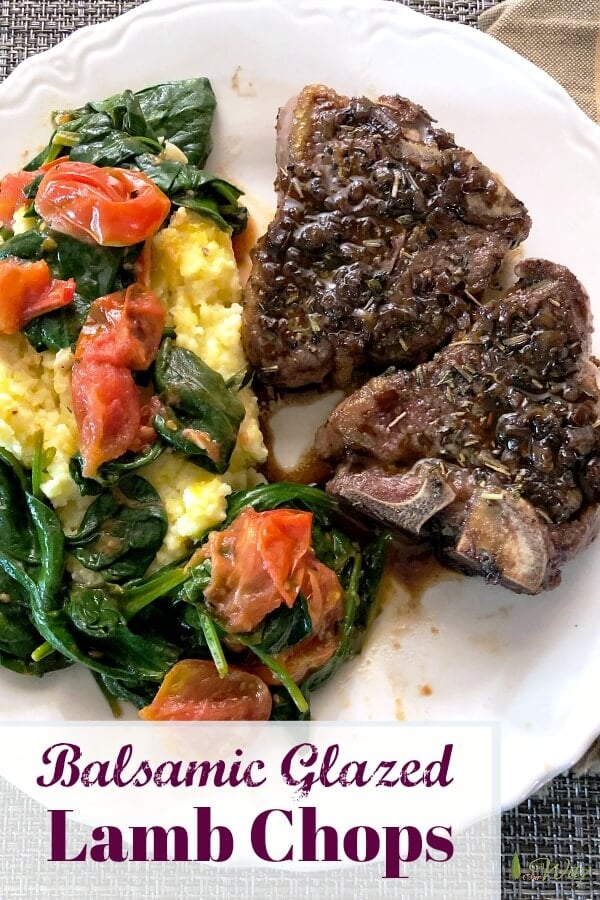 Jump to:
What is the best lamb chops recipe?
The answer is a simple recipe that features a combination of garlic, herbs, and olive oil. That is an ideal recipe. Lamb has a depth of flavor and degree of tenderness that other kinds of meat can't match.
The lamb's flavor is unique, you don't want to mask it with lots of different flavors. Herbs are light enough that they will just add to the taste of the lamb.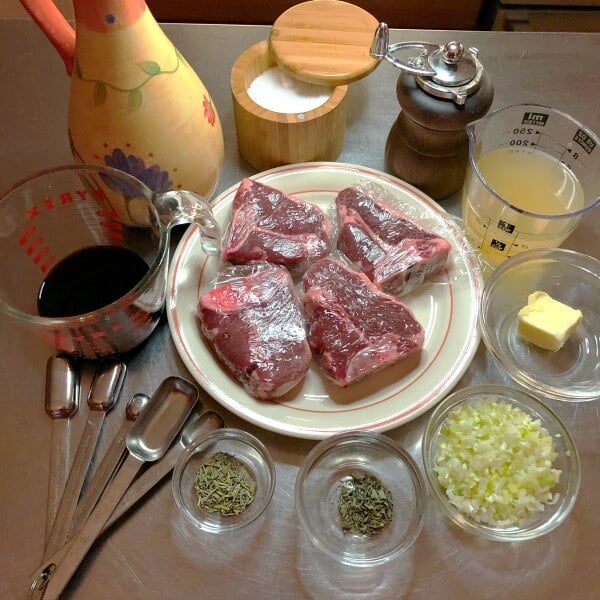 Herbs that pair well with lamb
Rosemary
Oregano
Mint
Basil
Thyme
Parsley
Garlic also pairs well with lamb. Some people consider it an herb and some people think of it as in a class of its own. If you want to read more about it, here is a link. I think of garlic as a magical ingredient like balsamic that makes most dishes taste even better.
Not heavy handed with the garlic, mind you. A whisper of garlic is perfect.
Seasonings that work best with lamb
Black pepper
Coriander
Cumin
Salt
Red Pepper Flakes
Fennel
Curry Powder (There's a new one on the block -

Vadouvan

which is French curry. I'm curious enough that I plan on purchasing some -- sounds fascinating.)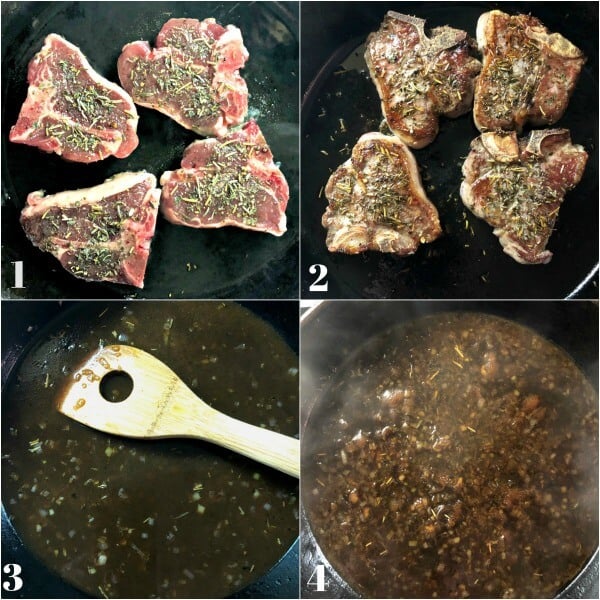 What's the best way to cook lamb?
The best way to cook lamb actually depends on the cut of meat. Lamb is easy to prepare and when cooked properly it is flavorful and juicy.
Basically the methods for preparing lamb is no different than those you'd use for beef or pork.
Grilling or pan frying - cooking meat on a grate over hot coals or a hot heavy skillet. Ground lamb and lamb chops and steaks are perfect for this method.
Braising - meat is browned in fat, tightly covered and cooked slowly in a small amount of liquid. Lamb shoulder, shanks, and ribs are less tender cuts of meat and benefit from this moist cooking method.
Roasting - oven-cooking the meat is cooked uncovered in order to produce a well-browned exterior and a moist interior. Rack of Lamb, loin, and portions of the leg benefit from the dry heat cooking method.
For our lamb loin chops we used a dry rub on them and then pan seared the meat in a cast iron skillet. We removed them from the pan before they were completely done.
In order to ensure the lamb chops are always tender and juicy, don't overcook them. They'll continue to cook once you remove them from the heat source.
Is lamb a nutritious choice?
For a while, white meat was touted as the healthier choice. But today, red meat is much leaner than it was a 30 years ago. You'll find more red meat labeled grass-fed.
And what is the natural food lambs eat? Grass.
Lamb has a

high nutritional value

and is a good source of vitamins and minerals.
Zinc
Iron
Carnitine
B vitamins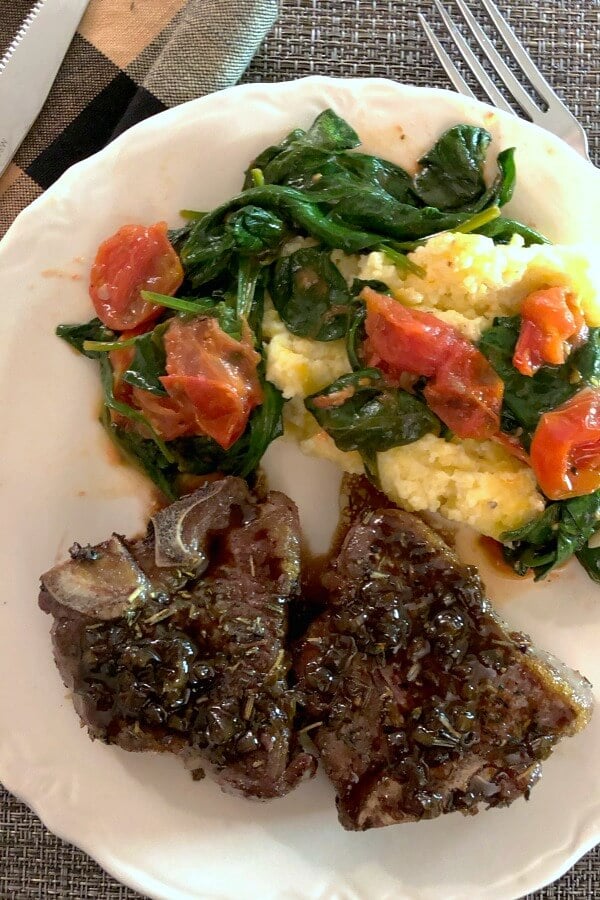 Lamb Loin Chops for a special occasion
When we came across the lamb chops at the store we knew we'd found THE dinner we wanted to make for our 49th anniversary. This was going to be our date night in and we wanted a special recipe for it.
The requirements for the special loin chops recipe was simplicity and taste. This meat is from the prized section of the lamb and we wanted to do it justice.
And believe me, once we tasted the lamb with the reduced balsamic glaze, we discovered this pan fried chops had it in spades!
To compliment the main dish we decided on one of our favorites -- creamy polenta! Although we did a bit of a variation with our regular recipe. This time we just used milk for the liquid, a teensy bit of salt, and olive oil. Oh my! It was soooo good!!!!!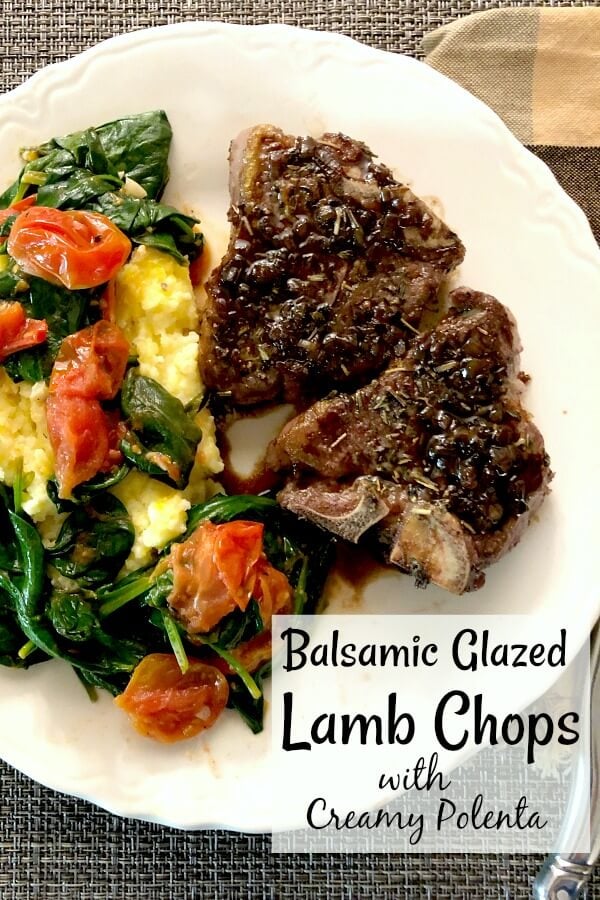 For the vegetable we decided on and old favorite, Sautéed Baby Spinach With Grape Tomatoes.
What a perfect meal for our anniversary dinner.
We may duplicate it for our Valentine's Day meal.
We hope you give the pan fried lamb chops recipe a try. It's so easy and makes for a special dinner for two or buy some extra loin chops and make it for company.
If you'd like to prepare a delicious meat for a special occasion, our Herb Roasted Leg of Lamb recipe done Italian style is fabulous. The guests will definitely ask for seconds.
Tutti a tavola è pronto!
Un caro saluto e alla prossima.
YOU MAY NEED . . .
The following are affiliate links. As An Amazon Associate I earn from qualifying purchases.
What's new? Check out my All Our Way Store on Amazon. We'll be adding more items we love and use or wish we had to make cooking fun and easy.
We couldn't do without our cast iron skillet. This skillet is similar to the one we have -- in fact we have several in different sizes. The cast iron heats evenly and is wonderful for pan frying and searing meats.

Balsamic Glazed Pork Chops Recipe With Creamy Polenta
Lamb chops cooked correctly are always flavorful and tender. It doesn't take a lot of fuss to make them tasty. A dry rub gently added to the meat will add flavor and help to break down the protein in the lamb while keeping it juicy. The balsamic glaze gives a sweet, savory, tang to the delightfully succulent meat. Preparation for the lamb is quick and easy. Just make sure you have everything ready and it goes as smoothly as clockwork. This is one recipe we know you'll enjoy!!
If you like this recipe, please consider giving it a 5 rating. This helps others to decide whether to try the recipe.
📖 Recipe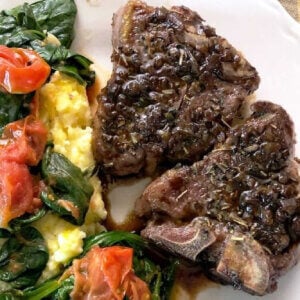 Balsamic Glazed Lamb Chops Recipe with Creamy Polenta
This is an easy and quick way to prepare a tender and delicious cut of meat. The dry rub of herbs and seasoning gives the lamb chops lots of flavor. The balsamic reduction sauce compliments the succulent meat and it is so good you may want to double the recipe.
Print
Pin
Rate
As An Amazon Associate I earn from qualifying purchases.
Ingredients
4

lamb chops

¾ inch thick

¾

teaspoon

rosemary

dried

½

teaspoon

thyme

dried

¼

teaspoon

basil

dried

salt

to taste

pepper

to taste

1

tablespoon

olive oil

¼

cup

shallots

minced

¾

cup

chicken stock

⅓

cup

balsamic vinegar

aged - good quality

1

tablespoon

butter

unsalted
Instructions
In a small bowl mix together the dried herbs, salt, and pepper. Rub the mixture on both sides of the lamb chops. Place them on a plate, cover and set aside for 30 minutes to absorb the flavors.

Heat olive oil in a large cast iron skillet over medium-high heat. When oil starts to shimmer, place lamb chops in the hot skillet and cook for about 3 ½ minutes per side for medium rare (145 F.),Medium (160 F.), Well Done, (170 F.) Use an Instant Read Thermometer to be sure.

Remove from the skillet, and keep warm on a serving plate.

Add shallots to the skillet, and cook them just until browned. Stir in balsamic vinegar, scraping any bits of lamb that stuck to the bottom. Those are yummy pieces! Stir in the chicken stock.

Continue to cook and stir over medium-high heat for about 5 minutes, until the sauce has reduced by half. Don't rush this, you don't want a runny sauce.


Remove from heat. Stir in butter. Pour over lamb chops and serve.
Notes
Inspired by a recipe from Allrecipe - Lamb Chops with Balsamic Reduction.
Nutrition
Calories:
754
kcal
|
Carbohydrates:
10
g
|
Protein:
86
g
|
Fat:
37
g
|
Saturated Fat:
14
g
|
Cholesterol:
275
mg
|
Sodium:
389
mg
|
Potassium:
1213
mg
|
Sugar:
7
g
|
Vitamin A:
175
IU
|
Calcium:
57
mg
|
Iron:
8.1
mg
Sign up for the emails and never miss another recipe!!
We'll never share your email or send you spam. Promise
Note: Recipes and content from © 2014-2019 All Our Way are copyright protected. Please do not use content or recipe without prior written permission. If you want to share the information, please link to this post. Grazie.