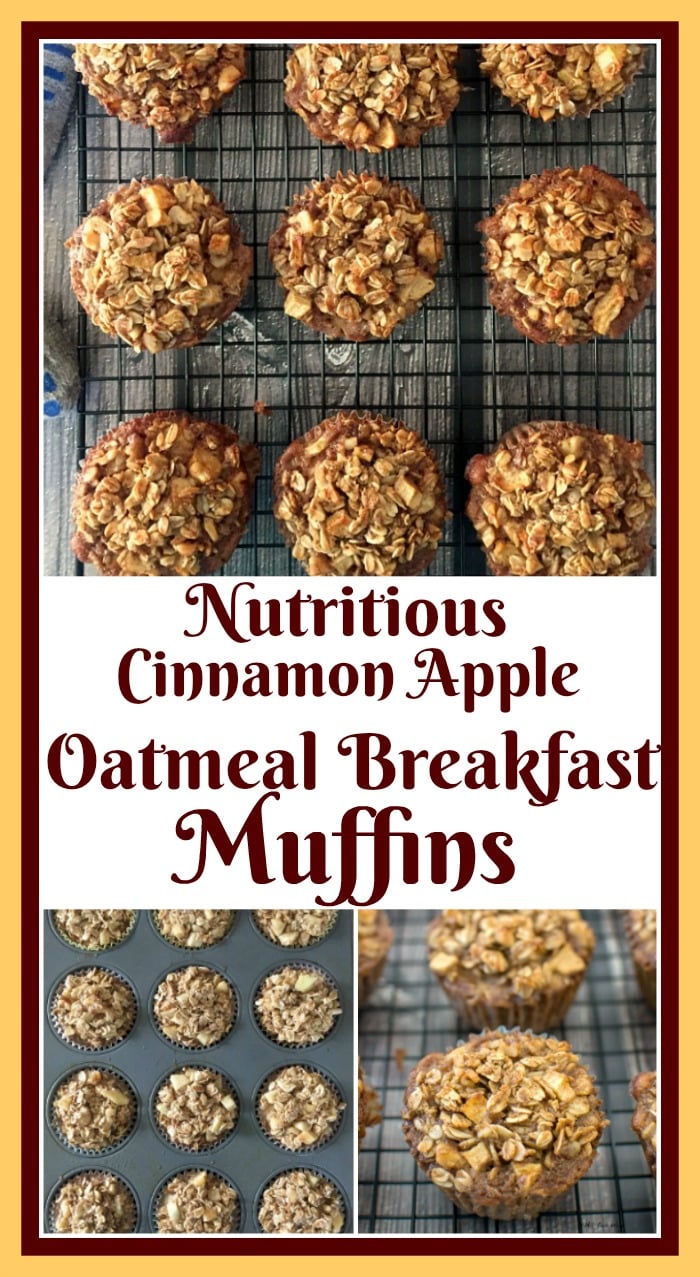 Apple Cinnamon Breakfast Oatmeal Muffins. What a great way to start the day! Take some old-fashioned oatmeal, add all sorts of good and nutritious ingredients, such as cinnamon, apple chunks, walnuts, protein powder for an extra boost, and you end up with one super breakfast oatmeal muffin.Wouldn't you like to have a complete nutritious breakfast at your fingertips when you're short on time? How about a healthier snack or an after workout treat? This is baked oatmeal in a tidy muffin form.
Here is a delicious breakfast baked oatmeal in casserole form.
For this recipe you will need: old-fashioned oatmeal, apples, eggs, coconut oil, light brown sugar, almond milk, vanilla extract, walnuts, cinnamon, baking powder, vanilla whey protein powder, sea salt.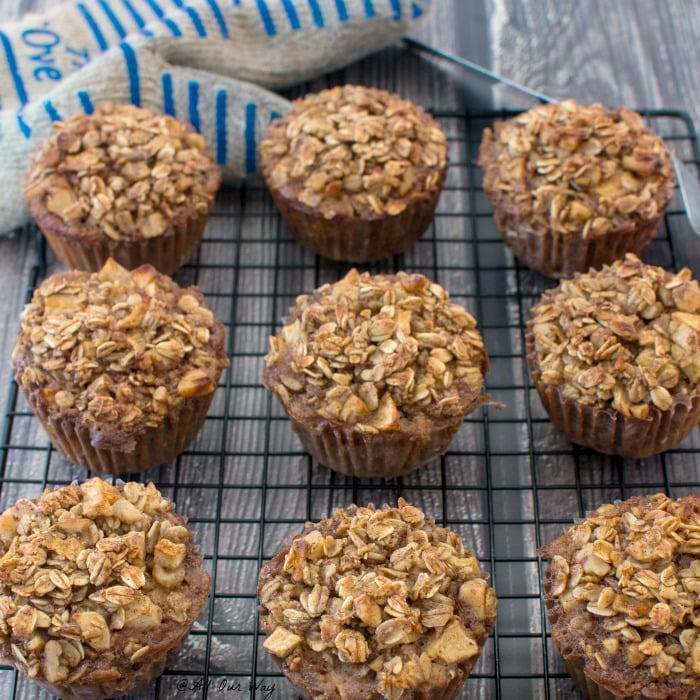 Jump to:
Make and freeze breakfast oatmeal muffins
You can easily make 12 apple oatmeal muffins when you have time. Bake them, then wrap in plastic wrap and freeze in a freezer bag when they cool.
Make them for breakfast.
When you don't have time for breakfast, just thaw the chunky apple cinnamon breakfast muffins.
Stick the yummy muffins in the microwave and smell the wonderful aroma of apples and cinnamon that fills the air.
They taste like you just made them.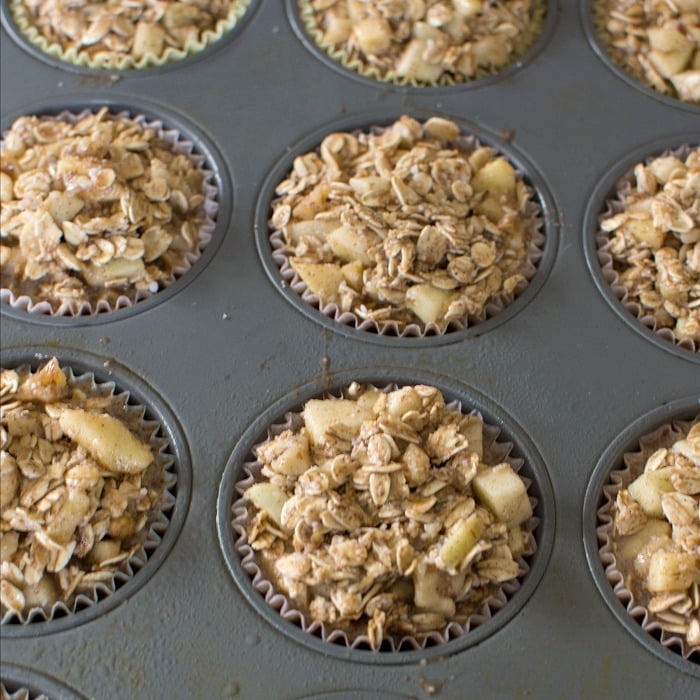 Serve them as a snack
Apple Cinnamon Breakfast Oatmeal Muffins also make a terrific snack for your children.
Anytime they're searching for something to munch on, whip out a nutritious muffin and see how satisfied they'll be.
Eat for an energy boost
After a run or a workout at the gym you need to replenish you energy store. The muffins are perfect.
Do you have a lot of shopping to do but no time to stop and eat? Take a satisfying oatmeal muffin along with you.
And if you're into Fall flavors, these healthy low in sugar No Bake Oatmeal Pumpkin Spice Cookies are for you.

Apple oatmeal muffins are good for you
We make our apple oatmeal muffins with old-fashioned oatmeal. Oatmeal is low in saturated fat and cholesterol but rich in fiber.
I hope you're not getting sleepy with reading this scientific stuff. But eating some form of oatmeal is a great way to start your day, plus it's a natural whole grain oat that helps keep your energy level high.
Now, for those people who have problems with gluten, whole grain oatmeal doesn't naturally contain gluten but it may have a small amount introduced in transportation or processing. Most people can eat the oats without problems.
If gluten is still a problem, there are brands of oatmeal sold as gluten-free,you can find a list here. This could be a good alternative for you.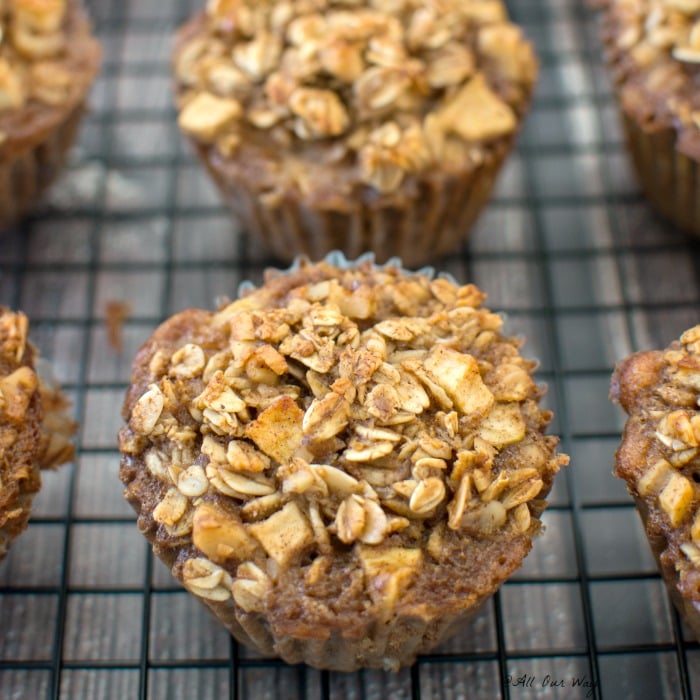 Breakfast oatmeal muffins pack nutrition and taste
Along with good for you oatmeal, we include as many nutritious ingredients as we can in one little ole muffin. The muffin is a breakfast powerhouse with
We hope you give these healthy breakfast muffins a try, we know you won't be disappointed. And if you want to expand your healthy nutritious muffin recipes, you have to try out our Original Morning Glory Muffins recipe. The muffins not only taste amazing first thing in the morning, but they are fantastic as an energy food boost.
More exciting breakfast ideas
These breakfasts are made ahead so you save time in the mornings.
Tutti a tavola è pronto
Un caro saluto e alla prossima.
YOU MAY NEED...
The following are affiliate links. We are a participant in the Amazon Services LLC Associates Program, an affiliate advertising program designed to provide a means for us to earn fees by linking to Amazon.com and affiliated sites.
Thanks for being part of All Our Way!
We love using these silicone muffin pans. In fact we even take them along with us when we travel. They are light and if we don't have muffin cups we just lightly spray them with vegetable oil.We set both muffin pans on a baking tray for ease in taking in and out of the oven. I know you'll love them as much as we do.
What's new? check out my All Our Way Store on Amazon. We'll be adding more items we love and use or wish we had to make cooking fun and easy.

Nutritious Apple Cinnamon Breakfast Oatmeal Muffins
Why have baked oatmeal when you can have healthy breakfast muffins in a handy form you can freeze and reheat? The apple cinnamon oatmeal muffins are packed with protein and good taste. So nice to take some along for the kids and yourself. Make a batch and freeze they come in super handy!
And next time you're in the mood for oatmeal but only in cookies form, try out our Cranberry Oatmeal Cookies With Walnuts recipe. It makes plenty of cookies for family, friends, and gift-giving.
📖 Recipe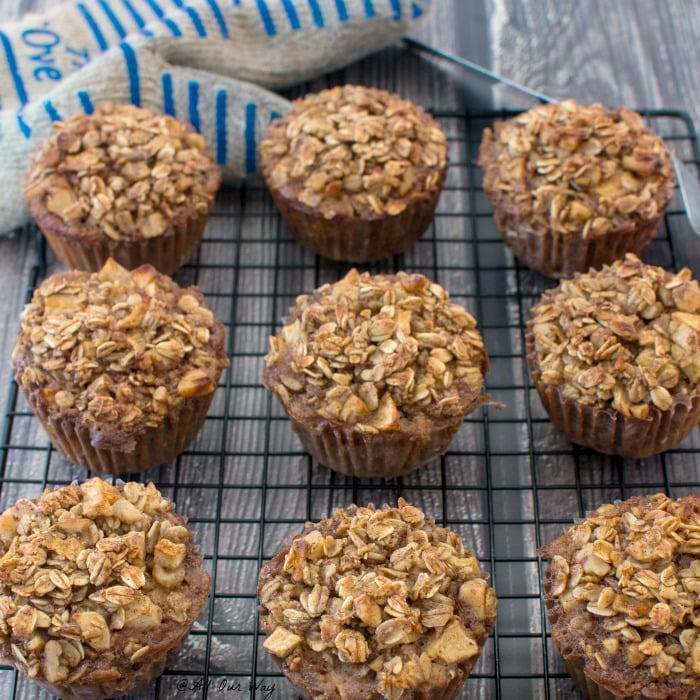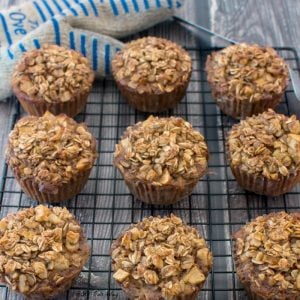 Nutritious Apple Cinnamon Breakfast Oatmeal Muffins
A nutritious breakfast oatmeal muffin that is full of cinnamon apple chunks. The muffin is a great way to fuel your body in the morning or whenever you need clean energy.
Print
Pin
Rate
As An Amazon Associate I earn from qualifying purchases.
Ingredients
2 ¾

cups

old-fashioned oatmeal

not instant, quick cooking, or steal cut

2

cups

peeled and diced apples

Granny Smith and Galas are good, I used one of each

2

large eggs

2

Tablespoons

coconut oil

melted

⅔

cup

packed light brown sugar

1

cup

almond milk

you can use your preferred milk

1

teaspoon

vanilla extract

¾

cup

walnuts

2

Tablespoons

ground cinnamon

2

teaspoons

baking powder

3

scoops vanilla whey protein powder

½

teaspoon

sea salt
Instructions
Heat oven to 350 F.

Line muffin tins with muffin liners that are sprayed with cooking spray.

In a large bow add the brown sugar, eggs, melted coconut oil and whisk until smooth. Whisk in the milk, vanilla and when that is smooth add the apple chunks.

In another bowl combine the oatmeal, cinnamon, baking powder, whey protein powder, salt and mix until combined. Mix in the walnuts. Add the wet ingredients to the dry and stir to combine.

Fill the muffin cups to just below the top. As you scoop be sure to stir the ingredients so you get an even mix of oats and liquid in each muffin.

Bake for 30- 35 minutes. Cool for at least 5 minutes before serving.

Cool completely before storing in sealed container. We wrap each muffin in plastic wrap and then freeze in a zip-lock bag.

When ready to serve, remove the muffin paper and heat in microwave. They taste as if they were just baked.
Notes
If you're allergic to walnuts you may substitute almonds or eliminate the nuts entirely.
Inspired by Apple Cinnamon Baked Oatmeal Muffin Recipe by The Wholesome Dish
Nutrition
Calories:
182
kcal
|
Carbohydrates:
23
g
|
Protein:
3
g
|
Fat:
8
g
|
Saturated Fat:
2
g
|
Cholesterol:
27
mg
|
Sodium:
141
mg
|
Potassium:
191
mg
|
Fiber:
2
g
|
Sugar:
14
g
|
Vitamin A:
55
IU
|
Vitamin C:
1.2
mg
|
Calcium:
96
mg
|
Iron:
1.1
mg
Sign up for the emails and never miss another recipe!!
We'll never share your email or send you spam. Promise
First Published: December 2,2016... Last Updated: April 24, 2019