It all started with a what if . . . and ended with Caramel Apple Pie No-Churn Ice Cream. It was during the holidays and I wanted to make something special. My inner voice was telling me to do something with caramel and apple pie type flavoring . . . but without the crust. What popped into my mind was taking caramel, apples, apple pie spice and blending it all together into a creamy luscious dessert. And then, that little voice said, what if instead of making a filling from scratch you just bought a can of apple pie filling and used that?! Hey, I really liked that voice it was making things easier for me 🙂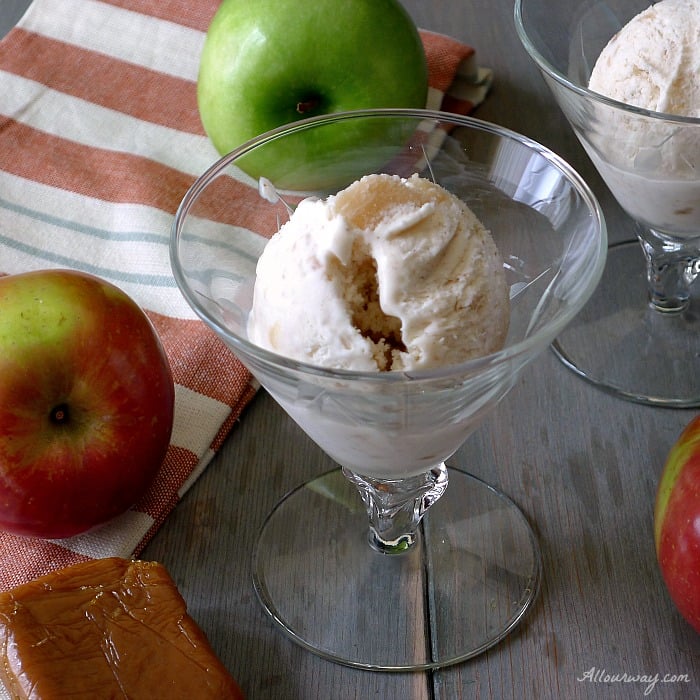 Jump to:
Apple Pie Ice Cream Background
I was so excited about the whole concept. I couldn't wait to go to the grocery store and see what they had. Well, the whole idea must have been karma, kismet, destiny, whatever because on the grocery shelf, in the baking aisle , in front of me was Caramel Apple Pie Filling.
I did a little happy dance right there in the middle of the Kroger aisle.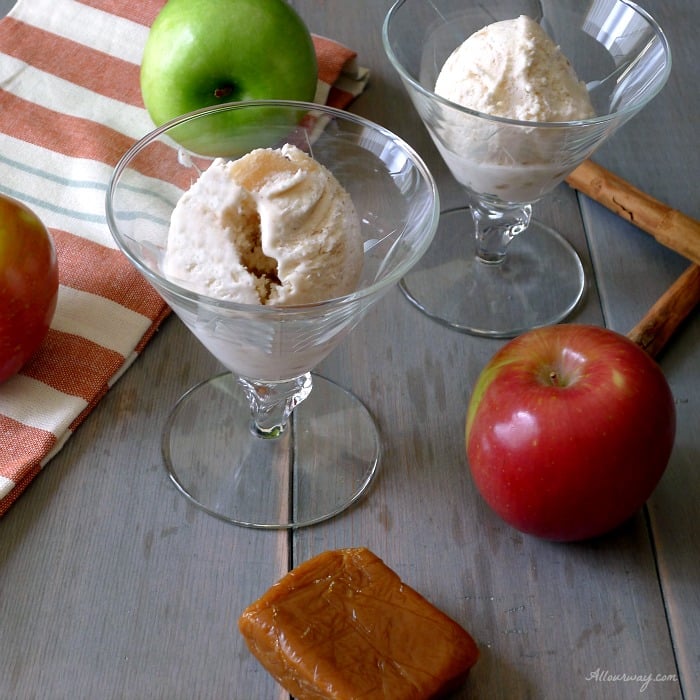 Caramel Apple Pie Ingredients
Next stop was the liquor store to purchase some kind of liqueur that would compliment the caramel apple pie flavoring.
The only apple flavored liquor I knew of was Calvados, its a brandy and we have some at home. That stuff is HORRIBLE and no way was I going to ruin a delicious creamy no-churn ice cream with what I considered rot gut.
So, I asked the proprietor if he had any small bottles of apple liqueur. He didn't but he did have tiny bottles of whipped cream vodka. Well, I thought that should work. I had used vanilla vodka for our No-Churn Strawberry Ice Cream and it tasted delicious.
Home I went with my two little bottles of whipped cream vodka and my caramel apple pie filling.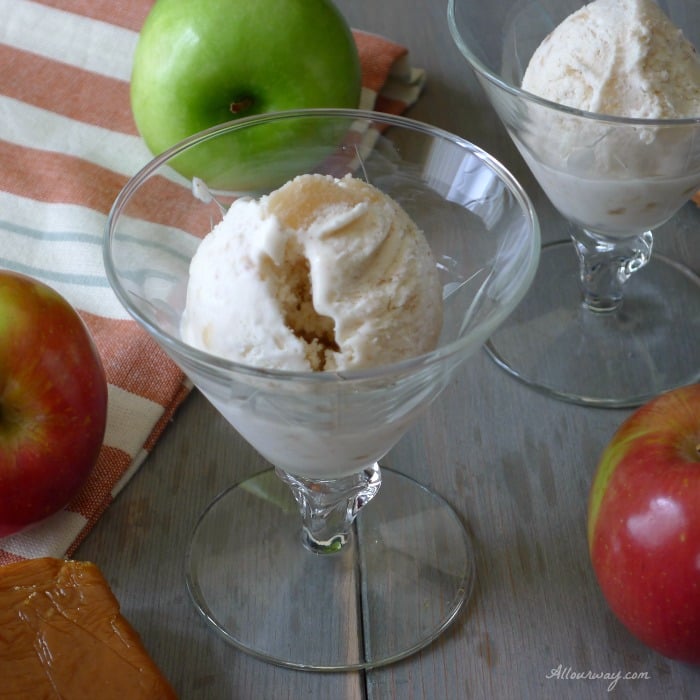 Mixing the Apple Pie Ice Cream
First thing I did once I got home was stick the beaters and bowl into the freezer to get nice and chilled.
I opened the can of caramel apple pie filling and dumped it into another bowl. I took a knife and cut the pieces of apples into chunks rather than slices.
Next I added the can of sweetened condensed milk to the caramel apple pie filling and mixed.
Then came the two little bottles of whipped cream vodka -- about ¼ cup and mixed. I whisked in about 1 teaspoon of apple pie spice and put the bowl into the refrigerator to get the mixture good and cold.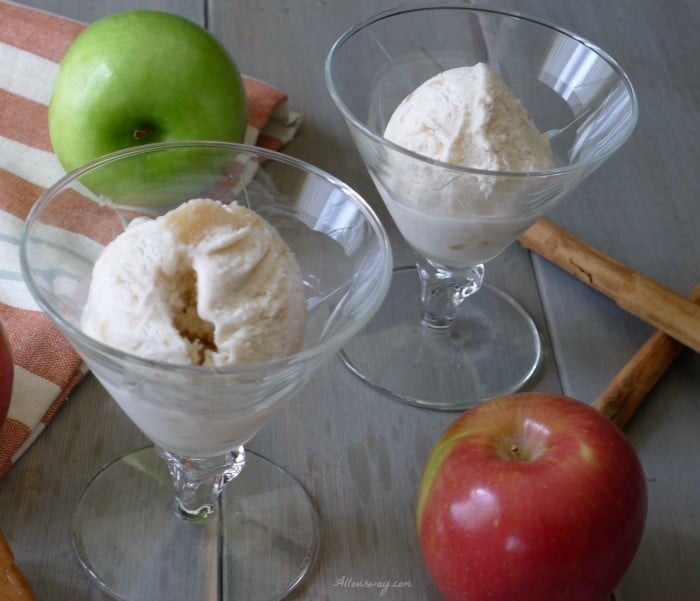 Rich and Delicious Caramel Apple Pie Ice Cream
About 30 minutes later I poured the heavy whipping cream into the bowl that had previously been in the freezer.
I whipped the cream until it was nice and firm, but I was careful, so I didn't want to over beat and end up with butter. Once the cream was at that perfect stage, I gently folded it into the cold apple mixture.
Okay . . . now was the time for one of the most important steps -- the quality control taste. Honey and I each grabbed a spoon , dipped them into the Caramel Apple Pie No-churn Ice Cream and took a taste.
Our eyes opened wide in wonder and I swear we heard the choir on high singing praises to that wonderful creamy dessert. We thought if it tasted this good now, wonder of wonders, what would it be like after the flavors melded?
Our answer? FANTASTIC!
Our one grandson said it tasted like Christmas. You can't get better than that!!
If you can't get enough of apples and the season, then try our American Apple Pie recipe. It's the perfect Fall dessert and so good with a scoop of Caramel apple pie ice cream.
Tutti a tavola è pronto!
Un caro saluto e alla prossima.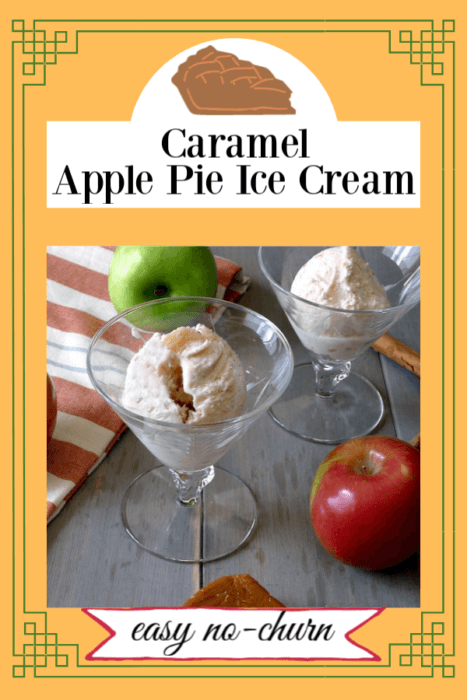 📖 Recipe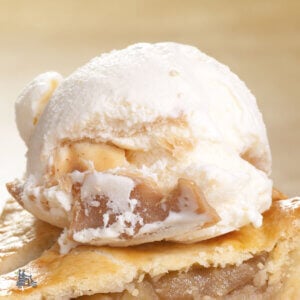 Caramel Apple Pie No-Churn Ice Cream
A easy creamy no-churn ice cream with the wonderful taste of caramel apple pie but with out the crust and fuss. It is made with canned caramel apple pie filling.
Print
Pin
Rate
As An Amazon Associate I earn from qualifying purchases.
Ingredients
1

can caramel apple pie filling

1

can sweetened condensed milk

not evaporated

1

teaspoon

apple pie spice **

2 - 4

Tablespoons

whipped cream vodka -- or similar liqueur to compliment. **

2 ½

cups

heavy whipping cream

Chill the bowl and beaters before whipping the cream
Instructions
Pour the caramel apple pie filling into a bowl and cut the slices into chunks.

Mix the filling, the sweetened condensed milk, and flavored vodka or liqueur, apple pie spice in a bowl and chill.

Whip the cream in the chilled bowl with the chilled beaters until you get stiff peaks.

Using the same beaters slightly whip the chilled caramel apple pie ingredients slightly.

Fold the whipped cream into the caramel apple pie ingredients until mixed. Don't stir! Fold!

Put in containers and freeze. Makes about 2 quarts ice cream.
Notes
** Add additional apple pie spice if you like a stronger flavor.
** Use to your taste. The alcohol helps to act as an "anti-freeze" so that the ice cream doesn't get too hard. If you prefer, you can eliminate the alcohol and add 1 -2 teaspoons vanilla extract. Just give the ice cream a little time out of the freezer before scooping out portions.
Nutrition
Calories:
114
kcal
|
Carbohydrates:
1
g
|
Protein:
1
g
|
Fat:
11
g
|
Saturated Fat:
7
g
|
Cholesterol:
41
mg
|
Sodium:
11
mg
|
Potassium:
22
mg
|
Fiber:
1
g
|
Sugar:
1
g
|
Vitamin A:
435
IU
|
Vitamin C:
0.2
mg
|
Calcium:
20
mg
Sign up for the emails and never miss another recipe!!
We'll never share your email or send you spam. Promise
Note: Recipes and content from ©All Our Way is copyright protected. Please do not use content or recipe without prior written permission. If you want to share the information please link to this post. Grazie.