Desserts - Dolci
Italians, like Americans, love their desserts. Dolci are the Italian name for sweets and they range from light fruit treats to rich cakes. Dolci like desserts of course break down into subcategories. Polenta Cake with Pear recipe is an example of a rustic Italian cake that's made in a slow cooker.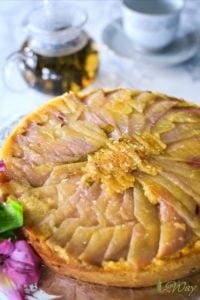 And, we also have a variety of cookie recipes from our childhood favorites to the new and unusual as Nutella Stuffed Chocolate Chip Cookies. This cookies are a chocolate lovers' dream.
And if you prefer desserts that are cold and creamy,  our no-churn ice creams will satisfy that craving. The Toasted Pecan Pumpkin Ice Cream is a perfect addition for Fall gatherings and holidays. Take a look at the Cherry Almond Amaretto Ice Cream. It looks like a holiday celebration in a goblet.
Once you try out the no churn recipes, you'll retire your ice cream machine.
These recipes are all family favorites. From Italian Cream Cake to our delicious holiday after dinner drink Heavenly Homemade Irish Cream. Here we share the recipes we love.