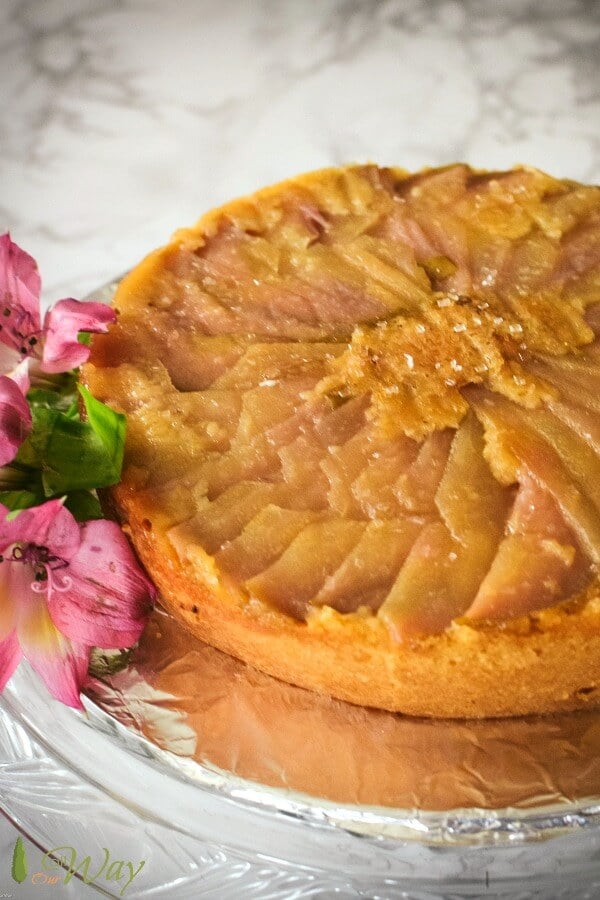 We are starting spring on a sweet note with Slow Cooker Polenta Cake With Caramelized Pears. This simple cake has a golden color from the cornmeal and a texture that is both rustic and delicate at the same time. The sliced pears on the bottom of the pan caramelize as the cake bakes in the slow cooker. Each delicious bite is full of a bright lemon flavor made just sweet enough. The Polenta-pear cake is very satisfying with your morning cup of coffee, tea or as an incredibly tasty snack.
For this recipe you will need: sugar, pears, flour, yellow cornmeal, baking powder, salt, unsalted butter, eggs, lemon zest, milk. white sparkling sugar (optional).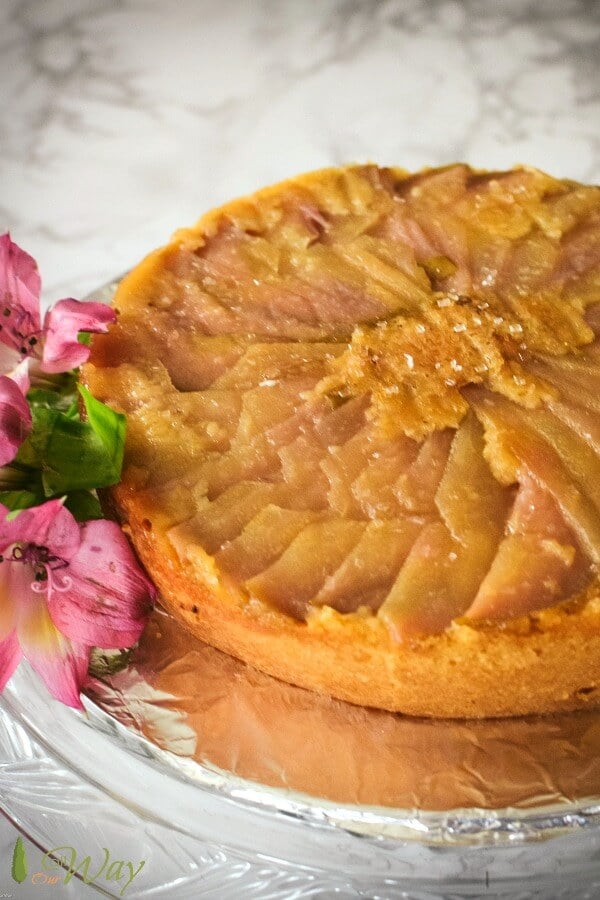 Jump to:
The origin of the Dolce Varese polenta cake
When you think of polenta, you certainly don't think of cake. But that changed when Carlo Zamberletti, a baker in Varese, a town near the Italian-Swiss border, decided he wanted to create a dessert that would represent his city.
He knew it would be quite a challenge, but he was determined!
Carlo started with local flavors and ingredients that was in the Lombardy region. He wanted to create a simple but very tasty dessert, one capable of pleasing every palate.
And so, at the end of the 1930's, the "Torta di Varese" was born. It wasn't long before every bakery in Varese joined the bandwagon to make the delicious polenta cake.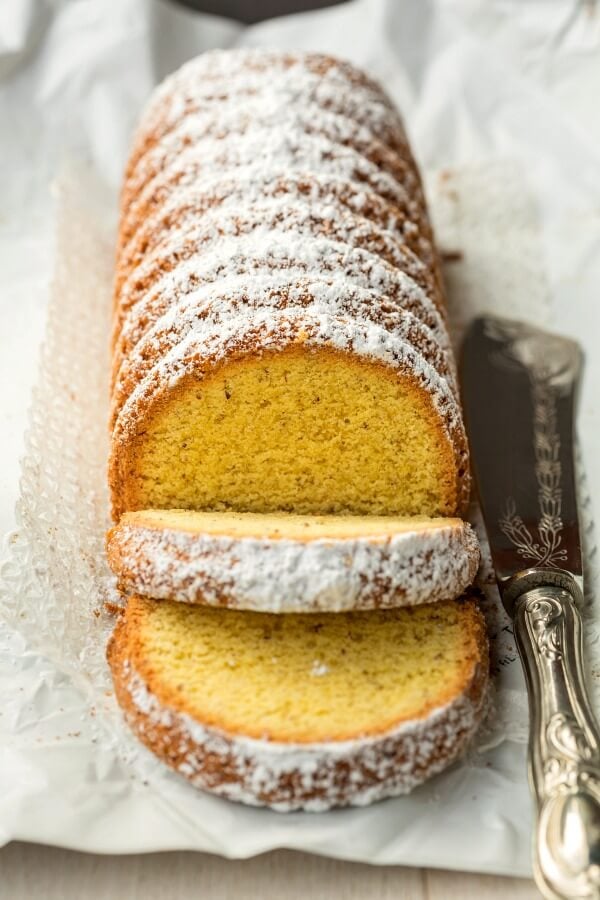 To this day, the local bakeries still make this famous polenta dessert. Although others have tried to duplicate the recipe, only Pasticceria Zamberletti makes the original recipe.
Although in this area the dessert is called Dolce Varese, in other parts of the country it is Amor Polenta. Not many cakes can claim to put passion at the tip of your tongue, but this name holds the promise of a cake love story.
Believe me, the love story blossoms at first taste and grows with each mouthful. It was this amor polenta that inspired us to make our slow cooker polenta cake.
What you need for the pear polenta cake
Corn flour is what gives this cake its beautiful golden color. But it's not the ordinary coarse cornmeal or polenta you find in the grocery store. What you need is a finer ground version called "farina di mais fioreto" or the super refined "farina di mais fumetto".
If you can't find the fine ground polenta or cornmeal, simply put it in a food processor and pulse several times. That should make it fine enough.
The other flour you need is an all-purpose flour. We always use the unbleached type.
Our version of the amor polenta cake is very simple and straightforward with a fresh lemon flavor coming from the lemon zest. The traditional amor polenta has ground almonds and vanilla or a liqueur flavored cake.
We made the cake in a springform pan although you could use a round cake pan. The springform pan, we think, is easier because the side just falls away and you can upend the polenta cake onto a plate or cake stand.
Slow cooker polenta cake
Baking in a slow cooker or crock pot is a new experience for us. It took 3 hours to bake.
We were a bit skeptical about baking in a slow cooker at first, but the cake turned out perfectly. I thought that this cake was an anomaly but apparently there are quite a few cake recipes that you can make such as:
It appears that there's a slow cooker cake for every taste. Where have I been? So many cakes that you don't have to watch like a hawk!!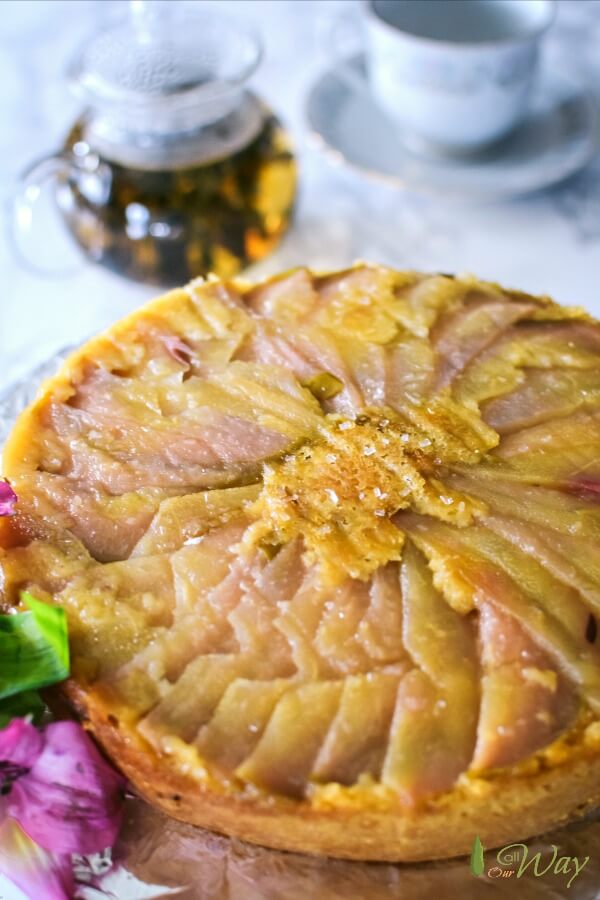 What if I don't have a slow cooker?
No Problem!! You can bake the cake in the oven. If you want to know the oven temperature equivalent to a slow cooker, according to Iowa State university:
The low setting on a slow cooker is generally 190 ℉.
The high setting usually sits at 300 ℉.
How do I know what temperature to set my oven?
If you would like to turn one of your favorite recipes from a crockpot recipe to an oven recipe or vice versa a general conversion would be:
Oven Times 15-30 minutes Slow Cooker Times and Settings 1 ½ - 2 ½ hour on High or 4-8 hours on Low.
Oven Times 35-45 minutes Slow Cooker Times and Settings 3-4 hours o High or 6-10 hours on Low.
Oven Times 50 minutes - 3 hours Slow Cooker Times and Settings 4-6 hours on High or 8-18 hours on Low.
For this Pear Polenta Cake, set the oven temperature for 325 ℉ , position the oven rack in the center, and bake for 25 to 3o minutes.
I love experimenting and I'll be taking some of my favorite oven recipes and seeing how well they do in a slow cooker. The idea is really appealing with summer and and a packed schedule.
What recipe would you like to convert to a slow cooker?
I know you're going to simply love this recipe. Especially if you enjoy desserts that aren't extremely sweet! I would have loved to make this for my mamma and papà -- they loved desserts with fruit.
I understand why this dessert has the name "amor polenta".
If you have any questions please contact us and we'll get back with you ASAP.
Tutti a tavola è pronto!
Un caro saluto e alla prossima.
YOU MAY NEED...
The following are affiliate links. As An Amazon Associate I earn from qualifying purchases.
This leakproof springform pan is ideal for making all sorts of delicious cakes and cheesecakes. We have several in different sizes. The one we used for this cake is an 8-inch pan. The lip on the bottom prevents leaking. If you plan on using several sizes, get the 3 pack. It's very economical.

Slow Cooker Polenta Cake with Caramelized Pears
When you make this cake I know your heart will beat with excitement. You'll immediately want to slice it and pair it with a cup of coffee or espresso. And then, if it's not special enough by itself, you may even want to top it with a bit of whipped cream or ice cream.
Believe me, once your family or guests finish their slice, don't be surprised when they come back demanding seconds. My love for rustic cakes just keeps growing. See if you and your family don't feel the same way.
And if you love fruit desserts, try our summery Cherry Delight Dessert. This is a no bake version and since it uses canned cherry pie filling you can make it all year long. Are you an apple pie lover? This caramel apple square recipe is an easy way to enjoy your apple dessert.
If you like this recipe, please consider giving it a five-star rating.
📖 Recipe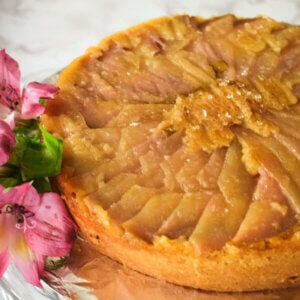 Slow Cooker Polenta Cake with Caramelized Pears
This simple rustic cake is one that you'll want to eat throughout the year. It is simple to make and the fruit on the bottom of the cake caramelizes as it bakes. The pear slices form a gorgeous star pattern on top of the cake.
Print
Pin
Rate
As An Amazon Associate I earn from qualifying purchases.
Ingredients
¾

cup

sugar

2

tbs

sugar

1

cup

all-purpose flour

¼

cup

polenta

finely ground (cornmeal)

1 ½

teaspoon

baking powder

1

teaspoon

salt

12

tbs

unsalted butter

softened (1 ½ sticks)

2

eggs

large

½

teaspoon

lemon zest

grated

½

cup

milk

2

pears

large, ripe, cored and sliced
Instructions
Butter and flour a 8-inch round springform pan or cake pan. Cut a circle of parchment paper and place it on the bottom. Butter the paper. Sprinkle the 2 Tablespoons of sugar evenly over the bottom of the pan.

Arrange the pear slices on the bottom of the pan in a pinwheel fashion, overlapping them slightly.

Sift together the flour, cornmeal, baking powder, and salt.

In a large bowl with an electric mixer, beat the butter until light and fluffy. Gradually beat in the remaining ¾ cup sugar, scraping the sides of the bowl.

Beat in the eggs, one at a time, and the lemon zest until blended.

On low speed, beat in half of the dry ingredients. Add the milk. Stir in the remaining dry ingredients just until smooth.

Scrape the batter into the prepared pan, spreading it evenly over the pears. Place the pan in the slow cooker.

Cover and cook on high for 3 hours, or until a toothpick inserted in the center comes out clean.

Cool on a rack for 10 minutes. Invert the cake onto another rack and let it cool completely. Gently peal off the parchment paper.

Serve plain or with sweetened whipped cream or ice cream.
Position oven rack in the center. Preheat oven to 325 ℉.
Follow instructions as for the slow cooker.

Bake for 25- 30 minutes or when cake tester (toothpick ????) inserted in center comes out clean. Follow the rest of the instructions for slow cooker.
Nutrition
Calories:
290
kcal
|
Carbohydrates:
36
g
|
Protein:
3
g
|
Fat:
15
g
|
Saturated Fat:
9
g
|
Cholesterol:
70
mg
|
Sodium:
253
mg
|
Potassium:
168
mg
|
Fiber:
1
g
|
Sugar:
21
g
|
Vitamin A:
510
IU
|
Vitamin C:
1.7
mg
|
Calcium:
60
mg
|
Iron:
0.9
mg
Sign up for the emails and never miss another recipe!!
We'll never share your email or send you spam. Promise
Note: Recipes and content from © 2014-2019 All Our Way are copyright protected. Please do not use content or recipe without prior written permission. If you want to share the information please link to this post. Grazie.