This amazing elegant Tiramisu Cake Topped with Zabaglione Cream is a recipe I wish I would have found years ago. This popular Italian dessert is made in a simple poke cake form with easy to find ingredients. The recipe keeps the original flavors in this easy family favorite. amazing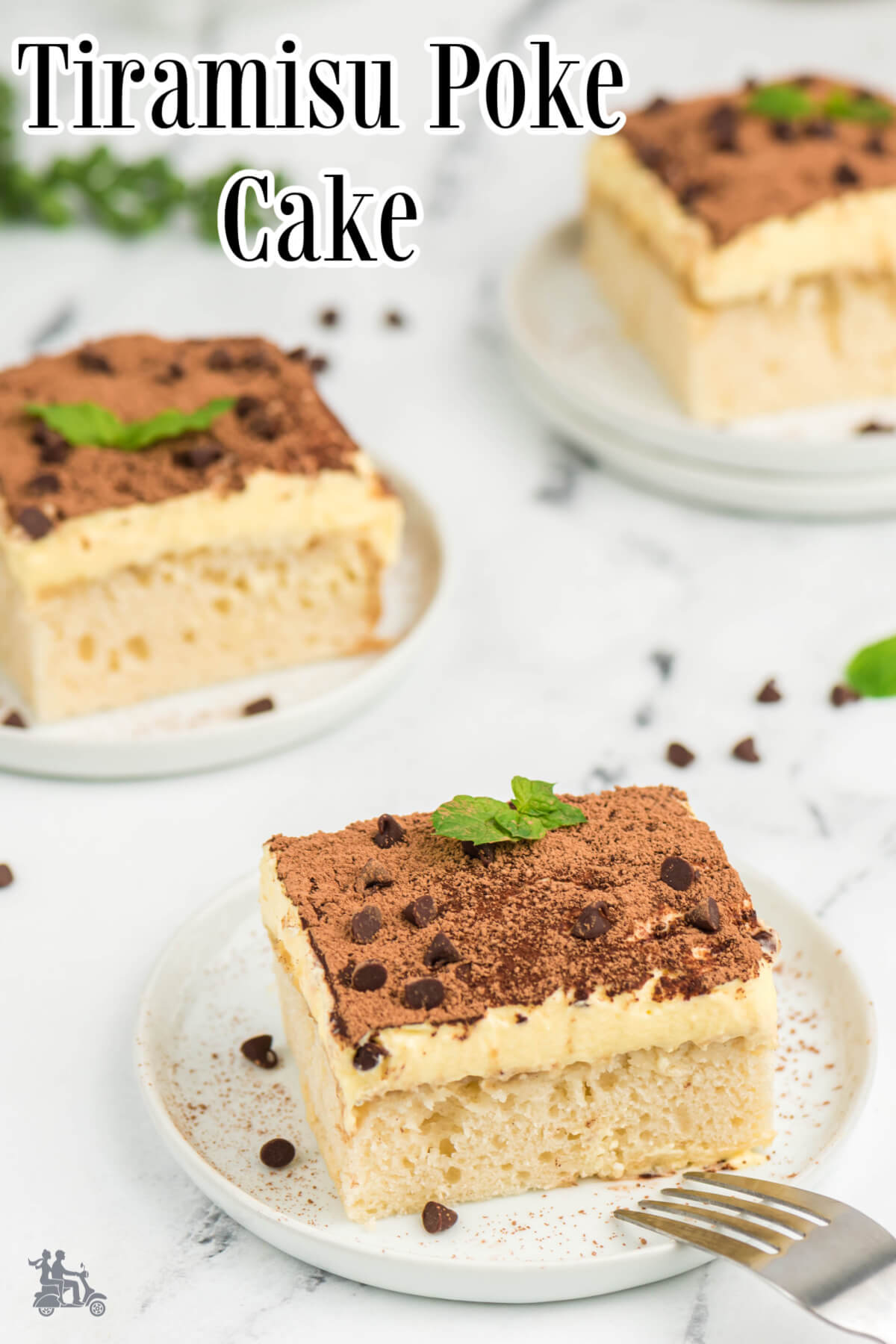 Jump to:
❤️ Why you'll love this new form of Tiramisu
it's an easy tiramisu recipe.
not difficult to find ingredients.
neat portions and servings.
moist cake with the all the flavors of the Italian classic dessert.
creamy topping that finishes that compliments all the flavors.
The minute I saw the recipe it peaked my interest. I knew that I had to make it! I'd never made a poke cake before and I loved the idea.
🛒 Ingredients
As an Amazon Associate I earn from qualifying purchases.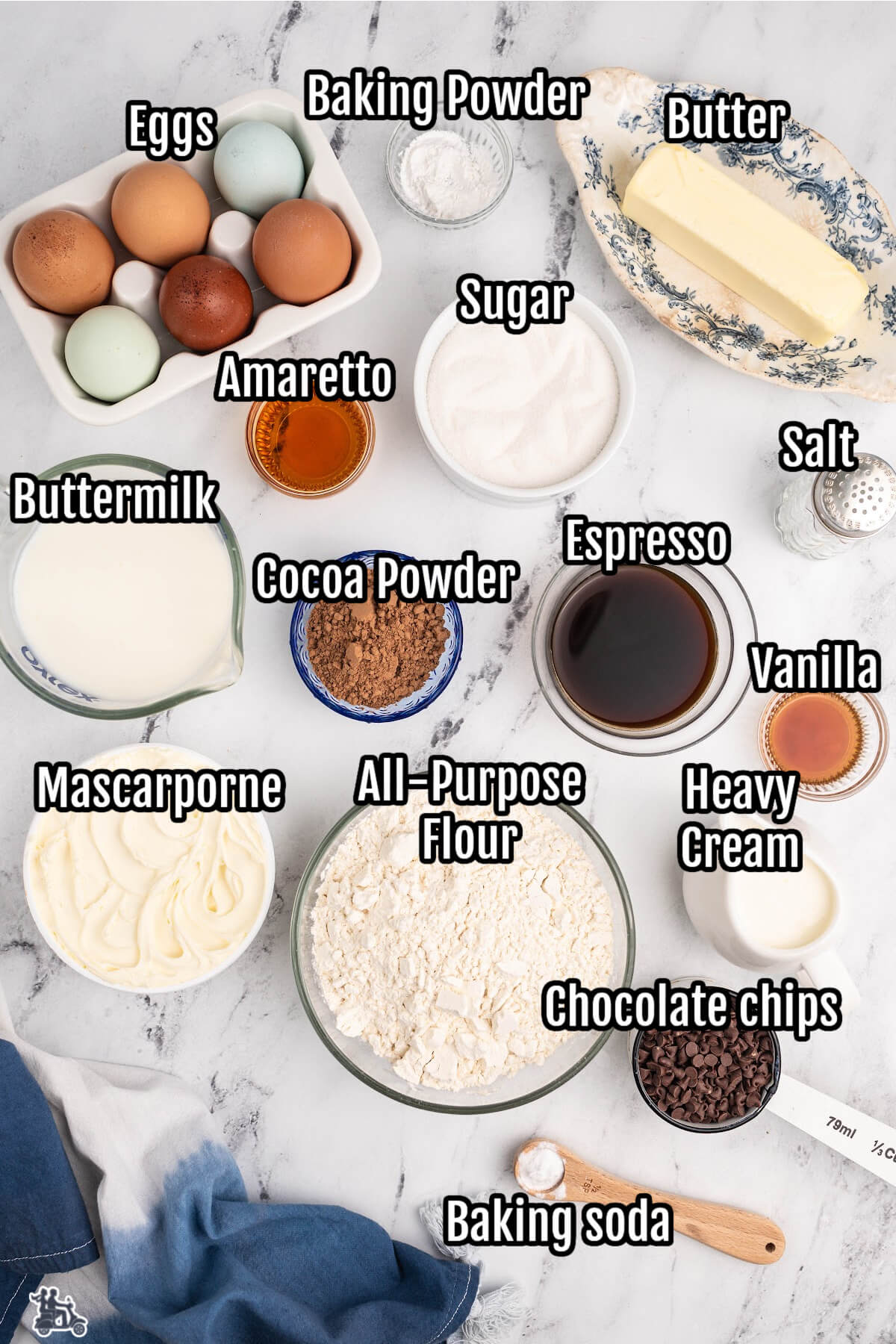 Note: The full list of this Tiramisu Poke Cake with Zabaglione cream Topping Recipe ingredients with their amounts and options are listed in the recipe card below.
Unsalted butter -- may use salted
White Sugar
Eggs
All-purpose flour
Baking powder
Baking soda
Kosher salt -- omit if using salted butter
Buttermilk
Mascarpone
Heavy whipping cream
Amaretto liqueur
Chocolate chips
🗒 Instructions
Note: This is an overview of the instructions. The full instructions are in the recipe card below.
The Tiramisu cake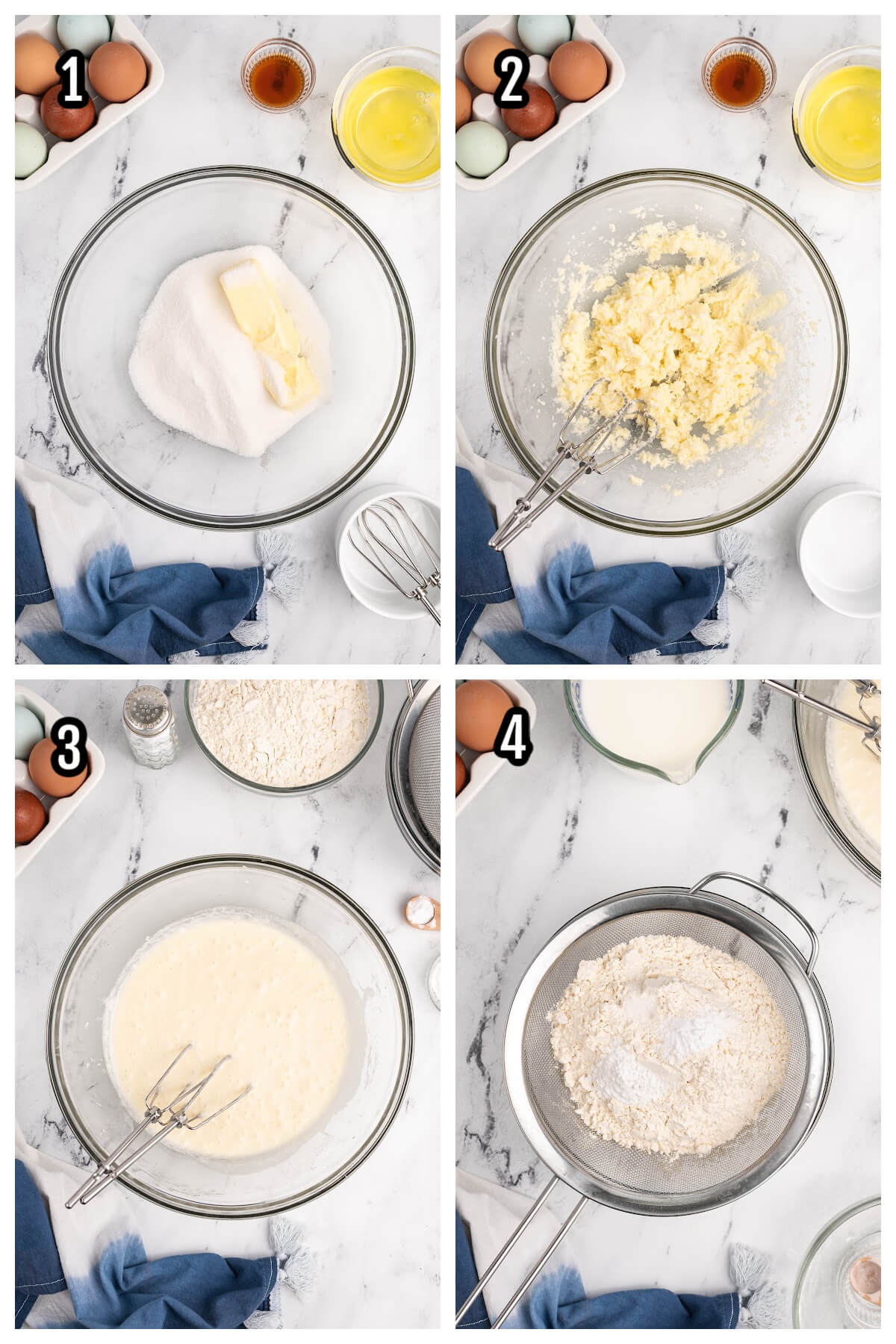 Measure out sugar and butter into bowl.
Beat butter and sugar together.
Add egg whites one at a time to butter mixture then add vanilla and mix.
Sift flour, baking soda, baking powder, salt together.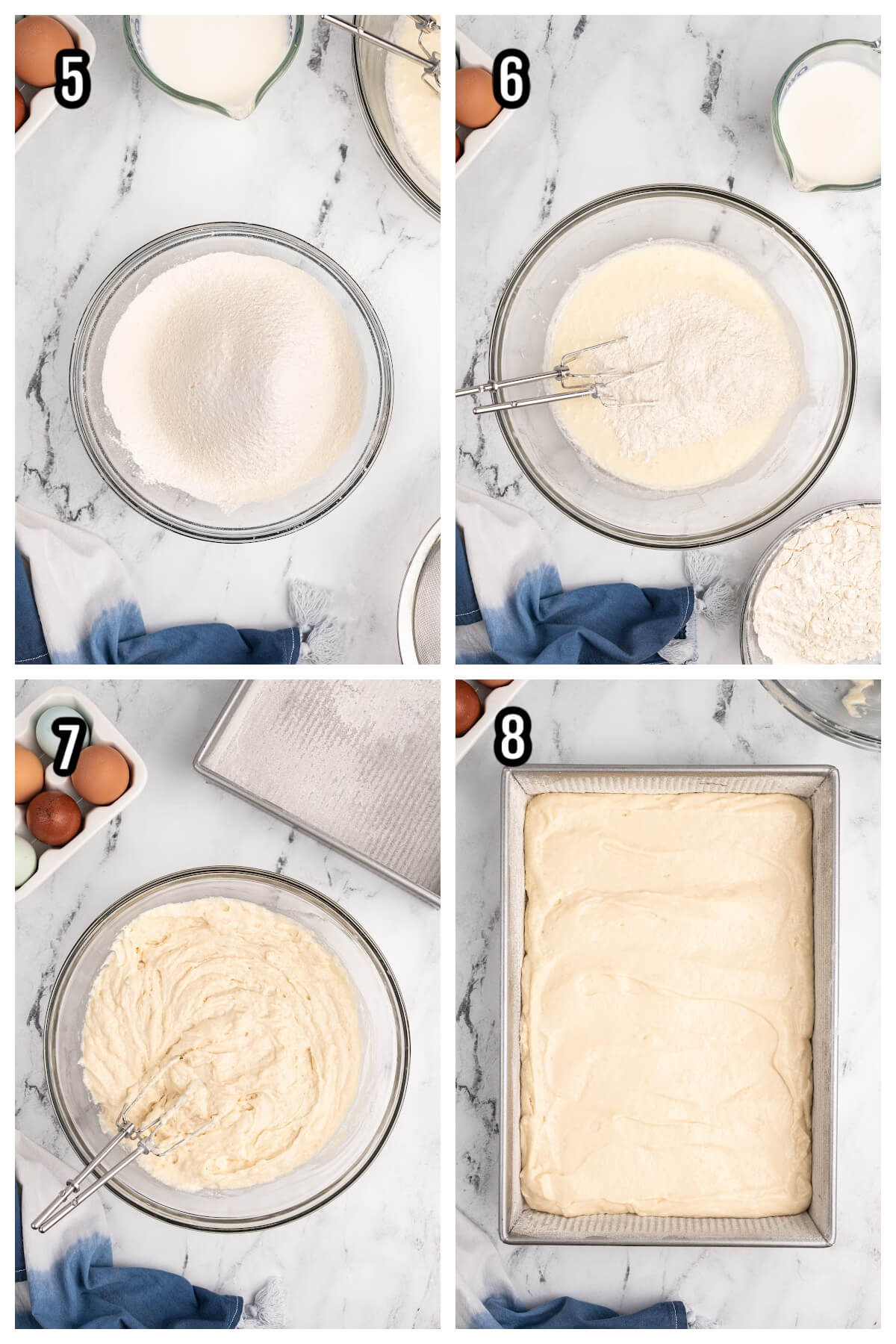 Alternated adding flour mixture and buttermilk to the butter.
Start with the flour mixture.
End with the flour mixture.
Pour the batter into prepared pan. Bake for 25-30 minutes at 350℉.
Zabaglione topping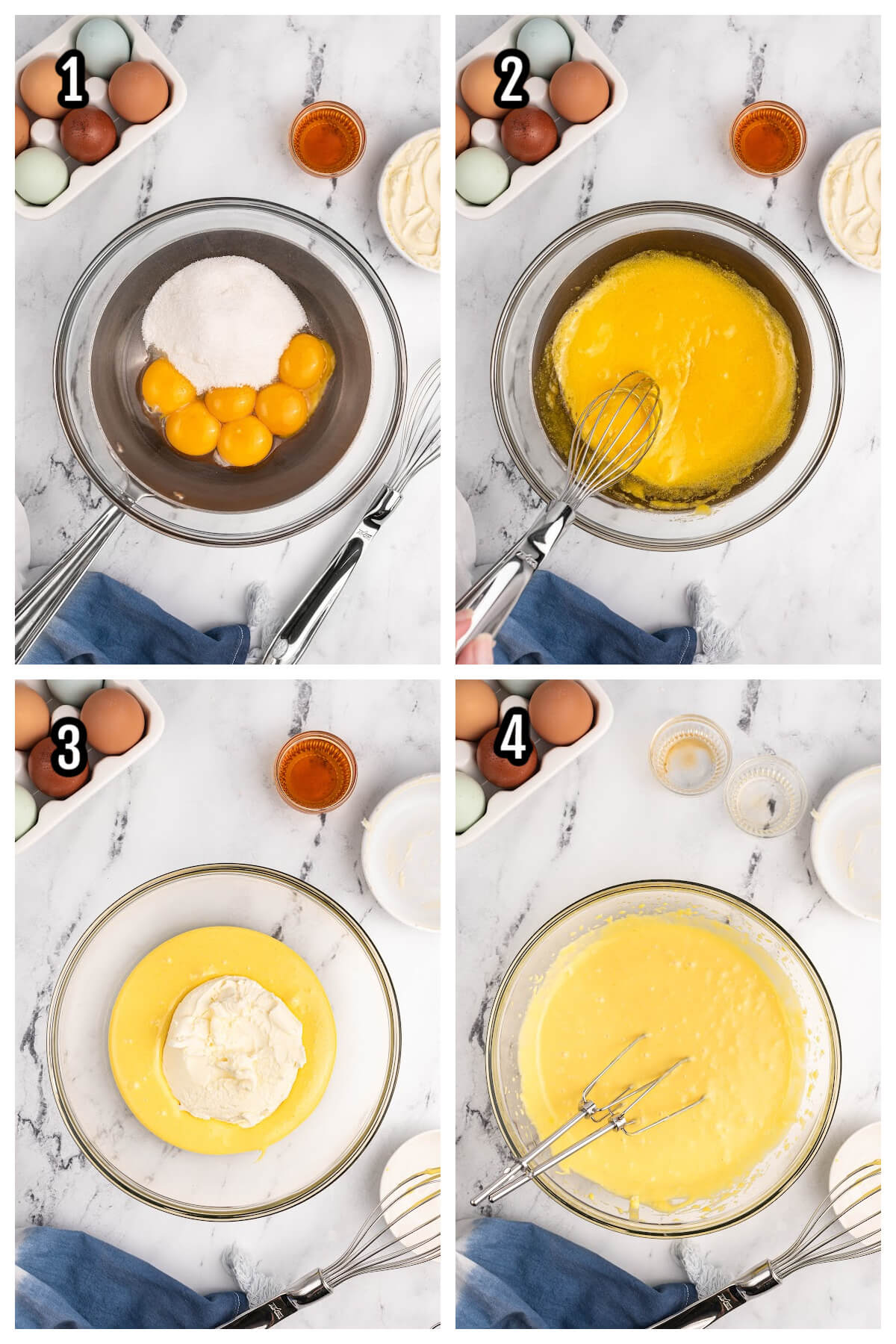 Put the eggs and sugar in glass bowl on top of double boiler.
With wire whisk beat egg yolks with sugar until blended.
Once eggs thicken and reach 145 to 150℉ take eggs off heat and add Mascarpone.
Add the Amaretto liqueur and beat until combined. Cover with plastic wrap and let cool.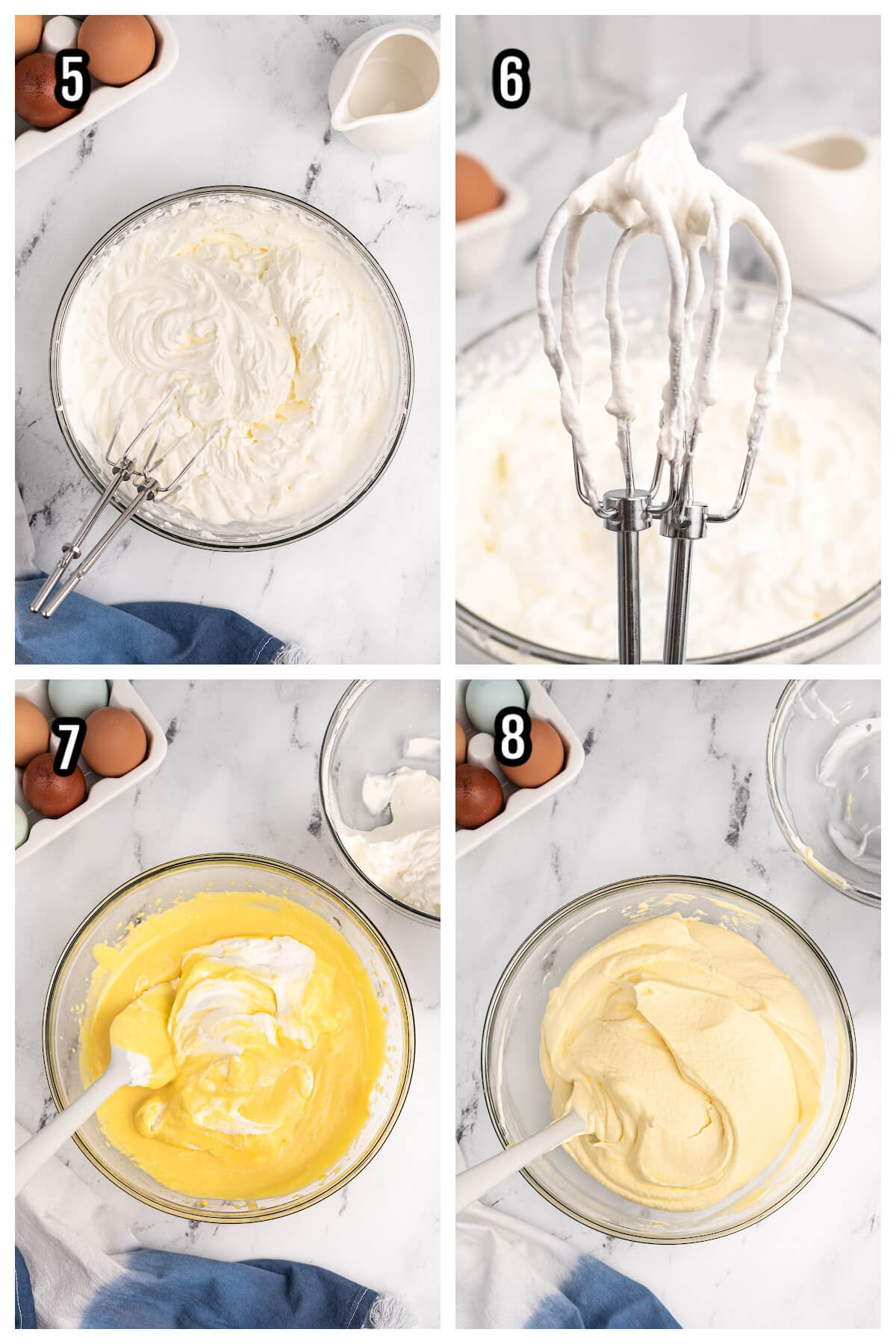 In a chilled bowl whip the cream to stiff peaks.
Do NOT overbeat or you'll have butter.
Gently fold in the whipped cream into the zabaglione mixture.
Set aside.
Assembling the Italian dessert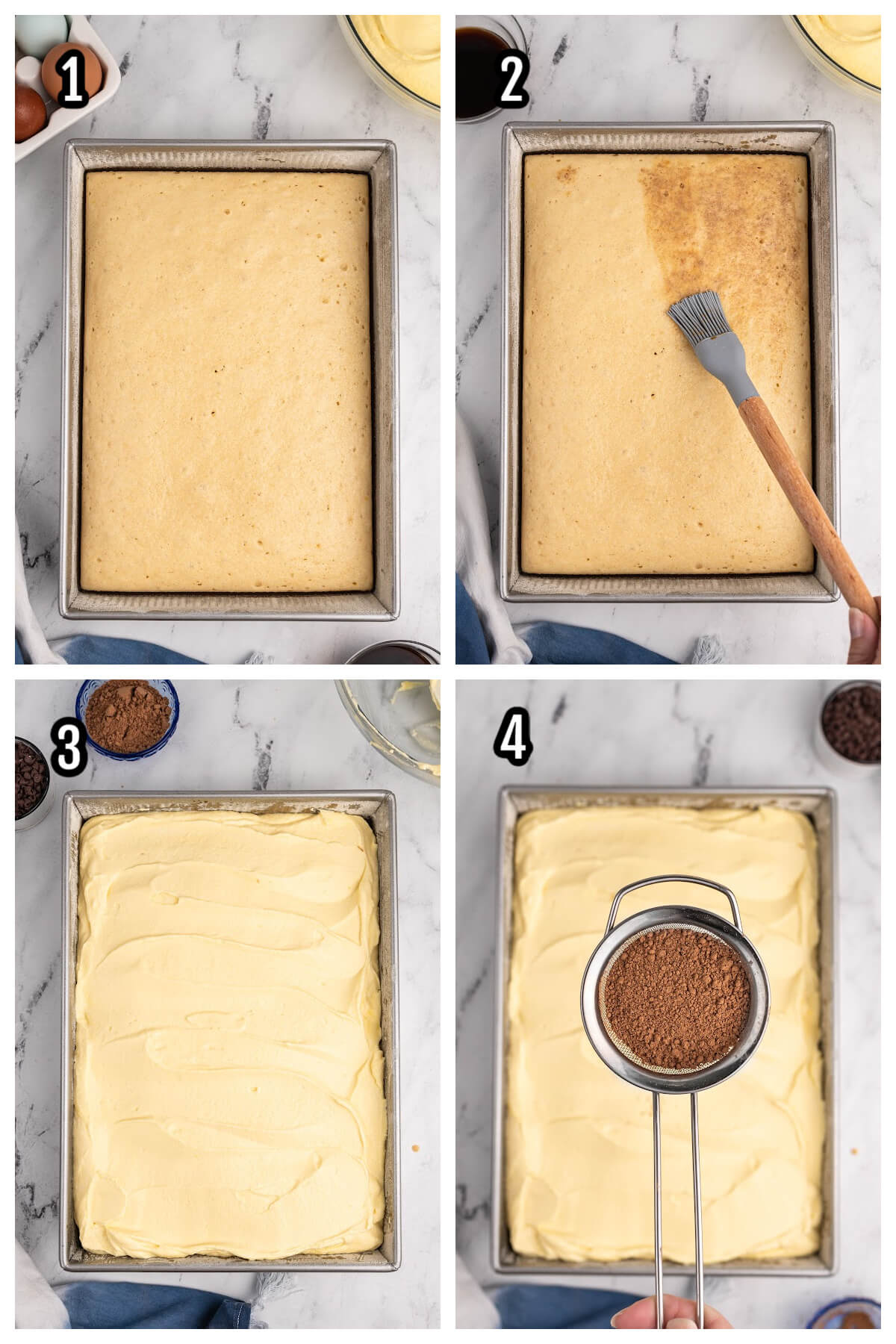 Prepare the espresso coffee.
Pour the coffee into a food grade sprayer or into a bowl and use a pastry brush to paint the coffee onto to the cake.
Spread the Zabaglione cream evenly over the espresso soaked sponge cake.
Spoon the cocoa powder into a small fine sieve.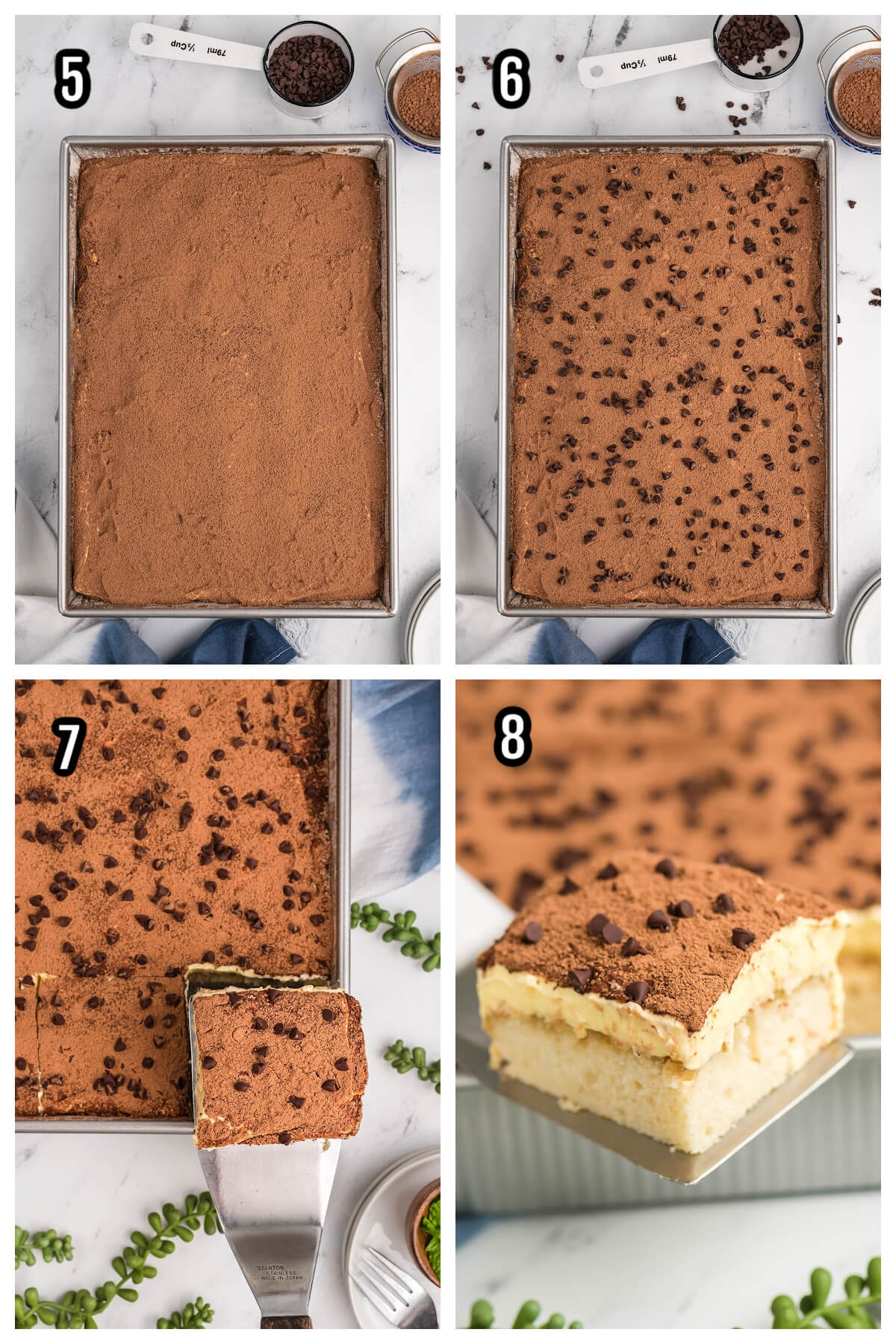 Shake the sieve over the tiramisu cake evenly dusting the top with the cocoa powder.
Sprinkle crushed chocolate chips over the top of the cake.
Cut the tiramisu cake into a square serving.
Place the Italian dessert on a plate and enjoy!
🔪 Equipment
The following are affiliate links. We are a participant in the Amazon Services LLC Associates Program, an affiliate advertising program designed to provide a means for us to earn fees by linking to Amazon.com and affiliated sites.
You'll need the following items to make this recipe successfully
Electric mixer -- stand or hand size
Whisk
Glass mixing bowl
Liquid measuring cup
Measuring spoons
Pastry brush or....
13 X 9 Baking pan -- glass or metal
Silicone or rubber spatula
🤔 FAQs
Why is tiramisu so bad?
The dessert is high in fats. Enjoying a dessert occasionally in a modest portion size is not terrible. For people who follow a healthy life style a dessert once in a while is NOT a problem.
Why is tiramisu so expensive?
Mascarpone cheese is expensive and so is heavy whipping cream. The rest of the ingredients are pretty budget friendly.
Does tiramisu cake contain alcohol?
Traditional recipes for tiramisu contain two alcohols, Marsala wine and rum. Our Tiramisu uses a small amount of Amaretto and the alcohol in the vanilla extract. This recipe is very low in alcohol and its effects.
What does tiramisu mean?
Tiramisu literally means "pick me up." This is one of Italy's most popular dessert. It is served at the end of a meal and supposed to cheer you up. The origin of Tiramisu points to the 1960s in the region of Veneto in Northeastern Italy, which is where the city of Venice is located. Roberto Linguanotto, owner of "Le Beccherie" of Treviso, Italy was behind the creation of the first Tiramisu. This special dessert was created in the bakery of his restaurant.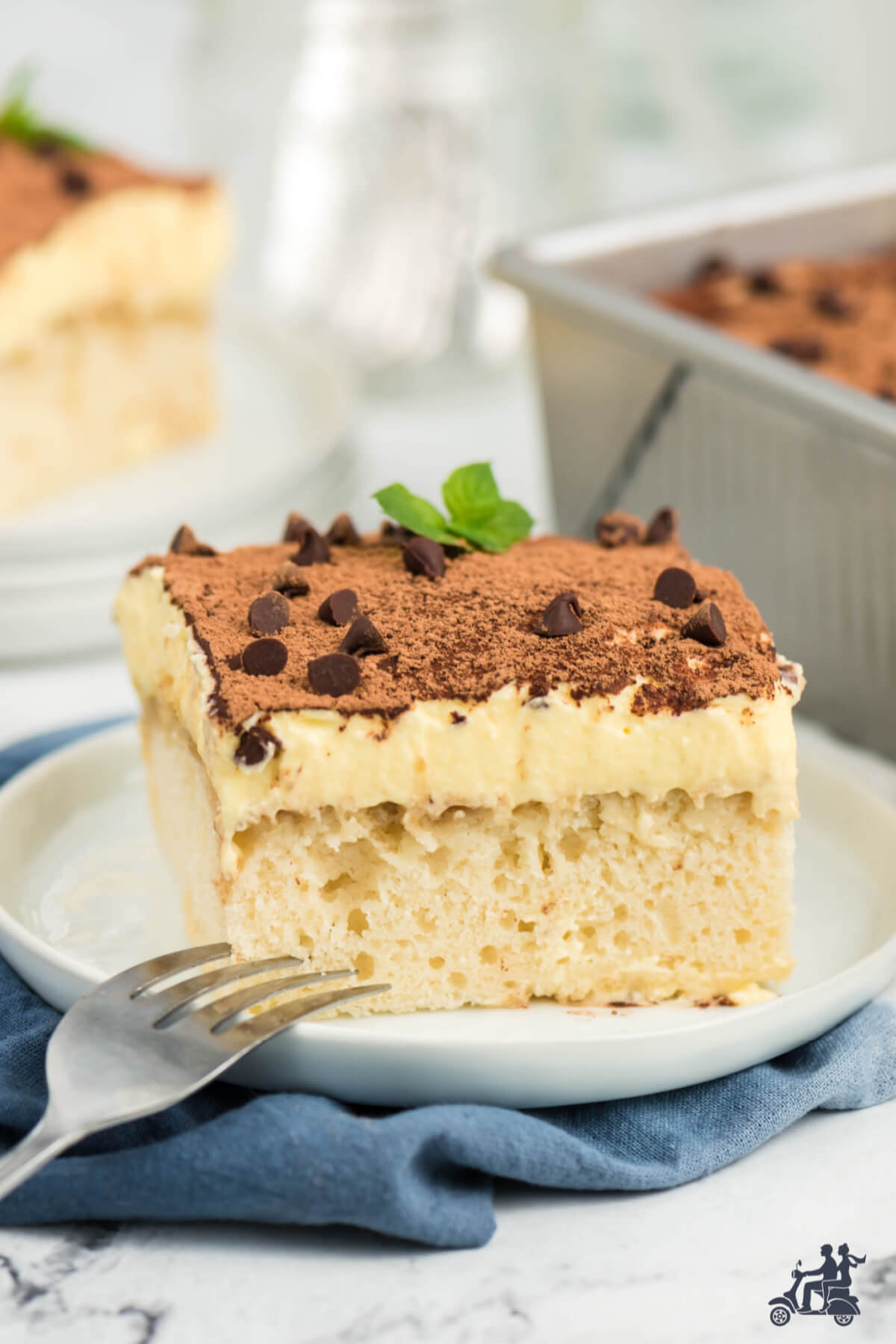 👩🏻‍🍳Tips
This cake is full of the flavors of a classic tiramisu – rich chocolate, smooth coffee, and delicate whipped cream that make for a memorable and marvelous dessert! This poke cake marinates overnight in the delicious flavors of Kahlua and cream, making it moist and irresistible. I love the added dusting of cocoa on top for a pretty appearance and a little extra chocolate
The topping is similar as the filling in tiramisu. Amazing stuff I tell you.
It might seem a little intimidating, but I promise you it's not hard. And once you make it the first time, you'll want to make it and eat it every week.
The combination of the soaked cake and the tiramisu topping is sheer heaven. It tastes just like tiramisu, but without as much fuss. Please, please make it. You won't regret it.
📗Variations
Plus, there are different tiramisu options that work well with each season of the year. I love the idea of fruit-based tiramisu recipes for a cool summer treat and then playing with a pumpkin tiramisu recipe in the fall to welcome autumn!
🥫Storage
Cover the poke cake and store it in the refrigerator. This is a great make ahead cake and can be stored in the refrigerator for 3-4 days. this cake
You can freeze this cake. Place any leftover pieces in an airtight container and freeze for up to 2 months. When you are ready to serve it, allow it to defrost in the refrigerator. Then open and serve.
📚Related recipes
Another Italian dessert in cake form is this Cannoli Cake. The cake is light as a feather and the cream filing and topping is rich and smooth. Add the chocolate covered strawberries and you have an elegant and decadent dessert.
The perfect finish to any meal is our Cappuccino Gelato. It's quick and easy since it's a no- churn recipe and always a favorite.
☕️ Chiacchierata (small chat)
The perfect opportunity arose to test this cake when our son's and grandson's birthday celebration popped up. We knew this dessert would be a total winner and a complete switch from our favorite Italian Cream Cake.
For some time we'd been planning on a family fish fry, but as busy families go, work and sport schedules made it impossible. When two birthdays came up in the same week we thought it an ideal time to combine the two celebrations and enjoy a rollicking family feast.
All family gathering was a huge success. All of the dishes the family provided for the birthday celebrations were spectacular!
Our daughter, who always requests Italian Cream Cake for her birthday, loved this cake so much she requested it for her birthday this year.
Tutti a tavola è pronto!
Un caro saluto e alla prossima!
Next time try our Cannoli Cake.
YOU MAY NEED...
The following are affiliate links. We are a participant in the Amazon Services LLC Associates Program, an affiliate advertising program designed to provide a means for us to earn fees by linking to Amazon.com and affiliated sites.
Thank you for being part of All Our Way!
There is nothing better than having a pretty serving baking pan like this to take to a gathering or potluck. After I made this cake I got a pretty serving pan so that I could really show off the beautiful cakes, desserts, and casseroles.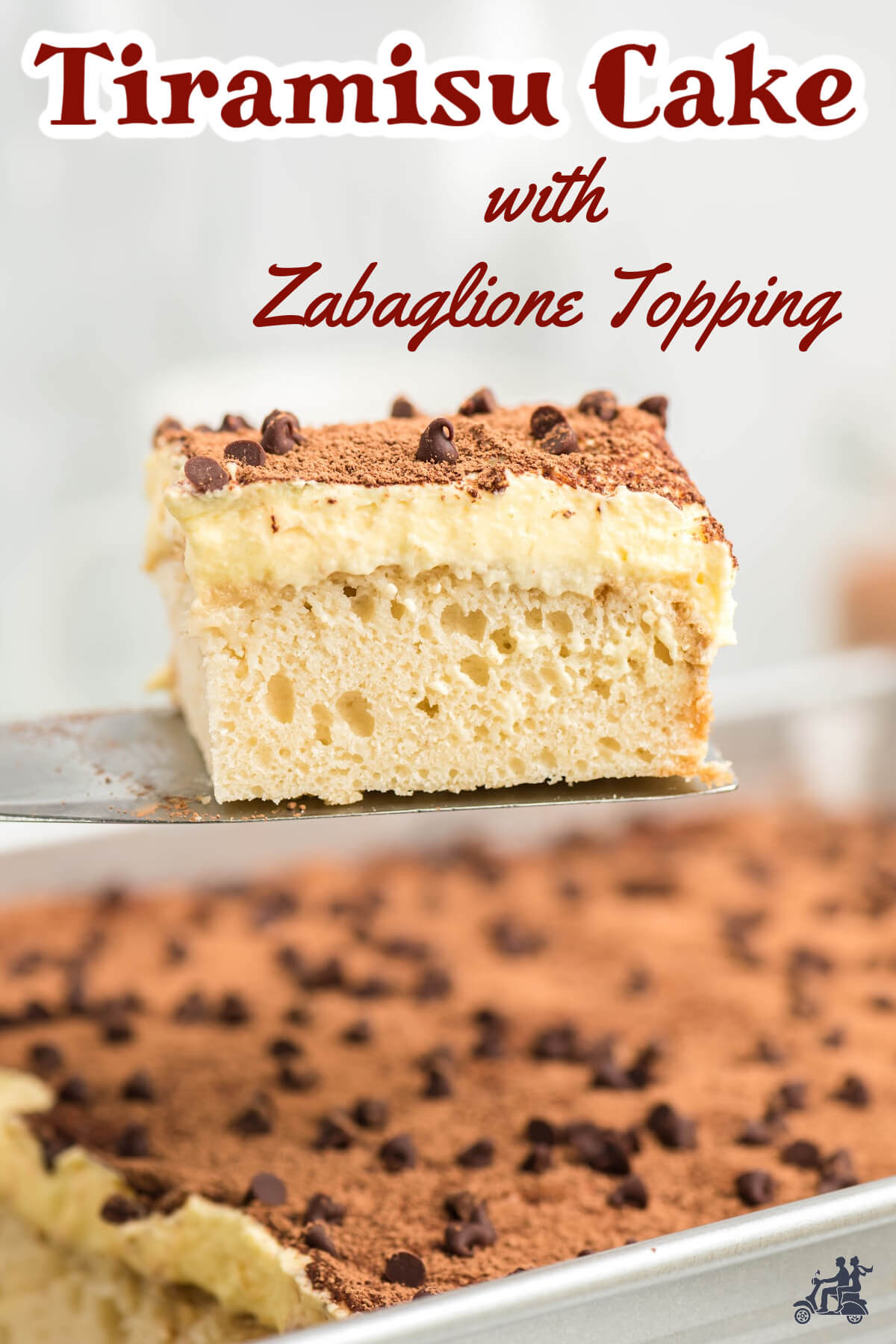 📝 Recipe Card
This Tiramisu cake will soon become a family favorite. The sponge cake keeps all of the flavor of the original Italian dessert but it's much easier to make. be sure to save this recipe -- you won't regret it.
Next time you're wanting a chocolate espresso combination dessert, you've got to make our Espresso Coffee Chocolate Chip Cookies.
If you love this recipe please leave a 5 star rating ⭐️⭐️⭐️⭐️⭐️.
📖 Recipe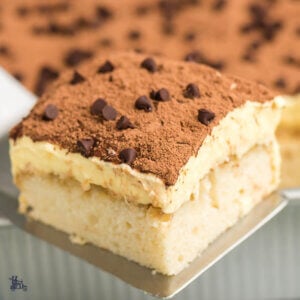 Tiramisu Cake Topped With Zabaglione Cream
A delicious variation of the popular Italian dessert with the same name. The bare cake is lightly sprayed with espresso and then topped with Amaretto laced Zabaglione Cream.
Print
Pin
Rate
As An Amazon Associate I earn from qualifying purchases.
Ingredients
White Cake
½

cup

unsalted butter

room temperature

1

cup

white granulated sugar

1

teaspoon

vanilla

4

egg whites

room temperature ( save the yolks)

2

cups

all purpose flour

1

teaspoon

baking powder

½

teaspoon

baking soda

¼

teaspoon

salt

1 ⅓

cup

of buttermilk
Zabaglione Cream
8

oz.

Mascarpone

1 ½

cups

heavy whipping cream

⅔

cup

granulated sugar

6

egg yolks

3

Tablespoons

Amaretto liqueur

1

teaspoon

vanilla

⅓

cup

cold espresso coffee for spraying on bare cake

2-3

tablespoons

cocoa powder for dusting

⅓

cup

crushed chocolate chips - optional
Instructions
Cake
Preheat the oven to 350 F and grease and flour a 9x13 baking pan.

In a bowl, beat butter for about one minute and then add sugar. Beat for another 1 -2 two minutes, until light.

Add egg whites one at a time, beating well after each addition. Add vanilla and mix until combined.

Sift flour, baking soda, baking powder, salt together.

On the low speed of your electric mixer alternate adding the flour mixture and buttermilk starting and ending with the flour mixture. Mix until just combined.

Pour the batter into the prepared baking pan and spread out evenly. Bake for about 25-30 minutes, until the toothpick inserted in the center of the pan comes out clean.

Cool completely before frosting.
Zabaglione Cream
Place the egg yolks and sugar in the top of a double boiler or a large heat proof bowl over a saucepan that has an inch or two half of water, making a kind of double boiler.

With a wire whisk or with the whisk attachment of a hand mixer beat the egg yolks with the sugar until they are completely combined and the mixture has a glossy appearance.

Turn on the flame, moderately high until the water boils, then reduce the heat to a simmer and keep whisking. Make sure the bottom of the double boiler or bowl does NOT touch the water. As the water heats the egg mixture it will begin to thicken. As it thickens it will grow in volume. Keep whisking. This takes a little patience but it is well worth the effort. Your zabaglione will be done when it is thick, frothy and holds ribbons form as you whisk it. The temperature reaches 145 to 150 degrees F, on an instant-read thermometer.

Take the zabaglione off the heat and continue to whisk. Add the Mascarpone to the whipped yolks and beat until combined. Add the Amaretto liqueur. Cover with plastic wrap and let cool completely.

In a separate bowl, that has been chilled along with the beaters, whip the cream to stiff peaks taking care NOT to overbeat and make butter.

Gently fold in the whipped cream into the zabaglione mixture and set aside.

Put the espresso in a food safe spray bottle. Spray the white cake with the espresso making sure you don't oversaturate. The ⅓ cup of espresso should be just right. If you don't have a spray bottle you can do it by hand-- be sure you don't get too much in one spot.

Spread the Zabaglione Cream evenly over the top of the espresso-sprayed cake.

Dust the top with cocoa powder and garnish with crushed chocolate chips.
Nutrition
Calories:
397
kcal
|
Carbohydrates:
38
g
|
Protein:
5
g
|
Fat:
23
g
|
Saturated Fat:
14
g
|
Cholesterol:
135
mg
|
Sodium:
128
mg
|
Potassium:
114
mg
|
Sugar:
25
g
|
Vitamin A:
840
IU
|
Vitamin C:
0.2
mg
|
Calcium:
86
mg
|
Iron:
1.1
mg
Sign up for the emails and never miss another recipe!!
We'll never share your email or send you spam. Promise
First published July, 2015. Last updated November 12, 2021. Updated with more information and new photos and instructions for a better reader experience.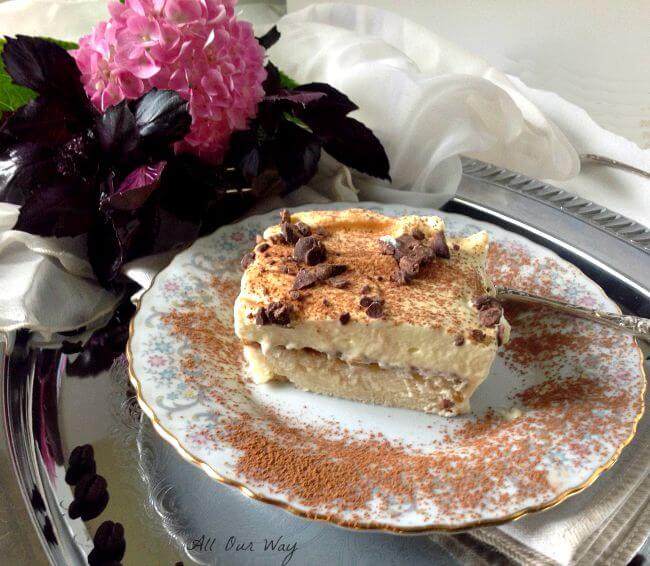 SaveSave
SaveSave
SaveSave