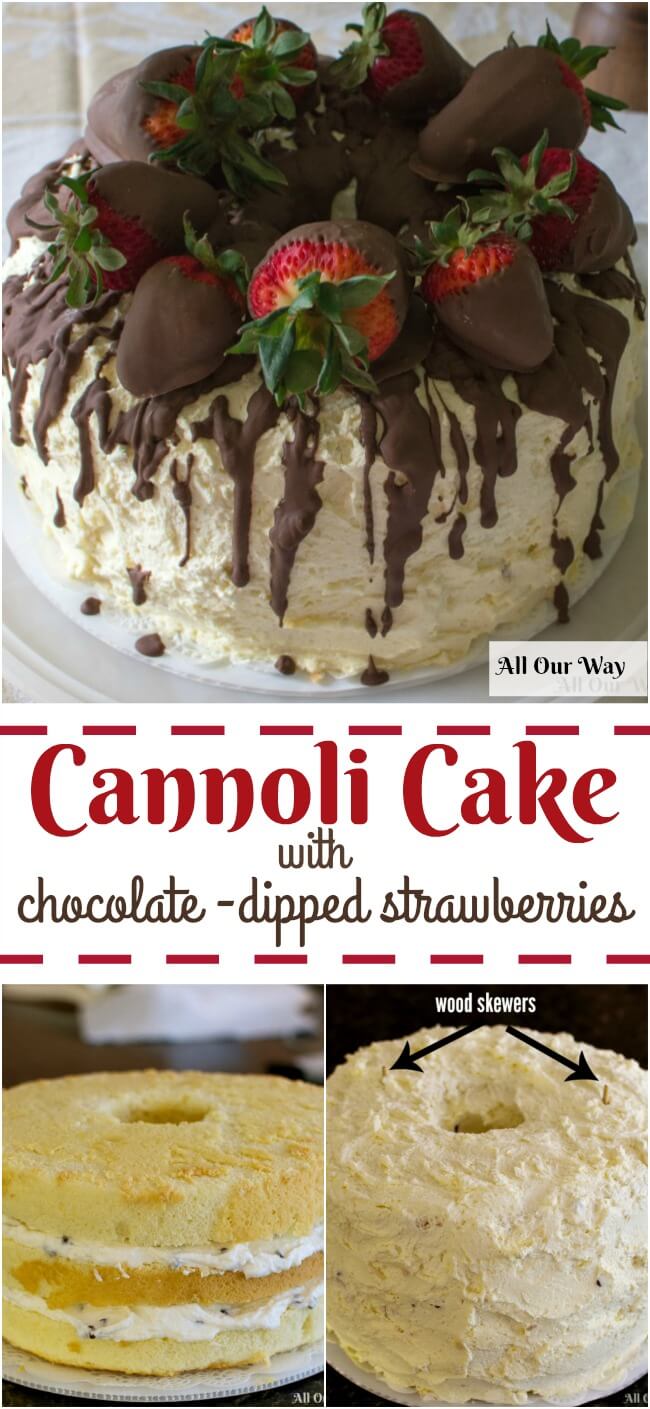 Cannoli Cake is the answer for anyone craving a delicious dessert that tastes like its Italian namesake. Only this dolce is better, much better. Rich creamy ricotta cheese with mini-chocolate chips fills the three layers of sponge cake. Sweetened whipped cream frosts the cake. And finally, a chocolate glaze with chocolate dipped strawberries embellish this sumptuous dessert.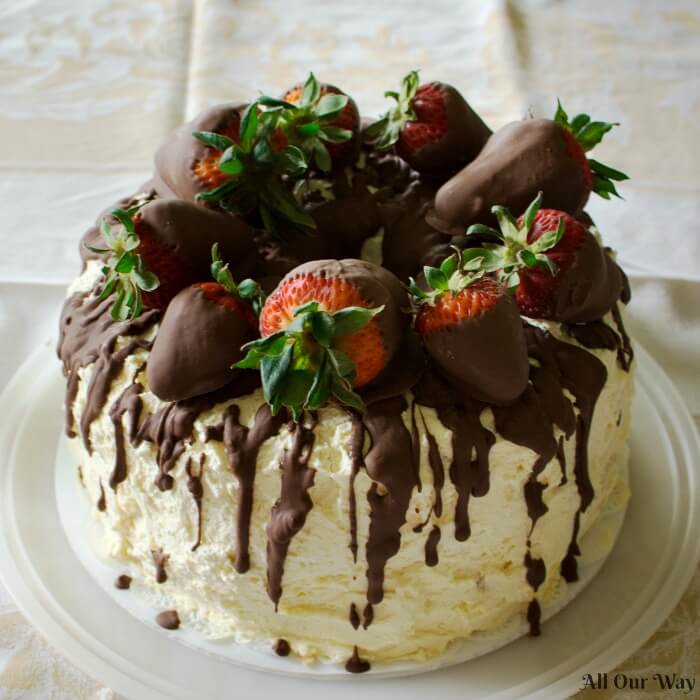 Jump to:
An ultimate cannoli request
"I'm looking for the ultimate cannoli," says our daughter, Shelley.
"What are you going to do when you find it?" I ask.
She smiles and says, "Savor every bite."
Well, we certainly can't resist that request. Honey and I find a "5-star" recipe and we order some cannoli tubes from Amazon. On cannoli day we're ready to roll, the dough that is.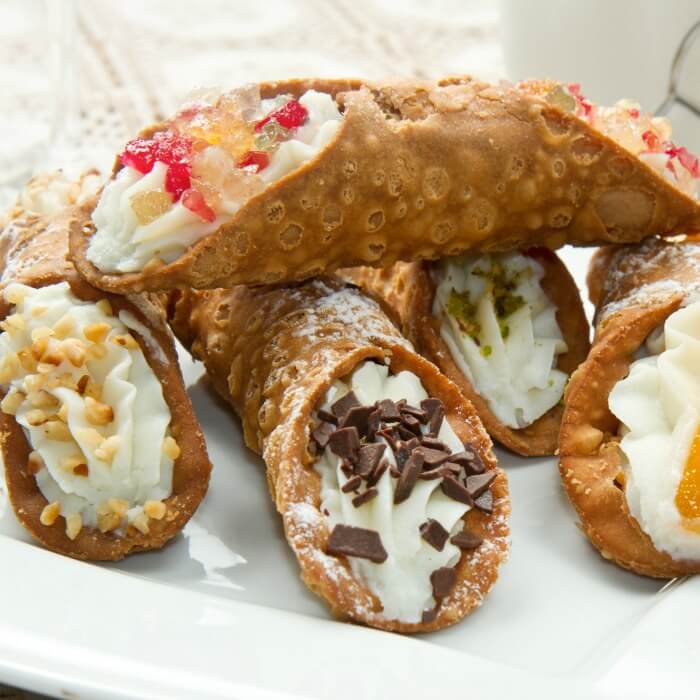 A dough problem
Everything goes along smoothly until we're ready to fry.
It's the dough ends. They just won't hold together around the tubes. When we put them in the hot oil they pop apart.
To make matters worse, the shells don't fry up crispy and blistered. They come out misshapen with huge boils under the crust.
They are downright ugly. Our one and only attempt at making cannoli turns out an abysmal failure.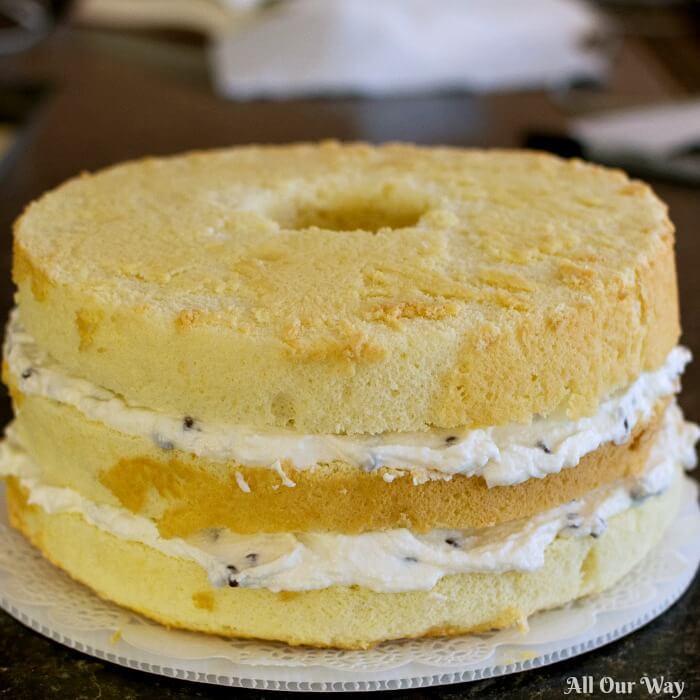 Sponge cake is a breeze
This year Easter dinner is at our house. We have the menu but we don't have a dessert. I start looking at magazines and cookbooks for inspiration.
We want a little bit of traditional with the excitement of non-traditional, like our Flatbread and Baba Ghanoush.
It hits me! What's more Italian than cannoli? How about a sponge cake with a ricotta cheese chocolate filling?
Classic sponge cake is an easy dessert to make, it's almost fail-proof. This type of cake is a versatile base that you can dress up with a fancy filling or serve it sliced with fresh berries and topped with whipped cream.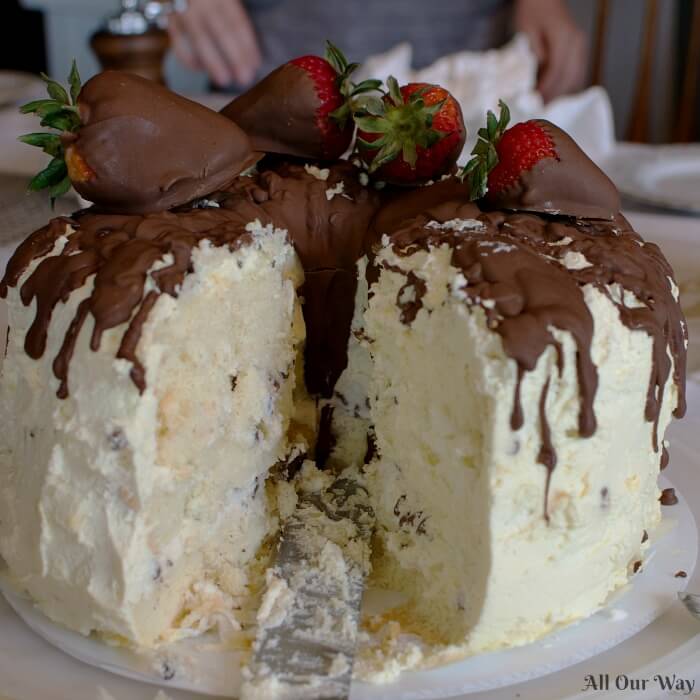 Putting the cannoli cake together
The sponge cake bakes in a 10-inch tube pan with a removable bottom. You have to invert the tube pan over a the neck of a glass bottle so that the cake can cool.
We think the filling should be sweetened ricotta with mini chocolate chips and the frosting be sweetened whipped cream.
At this point, the cake looks pretty good but a bit plain. Aha!! The cake needs chocolate on top, and chocolate dipped strawberries. Perfect!
The cannoli cake with whipped cream frosting and chocolate dipped strawberries was a huge success. This is a special dessert for a special occasion.
And next time you've got to try our other special occasion dessert, it's a three layer Chocolate Italian Love Cake. The name says it all!!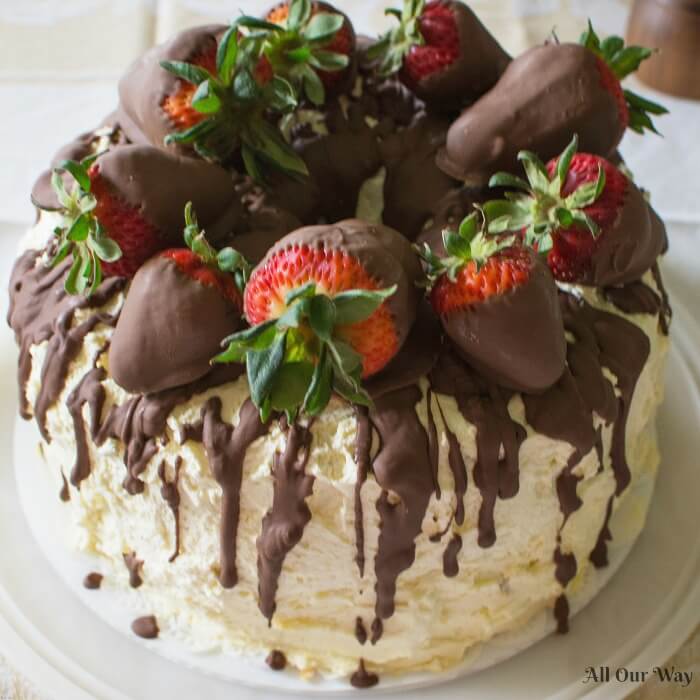 Tutti a tavola è pronto!
Un caro saluto e alla prossima.
YOU MAY NEED...
As An Amazon Associate I earn from qualifying purchases.
A double boiler is a handy pan to have especially when you can't heat ingredients directly over heat. Chocolate is especially sensitive to direct heat as well as eggs. The nice part about a double boiler is you can use both pans individually.
What's new? check out my All Our Way Store on Amazon. We'll be adding more items we love and use or wish we had to make cooking fun and easy.
Thank you for being part of All Our Way!
Cannoli Cake With Chocolate Strawberries Recipe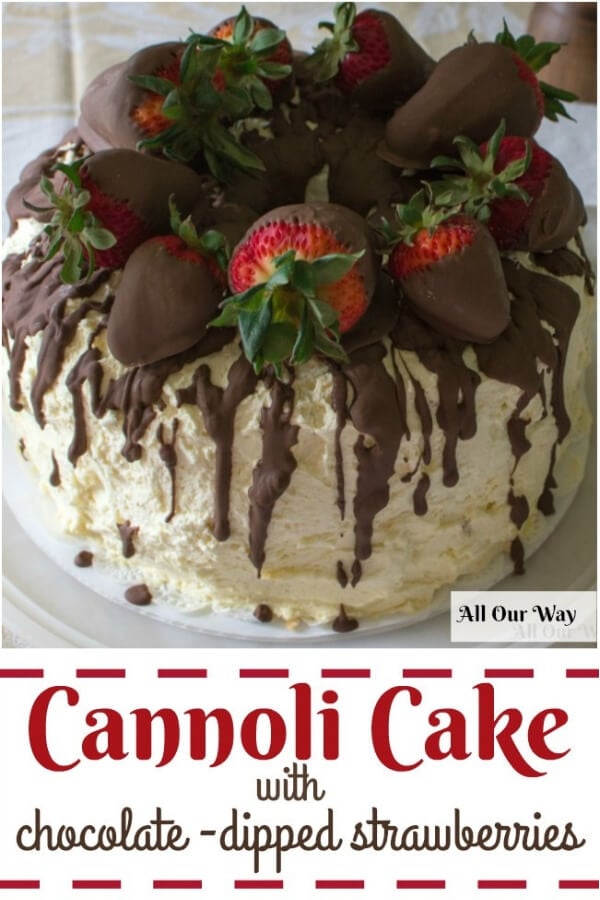 📖 Recipe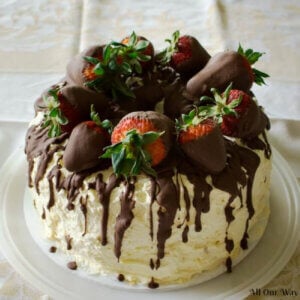 Cannoli Cake with Whipped Cream and Chocolate Covered Strawberries
Cannoli cake is based on the Sicilian pastry of the same name. The three layers are filled with sweetened ricotta cheese and chocolate mini chips. Stabilized whipped cream tops the cake and the delicious dessert is garnished with melted chocolate and chocolate-dipped strawberries. An elegant dessert for a special occasion.
Print
Pin
Rate
As An Amazon Associate I earn from qualifying purchases.
Ingredients
CAKE:

7

egg whites

at room temperature

1 ½

cups

sugar

300 grams

½

teaspoon

cream tartar

½

teaspoon

salt

7

egg yolks 1 teaspoon vanilla extract

1 ½

cups

cake flour

201 ½ grams

¼

cup

cold water

59 ⅛ ml.

CANNOLI FILLING:

3

cups

whole milk ricotta

½

cup

sugar

100 grams

2

teaspoons

lemon extract

½

cup

mini chocolate chips

STABILIZED WHIPPED CREAM WITH INSTANT JELL-0 PUDDING

2

cups

heavy whipping cream

480 ml

½

package

14g Sugar free Instant Jell-O Pudding Mix (If you use regular instant pudding the weight will be 48 grams for ½ package.) I used vanilla but you could also use lemon.

CHOCOLATE GLAZE AND DIPPING SAUCE

12

oz.

semi-sweet chocolate chips

a good brand

2

Tablespoons

shortening

like Crisco - don't use butter because it has water in it. It will make the chocolate seize up.

Fresh strawberries with stems - washed and let dry.
Instructions
SPONGE CAKE:

Preheat oven to 325 F.

In an electric mixer with wire whisk attachment, beat egg whites, ¼ cup of the sugar, cream of tartar, and salt. Start on medium speed, then use high speed until stiff peaks form, 4 to 5 minutes.

In a separate bowl, with an electric mixer on medium speed, beat egg yolks, 1 ¼ cups sugar, and vanilla. Beat until light in color, 3 to 4 minutes.

Add flour and water to egg mixture alternately. Start and end with the flour. Mix just until blended.

Using a rubber spatula, fold egg yolk mixture into egg whites. When blended, spoon batter into an uncreased 10-inch tube pan with removable bottom. Spread batter evenly.

Bake for 60 to 65 minutes, or until top is golden brown. Remove pan from the oven.

Invert tube pan onto the neck of a glass bottle to cool, about 1 hour.

When cool, carefully remove cake from the pan. Use a sharp knife to loosen the outside of the cake from the sides of the pan.

CANNOLI FILLING:

Combine drained ricotta, sugar, and lemon extract in a mixing bowl. Stir with a rubber spatula until blended. Stir in chocolate chips. Store covered in refrigerator until ready to use.

ASSEMBLE CAKE:

Cut sponge cake into thirds, horizontally. Place the bottom layer, cut side up, on a serving dish.

Spread half the filling over the bottom layer of the cake. Place middle layer on top of the filled bottom layer. Spread remaining filling over this layer and top with third layer, cut side down. Anchor the layers with wooden skewers. Refrigerate until set, 15 to 20 minutes.

STABILIZED WHIPPED CREAM WITH INSTANT PUDDING:

Combine the heavy cream and the instant Jell-O Pudding and mix together and whip to desired peaked consistency.

Frost the top and sides of the cakes with whipped cream frosting. Using a metal spatula, start at the top and continue to spread frosting down to cover cake sides. Refrigerate until ready to finish garnishing.

CHOCOLATE-DIPPED STRAWBERRIES AND GLAZE:

Melt the chocolate chips with the shortening in the top of a double boiler or place the ingredients in a metal bowl and place it over a saucepan of simmering water. The chocolate will melt slowly. Once the chocolate is completely melted you are ready to dip the strawberries.

Line a baking sheet with wax paper. Working with one strawberry at a time, grasp the strawberry by the top leaves and dip it into the chocolate. Lift the strawberry out and shake gently to remove excess chocolate.

Lay dipped strawberry on the baking sheet on its side. Repeat with the rest of the strawberries.

Let the chocolate set on the strawberries.

Remove the cake from the refrigerator, remove the wooden skewers anchoring the cake layers. Glaze the cake with the excess chocolate and then garnish the cake with the dipped strawberries.

Serve chilled.
Notes
Recipes are adapted from Sweet Maria's Sweet Kitchen and Gretchen's Bakery.
Nutrition
Calories:
697
kcal
|
Carbohydrates:
69
g
|
Protein:
15
g
|
Fat:
40
g
|
Saturated Fat:
23
g
|
Cholesterol:
202
mg
|
Sodium:
206
mg
|
Potassium:
331
mg
|
Fiber:
2
g
|
Sugar:
48
g
|
Vitamin A:
1040
IU
|
Vitamin C:
0.2
mg
|
Calcium:
196
mg
|
Iron:
2.6
mg
Sign up for the emails and never miss another recipe!!
We'll never share your email or send you spam. Promise
Note: Recipes and content from © 2017 All Our Way are copyright protected. Please do not use content or recipe without prior written permission. If you want to share the information, please link to this post. Grazie.
SaveSave