Baba Ghanoush, say that three times. It's such a fun word. The name has a delightful sound to it but what's even better is the taste of this creamy eggplant dip. It's rich, smokey, nutty, with a touch of garlic. It's the type of appetizer dish you'll want to dig into with a spoon.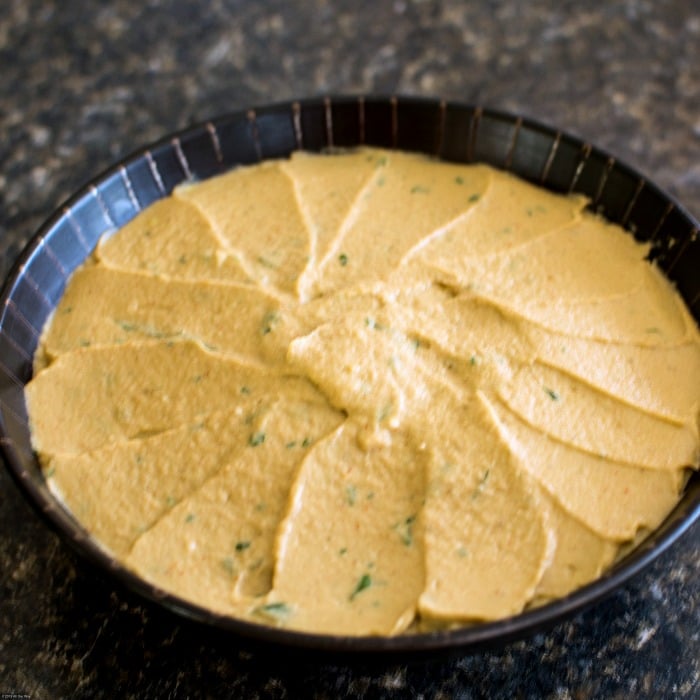 Jump to:
All it took was one bite
Eggplant, aubergine, or melanzana, as I know the vegetable, is the main ingredient of this dip. The dish is of Middle Eastern and Mediterranean origin, and we tasted it for the first time when our son took us to a restaurant that featured Middle Eastern and Greek cuisine.
One bite was all it took. I think we heard angels singing on high.
Believe me; we had to implement a lot of self-control, not to go back to the buffet and ladle the baba ghanoush onto our plate. Oh, and also grab the pile of warm flatbread that was next to the dip.
Simple ingredients yield complex taste
For baba ghanoush, you only need five ingredients more: tahini ( a sesame paste), olive oil, fresh lemon, smoked paprika, and parsley.
I don't count kosher salt as an ingredient, even though it's included because I figure you usually have that in your kitchen.
Those six ingredients in combination produce a magical substance that you'll want to slather on a delicious piece of yeast bread like pocketless pitas.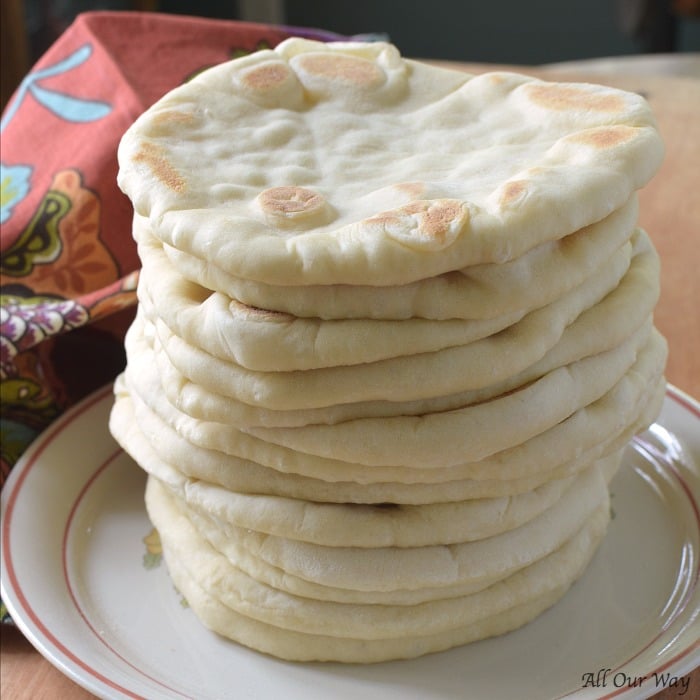 The best baba ghanoush
I want to fill you in on the secrets to making a superior eggplant dip.
You roast the eggplants on a grill. You can check doneness by piercing either end of the globe with a skewer. If there's resistance, just keep them on a little longer.
When done, wrap the eggplant tightly in foil and let them rest for 15 minutes.
Now, this is important ?, scoop the flesh from the skin and put the meat in a salad spinner. Yes! A salad spinner! Crank it gently. Spinning removes the additional moisture from the eggplant and concentrates the flavor.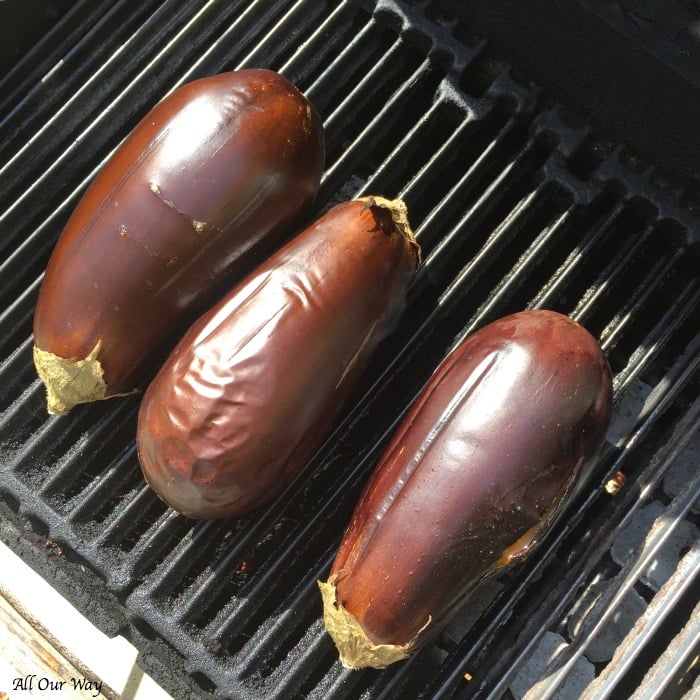 Quick to put together
We like our dips creamy, so we put the eggplant, garlic, and lemon juice in our food processor. This dip is a lot like our delicious Easy Creamy Guacamole Salsa Recipe. Pulse until the ingredients come together into a smooth paste. We add the tahini and pulse again. Now, we turn on the processor and pour the olive oil in a thin, steady stream.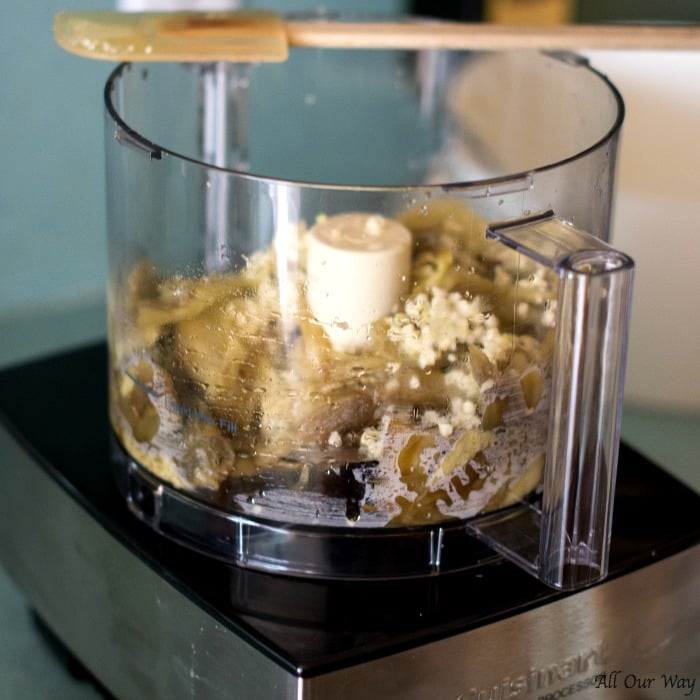 Next, comes the parsley, salt, and smoked paprika and we mix that in by hand. Taste. Hmmm, does it need more lemon? More salt? Here is where you season to taste.
Transfer to a serving bowl, drizzle with olive oil and serve with warm flatbread or veggies.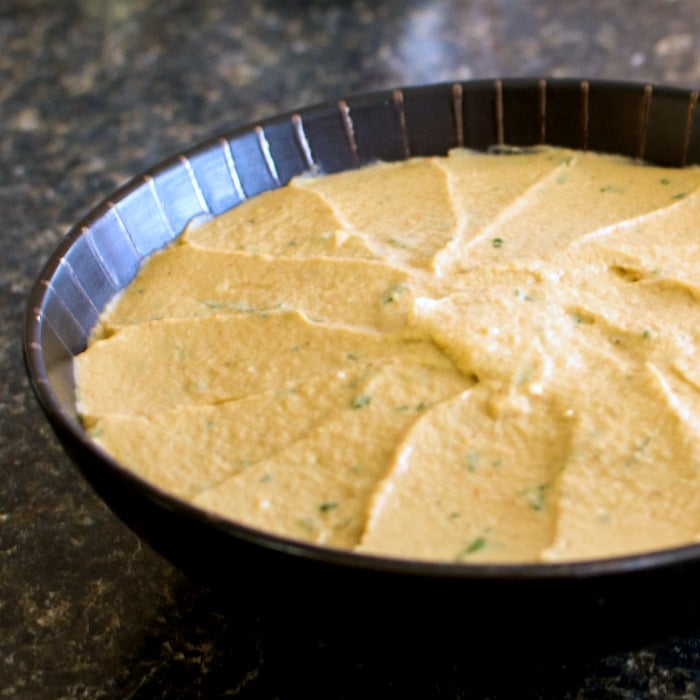 Ecco!! You've made baba ghanoush!! Now, for the best part! Mangia!!
You can't go wrong with any of these recipes, they are tried and true.
We say homemade is best and if you want to keep with a Mediterranean theme, you've got to make our deliciously Easy Homemade Hummus Recipe.
And if you love creamy dips, you have to try our Goat Cheese Marinara Dip. It's so easy and I guarantee the plate will be scraped clean. This recipe is always popular at all of our gatherings. And for a Tex-Mex flavor try our Creamy Guacamole Salsa combination. It's incredibly good!
One of the family hot dip favorites is this Spinach and Artichoke dip make with cream cheese and sour cream. Smooth and creamy and make the ideal dipping spread.
Another recipe we always like to make and serve is our Bisquick Cheesy Sausage Balls. They make the ideal bite-sized appetizer.
Tutti a tavola è pronto.
Un caro saluto e alla prossima.
YOU MAY NEED...
This is the Food Processor we have in our kitchen. We use it so much we've gone through three in the last fifteen years. We make pasta dough in it as well as bread dough. Grinding and mincing meat is so easy. This is one kitchen tool that really helps out the cooking enthusiast.
📖 Recipe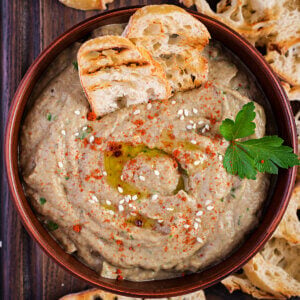 Baba Ghanoush | Mediterranean Smokey Creamy Eggplant Dip
Baba Ghanoush is a Mediterranean eggplant dip that is smoky, creamy, garlicky, with a nutty sesame flavor. It's delicious served as an appetizer with flatbread or vegetables.
Print
Pin
Rate
As An Amazon Associate I earn from qualifying purchases.
Ingredients
3

medium eggplants

about 2 pound total

3

medium cloves of garlic

2

Tablespoons

lemon juice

more if desired

3

Tablespoons

tahini

sesame paste

⅓

cup

extra-virgin olive oil

more for serving

1

teaspoon

smoked paprika

¼

cup

chopped flat-leaf parsley leaves

Kosher salt
Instructions
Preheat gas or charcoal grill to medium heat and place eggplants directly over heat source. Our heat is between 350-400 F. Cook, turning occasionally with tongs, until tender and charred on all sides, between 30 to 40 minutes.

The eggplants should be very tender. Test the eggplants by sticking a skewer near the stem and bottom ends. If the skewer meets resistance, continue cooking.

When it's done wrap the eggplants in foil and crimp the top to seal. Let the eggplants rest for 15 minutes.

Open the foil package, using a sharp knife slit open the eggplants and with a large spoon scoop out the soft flesh and transfer to a strainer set in a large bowl. Pick out any bits of skin and blackened flesh.

Transfer eggplant to a salad spinner, and put the meat evenly around the bowl. Crank the spinner gently until all the excess moisture is extracted.

Put the eggplant in a food processor and add garlic, lemon juice and pulse until it is smooth and creamy. Add the tahini and pulse again until it's combined. With the processor turned-on, slowly add the olive oil in a thin steady stream. The mixture will be pale and creamy. By hand, stir in parsley, smoked paprika, and salt. Taste to see if you'd like additional salt and lemon juice.

Put the baba ghanoush into a serving bowl, drizzle with olive oil, and serve with warm flatbread or vegetables (do the flatbread -- it's fantastic).

Baba ghanoush can be stored in an airtight container in the fridge for up to four days. Let the eggplant dip warm to room temperature before serving.
Notes
Adapted from The Best Baba Ganoush by J. Kenji Lopez-Alt at Serious Eats
Nutrition
Calories:
1277
kcal
|
Carbohydrates:
97
g
|
Protein:
22
g
|
Fat:
98
g
|
Saturated Fat:
13
g
|
Sodium:
56
mg
|
Potassium:
3517
mg
|
Fiber:
44
g
|
Sugar:
49
g
|
Vitamin A:
2565
IU
|
Vitamin C:
66.5
mg
|
Calcium:
224
mg
|
Iron:
6.9
mg
Sign up for the emails and never miss another recipe!!
We'll never share your email or send you spam. Promise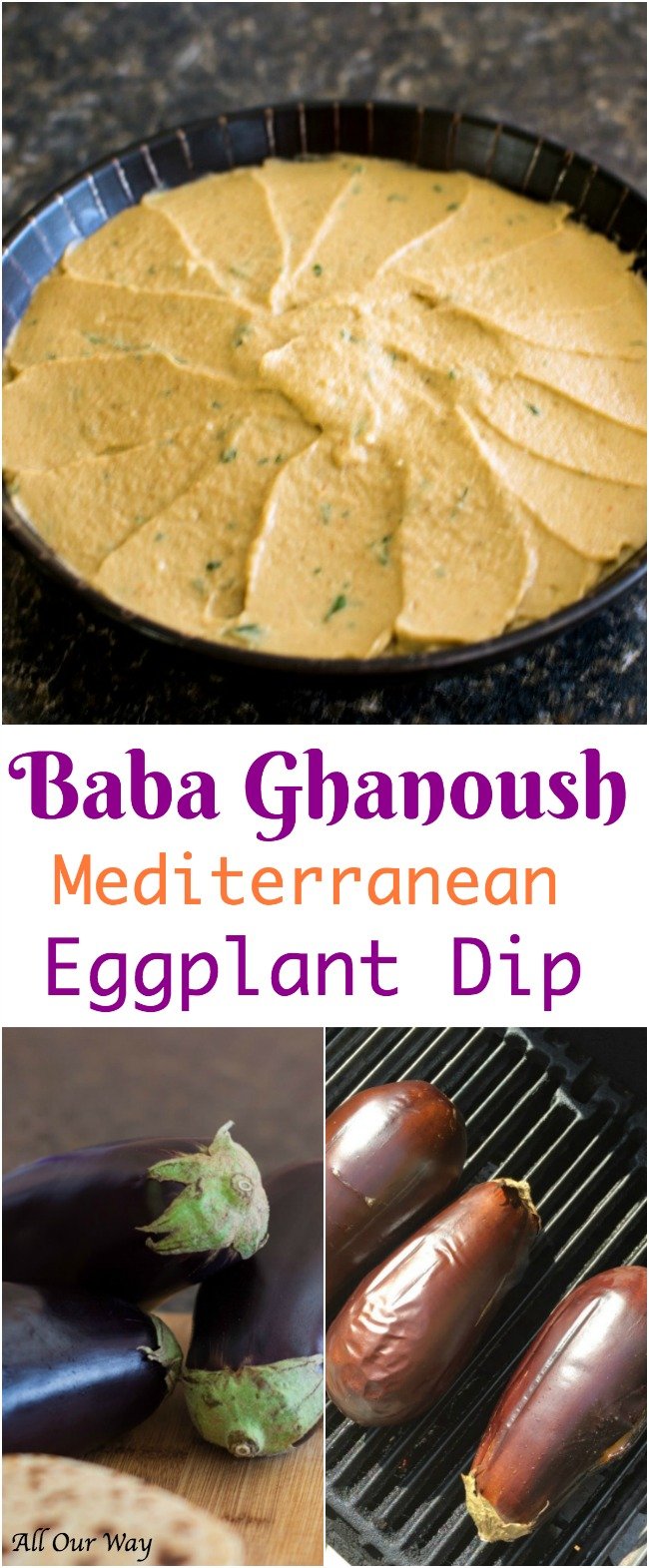 Note: Recipes and content from ©2017 All Our Way are copyright protected. Please do not use content or recipe without prior written permission. If you want to share the information, please link to this post. Grazie!