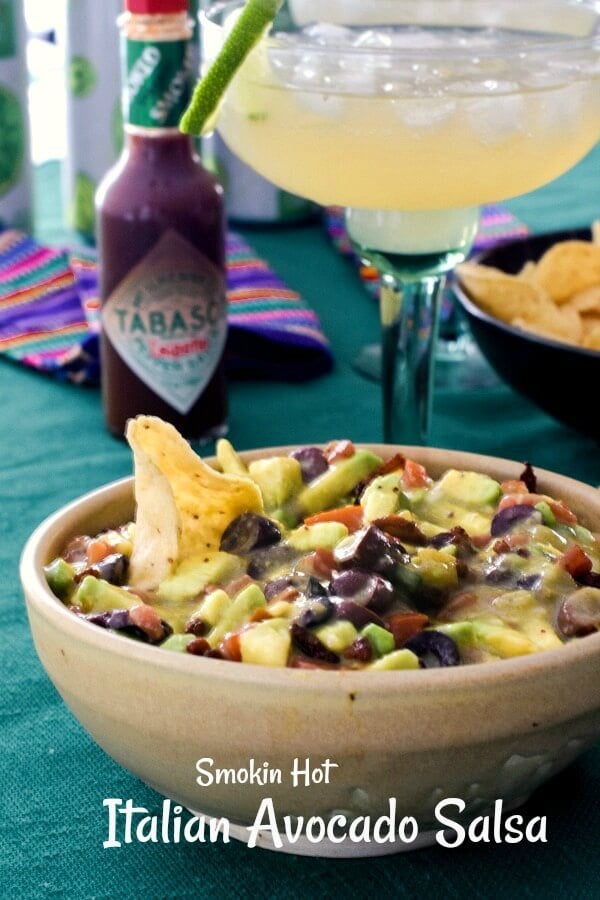 Italian Avocado Salsa is excitement in a bowl. This is no ordinary Guac dip, it's a spicy appetizer you won't want to stop eating. Diced avocados combine with tomatoes, onions, garlic, green chilis, olives, zesty Italian dressing, sprinkles of fried pancetta, and several splashes of an amazing smokey sauce to bring that salsa to the sublime level. Just like our Easy Creamy Guacamole Salsa, this is a party waiting to happen. all you need are crunchy scoopers to enjoy the delicious salsa and something cold, fruity, and fun to drink, and we have the perfect beverage to compliment this appetizing chunky salsa.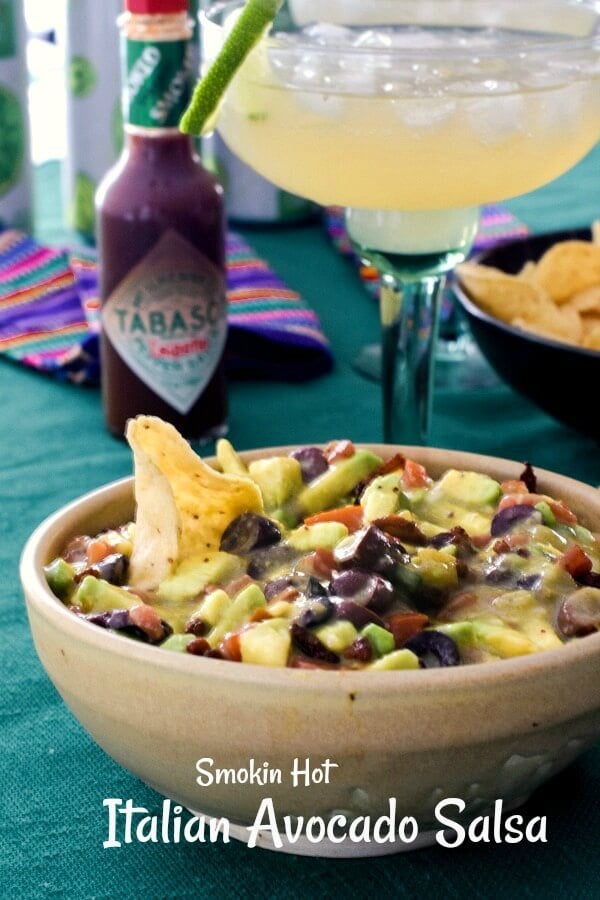 Jump to:
Ingredients
You will need: avocados, Roma tomatoes, Kalamata olives, canned green chilis, Zesty Italian dressing, green onions, garlic, TABASCO® Chipotle Sauce, lime, pancetta or bacon.
The Big Game is fast approaching
We know what the Big Game day is all about don't we? It's all about delicious food and drink that load down the snack table while the game is going on in the background. It's an indoor tailgating feast.
And what would any game day be like without some sort of avocado recipe? I believe there is a rule somewhere that says that's a must!
Avocados from Mexico are an excellent choice because they're always in season plus they're healthy, delicious, and versatile. When we say they're versatile, we mean they will make recipes from appetizers, main dishes, to desserts.
You've got to check out some of their incredible recipes at Avocados from Mexico.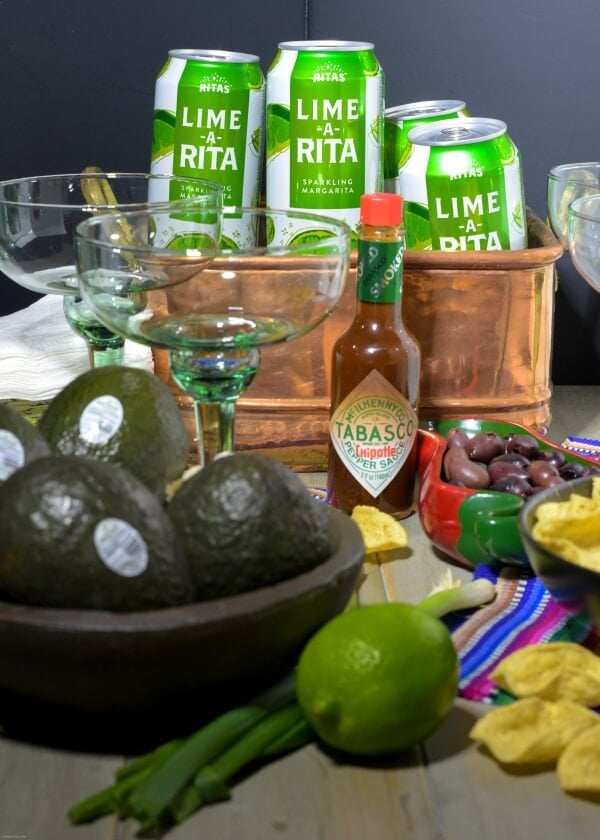 FAQ's about avocados
How are avocados good for me? Avocados offer nearly 20 vitamins and minerals in every serving, including potassium

(which helps control blood pressure), lutein (which is good for your eyes), and folate (which is crucial in cell repair and during pregnancy).
What about carbs and fat? This pear-shaped berry does all of the above while being low in carbs, low in saturated fats while being loaded with healthy fats and fiber. And here's the real clincher — no cholesterol!
Are they good for weight loss? Yes, they are good! The beneficial fats and fiber in the avocados helps you feel full and satisfied longer. No getting up from the table and wondering if you had eaten anything at all.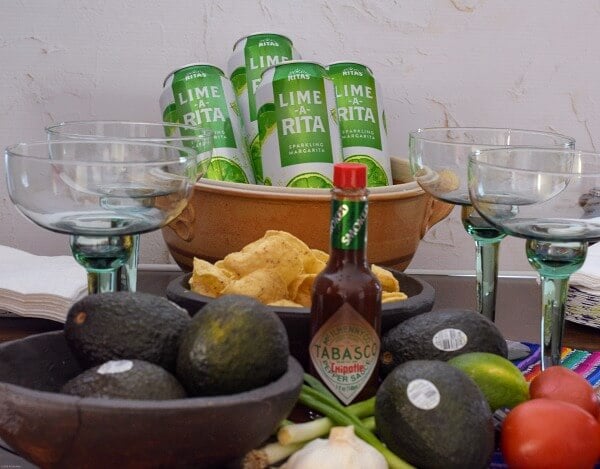 If you'd like to learn more about the benefits of avocados, Medical News Today has it broken down.
Why Smokin Hot Italian Avocado Salsa Recipe
We wanted a welcome change from guacamole. Well, to be honest our kids are the guac experts. Me? Not so much. So we wanted something scrumptious but different.
So, we decided on an avocado salsa.
If you've followed our blog for any time at all, you know we love spicy and TABASCO® Sauce is a staple at our house. When we need additional zip we grab for the bottle.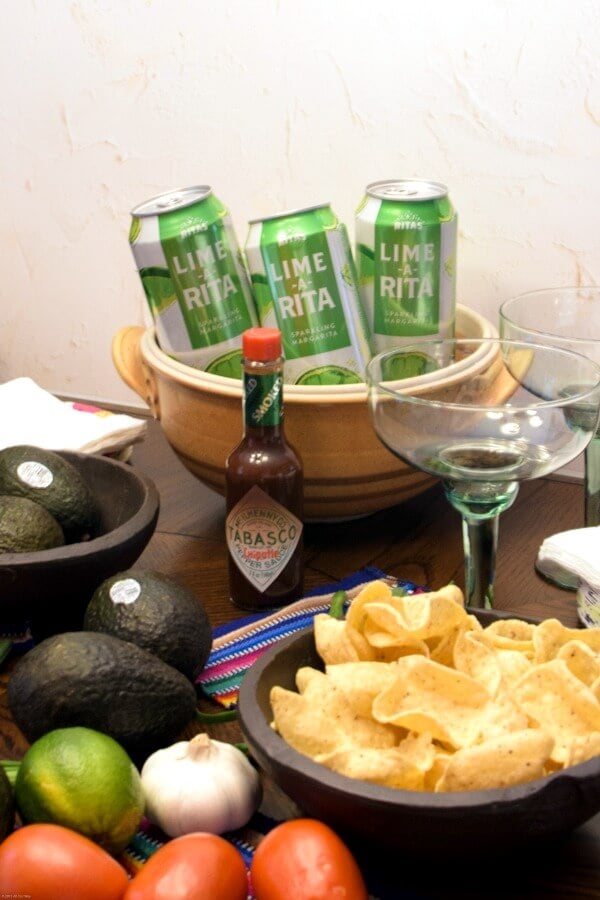 Uses for TABASCO® Sauce
Use it as a condiment or ingredient.

Spice up your dishes with the sauce.

Add more flavor to your foods.

Use as an ingredient to deepen and accent flavors.
This wonderful sauce is made up of just three simple ingredients: red peppers, salt, and vinegar.
TABASCO® Sauce is a wonderful addition to any dish. But this was not going to be any ordinary salsa, we wanted to give it an extra flavor kick. And that kick was going to come from TABASCO® Chipotle Sauce. This appetizer would have a winning Italian-Mexican flavor with a rich and smoky flavor from the TABASCO® Chipotle Sauce.
FAQ's
For you spicy sauce lovers who want to know the heat level,

The Scoville rating for the sauce is 1500-2000.

And for those of you who don't know what Scoville Heat unit ratings are, it's a unit that measures the capsaicin which is the chemical in peppers responsible for their heat.

Is TABASCO® Sauce non GMO? Yes, it's non GMO and Gluten-free.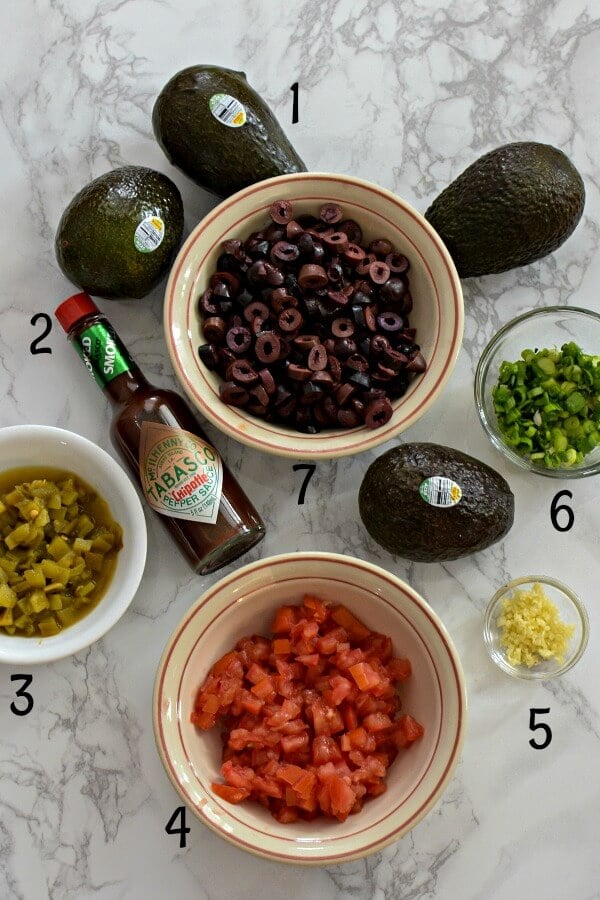 If you want to find some really creative recipes, from appetizers to desserts, check them out at TABASCO® Sauce. Yep! You can put some heat in your desserts too.
1. Avocados from Mexico 2. TABASCO® Chipotle Sauce 3. Diced green chilis 4. Roma Tomatoes 5. Garlic 6. Green Onions 7. Kalamata Olives
Putting the Smokin Hot Dip Together
One of the most important things you have to make sure of, other than buying Avocados from Mexico, is that the avocados are not overly ripe. For guacamole that's great, but not if you want to peel, seed, and dice the avocados for salsa.
You want the avocados firm, but not as hard as a rock. The same goes for the Roma tomatoes, firm but not rock-hard.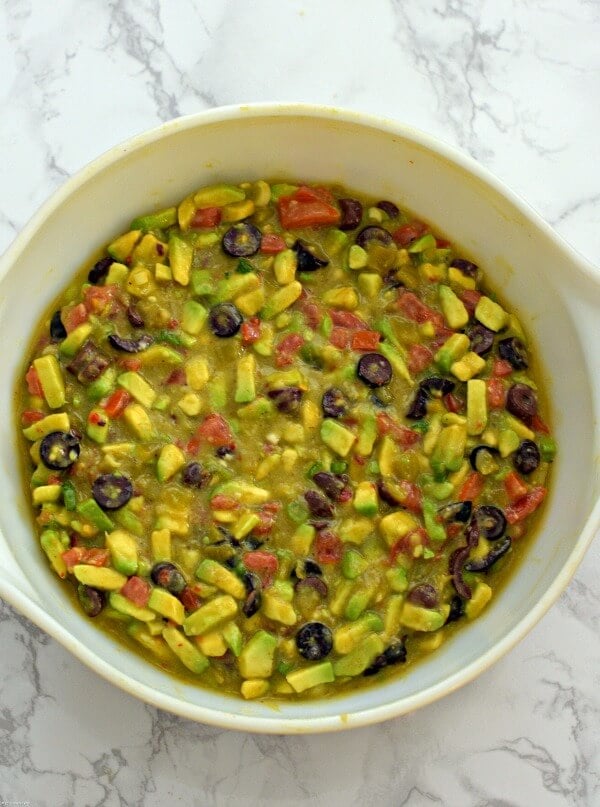 The Italian comes from the zesty dressing that adds the zing, and the green chilis adds a bit of zip. The underlying notes of smoky spice comes from the TABASCO® Chipotle Pepper Sauce.
The green onions, garlic, and sliced black olives all add to the overall punch. The avocado salsa is a real medley of flavors.
Now, once get all of your ingredient in a bowl, don't over-stir. You don't want to mash the avocado chunks. Then, put the salsa in the fridge and let the flavors combine to form one can't get enough appetizer!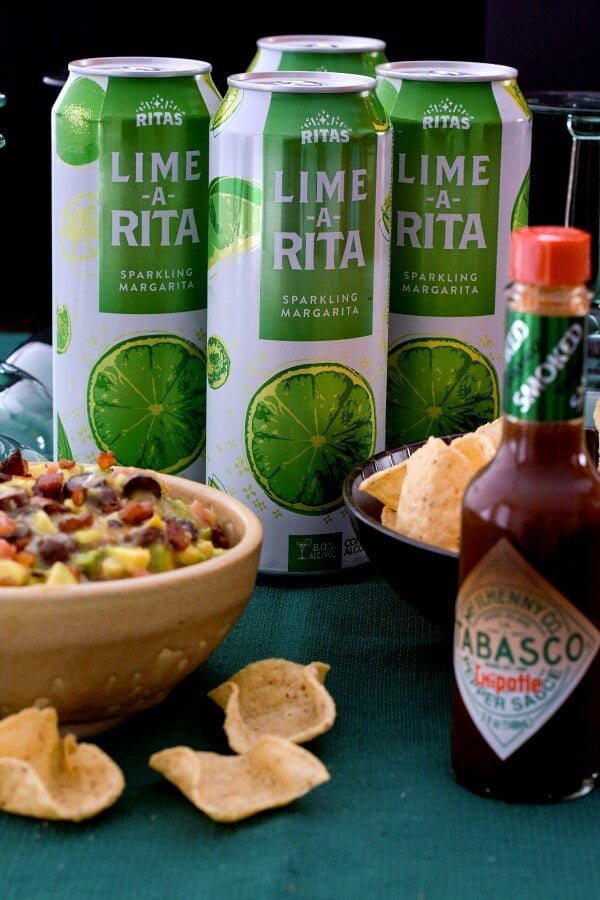 Game Day beverage
So, what's a party without a fun and fruity beverage? You know, there is always room for more flavor in your life and THE RITAS does just that. If you're over 21, go check out all of their flavors at
THE RITAS they have just about any flavor you want. They even have seasonal flavors like Watermelon-A-Rita and Berry-A-Rita.
We wanted to stick to our Italian-Mexican theme for Game Day so we picked Lime-A-Rita for a nice fresh, fruity, fizzy taste. The drink will perfectly compliment the chunky spicy salsa and the salty scoopers.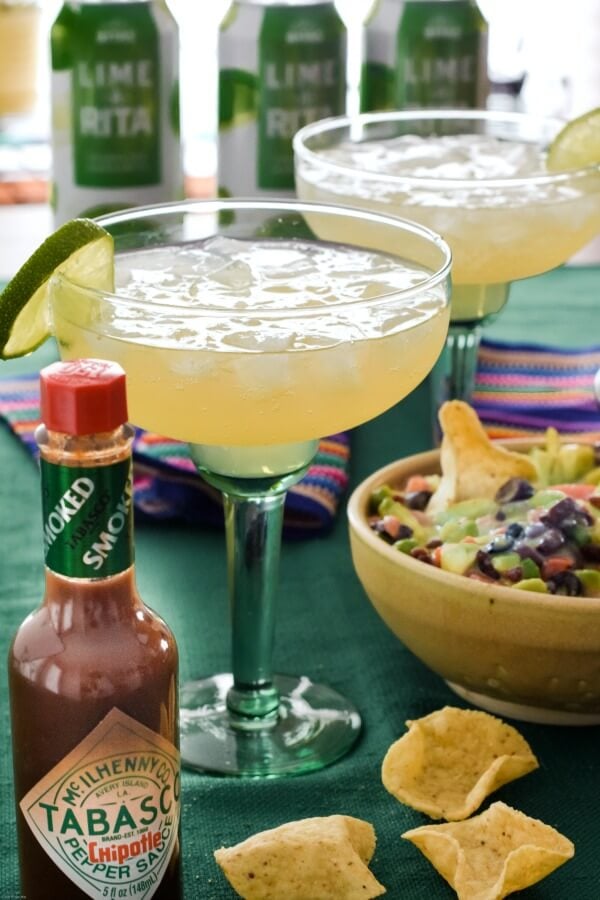 We thought we'd add to the fun by serving the Lime-A-Rita in a margarita glass.
So whether your team is playing on game day or not, you'll be able to savor winning flavors with delicious food and refreshing drinks.
We hope you take our suggestions to guarantee a super fun, super special, super delicious Game Day!
Kick off Time!!
Un caro saluto e alla prossima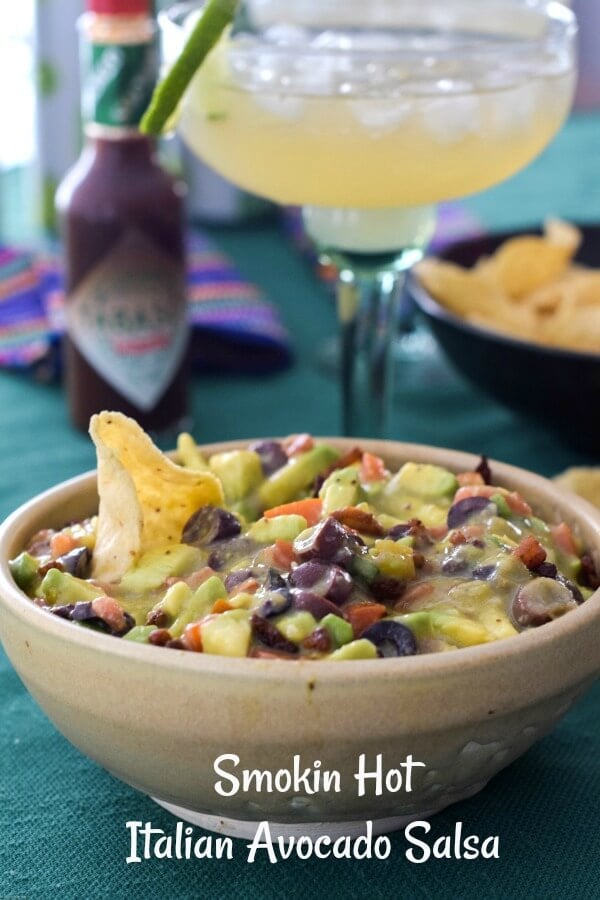 Smokin Hot Italian Avocado Salsa
This is no ordinary appetizer, dip, or salsa! Nope! It's spicy, flavorful and believe me it will be a huge hit at your next gathering. It's a good thing this recipe makes quite a bit because you won't want to run out mid-party. Be sure to get some strong scoopers because your friends and family will want to dig in and enjoy!
If you like this recipe please consider giving it a five-star rating.
📖 Recipe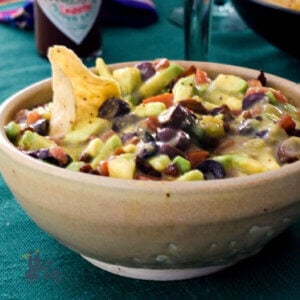 Smokin Hot Italian Avocado Salsa
A spicy salsa that is made from diced Avocados from Mexico, tomatoes, green chilis, and sliced Kalamata olives. It gets its Italian zip from the Italian dressing and the smokey TABASCO® Chipotle Sauce. If you want it hotter just add more sauce or a chopped jalapeño or two.
Print
Pin
Rate
As An Amazon Associate I earn from qualifying purchases.
Ingredients
6

Avocados

firm, peeled, seeded, diced

4

Roma Tomatoes

diced

4

oz.

green chilies

canned, diced

10

oz

kalamata olives

sliced

12

oz

Italian dressing

Zesty!!

3

green onions

chopped

2

garlic cloves

minced

½

lime

fresh juice

3

bacon or pancetta slices

diced

salt

optional

1

tablespoon

TABASCO® Chipotle Sauce
Instructions
Fry the pancetta or bacon in a saucepan. Remove from grease and drain on paper towels. Set aside. Will add this on top.

Add the diced avocados, tomatoes, green chilis, olives, green onions, garlic, zesty salad dressing, and TABASCO® Chipotle Sauce in a large mixing bowl.

Stir very gently, you don't want to mash the avocados.

Cover and refrigerate for several hours to develop the flavors.

Serve with scooper style tostado or tortilla chips.

Sprinkle the bacon or pancetta on top of salsa before setting out.
Nutrition
Calories:
442
kcal
|
Carbohydrates:
22
g
|
Protein:
5
g
|
Fat:
39
g
|
Saturated Fat:
6
g
|
Cholesterol:
5
mg
|
Sodium:
1131
mg
|
Potassium:
883
mg
|
Fiber:
12
g
|
Sugar:
7
g
|
Vitamin A:
680
IU
|
Vitamin C:
24.7
mg
|
Calcium:
51
mg
|
Iron:
1.3
mg
Sign up for the emails and never miss another recipe!!
We'll never share your email or send you spam. Promise
Recipes and content from 2014-2019 ©All Our Way are copyright protected. Please do not use content or recipe without prior written permission. If you want to share the information please link to this post. Grazie!