This Classic Corn Succotash is a vibrant side dish with fresh corn, lima beans, and okra cooked in butter garlic with simple seasoning and tossed with juicy grape tomato halves and crispy crumbled bacon!
Enjoy this corn succotash as a summer side dish to grilled meats, add it to your Thanksgiving table, or make it a bowl meal by adding shredded chicken, pork belly, or shrimp!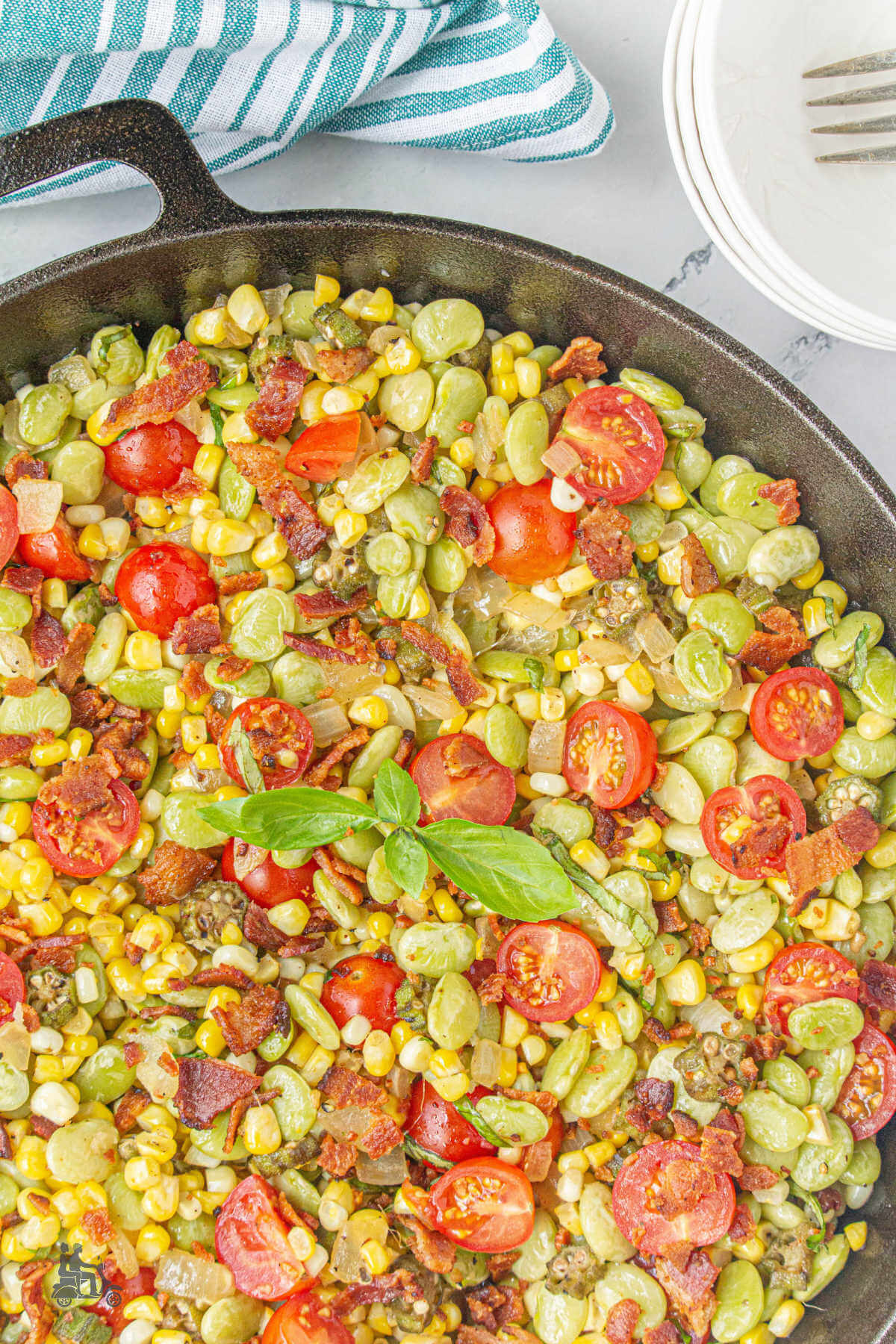 Jump to:
❤️ Why you'll love this recipe
It's an easy recipe and budget-friendly too! It's the perfect side dish or entrée.
It tastes like a warm, buttery corn salad, perfect for summer!
Make this corn succotash from fresh produce or frozen veggies to enjoy all year round!
This traditional succotash recipe is a great way to add healthy vegetables to your busy weeknights, Thanksgiving table, or summer BBQ!
🛒 Ingredients
As an Amazon Associate I earn from qualifying purchases.
Note: The full list of this recipe ingredients with their amounts and options are in the recipe card below.
🗒 Instructions
Note: This is an overview of the instructions. The full instructions are in the recipe card below.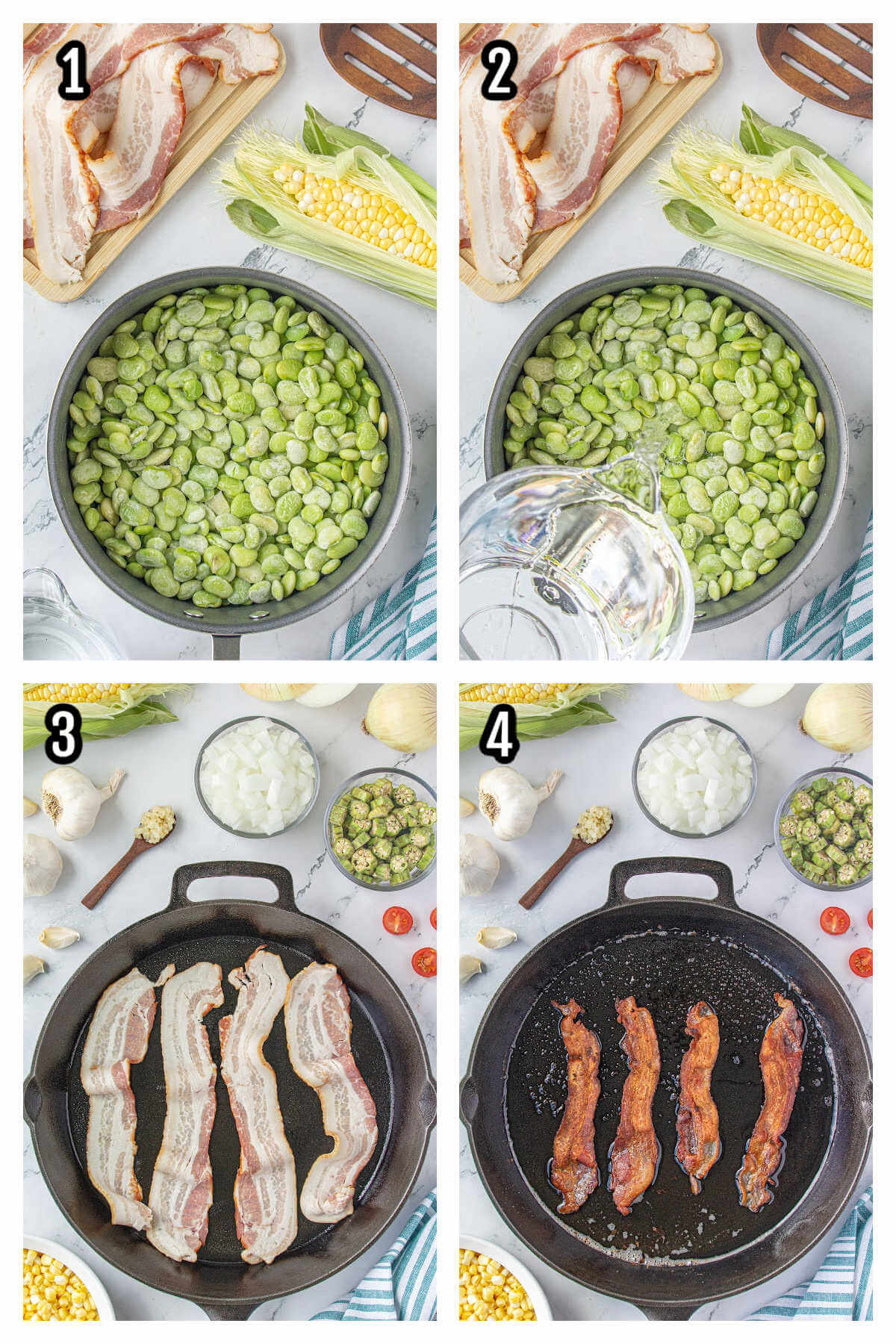 Add the lima beans to a medium saucepan.
Add water, cover, and bring to a boil over medium-high heat. Then reduce the heat to medium-low and simmer for 8-10 minutes until the beans are tender. Drain and set aside.
Add the bacon slices to a large skillet over medium heat and cook until crispy (8 minutes), flipping the slices after 5 minutes.
Allow the cooked bacon to drain on paper towels. Crumble the crispy bacon and reserve the drippings in the skillet.
Add the onion and okra to the skillet with garlic.
Saute the vegetables over medium heat for about 6 minutes.
Add the corn and lima beans and cook for 5-6 minutes.
Stir in butter and seasoning, and cook for another minute.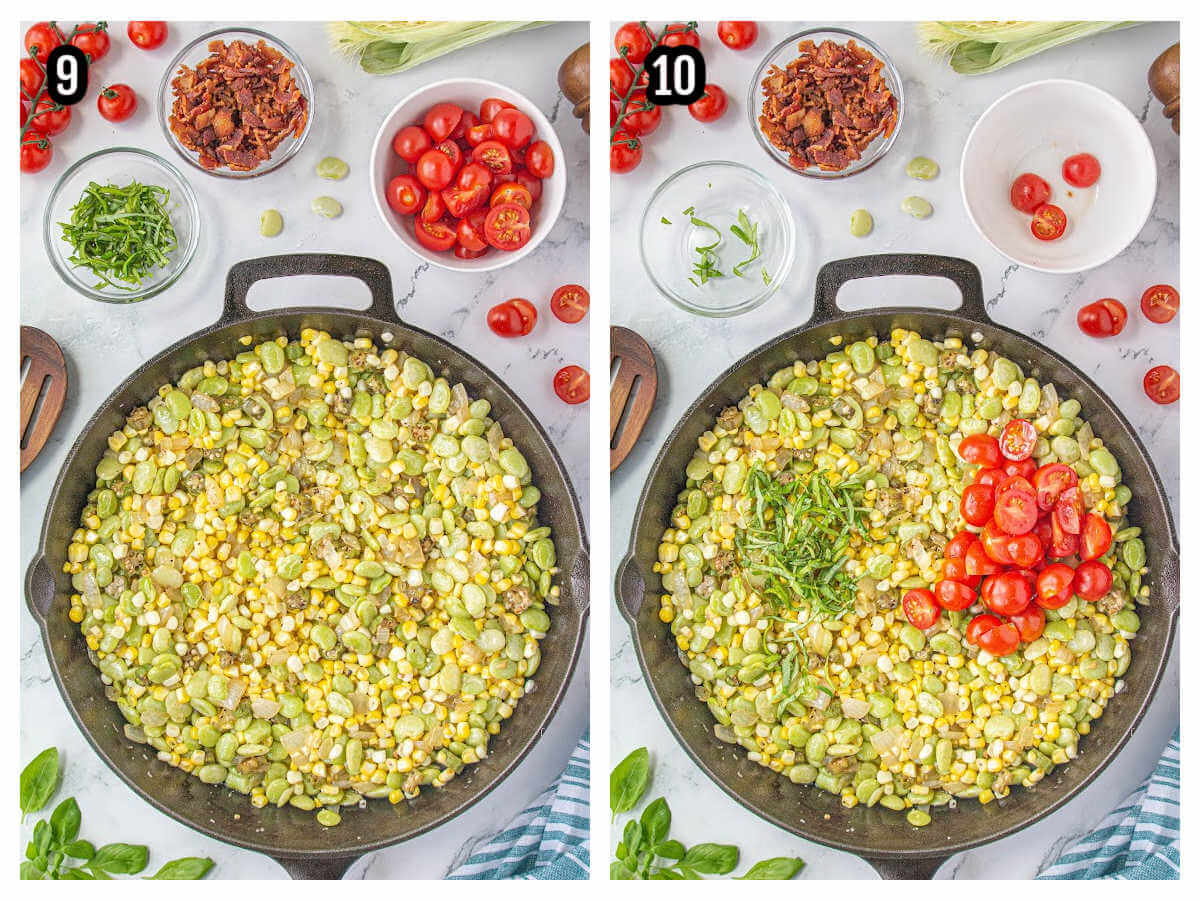 Remove from the heat.
Stir in halved cherry tomatoes and sliced basil. Sprinkle the dish with crumbled bacon and serve!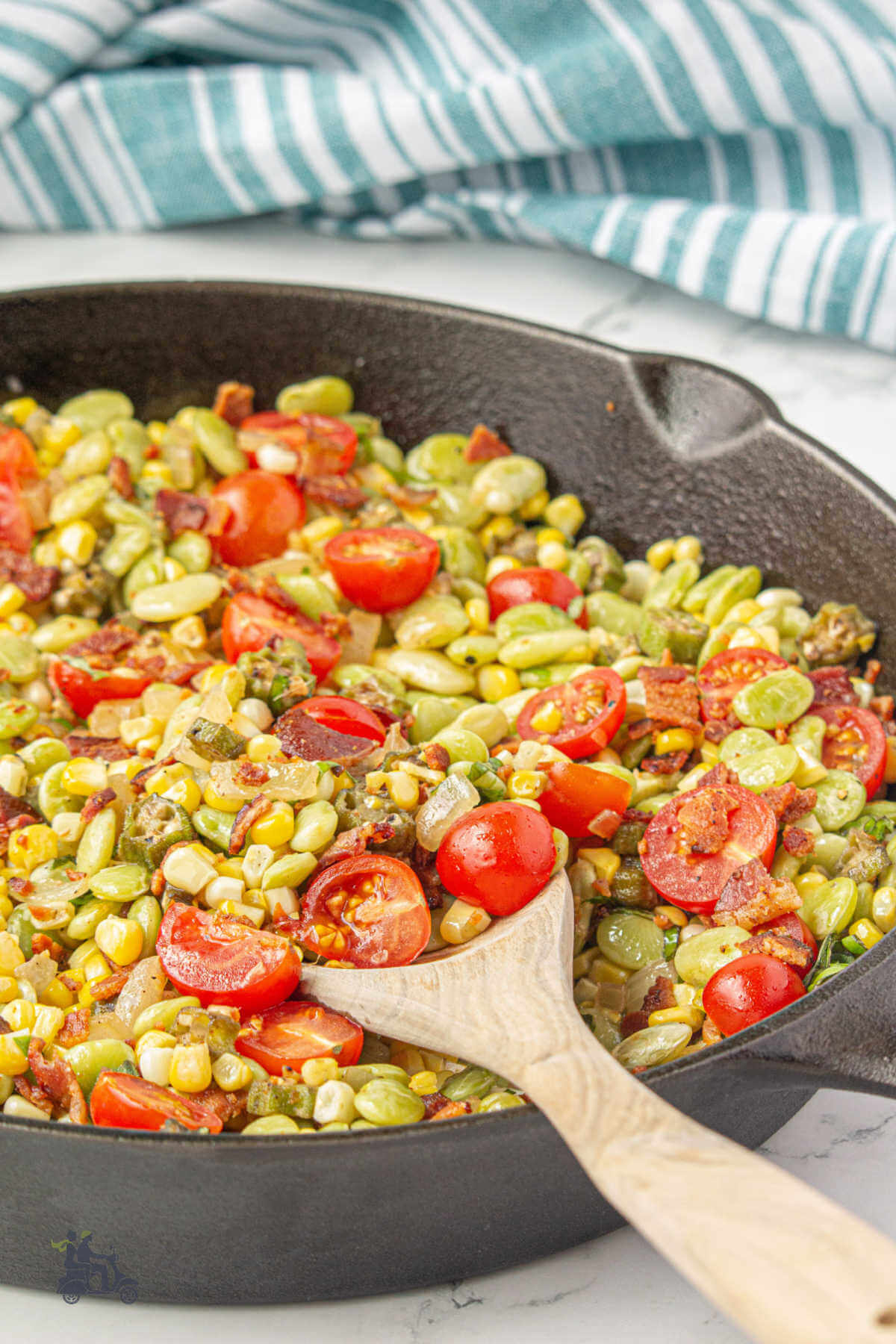 🔪 Equipment
The following are affiliate links. We are a participant in the Amazon Services LLC Associates Program, an affiliate advertising program designed to provide a means for us to earn fees by linking to Amazon.com and affiliated sites.
You'll need the following items to make this recipe successfully.
sharp knife -- cutting onion, mincing garlic, and veggies.
cutting board -- solid surface for cutting and slicing.
measuring spoons -- seasoning.
🤔 FAQs
These are the questions we are most frequently asked about making this delicious summer - fall recipe of mixed vegetables called Succotash.
Why is succotash called succotash?
Succotash is the Native American term for "broken corn kernels" or "boiled corn kernels". In the context of this dish, it refers to a vegetable dish with sweet corn as a primary ingredient.
What is succotash Native American?
It's a dish consisting of corn, lima beans, and other vegetables that is of Native American origin.
What is corn succotash made of?
A classic Succotash consists of corn, lima beans, and other vegetables, such as squash. This dish commonly includes tomatoes, peppers, and okra.
What is the root of succotash?
Succotash is a Native American dish, derived from the Narragansett Indian word "sohquttahhash" which means "broken corn kernels" where the corn would be simmered and added to other vegetable ingredients, such as lima beans and squash.
What did the Native Americans call corn?
Corn is referred to as maize (ma-hiz) by Native Americans.
What ethnicity is succotash?
Succotash is a Native American dish specific to the Narragansett people.
👩🏻‍🍳 Tips
Double this recipe using a larger saucepan and skillet when feeding a bigger crowd.
This sufferin' succotash is best enjoyed warm from the skillet or at room temperature.
Fresh chopped parsley, basil, or other herbs is a must when serving this American dish during summer.
📚 Variations
Use frozen veggies to enjoy this succotash all year round.
Omit the bacon and replace the drippings with two tablespoons of extra-virgin olive oil for a vegetarian succotash.
Add jalapenos, cayenne pepper, or smoked paprika for a kick of heat.
Add other vegetables, such as red bell pepper, zucchini, green onion, and summer squash.
Replace the lima beans with butter beans.
Add shredded chicken, turkey, pork, or shrimp to the succotash for a protein boost.
Include other fresh herbs, such as fresh parsley.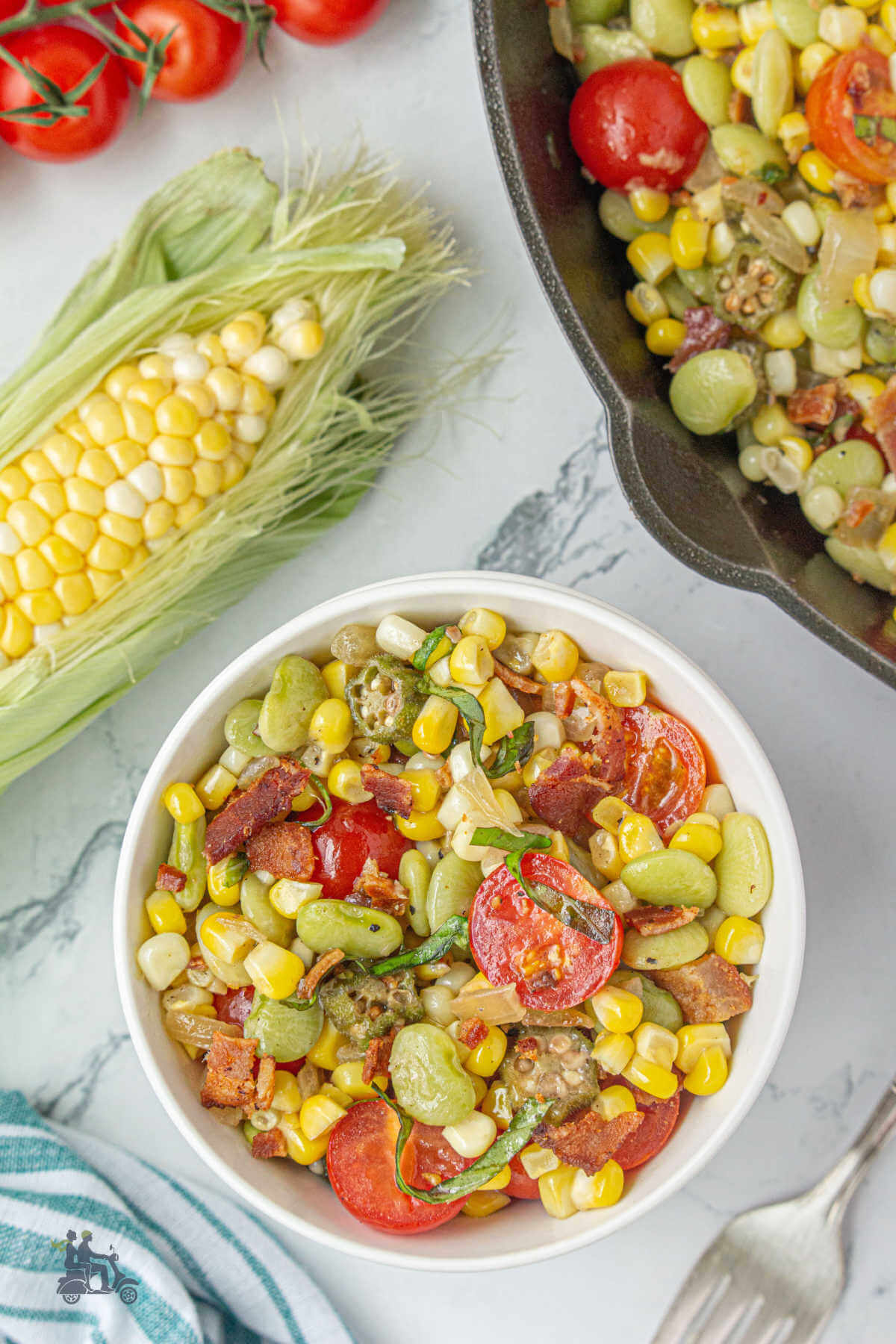 🥫 Storage
This classic succotash recipe stores well for up to 3 days in an airtight container in the fridge. Reheat your leftovers in a skillet.
While leftover succotash can be frozen for up to 3 months, it's best enjoyed immediately after assembly or after a few days in the fridge and reheated.
📗 Related Recipes
🍽 Serve with
The New England version of this vegetable dish includes grape tomatoes, okra, and butter, and is enjoyed at Thanksgiving or as a summer dish. It pairs beautifully with grilled meats, pork chops, fish, or seafood.
📞 Chiacchierata (chat)
We love that this easy recipe can be a side dish or affordable entrée that uses the best of summer vegetables plus a bit of bacon to add to the seasoning. The family especially enjoys this recipe when we use our Indiana sweet corn, lima beans, and our patio cherry tomatoes. The Farmers Market and Grocery Stores are bursting with fresh produce.
In the fall we'll modify the recipe a bit using more of autumn squash and root vegetables. This Southern recipe with its savory, salty bacon, garden- vegetables, rich butter, and aromatic herbs is the type of recipe that we never tire of.
Tutti a tavolo, è pronto!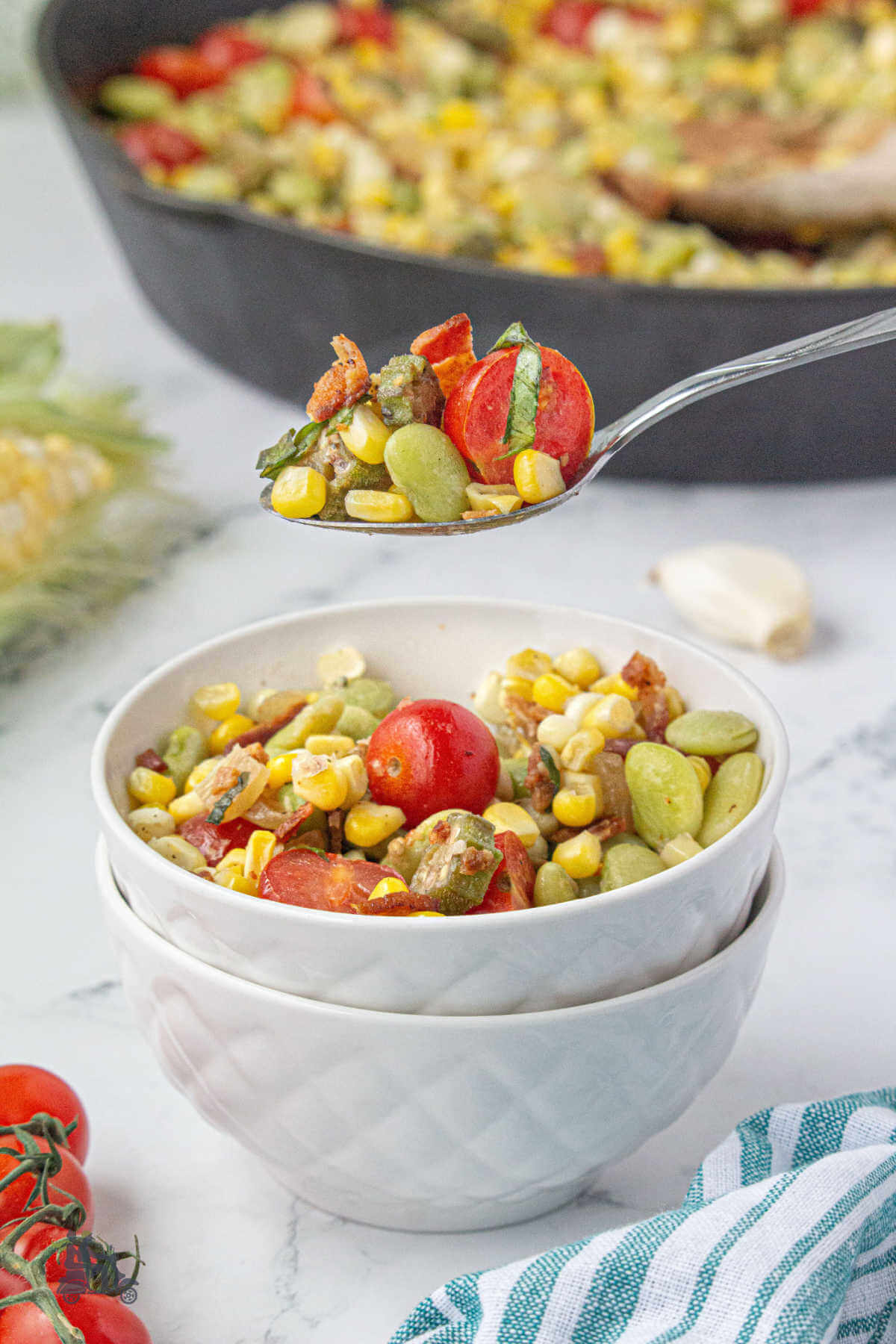 What's new? Check out my All Our Way Store on Amazon. We'll be adding more items we love and use or wish we had to make cooking fun and easy.
📝 Recipe Card
Classic Corn Succotash is a colorful dish with a combination of corn, lima beans, salty bacon, onion, okra, juicy grape tomatoes, butter, garlic, simple seasoning, and fresh basil. It's the perfect summer vegetable dish to enjoy on busy weeknights or at a summer BBQ.
If you love this recipe please give it 5 stars ⭐️⭐️⭐️⭐️⭐️.
📖 Recipe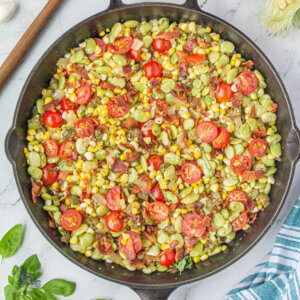 How To Make The Best Classic Corn Succotash
This vibrant and fresh corn succotash combines fresh vegetables, crispy bacon, and simple seasoning. It's a mouth-watering side dish for your Thanksgiving table or summer cookout!
Print
Pin
Rate
As An Amazon Associate I earn from qualifying purchases.
Ingredients
10

ounces

fresh or frozen baby lima beans

2 cups

4

bacon slices

center-cut

1

cup

sweet onion

chopped from 1 small onion

4

ounces

okra

fresh cut into ½-inch-thick slices (1 cup)

1

garlic clove

finely chopped (1 tsp.)

3

cups

fresh corn kernels

4 ears

1 ¼

teaspoons

kosher salt

¼

teaspoon

black pepper

3

tablespoons

butter

5

ounces

grape tomatoes

halved (1 cup)

¼

cup

fresh basil

thinly sliced
Instructions
Cook lima beans:

Place lima beans in a medium saucepan, and add water to cover. Bring to a boil over medium-high. Reduce to medium-low, and simmer until beans are just tender, 8 to 10 minutes. Drain and set aside.

Cook bacon:

While beans simmer, place bacon slices in a large cast-iron skillet over medium. Cook until crisp, about 8 minutes, turning once after 5 minutes. Transfer bacon to paper towels; crumble and set aside. Reserve drippings in skillet.

Sauté the veggies:

Add chopped onion, fresh okra, and garlic to skillet over medium, and cook, stirring often, until onion is just tender, about 6 minutes.

Stir in fresh corn kernels, salt, pepper, and drained beans, and cook, stirring often, until corn is tender and bright yellow, 5 to 6 minutes. Add butter, and cook, stirring constantly, until butter is melted, about 1 minute. Remove from heat.

Stir in halved cherry tomatoes and sliced basil; sprinkle with crumbled bacon, and serve immediately.
Notes
Can you use frozen ingredients?
Yes. You can make this recipe year-round by substituting frozen corn, and frozen or dried limas, when fresh varieties aren't available.
But fresh tomatoes, okra, and basil are usually sold in grocery stores throughout the year, which is good news since the taste and texture of these fresh ingredients really make this dish outstanding.
Can you make this succotash vegetarian?
While pork is a traditional ingredient in many variations of succotash, it's easily omitted to make this recipe vegetarian.
Just leave out the bacon crumbles and replace the drippings with two tablespoons of extra-virgin olive oil.
Nutrition
Calories:
256
kcal
|
Carbohydrates:
30
g
|
Protein:
9
g
|
Fat:
13
g
|
Saturated Fat:
6
g
|
Polyunsaturated Fat:
2
g
|
Monounsaturated Fat:
4
g
|
Trans Fat:
0.3
g
|
Cholesterol:
25
mg
|
Sodium:
667
mg
|
Potassium:
590
mg
|
Fiber:
5
g
|
Sugar:
7
g
|
Vitamin A:
791
IU
|
Vitamin C:
18
mg
|
Calcium:
47
mg
|
Iron:
2
mg
Sign up for the emails and never miss another recipe!!
We'll never share your email or send you spam. Promise