Sometimes a recipe, such as Salty Sweet Nutella Chocolate Chip Cookies, doesn't need an introduction or a lot of fanfare. The ingredients speak for themselves.
(I made these delicious triple chocolate cookies for our son's birthday per his request. I updated some of the photos but the recipe was just as delicious as the last time I made them.)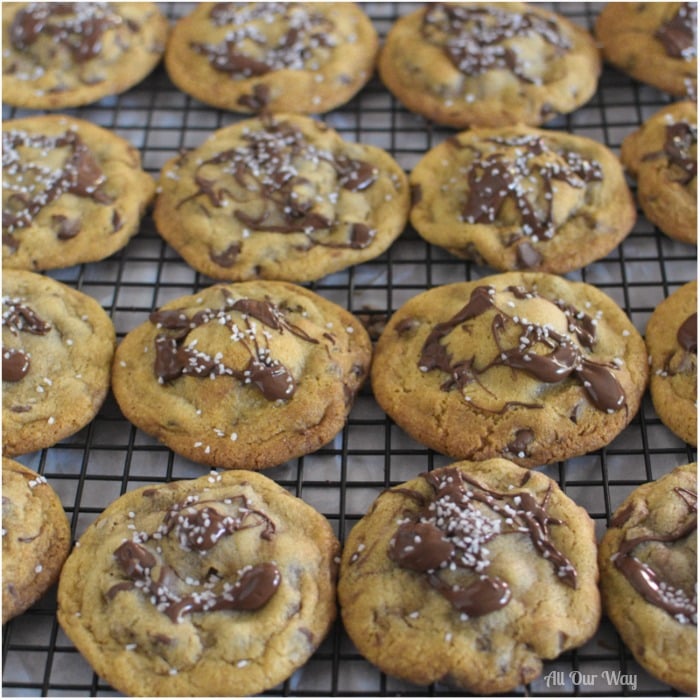 Jump to:
Nutella Chocolate Chip Cookies extra chocolatey
The nutty aroma of the brown butter and the chocolate will beckon you to take a taste of the baked cookie or cookies. 🙂
The smell makes them irresistible and the taste says it all.
Our oldest grandson took one bite, closed his eyes in appreciation and murmured . . .
. . .mmmm . . .ooey . . .gooey . . . goodness.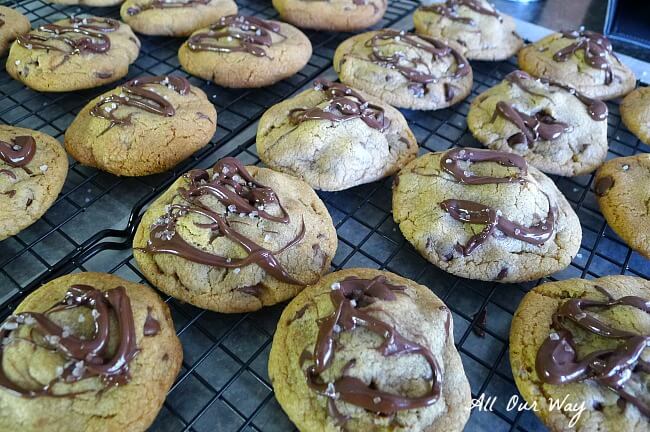 Chocolate Chip Cookies filled with Nutella
It all started with a half-full jar of Nutella.
I originally bought the Nutella to make a cheesecake parfait. Somehow, some of the Nutella went missing *ahem* and I didn't have enough for the parfait.
So, I went in search of a delicious recipe to take to our kids and grandsons to sample. You see, they are our quality control, so to speak. They rate the desserts.
They rate the desserts. If they give a dessert their seal of approval -- we're certain our readers will enjoy it.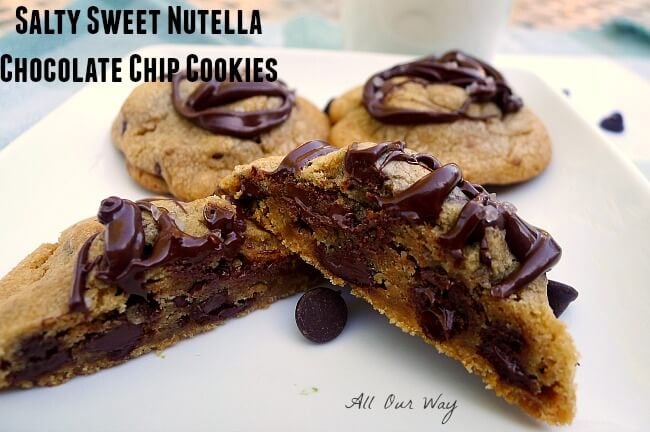 Throughout the years, I'm sure you made many batches of chocolate chip cookies. I know I have.
Nutella Chocolate Chip Cookies are not ordinary
The recipe I always used was the Betty Crocker recipe in her old 1962 cookbook. I even tried the recipe on the Nestle package. Our family is an expert on taste. So if you think that a chocolate chip cookie is a chocolate chip cookie.
That's a big, Uh! Uh!! This recipe for Nutella Chocolate Chip Cookies is out of this world delicious.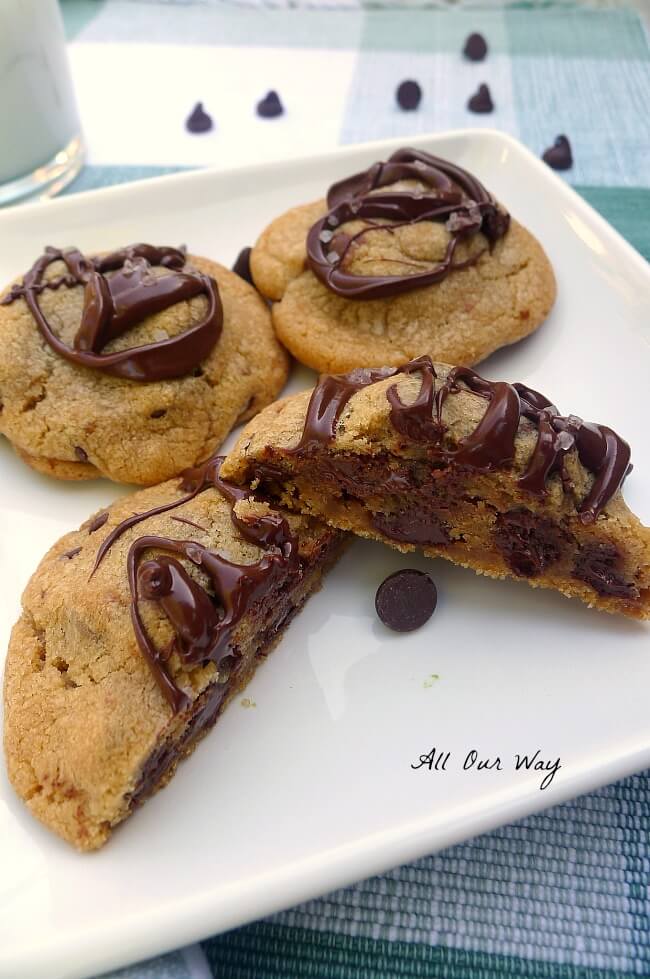 ute
My inspiration for these Nutella Chocolate Chip cookies came from a recipe at the Ambitious Kitchen.
Once I read Monique's post claiming they were the best cookies in the world, I knew I had to make them for All Our Way.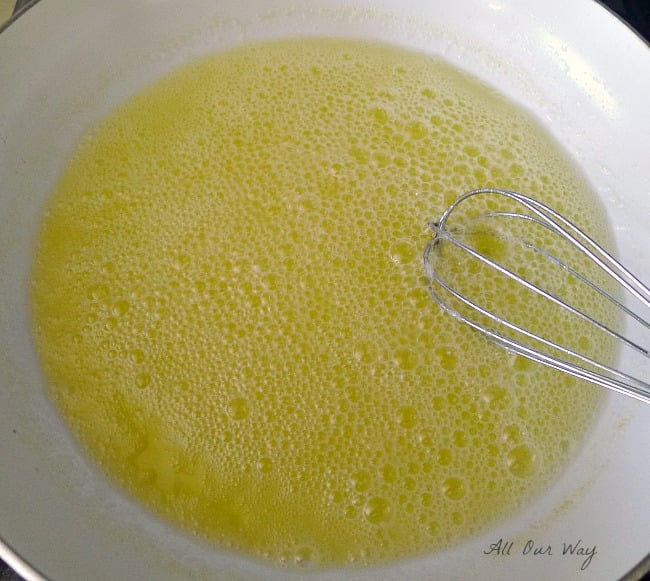 Part of the unique flavor is the 2 sticks (1 cup) butter that you brown -- giving the cookies a rich nutty butter taste. WOW!! It's worth taking the time to brown the butter. It makes all the difference.
Browning the butter isn't difficult to do -- you just have to watch the butter like a hawk so it doesn't burn.
Then to make it easier to stuff the cookies, freeze teaspoons of Nutella. When you're ready to assemble the ingredients, they measured and ready to add to the mixing bowl.
re ready to assemble the ingredients they are all measured and ready to be added to the mixing bowl.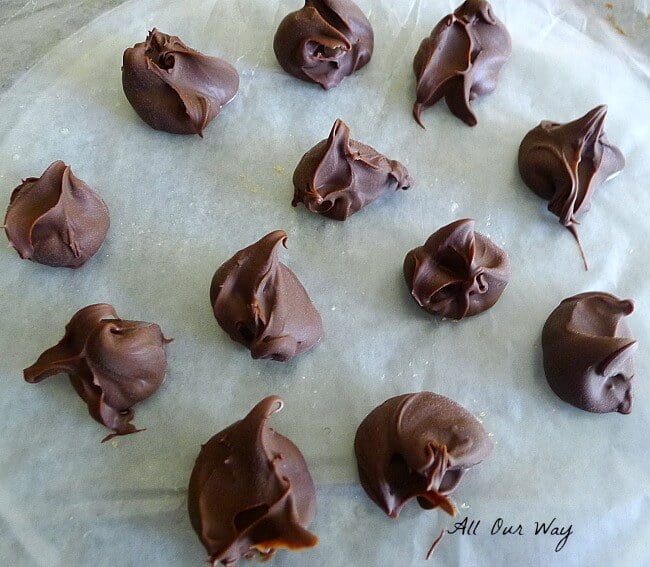 Freeze the Nutella Filling for Cookies
It's very important to chill the dough -- it warms up in your hand as you take about 1 ½ tablespoons of dough and form it into a ball.
Flatten the dough in your hand and put the frozen Nutella in the center. Wrap the dough around the Nutella, making sure that it is completely surrounded by the dough. Add a little bit more dough if necessary.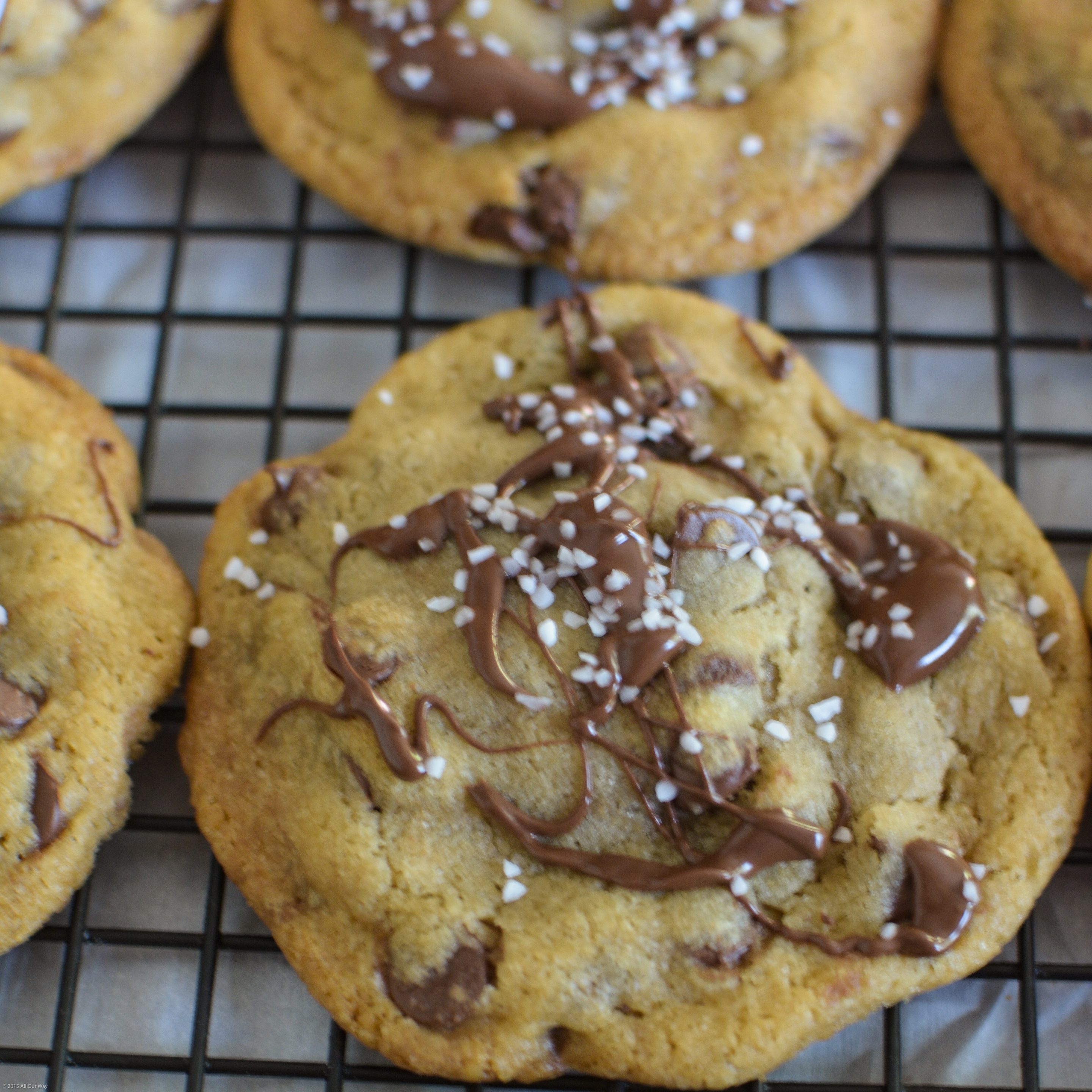 Bake the cookies just until the edges begin to turn a golden brown. They will continue to bake on the cookie sheet. Drizzle with chocolate and sprinkle with coarse sea salt.
That's all there is to it!!
Are the Salty Sweet Nutella Chocolate Chip Cookies the best cookies in the world?
We think they are at the very top. . . let me know what you think!
And if you love your chocolate chip cookies, try our delicious variety of Cranberry White Chocolate Chip Cookies. Tart cranberries and sweet white chocolate makes an ideal marriage. They also add a perfect holiday feel to any cookies tray.
If you're a fan of chocolate chip cookies and brownies and can't decide which on you want, then you've got to try out Homemade Brookies.
Next time you're needing to make LOTS of delicious cookies, you've got to try our yummy Cranberry Oatmeal Cookies with Chocolate Chips. They are favorites year round.
More sweet treats you'll love...
Brown Butter Snickerdoodles -- The magic of brown butter is used to give the old-fashion cookie an additional depth of flavor. The aroma is amazing.
Italian Chocolate Toto Cookies -- These are typically Christmas cookies but the spice morsels are so good they'd be ideal for any occasion.
Piña Colada Biscotti -- If you like the drink, you'll really enjoy these cookies with pineapple bits and toasted coconut. Everyone loves these biscotti.
Banana Chocolate Chip Muffins -- These muffins are a banana split in little cake form. Delicious any time of day!!
If you crave something sweet, delicious, and just a little different, these recipes are it.
Tutti a tavola è pronto!
Alla prossima
📖 Recipe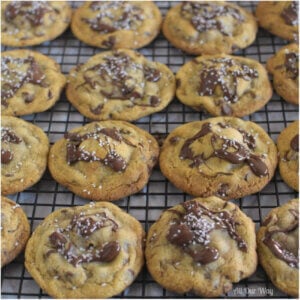 Salty Sweet Nutella Chocolate Chip Cookies
Chocolate Chip dough is enriched with brown butter and then stuffed with Nutella, baked, drizzled with chocolate then finish with a sprinkle of coarse sea salt.
Print
Pin
Rate
As An Amazon Associate I earn from qualifying purchases.
Ingredients
2 ¼

cups

all-purpose flour

281 ¼ grams

1 ¼

teaspoons

baking soda

5 ¾ grams

¼

teaspoon

kosher salt

1 ½ grams

2

sticks

1 cup unsalted butter (227 grams)

1 ¼

cups

packed brown sugar

either light or dark (275 grams)

¼

cup

granulated sugar

50 grams

1

large egg plus 1 egg yolk

1 ½

teaspoons

vanilla extract

6 ½ grams

1

tablespoon

sour cream

14 ⅓ grams

1 ¾

cups

semi-sweet chocolate chips

315 grams

1

jar Nutella

13 oz

Coarse sea salt for sprinkling
Chocolate Drizzle
1

cup

6 oz. semi-sweet chocolate chips

1

teaspoon

shortening such as Crisco
Instructions
Whisk together the flour, baking soda, and salt in a bowl and set aside. Melt butter in a saucepan over medium heat. The butter will begin to foam -- don't leave, keep watch over it. Make sure you whisk consistently during this process. After a couple of minutes, the butter will begin to brown on the bottom of the saucepan; continue to whisk and remove from heat as soon as the butter begins to brown. It will give off a rich nutty aroma. Immediately pour the butter into a bowl to prevent it from burning. Set it aside to cool for a few minutes. If the butter is too hot it will "cook" the eggs.

With an electric mixer, cream the butter and sugars until thoroughly blended. Beat in the egg, yolk, vanilla and sour cream until combined. Add the dry ingredients slowly and beat on low speed just until combined. Gently fold in the chocolate chips.

Chill the dough for at least 1 ½ hours.

Measure 24 - 1 teaspoon of Nutella on a piece of wax paper and freeze.

Preheat oven to 350 F. Take dough out of the refrigerator and measure about 1 ½ tablespoons of dough and roll into a ball. Flatten the dough ball very thinly into the palm of your hand. Place the teaspoon of frozen Nutella in the middle and fold the dough around it, make sure dough is covering the Nutella -- add a little more dough if necessary. Place the dough balls on a parchment lined cookie sheet about 2 inches apart and gently tap the top to slightly flatten. Don't press too hard.

Bake the cookies anywhere from 9 to 12 minutes -- just until the edges of the cookies begin to turn golden brown. They will look a bit underdone in the middle -- don't worry -- they will continue to cook once they are out of the oven.

Cool the cookies on the sheets at least 2 minutes.
Chocolate Drizzle
Put the chocolate chips in a microwavable cup. Melt the chocolate in 30-second increments until it is all melted - add the shortening then stir.

Drizzle the chocolate on top of the warm cookies, sprinkle with coarse sea salt and let cool completely.
Notes
If you use a double ply cookie sheet the cookies have a tendency to take longer. Just keep an eye on them. The middle will look soft but that's okay.
If you are baking one tray at a time, put the other cookie sheet in the refrigerator until ready to bake. This prevents the cookies from spreading out too much. The same goes if your kitchen is really warm, put the cookie sheet in the fridge for a few minutes to firm up the dough - then bake.
Inspired by Monique's Nutella stuffed Brown Butter + Sea Salt Chocolate Chip Cookies at Ambitious Kitchen.
Nutrition
Serving:
1
cookie
|
Calories:
224
kcal
|
Carbohydrates:
34
g
|
Protein:
3
g
|
Fat:
7
g
|
Saturated Fat:
4
g
|
Cholesterol:
14
mg
|
Sodium:
100
mg
|
Potassium:
118
mg
|
Fiber:
1
g
|
Sugar:
22
g
|
Vitamin A:
40
IU
|
Vitamin C:
0.1
mg
|
Calcium:
30
mg
|
Iron:
1.6
mg
Sign up for the emails and never miss another recipe!!
We'll never share your email or send you spam. Promise
Note: Recipes and content from All Our Way ©2015 is copyright protected. Please do not use content or recipe without prior written permission. If you want to share the information please link to this post. Grazie.
SaveSave
SaveSave
SaveSave
SaveSave