The day I made banana chocolate chip muffins, I came to realize that our freezer must clone the ripe bananas we stick inside its frigid interior.
I know it sounds outrageous, doesn't it? But how else could we have accumulated so many?
The recipe I had called for two ripe bananas. Well, just imagine my surprise when I found six frozen bananas instead.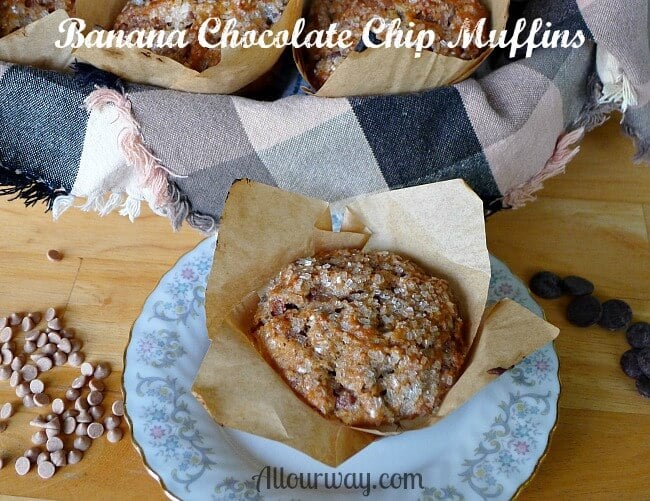 Jump to:
Recipe search
I certainly didn't remember putting that many in there! Where had they come from?
My plan had been to use up the bananas I had. I had all of the ingredients prepped for one batch of Banana Chocolate Chip Muffins using 2 ripe bananas.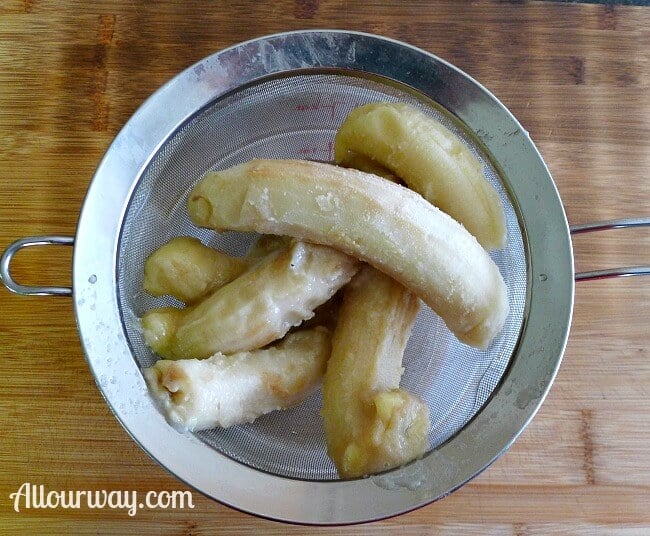 I needed to use up the frozen fruit but I didn't have enough of the sweet goodie ingredients for three batches of muffins.
Somehow I was going to make this work!
Normally, I don't like to change the formula of a quick bread or cake recipe, too much goes into the correct combination of ingredients.
I was a little worried about adding too many wet ingredients with the dry, but nothing ventured; nothing gained.
I took the plunge and decided to use all of the bananas and then adjust for the increase in volume.
Start with frozen bananas
First thing I did was to peel the frozen bananas and put them in a wire strainer that was over a bowl.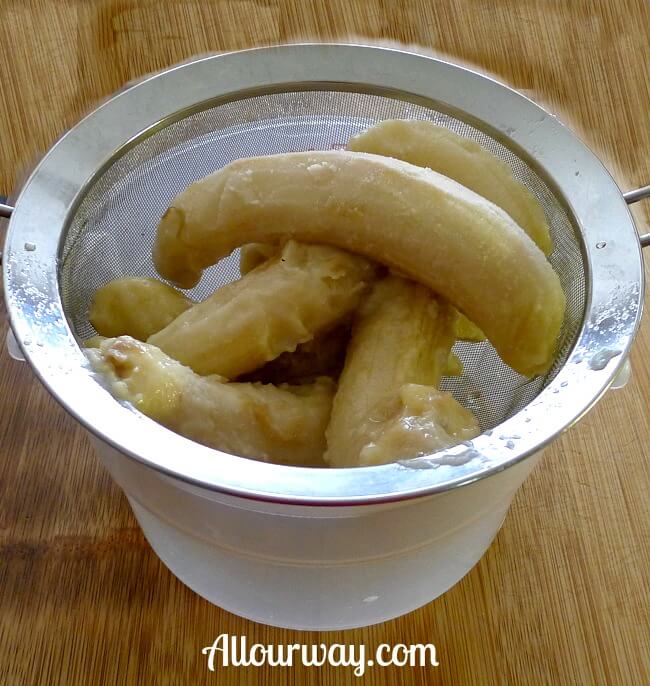 Ripe bananas, once they are frozen, release a lot of liquid I wanted to save that liquid then reduce it by simmering it in a pan.
I remember using this technique a long time ago when I made banana bread. I tried to find that recipe -- no luck!
Banana Chocolate Chip Muffins - Bananas Thawing over Bowl
The bananas drained over the bowl for about 3 hours and released a total of ⅔ cup liquid.
I poured the liquid into a small pan over medium-low heat and let it reduce to one half of its volume -- ⅓ cup.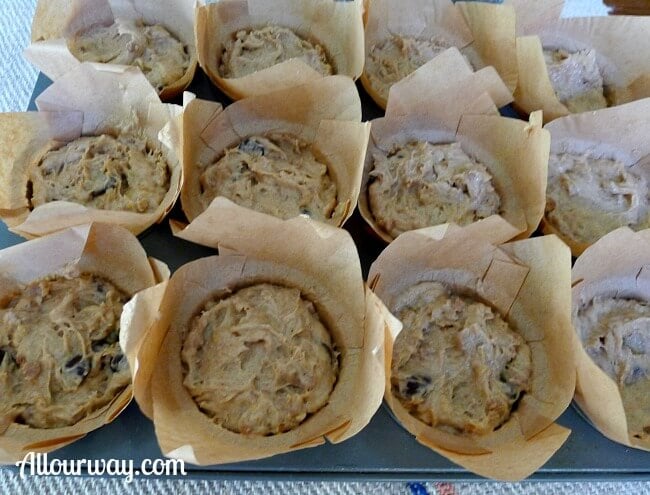 Prepare to bake the banana muffins
Once the ingredients were mixed, according to the direction, I used a scoop to measure the stiff batter into the muffin cups. This was the first time I used these brown parchment paper cups and I really like them. They hold more than the regular baking cups and the batter isn't likely to run over as they are baking.
I sprinkled coarse white sparkling sugar on the muffins then popped them into a 350° F oven for about 30 minutes.
Bake the banana muffins
The muffins rose beautifully in the oven.
I realized that the modifications hadn't hurt the appearance of the muffins.
I still had to test whether the texture and the taste would be up to par.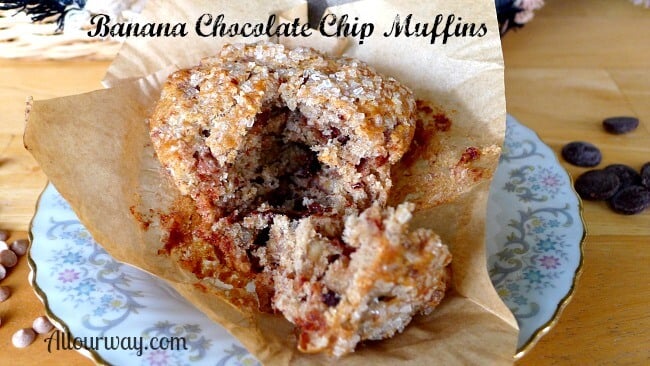 Waiting for the muffins to cool so that we could do the final quality test wasn't easy -- the rich aroma of banana, chocolate, and cinnamon was testing our patience.
We finally cut into the muffin and we were very pleased with the appearance but it was nothing compared to the pleasure we got from the taste of the Banana Chocolate Chip Muffin -- it was a banana split in muffin form.
If you're crazy about a banana and chocolate combination, next time try our Double Chocolate Banana Cake. Your chocolate lovers will love the addition of the chocolate chips to the chocolate cake.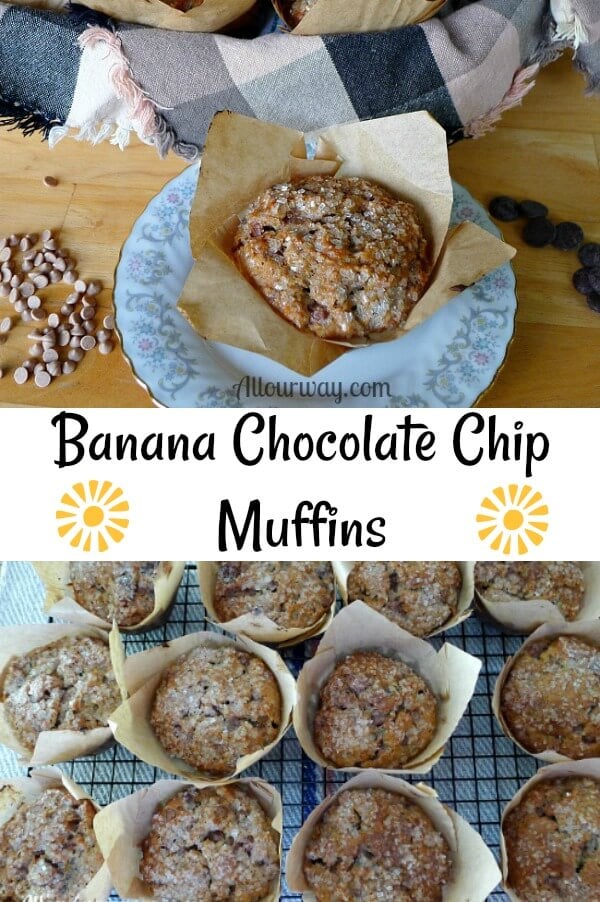 📖 Recipe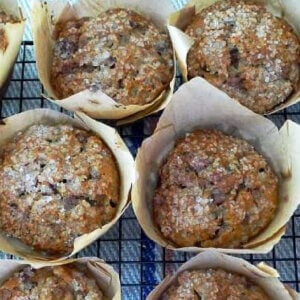 Banana Chocolate Chip Muffins
Muffins that are very tender, moist, and loaded with three different kinds of goodies: bittersweet chocolate chips, cinnamon chips, and toasted walnuts
Print
Pin
Rate
As An Amazon Associate I earn from qualifying purchases.
Ingredients
½

cup

unsalted butter

⅔

cup

sugar

6

frozen ripe peeled bananas thawed in wire strainer over bowl for several hours-- save the liquid that drains from the bananas. Mash the banana

Reduced liquid from the bananas

about ⅓ cup.

1

large egg

1

teaspoon

vanilla

⅛

teaspoon

butter rum

⅓

cup

reduced banana liquid

1 ½

teaspoon

baking powder

½

teaspoon

baking soda

½

teaspoon

salt

1

cup

unbleached all-purpose flour

1

cup

traditional whole wheat flour or white whole wheat flour

¾

cup

bittersweet chocolate chips

1

cup

chopped walnuts

toasted in a 350 F for 8 minutes

1

cup

cinnamon chips
Instructions
Heat the oven to 350 F. Lightly grease 12 standard muffin cups. I used parchment paper liners which are larger in size and sprayed them lightly with oil. You may need additional muffin cups if you use all the add-ins.

In a small pan bring the banana liquid to a simmer and continue to cook until the liquid is reduced in half -- to about ⅓ cup. Let cool.

In a medium-sized mixing bowl, beat together the butter and sugar till smooth.

Beat in the mashed banana, then the egg, the flavorings, and the cooled reduced banana liquid.

In a separate bowl whisk the baking powder, baking soda, salt, and flours until it is thoroughly mixed. Add it to the wet ingredients and stir till smooth. If the mixture has a lot of lumps, beat at a higher speed until they've nearly disappeared.

Stir in the bittersweet chocolate chips, walnuts, and cinnamon chips.

Heap the thick batter into the prepared muffin cups, mounding them quite full. I used a large scoop to fill the muffin cups.

Sprinkle the tops of the muffins with coarse white sparkling sugar.

Bake the muffins for 25-30 minutes, until a cake tester inserted into the center of one of the middle muffins in the pan comes out clean.

Remove the muffins from the oven, and tilt them in the pan to cool a bit; this will prevent their bottoms from becoming soggy. As soon as you can safely handle them, transfer the muffins to a rack to cool completely.
Notes
Adapted from King Arthur Flour's Banana Chocolate Chip Muffins
Nutrition
Serving:
12
g
|
Calories:
441
kcal
|
Carbohydrates:
58
g
|
Protein:
7
g
|
Fat:
22
g
|
Saturated Fat:
11
g
|
Cholesterol:
36
mg
|
Sodium:
173
mg
|
Potassium:
403
mg
|
Fiber:
4
g
|
Sugar:
32
g
|
Vitamin A:
325
IU
|
Vitamin C:
5.4
mg
|
Calcium:
98
mg
|
Iron:
1.6
mg
Sign up for the emails and never miss another recipe!!
We'll never share your email or send you spam. Promise
Note: Recipes and content from All Our Way ©2014 are copyright protected. Please do not use content or recipe without prior written permission. If you want to share the information please link to this post. Thank you.
SaveSave
SaveSave
SaveSave