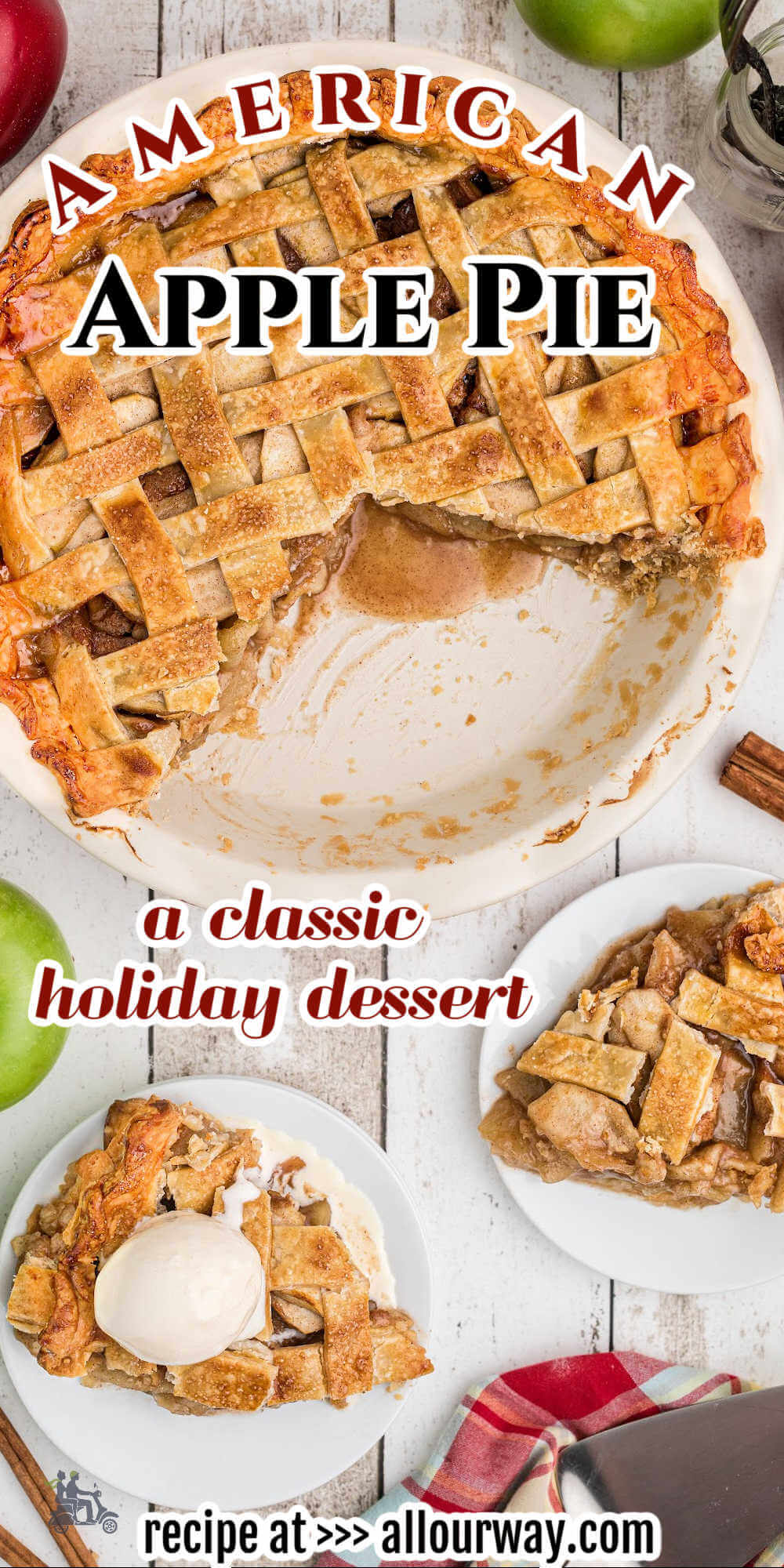 I've yet to come across anyone who doesn't love a homemade apple pie. If you're on the fence with this particular dessert recipe, you'll definitely be won over once you've tried this comforting, sweet, and warm American apple pie!
Enjoy a slice of warm traditional apple pie for Thanksgiving, or any time of time of year, with whipped cream or ice cream.
Jump to:
❤️ Why you'll love this recipe
This apple pie recipe is so easy to make. You don't need to blind bake the refrigerated pie crust or cook the apple slices before assembling and baking the pie!
This dessert pie uses minimal ingredients that are mostly pantry staple items.
The filling is warm with deliciously soft and sweet cinnamon apples and a natural sweet syrup from the apples cooking in the pie.
Welcome in the fall and winter months with warm homemade American apple pie. It's an iconic dessert that shouldn't be missed out on!
🛒 Ingredients
As an Amazon Associate I earn from qualifying purchases.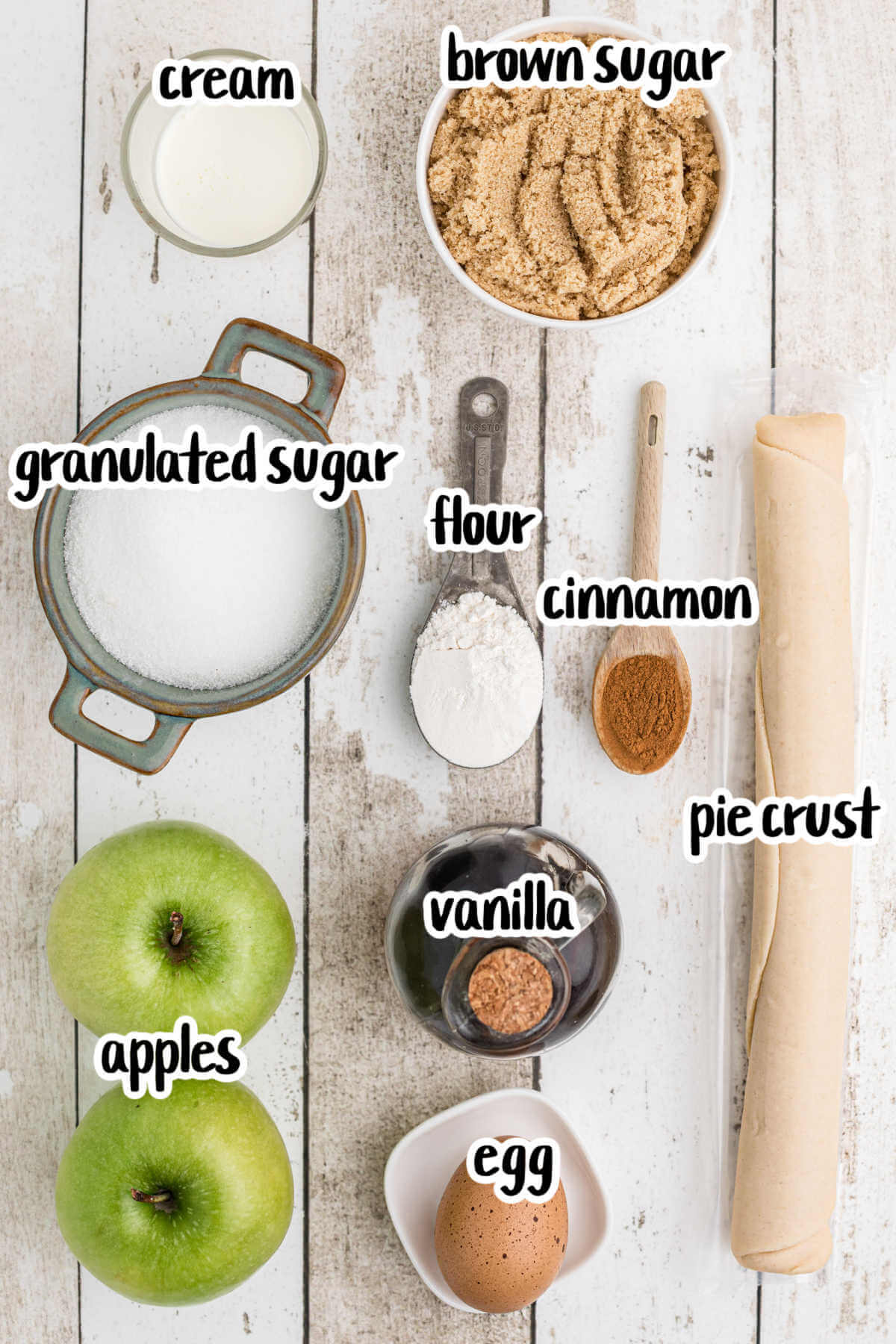 Note: The full list of this recipe ingredients with their amounts and options are listed in the recipe card below
Apples - We used Granny Smith but these apples are excellent too with a crisp bite: Honeycrisp, Gala, Jonathans, Golden Delicious.
Brown Sugar – Brown sugar will give you a pie that is more moist, has richer color, and a deeper caramel flavor.
Granulated Sugar - For additional sweetness in the filling and for the top crust.
Flour - This is for the binding and thickening in the apple pie filling.
Cinnamon and Vanilla - You can make an apple pie without the cinnamon and vanilla but why would you want to? This gives the pie the rich aroma, flavor and all around scrumptiousness that screams Fall dessert.
Heavy Cream - adds a touch of richness to the classic apple pie. You may also substitute sour cream for the same amount. Some say that the sour cream is a game changer!
Egg - A beaten egg with a bit of sugar makes for a beautiful glossy upper crust.
Pie crust - we purchased our pie crust for ease but you may use your favorite crust recipe.
🗒 Instructions
Note: This is an overview of the instructions. The full instructions are in the recipe card below.
Line a 9"pie dish with one of the pie crusts and set aside.
Peel and thinly slice the apples and add them to a large mixing bowl.
Add the sugars, cinnamon, flour, and vanilla and stir well.
Spoon the apple mixture into the pie crust. Any extra juices can be poured over the top.
Spread the apples out for an even layer.
Lay the 2nd pie crust out on a lightly floured surface. Then cut the crust into ½" thick strips using a pizza cutter.
Lay half of the crust strips in one direction over the apples. The strips will slightly hang over the edge of the pie dish. Pull back alternate strips half way and lay another strip across in the opposite direction.
Return those alternate strips that were pulled back in step 7, back over the top of the strip you've just laid down so that you start to form a weave.
Repeat this process until you've created a completed weave on the top of the pie. Flute the edges and create a pretty edge by pressing the crust between fingers and thumb.
Brush the egg and sugar mixture over the top crust and sprinkle a little extra sugar before baking in the oven.
Bake the apple pie at 425F for 15 minutes. After 15 minutes, reduce the heat to 350F and bake for another 40 minutes. Once baked, allow the pie to cool for 15 minutes before serving.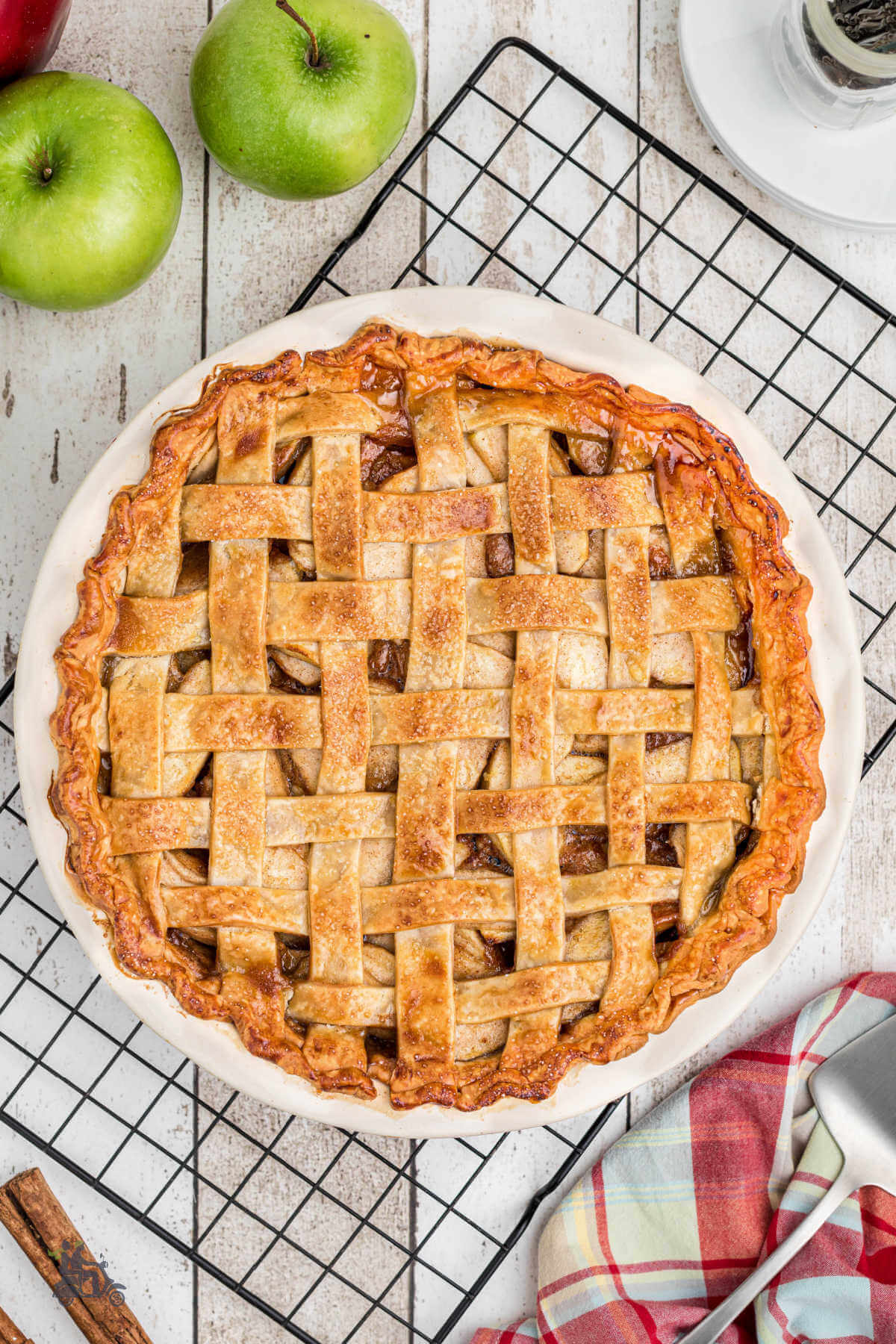 🔪 Equipment
The following are affiliate links. We are a participant in the Amazon Services LLC Associates Program, an affiliate advertising program designed to provide a means for us to earn fees by linking to Amazon.com and affiliated sites.
You'll need the following items to make this recipe successfully.
🤔 FAQs
These are the questions we are most frequently asked about making this Homemade Apple Pie recipe.
What are the best apples to use for apple pie?
Various kinds of apples are great for apple pie. One of the most popular is Granny Smith apples which are the most flavorful with great texture and a lovely tartness. Other apples that can be used include Golden Delicious, Honeycrisp, and Rome.
Should I cook my apples before making apple pie?
No. You only need to keep them in cold water before assembling the pie to prevent the apples from browning.
What is the difference between Dutch and American Apple Pie?
The difference between these two types of apple pies comes down to the top crust. A Dutch apple pie has a crumbly topping, while a traditional American apple pie is topped with a layer made from pie crust.
What are American pies?
American pies have become a symbol of national pride, and while the list has grown quite long regarding the variety of sweet and savory American pies that can be enjoyed, homemade apple pie sits at the top of that list!
👩🏻‍🍳 Tips
You can use any brand of refrigerated rolled pie crust for this dessert or even make your own from scratch. Here is a delicious buttery pie crust recipe if you want to make your own.
Make sure to slice your apples into thin slices. This will ensure that they cook through during the baking time.
Soaking the apple slices in water with a bit of lemon juice before combining with the other ingredients will prevent the sliced apple pieces from browning. This will also help to soften them so that they cook through.
📚 Variations
Some variations of apple pie filling include raisins and lemon juice. I haven't included these in my apple pie but feel free to do so.
I don't cook the sliced apples before spooning them over the raw pie crust. If you're worried that your apple slices won't cook through, cook them for a short time in a skillet.
I've created a weaved top crust effect for this American apple pie but you can add a streusel topping instead. Or simply add the second pie crust on top with a vent so that steam can release while baking.
🥫 Storage
Once completely cooled, this apple pie can be wrapped tightly and stored in the refrigerator for up to 5 days. You also have the option to freeze this apple pie for up to 6 months.
When freezing, the best method is to place the uncovered pie directly into the freezer to freeze first. Once frozen, you can heavy wrap and store it.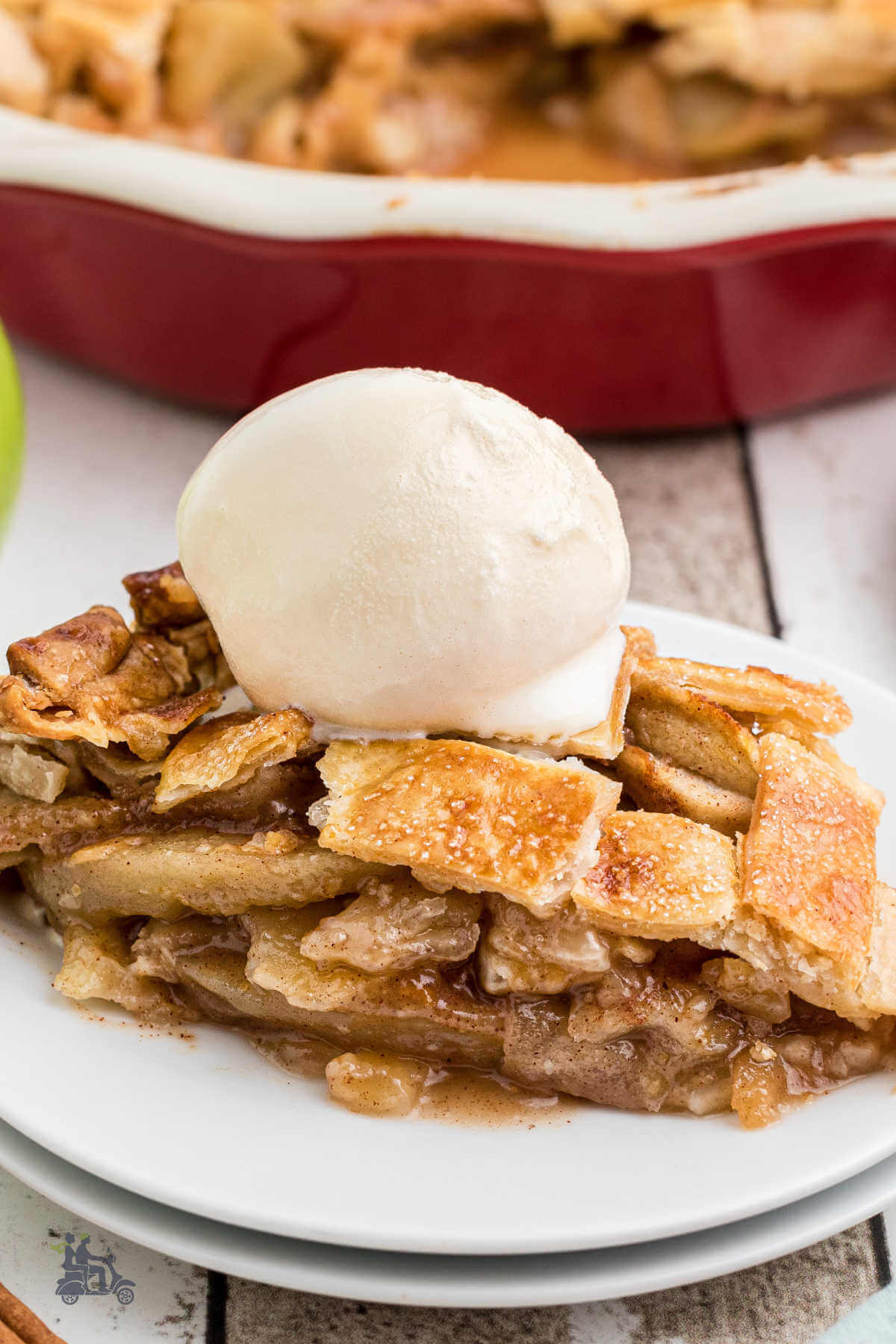 📗 Related Recipes
Fruity dessert pies are often so pretty while also decadent in taste - perfect for holidays and other special meals. Why not also try this Creamy Blueberry Bottom Pie or Key Lime Pie?
And if you're looking for more ways to maximize on Fall-inspired apple desserts, consider making Caramel Apple Pie Bars or Caramel Apple Pie No-Churn Ice Cream!
🍽 Serve with
Serve this apple pie with whipped cream or a scoop of vanilla ice cream. It's the type of dessert pie that can be enjoyed all year round, especially for holidays such as Thanksgiving!
📞 Chiacchierata (chat)
There's something so special about a traditional apple pie. While the origin of this type of dessert is not specific to the United States, it has, like many other dishes, found its way into the patriotic heart of America with our own special twist added, of course!
I'm sure you can relate to the excitement of being served warm and comforting homemade apple pie for holidays like Thanksgiving with a scoop of ice cream or whipped cream. It's definitely a tradition in my house over the Fall season. I can't wait for you to try my version of the American apple pie!
Tutti a tavolo, è pronto!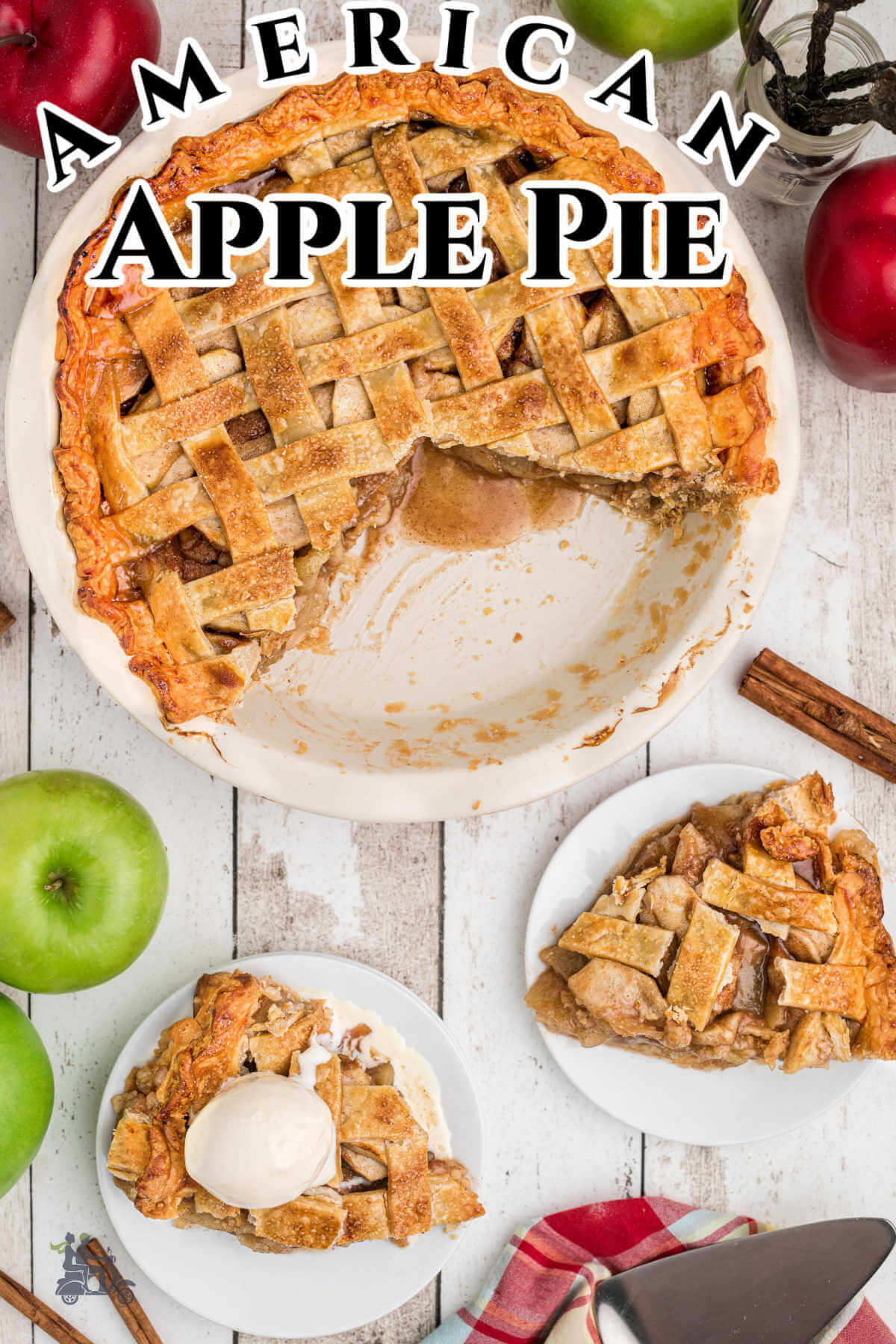 What's new? Check out my All Our Way Store on Amazon. We'll be adding more items we love and use or wish we had to make cooking fun and easy.
📝 Recipe Card
Homemade Apple Pie is made with refrigerated pie crust, thin slices of Granny Smith apples in a cinnamon sugar mixture. then topped with a weaved crust. It's stunning to look at and perfect to enjoy for Thanksgiving and other holidays.
If you love this recipe please give it 5 stars ⭐️⭐️⭐️⭐️⭐️.
📖 Recipe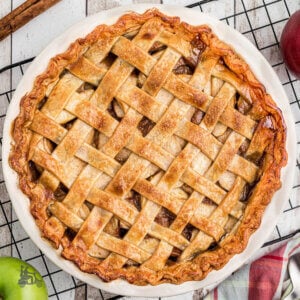 The Best Homemade American Apple Pie
This Classic Apple Pie recipe is easy to make with minimal ingredients and maximum Fall-inspired flavors - perfect for Thanksgiving with a scoop of ice cream!
Print
Pin
Rate
As An Amazon Associate I earn from qualifying purchases.
Ingredients
2

pie crusts

store bought or homemade

6-8

Granny Smith apples

¾

cup

light brown sugar

¾

cup

granulated sugar

extra for sprinkling crust

1½

teaspoons

cinnamon

1½

Tablespoons

all-purpose flour

¼

cup

heavy cream

2

teaspoons

vanilla extract

1

egg

large
Instructions
Preheat your oven to 425℉.

Line a 9"pie dish with one of the pie crusts and set aside.

Peel and thinly slice all the apples and place into a large mixing bowl.

Add the sugars, cinnamon, flour, cream and vanilla and stir with a spoon to mix well. Get in there with your hands to help if you need more mixing power.

Spoon the apple mixture into the pie crust, pouring any extra juices over to top.

Spread the apples out so that they're even.

Lay the 2nd pie crust out on a lightly floured surface and using a pizza cutter cut the crust into evenly spaced strips about ½" thick. **(see notes)

Lay half of the strips in one direction across the top of the apples so that it overhangs somewhat the edges.

Now pull back alternate strips half way and lay another strip across in the opposite direction.

Return those strips that were pulled back, back over the top of the one you just put down and you'll form a weave.

Repeat until an even weave has been created across the top of the pie.

Any cuts you may have left you can use to help flute the edges.

Take the edge of the pie crust and press between fingers and thumb to create a pretty edge.

In a small container beat the egg with a tablespoon of sugar and brush over the top crust.

Sprinkle with a little extra sugar and bake in the oven for 15 minutes.

After 15 minutes turn the oven down to 350℉ and bake another 40 minutes. If needed place a pie crust shield toward the end if it loos like it's getting too dark. **(see notes)

Remove from the oven and allow to cool for 15 minutes before serving.
Nutrition
Calories:
265
kcal
|
Carbohydrates:
60
g
|
Protein:
1
g
|
Fat:
4
g
|
Saturated Fat:
2
g
|
Polyunsaturated Fat:
0.3
g
|
Monounsaturated Fat:
1
g
|
Trans Fat:
0.03
g
|
Cholesterol:
29
mg
|
Sodium:
19
mg
|
Potassium:
193
mg
|
Fiber:
4
g
|
Sugar:
53
g
|
Vitamin A:
214
IU
|
Vitamin C:
6
mg
|
Calcium:
38
mg
|
Iron:
1
mg
Sign up for the emails and never miss another recipe!!
We'll never share your email or send you spam. Promise