We wanted to celebrate our youngest son and oldest grandson's birthday with a family fish fry and one of the desserts that we made was  . . .
Homemade Strawberry Ice Cream.
And, may I say, that it was so well received that we now have orders for No Churn Butter Pecan, Oreo, Peach, Praline, Mint Chocolate Chip, Cookie Dough, Cinnamon Bun, so on and so on ice cream.
When our kids were young we had an electric ice cream maker. That poor machine would churn out countless quarts of delicious ice cream.
Eventually, we wore it out but we didn't replace. By then our kids were grown and gone and we didn't want an ice cream maker around to tempt us into making ice cream.
Yes, my Honey and I have a weakness — creamy, cold, delicious ice cream.  Now whenever our kids and grandkids come over,  we purchase ice cream and then give them whatever is left over to take home.
That plan worked fairly well until we discovered No Churn Strawberry Ice Cream.
The beauty of this recipe is that the base has just two ingredients.
Yes! I said just two ingredients: sweetened condensed milk and heavy whipping cream. 
I have to tell you,  this was such a simple and easy recipe to make that I don't know whether I'm glad we found the recipe or regretful.
Just think . . . luscious, creamy ice cream any time we want and no need for an ice cream machine!
No Churn Strawberry Ice Cream is just the beginning for us.
 You can make this rich ice cream Your Way. This recipe is a blank canvas ready for you to create your masterpiece.
The other dessert we made and will be posting? Tiramisu Cake with Zabaglione Topping.
Alla prossima!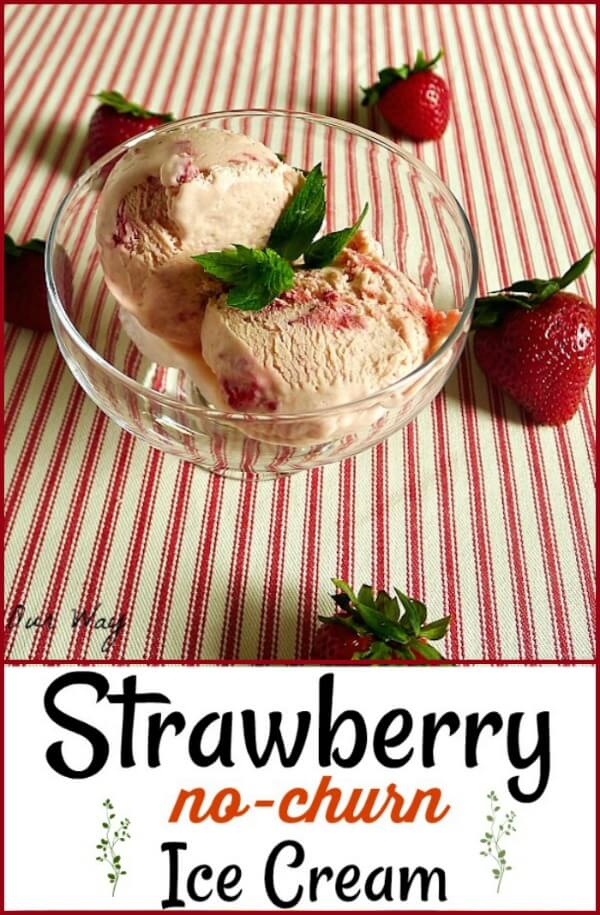 No Churn Strawberry Ice Cream
No need for an ice cream maker. Just two basic ingredients will give you a start for countless variations. This recipe can be made with fresh or frozen strawberries.
Print
Pin
Rate
Prep Time:
2
hours
30
minutes
Cook Time:
9
hours
3
minutes
Ingredients
2

cups

frozen strawberries

or 2 cups fresh strawberries, cleaned and stemmed**

1/4

cup

granulated sugar

2

teaspoon

cornstarch

2

Tablespoons

juice from drained strawberries

if using fresh strawberries use 2 Tablespoons water

1

can

14 ounces sweetened condensed milk (NOT evaporated milk) chilled in refrigerator.

2

teaspoons

vanilla extract

2

cups

heavy whipping cream

very cold ( chill your bowl and beaters also)
Instructions
Place the frozen strawberries in a sieve over bowl to thaw and collect the juice. Once they are thawed, slice them and reserve 2 tablespoons of the juice. ( For fresh strawberries rinse and dry them. Cut off the leafy tops and slice in half.)

Place the sliced berries with juice in a medium saucepan over medium heat. ( Fresh strawberries will release juice as they cook). Sprinkle with sugar and mix. Allow the berries to cook until they soften about 5 minutes ( longer if using fresh berries)

Dissolve the cornstarch in the juice (or water if using fresh berries) and add to the simmering strawberries. Stir and continue to cook until it thickens about 1 to 2 minutes. Stir constantly to prevent the compote from burning. Remove from heat and place the sauce pot in ice water, taking care that water doesn't get into the pan, stir until it cools down completely before continuing.

Fit your electric mixer with the whisk attachment. In a medium size bowl whisk the sweetened condensed milk and strawberry compote until mixed. Keep cold.

In your chilled bowl add the cold heavy whipping cream and beat on medium-high until stiff peaks form when the whisk is lifted. Do not overheat or you'll get butter.

With a silicone spatula fold in the strawberry mixture to the whipped cream. Mix together until well mixed.

Pour into your freezer containers and cover tightly with plastic wrap. Freeze for at least 6 hours or overnight. Store in Freezer.

When ready to serve, take out of freezer for about 15 minutes. It does freeze hard but it is delicious.
Notes
** The strawberries are easier to slice if they are partially frozen.
Inspired by Jonathan at the Candid Appetite.
Note: Recipes and content from ©All Our Way are copyright protected. Please do not use content or recipe without prior written permission. If you want to share the information please link to this post. Grazie.
SaveSave
SaveSave
SaveSave