It seemed like such a natural progression,  going from No Churn Strawberry Ice Cream . . .
. . .to the chocolate nutty version of No Churn Nutella Hazelnut Chocolate Chip Ice Cream.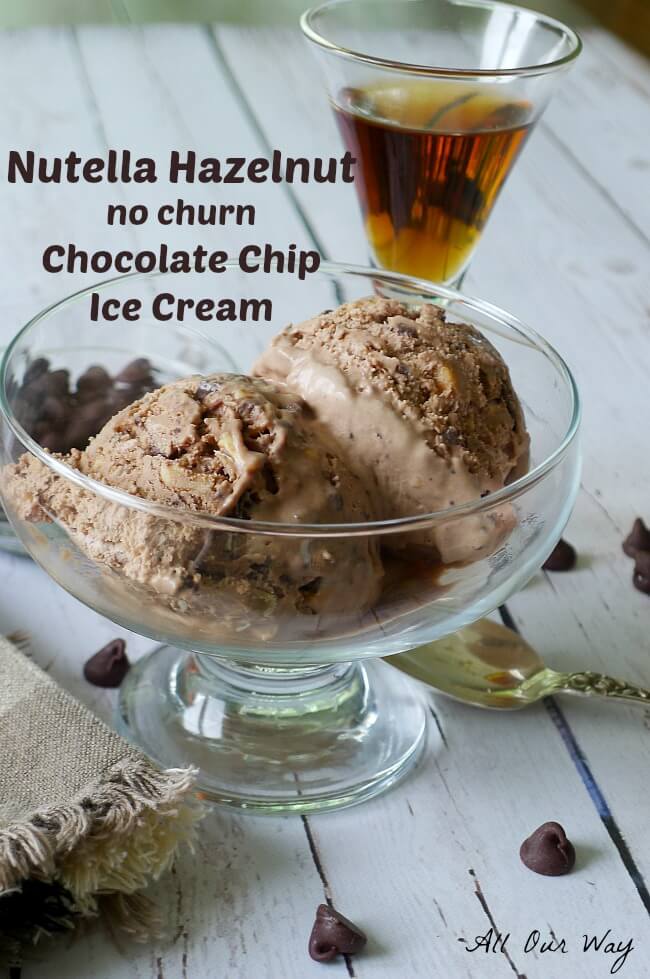 The title is quite a mouthful isn't it?  But what else would you call an ice cream that is so much more than just Nutella and heavy whipping cream?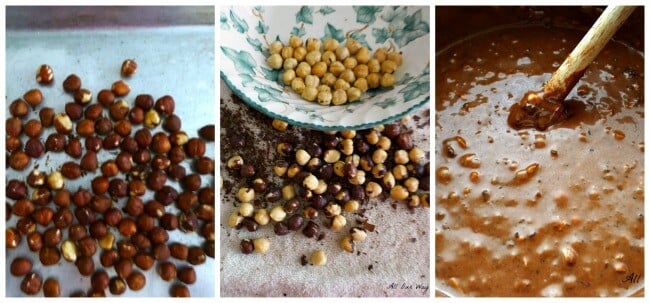 Of course, the star is Nutella but then its chocolate goodness is enhanced with the roasted crunch of hazelnuts and embellished with bits of semi-sweet chocolate chips and finally laced with just a light touch of Frangelico liqueur.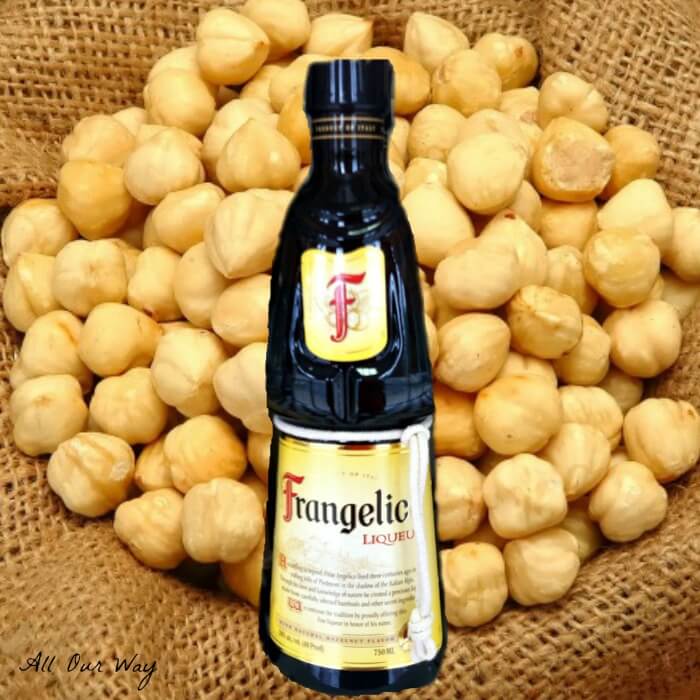 Frangelico is a brand of hazelnut and herb-flavored liqueur produced in Canale, Italy. It is delicious and it is considered a digestive. I don't believe I've ever sipped on it because I had a tummy problem. 🙂
Now you don't need the liqueur but we thought that a little bit of alcohol would keep the no-churn Nutella hazelnut chocolate chip ice cream nice and creamy and prevent it from freezing too hard.
It worked like a charm.
 The first time we sampled it, we couldn't believe it.
We made the ice cream yesterday and we had to try to patiently wait for the ice cream to freeze for at least six hours.
It wasn't easy.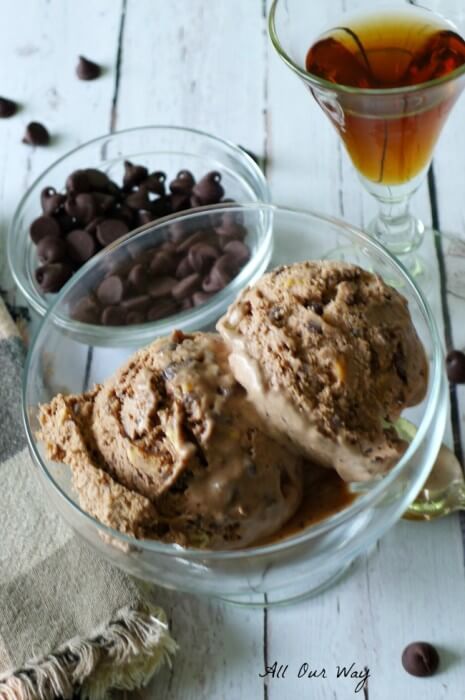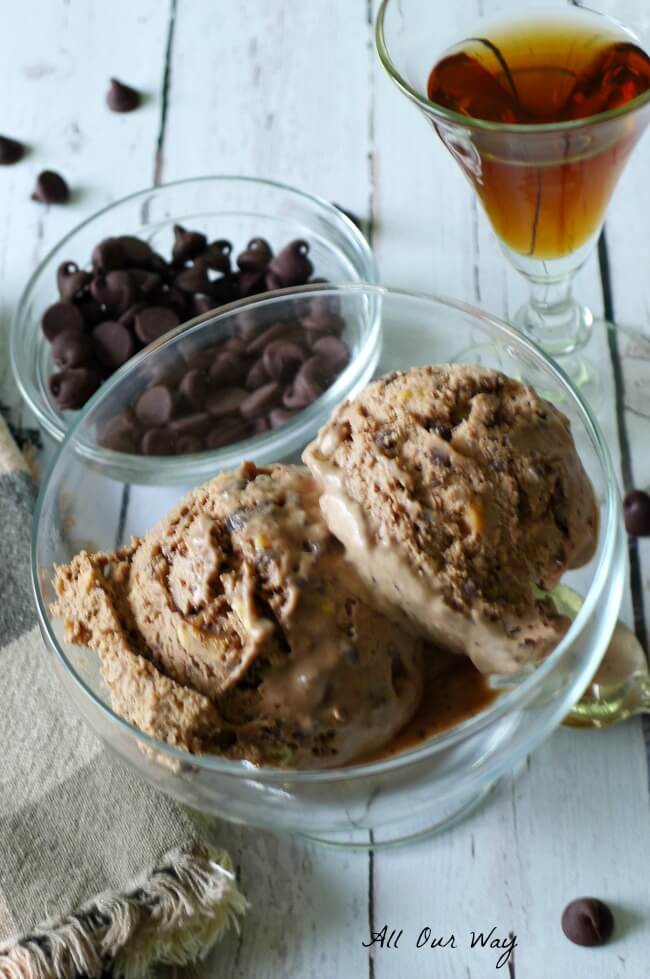 This morning, before coffee, before breakfast, my Honey took out the container from the freezer, grabbed a small spoon and scooped out a little spoonful. He tasted; I tasted. OMG !! It was so good. Our eyes looked up to the heavens in total bliss. The texture was perfect — creamy without being too hard or too soft. No Churn Nutella Hazelnut Chocolate Chip Ice Cream was even more than what we thought it would be.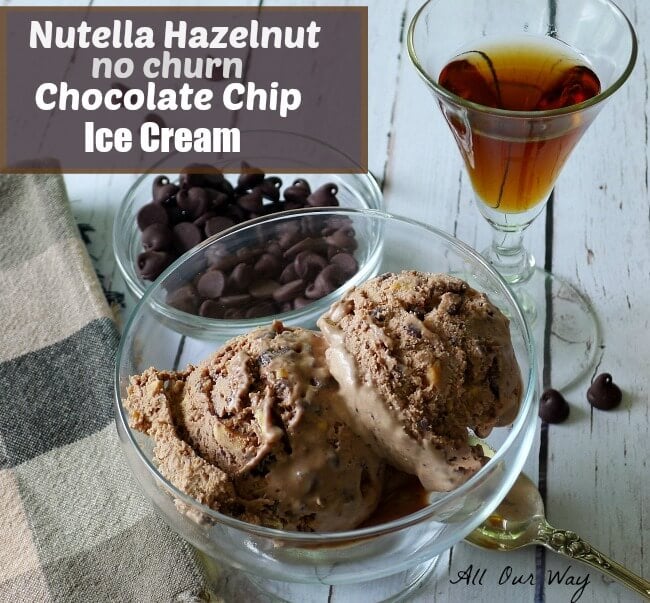 We are trying to forget it's in the freezer — it isn't easy.
There's only one solution. Take it to our kids and grandkids before we are tempted to empty the entire container.
Alla Prossima!
No Churn Nutella Hazelnut Chocolate Chip Ice Cream
A delicious creamy ice cream made with heavy whipping cream, sweetened condensed milk and flavored with Nutella, roasted hazelnuts, chocolate chips and lightly laced with Frangelico, a hazelnut herb infused liqueur.
Print
Pin
Rate
Ingredients
1

cup

Nutella

1

14 oz. Sweetened Condensed Milk (NOT evaporated milk)

2 1/2

cups

heavy whipping cream -- 1/2 cup will be added to the Nutella and sweetened condensed milk.

1

cup

raw hazelnuts roasted

skinned and chopped

1

cup

semisweet chocolate chips -- roughly chopped or use mini chocolate chips

2

Tablespoons

Frangelico -- a hazelnut infused liqueur
Instructions
To Roast Hazelnuts
Preheat oven to 275 F. Place shelled hazelnuts on a non-greased cookie sheet and put in the oven for about 20 to 30 minutes until the skins crack and the nut meats turn a light golden color. Pour the nuts onto a clean terry cloth towel and wrap it closed. Let the nuts steam for 4 to 5 minutes, then rub vigorously until the skins are removed. If there are some nuts still holding on to their skin, microwave the nuts on full power a minute at a time until the skins come off. Let cool then roughly chop them.
Combine the Nutella and Condensed Sweetened Milk
Warm the Nutella on top of a double boiler over a heat. Once the Nutella is soft, use an electric mixer to combine it with the condensed sweetened milk. Let it cool. Once it is cool slowly beat in 1/2 cup of the heavy whipping cream until it is completely combined. Add in the chopped hazelnuts and chocolate chips. Add the 2 Tablespoons of Frangelico, and set aside.
Whip the Cream
In a very cold mixing bowl add the 2 cups heavy whipping cream and whip until stiff peaks form. Do not overbeat or you might get butter.

Gently fold the Nutella mixture into the whipped cream until completely combined.

Put the bowl into the freezer for 30 minutes. Take out of freezer then beat the mixture on medium-high for 1-2 minutes. Put in freezer safe containers. Freeze for at least 6 hours before enjoying!!
Notes
Be sure to chill the bowl and beaters before whipping the cream.
Nutrition
Calories:
678
kcal
|
Carbohydrates:
44
g
|
Protein:
6
g
|
Fat:
53
g
|
Saturated Fat:
31
g
|
Cholesterol:
105
mg
|
Sodium:
59
mg
|
Potassium:
310
mg
|
Fiber:
4
g
|
Sugar:
36
g
|
Vitamin A:
22.9
%
|
Vitamin C:
1.9
%
|
Calcium:
13.2
%
|
Iron:
14.6
%
Note: Recipes and content from © All Our Way is copyright protected. Please do not use content or recipe without prior written permission. If you want to share the information please link to this post.
Grazie.
SaveSave
SaveSave