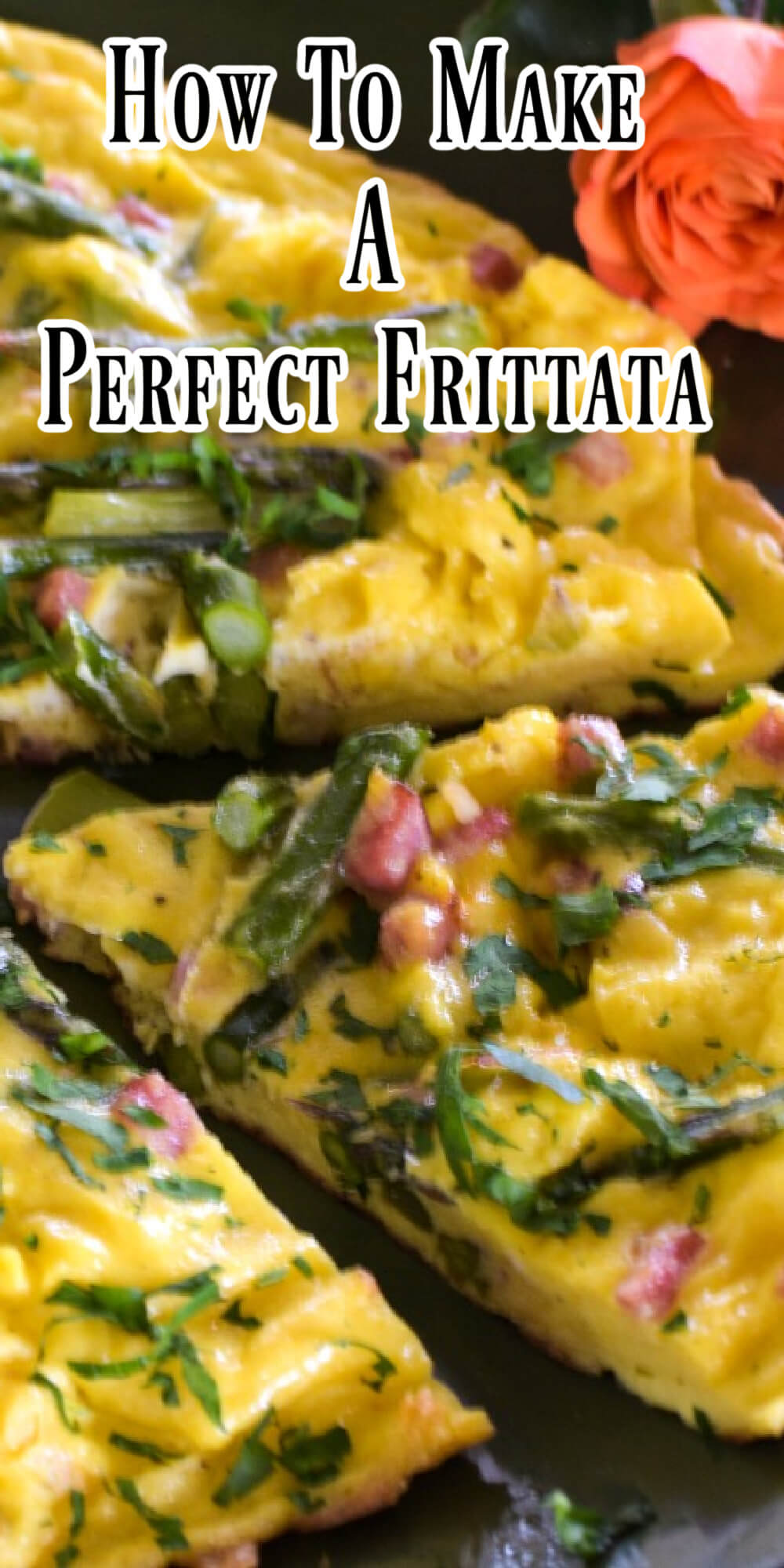 If you know how to make a frittata you'll have mastered one of the world's most perfect foods. A simple dish is quick-cooking, cheap, and fantastic for using up leftovers. The Italian frittata, which loosely translates "fried", is equally delicious at breakfast, lunch, and dinner. Learn the simple techniques and you'll never have a spongy, dry, and flavorless crustless omelet. Instead we'll go through the basic formula for the perfect frittata. And we'll also give you some scrumptious recipes and variations using potatoes, kale, shiitake mushrooms, and my parents favorite wild asparagus.
Why I love frittatas
One of my mamma and papà's favorite dishes was wild asparagus frittata. Every spring they'd head for the wooded hills surrounding or town in Italy and they'd hunt wild asparagus.
Jump to:
They'd bring their find home and then mamma would make it the way my papà loved it the most - made into a frittata.
In Italy, they celebrate Father's Day on March 19 which is St. Joseph's Day. He's the patron saint of all fathers. Mamma's way of making something special for papà was to make his wild asparagus frittata. Once we moved to the U. S. she would purchase the asparagus and still make him his favorite dish.
Mamma worked in a cookie/cracker factory and sometimes there was little time for dinner preparation. Those were the days when she came up with the most creative frittatas.
Her formula for making them was always the same and the egg dish came out perfectly delicious every single time.
Ingredients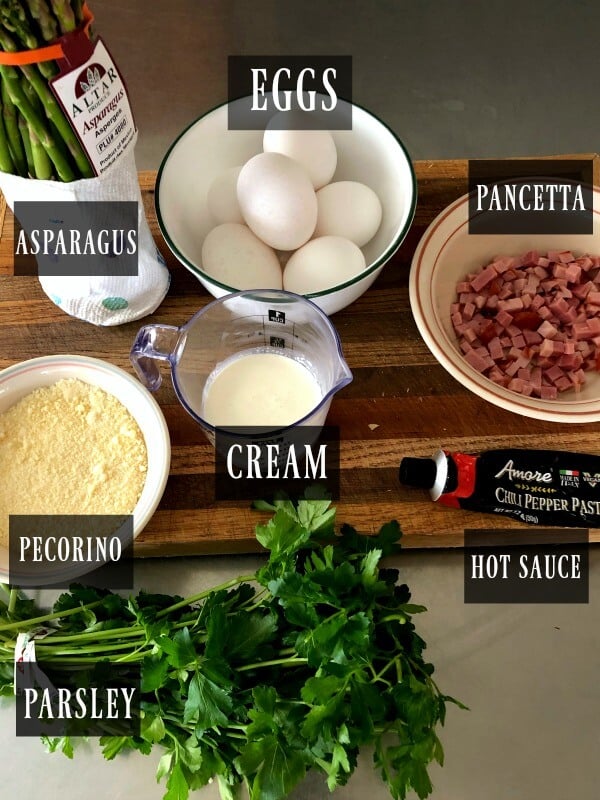 For this recipe you will need:
Olive oil
Asparagus
Prosciutto
Eggs
Heavy Cream
Pecorino Romano cheese
Hot Sauce
Salt
Pepper
Fresh Parsley
Learning how to make a perfect frittata is easy
Ingredients for a Perfect Frittata.
You really don't need frittata recipes to make this popular Italian dish. Six eggs will feed two people nicely, and twelve eggs will be ideal for four hungry mouths.
What equipment do I need?
Heavy cast iron skillet or oven-proof non-stick skillet - 10-inch for 12 eggs, 8-inch for 6 eggs.
Oven mitts for taking out the hot skillet
Silicone (heat-proof) spatula
Bowl for mixing eggs
Whisk
Cutting board and knife for chopping or cutting the ingredients for filling
What is the egg-dairy-cheese-vegetable/meat ratio?
12 eggs: ½ cup heavy cream, sour cream, crème fraîche: 1 cup cheese: 4 cups total vegetables and/or meat
6 eggs: ¼ cup heavy cream, sour cream, crème fraîche: ½ cup cheese: 2 cups total vegetables and/or meat.
Steps to a Frittata Recipe. Sauté garlic. Add the asparagus, Throw in the prosciutto. Whisk the eggs with cream and cheese.
Do I have to cook the vegetables?
You may easily use fully-cooked leftovers like last night's fried potatoes or some breakfast sausage. If you're starting from scratch, it's best that the additions are fully cooked or they add too much moisture to the eggs.
Sauté the aromatics, like onions, also. It's important to fully cook the additions such as vegetables, aromatics such as onions, and meats before adding the eggs. They additions won't cook much once you add the eggs.
How do I know when the frittata is done?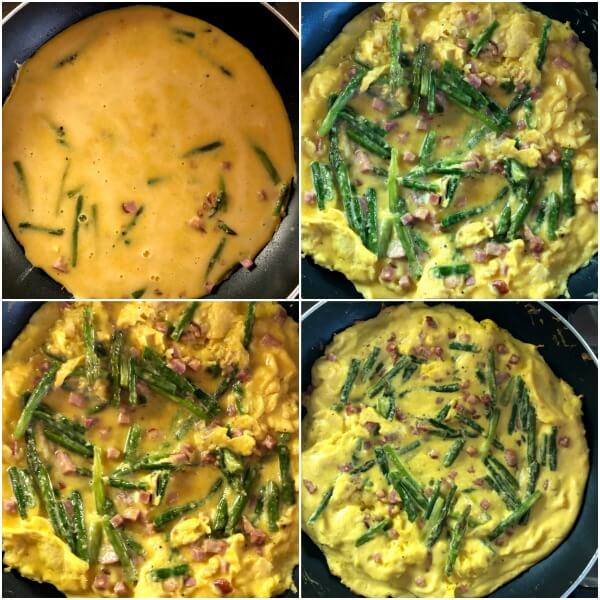 Making an Asparagus Frittata. Pour the eggs over asparagus and prosciutto. Mix with a rubber spatula. Scrape the bottom of skillet but don't break large curds. Smooth curds into even layer.[/caption]
A perfect frittata will have the texture of a custard - trembling and almost set. If you feel the need to have a golden top, then sprinkle some cheese over it in the last few minutes of baking or stick the almost baked frittata under the broiler for a few minutes.
Better to be safe than sorry! Check on the frittata several minutes before it's supposed to be done.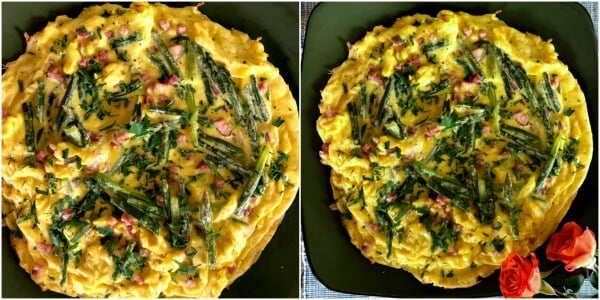 Transfer the asparagus frittata to skillet put in the oven for 6 to 9 minutes. When done let stand for 5 minutes.[/caption]
What is the difference between a frittata and an omelet?
Similarities
Egg-based dish
Started on stovetop
popular brunch dish
Differences
Omelets cook entirely on the stovetop. Frittatas finish in the oven.
Frittata's fillings mix in with the eggs in the pan. Omelets' fillings are added across the center.
Large frittatas can serve one or many. Omelets are typically made to serve one.
Omelets are served hot while the

Italian egg dish

may be served hot or cold.
Four keys to the perfect frittata success
Tender Eggs: the additions of cream and salt allows the eggs to cook to a high temperature without become spongey.
Light interior: don't beat the eggs too much, overbeating will cause the dish to poof up in the oven then fall into a dense layer.
Punched-up flavor: seasoning the fillings and eggs as you cook enhances its flavor.
Evenly cooked texture: Stirring the eggs while they cook on the stovetop helps them cook evenly while finishing the eggs in the oven lets them finish cooking gently.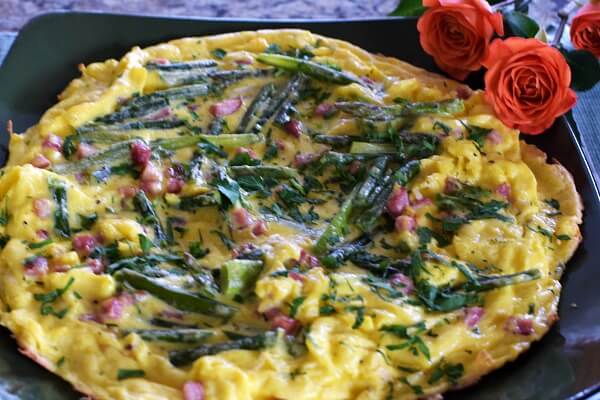 Frittata Recipes are easy and the variations are endless.
Ideas for Frittata Recipes
This dish is a lot like my mamma's Stracciatella Alla Romana. Quick, easy and takes little effort at all. If you want a fast meal it doesn't get much better than this. You can make it completely vegan or add the meats you love.
Vegetable Frittata Recipes Combinations:
Kale, Red Pepper, and Goat Cheese
Shiitake Mushroom with Pecorino Romano
Crimini mushrooms, Leek, and Fontina
Corn, Herbs, Pecorino-Romano
Grape and Plum Tomatoes, Basil, and Goat Cheese
Spinach, potatoes, and leeks
Feta, green onions, asparagus
Meat Frittata Recipes Combination:
Broccoli pancetta, parmesan cheese
Creamy smoked salmon and dill
Spinach, ham, gruyère
Sausage, feta, kale
Wild asparagus and smoked trout
Smoked cheese and Canadian bacon
Broccoli rabe and sausage, parmesan cheese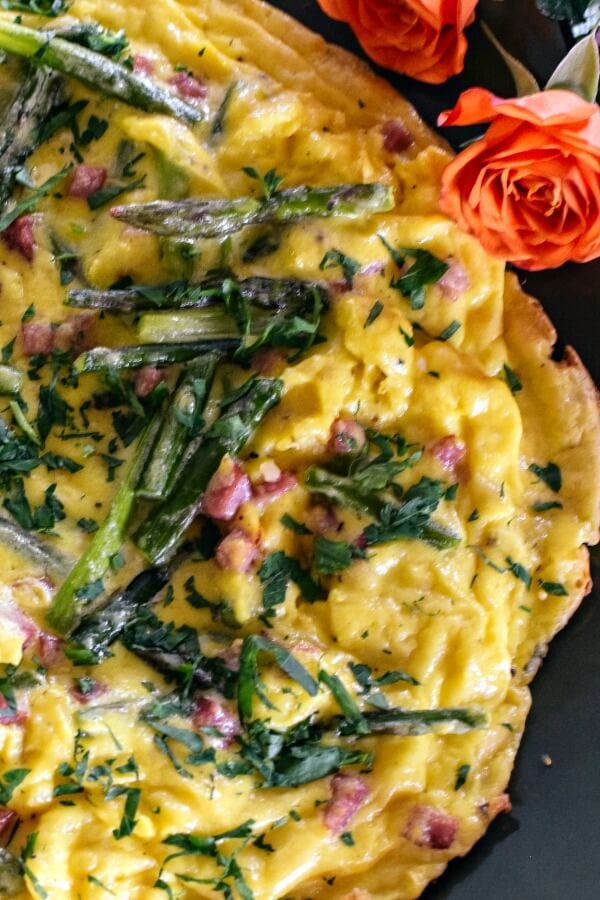 When you learn how to make a frittata you'll never go hungry.
A home cook's best friend
This crustless quiche is not only quick and easy, but also super nutritious. Eggs plus vegetables give you lots of protein plus vitamins.
And once you prep the ingredients, you only have one pan to clean up. How great is that?
So, if you're ever in a quandary about what to make for brunch, you're hungry and don't know what to prepare, remember THE FRITTATA!
If you're looking for some delicious light dishes
These soups are very light yet satisfying!
Tutti a tavola è pronto
Un caro saluto e alla prossima.
YOU MAY NEED...
The following are affiliate links. We are a participant in the Amazon Services LLC Associates Program, an affiliate advertising program designed to provide a means for us to earn fees by linking to Amazon.com and affiliated sites.
Thank you very much for being a part of All Our Way!
A cast-iron skillet just like this is a work horse in the kitchen. We use ours all the time for just about everything. It can go from stove top to oven easily and it cooks without hot spots. If you already have one you know how handy it is.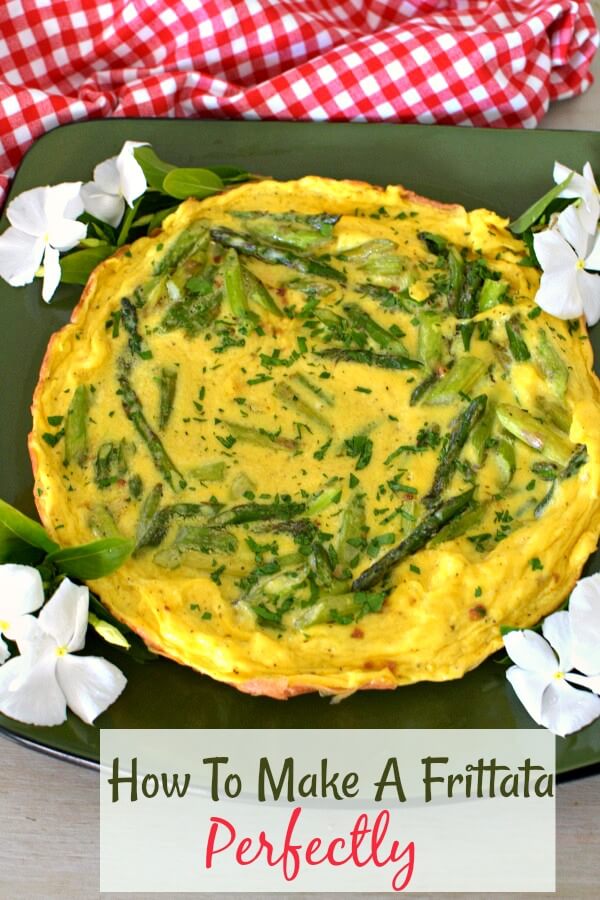 How To Make A Frittata Perfectly Every Time
Have you ever come home, tired and hungry, and don't have a clue what to make to satisfy that gnawing in your tummy? Well, a frittata is exactly what you're looking for. Trust us! Check out the fridge and see if you have a few cooked veggies and even some meat. All it takes is dicing up the ingredients, beating the eggs with some milk, and you're on your way to total satisfaction. Try it and see if we're not right!
If you like this recipe please consider giving it a five-star rating. This helps others to decide whether to try the recipe.
📖 Recipe
HOW TO MAKE A FRITTATA PERFECTLY – ASPARAGUS PROSCIUTTO VARIATION
A well made frittata is one of the most perfect foods you'll ever eat. Once you know how to make one – you'll never go hungry. The formula is the same, change it with the veggies, meats, and cheese you love. The variations are endless. This recipe shows you exactly how to do it.
Print
Pin
Rate
As An Amazon Associate I earn from qualifying purchases.
Ingredients
2

tablespoon

olive oil

extra virgin

2

cloves

garlic

minced

½

lb.

asparagus (2 cups)

cut in 2-inch pieces About 1 ½ cups ***see notes

½

cup

prosciutto

diced ** see notes

6

large eggs

½

cup

Pecorino Romano

½

teaspoon

chili paste

¼

cup

heavy cream

2

tablespoon

parsley

chopped

sea salt

fresh ground pepper
Instructions
Clean and cut the asparagus into ½-inch pieces. For a cohesive frittata, make sure that no pieces are much larger than this. The frittata can also be served warm or at room temperature. When paired with a salad, it is excellent as a light meal.

Adjust oven rack to a middle position and heat the oven to 350 degrees. Whisk eggs, cream, Pecorino Roman, and chili paste in bowl until combined. Don't overbeat.

Heat oil with minced garlic in 10-inch ovensafe nonstick skillet or heavy cast iron pan over medium-heat. As soon as the oil heats up add the asparagus a sprinkling of salt and freshly ground pepper then stir. *** see notes

Add 2 tablespoons of water to the pan and cover with a lid. Let the asparagus cook about 3 minutes. Check to see how tender they are. If they are still tough and there is no water left, add another tablespoon of water. Cover. If the asparagus gets some nice caramelization to them — that's good. You don't want the garlic to burn.

Remove the lid and add the meat (optional) if you don't have meat just pour the egg mixture over the vegetables and cook, using a rubber spatula to stir and scrape bottom of skillet until large curds form and spatula leaves trail though eggs but eggs are still very wet, about 30 seconds.

Smooth curds into even layer and cook, without stilling, for about 30 seconds. Transfer the skillet to oven and bake until frittata is slightly puffy and surface bounces back when light pressed, 6 to 9 minutes.

Remove from oven and let rest for 5 minutes. Using rubber spatula, loosen from skillet and transfer to cutting board. Slice and serve.
Notes
*** Substitute your own vegetables in this amount.
*** Substitute your own meat with the same amount.
Nutrition
Calories:
275
kcal
|
Carbohydrates:
4
g
|
Protein:
14
g
|
Fat:
22
g
|
Saturated Fat:
8
g
|
Cholesterol:
279
mg
|
Sodium:
258
mg
|
Potassium:
238
mg
|
Fiber:
1
g
|
Sugar:
1
g
|
Vitamin A:
1215
IU
|
Vitamin C:
6.2
mg
|
Calcium:
199
mg
|
Iron:
2.6
mg
Sign up for the emails and never miss another recipe!!
We'll never share your email or send you spam. Promise
Note: Recipes and content from © 2014-2019 All Our Way are copyright protected. Please do not use content or recipe without prior written permission. If you want to share the information please link to this post. Grazie!