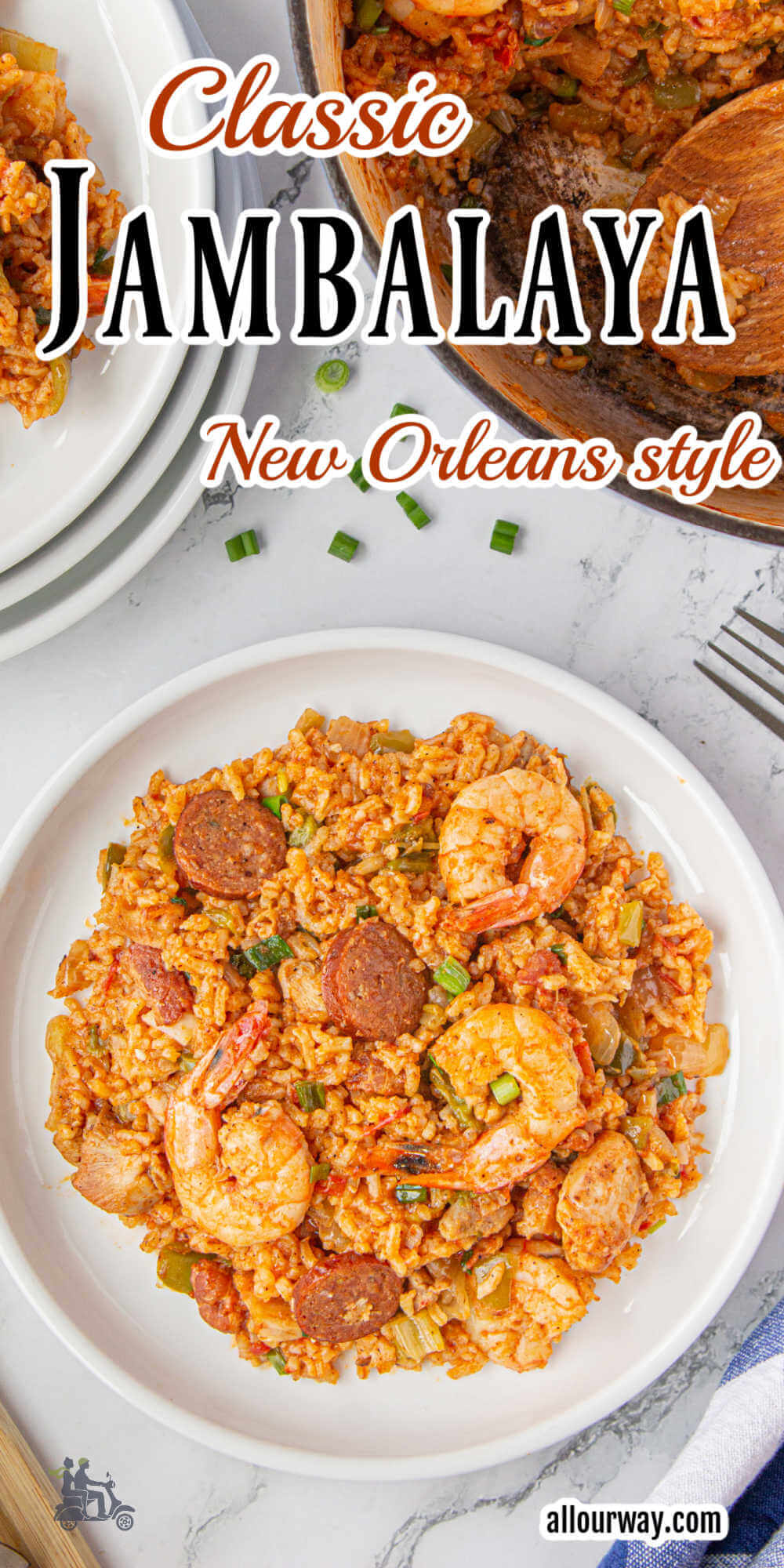 This classic Creole Jambalaya recipe has all the traditional flavors of Louisiana cuisine! This one-pan dish consists of a mixture of chicken, sausage, bacon, prawns, shrimp, bell peppers, celery, onions, a rich tomato broth, long-grain rice, and a Creole seasoning mix.
Enjoy this heart and flavorful meal as is or with a side of crusty bread.
Jump to:
❤️ Why I love this recipe
It's a flavor-packed one-pan meal that's easy to make and loved by most.
Cooking this dish on the stove and oven ensures evenly cooked and fluffy rice.
Jambalaya is a wholesome and balanced meal with a variety of protein, carb-rich rice, and softened vegetables.
Take a culinary trip to New Orleans by making this easy and delicious one-pan Jambalaya in the comfort of your kitchen!
🛒 Ingredients
As an Amazon Associate I earn from qualifying purchases.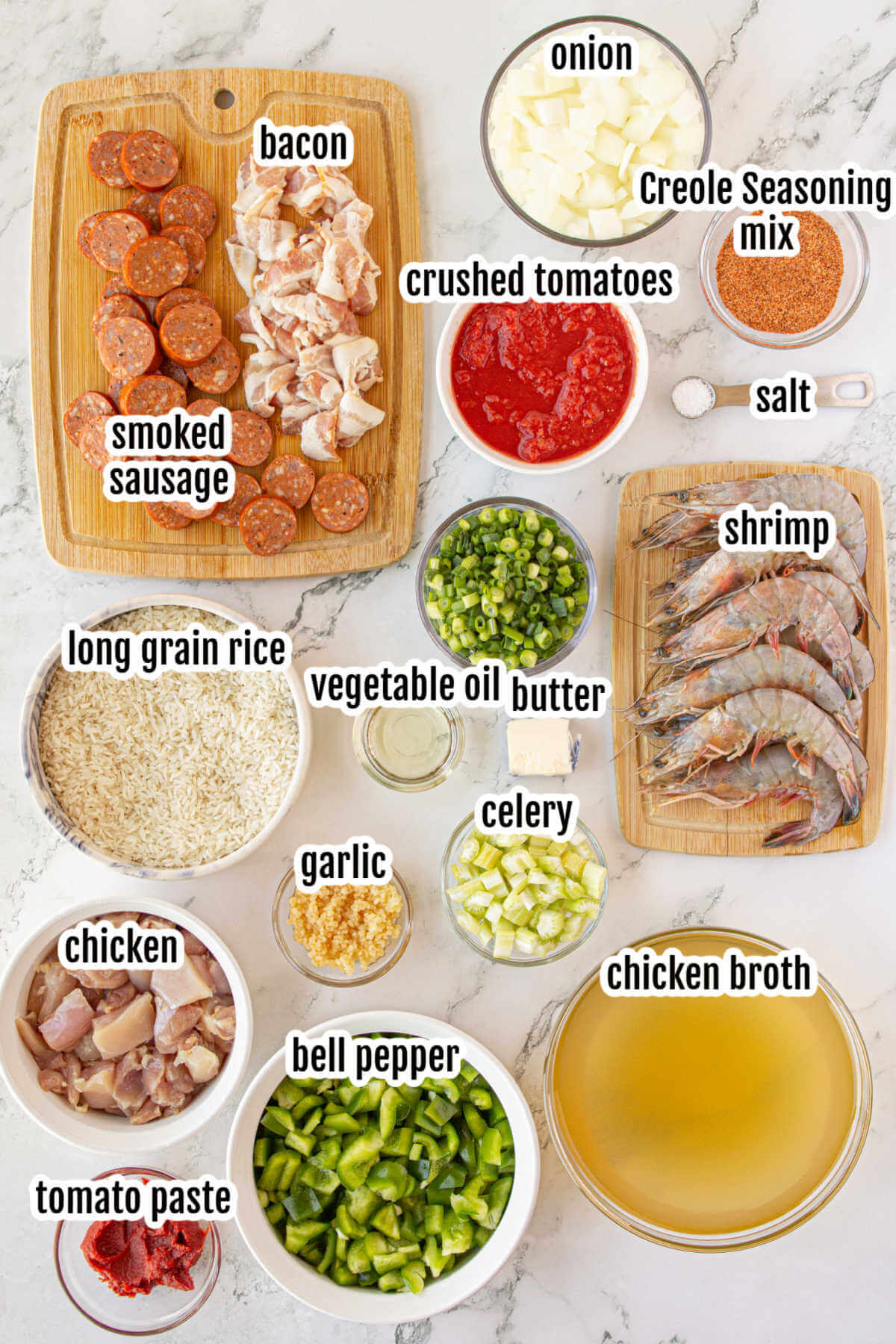 Note: The full list of this one-pot jambalaya recipe ingredients with their amounts and options are in recipe card below.
vegetable oil -- for sautéing
smoked bacon -- instead of regular adds depth and additional flavor
andouille or smoked sausage -- adds a smokey flavor to the dish
chicken thighs -- skinless and boneless
shrimp -- peeled and without tails
garlic -- minced for seasoning and flavor
butter -- for flavor and sautéing
onion -- seasoning and flavor
celery -- part of the flavor trinity
green bell pepper-- a must in the flavor trinity
long grain rice -- the best rice for the texture in the finished dish.
chicken broth -- low-sodium works best here. The spice mix usually has salt in it
crushed canned tomato -- one of the main ingredients in the dish and adds flavor
tomato paste -- adds a rich tomato taste
Creole seasoning -- for the classic seasoning of the Jambalaya dish. If using Slap Ya Mamma it is pretty spicy so you might want to adjust.
green onions -- as a garnish and additional taste
🗒 Instructions
Note: This is an overview of the instructions. The full instructions are in the recipe card below.
Heat oil over medium-high heat in a large skillet or Dutch oven and add the bacon, cooking it for 30 seconds for the fat to start melting.
Add the sausages.
Cook until golden (about 3 minutes). Remove the sausage and bacon from the skillet.
Add the chicken and cook until golden. Remove and set aside with the cooked sausage and bacon.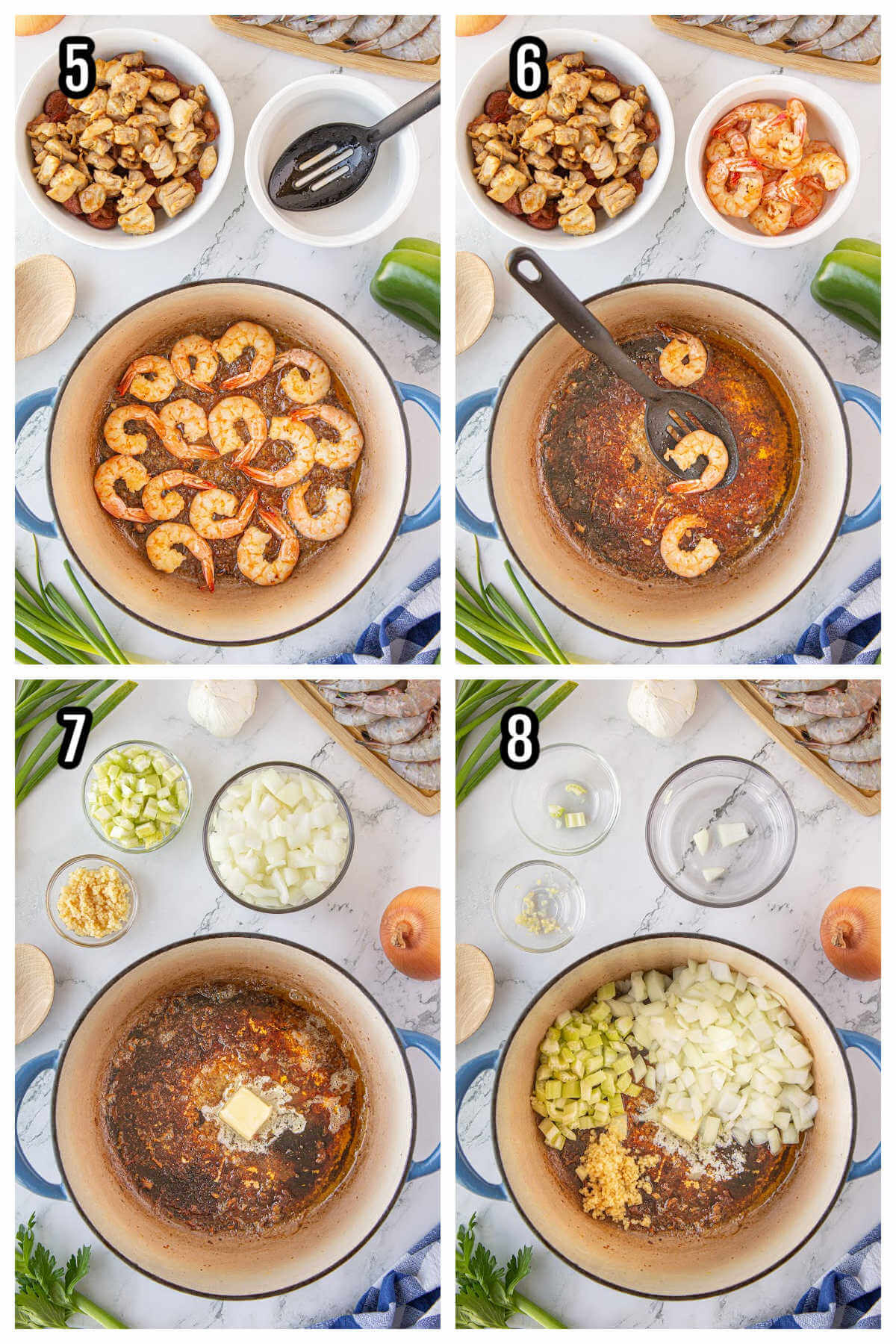 Add the prawns and shrimp to the pan.
Sear the prawns and shrimp on each side for 1.5 minutes. Transfer them to a separate bowl for use later.
Add butter to the pan.
Add garlic, onion, and celery.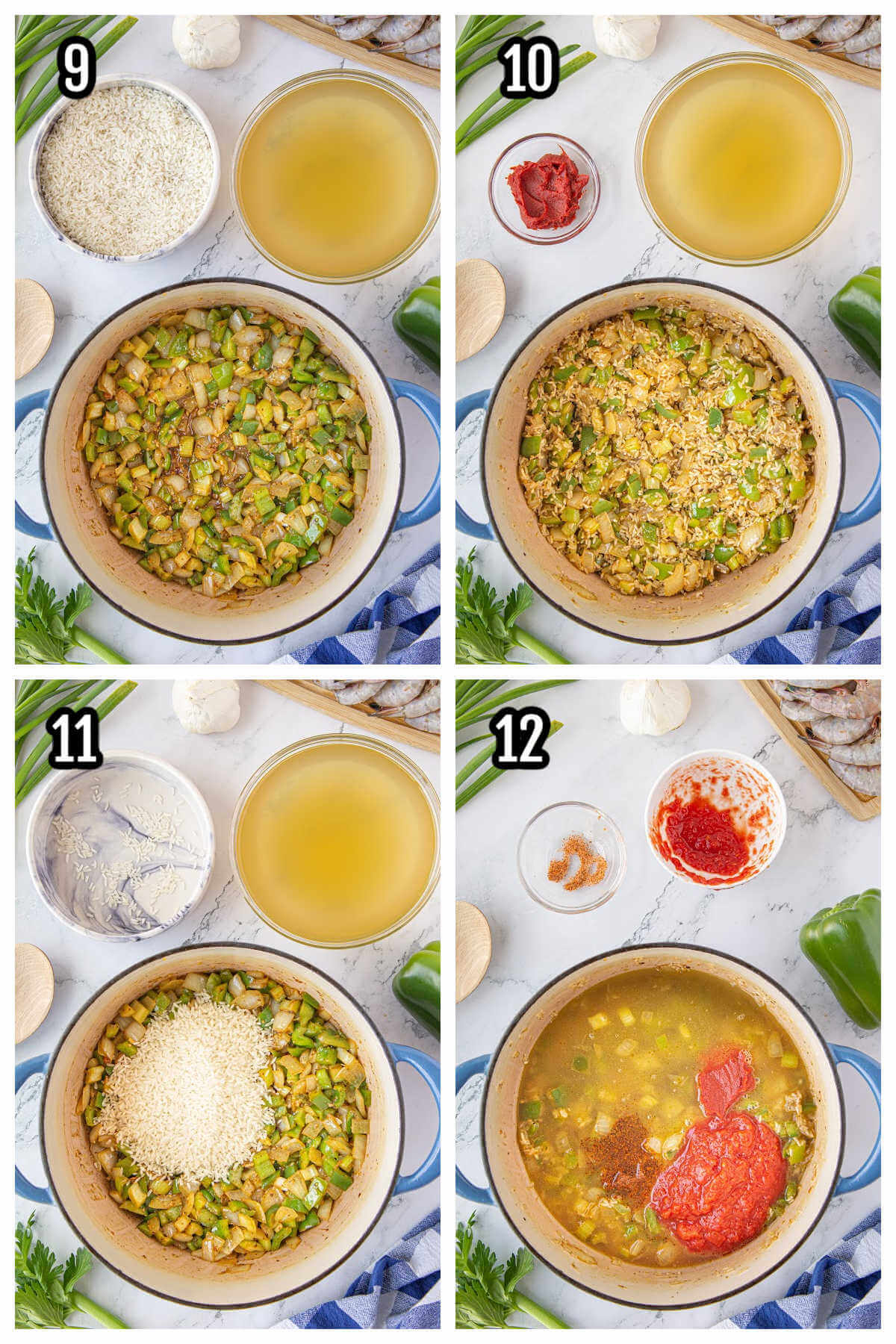 Add the bell pepper and cook for 3-4 minutes or until the ingredients slightly soften.
Add the rice.
Stir to coat the rice in the melted butter and softened vegetables.
Add chicken broth, canned tomato, tomato paste, and Creole seasoning mix.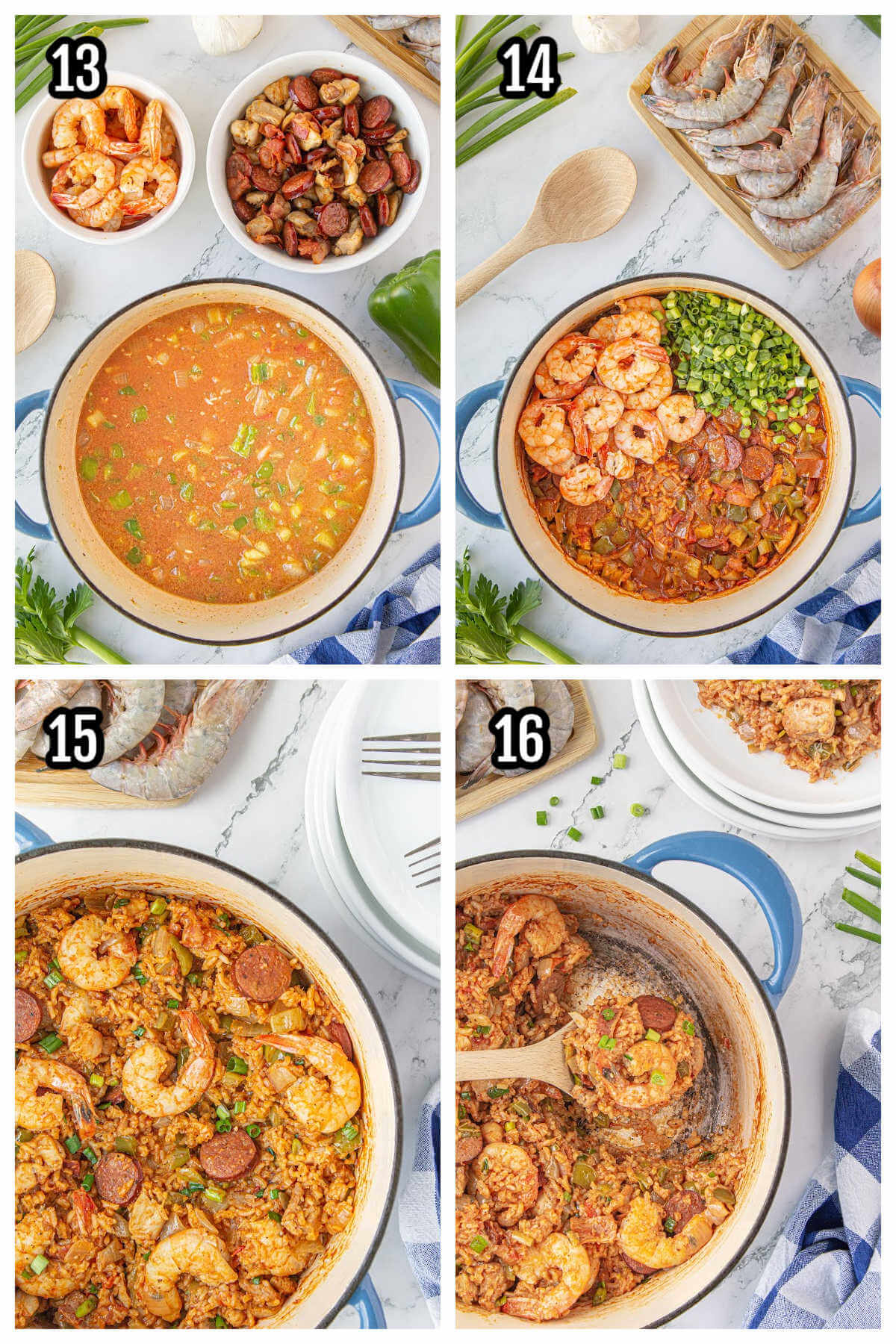 Stir well. Add the chicken, sausage, bacon, and prawns. When bubbles surface, stir well again and then transfer the pan to the oven with the lid to cook for 20 - 30 minutes at 350F.
Remove the pan from the oven and add the prawns and shrimp, and green onions.
Stir them through the baked mixture gently and return the pan to the oven for about 3 minutes just to heat the prawns and shrimp.
Remove from the oven and fluff the mixture before serving.
🔪 Equipment
The following are affiliate links. We are a participant in the Amazon Services LLC Associates Program, an affiliate advertising program designed to provide a means for us to earn fees by linking to Amazon.com and affiliated sites.
You'll need the following items to make this recipe successfully.
Dutch oven or deep heavy skillet
Sharp knife
Cutting board
Digital kitchen scale
measuring cups
liquid measuring cup
measuring spoons
Wood mixing spoon
🤔 FAQs
Questions frequently asked about making this Spicy Jambalaya recipe.
What makes jambalaya a jambalaya?
Apart from the typical Jambalaya ingredients used, a distinct feature of Jambalaya is the fact that all of the ingredients are cooked together.
How is jambalaya different from gumbo?
Jambalaya is cooked with rice, while gumbo is a thick stew served with rice. These two dishes usually have the same ingredients, but the way the rice is cooked is different.
What is the main component of jambalaya?
A classic jambalaya consists of andouille sausage, chicken or pork, seafood, a mixture of vegetables (bell pepper, onion, and celery), and rice.
what is jambalaya sauce made of?
The sauce in this recipe is a mixture of chicken broth, canned tomatoes, tomato paste, and seasoned with Creole seasoning mix.
👩🏻‍🍳 Tips
You don't need to cook the chicken through in the pan as it continues to cook later in the recipe. The same goes for the bacon and sausage.
Only add the shrimp, prawns, and green onions to the mixture towards the end of the baking time otherwise, the shrimp and prawns will become tough and rubbery, and the green onions will wilt.
Check on the rice after 20 minutes in the oven. If the center of the rice grains is still firm, continue to cook the mixture, checking in the rice every 5 minutes.
Use low-sodium chicken broth since this recipe includes salt and Creole seasoning mix.
📚 Variations
Make Creole seasoning from scratch by combining 2 teaspoons of chopped fresh thyme (or 1 teaspoon of dried thyme), 4 teaspoons of sweet paprika, 1 teaspoon of garlic powder, 1 teaspoon of onion powder, ½ teaspoon of cayenne pepper, ½ teaspoon of black pepper, and ½ teaspoon of salt.
Use andouille sausages, smoked sausages, or regular sausages.
You can also use medium and short-grain rice, but the rice will be stickier than long-grain rice.
You can cook this Jambalaya only on the stove, but you'll need to be careful to cook the rice all the way through without being overly soft, mushy, or gluey on the outside.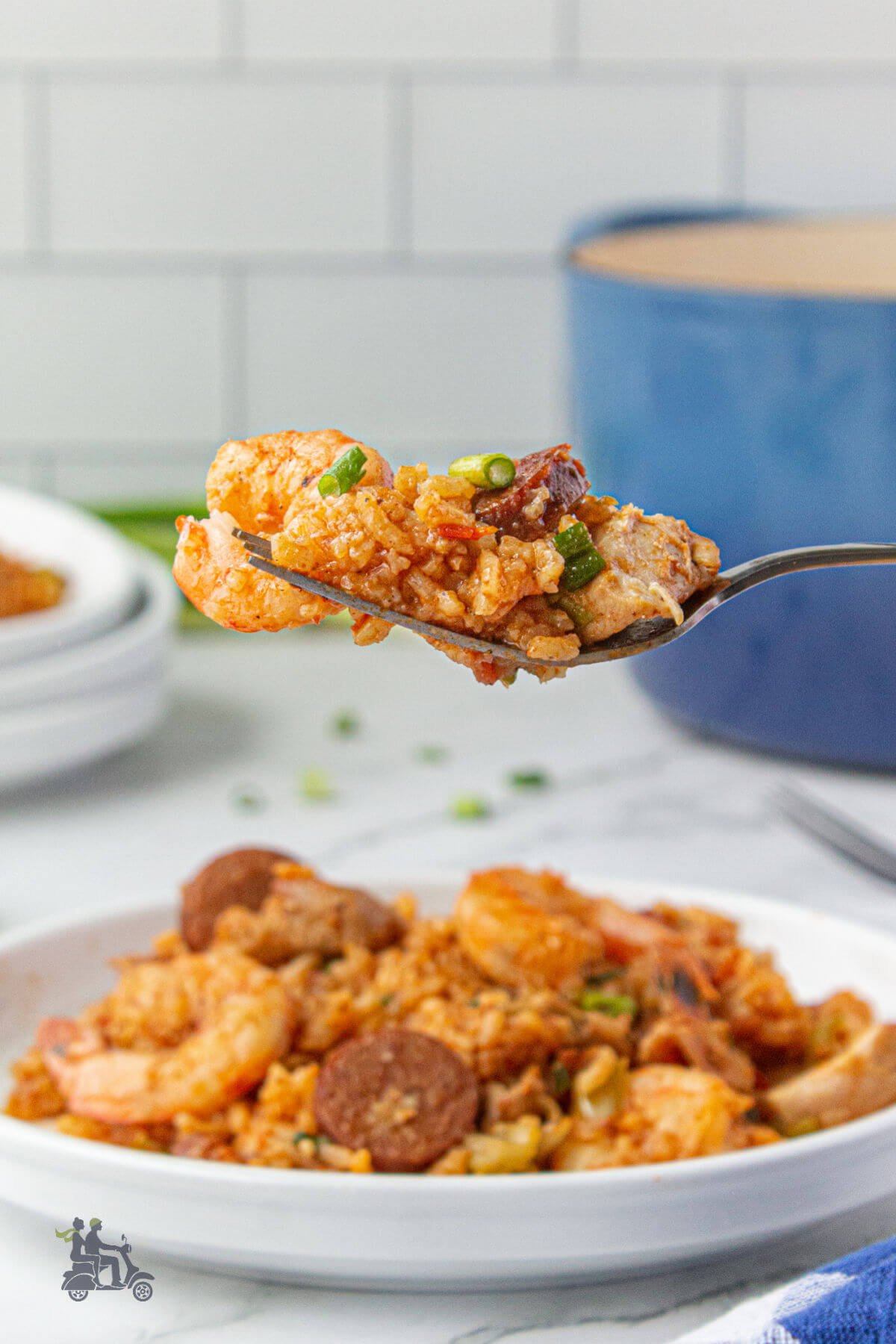 🥫 Storage
Store leftover Jambalaya in an airtight container in the fridge for 3-4 days. You can also freeze Jambalaya for up to 3 months and reheat it on the stove, being careful not to turn the cooked rice into mush.
📗 Related Recipes
If you love Louisiana-inspired recipes as much as I do, then be sure to try these mouth-watering dishes:
🍽 Serve with
This Jambalaya is a wholesome meal without the need for any side dishes. You could pair it with a slice of crusty bread or a light green salad.
📞 Chiacchierata (chat)
There's no disputing my love for flavor-rich Louisiana cuisine, so it only made sense to share my Jambalaya recipe that I've adapted slightly over the years, cooking it partly on the stove and partly in the oven for the best fluffy rice - resulting in juicy and wet Jambalaya without it being soggy or mushy!
Give it a try - you won't regret it!
And if you love trying different flavor combinations, try our Chicken and Rice Casserole that features Southwest seasoning and lots of cheese. This is an easy make ahead casserole that is a family favorite.
Tutti a tavolo, è pronto!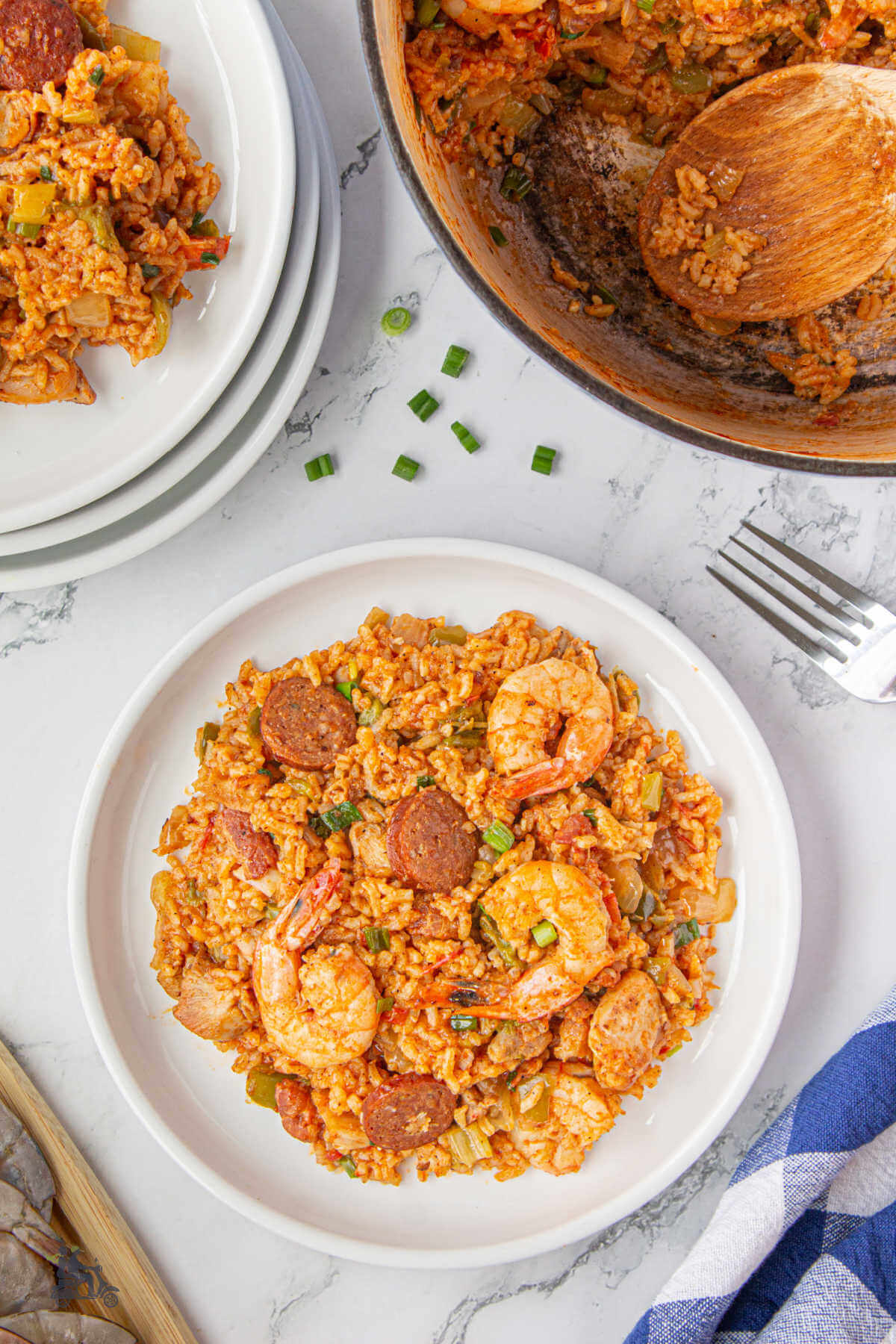 What's new? Check out my All Our Way Store on Amazon. We'll be adding more items we love and use or wish we had to make cooking fun and easy.
📝 Recipe Card
This Creole Jambalaya recipe is packed with rich, deep flavors from smoked sausage, bacon chicken, and seafood cooked in a tomato broth alongside classic Jambalaya veggies and rice.
If you love this recipe please give it 5 stars ⭐️⭐️⭐️⭐️⭐️.
📖 Recipe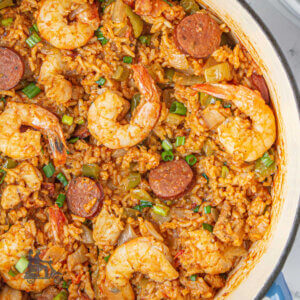 Classic Jambalaya
This authentic Creole Jambalaya recipe has all the traditional flavors of Louisiana cuisine! It's a one-pan dish cooked on the stove and oven for the best results!
Print
Pin
Rate
As An Amazon Associate I earn from qualifying purchases.
Ingredients
1

Tablespoon

vegetable oil

6

oz.

smoked bacon

chopped (180g)

7

oz.

andouille or smoked sausage

sliced 1.5"-inch thick (200g)

10

oz.

chicken thigh

skinless boneless, cut into 1"-inch thick (300g)

12

large

raw shrimp/prawns

peeled with or without tails.

4

large garlic cloves

minced

1

tablespoon

butter

15g

1

large onion

diced

2

celery ribs

diced

2

medium green bell peppers

diced

1¼

cups

long grain rice

uncooked

2½

cups

low-sodium chicken broth or stock

see Notes

6.5

oz

crushed canned tomatoes

200g)

2

tablespoon

tomato paste

2

teaspoon

fresh thyme

chopped or 1 tsp. dried thyme

2

tablespoon

Slap Ya Mama/ Cajun Seasoning

You might to adjust this to your spice liking.

1

cup

green onions

sliced plus more for garnish and serving
Instructions
Heat oil in a Dutch oven or heavy deep skillet over medium high heat.

Add bacon, cook for 30 seconds to start the fat melting, then add sausages slices. Cook until sausages are golden. Transfer to a bowl and set aside.

Add chicken to the pan and cook until golden, then add to the bowl with the bacon and sausage. The chicken at this point doesn't need to be cooked inside.

Sear shrimp in the pan for 1½ minutes on each side. Transfer to a second bowl. and reserve until later.

Add butter, then garlic, onion, celery and bell peppers. Cook for 3 to 4 minutes or until the vegetables slightly soften.

Add the rice and stir to coat the grain in the oil and butter.

Pour in the chicken broth and add the canned tomatoes, tomato paste, thyme, and Cajun seasoning mix.

Stir well, then add the chicken, sausages, bacon and any liquid remaining in the bowl.

Heat until the mixture bubbles then still well once more. Make sure all of the rice is submerged then cover with lid and transfer to the preheated oven.

Bake 20 minutes. Remove the lid and check the rice by sampling a few grains. Be very careful because this is hot.

The jambalaya should be juicy but not swimming in liquid. The rice grains should be soft with a little bit of bite, like risotto cooked to bit softer than al dente.

If the grains are still firm in the center, continue to bake checking the rice every 5 minutes.

Add the shrimp and green onions. Gently but very quickly stir the ingredients through, Cover with lid and return to the oven just long enough to heat the shrimp. This will take about 2 minutes.

Remove the pan from the oven and gently fluff the jambalaya. Garnish with green onions and serve.
Notes
For Tips and Variations check out the post above.
Nutrition
Calories:
491
kcal
|
Carbohydrates:
44
g
|
Protein:
29
g
|
Fat:
22
g
|
Saturated Fat:
7
g
|
Polyunsaturated Fat:
4
g
|
Monounsaturated Fat:
9
g
|
Trans Fat:
0.2
g
|
Cholesterol:
119
mg
|
Sodium:
813
mg
|
Potassium:
841
mg
|
Fiber:
4
g
|
Sugar:
5
g
|
Vitamin A:
2367
IU
|
Vitamin C:
42
mg
|
Calcium:
83
mg
|
Iron:
3
mg
Sign up for the emails and never miss another recipe!!
We'll never share your email or send you spam. Promise