Spicy Shrimp Creole is a classic New Orleans dish with both a Spanish and French influence. It consists of plump shrimp smothered in a spicy tomato sauce that builds on a foundation of The Holy Trinity. The basic trio, onion, celery, and green bell pepper, mix with garlic and sautés in butter until tender. Cayenne and hot sauce ensure that this is the best spicy shrimp Creole recipe you'll taste. Traditionally, you serve cooked white rice with shrimp Creole. We serve this famous Louisiana shrimp recipe with an outstanding Italian coarse grain polenta.
For this recipe you will need: unsalted butter, onion, green bell pepper, celery, salt, cayenne, can of diced fire roasted tomatoes, can of diced tomatoes in basil garlic oregano, garlic, bay leaves, all-purpose flour, shrimp, Worcestershire sauce, hot sauce, scallions, fresh parsley.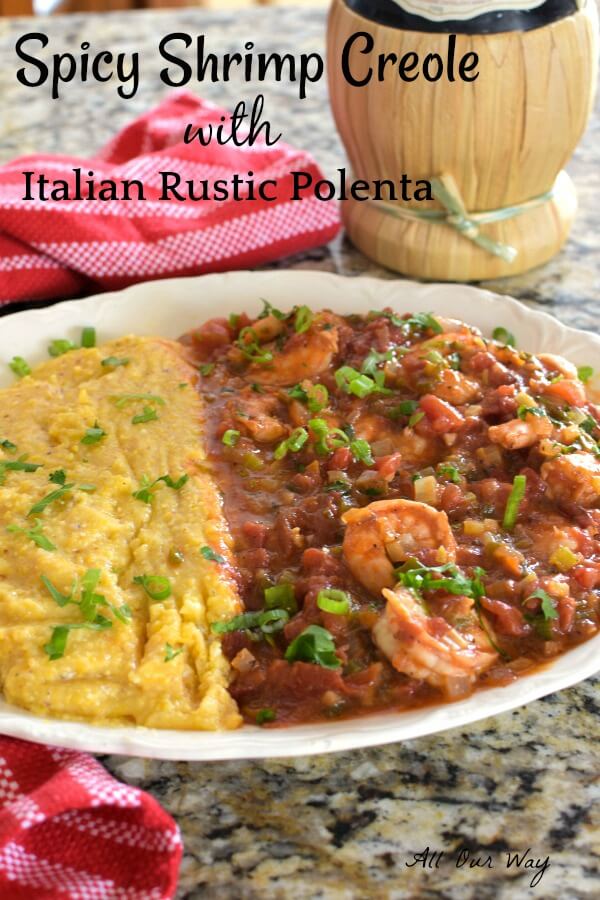 Jump to:
How we decided on Shrimp Creole
Honey and I are standing in line ready to check out of Meijer grocery. We're debating on what to have for dinner. Nothing is really capturing our fancy.
I pick up the newest Women's World magazine and start to leaf through it. Right there in the center of the magazine is Emeril and his best New Orleans eats. The excitement builds. I know, I know, I get excited about food.
"I found our dinner," I say to Honey, pointing to the huge photo of Emeril's Shrimp Creole.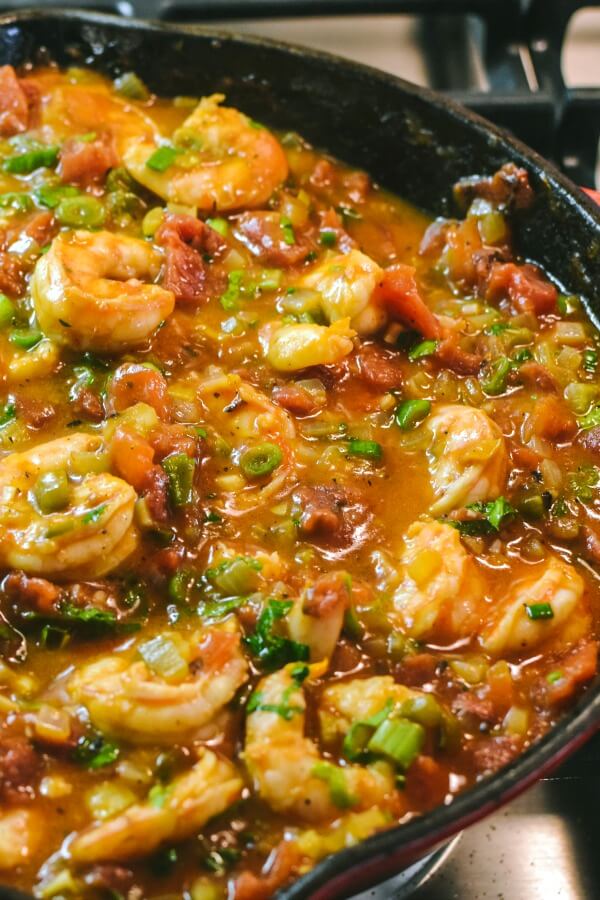 Honey takes the magazine and scans the spicy shrimp recipe. "We just made a spicy shrimp recipe, Louisiana Gumbo. Besides, we don't have any wild-caught shrimp."
My heart is set on shrimp creole. It's another great dish to celebrate Mardi Gras and Fat Tuesday. "Let's check out the Farmer's Market. They might have the shrimp. We have the rest of the ingredients and it looks like a pretty easy shrimp recipe."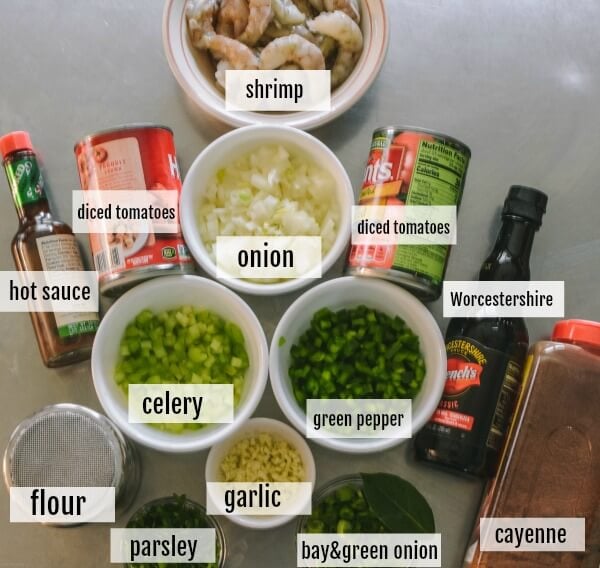 Creole Recipes a blending of cultures
"I didn't know there were so many cultures represented in Creole cuisine," I say to Honey as he's cleaning the shrimp. "I thought just Spanish, French and African. It says here in this article that Italian, German and Caribbean cultures also influenced the New Orleans cuisine."
Hubby pauses from shrimp cleaning. "Well, if that's the case, why don't we make some polenta to go with the shrimp?"
"But, traditionally it's served with cooked white rice."
"Well, polenta is close enough to grits. That's southern. Why don't we try out that coarse Italian polenta? Just think! It'll be an Italian combination of shrimp creole and shrimp and grits."
"That sounds perfect! Italians are big on Carnivale just like New Orleanians are with Mardi Gras."
Shrimp Creole Easy Recipe Simple Ingredients
Before we start on this spicy shrimp recipe we gather all of the ingredients and measure them out.
"What do we do first?" asks Honey.
"We add the holy trinity, you know, the diced onion, green pepper, and celery to the butter in the pan. Huh, trinity must be the creole version to Italian soffritto. Only we use carrots instead of green peppers."
"Next?"
"Add the seasoning and ¼ teaspoon of cayenne. Wow! This is sure going to perk up our tastebuds. You cook until the veggies soften. About 10 minutes. Then the tomatoes, garlic, bay leaves, and salt."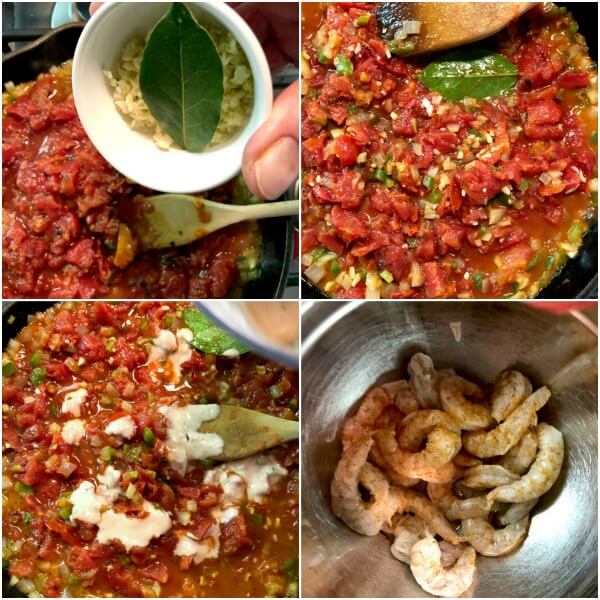 After 35 minutes of simmering uncovered, hubby makes a slurry of flour and water. He adds the mixture to the pot stirring until the sauce thickens. A few minutes later, Honey sprinkles the rest of the cayenne and salt to the shrimp. He adds the seasoned shrimp plus Worcestershire and hot sauce into the pan.
Shrimp are amazing. They have a built-in thermometer to tell us when they're done -- they turn pink.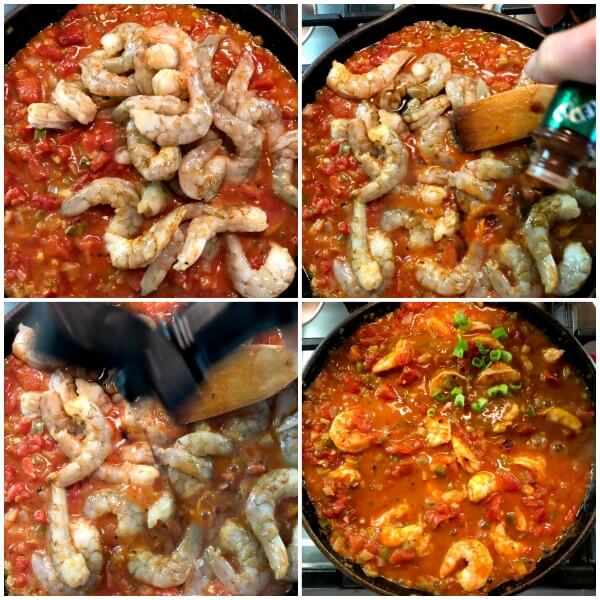 FAQs About Shrimp Creole
What is the difference between étouffée and shrimp creole?
étouffée has a more gravy-like sauce
shrimp creole adds tomatoes as its base
étouffée uses a dark roux as its base
étouffée is usually spicier than shrimp creole
Can shrimp creole be frozen?
Yes. Shrimp creole freezes well, but only the sauce. Make a large batch of sauce and freeze. When you're ready to eat the shrimp creole, heat up the sauce and plop in the cleaned shrimp. Cook the shellfish until it turns pink. Easy peasy!
What do you serve with shrimp creole?
The spicy tomato based dish is usually served over cooked white rice. You may also serve it with grits or just crusty French bread.
What wine goes with shrimp creole?
Dry white wines like Sauvignon Blanc or Chardonnay is good. Something with dry and herbal undertones is ideal for cutting down the spice on your palate. Avoid oak-aged wines ad the spice in the dish can make the wines taste very oaky.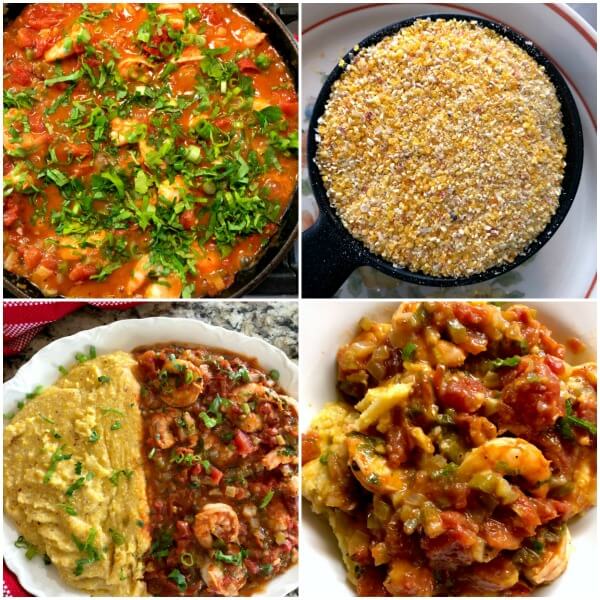 The King of Spicy Shrimp Recipes
This shellfish dish may not be the spiciest of Creole recipes but I can guarantee it will be one of the tastiest. The sauce is out of this world and not as spicy hot as what we thought it would be.
Finally, we sit to eat and take our first bite."Well, what do you think?" asks Honey.
"We should have tripled the recipe!"
Shrimp a la Creole, as it was once known, has been around a long time. There are many variations of this recipe and what's amazing is that the main ingredients are quite similar to several famous Louisiana shrimp recipes:
And since we've proclaimed this dish the king, we thought we should add a royal tasting side to go with it -- Rustic Italian Polenta.
What do you say? Would you like more Louisiana recipes?
If you like spicy and flavorful, we know you'll love this recipe. And next time you have to try our fantastic BBQ shrimp recipe. It is amazingly simple and you can have it ready for family and friends in less than 15 minutes.
If you'd like to learn more about making and serving Southern corn grits, we have the recipe and information.
Tutti a tavola è pronto!
Un caro saluto e alla prossima.
YOU MAY NEED...
The following are affiliate links. We are a participant in the Amazon Services LLC Associates Program, an affiliate advertising program designed to provide a means for us to earn fees by linking to Amazon.com and affiliated sites.

We always buy a HUGE container of Cayenne Red Pepper just like this. It's more economical and we go through it pretty quickly. Just a touch adds a pleasant heat to our dishes. Also, we make our own blends and we find buying the pepper in a large container a convenience.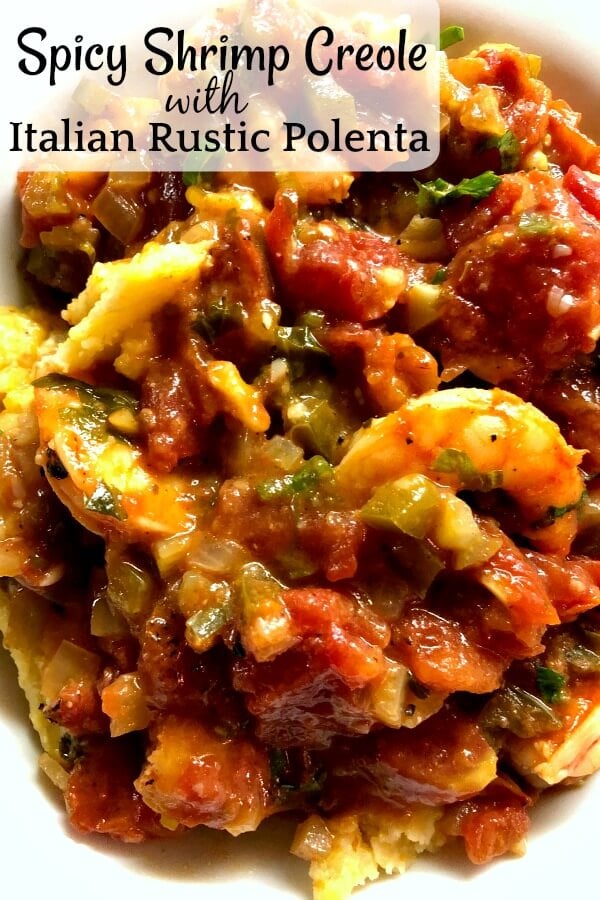 Spicy Shrimp Creole With Italian Rustic Polenta
This New Orleans classic dish is made with tomatoes, celery, onions and green peppers cooked into a spicy mixture. The shrimp briefly goes into the hot sauce just until they turn pink. We serve it with polenta but you could also do the traditional cooked white rice. Or just use hunks of crusty French bread to scoop up the delicious shellfish and sauce. Believe me, take one bite and you'll do a happy dance.
And if you want to continue dancing you must try our Classic Jambalaya recipe at your next party or gathering. You can make it ahead, and you'll find everyone asking you for the recipe.
Another recipe with a bit of New Orleans flavor is our Shrimp Gumbo that is bursting with that Louisiana flavor.
And if you are partial to Tex-Mex flavors, you must try our spicy and creamy Best Shrimp Enchiladas Recipe.
Do you like spicy? Then our Italian-Jamaican Shrimp Rasta Pasta recipe is going to thrill your tastebuds!
If you like this recipe please consider giving it a five-star rating. This helps others to decide whether to try the recipe.
📖 Recipe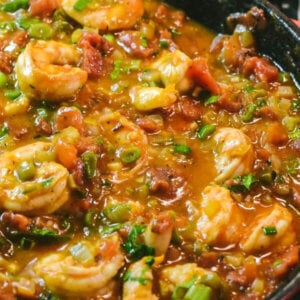 Spicy Shrimp Creole With Italian Rustic Polenta
Plump juicy shrimp in a smothered in a rich tomato sauce seasoned with garlic, onion, cayenne and hot sauce. One taste of these shrimp with sauce will have you swooning in delight. Serve with rustic polenta, white rice, or just a hunk of crusty French bread.
Print
Pin
Rate
As An Amazon Associate I earn from qualifying purchases.
Ingredients
Shrimp Creole
¼

cup

unsalted butter

1

cup

onions

chopped

½

cup

green peppers

chopped

½

cup

celery

chopped

1 ¼

teaspoon

salt

1

14.5 oz

diced tomatoes

Fire Roasted

1

14.5 oz

diced tomatoes

with Basil, Garlic, Oregano

1 ½

teaspoon

garlic

chopped

2

bay leaves

1

tablespoon

all-purpose flour

1

lb

shrimp

medium deveined and peeled

1

teaspoon

Worcestershire sauce

1

teaspoon

hot sauce

¼

cup

scallion greens

chopped

1

tsbsp

parsley

chopped

½

teaspoon

cayenne
Rustic Italian Polenta ***see note
1

cup

polenta

not quick cooking

4

cups

chicken stock

2

tablespoon

olive oil

2

tablespoon

unsalted butter

½

teaspoon

black pepper

freshly ground

3

tablespoon

Parmesan Cheese
Instructions
Shrimp Creole
In a heavy skillet or pot melt butter over medium heat. Add onions, peppers, celery, ½ teaspoon salt and ¼ teaspoon cayenne; cook stirring, until vegetables soften, about 10 minutes.

Stir in both cans of tomatoes, garlic, bay leaves and ¼ tsp. salt. Over medium-high heat bring to a boil; reduce heat to medium-low. Simmer, uncovered, 35 minutes, stirring occasionally.

Whisk together flour and ¼ cup water. Add a small amount of the hot tomato sauce to flour mixture; stir to blend. (If you see you don't have enough liquid in the pan, add a bit of chicken stock to it.)

Whisk mixture back into tomato mixture in the pan; cook, stirring occasionally, until thickened slightly, 4-6 minutes.

Season shrimp with the remaining ½ tsp. salt and ¼ teaspoon cayenne. Add the shrimp to the pan along with the Worcestershire and hot sauce.

Cook, stirring occasionally, over medium heat until shrimp turn pink, 4-6 minutes. Remove bay leaves. Stir in scallions and parsley.
Creamy Rustic Polenta
Place the polenta, 4 cups of chicken stock, and the olive oil in a heavy 2 ½ quart saucepan and stir to combine. We like using non-stick.

Set the pan over medium-high heat and bring to a simmer, stirring constantly with a wooden spoon, until the starch takes hold, 5 to 8 minutes.

Reduce the heat to low and cook, stirring frequently, until the grains are soft and hold their shape on a spoon, about 1 hour.

Whisk in the salt, pepper, butter, and Parmesan.

Serve the Polenta along with the Shrimp Creole. Garnish with chopped parsley and scallions.
Notes
*** We used an old-fashioned polenta that we mail-ordered and it was fantastic. This polenta has the body just like my mamma used to make. You may use a quicker polenta - just follow the directions with your polenta.
Nutrition
Calories:
611
kcal
|
Carbohydrates:
48
g
|
Protein:
35
g
|
Fat:
30
g
|
Saturated Fat:
13
g
|
Cholesterol:
341
mg
|
Sodium:
2074
mg
|
Potassium:
550
mg
|
Fiber:
2
g
|
Sugar:
6
g
|
Vitamin A:
950
IU
|
Vitamin C:
26.2
mg
|
Calcium:
238
mg
|
Iron:
3.7
mg
Sign up for the emails and never miss another recipe!!
We'll never share your email or send you spam. Promise