Mardi Gras is just around the corner and what could be more emblematic of New Orleans than Louisiana Shrimp Gumbo? Gumbo crosses all class barriers — it appears on the tables of the poor as well as the wealthy. When a dish is this delicious — that's all that matters.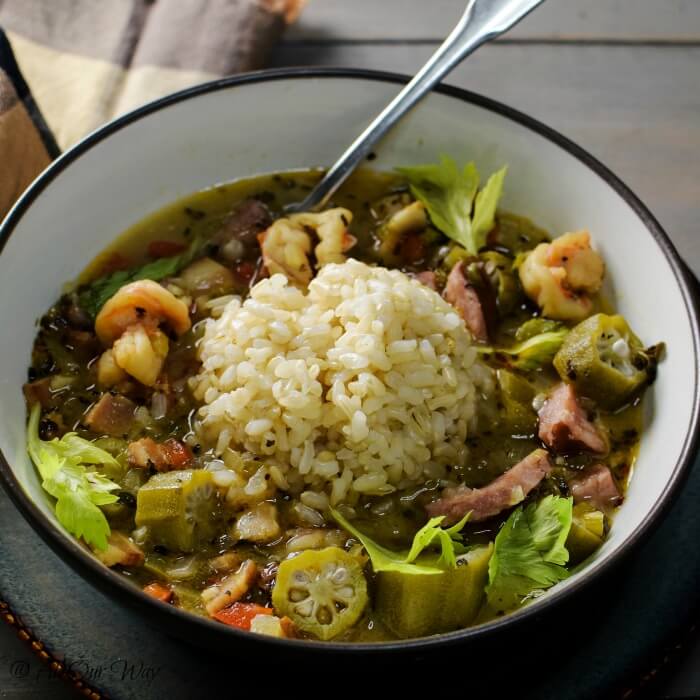 The ingredients might vary from one cook to the next, and the origins and evolution of the dish are speculative. But shrimp gumbo is a perfect example of the melting-pot nature of Louisiana cuisine: Gumbo derives from a West African word for okra, suggesting that gumbo was originally made with okra.
Doesn't this remind you of the many chili recipes?
But there are those who use filé, which is dried and ground sassafras leaves, in their gumbo and that is a contribution from the Choctaws and possibly, other local tribes.
Then there is the French influence in the use of roux, although the roux in gumbos is much darker than in French cuisine.
People are very passionate about what constitutes the texture and consistency of a "proper gumbo" and exactly what should be in it. Some Cajuns argue that no tomatoes or okra touches their gumbo, while some say that filé is necessary for the taste and texture.
I certainly wouldn't want to be in the middle of some of those arguments — they get fighting mad!!
Every October there is a World Championship Gumbo Cook-off in New Iberia, Louisiana. There you'll find all sorts of combinations. You may find andouille or chorizo sausage mixed in the stew as well as oyster, chicken, ham, steak, or duck.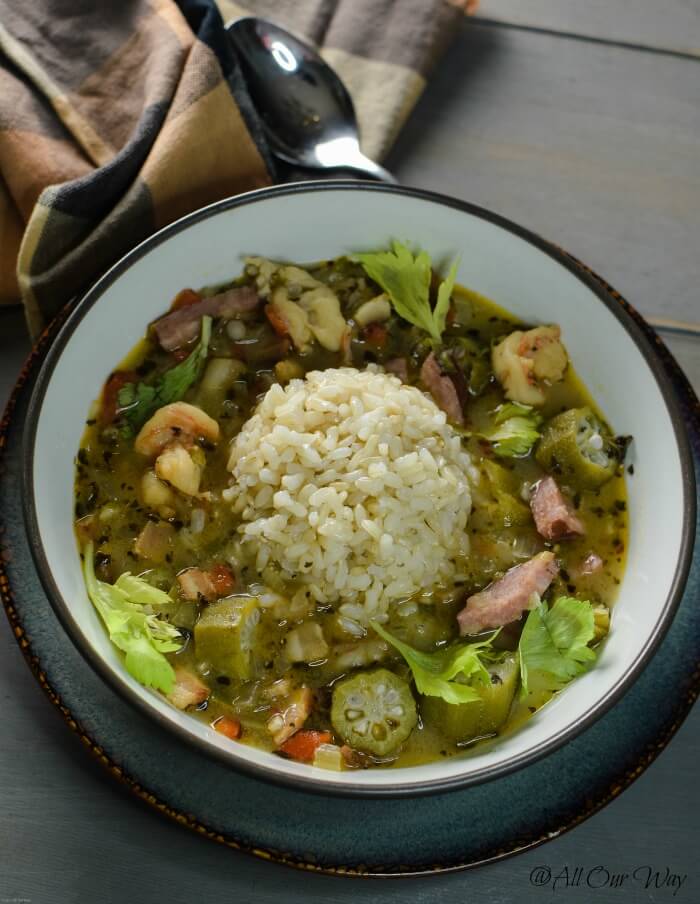 One ingredient that all agree upon — rice.
Part of gumbo's appeal is that it's very forgiving of the cook. Measurements don't have to be exact you may substitute with what's at hand.
How nice is that?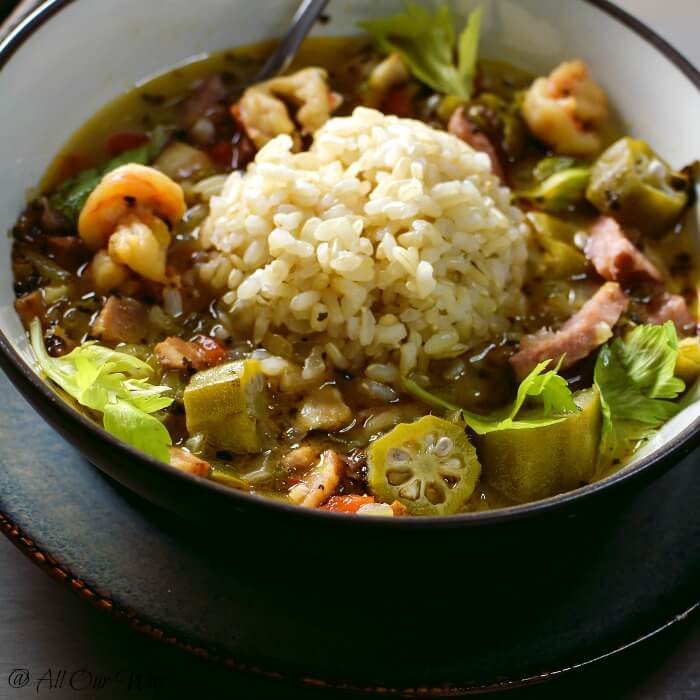 How about giving Louisiana Shrimp Gumbo a try?
And as they say in Louisiana. . .
. . .Laissez les bons temps rouler! – Let the good times roll!
Tutti a tavola è pronto
Un caro saluto e alla prossima.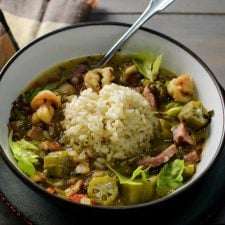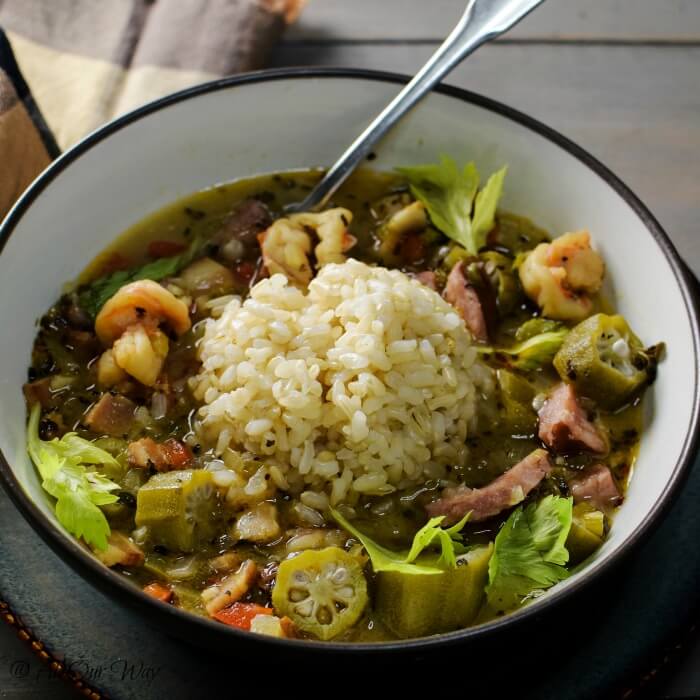 Louisiana Shrimp Gumbo
This stew is rich in the flavors of the shrimp and smoked sausage. The okra and a darkened roux give it a thick depth and the dish is finished with rice.
Print
Pin
Rate
Ingredients
1

pound

medium shrimp

31-35 count peeled, deveined and sliced in half lengthwise -- they'll curl up when cooked.

4-5

oz.

of kielbasa sausage sliced then sliced again in half moons

you can also use andouille sausage**

6

strips

1/2 lb. thick-sliced bacon

1

cup

yellow onion

diced

1

cup

celery

diced

1/2

cup

red bell pepper

diced

3

jalapeno peppers

we left the seeds in -- we like it HOT!

1

Tablespoon

garlic

minced

1/4

cup

all-purpose flour

1

teaspoon

dried oregano

1

teaspoon

dried thyme

1

teaspoon

dried basil

1

teaspoon

kosher salt

1

teaspoon

black pepper

3

Tablespoons

fresh lemon juice

2

Tablespoons

dry sherry

1

Tablespoon

Worcestershire sauce

3

cups

bottled clam juice

1 1/2

cups

low-sodium chicken broth

1

cup

frozen sliced okra

1/4

cup

scallions

green onions thinly sliced white and green part

Brown Rice made according to package directions

we like to make extra so we have it for other dishes We like to add a scoop to the plated gumbo

An alternate method is to add 1/2 cup converted-style rice at the final boil with clam juice and broth.

Chopped celery leaves for garnish

 

 
Instructions
Slice the shrimp in half lengthwise and set aside

Fry bacon until crisp in a large soup pot over medium-high heat. Remove the bacon with a slotted spoon and let drain on paper towels and set aside. Pour off bacon drippings, reserving 5 Tablespoons. Return the pot to the burner.

Saute shrimp in 2 Tablespoons drippings for 3 minutes over medium heat, stirring constantly. Remove shrimp and set aside.

Saute onion, celery, bell pepper, and garlic in 3 Tablespoons drippings for 3-4 minutes, stirring constantly.

Combine flour and seasonings; stir into vegetables. Cook 2 minutes, stirring constantly.

Deglaze with lemon juice, sherry, and Worcestershire, scraping up bits from the bottom of the pot.

Add the clam juice and broth ( also the 1/2 cup converted rice if you want it cooked in the gumbo) Bring to a boil, cover, reduce heat to low, and cook 20 minutes.

Stir in okra, scallions, shrimp, and bacon.

Remove from heat and let sit for 5 minutes.

To serve you can pour the gumbo over a serving of rice or you can add a scoop of rice on top of the gumbo like we did.

Garnish with celery leaves.
Notes
* Don't cook the okra too long - it will turn stringy.
** We use kielbasa sausage instead of andouille because we find it has less fat in it.
***Whenever we make a dish we have all the items prepped ahead of time. For instance, we will mix the flour with the seasoning in a dish and in a measuring cup we will have the deglazing liquid ready to pour into the pot.
Inspired by a gumbo recipe in Cuisine At Home - June 2003 issue.
Nutrition
Calories:
251
kcal
|
Carbohydrates:
16
g
|
Protein:
18
g
|
Fat:
11
g
|
Saturated Fat:
3
g
|
Cholesterol:
163
mg
|
Sodium:
1237
mg
|
Potassium:
368
mg
|
Fiber:
1
g
|
Sugar:
4
g
|
Vitamin A:
12.4
%
|
Vitamin C:
38.5
%
|
Calcium:
12.6
%
|
Iron:
14.3
%
Note: Recipes and content from All Our Way ©2014 are copyright protected. Please do not use content or recipe without prior written permission. If you want to share the information, please link to this post. Grazie.
SaveSave
SaveSave
SaveSave
Save
SaveSave
SaveSave
SaveSave
SaveSave