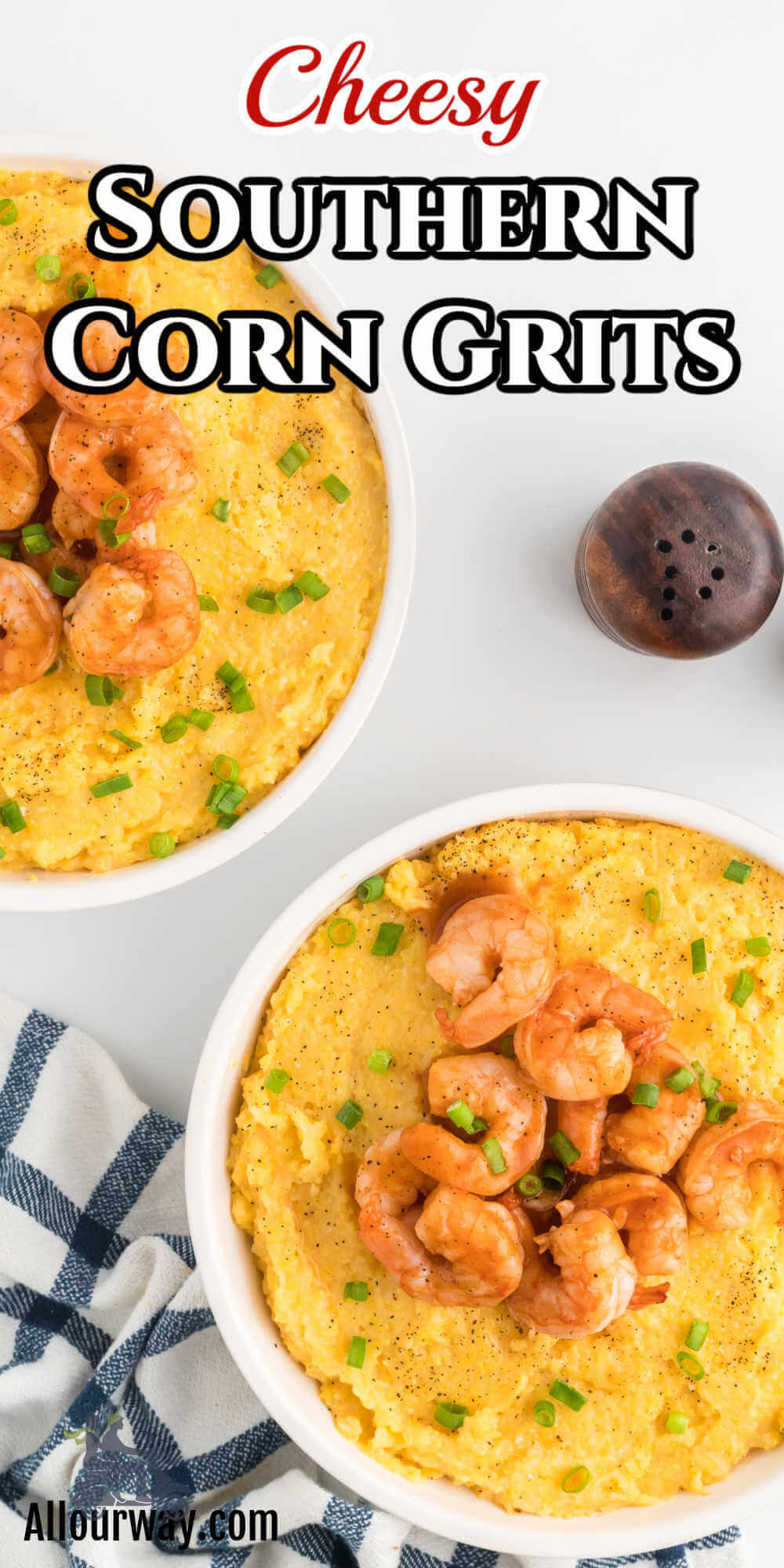 This easy Cheesy Corn Grits recipe features a creamy mixture of corn grits cooked in savory chicken broth, butter, oil, heavy cream, and garlic. This dish is loaded with shredded cheddar cheese for an irresistible tangy taste. We like to finish it with extra butter and cheese or with my favorite choice - BBQ Shrimp!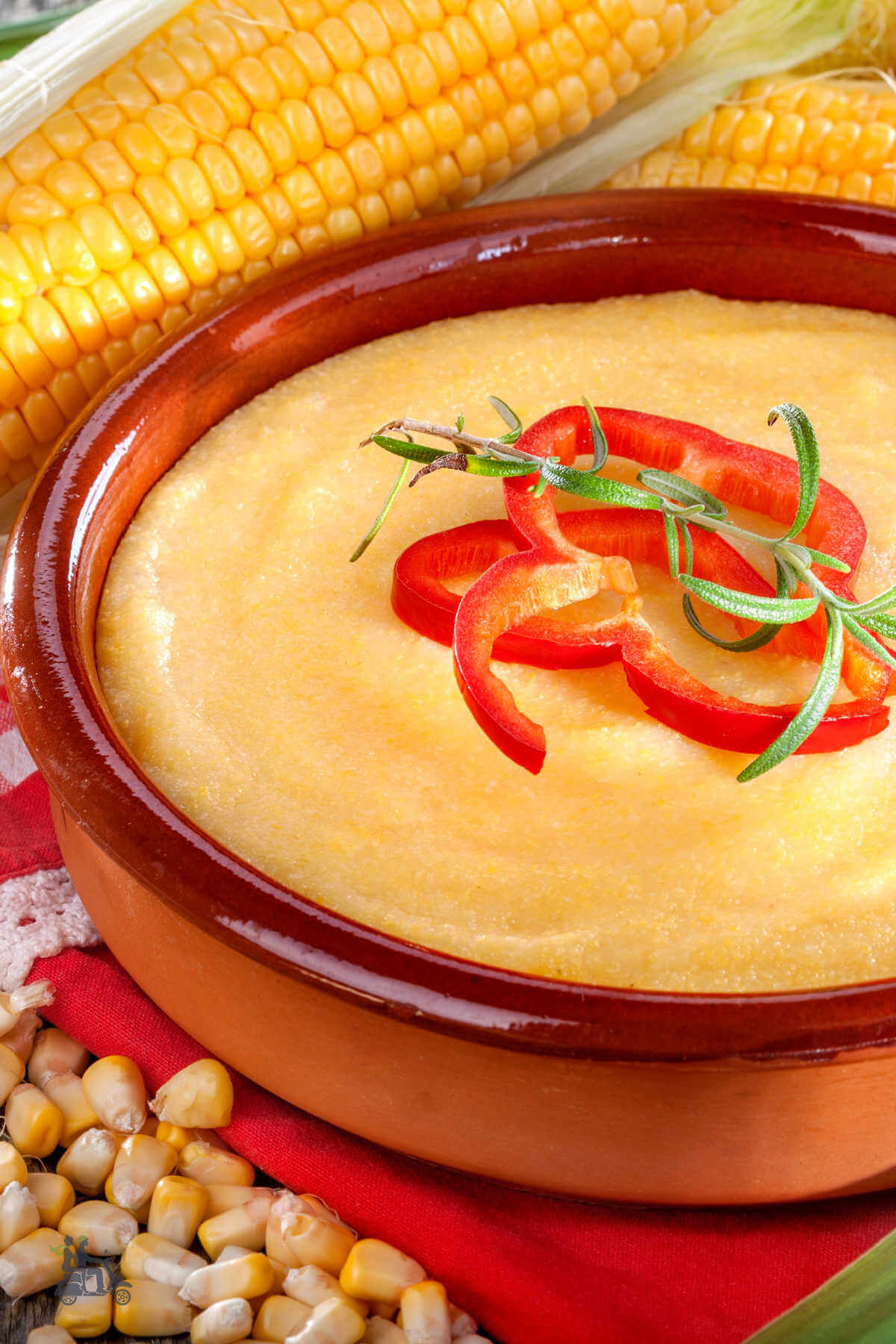 Jump to:
❤️ Why I love this recipe
Cheesy grits recipe requires pantry-staple ingredients that mix, cook, and serve in less than 30 minutes!
It's a comforting and filling recipe that we enjoy with simple toppings or combined with protein such as BBQ shrimp.
It's a delicious alternative to polenta with a faster cooking time too!
This Southern comfort food is a flavorful dish that we can serve for breakfast, lunch, or dinner depending on the toppings.
🛒 Ingredients
As an Amazon Associate I earn from qualifying purchases.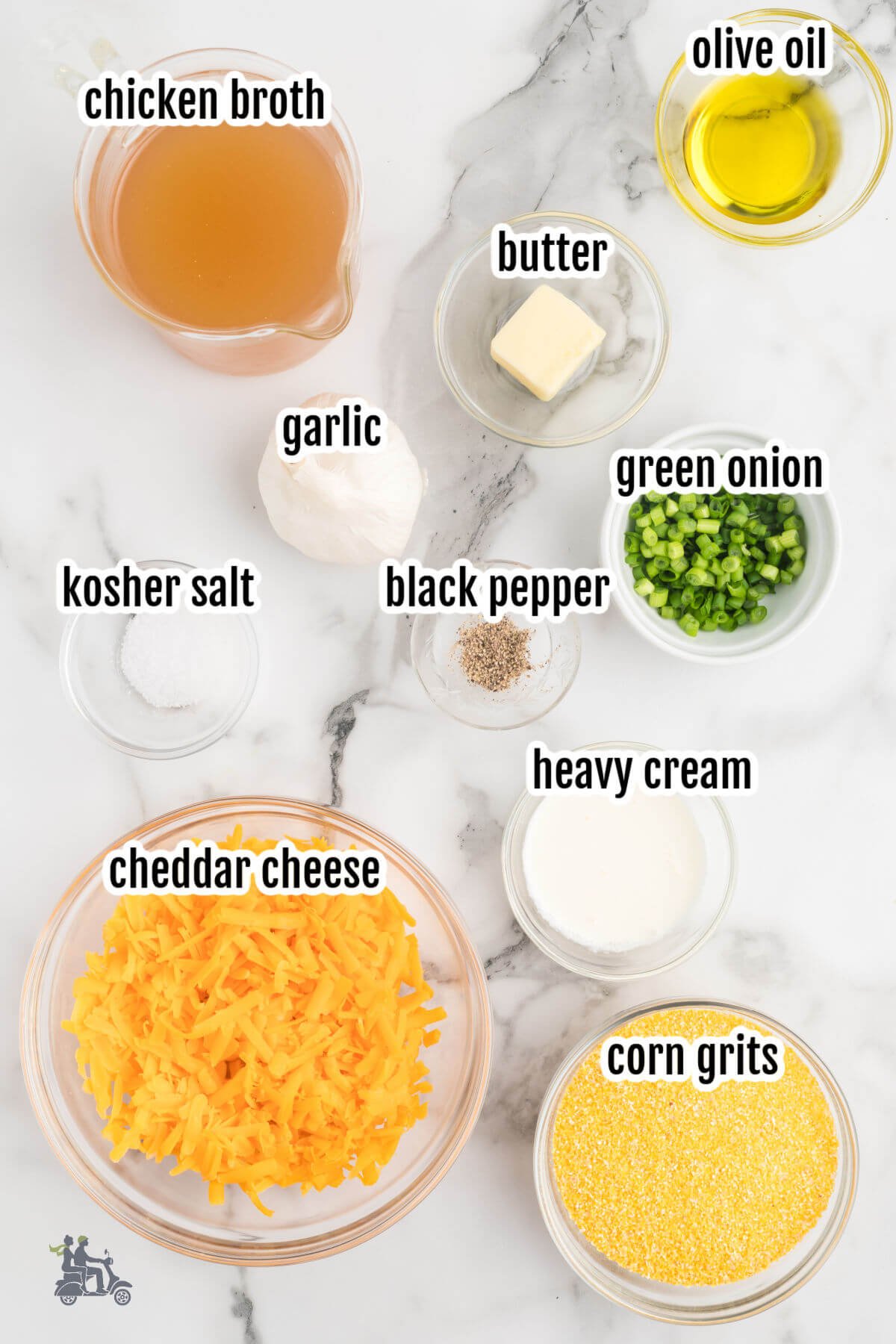 Note: The full list of this Southern corn grits recipe ingredients with their amounts and options are listed in the recipe card below.
🗒 Instructions
Note: This is an overview of the instructions. The full instructions are in the recipe card below.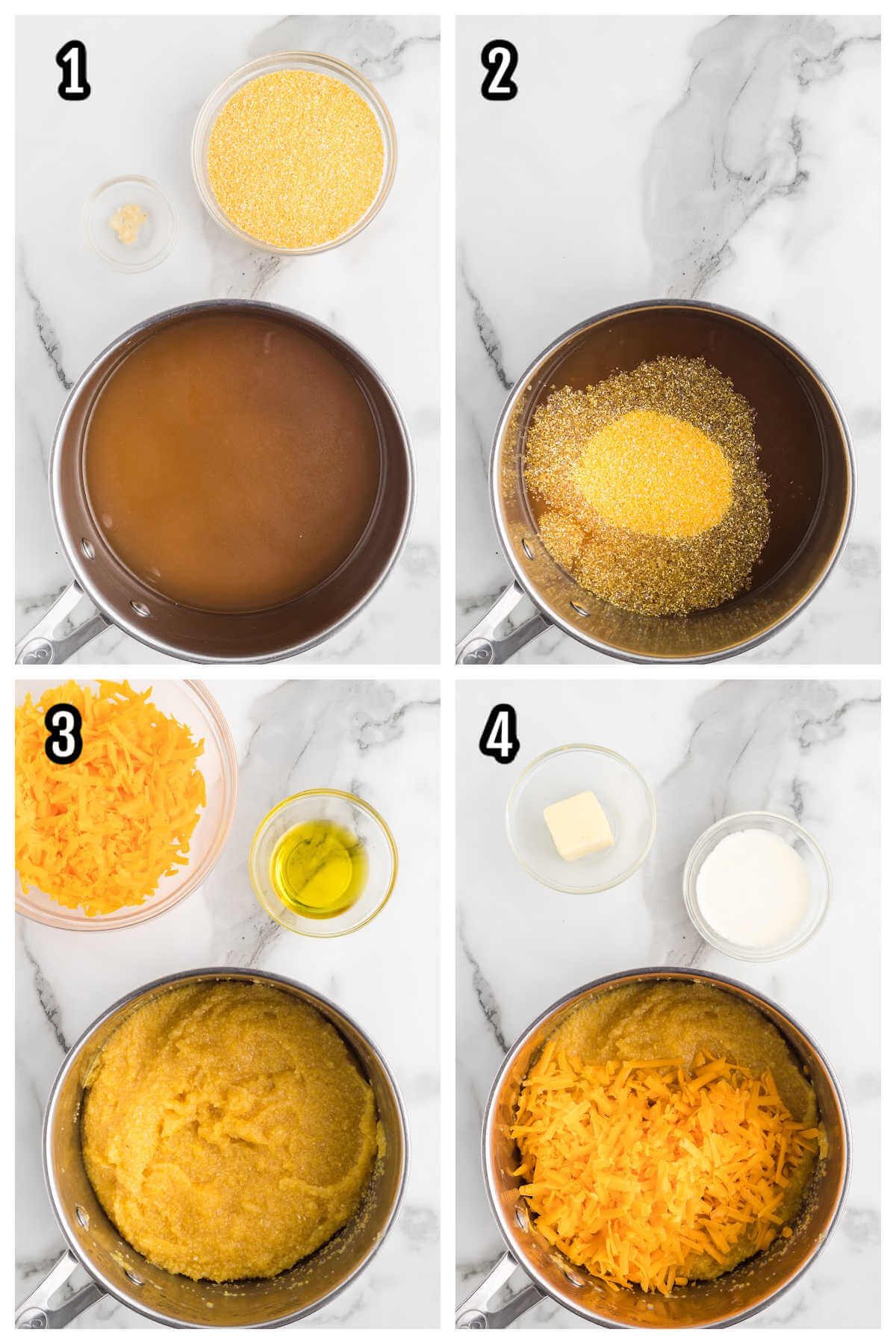 Add the broth to a medium saucepan.
Combine the garlic and grits (or polenta) over medium heat.
Bring the mixture to a low boil, frequently stirring, for 20 minutes or until the grits are tender.
Remove from heat and stir in the cheese, olive oil, butter, and cream.
Combine well and season with salt and pepper.
Serve immediately with extra butter, cheese, or your favorite topping.
🔪 Equipment
The following are affiliate links. We are a participant in the Amazon Services LLC Associates Program, an affiliate advertising program designed to provide a means for us to earn fees by linking to Amazon.com and affiliated sites.
You'll need the following items to make this recipe successfully.
🤔 FAQs
These are the questions we are frequently asked about making this creamy cheesy corn grits recipe.
What is the difference between corn grits and regular grits?
While both are made from ground corn, corn grits have a stronger flavor and a coarser texture than regular grits. Corn grits are also higher in nutritional value with more protein content.
What is in corn grits?
Corn grits are made from ground corn (either yellow or white corn). Some brands do include other ingredients, such as salt and preservatives, so it's best to check the packaging for the exact ingredients.
Is polenta the same as grits?
No. While both are made from ground corn, they have different textures and are traditionally prepared differently. Polenta also takes longer to cook than corn grits.
Are corn grits the same as cornmeal?
While both are made from ground corn, corn grits and cornmeal are different products with distinct textures and uses. Cornmeal is made from a finer grind of corn and is typically used as an ingredient in baked goods or as a coating for fried foods. Corn grits are made from a coarser grind of corn and are more similar in texture to polenta.
👩🏻‍🍳 Tips
Using polenta instead of corn grits is an option for this recipe, but you must increase the cooking time.
Yellow grits can stick to the bottom of the pot, so it's important to stir them frequently to prevent burning.
Only add the shredded cheese to the cheese grits towards the end of the cooking time, and make sure to use freshly grated cheese for the best taste and texture.
📚 Variations
Use low-sodium broth if you're watching your sodium.
Use Parmesan cheese, Gouda, or feta cheese instead of cheddar cheese.
Consider adding vegetables to this dish, such as onions, peppers, tomatoes, or mushrooms.
Cooked bacon, crumbled sausage, or diced ham are great protein options for this dish. I typically love serving barbecue shrimp with cheesy corn grits as a wholesome shrimp and cheese grits meal.
I've only used salt and pepper to season my cheesy grits, but you could try other spices, such as paprika or cayenne pepper.
Garnish cheesy corn grits with extra cheese and butter or chopped green onions, diced tomatoes, or crumbled bacon.
For a sweet variation, add some sugar, vanilla extract, and cinnamon. Use milk instead of chicken broth, and omit the salt, pepper, and garlic. You can top this sweetened version with fresh fruit, nuts, and a drizzle of honey or maple syrup.
🥫 Storage
Store the cheesy corn grits in an airtight container in the fridge for 3-4 days or in the freezer for 2-3 months.
Reheat leftovers in the microwave for a few minutes or on the stove over low heat, stirring occasionally. Add a splash of milk or water if the grits is a bit dry.
📗 Related Recipes
🍽 Serve with
Cheese grits are great with a serving of butter, extra cheese, and other toppings, such as chopped green onions or crumbled bacon.
This dish is also perfect to pair with Grilled Shrimp with Lemon and Garlic for a hearty and comforting meal.
📞 Chiacchierata (chat)
Whenever I think of cheesy corn grits, I immediately think of my Mamma's creamy and comforting savory polenta. It is very similar to corn grits that's also porridge-like in consistency. We like to serve corn grits with just a dollop of salty butter and shredded cheddar cheese. We especially like to pair the corn grits with recipes such as BBQ Shrimp, or Pollo Cacciatore. And for a hearty Southern-style breakfast pour a bit of your favorite syrup over the grits.
Making this dish as a breakfast option for family and guests is incredibly easy and quick, but you can also enjoy it as a comforting meal for lunch or dinner, especially on chilly days.
Tutti a tavolo, è pronto!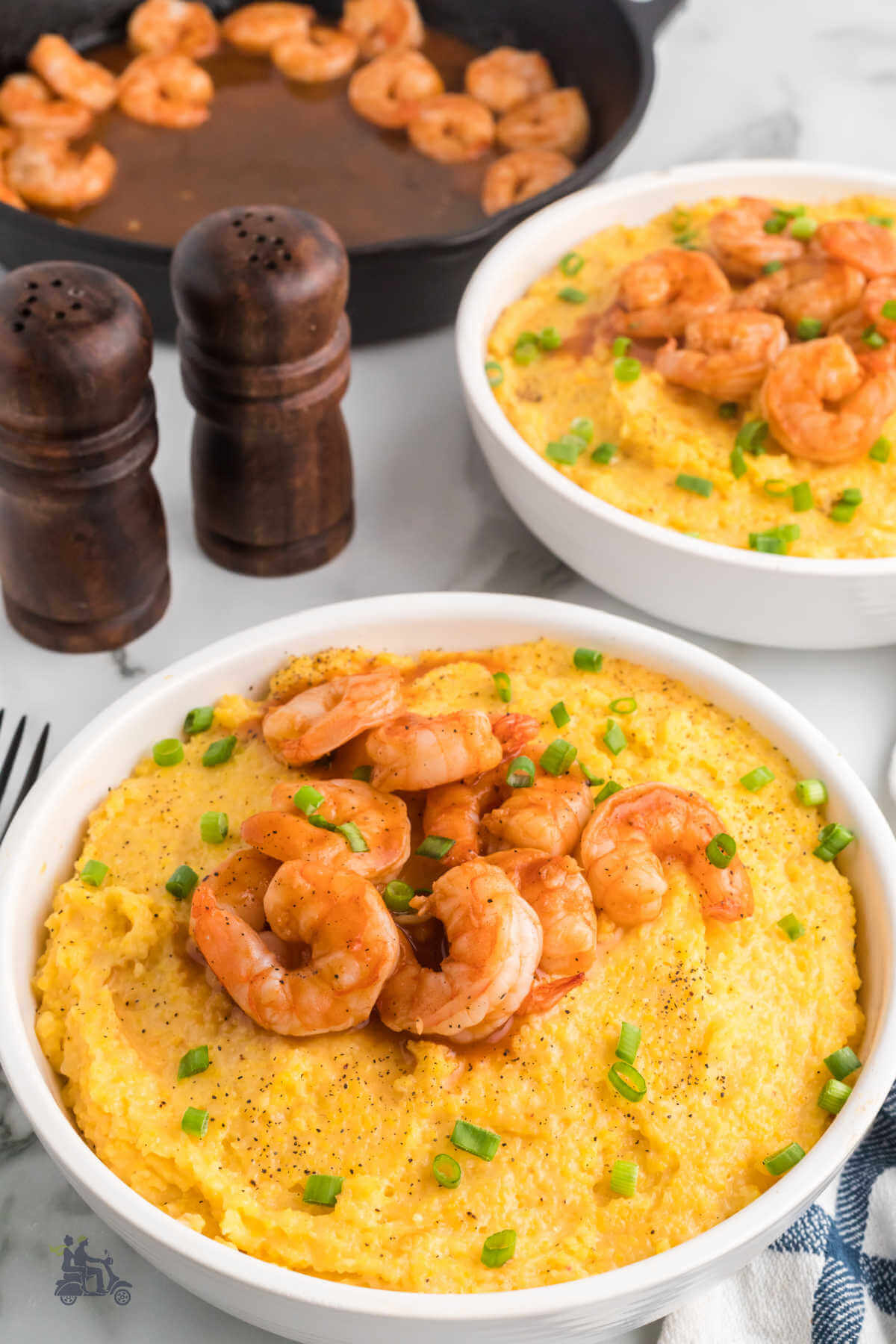 What's new? Check out my All Our Way Store on Amazon. We'll be adding more items we love and use or wish we had to make cooking fun and easy.
📝 Recipe Card
Cheesy Corn Grits are creamy and tangy, loaded with flavor from adding butter, heavy cream, garlic, and seasoning - perfect for breakfast with an extra serving of butter and shredded cheese or as a hearty lunch or dinner with your favorite toppings!
If you love this recipe please give it 5 stars ⭐️⭐️⭐️⭐️⭐️.
📖 Recipe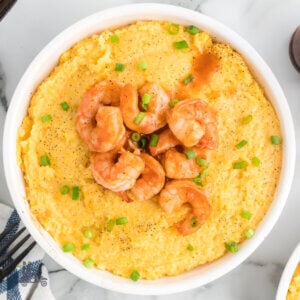 Easy Cheesy Corn Grits
The cheese corn grits/polenta is an easy dish to make especially with a cold water start. The combination of the tangy, bourbon-based barbecue sauce with the creamy polenta/cheese is a meal that is worthy for company but quick and easy for a week night.
Print
Pin
Rate
As An Amazon Associate I earn from qualifying purchases.
Ingredients
4

cups

chicken broth can use low-sodium broth if you're watching your sodium

1

clove

garlic minced

1

cup

old-fashioned grits or polenta

4

ounces

sharp cheddar cheese shredded

1 ½ cups

2

Tablespoons

olive oil

2

Tablespoons

butter

2

Tablespoons

heavy cream

Kosher salt and freshly ground pepper.

3

green onions thinly sliced
Instructions
In a medium saucepan mix the cold chicken broth, minced garlic and grits or polenta and over moderate heat.

Bring to a low boil, stirring frequently, until the grits are tender, 20 minutes. ( It will take longer with the polenta).

Remove the saucepan from the heat and stir in the cheese, olive oil, butter and cream.

Season with salt and pepper and serve immediately with more butter, cheese, or your favorite topping.

We like to serve it with barbecued shrimp and a sprinkle of green onion around the dish.
Notes
If using polenta, it will take a little longer to finish.
Nutrition
Calories:
419
kcal
|
Carbohydrates:
34
g
|
Protein:
12
g
|
Fat:
26
g
|
Saturated Fat:
12
g
|
Polyunsaturated Fat:
2
g
|
Monounsaturated Fat:
10
g
|
Trans Fat:
0.2
g
|
Cholesterol:
57
mg
|
Sodium:
1106
mg
|
Potassium:
155
mg
|
Fiber:
1
g
|
Sugar:
2
g
|
Vitamin A:
749
IU
|
Vitamin C:
2
mg
|
Calcium:
225
mg
|
Iron:
1
mg
Sign up for the emails and never miss another recipe!!
We'll never share your email or send you spam. Promise
Grits or Polenta a rustic food
Polenta has been dubbed by some "Italian grits ". Although they both are made from coarsely ground corn. Polenta and grits share another common link, they were considered food of poverty.
Sometimes people will identify themselves as a distinct culture by their traditional foods.
For Southern Italians, it was pasta and pizza that was the cornerstone of their diet, in Northern Italy, their staple food was polenta.
Just as the Southern Italians worked in the fields with their bellies full of pasta, Northern Italians subsisted on little more than polenta for centuries.
To a Southerner, eating grits is practically a religion. No breakfast is complete without grits.
Polenta and grits are now defying their humble origin and they're moving on up.
Grits and polenta moves uptown
They now have a new audience, the gourmet food restaurant and a more high-end clientele.
But you can still find polenta and grits as a staple in the ordinary kitchen, and here in the South we still eat it for breakfast.
The Italians serve polenta with just about everything and it's no longer just considered a northern food. You'll find it spread to every corner of Italy.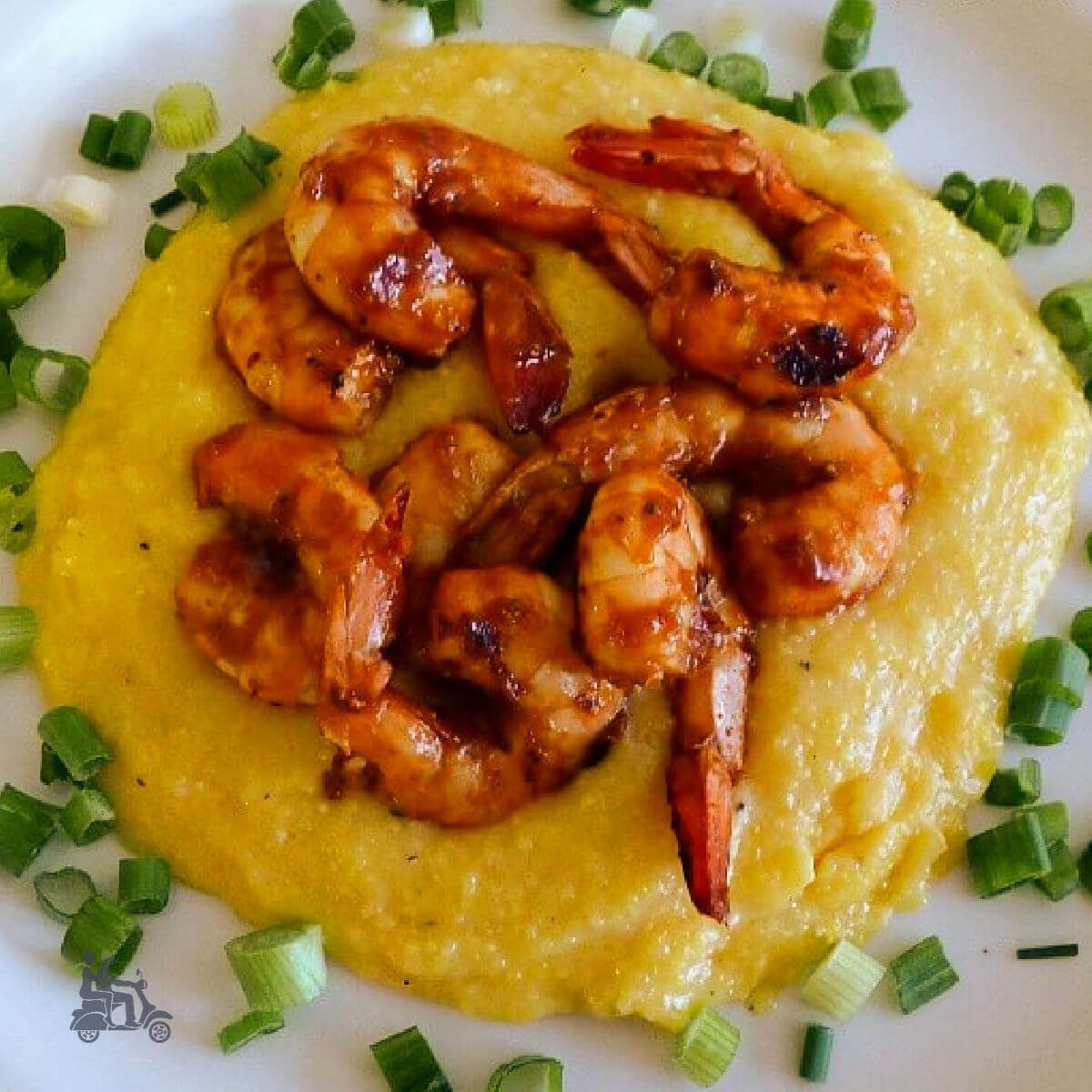 The grits/polenta with shrimp is an ideal marriage of flavors, they go together perfectly. You will find many restaurants now offer this combination at a considerably higher cost than what you can make it at home.