If you ever taste homemade pita bread you will never settle for store-bought again! This homemade pita recipe makes bread that is so soft, light and tasty . . . a heavenly pillow ready to be filled with a tasty filling or dipped in a delicious sauce.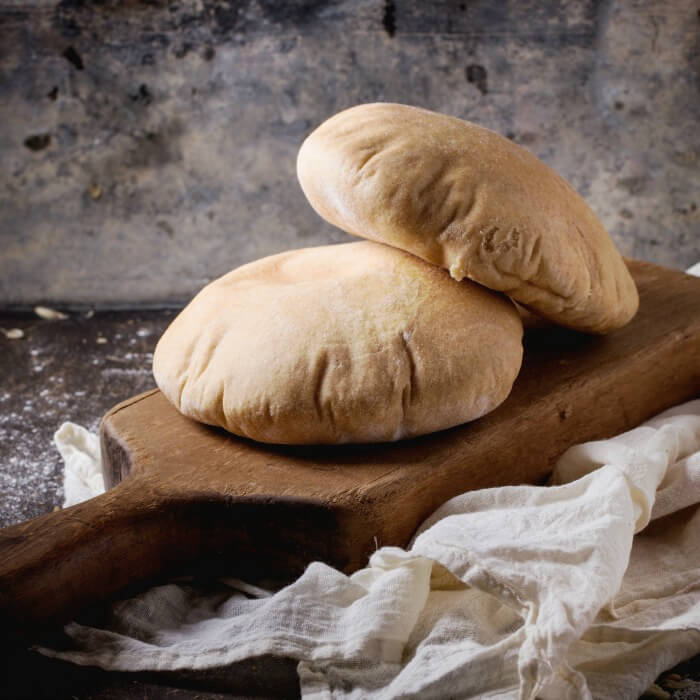 Jump to:
Ingredients
For this pita bread recipe, you will need:
All-purpose flour
Purified or distilled water
sugar
salt
instant dry yeast
Homemade pita flatbread recipe is easy
Making your own pitas couldn't be simpler. If you make them once, your family will insist that you make them on a regular basis.
We can't keep our family stocked with this wonderful bread!
Before we left in December we made six dozen pita flatbreads to split between the three families.
To say we love to bake is an understatement . . . three 50 pound bags of King Arthur flour in less than a year.
🤔 FAQs
We are often asked if it's difficult to make our homemade pita bread. The simple answer is NO. This sandwich flatbread is a very easy one to make.
Is pita bread healthier than regular bread?
If you compare them side by side, regular bread contains a little more fiber and slightly fewer carbs than a pita. This would make it a somewhat more nutritious option. Pitas are somewhat lower in sodium than bread, so that may be the best option for those eating a low-salt diet.
What makes the pita puff up?
When the pita is placed in a very hot oven, the heat cooks the outside of the dough. At the same time, moisture from the water in the dough builds up in the middle, causing steam to build up and make them puff.
Is pita could for weight loss?
Calorie wise this is a good option. It's also a healthy source of vitamins, minerals, and carbs.
What are pita wraps made of?
Pitas are made from wheat flour and yeast.
What do you eat with pita bread?
Pita bread has a convenient pocket when it is split in half. That pocket is meant to hold food! You can fill a pita pocket with your favorite salad and veggies. You can also include strips of meat like steak, chicken or lamb. Tahini makes a great sauce for a pita pocket sandwich.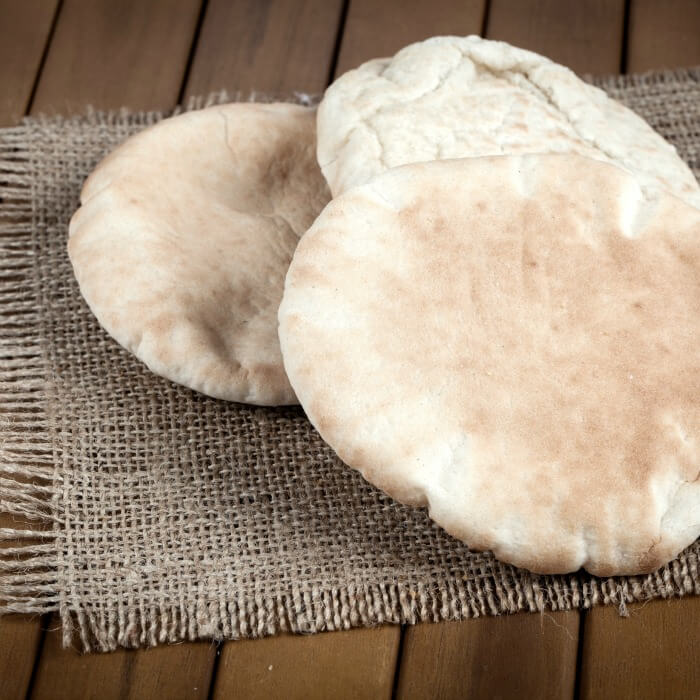 Versatile
There are so many ideas you for pitas as a base. Here are a few to sample.
And if you'd like to serve the pitas as they do in Mediterranean area, try it with The Best Hummus Recipe you'll ever taste. It's the springboard for your favorite varieties.
We enjoy sharing our favorite bread recipes with our family and friends. Be sure to sign up for our newsletter and see what we're cooking and baking.
If you like this recipe, here is a very popular variation.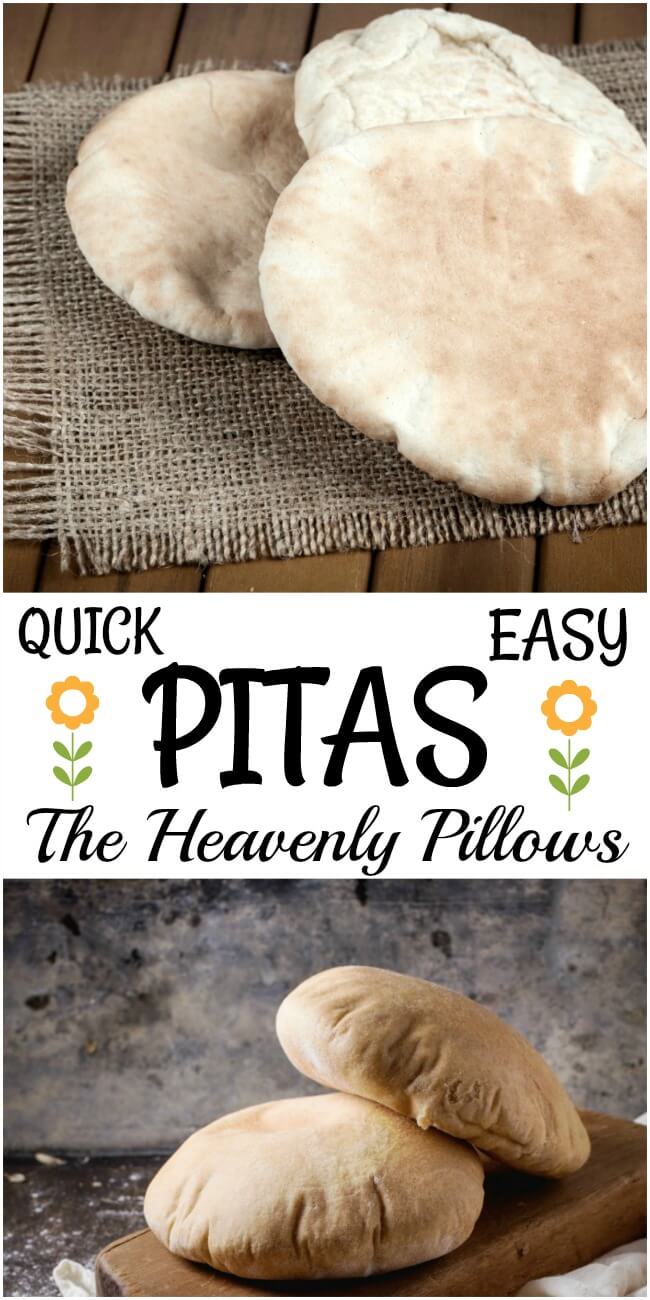 If you like flatbreads, you'll love these recipes...
Flatbread|Easy Delicious Mediterranean Bread -- This flatbread is easy to make and delicious to eat. Using it as a side with soup and stuff it with your favorite lunch fillings.
Focaccia Pugliese -- This is an Italian street food with tomatoes. Warm from the oven it's heavenly.
Impressive Cheese And Caramelized Onion Braid -- Pizza dough that's filled with cheese and onion then baked. Watch the mouths drop when you serve it.
Serve these breads as appetizers and you won't have a crumb left.
Tutti a tavola è pronto!
Un caro saluto e alla prossima.
Recipe
📖 Recipe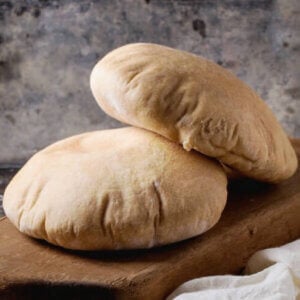 Quick and Easy Pitas the Heavenly Pillows
A soft as pillow bread you can split and fill. It is very easy and quick to make. Once you try the homemade you will not buy the store bought.
Print
Pin
Rate
As An Amazon Associate I earn from qualifying purchases.
Ingredients
2 ¼

cups

warm water

110 degrees F, 45 degrees C

6

cups

all purpose flour

2

teaspoons

salt

2

tablespoons

extra virgin olive oil

3

teaspoons

white sugar

3

teaspoons

instant dry yeast
Instructions
Whisk dry ingredients together in a bowl.

In bowl of a stand mixer combine warm water and olive oil.

Pour the dry ingredients on top of the water and with the dough hook attachment mix the ingredients together about 1 minute. Increase the speed to medium low until the dough is smooth and elastic, abut 5 minutes. The dough will be a little tacky.

Let the dough rise in a greased covered bowl until almost double in size. About 1 ½ hours. The time will depend on the heat in your kitchen.

When doubled preheat oven to 500 F (260 C)

Turn the dough onto a lightly floured surface. Roll and stretch the dough gently into a long rope. With a bench knife or sharp knife divide the dough into 12 pieces. Form each piece into a smooth tight ball by stretching the sides to the bottom until it is taut. You may need to repeat this several times.

After you've formed the balls start at the first one you made and using you fingers pat each ball down to form a small disk. Once you've done this to the 12 pieces use a rolling pin to roll each pita into a 4" circle. They should be ¼" thick. You don't want them too thin or they won't puff up.

Put the pitas on a lightly floured countertop and cover them with a towel. Let pitas rise 30 minutes, just until they begin to puff.

When ready, place 3 pitas on a nonstick wire cake rack. Place cake rack directly on the oven rack or baking stone. Bake 4 to 5 minutes until puffed and they are slightly brown.

Remove them from the oven immediately and cover them with a damp towel.

We have several cake racks so we're able to keep the pitas baking until all are finished. We cool them right on the rack with the damp towel. The damp towel is important because you don't want the pitas to get hard. If you don't have additional rack you may have to put them in a sealed brown paper bag and reuse the cake rack for the additional pitas.

Once they are cool wrap them in plastic wrap and freeze them in a large freezer bag. They freeze well, but I can't tell you for how long -- they are gobbled up pretty quickly.
Notes
Optional: You can add 1 tablespoon garlic or onion powder. Also you can add 1 tablespoon dried Italian seasoning, or any other combination that you like. Add this to the dry ingredients.
Nutrition
Serving:
12
g
|
Calories:
261
kcal
|
Carbohydrates:
49
g
|
Protein:
7
g
|
Fat:
3
g
|
Sodium:
392
mg
|
Potassium:
95
mg
|
Fiber:
2
g
|
Sugar:
1
g
|
Calcium:
12
mg
|
Iron:
3
mg
Sign up for the emails and never miss another recipe!!
We'll never share your email or send you spam. Promise