Grilled Cheesy Potatoes, Peppers, Bacon, Onions is an easy recipe you'll want to make again and again. If you grill as much as we do — that's constantly — this will be a great side to make along with your meat.
I meant to have this recipe posted as soon as grilling weather started but once we got back from the Atlantic shore, our Indiana garden seemed to have collected every weed indigenous to this area.
Really . . . it's never been this bad before. . . although I do have some good news. Remember last year I told you about our fight with the critters? Well . . . I think we could be winning part of the battle. . .
. . . the one against the deer.
I'll have more on that in another post.
But . . . back to the grilled cheesy potatoes, peppers, bacon, onions.
The first time my Honey told me about this recipe and wanted to make it, I was a little skeptical.
Layering the potatoes together with the other ingredients in foil, then putting them on the grill didn't seem like the recipe would work that well.
He was confident it would.
He had tasted the grilled cheesy potatoes at an outdoor business gathering. All it had taken was just one taste and he immediately knew he was going to make the recipe at home.
What you need for grilled cheesey potatoes
Sliced potatoes seasoned with All Our Way Seasoning.
Sliced green peppers and onions sprinkled over potatoes.
Bacon on top of the potatoes, peppers and onions.
Cheese is sprinkled on top of ingredients once they are done.
The cheesy potatoes are left on the grill to let the cheese melt and to get the great bottom crust.
The grilled cheesy potatoes are ready to be enjoyed.
---
Once he made the recipe, all it took was just one taste for me to be convinced . . .
. . . he was right.
If you ask my Honey, he'll tell you that I don't admit that often enough. 🙂
This is another one of those great recipes that you can make for two or twenty. Even though the potatoes are done you'll want to leave them on a little while longer so that the bottom potatoes form a crust.
The crusty bottom of these grilled cheesy potatoes are especially tasty and it's worth leaving them on for a little extra time. We served the potatoes with our favorite crispy fried fish recipe and green beans almondine.
Alla prossima!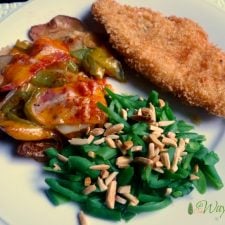 Grilled Cheesy Potatoes, Peppers, Bacon, Onions
Grilled Cheesy Potatoes, Peppers, Bacon, Onions is an easy recipe you'll want to make again and again. The ingredients are layered in foil and they are placed on the grill to bake
Print
Pin
Rate
As An Amazon Associate I earn from qualifying purchases.
Ingredients
4

large russet potatoes washed and sliced into ¼ inch round pieces.

1

large green bell pepper washed

cored and sliced

1

medium onion sliced

4

oz

bacon slices

not the thick slices

6

oz.

grated sharp cheddar cheese

or cheese of choice

Salt

pepper, All Our Way seasoning or seasoning of your choice

Smoked paprika
Instructions
Slice the russet potatoes, separate and rinse the slices in a bowl of cold water. Put fresh cold water in the bowl with the potatoes and refrigerate until ready to use.

Slice the green bell pepper and onion and put into individual bowls.

Heat the grill to 350 F.

Lay out a double thickness of heavy duty aluminum foil -- we use the wide size. Mist the foil with vegetable oil spray (We use the olive oil spray).

Drain the water from the potato bowl and blot the potato slices with paper towels or a clean dish towel -- you want as much moisture out of the potatoes as possible.Spread the potato slices evenly over the center of the foil, leaving plenty of room around the edges so that after you add all of the layers you can bring up the sides to seal the foil.

Salt and pepper the potato slices and liberally season with All Our Way Seasoning or seasoning of your choice.

Sprinkle the green peppers and onions evenly over the potatoes.Lay the bacon slices over the pepper and onion layer.

Bring the foil edges together and turn down the edges several times to make a pouch. You want the steam to stay in.

Grill for about 40 minutes and then slit open the pouch and spread out the sides to allow the steam to escape.Continue to bake for another 10 minutes.

At about 50 to 55 minutes of baking time, sprinkle the grated cheese on top, over the layers. Sprinkle with smoked paprika. Continue to bake for another 10 minutes. The cheese will melt and the bottom layer of potatoes should get crusty.

Remove from the grill and let rest for 5 minutes then serve.
Notes
The grilling time may vary by several minutes -- just keep an eye on the potatoes to ensure doneness.
You can easily make this recipe your way by adding whatever cheese you like or by adding jalapeno or poblano peppers and by using you seasoning preference.
The servings will vary on the size of your eaters' appetites.
Nutrition
Serving:
8
g
|
Calories:
215
kcal
|
Carbohydrates:
16
g
|
Protein:
10
g
|
Fat:
13
g
|
Saturated Fat:
6
g
|
Cholesterol:
32
mg
|
Sodium:
238
mg
|
Potassium:
535
mg
|
Fiber:
3
g
|
Sugar:
1
g
|
Vitamin A:
268
IU
|
Vitamin C:
25
mg
|
Calcium:
190
mg
|
Iron:
4
mg
Sign up for the emails and never miss another recipe!!
We'll never share your email or send you spam. Promise
Note: Recipes and content from All Our Way © 2015 is copyright protected. Please do not use content or recipe without prior written permission. If you want to share the information please link to this post. Grazie.
SaveSave
SaveSave
SaveSave
SaveSave
Reader Interactions