Potatoes au gratin Recipe with gruyere is the perfect holiday side dish to serve alongside Thanksgiving turkey, roast beef or chicken.
This potato dish is incredibly cheesy and decadent with fork-tender slices of creamy potato that'll have you coming back for more!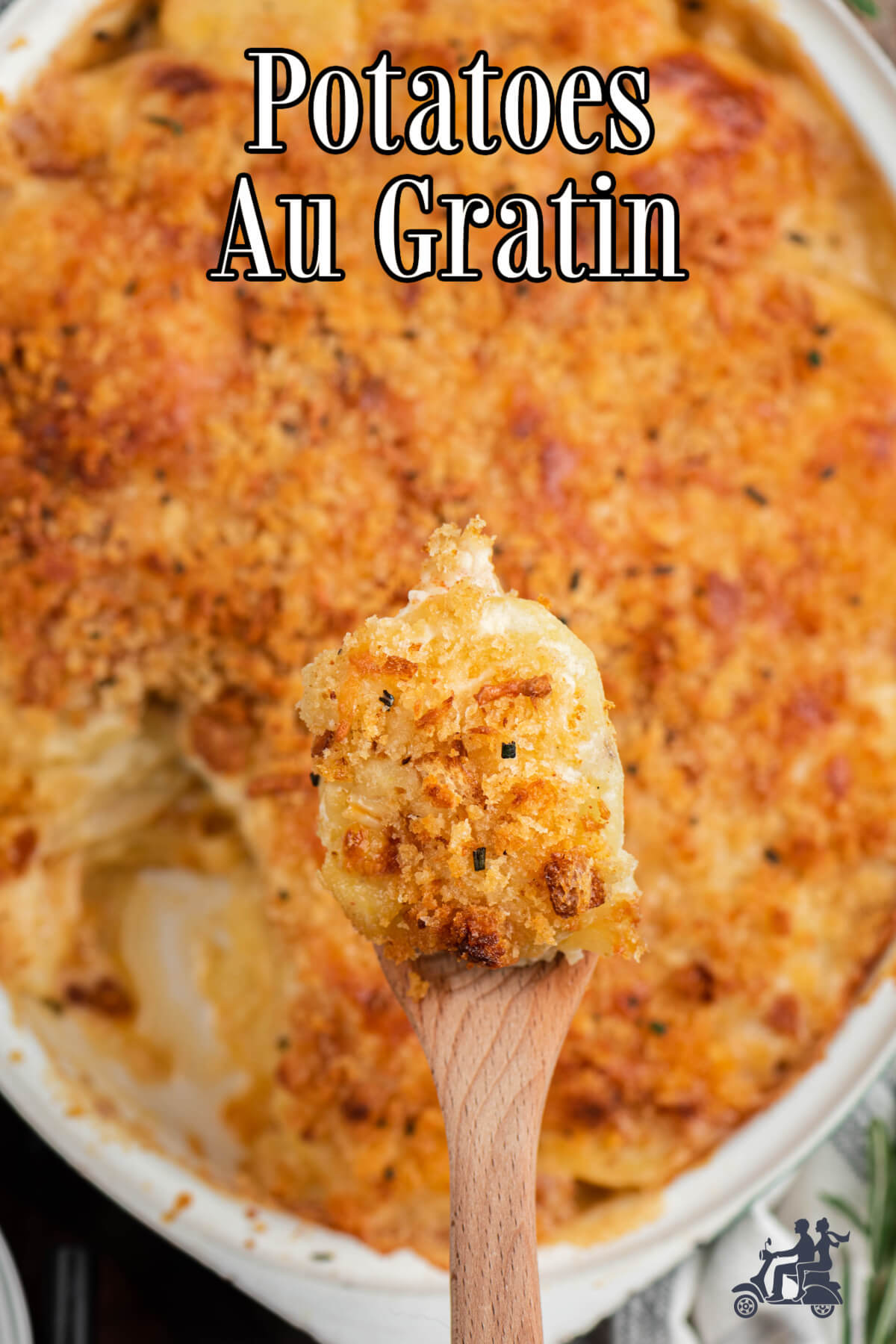 Jump to:
❤️ Why you'll love this recipe
It's a simple recipe that pairs well with a variety of meats and other side dishes.
Potatoes au gratin is easily adaptable with a few ingredient substitutions or additions to suit an array of taste preferences and meal purposes.
It tastes decadent thanks to the use of cream and cheese that'll impress the guests while being budget-friendly.
🛒 Ingredients
As an Amazon Associate I earn from qualifying purchases.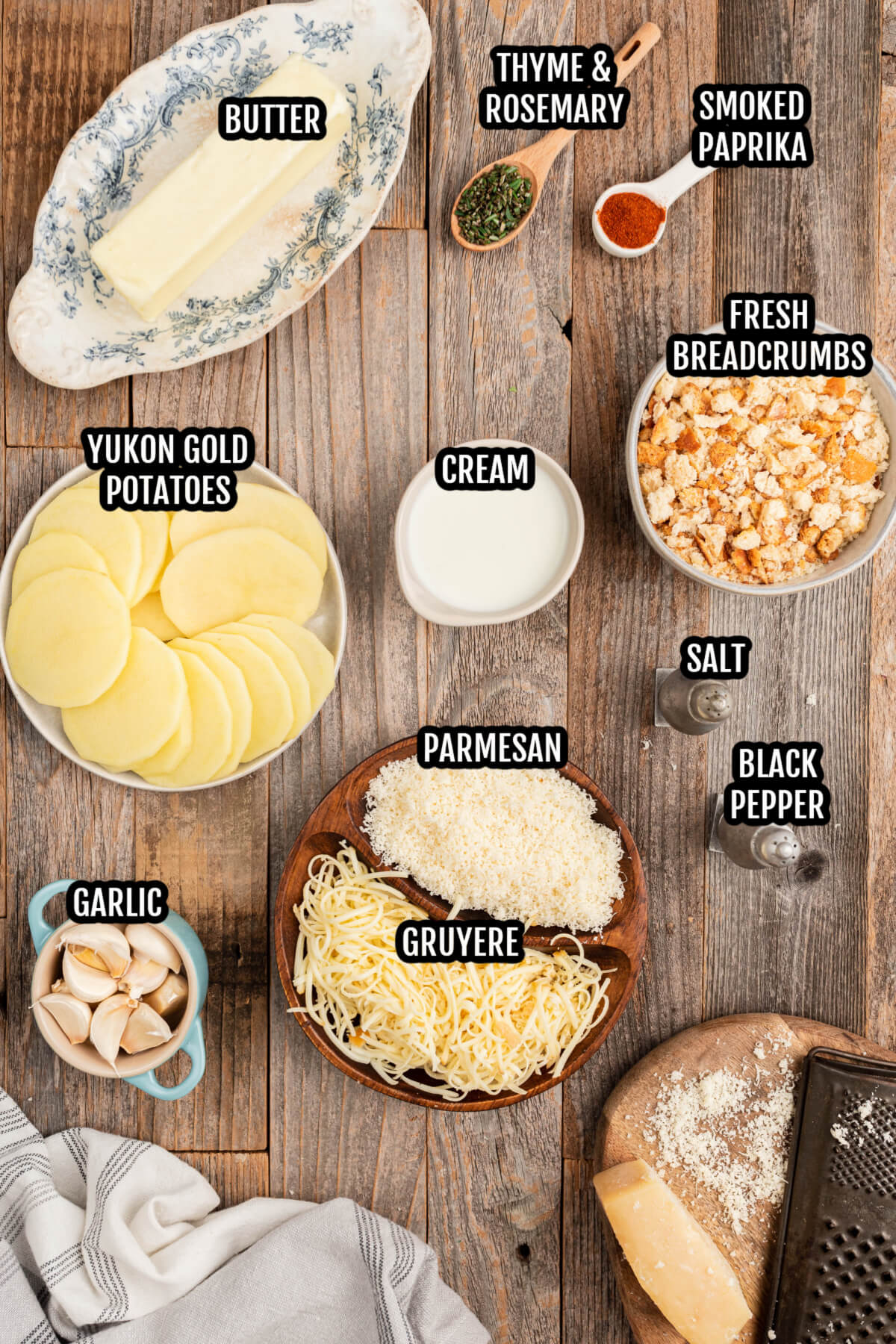 Note: The full list of this loaded potato soup recipe ingredients with their amounts and options are listed in the recipe card below.
Yukon gold potatoes - peeled and sliced into ⅛-inch rounds
Half and half
Kosher salt
Black pepper
Unsalted butter
Minced garlic
Grated Gruyere cheese
Freshly chopped rosemary
Freshly chopped thyme
Smoked paprika
Fresh breadcrumbs from rustic bread such as ciabatta
Finely grated Parmigiano-Reggiano
🗒 Instructions
Note: This is an overview of the instructions. The full instructions are in the recipe card below.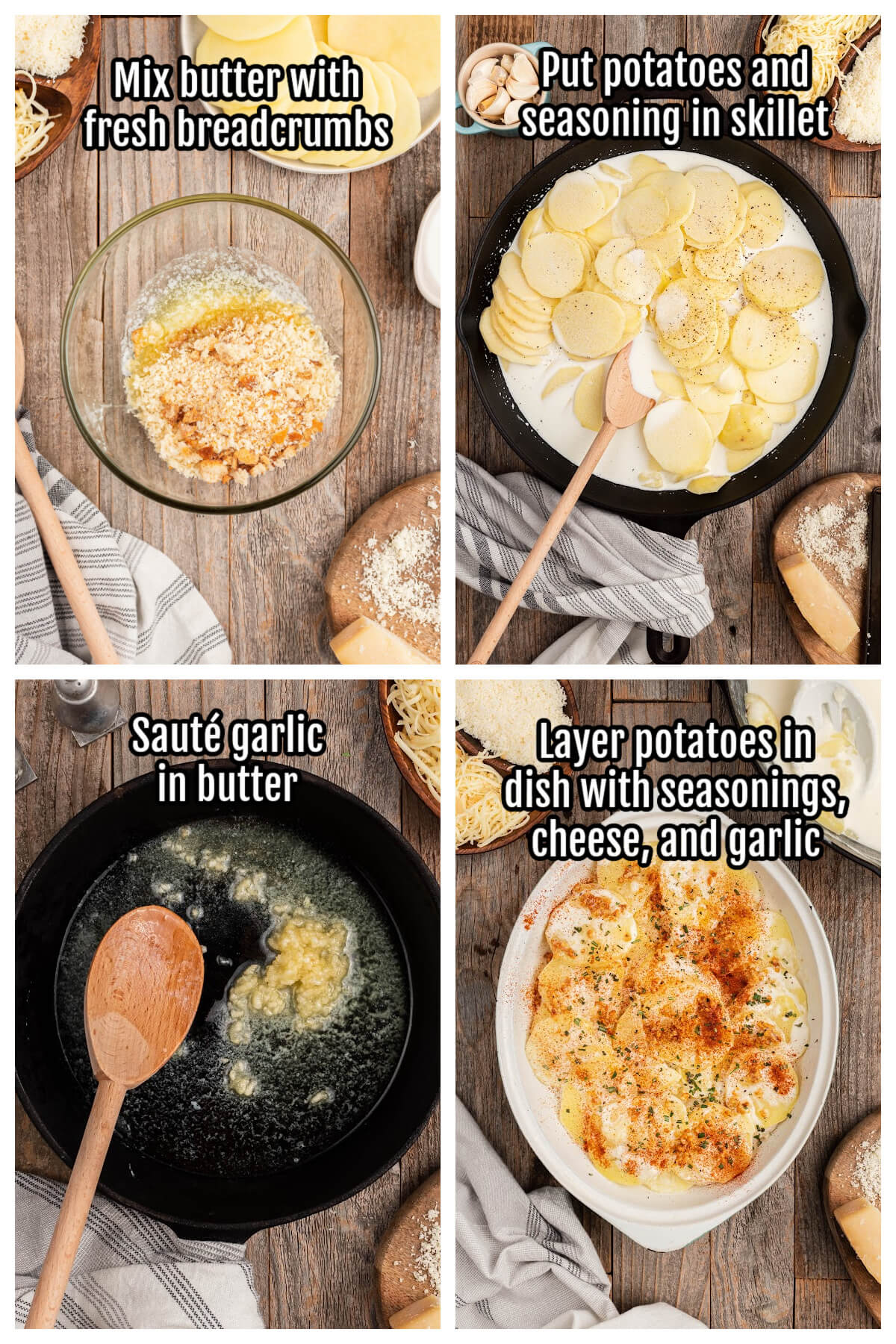 While the oven is preheating, mix the butter with fresh bread crumbs and grated parmesan cheese in a bowl, then set aside.
Put the potatoes and seasoning in the skillet and simmer till fork tender.
Sauté the garlic in butter in a medium skillet over medium heat together with the sliced shallots.
Layer half the potatoes in the gratin dish with seasonings, cheese, and minced garlic.
Top with the remaining potato mixture, spreading evenly and add any remaining cream from the pan.
Sprinkle the bread crumb topping and bake for about 30 minutes, then let the gratin stand for 10-15 minutes before serving.
🔪 Equipment
The following are affiliate links. we are a participant i the Amazon Services LLC Associates Program, an affiliate advertising program designed to provide a means for us to earn fees by linking to Amazon.com and affiliated sites.
You'll need the following items to make this recipe successfully.
Sharp knife
Cutting board
Large skillet
Slotted spoon
Medium glass bowl
🤔 FAQs
What Are The Best Types Of Potato For Potatoes Au Gratin?
Yukon Gold potatoes and Russet potatoes are two great options for making potatoes au gratin since they both contain a high level of starch which allows them to hold shape while baking and retain lower amounts of moisture.
What's The Difference Between Potatoes Au Gratin, Potatoes Dauphinoise, and Scalloped Potatoes?
Potatoes au gratin consists of thin slices of precooked potatoes, baked in cream with layers of potato and cheese, and a cheese topping - making it a rather decadent and rich potato side dish.

Potato dauphinoise also consists of thinly sliced potatoes cooked in cream (although the potatoes haven't been pre-cooked) but this dish usually doesn't include any cheese when made traditionally.

Scalloped potatoes are similar to potato dauphinoise except that the potato rounds are usually thicker than what you'd use in potatoes au gratin or dauphinoise.

Can I Make Potatoes Au Gratin Ahead Of Time?
Absolutely, yes! Assemble your potatoes au gratin, covering it with plastic wrap or aluminum foil, and store it in the refrigerator for 1-2 days prior to baking. You can opt to leave the cheese topping off until just prior to baking for freshness if you like.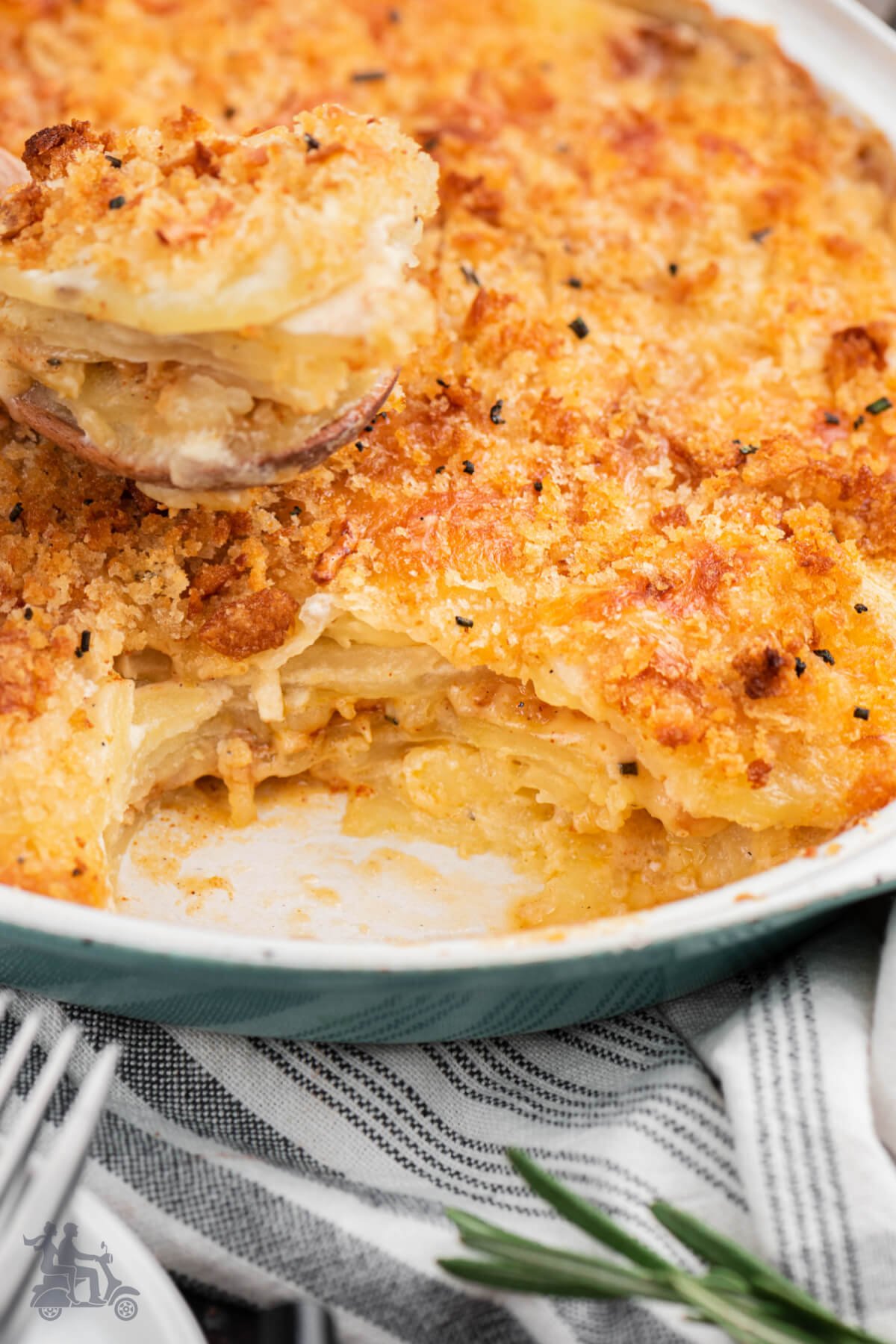 👩🏻‍🍳 Tips
REHEAT: You can store tightly wrapped leftovers in the refrigerator for up to two days. To reheat, cover with aluminum foil and bake in a 350℉ oven for about 30 minutes.
REDUCE: A whole gratin serves eight. To feed fewer people, follow the method, cutting all the amounts in half. Use a tightly covered 10-inch skillet to simmer the potatoes, and bake in a 1 ½-quart baking dish.
UNIFORMITY: An easy way to get uniform sliced potatoes is by using a mandoline. You can set this handy slicer to ensure you get ⅛" potato slices that will cook through evenly.
FRESHNESS: Freshly shredded cheese is always going to taste better than store bought pre-shredded cheese. The latter also contains an anti-caking coating that affects the texture of the cheese when melted.
📚 Variations
Here are some of our favorite gratins:
Bacon, Mushroom and Fontina: Potatoes, heavy cream and chicken broth, bacon, parsley, Fontina mushrooms, garlic: top with breadcrumbs and parmigiano.
Shallot and Gruyère: Potatoes, heavy cream, nutmeg, Gruyère, shallots; top with parmigiano and Gruyère.
Ham, Leek and Goat Cheese: Potatoes, half cream and half whole milk, smoked ham, goat cheese, leeks; top with breadcrumbs and walnuts.
Artichoke and Comté: Potatoes, heavy cream and chicken broth, Comté, artichoke hearts; top with breadcrumbs and Comté.
Sausage, caramelized onion and Cheddar: Potatoes, chicken broth, sweet sausage, Cheddar, onions; top with parmigiano.
Bacon, Leek and Gruyère: Potatoes, heavy cream, bacon, thyme, nutmeg, Gruyère; top with breadcrumbs and Gruyère.
🥫 Storage
Store this potato dish for up to 5 days in the refrigerator in an airtight container or the baking dish (covered with plastic wrap or aluminum foil).
This dish can also be frozen for up to 3 months. Thaw it overnight in the refrigerator to reheat when ready to enjoy.
📗 Related Recipes
If you're a lover of all things potato then you'll need to try my Sweet Potato Casserole with Bacon or Roasted Rosemary Potatoes with Garlic.
And if you enjoy a wholesome gratin recipe, why restrict yourself to potatoes?! This Creamy Swiss Chard Gratin is molto saporito!
This colorful Autumn Harvest Salad is the perfect addition to the holiday dinner table. A light honey mustard vinaigrette dresses the fresh seasonal vegetables, fruit, and nuts.
🍽 Serve with
Potatoes au gratin with gruyere can be served as a tasty side dish alongside various holiday meats such as this Perfect Roast Turkey, Polpettone Italian Stuffed Meatloaf, or Italian Venison Wellington!
And for a special and memorable occasion serve our Dry Aged Standing Rib Roast. The meat is buttery and fork tender.
You could also enjoy it as a main meal when adding other delicious side dish options such as dinner rolls, salads, or stuffed veggies like my Roasted Zucchini Stuffed with Parmesan Garlic Breadcrumbs.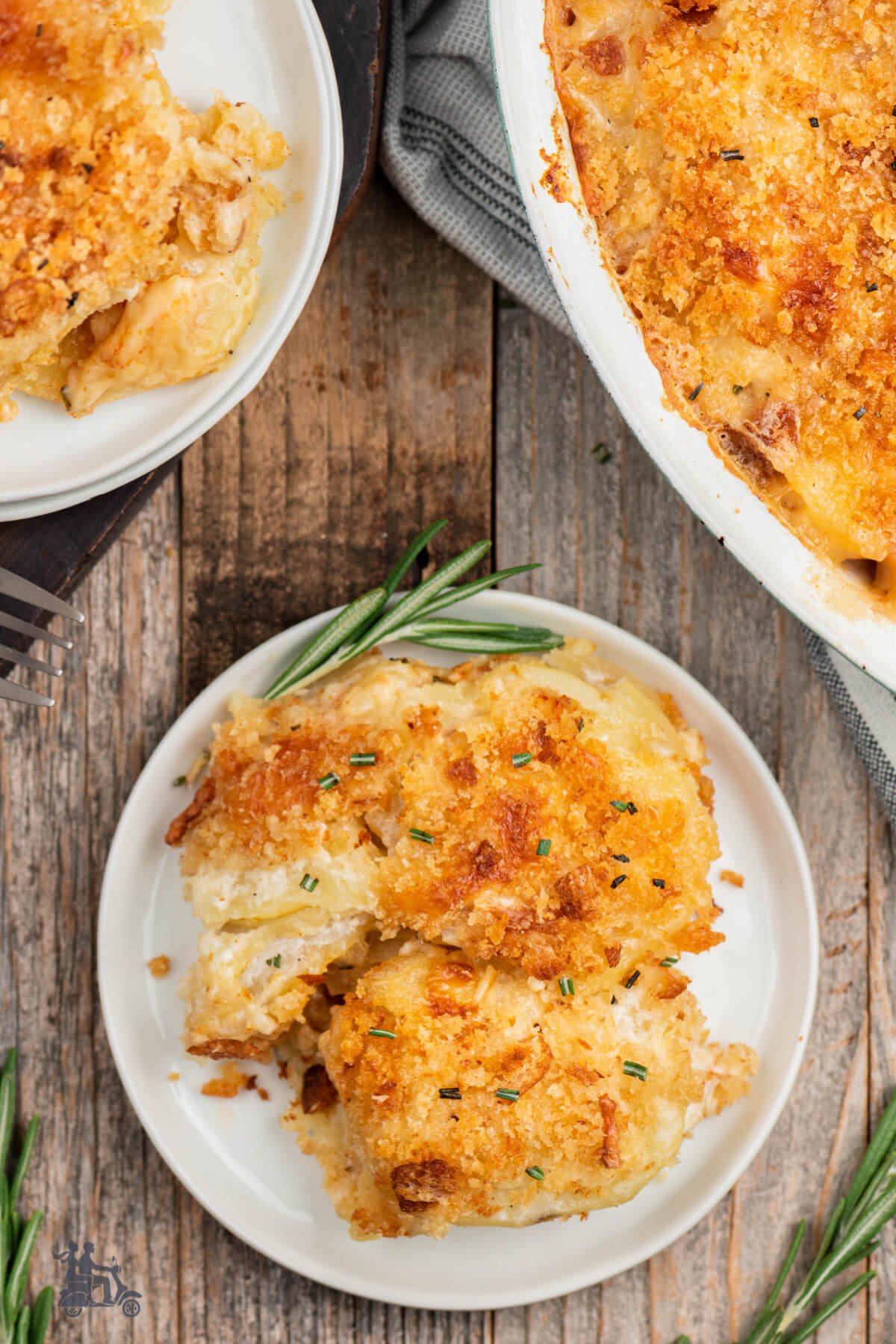 What's new? Check out my All Our Way Store on Amazon. We'll be adding more items we love and use or wish we had to make cooking fun and easy.
📝 Recipe Card
It wouldn't be a holiday dinner if we didn't serve this squisito (delicious)potato casserole. The texture and taste of this au gratin potato casserole perfectly compliments the meat and vegetable sides.
And along with these delicious potatoes, try our easy crockpot green bean casserole recipe. No more worry about not having room in the oven.
If you're craving a cheesy potato dish but don't want to make it quite as elaborate as this au gratin recipe, try our Easy Diced Potatoes Gratin.
If you love this recipe please give it 5 stars ⭐️⭐️⭐️⭐️⭐️.
📖 Recipe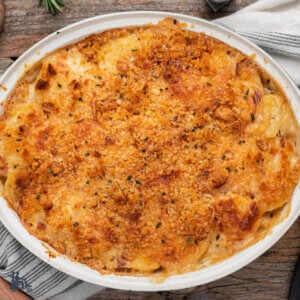 Potatoes Au Gratin With Gruyere Cheese
Potatoes Au Gratin is my family's go-to holiday side dish. It's so simple yet decadent and is loved by everyone! Enjoy it alongside your favorite holiday meats for a truly memorable meal!
Print
Pin
Rate
As An Amazon Associate I earn from qualifying purchases.
Ingredients
2-½

pounds

Yukon gold potatoes

peeled and sliced into ⅛-inch rounds

2-½

cups

Half and half

**See note below for equivalent.

Kosher Salt

Black Pepper

2

Tablespoons

butter

unsalted

2

cloves garlic

minced

3

shallots

thinly sliced (may use ½ cup thinly sliced yellow onion)

6

ounces

Gruyere cheese

grated (or more - I tend to be very generous)

1

teaspoon

fresh Rosemary

chopped

1

teaspoon

fresh Thyme

chopped

½

teaspoon

smoked paprika

½

cup

fresh breadcrumbs

from rustic bread such as ciabatta

2

Tablespoons

unsalted butter

melted

¼

cup

Parmigiano-Reggiano

finely grated
Instructions
Position rack in center of over and and preheat to 400℉. Butter a 3 quart gratin dish or shallow baking dish; set aside.

Mix the ½ cup breadcrumbs with the 2 Tablespoons melted butter and the grated Parmesan cheese. Set aside.

Put the potatoes, cream, ½ teaspoon salt, and a few grinds of pepper i a 12-inch skillet.

Simmer, partially covered over medium-low heat, stirring occasionally and gently with a heat proof rubber or silicone spatula until the potatoes are barely tender when pierced with fork or skewer. About 8-12 minutes.

In a medium skillet heat butter over medium-high heat and sauté garlic until tender, fragrant, and lightly browned. This would be the time when you also sauté the sliced shallots or onions.

Season to taste with salt and pepper.

Using a slotted spoon, transfer half the potato mixture to the prepared gratin dish, spreading evenly.

Layer on the minced garlic, Gruyere, chopped fresh rosemary, thyme, and smoked paprika.

Top with the remaining potato mixture spreading it evenly and pour over any creamy sauce that remains in the pan.

Evenly scatter the bread topping mixture over the potatoes.

Bake until bubbly and top is brown and the potatoes are tender. 25 to 30 minutes.

Let gratin stand at least 10 to 15 minutes before serving.
Notes
*** half and half: ¾ cups whole milk + ¼ cup heavy cream= 1 cup half and half.
To add meat to the casserole: Pick one and use 4 to 6 ounces of:
Bacon -- cooked and crumbled. Reserve drippings for sautéing vegetables.
Pancetta -- cut in ½-inch dice, sautéed.
Smoked ham -- chopped
Canadian bacon -- chopped
Thinly sliced prosciutto -- coarsely chopped
Hot or sweet Italian sausage -- casings remove, browned, and crumbled.
Nutrition
Calories:
268
kcal
|
Carbohydrates:
18
g
|
Protein:
11
g
|
Fat:
17
g
|
Saturated Fat:
10
g
|
Polyunsaturated Fat:
1
g
|
Monounsaturated Fat:
5
g
|
Trans Fat:
1
g
|
Cholesterol:
52
mg
|
Sodium:
213
mg
|
Potassium:
352
mg
|
Fiber:
2
g
|
Sugar:
2
g
|
Vitamin A:
583
IU
|
Vitamin C:
13
mg
|
Calcium:
311
mg
|
Iron:
1
mg
Sign up for the emails and never miss another recipe!!
We'll never share your email or send you spam. Promise