Our Dry Aged Standing Rib Roast With Herb Rub has become a Christmas Eve family tradition. . . a tradition we all appreciate and look forward to every year. The meat is so flavorful and tender . . . almost butter like. Before the aged roast is placed in the 450° oven my Honey first rubs olive oil on the meat and then massages our herb rub over all of it. Once every inch of the roast is covered with the seasoning mixture he then places the meat on a rack over a bed of celery, carrots and onions. The vegetables, seasonings and drippings from the meat will end up making a deliciously rich au jus.
Two weeks before Christmas Eve we start asking our butcher when he'll be getting his standing rib roasts. For a dry aged standing rib roast we need anywhere from six to nine days, depending on the size of the roast. You know the song "What a Difference a Day Makes?" Well, for the roast, the difference is in those six to nine days. I won't go into the chemical reaction that takes place in the dry aging process — lets just say that it works like magic.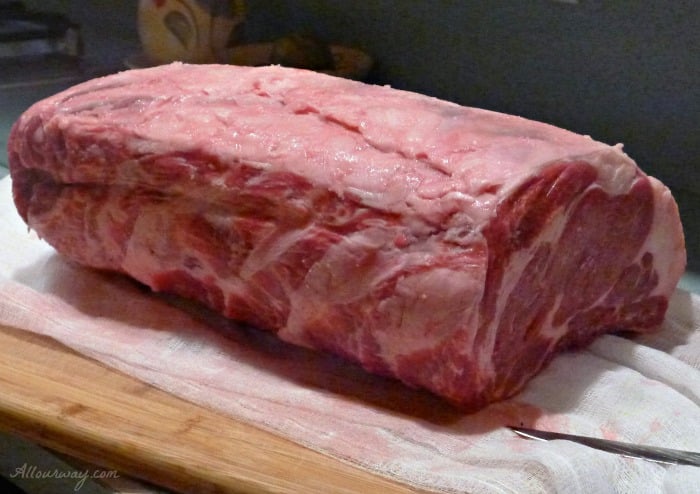 This recipe was supposed to be posted last year so that you could have it for the Holidays this year. I had photos of the standing rib roast, how we prepared it for drying, what it looked like after it was dry aged, how it looked when it came out of the oven, then nothing. No photos . . . no record of a standing rib roast. Honestly, this is not an excuse . . . well, I guess it is . . . just a little bit. But you see, I started getting everything else ready for plating and before I knew it the roast was sliced and gone. Gone. . . as there wasn't even a bone left on the cutting board. I couldn't very well post a recipe without the end product now, could I? 🙁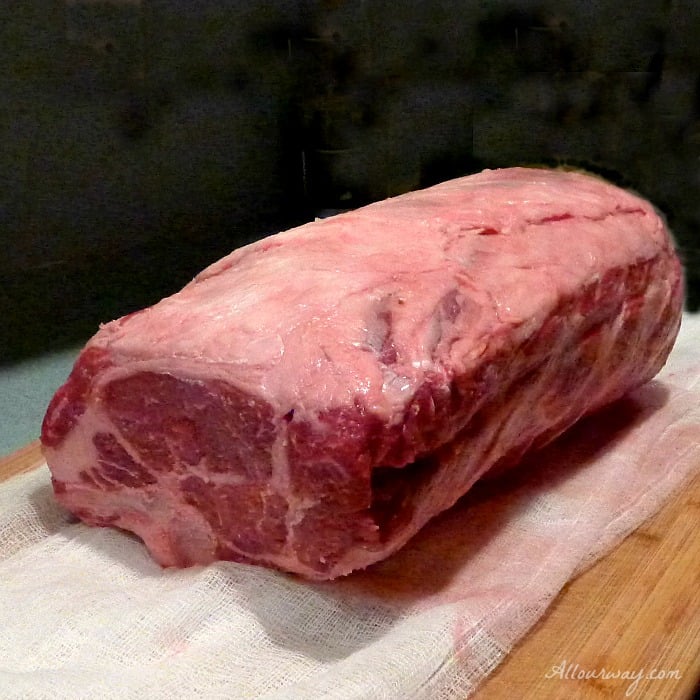 In desperation, I thought maybe my Honey and I could go to a high end restaurant, order a salad, and then wait to see if anyone ordered prime rib. I would then grab my camera, politely ask the patron permission and then get a photo of what a slab of standing rib looks like on a plate. I know, that was a pretty far-fetched idea, but I really, really wanted that photo. At first, I was a little upset with myself for not being quicker with the camera, but then how could I stay upset when there were such sounds of total enjoyment and appreciation coming from around the table? We are a pretty informal family who really appreciate good food — from the youngest to the oldest!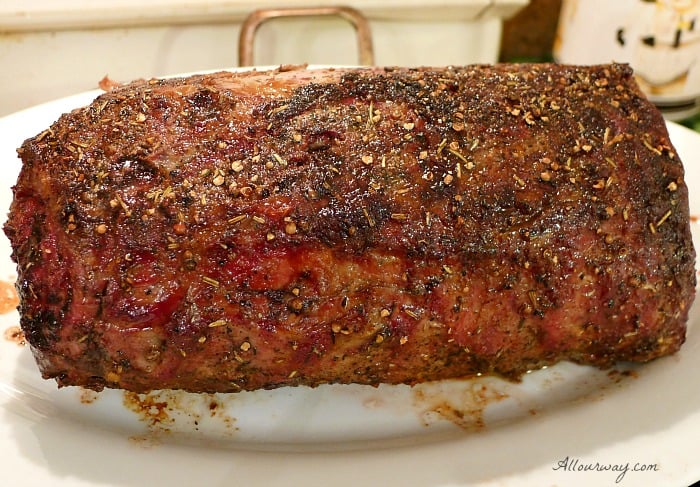 But this year I was determined would be different. . . I would have a record of the entire process. I warned everyone ahead of time that I would need a minute or two, or three, to get a shot of the finished roast trimmed and sliced. This time, I kept the camera an arms length away, and the minute my Honey started to slice . . .
. . .I was there to aim and shoot.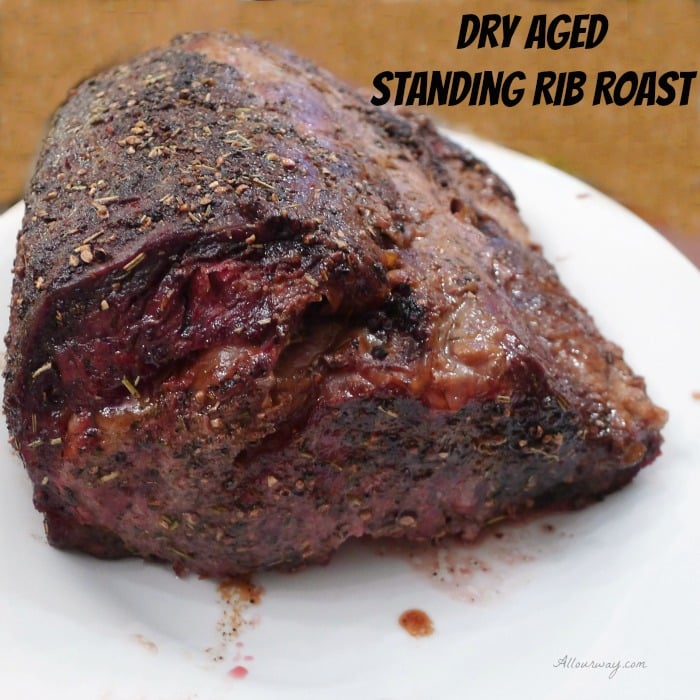 I am pleased to say that our hungry family were very patient. And now, I have my shots of the whole process, including what the dry aged standing rib roast looked like when it was sliced. The Dry Aged Standing Rib Roast turned out a perfect medium rare and I must say, and everyone else concurs, that it was even better than last years. To prove how good the beef was, at the start of dinner, as we were enjoying our meal I told everyone not to throw the bones away. I had planned on freezing them and using them for broth.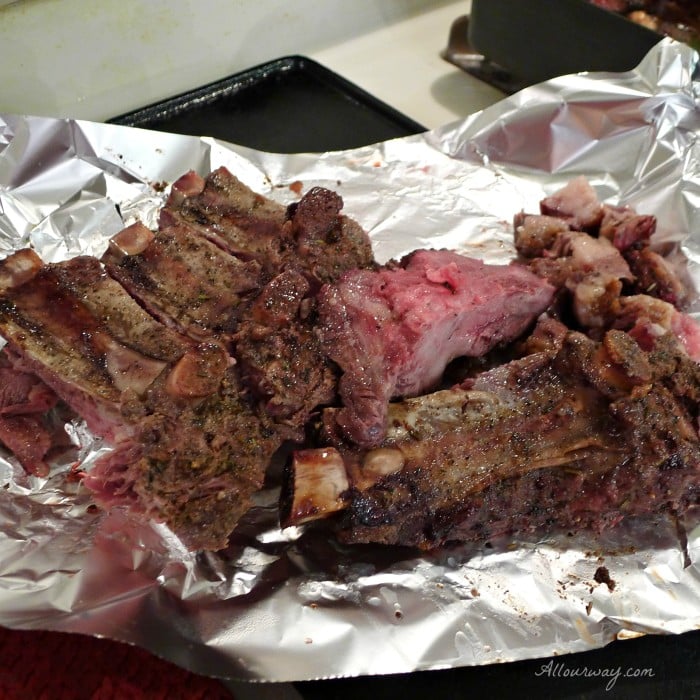 That was when my youngest son piped in, "No way, I'm taking them home and putting them on the grill. When I've eaten every last bit of meat off the bone, I'll freeze and save them for you!" And that's what he did. He admitted the meat that was left on the bone was just as delicious as what he'd eaten on Christmas Eve. 🙂
We hope you try aging standing rib roast . All you need is a bone in standing rib roast with its fat, a sheet pan with a rack to fit inside the sheet pan, cheese cloth and space in the back of your refrigerator.
Tutti a tavola è pronto!
Un caro saluto e alla prossima
Print
Dry Aged Standing Rib Roast
A bone in standing rib roast is aged in the refrigerator, then seasoned and roasted on a rack over a bed of vegetables. The aging makes for a tender and very flavorful meat.
Ingredients
Ingredients
6 rib beef roast, bone in with fat on top, approximately 12 – 14 pounds
1 package cheesecloth
1 sheet pan
1 roasting rack or cooling rack to fit in sheet pan
Space in the back of refrigerator for up to 10 days
Seasoning Mixture
1 Tablespoon dried thyme
1 1/2 Tablespoon dried rosemary
4 Tablespoons freshly cracked black pepper
1 1/2 Tablespoon granulated garlic
1 1/2 Tablespoons granulated onion
3 Tablespoon kosher salt
1 Tablespoon coriander, toasted and cracked
3 Tablespoons olive oil
3 carrots, washed, ends trimmed and cut into large 3-inch chunks
3 celery stalks, washed and cut into large 3-inch pieces
2 yellow onions, peeled and quartered
2 cups beef broth
Au Jus
Pan drippings from roast, about 1 1/2 cups
3/4 up red wine
2 cups beef stock
3 Tablespoons unsalted butter
Kosher salt and freshly cracked black pepper
Instructions
For the aging of the roast
Remove roast from packaging, rinse well. Pat completely dry, wrap with 3 layers of cheesecloth. Place on a rack on a sheet pan in back of refrigerator, fat side up. After 24 hours, remove, unwrap, discard cheesecloth and wrap with a fresh piece. Place back in refrigerator for 6 to 9 days undisturbed.
Remove roast from refrigerator. Remove cheesecloth, cut away the fat and trim the ends and any discolored parts of the roast.
Preheat oven to 450 degrees F.
Place roast on a rack in a large, heavy roasting pan.
For the seasoning mixture
In a medium bowl, combine spices and mix well. Be sure to crush the larger spices well for a uniform rub. A food processor works well for this. Rub roast with olive oil, then rub with seasoning. Let rest for 20 to 30 minutes.
Prepare vegetables, make a bed in the roasting pan with the vegetables and pour in the 2 cups beef broth. Be sure to check the liquid level in the pan occasionally and add some water, if necessary. (You will need this liquid to make the au jus.) Place the rack holding the roast on top of vegetables and place in hot oven. Roast at 450 degrees F for 40 minutes.
After 40 minutes, reduce heat to 325 degrees F and continue to roast for approximately 2 hours, or until internal temperature (stay away from the bone while checking temp) reaches 130 degrees F. This is for medium rare. Remove from oven, remove from roasting pan, loosely tent with foil and allow to rest for 25 minutes while making the au jus.
For the Au Jus
Strain drippings from roasting pan, skim fat from drippings. Place roasting pan over 2 burners, heat on medium high and add in drippings, stir to deglaze, add in wine and stock, reduce by 1/3, about 5 minutes on steady boil, stirring occasionally. Turn off heat, add in butter. Season to taste with salt and pepper. Strain once more into serving vessel.
Notes
The roast will need about 10 minutes per pound to reach the internal temperature of 130 degrees F. Remember that the roast after it is aged and trimmed will weigh less than what the weight was when purchased. We purchased a 14 pound roast and after it was dry aged and trimmed it probably weighed about 2 pounds less. If you like your roast a little more done, a trick we learned is to briefly put the roast slice in the hot au jus. This way you'll prevent drying out a delicious standing rib roast.
Inspired by Guy Fieri's recipe for Dry Aged Prime Rib Roast
Nutrition
Calories:

1224

Sugar:

25

Sodium:

25826

Fat:

78

Saturated Fat:

29

Unsaturated Fat:

46

Trans Fat:

1

Carbohydrates:

92

Protein:

34

Cholesterol:

92
Note: Recipes and content from ©All Our Way is copyright protected. Please do not use content or recipe without prior written permission. If you want to share the information please link to this post. Grazie.