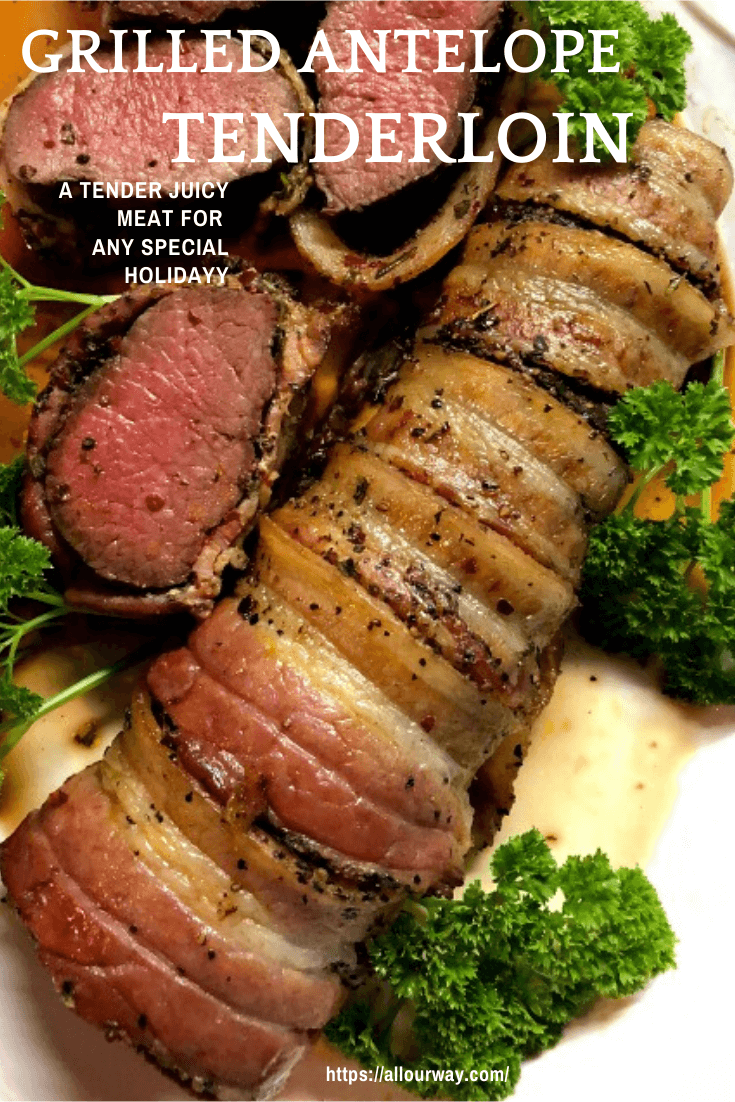 Grilled antelope tenderloin is an amazingly tender and juicy piece of meat. This cut of meat is very lean. The hickory-smoked bacon wrap is important because it gives the tenderloin just the right amount of fat and salt. Before wrapping with bacon though, we first marinate the pronghorn meat for two hours in a delicious marinade made up of red wine, mustard, soy sauce, brown sugar, and a splash of Worcestershire sauce. Then its a sprinkling of fresh herbs and seasoned salt before finally wrapping in bacon.
For this recipe you will need: tenderloin, hickory-smoked bacon, dry red wine, soy sauce, mustard powder, Worcestershire sauce, brown sugar, honey, fresh rosemary and thyme, Montreal steak seasoning.
Grilled antelope tenderloin -- first the hunt
When we started our blog four years ago we never dreamed we'd be posting a recipe for grilled pronghorn tenderloin. But here we are doing just that.
Until recently, no-one in our family took an interest in hunting. Our son, Jason, got the hunting bug. He went from deer hunting in his home state of Indiana, to traveling to Casper, Wyoming, to try his hand at getting a pronghorn antelope.
We thought that this game meat would be like the venison steak that we had enjoyed. In fact, we thought that this North American mammal was just a miniature deer.
We were wrong!
Pronghorn antelope -- interesting facts
It's Latin name, Antilocapra americana, means American goat-antelope, but it's not a member of either family nor is it a member of the deer family.
The pronghorn is North America's fastest land mammal traveling up to 60 mph. That is really clicking!! I don't think you'd be able to chase that animal down.
The speedy mammal is acutely aware of its surroundings. They have large eyes and can see 320 degrees around. We used to kid that mom's had eyes in the back of their heads, apparently, pronghorns do.
They have horns, not antlers.

Lewis and Clark

were the first ones to scientifically document Pronghorn Antelope even though they've been in North America for over a million years.
/
Tips for cooking the pronghorn tenderloin
Since we were unfamiliar with the pronghorn meat, we did a bit of searching and found that the best method for cooking this lean meat is:
Marinate the antelope meat for additional taste and additional moisture. We let the tenderloin marinate for 2 hours in a special herb rosemary thyme marinade.
Use some fat for juiciness and taste. The meat is very lean. We decided to use hickory-smoked bacon to give the meat the needed fat and the smokey taste of the bacon.
Don't overcook. For loins, fillets, or chops, cook to the medium rare stage -- 130 degrees F.
Cook roasts low and slow. A temperature at 180-200 degrees F. for several hours until fork tender. We grilled the tenderloin over medium-high heat until the internal temperature reached 135 degrees F. and let the roast rest for 15 minutes before cutting.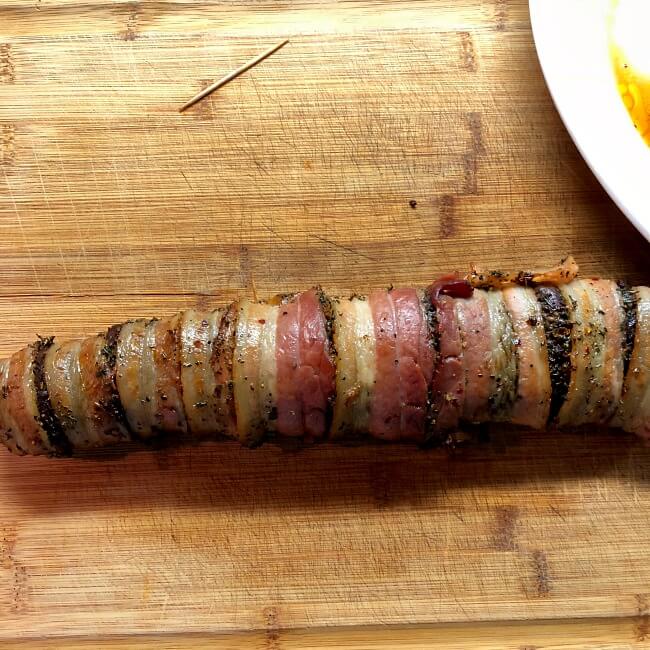 The grilled pronghorn tenderloin is very mild-tasting and is finely grained. It has ⅓ the calories of beef and many prefer the taste of pronghorn to venison.
We know you'll enjoy the taste and how easy it is to prepare.
Tutti a tavola è pronto!
Un caro saluto e alla prossima.
YOU MAY NEED . . .
The following are affiliate links. We are a participant in the Amazon Services LLC Associates Program, an affiliate advertising program designed to provide a means for us to earn fees by linking to Amazon.com and affiliated sites.
One staple we have in our kitchen is butcher's twine. We are always finding a use for it, especially for tying meats so that they keep their shape. It's not expensive and once you start using it you'll find you don't know how you did without it.
Grazie for being a part of All Our Way
What's new? Check out my All Our Way Store on Amazon. We'll be adding more items we love and use or wish we had to make cooking fun and easy.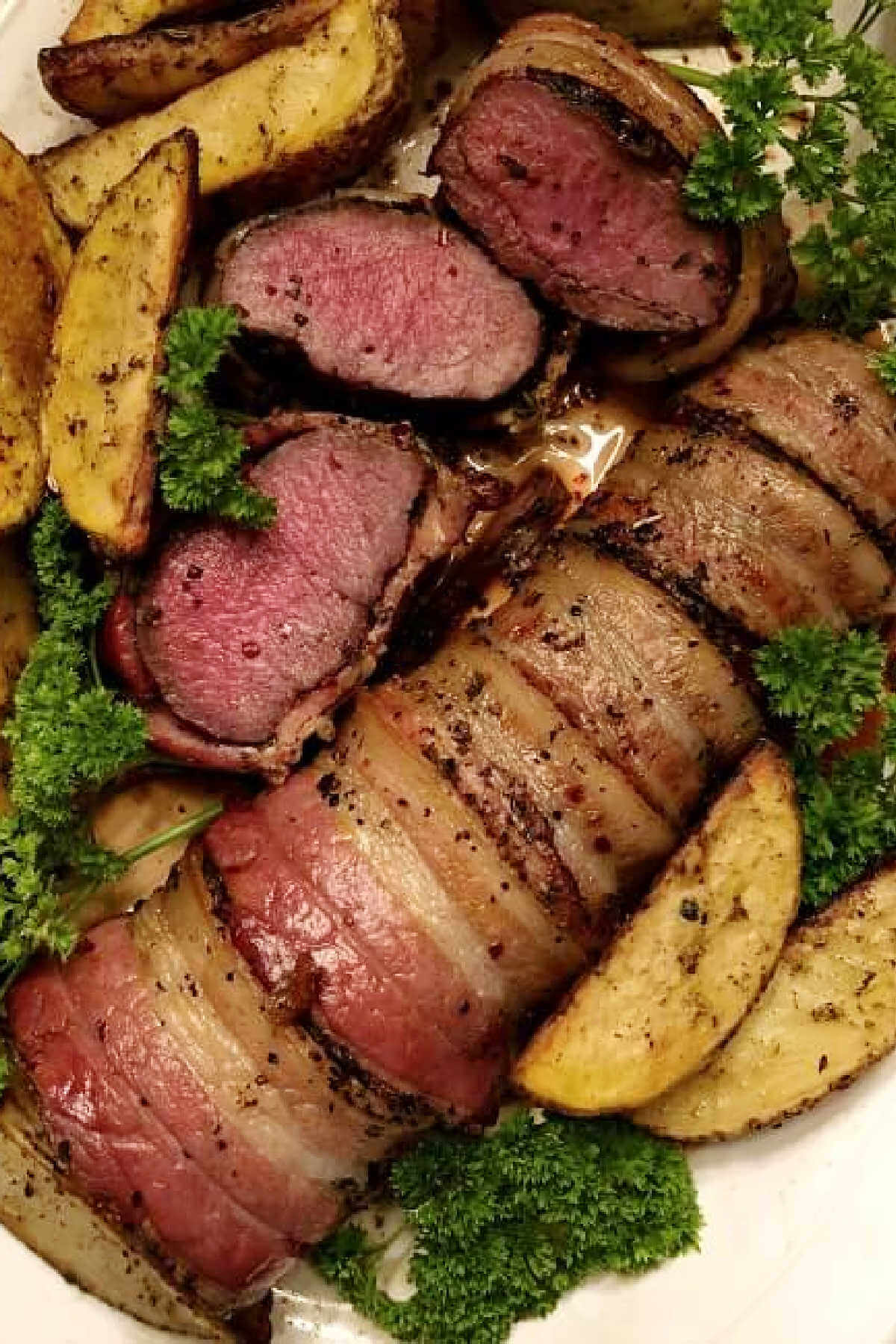 Grilled Antelope Tenderloin Bacon-Wrapped
The Pronghorn tenderloin is succulent, mild tasting with a fine grain. We first marinate the meat in a marinade made up of red wine, soy sauce, a bit of honey and brown sugar. To keep the meat in a log shape, we tie it with butcher's twine. We then rub fresh herbs and seasoned salt all over the meat before wrapping it with thick-sliced hickory-smoked bacon. You can also use this same method for venison, beef, and pork tenderloin. If you don't have a tenderloin and want a delicious cut of beef, try our Standing Rib Roast with Herb Rub.
You can also fix the antelope tenderloin like we fixed our venison backstrap. The meat turns out incredibly tender and flavorful without a lot of fuss. A simple way to enjoy wild meat.
If you like this recipe please consider giving it a 5-star rating.
📖 Recipe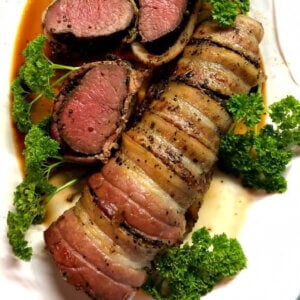 GRILLED ANTELOPE TENDERLOIN BACON-WRAPPED AND SUCCULENT
This is one of the tenderest pieces of meat we've ever eaten. It's first marinated in a delicious red wine marinade then season-salted and herb-rubbed, bacon-wrapped then slowly grilled until done.
Print
Pin
Rate
As An Amazon Associate I earn from qualifying purchases.
Ingredients
1

antelope loin

beef, venison, pork tenderloin

8

oz.

bacon

¾

cup

dry red wine

¼

cup

soy

2

teaspoon

dry mustard

1

tablespoon

honey

2

teaspoon

Montreal Steak seasoning

1

tablespoon

fresh thyme

1

tablespoon

fresh rosemary

2

teaspoon

Worcestershire sauce

1

tablespoon

brown sugar
Instructions
Using butcher's twine, tie the antelope loin in a log shape. Place the loin in a heavy duty zip-lock bag.

In a glass measuring cup mix the wine, soy sauce, dry mustard powder, Worcestershire sauce, honey and brown sugar. Pour the marinade over the pronghorn loin and seal the bag. Place on a dish (just in case it leaks) and set in the fridge for 1-2 hours.

Prepare charcoal grill for indirect heat. Light the grill and wait until it reaches medium heat (350 F.) While the grill is heating up, finish preparing the tenderloin.

Remove the loin from the marinade, blot with a paper towels, remove the butcher's twine. Sprinkle liberally with the Montreal Steak seasoning, fresh thyme and rosemary. Wrap the meat with the bacon.

Cook over medium heat until the internal temperature reaches 135 degrees F. Cover and rest 15 minutes before slicing. The meat should reach an internal temperature of 140 degrees. Check notes for temperatures of other tenderloins.

Enjoy a delicious piece of meat.
Notes
This recipe inspired by MtHunterDan
IF YOU USE THIS RECIPE FOR A PORK TENDERLOIN: The internal temperature should be 140 degrees F. then let it rest 15 minutes. It should increase to 145 degrees F.
FOR BEEF TENDERLOIN: The internal temperature for medium rare should be 130 degrees F. then let rest. It should increase to 135 degrees F.
FOR VENISON TENDERLOIN: The internal temperature should be the same as the antelope (pronghorn) tenderloin.
Nutrition
Serving:
3
oz
|
Calories:
536
kcal
|
Carbohydrates:
8
g
|
Protein:
23
g
|
Fat:
41
g
|
Saturated Fat:
15
g
|
Cholesterol:
96
mg
|
Sodium:
454
mg
|
Potassium:
424
mg
|
Sugar:
5
g
|
Vitamin A:
160
IU
|
Vitamin C:
3.2
mg
|
Calcium:
48
mg
|
Iron:
3.1
mg
Sign up for the emails and never miss another recipe!!
We'll never share your email or send you spam. Promise
First Published: January 16,2018... Last Updated: December 4, 2019
IF YOU LIKED THIS GRILLED ANTELOPE TENDERLOIN RECIPE YOU MAY ALSO LIKE: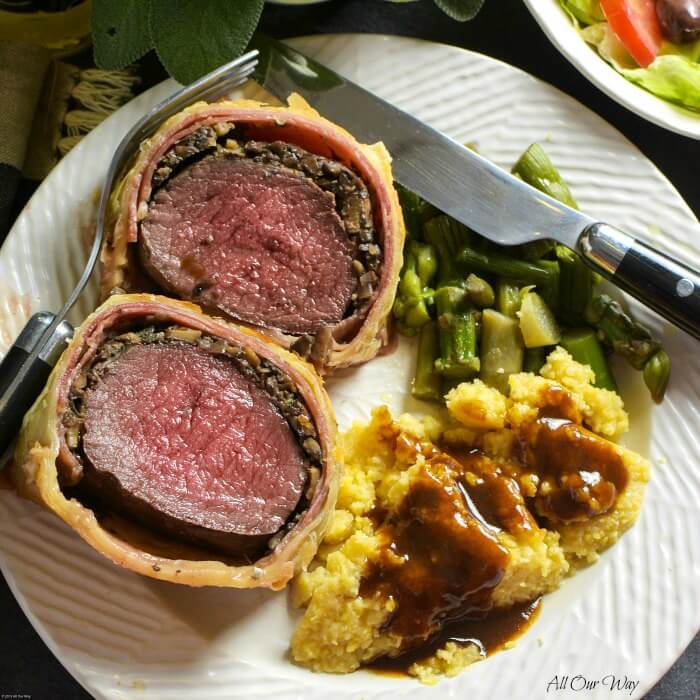 Other game recipes you may like . . .
Antelope Medallions with Mustard and Shallot Sauce -- Broken Arrow Ranch
7 Best Pronghorn Antelope Recipes -- Wild Game Cuisine