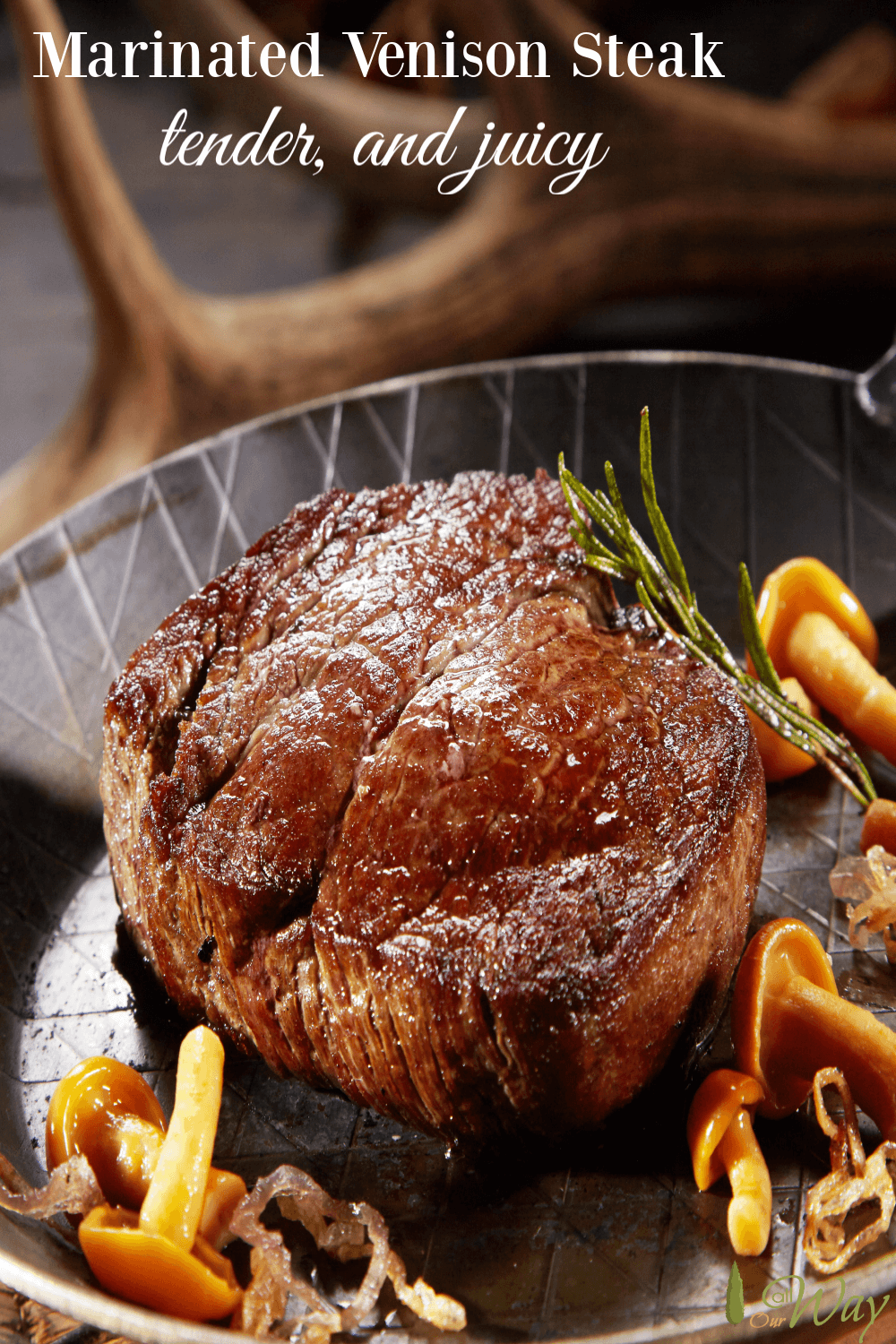 Grilled Marinated Venison Steak is a low-calorie nutritional meat that is very tender and tasty with proper preparation. Marinating the meat not only makes sure that the meat has plenty of flavor but also that it retains its juiciness.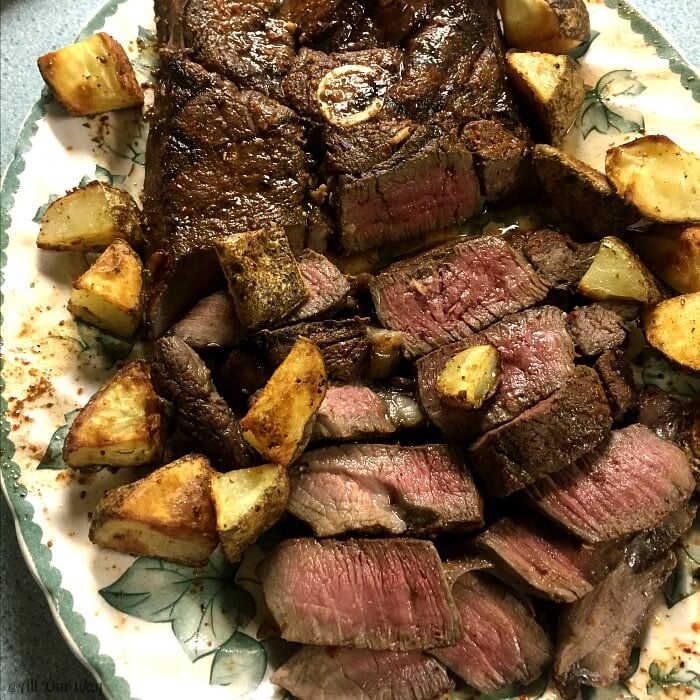 Jump to:
Before the grilled steak it's the deer challenge
We are fortunate to be the recipients of a variety of deer cuts. Our son, Jason, bagged a couple of deer and he generously gave us and his brother and sister quite a bit of meat.
We decided on Grilled Marinated Venison Steak for our first deer dish. As we learn about cooking venison, we'll share what we discover.
It's not easy bagging a deer. A hunter has to get up before dawn, hide in a tree or deer blind, ignore the cold and perhaps rain, and wait patiently without making a sound.
I couldn't do it. And the hunters don't do this just once! Nope! They do this throughout deer season which in Indiana starts in October with archery then November and December with Firearms.
It takes patience and determination!!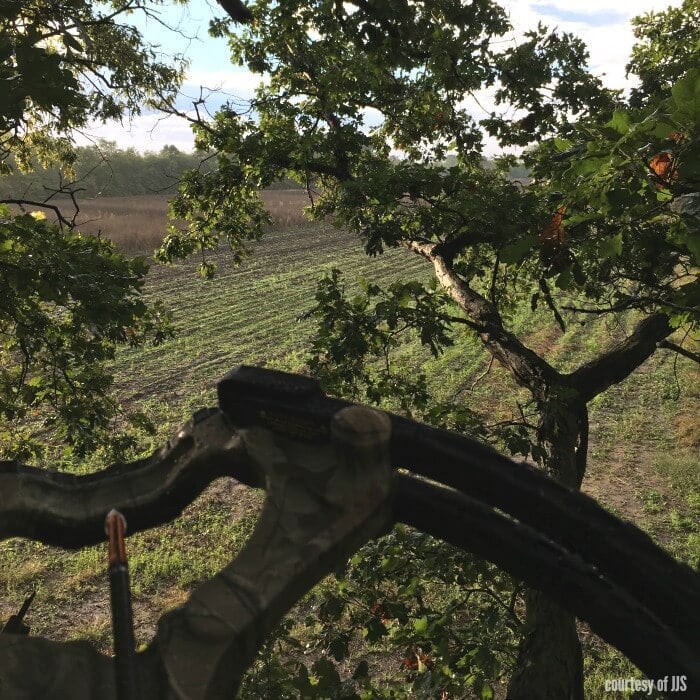 What it takes to get a deer
The hunters have to purchase tags for the deer they hope to get. There are no guarantees. Sometimes, a hunter may not get one single deer. How depressing!
All those hours, sitting in a tree, suffering the cold and nothing to show for it! Thinking about the sacrifice Jason made to get the meat, makes Honey and I appreciate the venison steak, and the deer meat in the freezer, all the more.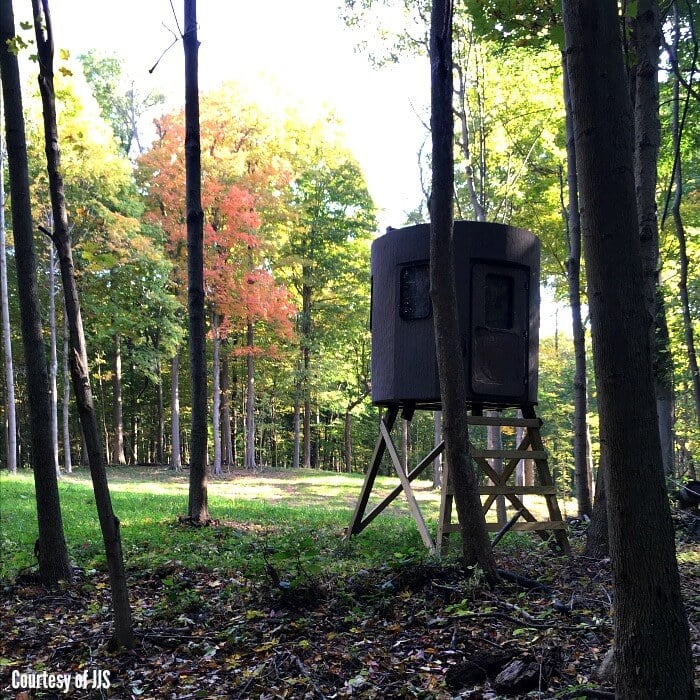 What cooking method to use on venison steak
There are quite a few ways to cook venison. Some of the methods involve using:
dry heat,
grilling,
roasting,
braising,
stewing.
Our venison steak is ideal for either broiling or grilling.
We opt for grilling the meat and using a marinade.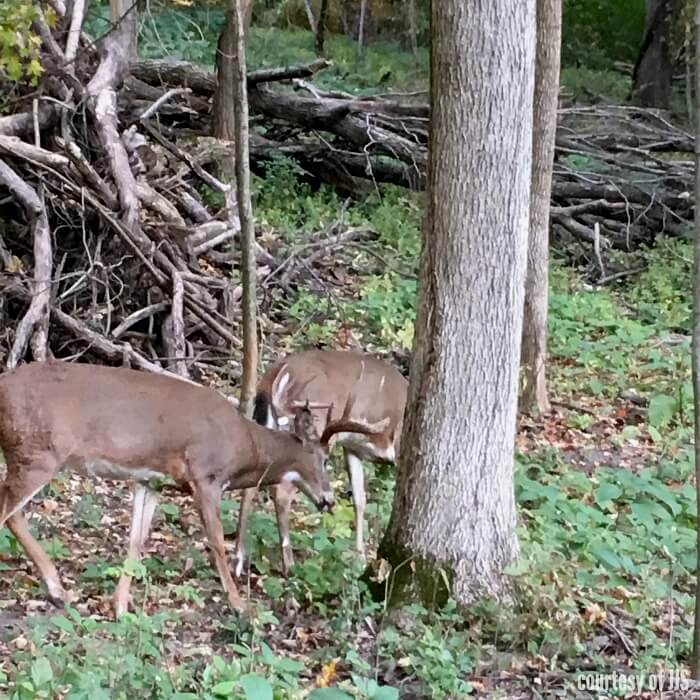 Marinating deer steak is highly recommended because there's no fat on the venison.
The lemon juice in our marinade helps to tenderize the meat and add flavor.
The olive oil in the marinade helps keep the venison steak moist.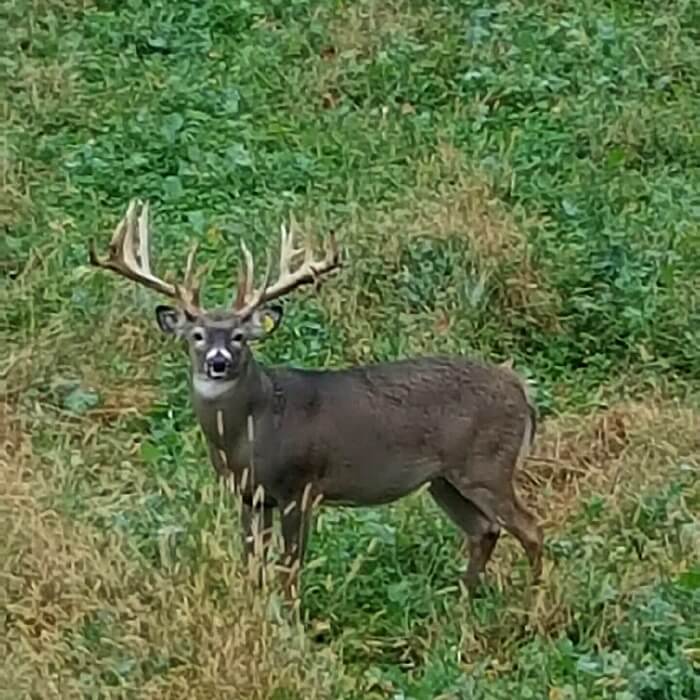 We also use minced garlic, pepper, soy and Worcestershire sauce in our marinade.
We pour the marinade into a plastic bag along with the steak and let it marinate in the refrigerator for 5 hours.
Preparing the venison steak for grilling
We drain the marinade and let the deer meat rest on the counter as Honey lights the grill.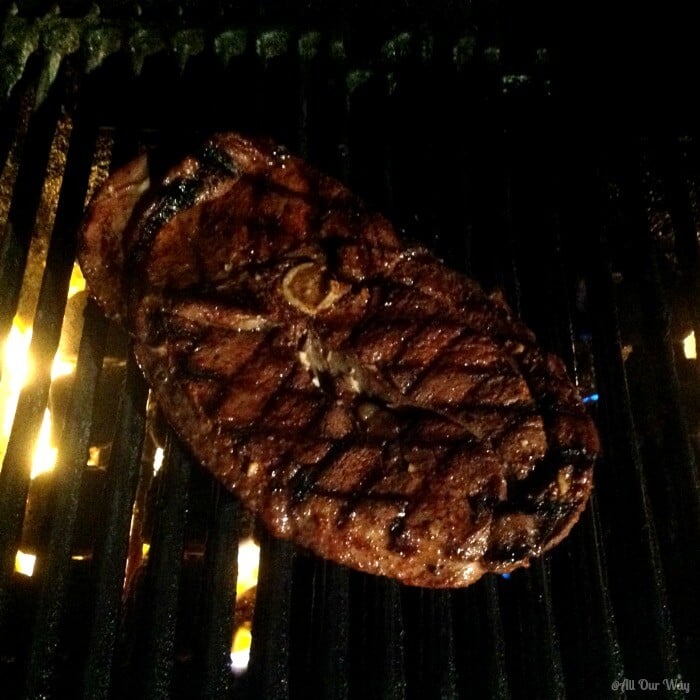 The rule of thumb is to start with a thick steak.
The meat needs to come to room temperature before grilling, about 30 to 60 minutes. By doing this, you make sure that the steak is not cold in the center and done on the outside. It isn't dangerous to eat, just not very palatable for most people.
If the steak is thin, it should go right from the fridge to the grill so that it doesn't overcook.
Grilling the venison steak
Honey gets the grill really hot. We like grill marks on our steak. If you like grill marks on your meat the trick is not to mess with the steak. You only flip it once and leave it alone until it's done. We explain how we do it here.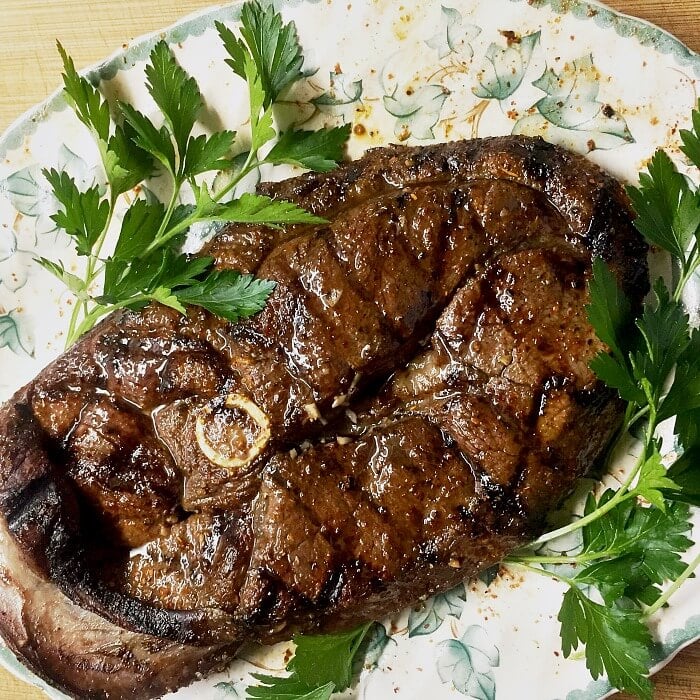 Don't worry about getting the grill marks on the underside, how many people do you know that check under the steak to see if the marks are there?
Honey goes ahead and puts the grill marks on the bottom just to ensure the meat cooks evenly.
We want to cook our venison steak to medium rare, but we don't want to use a meat thermometer because it pierces the meat and lets out the delicious juices.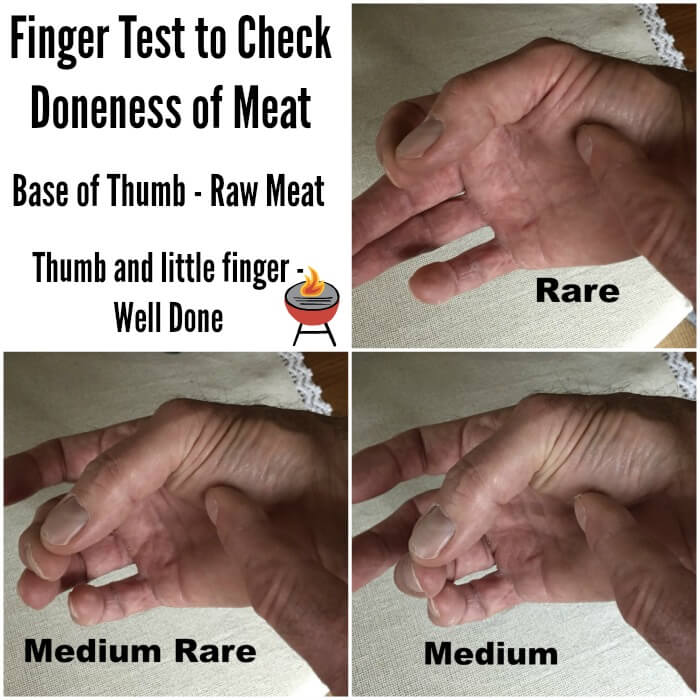 Testing the venison steak for doneness
How can we tell when it's cooked just the way we like it? We use our fingers. How?
Well, touch your forefinger to your thumb and poke the base of the thumb with the forefinger of your other hand. Can you feel it? That's rare.
Now touch your middle finger to your thumb. Touch the base of the thumb again with the forefinger of your other hand. That's how medium feels.
Now, touch your ring finger to your thumb, you DON'T want your venison steak to feel like that!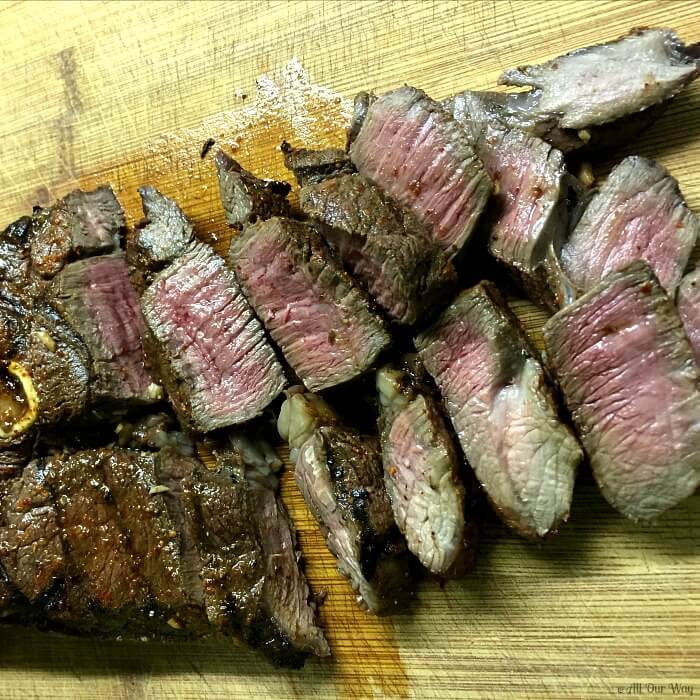 Important last step for cooking deer steak
One of the most important steps in cooking venison or any meat is letting it rest. We let the venison steak rest at least 5 minutes after grilling. If we just throw it on a plate and dig in, the fantastic juices will ooze out of the steak and leave the meat dry.
If a steak is thick, we let it rest 5 to 10 minutes.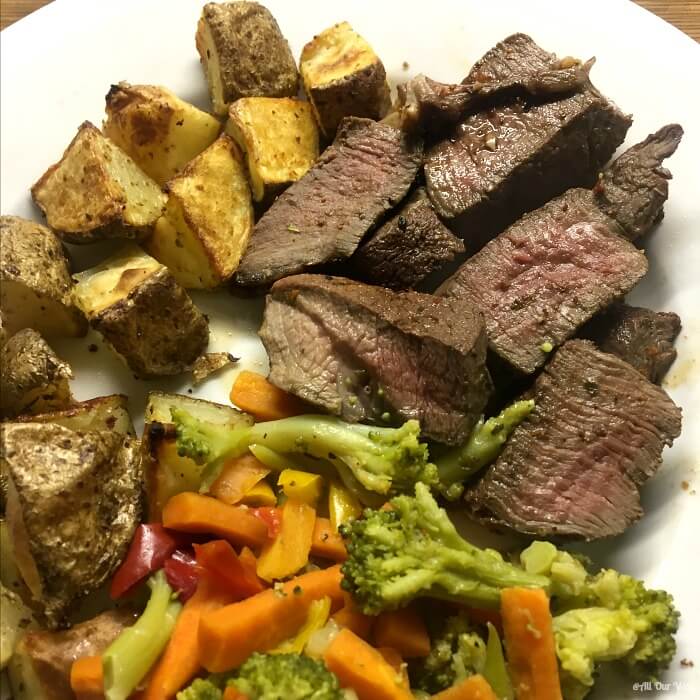 When Honey slices the meat it's cooked perfectly. Our venison steak is melt-in-our-mouth tender.
We have lots of plans for the rest of our venison packages. If you'd like more wild game recipes, be sure to sign up for the newsletter. We'd love to share what recipes we're making.
We hope you have the opportunity to try venison. It's delicious and good for you too.
Tutti a tavola è pronto!
Un caro saluto e alla prossima.
YOU MAY NEED...
The following are affiliate links. We are a participant in the Amazon Services LLC Associates Program, an affiliate advertising program designed to provide a means for us to earn fees by linking to Amazon.com and affiliated sites.
Thanks so much for being part of All Our Way!
These extra long tongs are similar to the ones we use when we grill. We lie the length and strength of them so that we can easily lift and turn heavy meats as well as light cuts. The tips of the tongs are extra sturdy. We've noticed that some tongs are now coming with rubberized tips that have a tendency to end and not firmly grip the meat.
Grilled Marinated Venison Steak Tasty and Tender
Once you take a bite of this tasty venison steak you'll swear you're eating beef. No, you'll swear what you're eating is even better. The meat is moist and flavorful without any hint of gaminess. The recipe is easy and not time consuming at all. Just follow the instructions and you'll be a venison convert!! Promise!
If you like this recipe, please consider giving it a 5-star rating. This helps others to decide whether to try the recipe.
📖 Recipe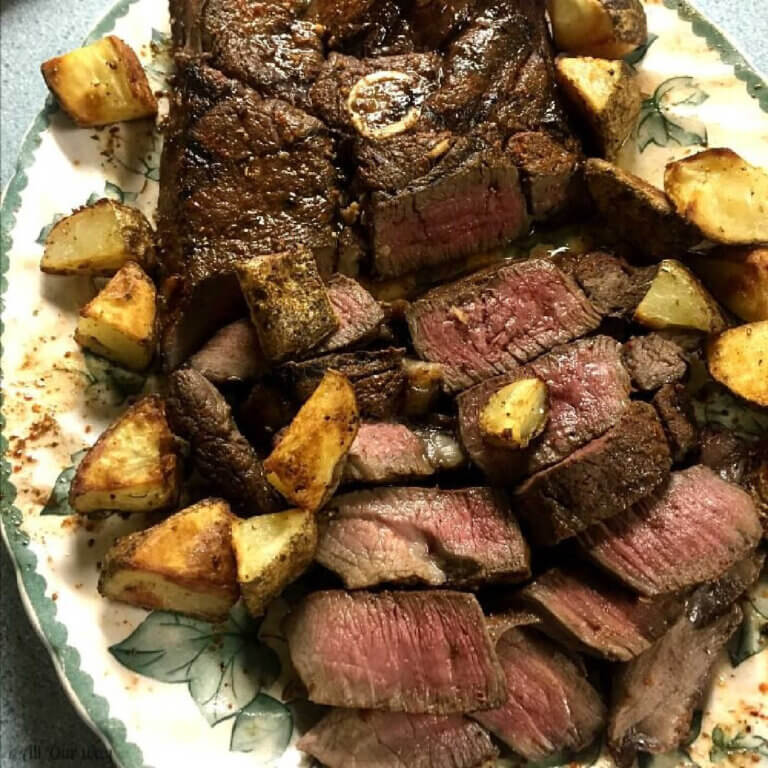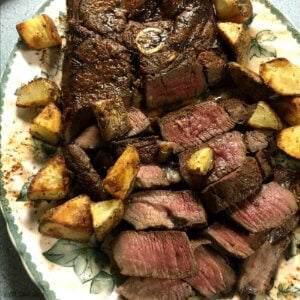 Grilled Marinated Venison Steak
An easy way to make venison steak that is delicious and tender. Venison is a meat that is low in fat and cholesterol and high in vitamins. The meat is amazingly tender and tasty.
Print
Pin
Rate
As An Amazon Associate I earn from qualifying purchases.
Ingredients
1 ½

lbs.

venison steak an 1 inch thick

3

Tablespoons

olive oil

1

Tablespoon

fresh lemon juice

1

Tablespoon

Worcestershire sauce

1

Tablespoon

soy sauce

2

teaspoons

minced garlic

½

teaspoon

ground pepper

¼

cup

dry red wine - we used Pinot Noir
Instructions
Mix all the marinade ingredients together in a measuring cup.

Place venison in a large zip lock bag.

Pour marinade over steak and seal the bag.

Place bag in a flat casserole dish so that the steak lies flat.

Refrigerate and marinate at least 5 hours, turning every half hour to marinate each side.

Drain the marinade at let the steak come to room temperature at least 1 hour.

Spray grill grate with spray oil and heat the grill to 500 F.

Pat the steak dry with paper towels and then rub both sides of steak with olive oil.

Lay the steak on the grill. Do not disturb for 2 minutes. With tongs pick up the steak and move it 90 degrees on the grill -- this will give you the cross-hatch grill marks. Grill another 2 minutes on the same side.

Flip the steak and grill until medium rare, using the same method as the first side. Do the Finger test for doneness about 4 minutes.

Move the steak to a platter and let it rest for at least 5 minutes.

Slice the meat and serve.
Nutrition
Serving:
2
g
|
Calories:
740
kcal
|
Carbohydrates:
4
g
|
Protein:
103
g
|
Fat:
29
g
|
Saturated Fat:
5
g
|
Cholesterol:
268
mg
|
Sodium:
781
mg
|
Potassium:
1441
mg
|
Sugar:
1
g
|
Vitamin C:
5
mg
|
Calcium:
35
mg
|
Iron:
14.7
mg
Sign up for the emails and never miss another recipe!!
We'll never share your email or send you spam. Promise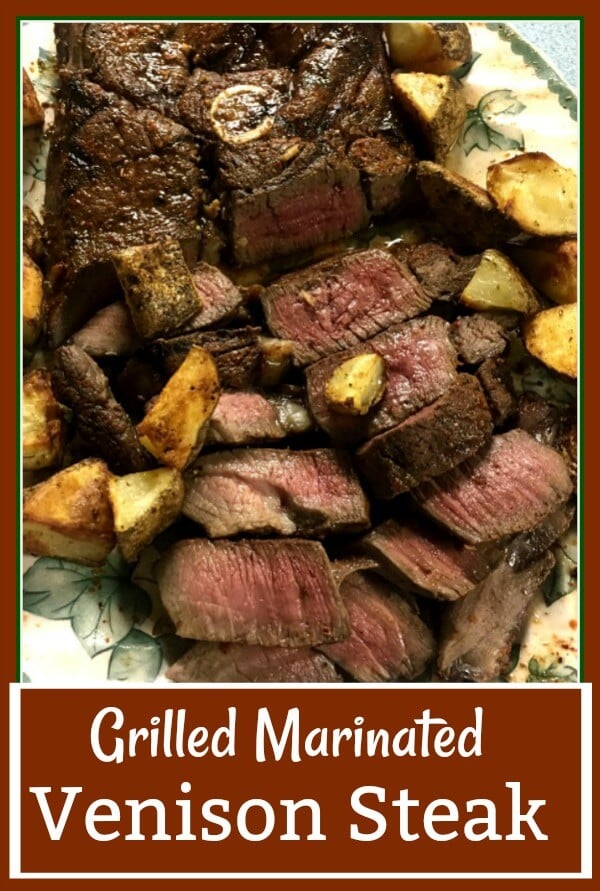 First Published: December 06,2016... Last Updated: May 08, 2019