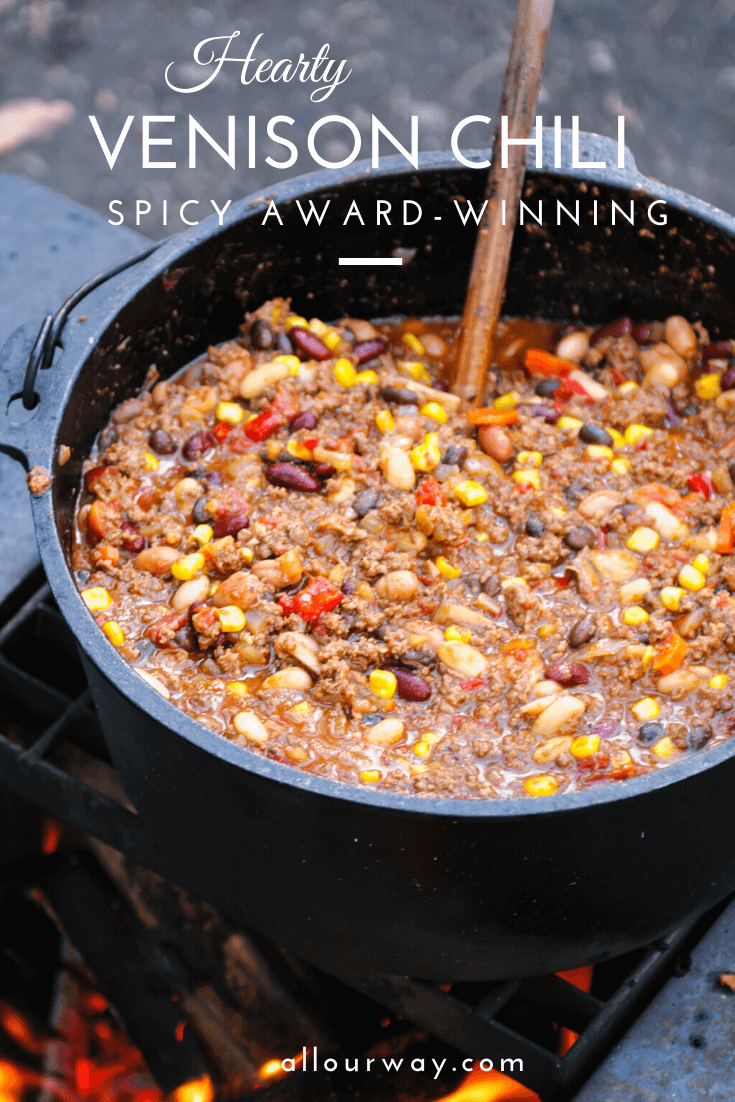 Hearty Venison Chili is a dish that's pure comfort in a bowl. It's thick and satisfying with just the perfect blend of cumin, chili, herbs, and spicy heat. Your taste buds will stand up, take notice, and thank you for every spoonful.
Jump to:
Chili con Carne A Rich History
Chili with meat is a single pot stew that epitomizes campfire cooking. The stew has been around for centuries. In fact, the stew's long, rich history includes a bit of mystery. The story tells of a mystic Lady in Blue, Sister María de Ágreda.
She never left her home country of Spain but, in 1629, 50 Jumano Indians said she appeared to them in the wilds of West Texas. It was the Lady in Blue who taught them how to make a fiery red stew. Now that stew must have contained some pretty potent peppers!!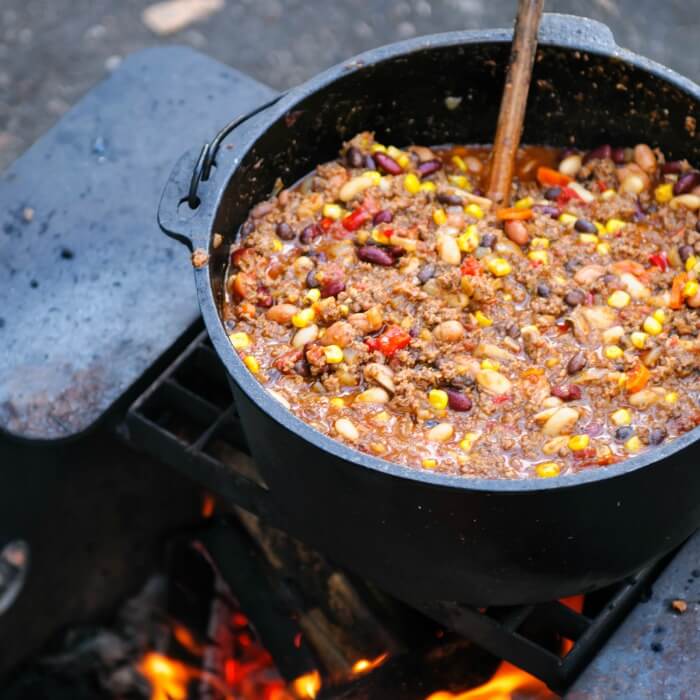 Then came the Spanish priests who didn't appreciate the potent stew. They called it "soup of the devil" and preached sermons against eating it. Was the soup devilishly good or devilishly powerful? I don't believe the Texans agreed with the Padres; they continued to make the stew. By the end of the Civil War, chili joints opened up all over the country.
Hearty Venison Chili Blueprint
Anyone can create a delicious pot of hearty venison chili. Just three things are necessary for it to be chili: a ragu of meat, hot chili peppers, and cumin.
The rest of the ingredients you add build layers of flavors to the dish. Once you have the blueprint for Hearty Venison Chili, you can create your recipe.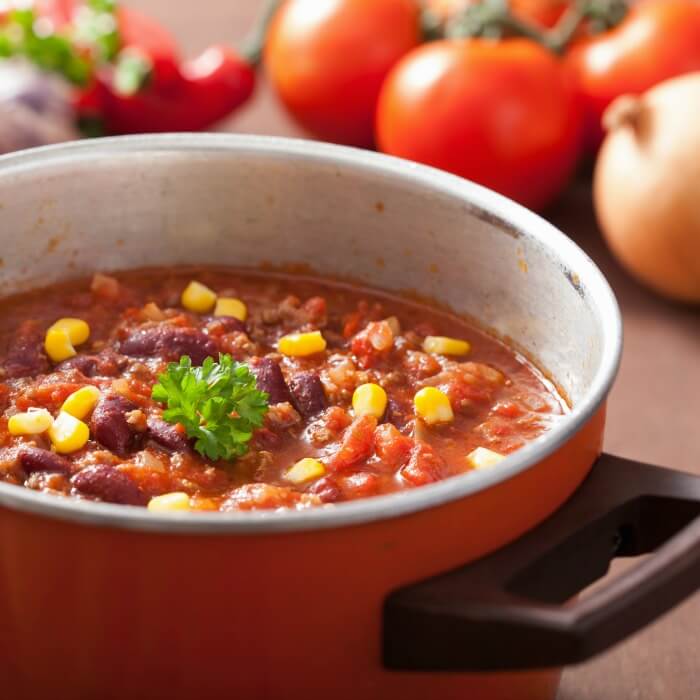 Now, chili is not the type of dish that uses precise measurements. Hunter J gave me the ballpark amounts he uses.
The following is what makes a mouth-watering Hearty Venison Stew:
A large wooden spoon and a big pot.
Protein: a combination of venison and sausage. You may mix and match with other meats.
Aromatic Vegetables: this builds flavor. Onion is important as well as garlic. Add chili peppers, and variety is nice. Don't forget, the smaller the chili, the more potent it is.
Spices and Seasonings: Cumin is the most important here. Ancho chili is great with the cumin, but you can add your favorite chili powder. Dried oregano, thyme, bay leaves, are a nice addition.
Liquids: beef broth, chicken broth, water, even beer.
Tomatoes: this is a good way to add flavor. Use sauce, paste, chopped tomatoes, even Ro-tel tomatoes (our favorite).
Other additions: we like to add beans as well as some small pasta when serving. That's just our preference.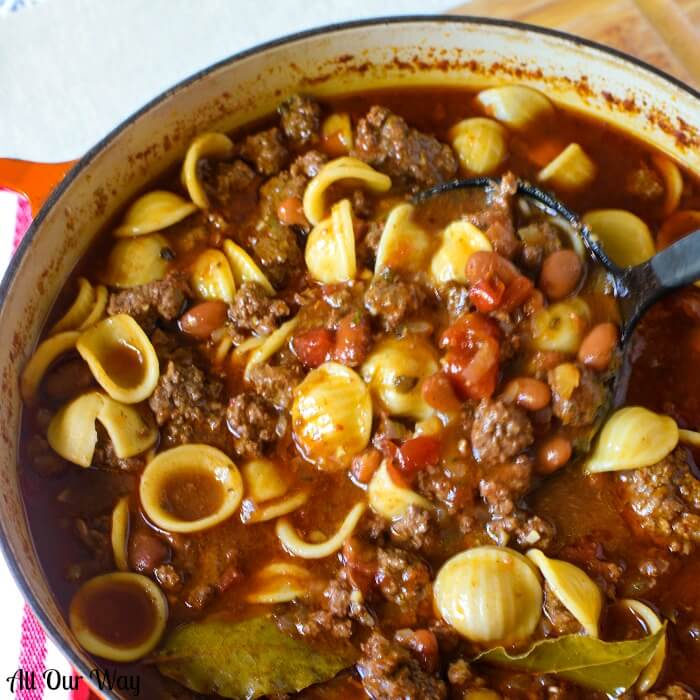 Putting the Hearty Venison Chili Together
This type of stew builds its flavor in stages:
In Dutch oven sear the meat until brown and fragrant. Don't overcrowd. Remove meat.
Add the aromatics and sweat the vegetables until soft. Put the meat back into the pot.
Add the spices you want. You can add more later if needed.
Add the tomatoes and or sauce you want to use.
Add the cooking liquids.
Cook until the meat is tender and you have the thickness you desire. Taste and adjust the seasoning.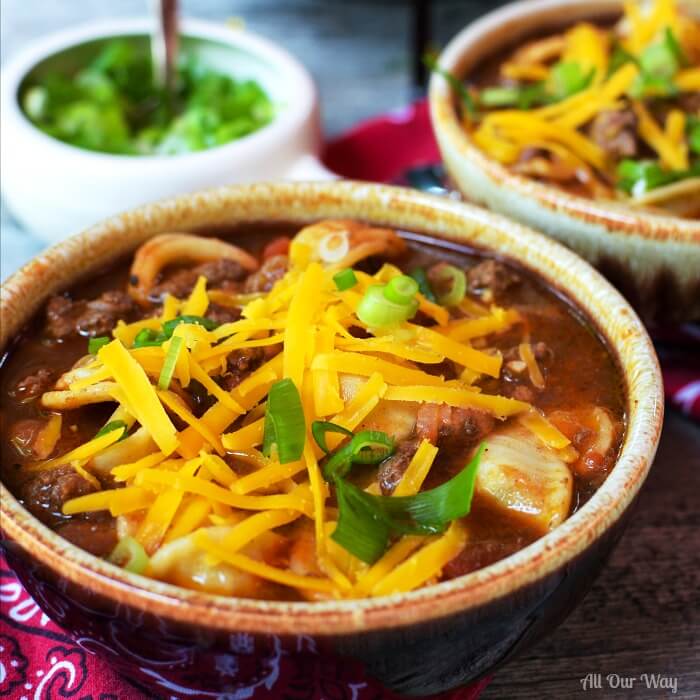 That's all there is to it. Easy, right? Just think, chili began as a hearty dish on the Western frontier and its now become a stew everyone wants to master and make as their own. We hope you give Hunter J's recipe a try. Serve it with some of our crusty rolls. You won't regret it!!
Tutti a tavola è pronto!
Un caro saluto e alla prossima.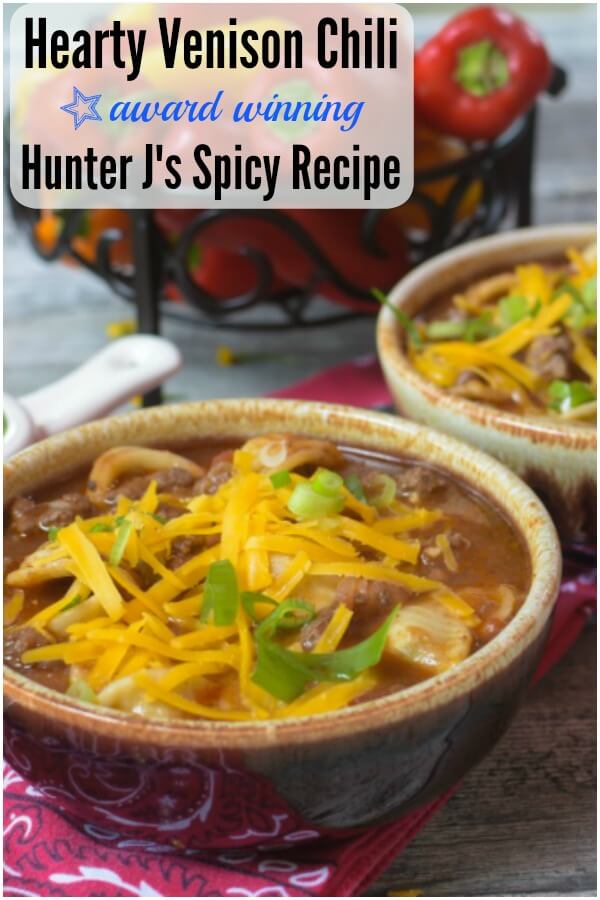 YOU MAY NEED...
The following are affiliate links. As An Amazon Associate I earn from qualifying purchases.
📖 Recipe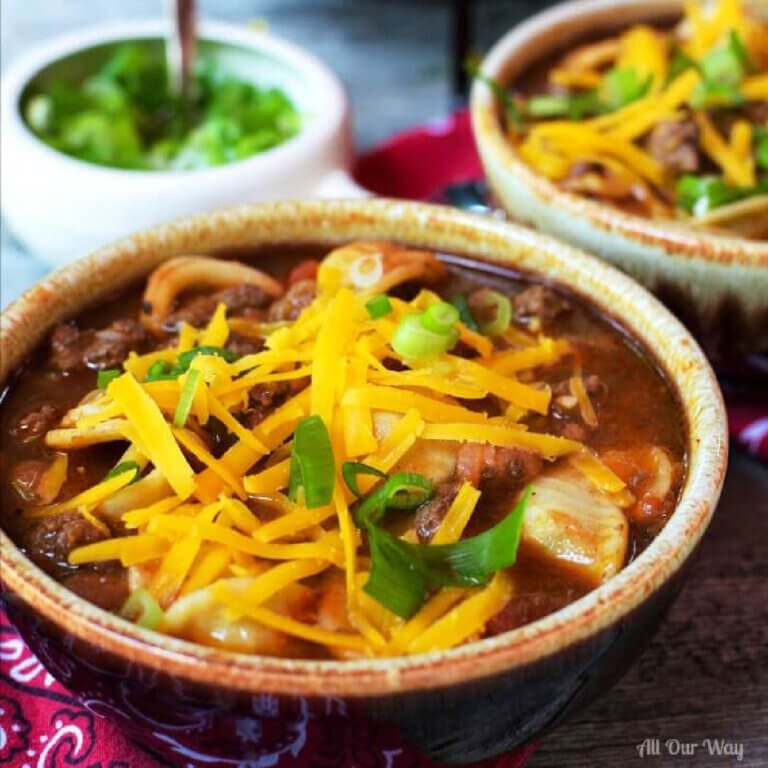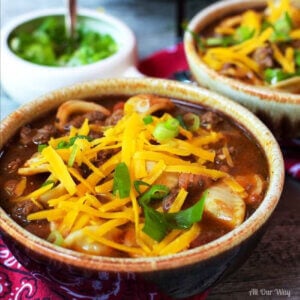 Hearty Venison Chili Hunter J's Original Spicy Award-Winning Recipe
A hearty stew made up of ground venison meat and sausage with a delightful combination of herbs and spices. The meat is slow cooked and full of flavor. The balance and flavors are mouth watering good and you can control the heat of the stew.
Print
Pin
Rate
As An Amazon Associate I earn from qualifying purchases.
Ingredients
2 ¼

pound

ground venison

¾

pound

pork sausage

2

Tablespoons

olive oil

1

Tablespoon

unsalted butter

1 ½

large onions chopped

5

cloves

garlic minced

1

large jalapeño diced

remove inner ribs and remove all seeds if you don't like it too hot

2

Tablespoons

chili powder

2

Tablespoons

cumin

2

teaspoons

oregano

2

teaspoons

thyme 3 bay leaves

2

teaspoons

salt

1

teaspoon

pepper

24

oz.

low-sodium beef broth

14.5

oz.

can low- sodium chicken broth

1

Tablespoon

sauce from Chipotles chilies in Adobo Sauce.

we make our own, check out the recipe

1 15

oz.

can tomato sauce

1 10

oz

can Ro-Tel tomatoes

if you don't like spicy, add 14 oz. can of diced tomatoes

2 14

oz.

cans Pinto beans

drained

Your choice of pasta cooked according to directions

*Optional sour cream and shredded cheddar cheese.

1.5

cup

corn

(optional frozen)
Instructions
Heat the oil and butter in a large pot or Dutch oven.

Add the venison and sausage and cook about 10 minutes, stirring to break up the pieces.

Stir in the onions, garlic, and jalapeño pepper and continue to cook until tender and translucent.

Add the cumin, chili powder, oregano, thyme, bay leaves, adobo sauce, salt, and pepper. Stir well. Cook for about 10 minutes.

Add the beef broth, chicken broth, tomato sauce, Ro-Tel tomatoes (or regular tomatoes) and bring to a simmer.

Simmer for 60 minutes, stirring often. Add the beans and continue to simmer for an additional 30 minutes.

Taste and see if the chili needs any additional seasoning.

Before serving add some cooked pasta in the bottom of a bowl then pour the hot chili over it.

You may add some sour cream and shredded cheddar cheese, if you like.
Nutrition
Calories:
320
kcal
|
Carbohydrates:
12
g
|
Protein:
27
g
|
Fat:
17
g
|
Saturated Fat:
6
g
|
Cholesterol:
90
mg
|
Sodium:
1101
mg
|
Potassium:
857
mg
|
Fiber:
3
g
|
Sugar:
3
g
|
Vitamin A:
710
IU
|
Vitamin C:
13.8
mg
|
Calcium:
70
mg
|
Iron:
5.2
mg
Sign up for the emails and never miss another recipe!!
We'll never share your email or send you spam. Promise
Note: Recipe and content from © 2017 All Our Way are copyright protected. Please do not use content or recipe without prior written permission. If you want to share the information, please link to this post. Grazie.
Let's stay connected. Sign up for our weekly newsletter so we can share what's happening with us, and we'd love to know what's going on with you.
SaveSave