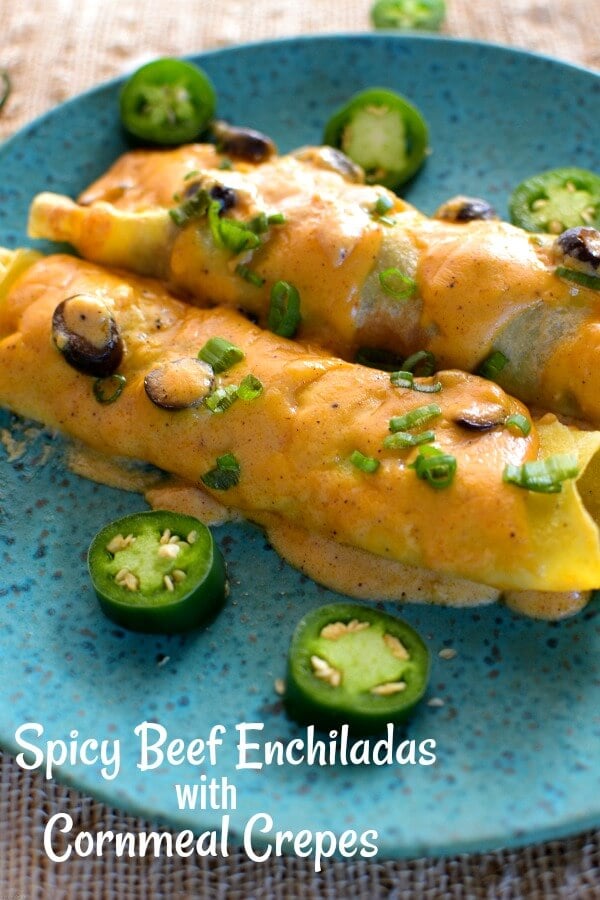 If your family loves highly seasoned food, they'll love this Spicy Beef Enchiladas Recipe. Our version of Mexican enchilada gets its peppy flavor from the jalapeño bean dip, chili powder, and hot pepper sauce mixed in with the ground beef. The scrumptious cheesy beef enchilada casserole uses tender cornmeal crepes to wrap around the tasty filling. We love the crepes because they're softer and thinner than a corn tortilla. The melted cheese sauce on top bathes the beef-bean-filled crepe with creamy goodness. You can make this Tex-Mex beef enchilada casserole several days, wrap in plastic wrap, then bake it before you're ready to serve. This easy dinner recipe is a family favorite. Instead of birthday gifts we get requests to make our beef enchiladas recipe.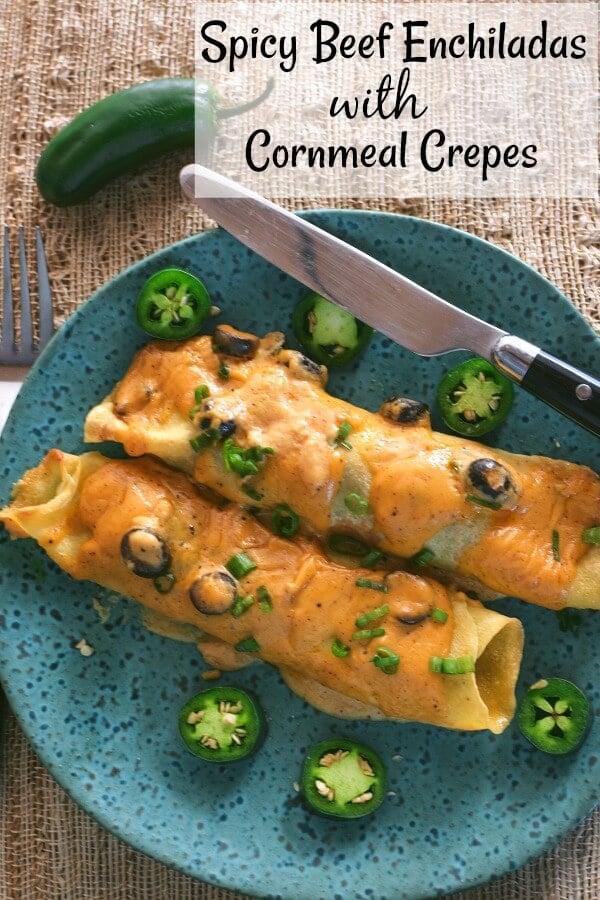 For this recipe you will need: ground beef, onion, green pepper, jalapeño bean dip, salt, pepper, all-purpose flour, chili powder, paprika, milk, hot pepper sauce, sharp cheddar cheese, ripe olives, cornmeal, eggs, vegetable oil, shortening.
Jump to:
Beef Enchiladas Recipe Background
Many years ago I had a soft back cookbook called Crepes Cook Book. It was there we discovered our inspiration recipe for Beef Enchilada Crepes. Every time we'd make it, everyone would go nuts over it!
So, when Honey asked his mom what she wanted for her birthday she said without hesitation, "Beef enchiladas."
Then, the same thing happened with Honey's sister Phyllis. It seemed like we were destined to gift food as birthday presents - just like our Herb Parmesan Bread!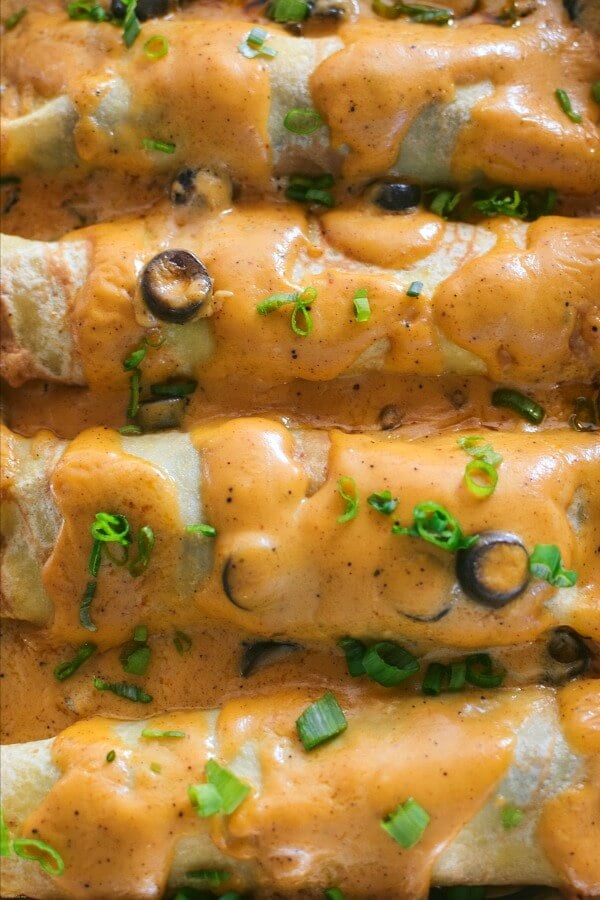 Then, one day, we were preparing to make another batch of Mexican enchiladas when I couldn't find my cookbook. I looked in every nook and cranny I could think of ! That book was nowhere to be found.
I went to the local bookstore to see if they had it. Nope! They didn't have it! My last hope was to try Amazon. They were fairly new at the time and I didn't really think they'd have it. But, surprise, surprise! They did.
Throughout the years, we've made countless beef enchiladas using that recipe!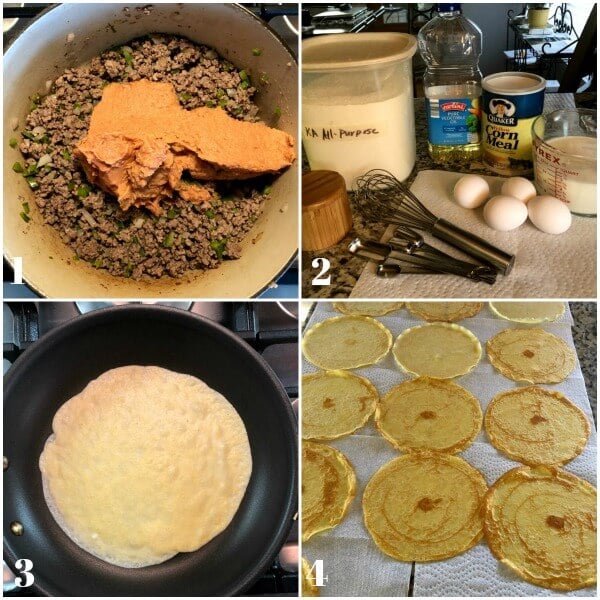 A three stage Tex-Mex main dish
Make this crowd pleasing casserole in three stages
Yellow Cornmeal Crepes
Beef Enchilada Filling
Spicy Cheesy Sauce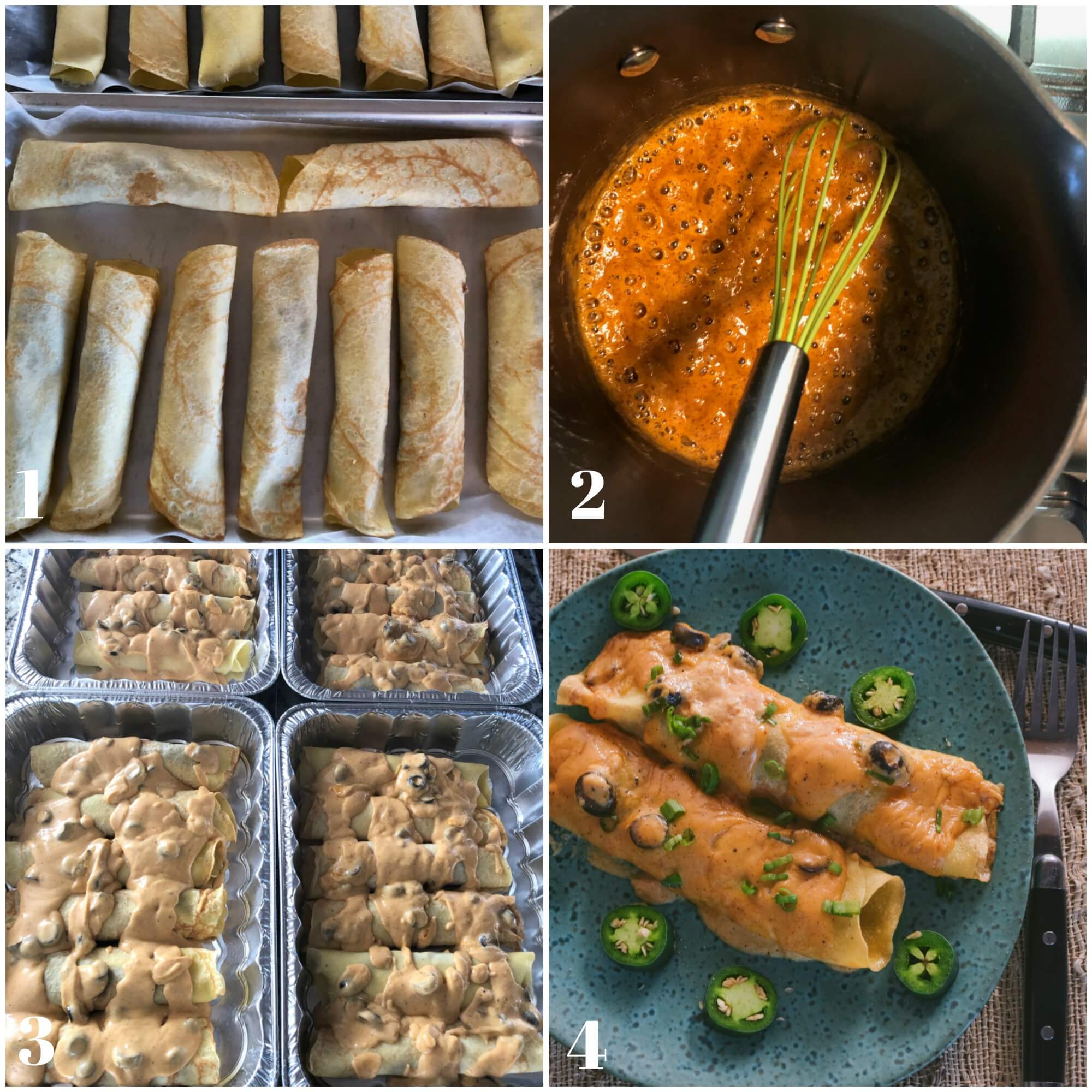 The steps are not complicated. We mix the lean ground beef and black bean bean filling in a large skillet and let it cool. Next we make the crepes, lining them up on the counter on top of paper towels. These crepes are better than soft flour tortillas.
Next comes to fill the cornmeal crepes with the delicious Mexican enchiladas filling. Spread some filling down the middle of the unbrowned side of the crepe.
Roll up and place seam side down in an oil-sprayed large rectangular baking dish.
The final touch is to pour the sauce over the enchiladas. Here you can either cover and bake in the oven, or cover and store in the refrigerator for later.
We've had the beef enchilada casserole in the fridge for several days before baking.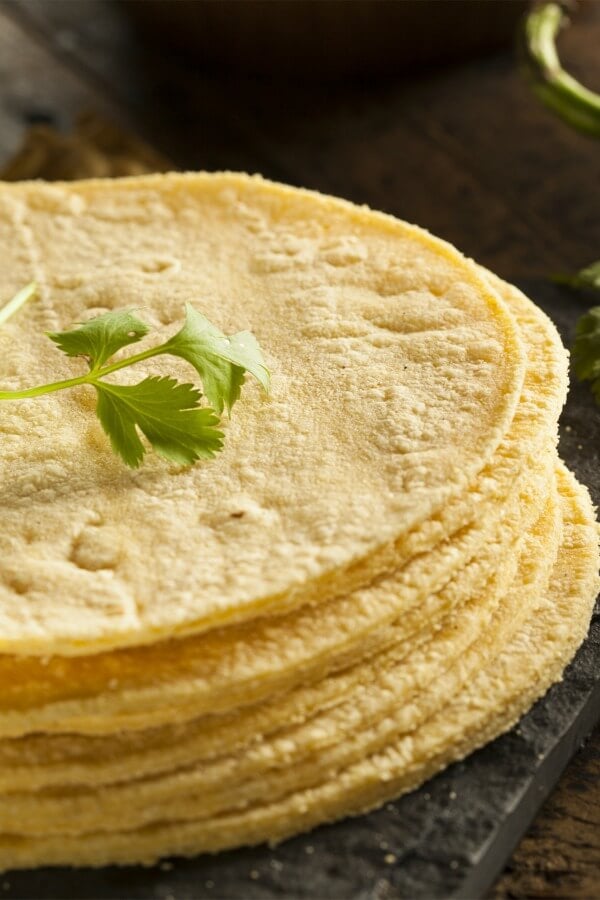 FAQs about Mexican Enchiladas
What is an enchilada?
An enchilada is a tortilla either corn or flour rolled around a filling and covered with a chili pepper sauce. There are many enchilada fillings:
meats
cheese
beans
potatoes
vegetables
combination of the above
Are authentic enchiladas made with corn or flour tortillas?
Corn tortillas are the traditional choice for enchiladas but flour tortillas will do. It's really a personal preference. The 6 inch and 8 inch size works the best for fitting into a casserole dish.
What kind of cheese do Mexican restaurants use in enchiladas?
They use a cheese that melts easily such as:
Queso Blanco
Manchego
Queso Fresco
Cotija
Are enchiladas authentic Mexican food?
Enchiladas are an authentic Mexican dish but it's made differently than the Tex-Mex version. Mexican enchiladas are typically tortillas that are first fired, dipped in a spicy enchilada sauce and then rolled up with a small amount of filling.
The enchilada originated in Mexico dating back to at least the Mayan time.
Do you cook corn tortillas before making enchiladas?
You should pre-cook the corn tortillas in a little bit of fat in order to develop the flavor and also to make them easier to fill and roll up. With the cornmeal crepes you don't have to worry about it. They are very pliable and easy to roll.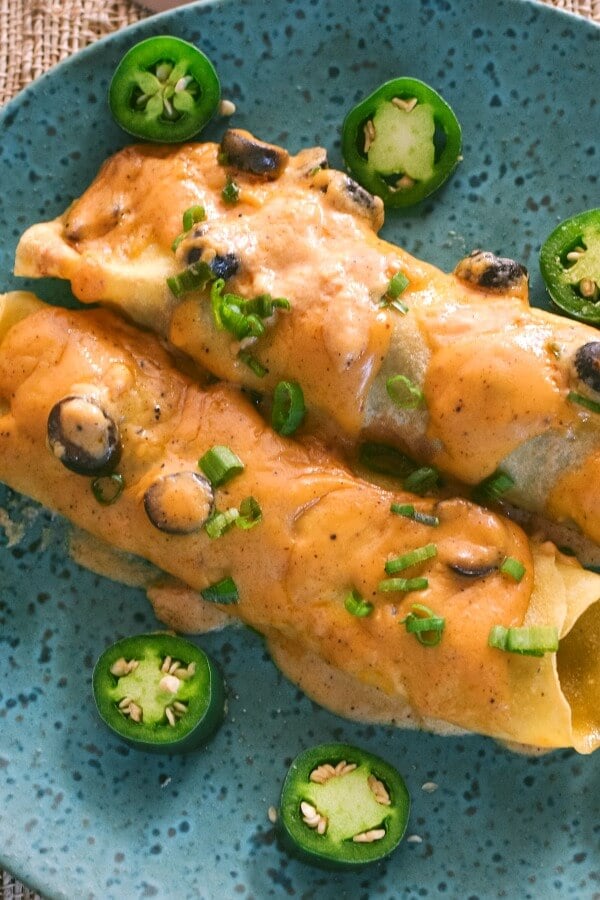 What to serve with Beef Enchilada Casserole
One bite and the authentic flavor of this spicy beef enchilada recipe with crepes and I swear you'll hear the heavenly choir sing. I'm not exaggerating! This recipe is THAT good.
A combination salad such as Italian Summer Salad is all you'll need. As far as drinks go, drink what you like but again you should make it something light and fresh.
Honey and I don't eat a lot of desserts. We're usually very satisfied with our dinner, salad, veggie and wine. But for you dessert lovers, here are some Mexican-inspired desserts you might like.
We hope that you make this great recipe, we know you won't be disappointed!
Tutti a tavola è pronto!
Un caro saluto e alla prossima.
YOU MAY NEED...
The following are affiliate links. As An Amazon Associate I earn from qualifying purchases.
What's new? Check out my All Our Way store on Amazon. We'll be adding more items we love and use or wish we had to make cooking fun and easy.
A 8-inch non-stick skillet like this one is what we use. It's important to have a skillet that heats evenly. A 6-inch skillet will also work although your crepes will naturally be smaller. One thing we don't do is put our skillets in the dishwasher even if the directions say you can. We believe the non-stick finish lasts longer with a little care.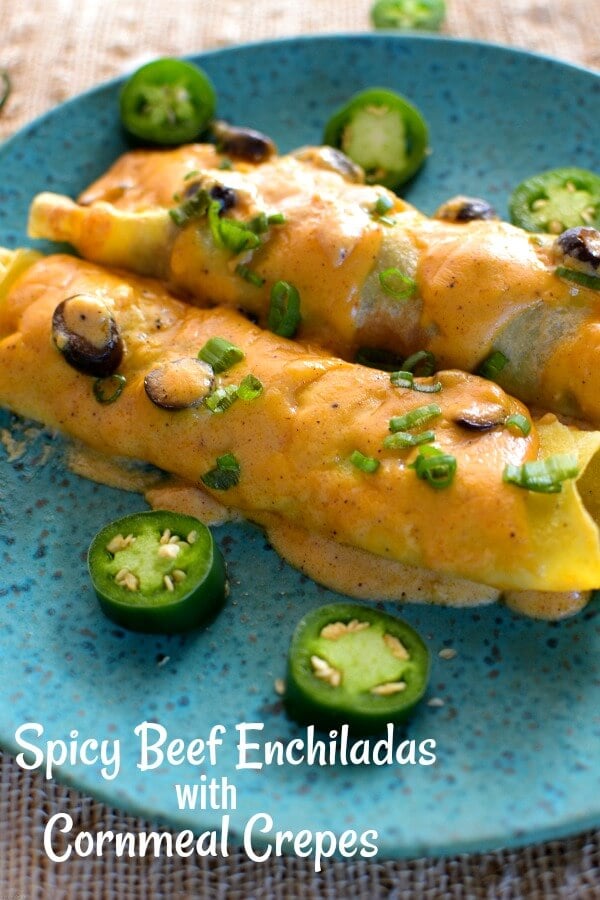 Spicy Beef Enchiladas Recipe With Cornmeal Crepes
This is a terrific Mexican enchiladas casserole that you can double and triple. We've made it for gatherings, birthdays, and just because we craved something spicy and tasty. It's easy to make with ground beef and a bean dip. Don't fret though, if you can't find the dip we'll tell you how you can spice up the enchiladas with just some refried beans.
Once you taste this dish made with cornmeal crepes, you'll never want to go back to the cornmeal tortillas. See if your family doesn't beg you to make this often.
If you want to try an enchilada with seafood, you must try our Best Creamy Shrimp Enchilada Recipe. It tastes amazing and you'll be getting calls from the family to make it often. And if you are a chicken enchilada fan, our simply amazing Creamy White Chicken Enchiladas will knock your socks off!
For your next Southwest celebration, try serving our Creamy Guacamole Salsa. It's two dips in one and, believe me, it goes FAST!
If you like this recipe, please consider giving it a 5-star rating. This helps others to decide whether to try the recipe.
Spicy Ground Beef Enchiladas Recipe

📖 Recipe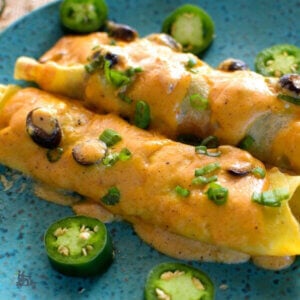 Spicy Beef Enchiladas Recipe With Cornmeal Crepes
Cornmeal crepes are filled with seasoned ground beef that is mixed with jalapeño bean dip then topped with a spicy creamy cheese sauce. A fantastic version of Mexican enchiladas that will have your whole family begging for more.
Print
Pin
Rate
As An Amazon Associate I earn from qualifying purchases.
Ingredients
Yellow Cornmeal Crepes
⅓

cup

all-purpose flour

1 ½

cup

milk

⅔

cup

yellow cornmeal

2

eggs

1

tablespoon

vegetable oil

¼

teaspoon

salt

solid shortening

like crisco for wiping crepe pan
Beef Enchilada Crepes Filling
1

pound

ground beef

½

cup

onion

chopped

½

cup

green pepper

chopped

10 ½

oz.

jalapeño bean dip (or refried beans)

**Check out NOTES

½

teaspoon

salt

⅛

teaspoon

pepper
Cheese Sauce
3

tablespoon

all-purpose flour

½

teaspoon

salt

¼

teaspoon

chili powder

more if you like

¼

teaspoon

paprika

more if you like( we used smoked)

1 ½

cup

milk

hot sauce

your preference

¾

cup

sharp cheddar cheese

shredded (I've always added more)

¼

cup

pitted ripe olives

sliced
Instructions
Cornmeal Crepes
In bowl combine flour, milk, cornmeal, eggs, oil, and salt; beat with mixer til blended.

Heat a lightly greased skillet (this is where we use shortening and a paper towel to lightly coat the bottom. Do this in-between each crepe. Remove from heat. Spoon in about 2- 3 tablespoons batter; lift and tilt skillet to spread the batter evenly. (see note on bottom) ***

Return to the heat; brown one side only. Invert pan over paper toweling; remove crepe. Slightly bang the pan against the counter and the crepe should fall out. Stir the batter frequently to keep the cornmeal from settling.

Again wipe the inside of the pan with a little of the shortening on the paper towel. Repeat to make about 16 crepes. If you make less, that's okay, you'll need 12 for the enchiladas.
Beef Enchiladas Filling
Cook the ground beef with the onion and the green pepper over medium-high heat. Drain off the fat.

Blend in the jalapeño bean dip with a wooden spoon( if you can't find the dip, following the instructions in the notes below) Add the salt and pepper.
Cheese Sauce
In a saucepan, mix the flour, salt, chili powder, and paprika together. Add the milk and several dashes of the bottled hot pepper sauce.

Stir and cook until bubbly. Stir in the shredded cheese and the ripe olives.
Assembling the enchiladas
Using 12 yellow cornmeal crepes spread about ¼ cup filling down the center of the unbrowned side of the crepe. Roll up as for a jelly roll.

Place the enchilada seam side down in a vegetable oil sprayed 13X9X2 inch baking dish. Repeat with remaining crepes. Pour sauce over the enchiladas. Heat oven to 375℉. Cover; bake until heated through, 25-30 minutes.
Notes
** If you can't find the jalapeño dip, use refried beans. To add the additional zip, chop 2 jalapeño peppers and add them to the ground beef as it's cooking. Then follow the direction as listed.
*** The batter amount is approximate depending on the size of your pan. Make sure that there is enough to cover the bottom of the pan. Look at the photo to give you an idea.
Adapted from The Crepes Cook Book by Better Homes and Gardens.
Nutrition
Calories:
520
kcal
|
Carbohydrates:
34
g
|
Protein:
27
g
|
Fat:
29
g
|
Saturated Fat:
13
g
|
Cholesterol:
135
mg
|
Sodium:
1072
mg
|
Potassium:
504
mg
|
Fiber:
4
g
|
Sugar:
8
g
|
Vitamin A:
610
IU
|
Vitamin C:
11
mg
|
Calcium:
284
mg
|
Iron:
3.3
mg
Sign up for the emails and never miss another recipe!!
We'll never share your email or send you spam. Promise
First Published February 12, 2019. Last updated April 15, 2021 for better readability and user experience.