Crispy fried chicken cooks to a golden brown. The meat inside of the crust is moist and tender with a pleasant spicy tang. This is better than your mom's fried chicken.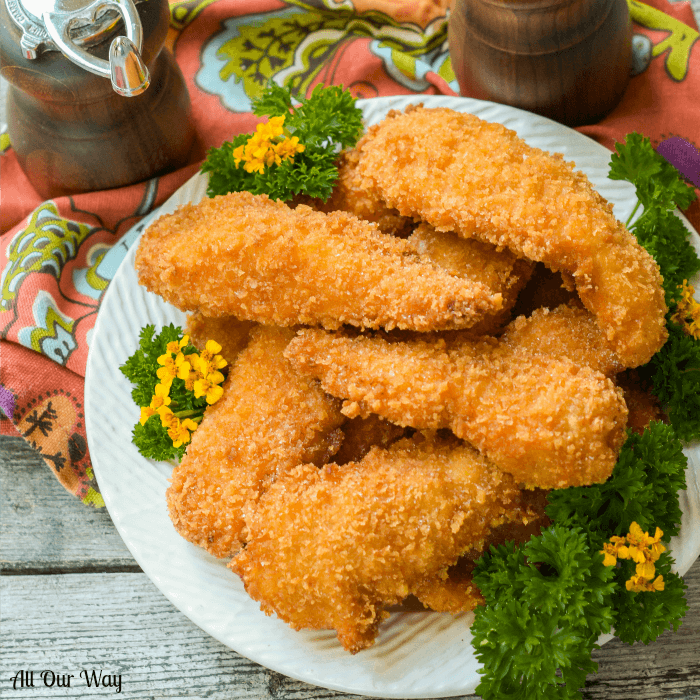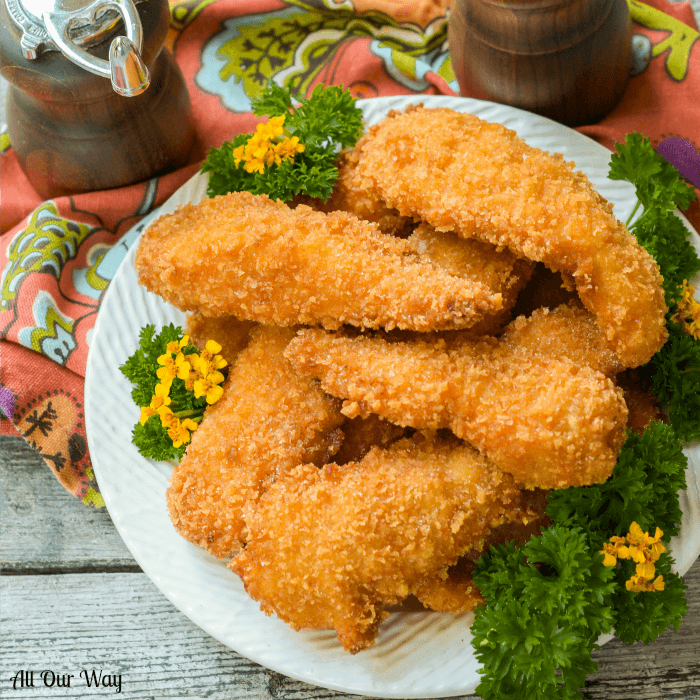 Jump to:
Crispy Fried Chicken our history
Mamma made the best fried chicken! Every time we came to visit them in Iowa, she would treat us to her delicious crispy fried chicken.
She would fillet the whole bird, save the bones for broth, then salt and pepper each piece. Her crispy coating for the chicken was flour, egg wash, and cracker meal.
Cracker meal is finely crushed up crackers. I've seen it in the grocery stores but mamma bought hers from the local cookie/cracker factory where she worked.
But her magic didn't just work on the coating, she was able to stretch one bird to feed seven of us plus have leftovers for us to take home. Honey would always ask me afterward, "Are you positive that was just one chicken?"
"It is," I said. "I asked her."
For many years we made our fried chicken just like mamma.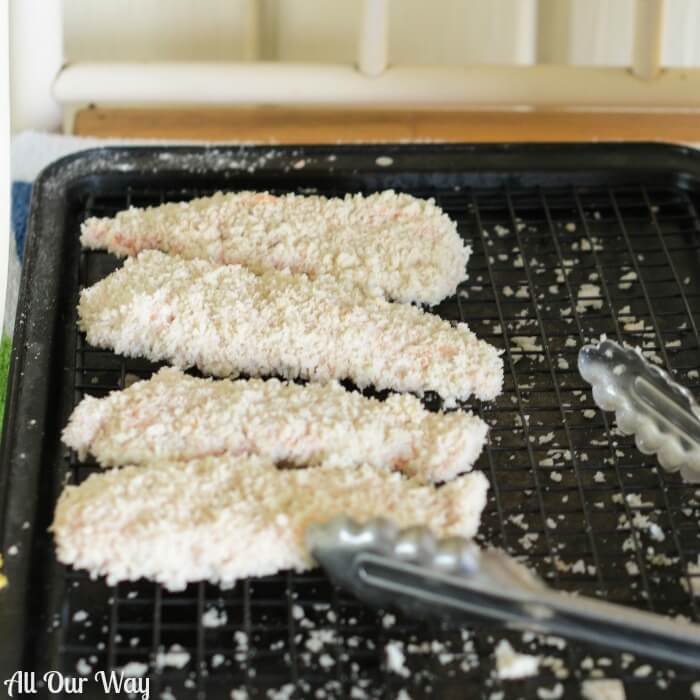 Crispy Fried Chicken Recipe Evolves
Then came the day we discovered Panko crumbs. That was the day we forgot about the cracker meal and went on to better and crunchier coatings. We decided to fry some fish fillets and we couldn't believe how crunchy the crumbs were.
We believe this is the perfect formula: flour, buttermilk instead of egg wash, and Panko crumbs.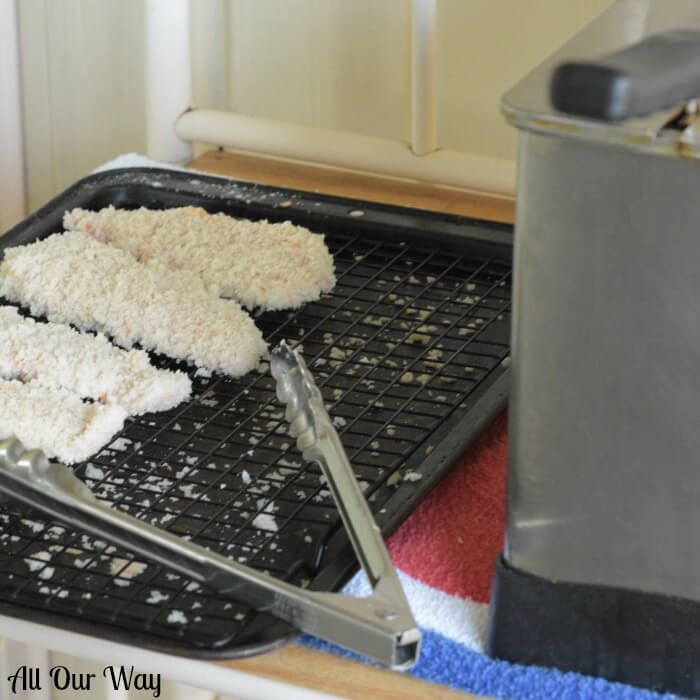 Anytime we have a dish that needs a special coating, like our green tomatoes, we fall back on our special formula:
dip in flour and shake off excess.
bathe in buttermilk and let excess drip off.
roll in Panko crumbs and gently press the crumbs into the piece to be fried.
place in the fridge to set the crumbs.
This time we planned to prepare and fry our chicken just like we always did, but Honey was feeling adventuresome. He decided to try something different with the thawed chicken tenders. Our secret addition -- Frank's Red Hot Original!!
He coated each chicken piece with Frank's, covered the plate with plastic wrap, and set the chicken to marinate in the refrigerator 2 to 3 hours. Turn the pieces occasionally.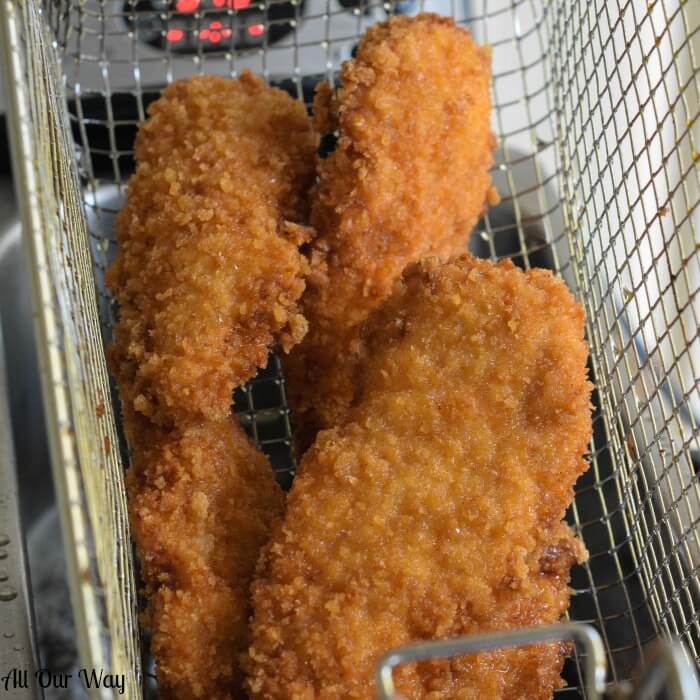 Frying the Chicken to Golden Brown
And 30 minutes or so before frying time, we took the chicken out of the fridge and proceeded with the flour, buttermilk, Panko routine. We put the chicken on a wire rack over a baking tray and set it back in the fridge.
It's important to keep the breaded pieces in the refrigerator for about 15 to 30 minutes. This sets the coating and seals the pieces so that they stay moist and flavorful but don't absorb the oil.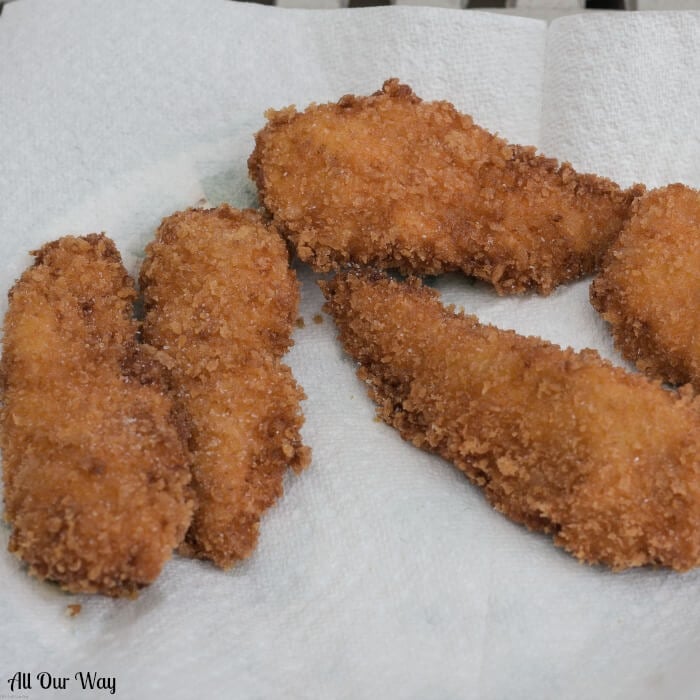 We always use peanut oil. We find that it's the best for frying. The nice part of peanut oil is that you can use it many times, it doesn't get that strong taste or odor. (You know what I'm talking about, that heavy fishy oily smell.)
You heat the oil to 340 F. in a Dutch Oven or fryer. Add a few pieces of chicken at a time. You don't want to overcrowd. In a deep fryer, you don't have to turn the pieces to get them evenly brown but you may have to in a Dutch oven or deep pan.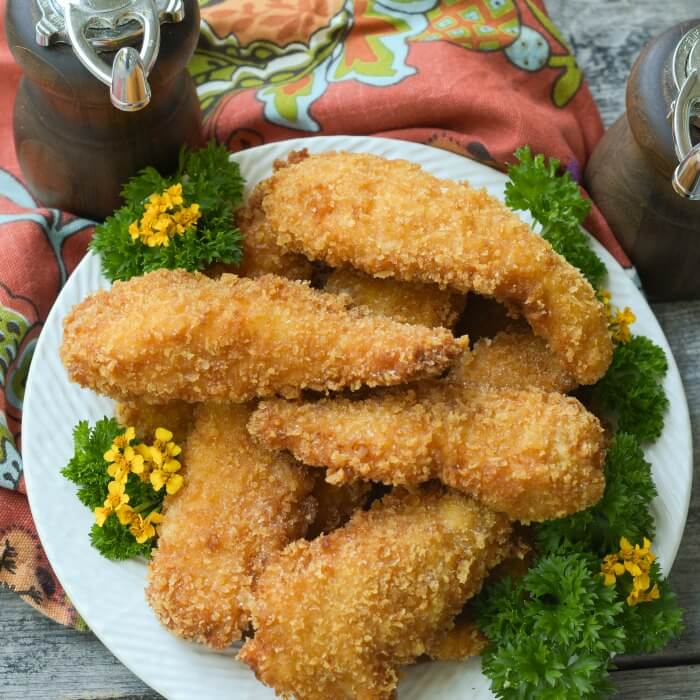 Fry until the pieces reach that beautiful golden brown. Place them on a wire rack over a tray. Salt and pepper the pieces then place them in a 180 F. oven to keep warm. Fry the rest of the pieces in batches until they're all done.
Enjoy your better than mom's Crunchy Fried Chicken.
Tutti a tavola è pronto!
Un caro saluto e alla prossima.
YOU MAY NEED...
These all-purpose metal tongs are similar to the ones we have. Don't ever buy the ones with the rubberized tips. They are useless and can cause an accident. We even take these tongs when we travel -- yes they're that great!
What's new? check out my All Our Way Store on Amazon. We'll be adding more items we love and use or wish we had to make cooking fun and easy.
Thank you for being part of All Our Way!
Spicy Golden Brown Crispy Fried Chicken
📖 Recipe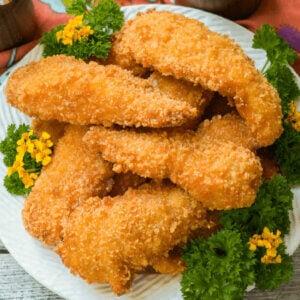 Crispy Fried Chicken Golden Brown With Spicy Tang
Crispy Fried Chicken cooks to a golden brown while the meat inside is moist and tender with a spicy tang. This is better than your mom's chicken.
Print
Pin
Rate
As An Amazon Associate I earn from qualifying purchases.
Ingredients
2

lb

Boned and skinned chicken pieces -- as many as you want.

½

cup

Frank's RedHot Sauce original for marinade.

2 -3

cups

all-purpose flour in a plastic bag for 1 first coating.

2

cup

cupsButtermilk for dipping - amount as needed.

3

cup

or more cups Panko crumbs for coating

amount as needed.

½

cup

Peanut oil for deep frying.
Instructions
Brush Franks on all the chicken pieces. Make sure they are well-coated. Cover the chicken with plastic wrap and let it marinate in the refrigerator 1 to 2 hours.

Remove the chicken and drop the pieces into the flour bag. Shake the bag so that the piece are coated but shake off the excess.

Coat the floured pieces with the buttermilk, let excess buttermilk drip off before placing them in the Panko crumbs.

Firmly press the Panko crumbs onto the pieces so that they are well-covered.

Place the breaded pieces on a cooling rack inside the tray. Continue to do this until all the pieces are done.

Put the tray in the refrigerator as you prepare the oil for frying.

Once the oil reaches the proper temperature of 340 F. Using tongs add several pieces into the fryer basket or Dutch oven. In the deep fryer you won't have to turn the chicken pieces but you may have to in the pan.

If you think the chicken is browning too fast, turn down the heat a little.

Remove the pieces from the oil and place them on a cooling rack. Put the tray with the chicken in a 180 F. oven to keep warm as you finish the rest of the batches.

Be prepared to eat some delicious crispy chicken.
Notes
You're frying/cooking time will depend on how many pieces of chicken you have to fry.
You may have to thin the buttermilk with a little water + additional buttermilk if you're making a lot of chicken.
Nutrition
Serving:
4
g
|
Calories:
749
kcal
|
Carbohydrates:
38
g
|
Protein:
58
g
|
Fat:
39
g
|
Saturated Fat:
8
g
|
Cholesterol:
158
mg
|
Sodium:
1638
mg
|
Potassium:
1089
mg
|
Fiber:
2
g
|
Sugar:
8
g
|
Vitamin A:
265
IU
|
Vitamin C:
2.7
mg
|
Calcium:
232
mg
|
Iron:
3
mg
Sign up for the emails and never miss another recipe!!
We'll never share your email or send you spam. Promise
Note: Recipes and content from © 2017 are copyright protected. Please do not use content or recipe without prior written permission. If you want to share the information please link to the post. Grazie.
Let's stay connected. Sign up for our weekly newsletter so we can share what's happening with us and we'd love to know what's going on with you.