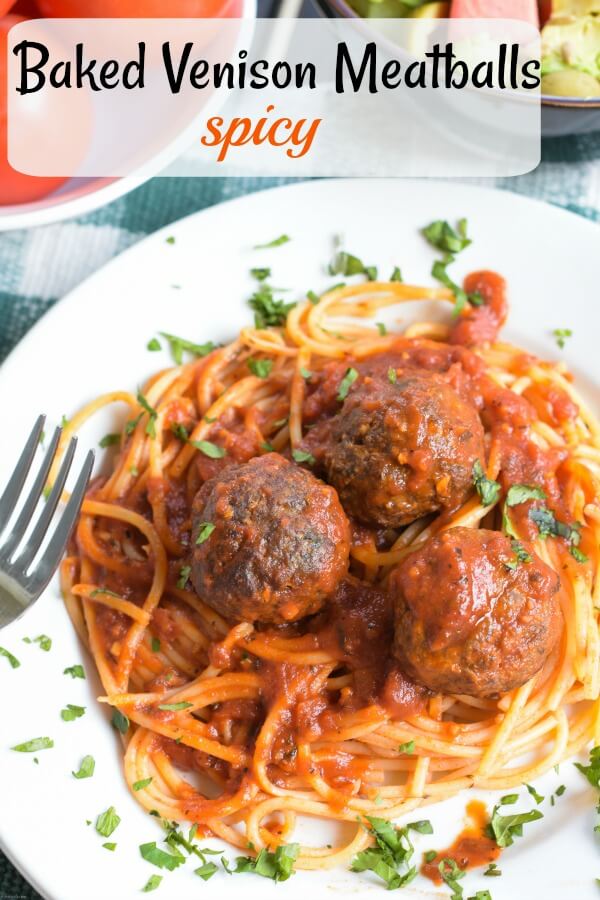 Venison Meatballs are spicy, moist, and easy to bake ahead then freeze. It seems that every culture that enjoys meat has some form of meatball. You'll find Italian, German, Greek, Swedish, and even Japanese meatballs. It's just a matter of what sauce and seasoning you use in the ground meat. And, by using just a few tricks, you can be sure that your meatballs are perfect. By adding a bit of hot Italian sausage to the ground venison, you'll not only increase the flavor of the baked meatball but you'll render them amazingly moist and tender. Meatballs are a staple in our house and should be in yours too. You can use this venison meatball recipe for the main dish, hoagie sandwiches, and appetizers. Pretty versatile, don't you think?
For this recipe, you will need ground venison, hot Italian sausage, panko crumbs, garlic cloves, eggs, Italian seasoning, chipotle chilis in adobo sauce, kosher salt.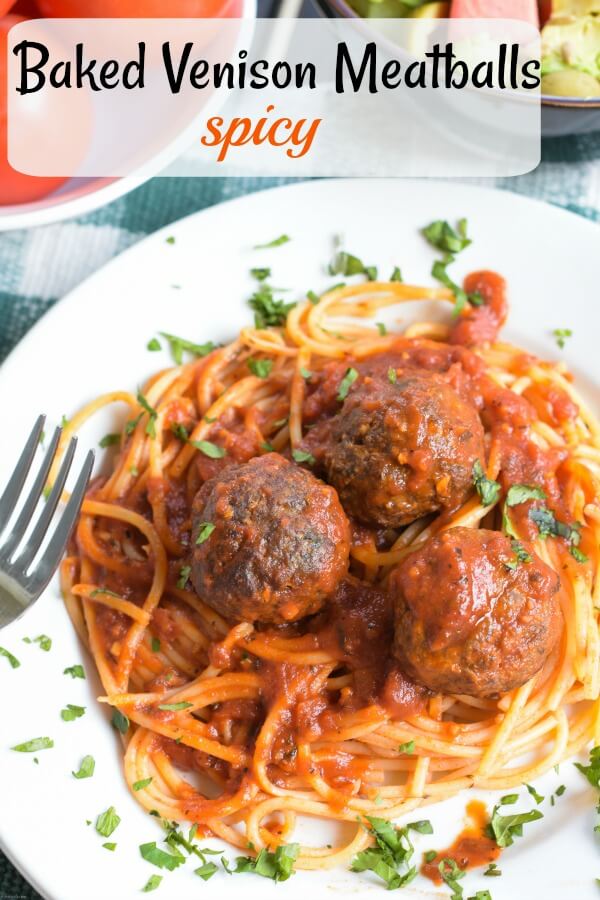 Jump to:
Venison Meatballs - A Family Favorite
Before we moved to the Cave, our apartment here, we fixed the rest of our frozen garlicky meatballs for Michelle, our daughter, and family. They came down to help us move some things out of our old house. So for lunch, we decided to fix Italian hoagies. Let me say, those meatball subs were a huge hit!
So now, we were not only homeless but without meatballs in our freezer. A sad state of affairs to be sure.
Then, a few weeks ago our son Jason, the hunter, was over for lunch. Honey turned to him and said, "If you have any more ground venison left I'll make you some venison meatballs. I need something to do."
Jason got a big smile on his face. "If you're bored I'll bring over several packages and some sausage. Deer season is coming up and I have to make some room in my freezer."
And so, Honey made the venison meatballs which we shared with the family. Now, we're planning on making some delicious recipes out of those sausages.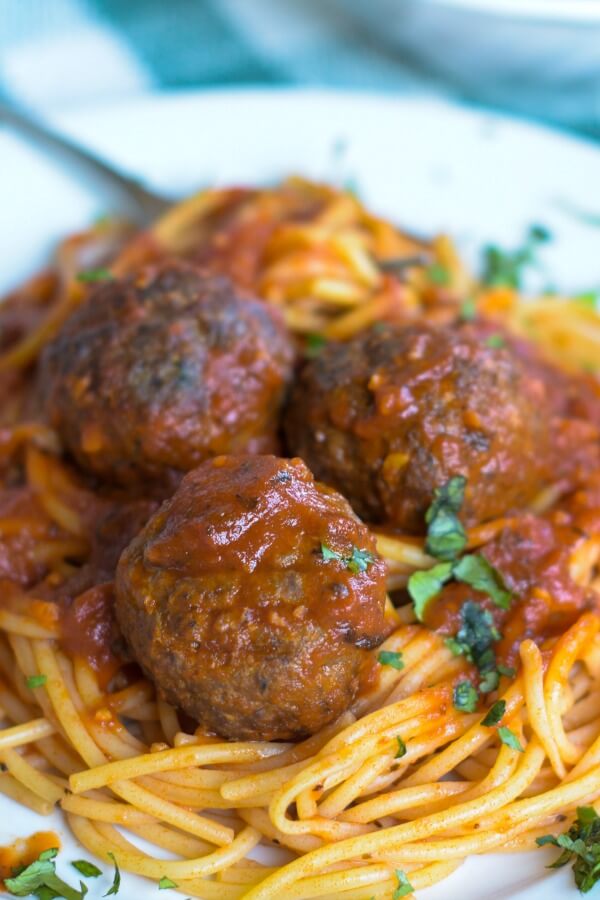 Uses for Venison Meatballs
We know that whenever people think of meatballs they think of Italian meatballs in a pile of spaghetti. But did you know that in Italy they don't serve meatballs with pasta?
Usually, the pasta comes first and the meatballs follow.
Frankly, I think think the popularity of spaghetti with meatballs started with that alley scene in Lady and the Tramp.
Here are some other ideas where you can use meatballs:
Use them with rich brown gravy and mushrooms.
Include them in a

delicious soup

.
A sweet and sour sauce.
Sandwich as a slider or hoagie.
Swedish meatballs with rich gravy.
Albondigas stew.
Thai meatball curry.
Greek meatballs with tzatziki.
German meatballs with sauerkraut.
Japanese meatballs with ginger, garlic, and scallion.
Have we convinced you how handy it is to have frozen baked meatballs on hand?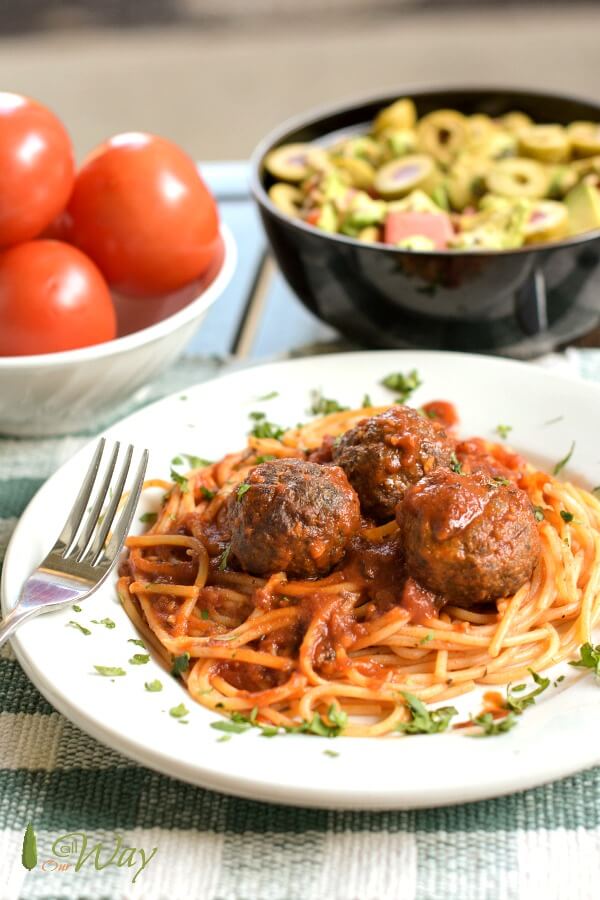 How to Make and Bake Venison Meatballs
Have you ever tasted a meatball that has the texture of golfballs? The secret to preventing a dense meatball is gently mixing the ingredients and NOT over packing the meatball. You can use a scoop to measure out the meat or you can weight them.
We use our digital scale, and let me tell you that is one handy-dandy piece of equipment. Every meatball is identical and perfect.
In order to prevent the meat from sticking to your hand, moisten them with water. Once you measure the meatball place them on a non-stick metal cooling rack placed inside a foiled lined baking tray.
You can also place the meatballs on a parchment-lined or foiled-lined baking sheet. We prefer the rack because air can circulate around the meatball.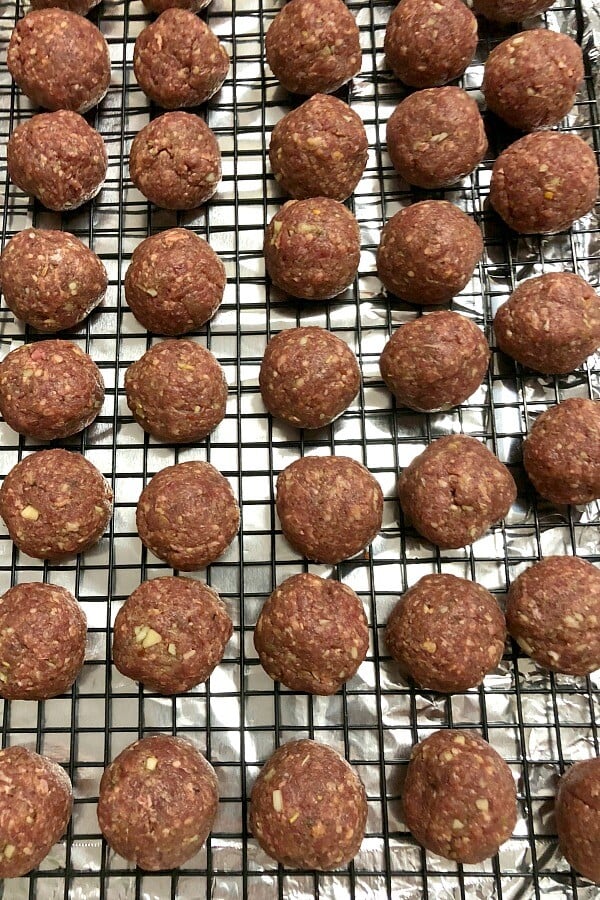 How to Freeze Meatballs
After the meatballs are baked and cooled, you place them on a lightly oiled wax paper. Now, this may seem odd to spray wax paper but we've had things stick to the paper when we try to remove the frozen item.
Once the venison meatballs are frozen, place in a freezer bag and then in a freezer container. Yes! We use both a freezer bag and a freezer container because we want our delicious meatballs to stay fresh tasting when thawed.
When you're in the mood for a meatball recipe, thaw out the amount you want to eat and make whatever recipe tickles your fancy. They are so easy to make it's a shame not to make a large batch to keep on hand.
And if you're looking for additional venison recipes to enjoy, check out our delicious Grilled Marinated Venison Steak with a fabulous deer steak marinade and our Northern Italian Venison Stew.
More game meat recipes to try
If you don't have ground venison, just substitute ground beef or tenderloin for the meat.
We hope you give this recipe a try we know you'll enjoy it.
Tutti a tavola è pronto!
Un caro saluto e alla prossima.

Spicy Baked Venison Meatballs: Appetizer to Main Dish
These venison meatballs are perfect. They are so tender and moist you'll be dreaming up recipes just so you can use them. And since they freeze beautifully, there's no reason you can't have a good supply of them so when the mood hits, you can quickly thaw some out. I think of them as meal lifesavers! There is no limit to what you can make.
Next time you want to try uniquely flavored meatballs, try out our Authentic Swedish Meatballs With Sauce recipe. It's so good you'll want to keep it on your menu rotation.
If you like this recipe, please consider giving it a 5-star rating. It helps others to decide whether to try this recipe.
📖 Recipe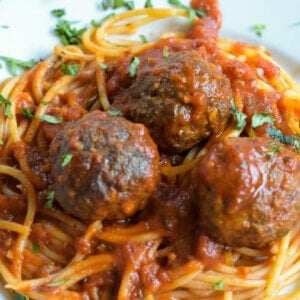 Spicy Baked Venison Meatballs: Appetizer to Main Dish
Baked Venison Meatballs are juicy and tender and make a great start to your main dish, hoagies, or appetizer. They freeze beautifully so it's easy to keep them on hand. The dishes you can make limitless. Let your imagination go wild.
Print
Pin
Rate
As An Amazon Associate I earn from qualifying purchases.
Ingredients
3

lbs

ground venison

1

lbs

hot Italian sausage

18

garlic cloves

3

eggs

jumbo size

3

tablespoon

adobo sauce

1 ¼

cups

Panko crumbs

2

tablespoon

Italian seasoning
Instructions
Combine all of the ingredients in a large bowl. With your hands gently mix until just combined.

Use a disher to scoop an even amount of the meat mixture or use a kitchen scale -- we made the meatballs 2 oz. each. Moisten your hands with water if the meat seems to stick.

Place meatballs on a parchment-lined baking sheet or on a vegetable sprayed non-stick cooling rack placed inside the baking sheet.

Bake in a preheated 350 F. oven for 35 to 40 minutes. The amount of time will depend on the size of your meatballs. Don't overcook.

Remove the baking sheet from the oven and let the meatballs cool. Once cool place the meatballs on a lightly oiled sheet of wax paper. Freeze. Once frozen store in a freezer container or freezer bag. We use both to keep them fresher.

When ready to eat, thaw out the number of meatballs you want to use and add to whatever recipe you like.
Nutrition
Calories:
265
kcal
|
Carbohydrates:
5
g
|
Protein:
24
g
|
Fat:
15
g
|
Saturated Fat:
5
g
|
Cholesterol:
119
mg
|
Sodium:
869
mg
|
Potassium:
399
mg
|
Vitamin A:
85
IU
|
Vitamin C:
1.5
mg
|
Calcium:
45
mg
|
Iron:
3.6
mg
Sign up for the emails and never miss another recipe!!
We'll never share your email or send you spam. Promise
Note: Recipes and content from © 2014-2018 All Our Way are copyright protected. Please do not use content or recipe without prior written permission. If you want to share the information, please link to this post. Grazie!