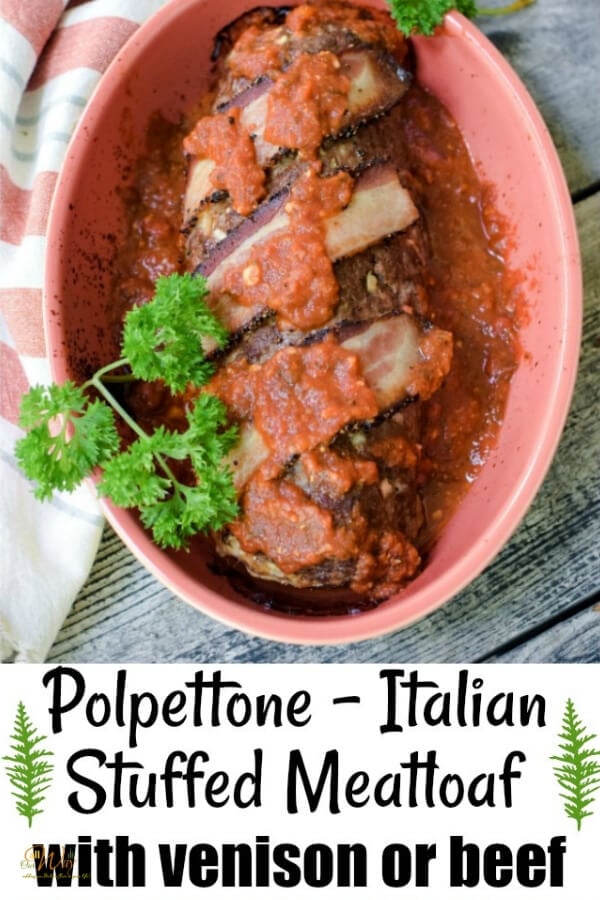 Polpettone is a mouthwatering Italian Stuffed Meatloaf that uses either venison or beef as its main ingredient. But this is not your ordinary meatloaf recipe. Our version uses special ingredients like garlic, parsley, eggs, and Parmesan cheese that lift this popular meat dish from the ordinary to the extraordinary. Our Italian venison meatloaf version goes a little further by stuffing the loaf with mozzarella cheese filling that melts smooth and creamy. A comfort food that will become a family favorite.
For this recipe you will need 2 pounds of meat (we use a combination of venison and hot Italian pork sausage), garlic, olive oil, onions, eggs, fresh parsley, Italian seasoning, bread crumbs, buttermilk, parmesan cheese, chipotle, mozzarella cheese.
Polpettone just an oversized Italian meatball
Polpette are Italian meatballs; polpettine are tiny meatballs. Polpettone is Italian for meatloaf or a huge meatball that is large enough to share -- or not. ????
The Italian version has no tomato sauce in it. Their version is savory with a mixture of meats and sometimes stuffed with spinach, herbs, cheese, and at times mortadella (a luncheon meat).
Sometimes you'll find lemon zest, cinnamon and a touch of nutmeg in the Italian meatloaf. And instead of soaking the bread in milk, they use red or white wine and even vermouth.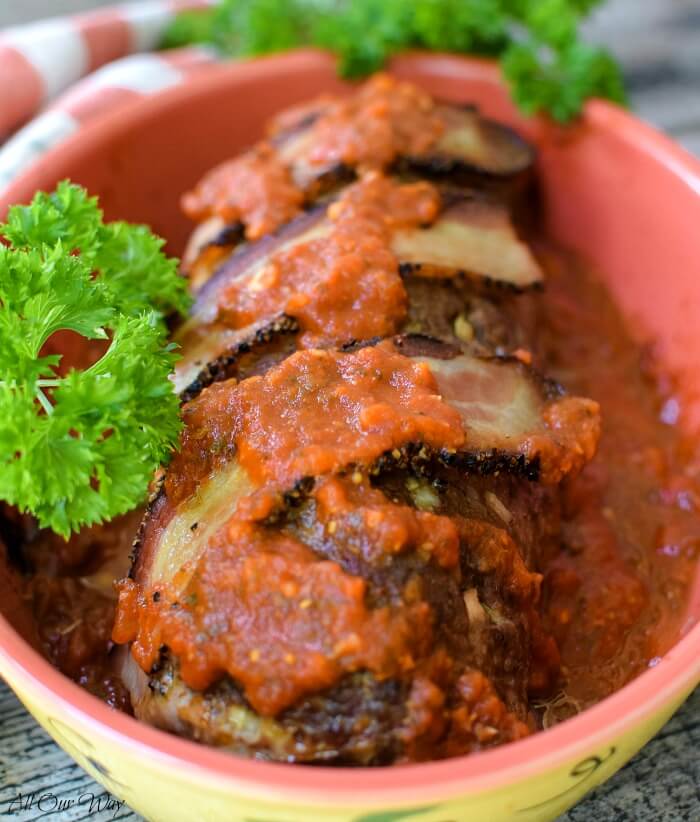 The ingredients for our Polpettone Italian stuffed meatloaf is basically the same as garlicky meatballs or spicy venison meatballs.
Venison Polpettone Italian Meatloaf
Polpettone or "big meatball" is a classic in Italian cuisine. There are variations of this huge meatball in just about every region of the country.
Liguria -- made with a mixture of green beans, potatoes, and onions, no meat.
Tuscany -- ground veal, carrots, and onions.
Rome --Lamb, eggs, white wine, and celery.
Emilia Romagna -- ground beef, pancetta, cinnamon, and nutmeg.
Southern Italy -- prepared directly in the pan with some onions and diced canned tomatoes.
So, since Italians have no steadfast rules for meatloaf, we decided to use venison to make our own version of polpettone.
And instead of the pancetta or mortadella, some of the regions use, we mixed in hot Italian sausage. Very spicy and tasty!! ????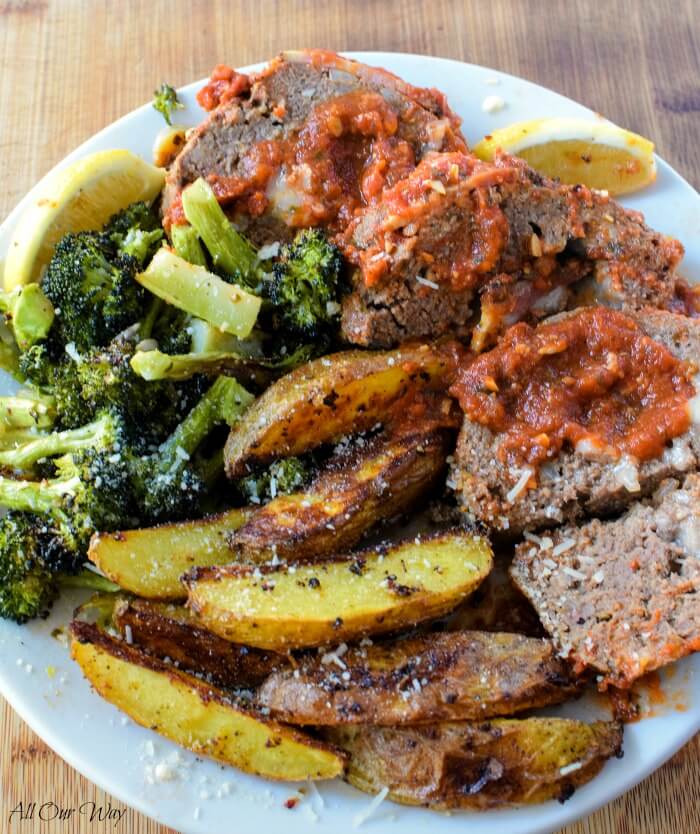 One very non-Italian ingredient we included was a touch of chipotles in adobo sauce. We love the spice and the smoky flavor it gives a dish.
What you need for a delicious meatloaf
Aromatics -- onion, garlic, and additional vegetables of choice.
Liquids -- wine, beer, dry sherry.
Soaked bread or breadcrumbs.
Meat, eggs, salt, and pepper.
Herbs and spices.
Flavor boosters -- such as scallions, lemon or lime zest, ginger, etc.
Cheese.
Glazes or bacon.
Meatloaf variation ideas
Blue Cheese and Bacon -- Bison, celery, blue cheese, bacon.
Double Mushroom and Sherry -- Veal, pork, fresh mushrooms, dry sherry, dried mushrooms, thyme, sage, ketchup glaze.
Turkey, Bacon, and Fennel -- Turkey, fennel, white wine, scallions, fennel seeds, crushed rep pepper flakes, bacon.
Indian-Spiced Lamb -- Lamb, beef, carrot, red bell pepper, fresh ginger, jalapeño, cilantro, garam masala, honey glaze.
Sausage, Lemon, and Parmesan -- Beef, veal, sweet Italian sausage, white wine, lemon zest, Parmigiano - Reggiano, parsley, honey glaze.
Southwestern Spicy Pork and Bell Pepper -- Pork, bison, red bell pepper, jalapeño, lime zest, cilantro, cumin, mild chili powder, chipotle glaze.
Stout and Cheddar -- beef, veal, carrot, celery, stout beer, dried mushrooms, Cheddar, parsley, bacon.
Greek Olive, Red wine, and Feta -- Lamb, red wine, lemon zest, black olives, feta, oregano, honey glaze.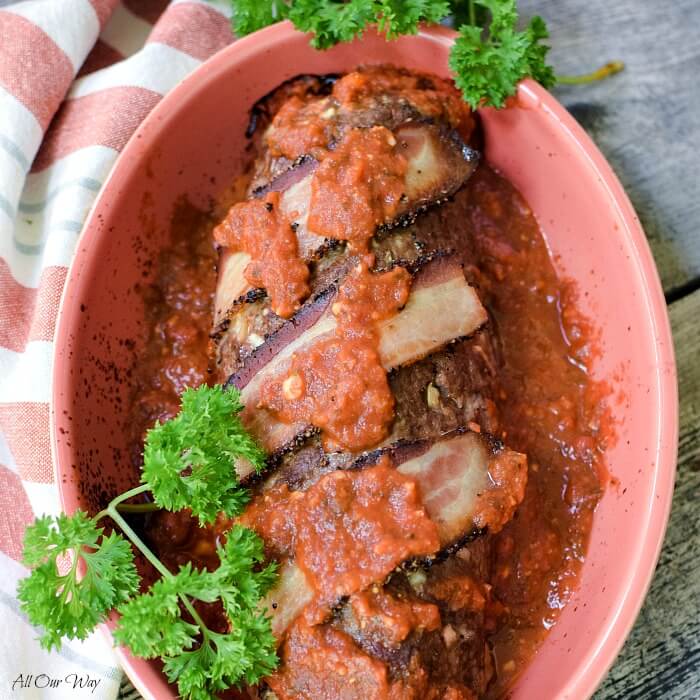 Can you believe all the amazing variations? Polpettone Italian Stuffed Meatloaf is not going to be the end of our journey into this comfort food adventure.
If you have some game meat, try out one of the recipes. Which one would you want to try first?
FOR THE RECIPE YOU MAY NEED . . . The following are affiliate links. We are a participant in the Amazon Serviced LLC Associated Program, an affiliate advertising program designed to provide a means for us to earn fees by linking to Amazon.com and affiliated sites.
Grazie for being a part of All Our Way!
Polpettone Italian Stuffed Meatloaf Recipe
Meatloaf is certainly one of our family's favorite comfort food. It brings back wonderful memories of our childhood and smelling the wonderful aroma that permeated the entire house. The key to a delicious meatloaf is striking the right balance between the meat, bread, liquid, and spices. For this recipe, we decided to use ground venison in combination with hot pork sausage. We added ingredients that we love then topped it all with bacon. If you like this recipe please consider giving it a five-star rating.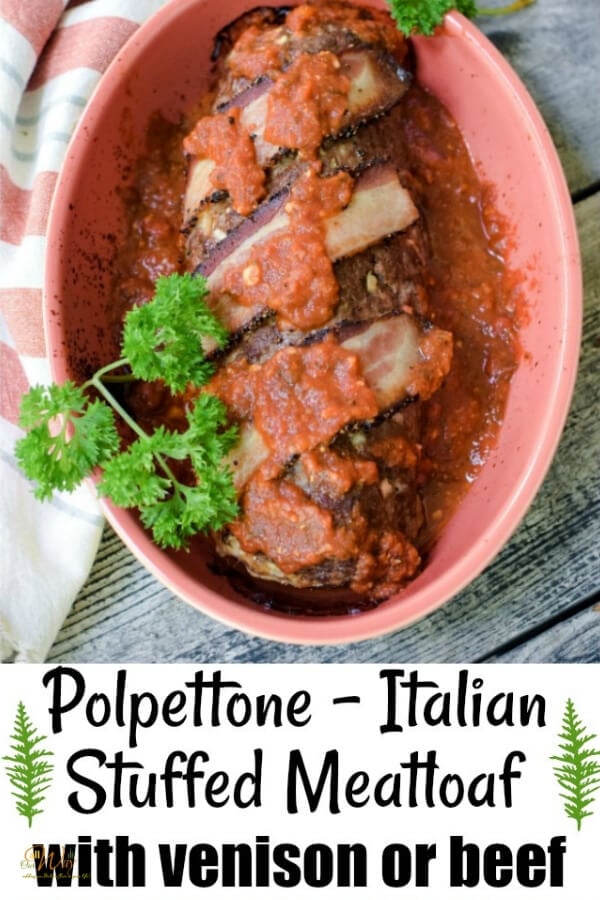 📖 Recipe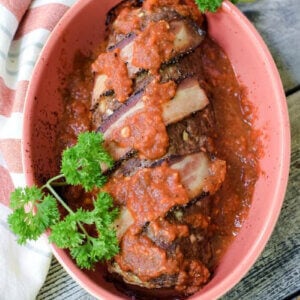 Polpettone Italian Stuffed Meatloaf|Venison or Beef
Italian Stuffed Meatloaf is one of our favorite comfort foods. The venison is spiced with aromatics, chipotles in adobo sauce, and herbs. The meatloaf is stuffed with mozzarella cheese and topped with bacon slices. A delicious dish that has many variations.
Print
Pin
Rate
As An Amazon Associate I earn from qualifying purchases.
Ingredients
1 ½

lb

ground venison

½

lb

pork sausage

4

cloves

garlic, minced

1

medium

onion diced

2

large

eggs, lightly beaten

1

tablespoon

chipotle in adobo sauce

⅓

cup

Panko crumbs

3

tablespoon

buttermilk

3

tablespoon

parmesan cheese

⅓

cup

mozzarella

1

tablespoon

Tuscan seasoning (or Italian seasoning)

1

teaspoon

lemon zest

1

tablespoon

olive oil

extra virgin

2

teaspoon

Kosher salt

½

teaspoon

freshly ground pepper

4

slices

bacon
Instructions
1) Heat the oil in a 10-inch skillet over medium-low heat. Cook the onion and garlic stirring frequently, until softened, about 4 minutes. Transfer to a large bowl and let cool.

2) Position a rack in the center of the oven and heat the oven to 375 F.

3) Sprinkle the Panko crumbs over the aromatics.

4) Add the venison, pork, and beaten eggs in the bowl. Scatter all of the ingredients except for the bacon and mozzarella cheese.

5) Put a little bit of olive oil on the palms of your hands. Gently mix all the ingredients until just combined -- try not to compact the mixture as you do this.

6) Tear a long sheet of wax paper and place in on the counter. Scoop the mixture onto the wrap and make a rectangle using your hands to pat it out. Sprinkle the mozzarella in the middle. Sprinkle a little bit more parmesan cheese on top of the mozzarella if desired. Use the wax paper to help you roll the meat away from you. Using the wax paper bring the other side toward you. Pat to form a log.

7) Make sure the ends of the loaf is sealed. You don't want the cheese to ooze out.

8) Transfer the meatloaf to an oil sprayed baking pan.

9) Lay the bacon strips diagonally on the meatloaf.

10) Bake until an instant-read thermometer inserted in the center of the meatloaf registers 160 F. for 40 to 55 minutes. When it is finished, broil the meatloaf about 6 inches from the broiler element until the bacon is brown and crisp.

11) Let rest for 10 minutes. With a large spatula, transfer to a cutting board or serving platter. Cut into ¾ to 1-inch-thick slices.

12) Optional: Add homemade or your favorite marinara sauce on top.
Nutrition
Calories:
341
kcal
|
Carbohydrates:
4
g
|
Protein:
28
g
|
Fat:
22
g
|
Saturated Fat:
8
g
|
Cholesterol:
142
mg
|
Sodium:
1029
mg
|
Potassium:
434
mg
|
Sugar:
1
g
|
Vitamin A:
180
IU
|
Vitamin C:
2.2
mg
|
Calcium:
91
mg
|
Iron:
3.5
mg
Sign up for the emails and never miss another recipe!!
We'll never share your email or send you spam. Promise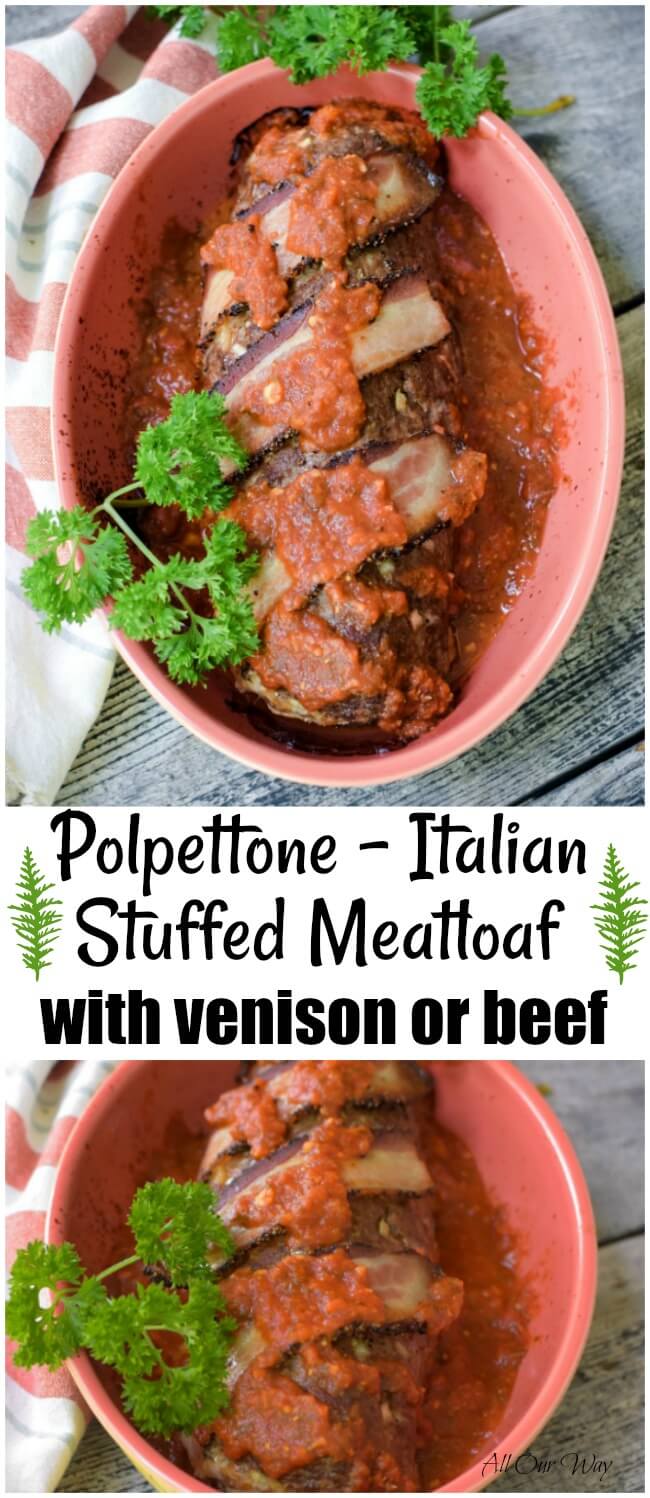 Note: Recipes and content from © 2014-2017 are copyright protected. Please do not use content or recipe without prior written permission. If you want to share the information please link to this post. Grazie!